Today we're sharing our laundry room makeover, including our 7 no-fuss laundry room organization must haves! Perfect for a small laundry room (or even just a laundry room wall), the must-haves we implemented have been tried and tested in real life use—and come out with flying colors!
*This post contains affiliate links, which are no extra cost to you and help us keep this site alive.
We wanted a no-fuss laundry room makeover. No unnecessary decorations. No laundry room features that Pinterest tried to convince us we needed (but we really didn't!). It's streamlined, organized, and—while small—provides waaaaay more laundry room storage than we even need!
Today we'll be answering questions like,
"How do you make a small laundry room?"
"Should I raise or stack my washer and dryer?"
"How can I update my old laundry room if I don't have much space?"
"Where can I find a good laundry room makeover before & after?"
"If I'm on a budget, how do you makeover a laundry room for not much cost?"
"How should I organize my laundry room storage and baskets?"
"How can I make my laundry room more efficient?"
If you're new to our site, I'll catch you up: our laundry room wasn't originally here. (We made the decision to move it and create a mudroom entryway.)
If you're not new and you've taken our downstairs tour, do you remember how this space used to look when the prior owners lived here?
LAUNDRY ROOM MAKEOVER BEFORE & AFTER
Laundry room makeover BEFORE: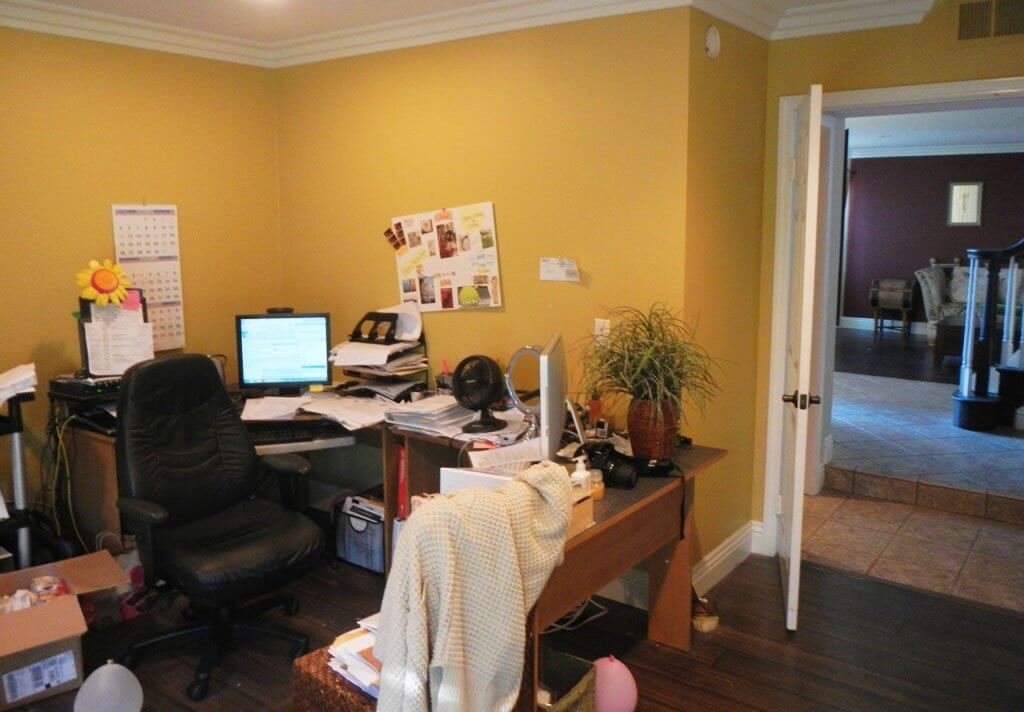 Yep, it looked like that. Yellow walls and all. It's quite a bit different now.
Laundry room makeover AFTER: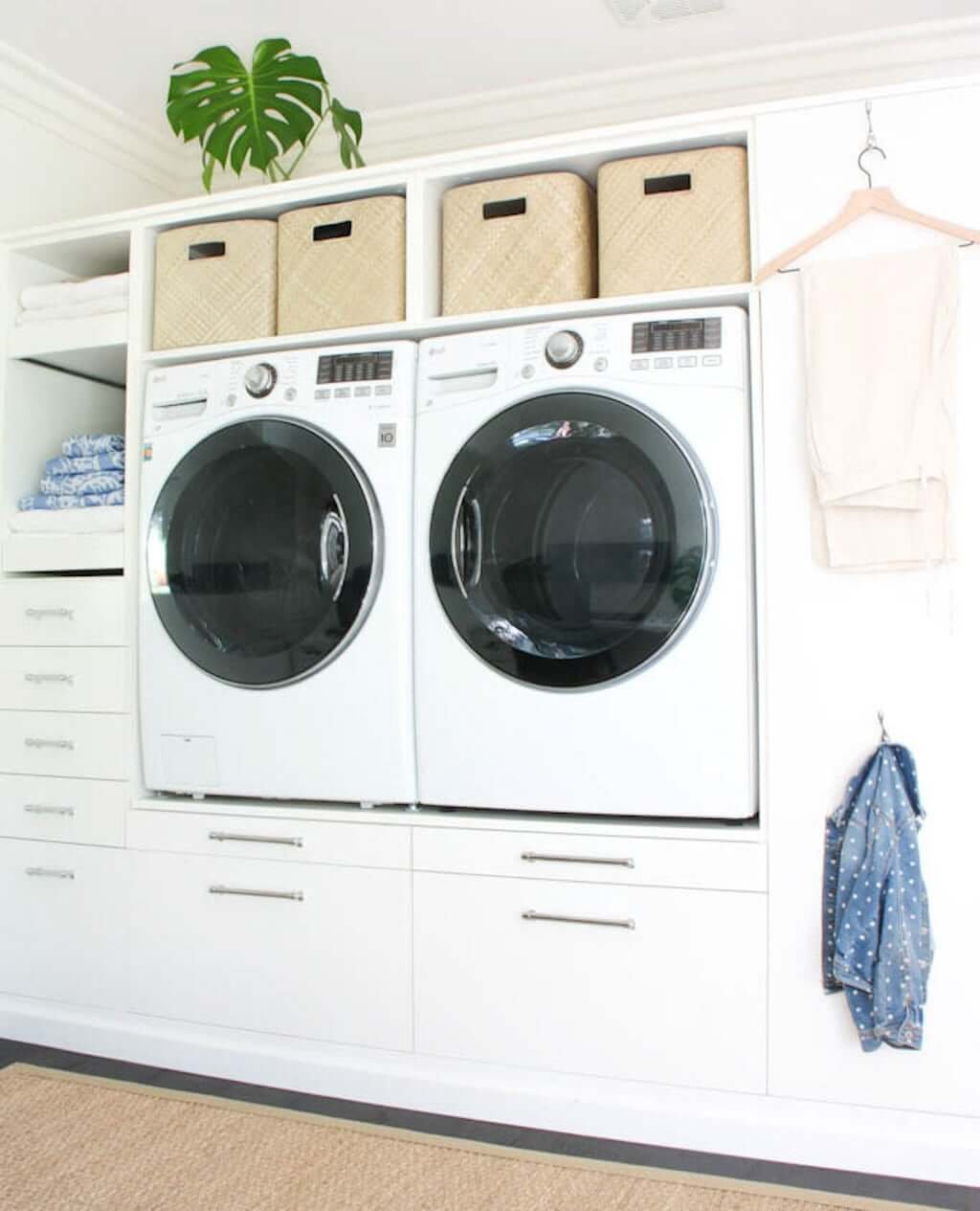 baskets | pulls | hangers | linen pants | plant | vase | towels | hooks | rug | washer | dryer | laundry cabinet
*UPDATE: We have a link for you to get our exact laundry cabinet plans HERE!
Guys, this laundry room is seriously legit! Hands down the best one I've ever used. We designed every inch of this baby carefully. (Even the decision to go white was strategically made.)
Want a quick tour, along with our laundry room makeover "Must-haves Checklist"? Here's what we've got:
LAUNDRY ROOM MAKEOVER
#1: Raised washer & dryer.
First, I knew I wanted my washer and dryer raised.  That was a laundry room essential to me. I'm on the tall side, and I don't like bending over every time I have to do another load of laundry. 
PS: What's your #1 NEED in your laundry room? (97% of people get it wrong!) I'm a professional design strategist and created THIS to help you figure it out ASAP!🤗 You won't find this anywhere else!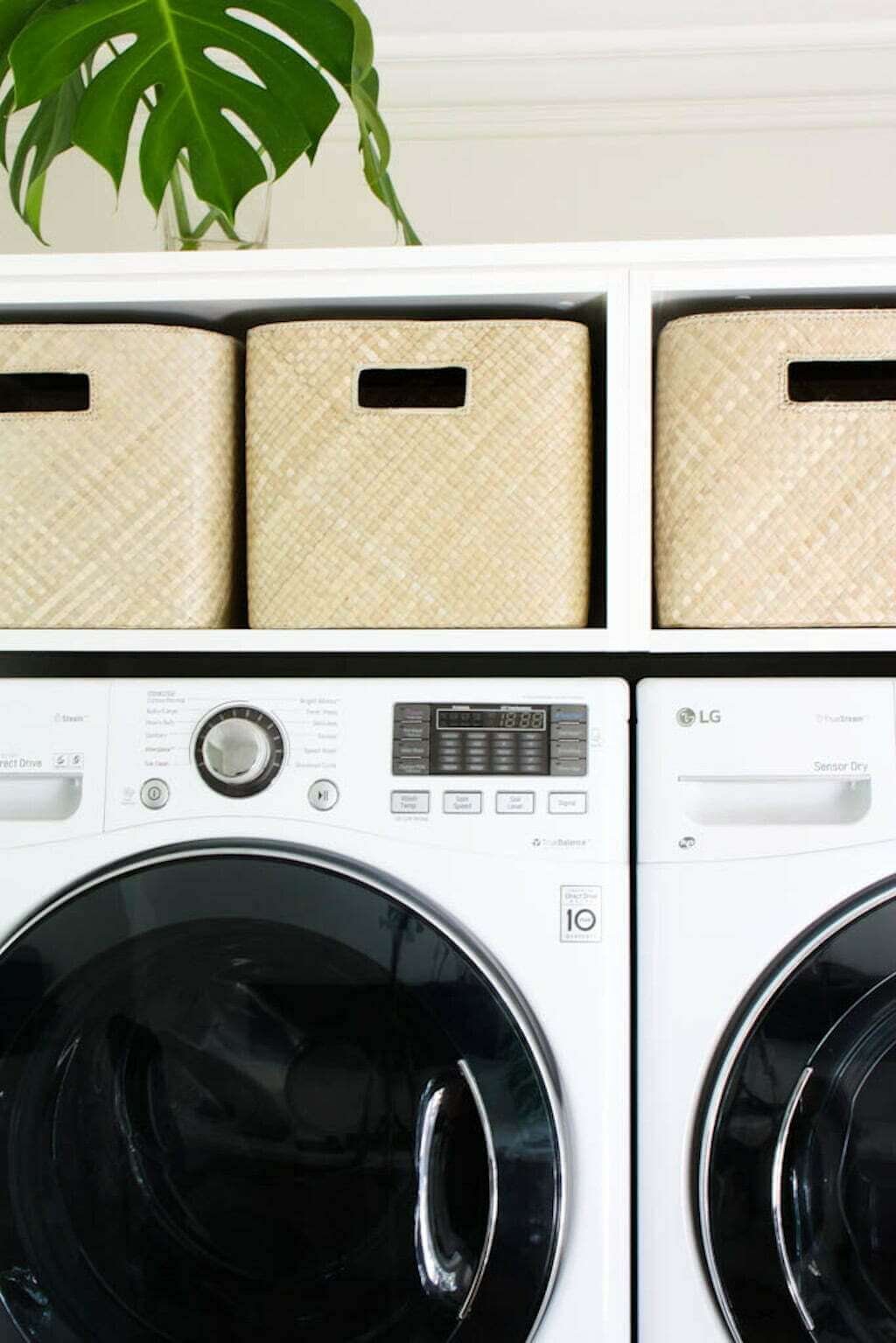 baskets | plant | vase | washer | dryer | laundry cabinet
Yes yes, I didn't want to bend over awkwardly. I realize I might sound like a crotchety old lady…AND THAT'S EXACTLY WHAT I FEEL LIKE THESE DAYS.  My back seriously starts to ache just thinking about all the bending over required to do the laundry that four people create. 
So it was imperative we figure out a way to raise them.
I stood up and pretended to reach into an imaginary front-loading washer and dryer. Then, Matt measured the height that was comfortable for me.
We planned based around those measurements how high the washer and dryer should be in the laundry room.
I did a jig in anticipation of future glory.
---
LAUNDRY ROOM MAKEOVER IDEAS
#2: Pull-out shelves.
Now, this right here was truly my #1 wildest laundry fantasy come to life.
(At the time. It's looking like I surpassed it later.)
Why? See this post to read the details + benefits of these shelves!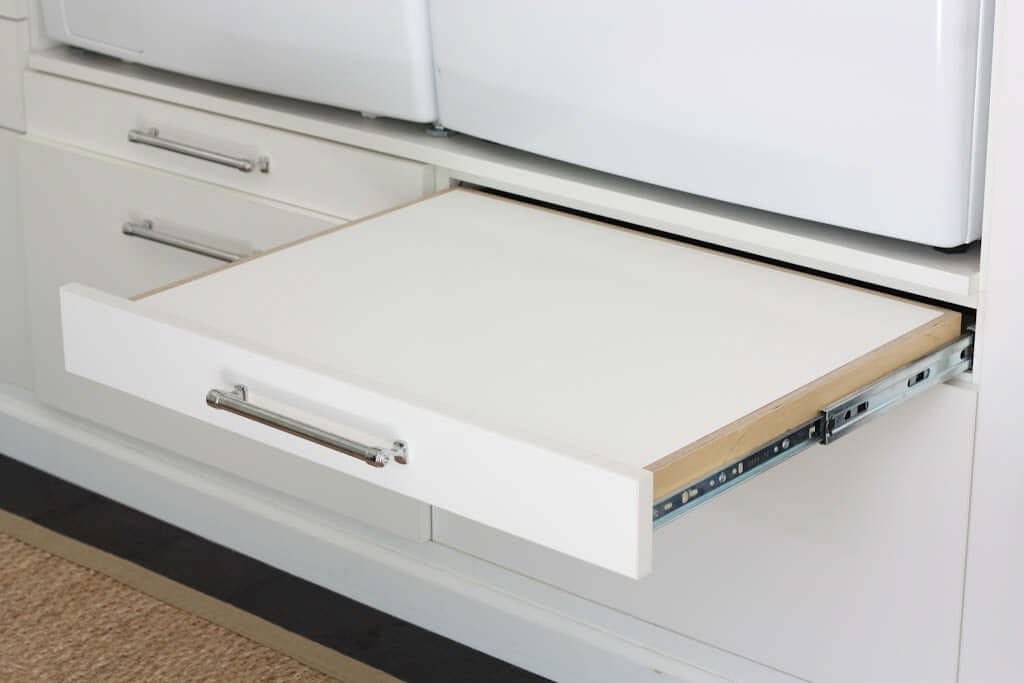 Get our exact laundry cabinet plans with how to build these DIY shelves yourself HERE!
---
DIY LAUNDRY ROOM MAKEOVER
#3: Laundry basket storage.
Speaking of a laundry basket, the third area we focused on for our laundry room makeover was the space above the washer and dryer. We could put ANYTHING there, so what would we do?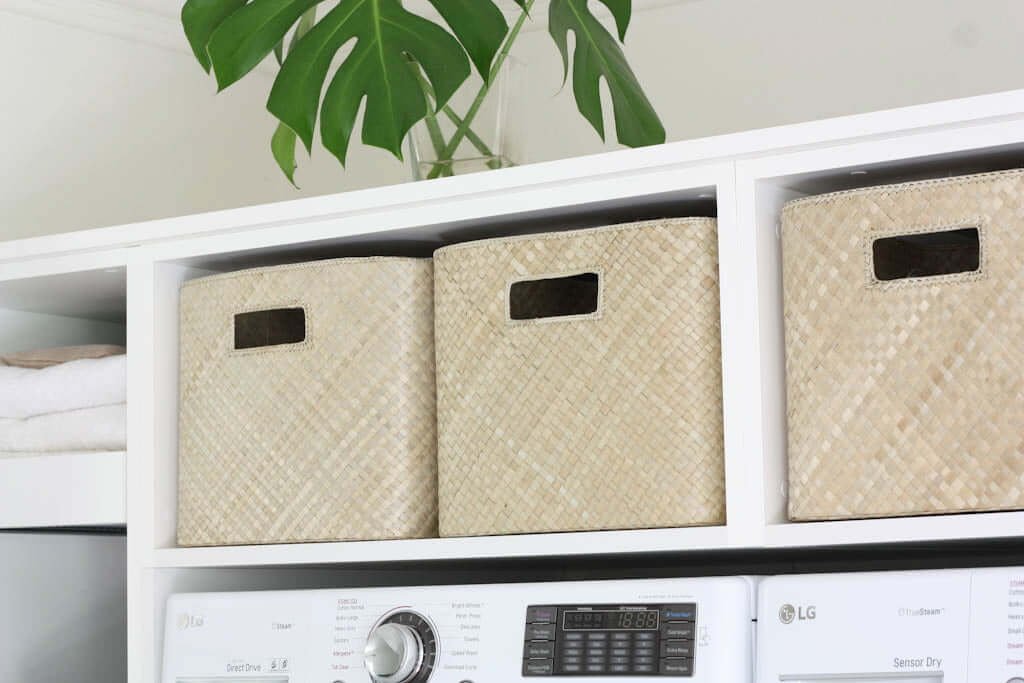 baskets | plant | vase | towels | purifying bags | washer | dryer | laundry cabinet
(I also just noticed you can see one of our moso bags on top of the white towels. Ha. But really, we use these. Clean air is where it's at.)
Traditionally, I know that above the washer/dryer is supposed to be "the" place to keep your detergents and all that in your laundry room—but I wanted our laundry baskets to live there.
Reason: I wanted to be able to easily grab them anytime they're needed. (I also share 4 reasons to AVOID placing the standard "stuff" on your laundry shelves in this post.)
You NEED to make sure every decision you make in your home is the right one before you do it. (That's one reason we created THIS you can print and use today!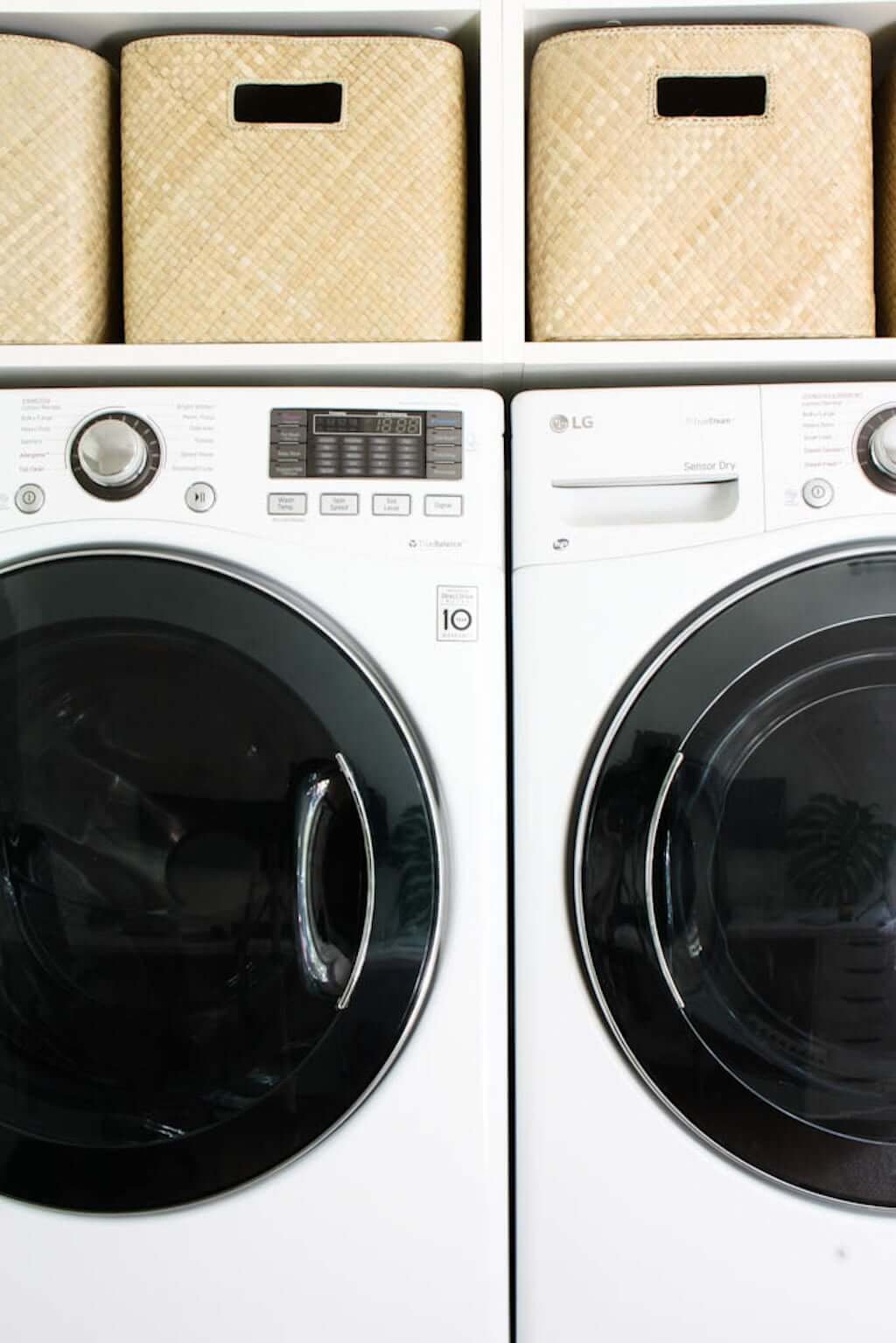 baskets | washer | dryer | laundry cabinet
This has worked SO well in our laundry room! I love it! It makes laundry time (which goes up significantly with children) go a lot smoother when you have everything you need right there in a handy spot.
SMALL LAUNDRY ROOM MAKEOVER
#4: Organized storage drawers.
Next on our list of laundry room makeover essentials, let's head south of the washer and dryer to the fourth area I wanted: big, deep, laundry organizing drawers below.
But what do we use them for? Most people guess wrong!
We give you full details on these drawers and how we use them in this post!
LAUNDRY ROOM MAKEOVER
#5: Hooks.
We chose simple chrome hooks for hanging clothes as needed.
As we say in our house, "Easy peezy lemon squeezy."
Not sure why, but saying that makes me laugh every time. Possibly because it's from a bad movie and that was the only funny part I laughed out loud at (it was all about the delivery, not the line itself), so it stuck with me.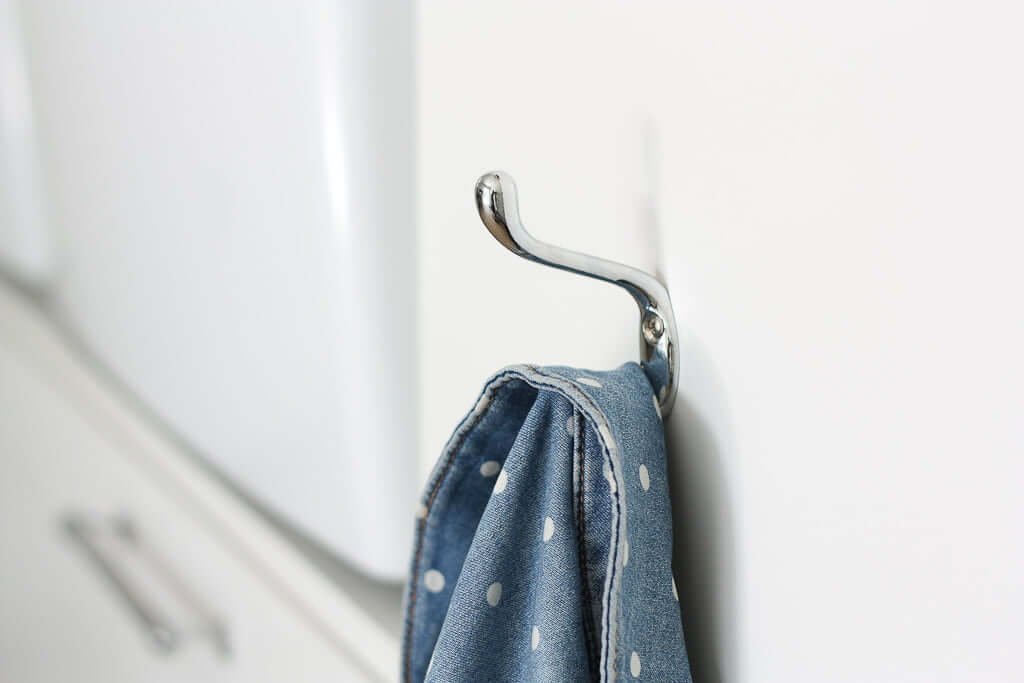 LAUNDRY ROOM MAKEOVER
#6: Full-extension shelves.
Get the full details in this post!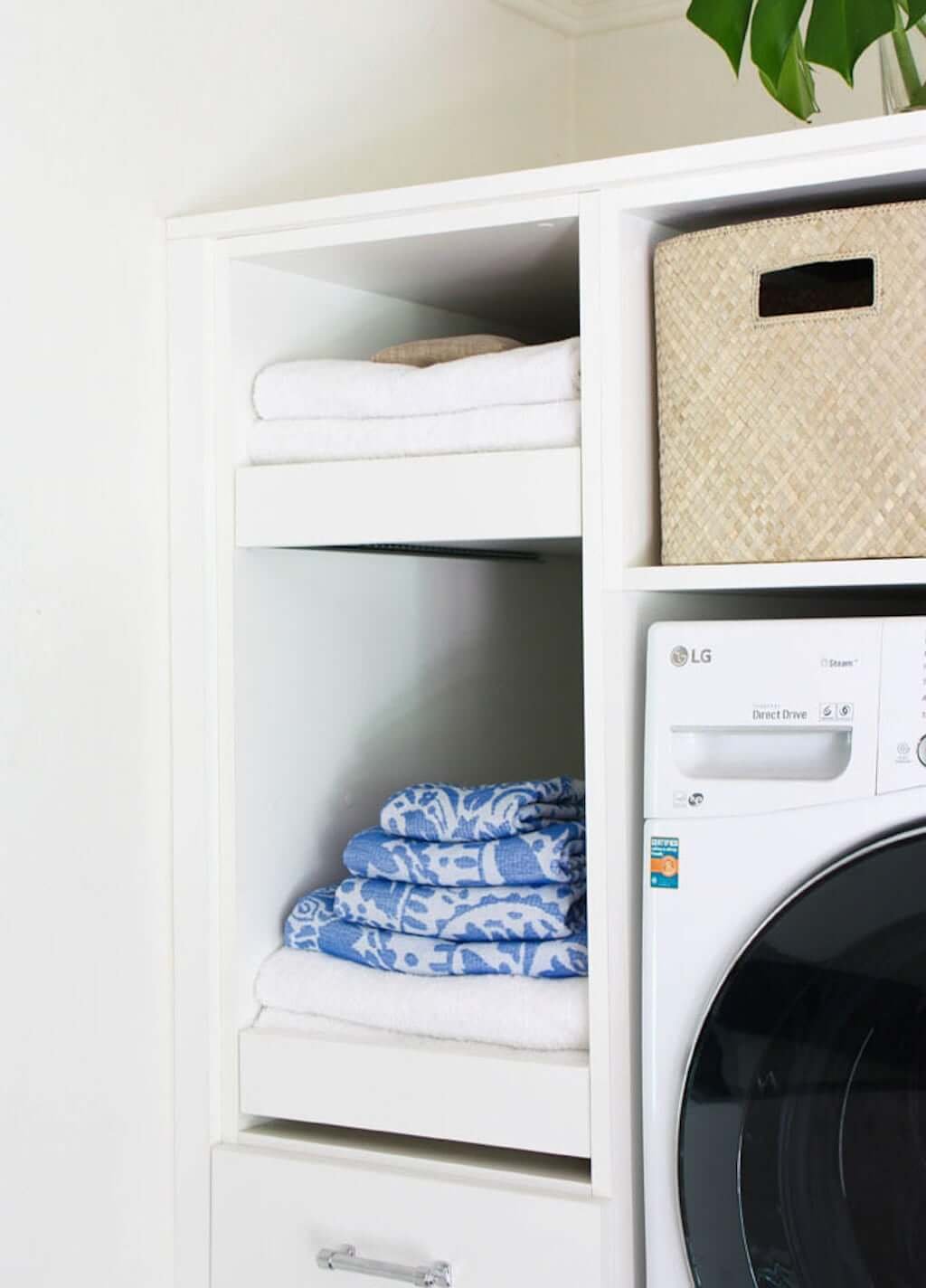 purifying bag | pulls | towels | baskets | washer | laundry cabinet
Get our exact laundry cabinet plans HERE!
Really, I didn't think laundry with kids would ever be a joy, but honestly, I do shockingly enjoy doing laundry with everything being set up so well in this laundry room. It goes fast and smooth, and I have this process to thank for it!
---
LAUNDRY ROOM MUST HAVES
#7: Drawers, drawers, & more drawers.
The fifth area are the drawers below these shelves on the left.
These hold miscellaneous items and tools in them like these washer bags and our cleaning cloths. (I like having different colors for different uses, but the girls always want the pink ones when they help me clean, so those are theirs!) I also have a drawer full of old dish rags that got "demoted" down from kitchen use into general cleaning use.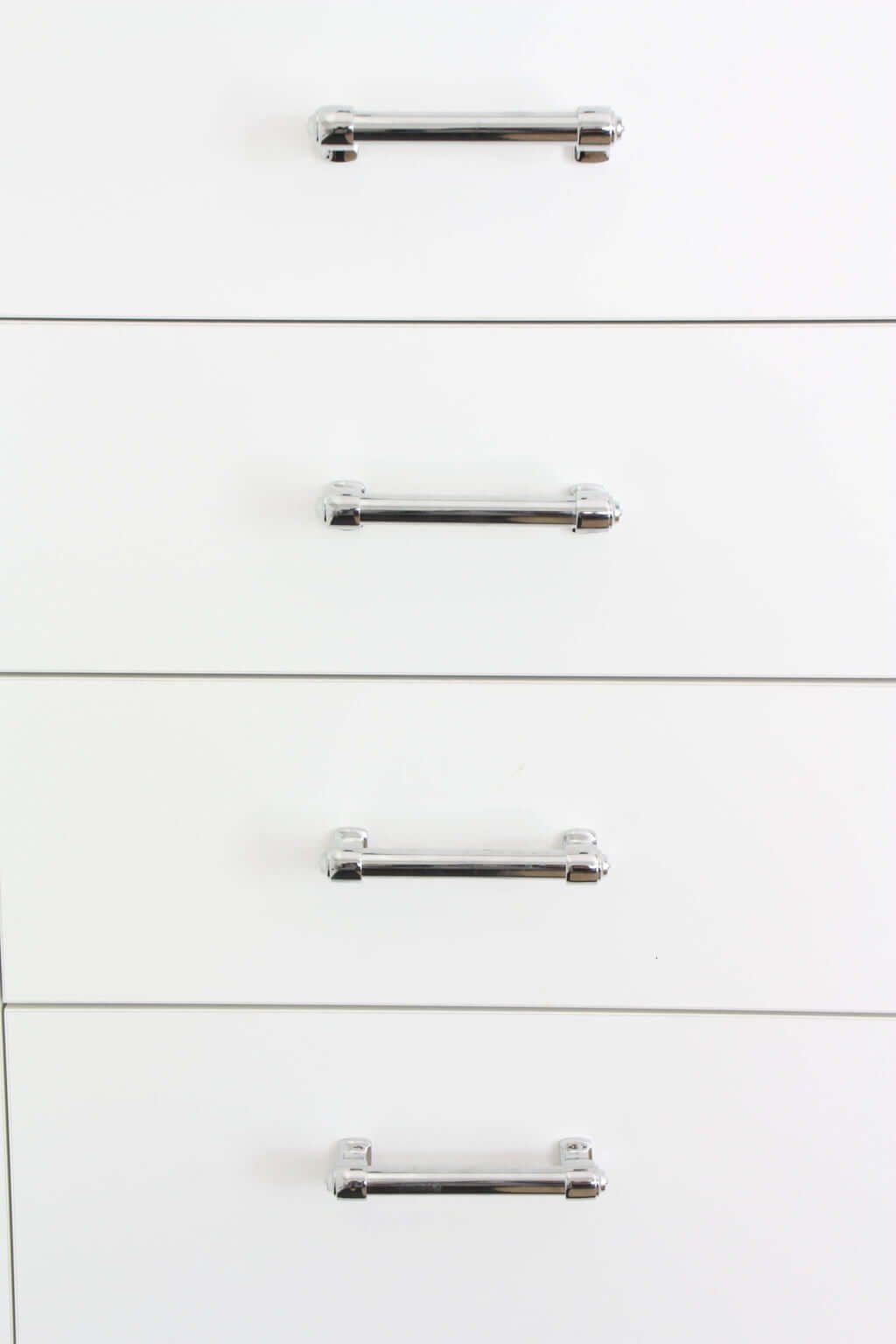 You may come to see in time how much I love drawers. I think I called them in our video, "the answer to man's problems." I said that jokingly but you know what? It was probably a Freudian slip and deep down I really believe it's true.
I even wrote a post about the 5 genius reasons you should have drawers instead of cabinets!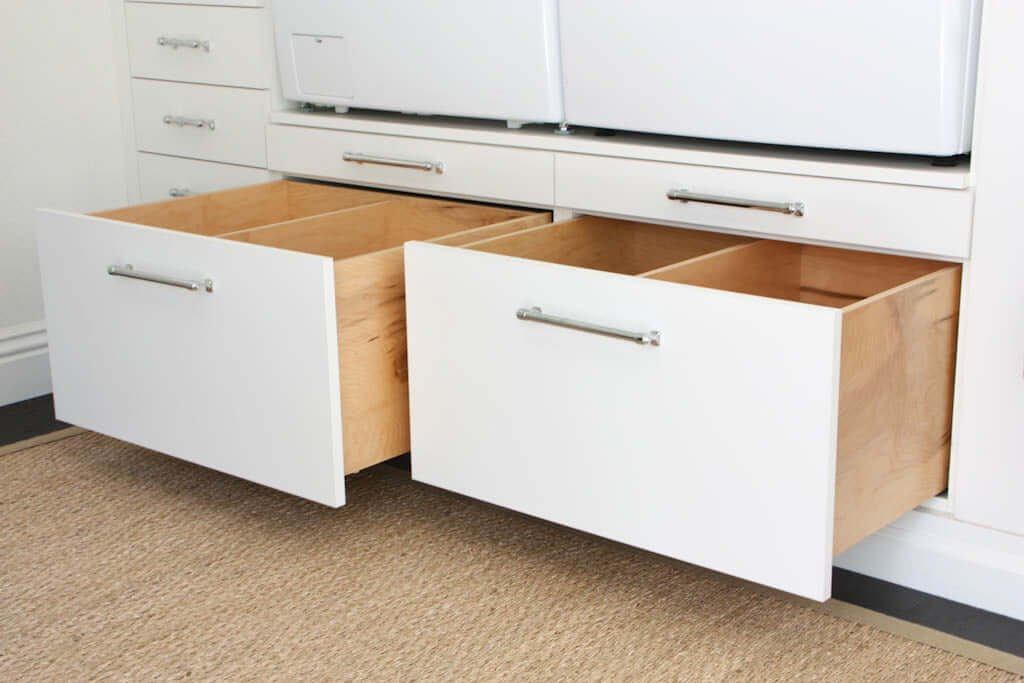 rug | pulls | laundry cabinet
You can get our exact laundry cabinet plans HERE!
And just to prove my dedication, I'm going to show you ANOTHER photo I took of a drawer. It's eye candy!
shelf slides | rug | pulls | laundry cabinet
Yes, you can call me "The Drawer Lady." (Because I'll probably answer to that in a crowded room.)
---
LAUNDRY ROOM makeover: VIDEO TOUR
Well, thar she blows! There's our laundry room!
NO! WAIT! That is NOT all!
I almost forgot the secret compartment!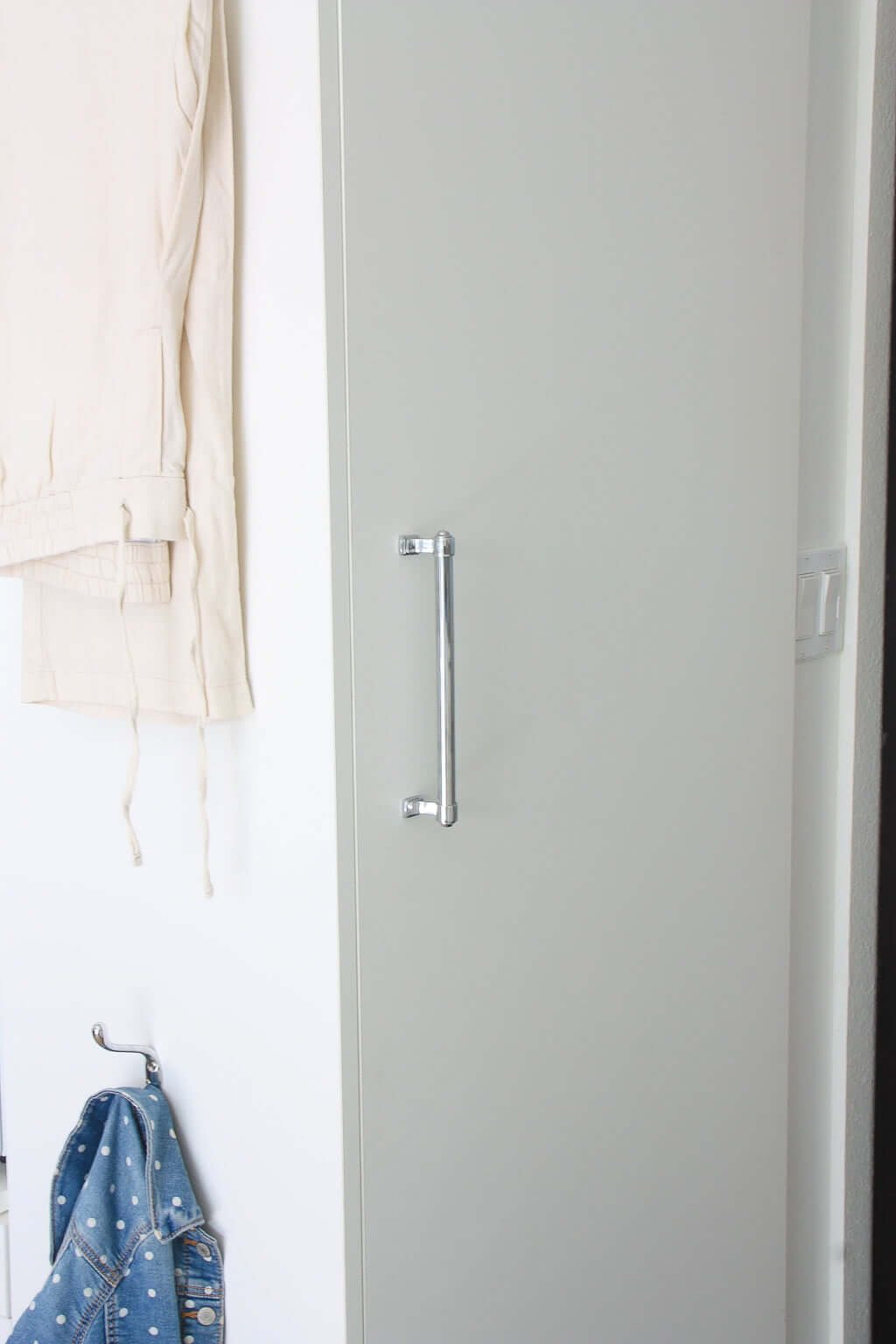 hooks | linen pants | pulls | laundry cabinet
(Okay, so it's not exactly a secret compartment, but it's gonna look like it at first because you don't see it from that front angle with the washer and dryer.)
---
BONUS LAUNDRY ROOM makeover spot:
The "secret" cleaning compartment.
Around the corner from the washer and dryer, we fit an extra-special cleaning cupboard area. It was better to do it from this side because we'd be using the full width available instead of having a super narrow, deep opening from the laundry side.
And by now you may have learned that
narrow + Jess = code red.
(If you don't know it, check out our shower!)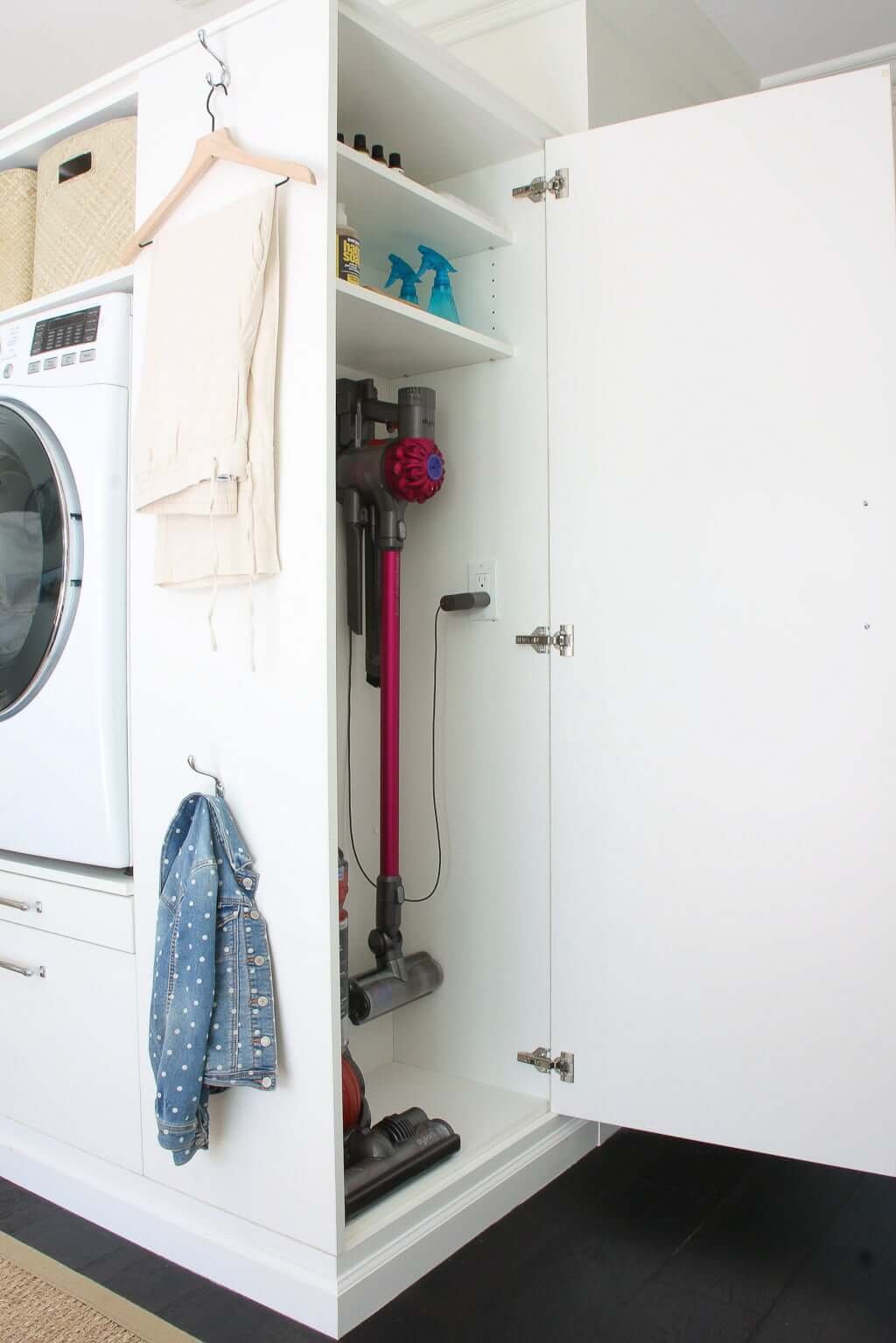 laundry cabinet | baskets | pulls | hangers | hooks | linen pants | vacuum | cordless vacuum | dryer
Tape measure at the ready! I measured the EXACT depth of the best vacuum cleaner ever to make SURE this compartment would fit it. We wanted it to fit, as Jim Carrey would say, "Like a glove."
(And someday our kids will ask us, "Who is Jim Carrey?")
But seriously, our upright vacuum is so awesome it is SOLELY RESPONSIBLE for the exact depth of this cabinet. Doesn't he look proud of himself?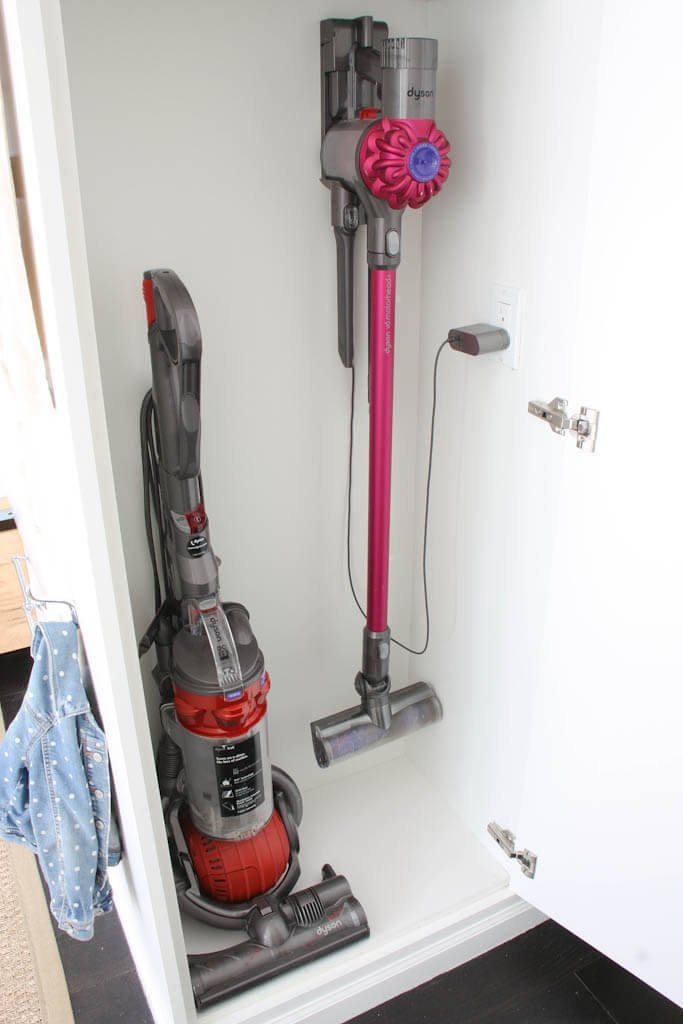 upright vacuum | cordless vacuum | laundry cabinet
If you think I'm insane, a genius, or maybe an insane genius for thinking ahead through the measurements of my vacuum (which I assure you doesn't end there🤣), you can get my brain on YOUR home spaces today through the guides I personally created for you like this one and this one!)
WHAT WE KEEP IN THE LAUNDRY ROOM CLEANING CABINET:
We also fit in our cordless vacuum cleaner for those times when we just needed to clean up a quick spill and didn't want to grab the heftier one.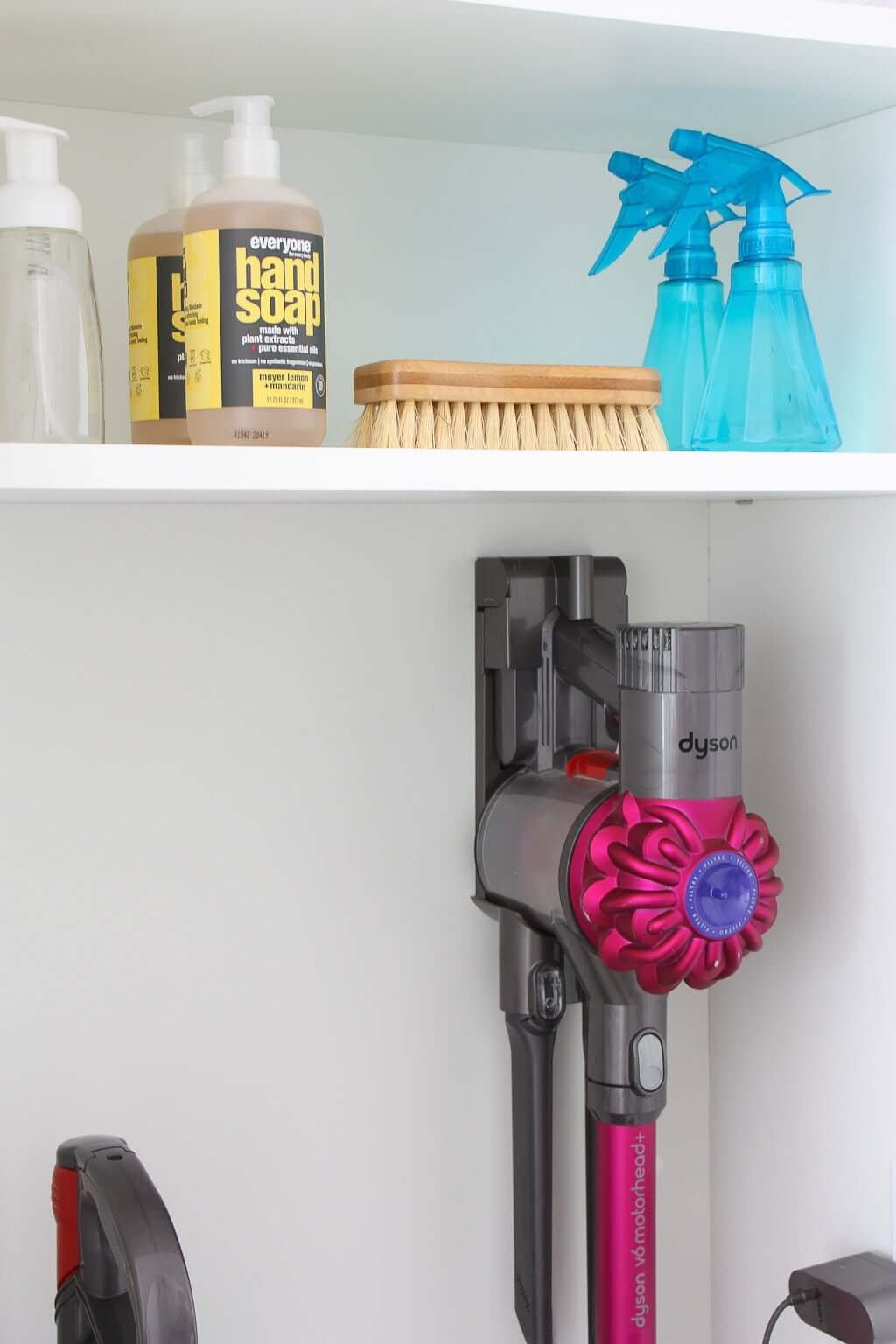 laundry cabinet | hand soap | foaming dispenser | natural brush | cordless vacuum | similar spray bottles
I also keep miscellaneous supplies up here for cleaning on these shelves, which are adjustable.
I'll explain about one thing: the little blue spray bottles are the ones I give to my daughters when they want to "help" me clean. (Here are similar ones.) They're filled with water for the girls.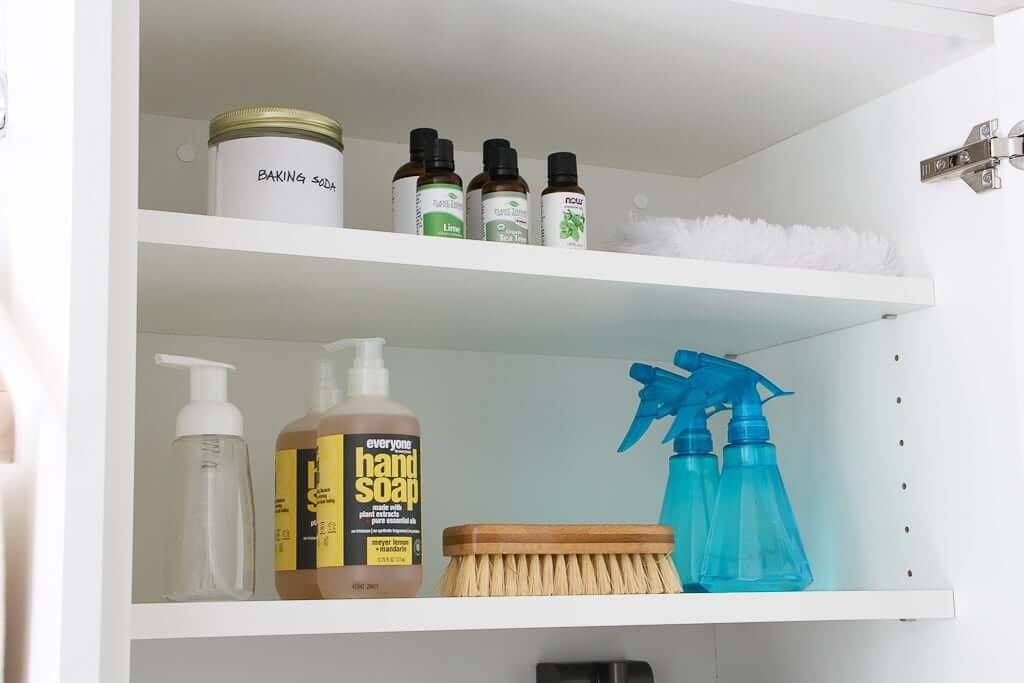 laundry cabinet | lime oil | tea tree oil | peppermint oil | hand soap | foaming dispenser | natural brush | similar spray bottles | baking soda
We buy our baking soda in bulk (it's awesome!), then I just put it into a smaller glass container.
(I started writing about WHY we use the cleaning things we use and what you can see on our shelf, then realized that should be its own post.)
One of the most popular questions we get is about how we'd access the water shutoff if something ever went wrong. First, even if we happened to have an extreme emergency (which we've never had in the seven years we've had this setup!), we have a quick water shut off for the house that we can easily access should every second count. Second, it's pretty easy for us to pull out the dryer if we ever needed to access what's behind it.
If either of those options wouldn't work for you and your situation, you could always build in a little access through the side (like we could have done through our cleaning area shown above, or constructed an extra pull-out for the dryer in case of emergency. That being said, we did the work well and we've had zero problems (not even a whiff of an issue) in 7+ years.
For maintenance, we have access because the drawers below pull out. If you have an empty wall behind it (like some recent clients of ours), you could build a door access from the wall/room behind it if you're concerned about that and don't want to access it from below or the side.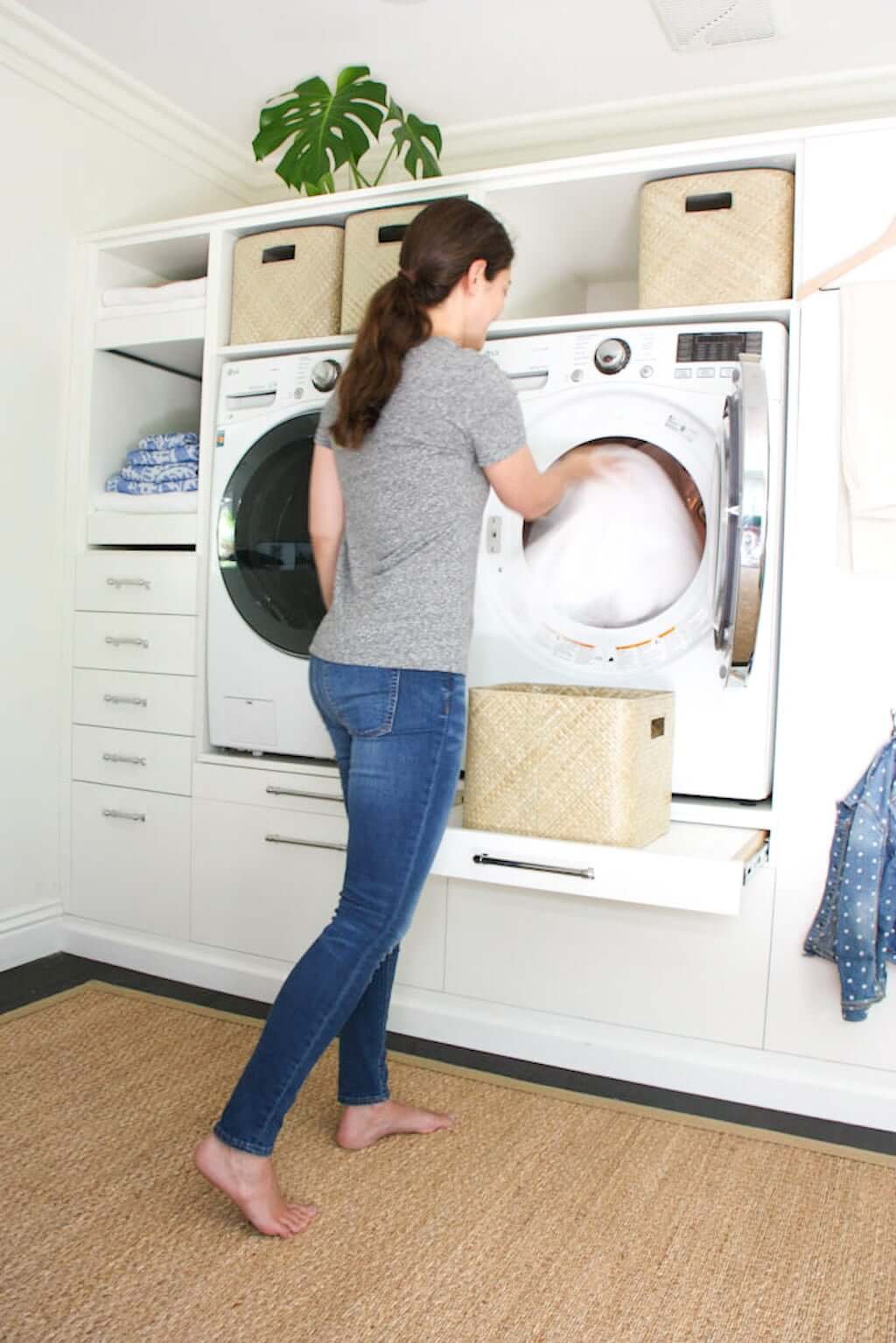 baskets | pulls | plant | vase | towels | purifying bags | rug | hangers | hooks | linen pants | dryer balls | washer | dryer | laundry cabinet
We wouldn't change A THING about this space! It turned out pretty darn perfect after all our design planning stages, and we actually have even more space in here than we need!
And that, my friend, is a problem I don't mind having.
---
➜ If you want to streamline your home like we've done, we created THIS EASY TOOL to help you do it!
➜ Matt spent weeks putting together our exact Laundry Cabinet Plans for you guys! An ambitious beginner can DIY them, or you can hire someone to build them for you in a weekend if you don't want to be bothered.😆 Get them here!
➜ We also have "The Complete Drawer Guide" that teaches you exactly how we do our drawers!
---
Find more tips & ideas in these posts:
➜ Our complete list of every single home project is viewable HERE!