Today we're sharing all about our raised washer and dryer!
---
Remember this old laundry room? With the worst washer and dryer layout ever?
You're all, "How could I forget? It's burned into my memory now, Jess."
Well, prepare to breathe a sigh of sweet relief with me, because that old laundry passage is no more.
Look at it now! It's so pretty! Sometimes, just getting the ugly out makes it 8,000x better.
I should really let Matt write this now to explain what he did here. In Jess Language, I can tell you he
ripped out the upper cabinets
demo'd the old sink and cabinet that were in that back corner
filled in the holes with drywall
patched areas that needed it
I know there must be more. There must be more about pipes and drains and things in the wall that went into the garage, but I know nothing of such things. (That's what Matt is for; you can always ask him.)
RAISED WASHER AND DRYER:
Starting the process!
Remember this old wall from the downstairs tour (when the prior owners lived in the house)?
It now looks like this:
You can see our raised washer and dryer on top of the pedestal stands that came with them.
I do NOT plan to leave it this way! This was Phase 1 of our plan. I knew I wanted our washer and dryer elevated somehow. I didn't want to use those pedestals, I didn't want a laundry stand box, and I didn't want just a raised platform. I didn't know exactly how to build what I wanted in order to raise our washer and dryer, but I knew we could figure it out if we employed our smart "testing" phases!
RAISED WASHER AND DRYER LAYOUT
Phase #1: Test out all the laundry room ideas.
Maybe I need to explain about my "Phases of Layout" that we sometimes employ. (More exact, detailed steps can be found here.)
I like to live with a space a certain way for a period of time, until I figure out how we live with it in real life.
For example, with this laundry room and the raised washer and dryer setup, I first wanted to see how it felt to have the washer and dryer in this 4th bedroom…FOR REALZ.
You can measure all day long, but there is something about actually seeing it in the space that helps. It helps better visualize what it will look like, and it helps you come up with even better ideas.
We could then see
How it was having the washer & dryer in that room?
What was it like having the raised washer and dryer? Could I get along with the standard pedestal drawers below, or would I want them higher?
Do I like having some laundry storage to the side? (see temporary storage cubby as a placeholder to the right)
Did I like having hooks to hang clothes on the wall to the left? (pictured above)
So this was Phase 1 (you can see our blue painter's tape on the floor marking out where we thought the raised washer and dryer would land—but that was before we moved everything into the room):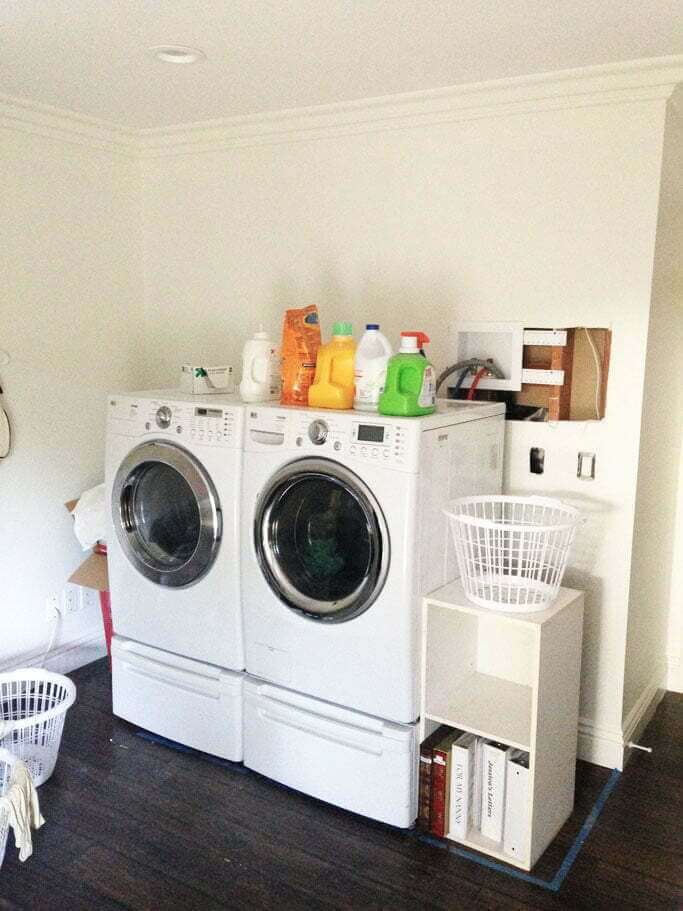 Or should I say Matt moved it into the room.
Speaking of Matt, here he is doing something with electrical wires. (See, I know that much.)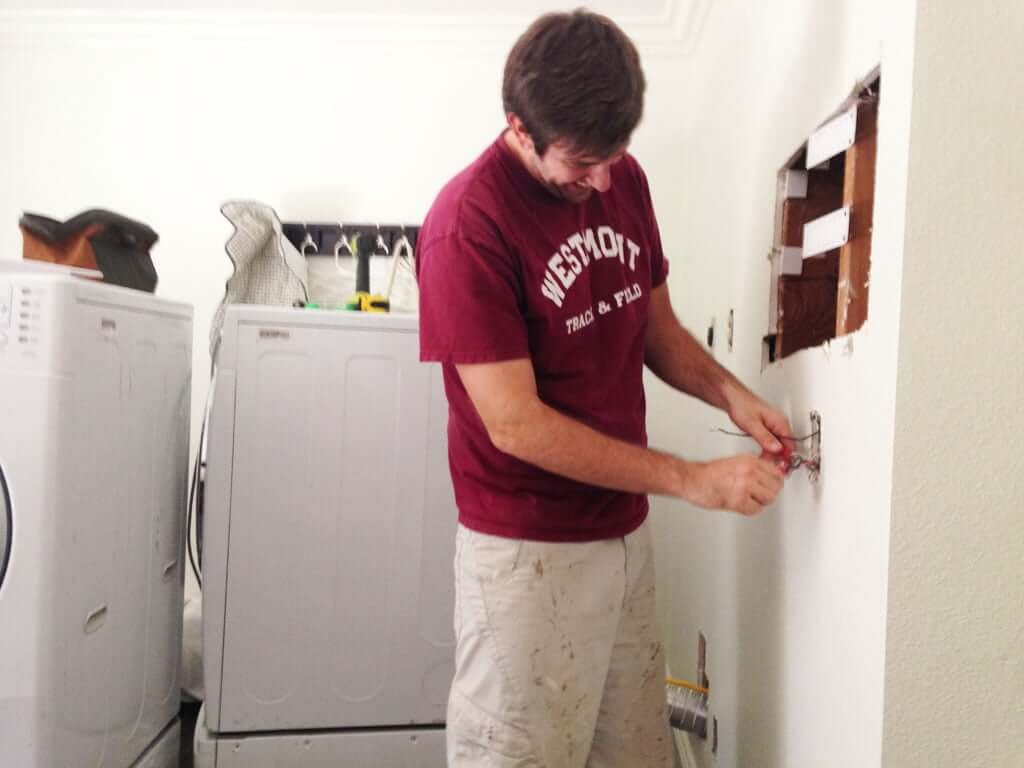 He certainly looks happy about it, doesn't he?
Here you can tell we've also patched some drywall, and you can see the hole for the dryer vent back on the left side of that corner, going into the garage.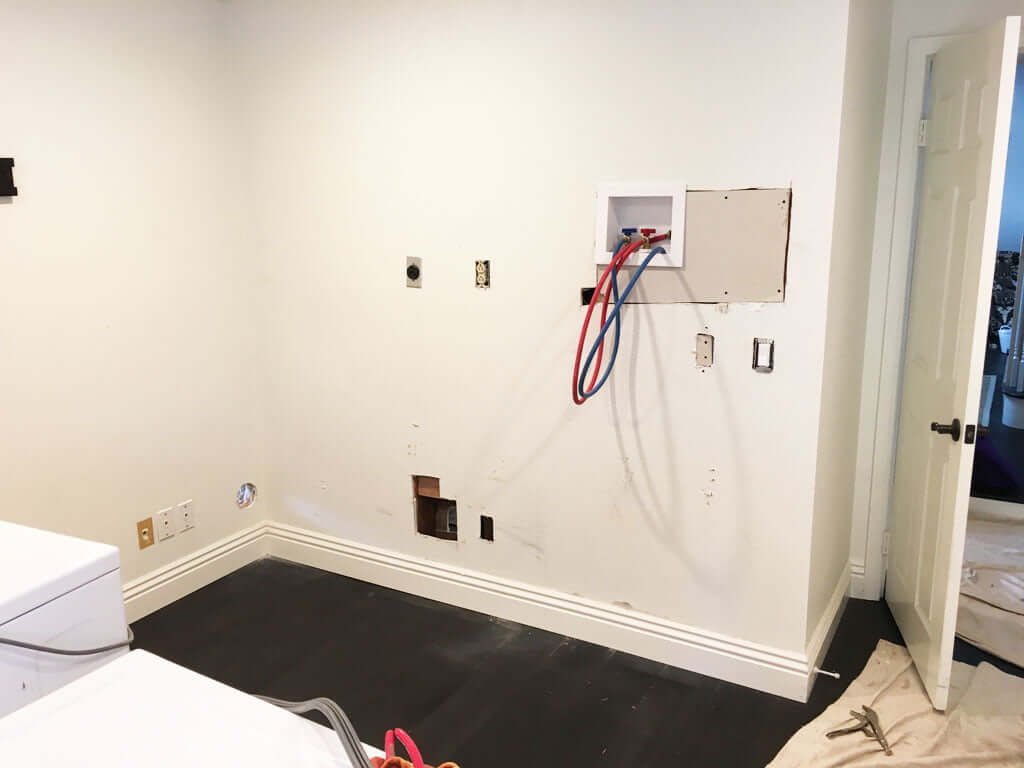 ➔ PRO TIP: Before making ANY interior decision, first make sure it aligns with your home strategy!  Haven't made one?  Then you 100% NEED this trusted tool we created for you: "The Complete Home Design & Strategy Guide!" (EVERYONE needs it! Don't miss out! If you do just one smart thing for yourself this entire year, it should be this!)
RAISED WASHER AND DRYER LAYOUT
Phase #2: Adjusting the raised washer & dryer.
After Phase 1, I've determined the washer and dryer for SURE need to be elevated to where we want them.
So Phase 2 looks like this: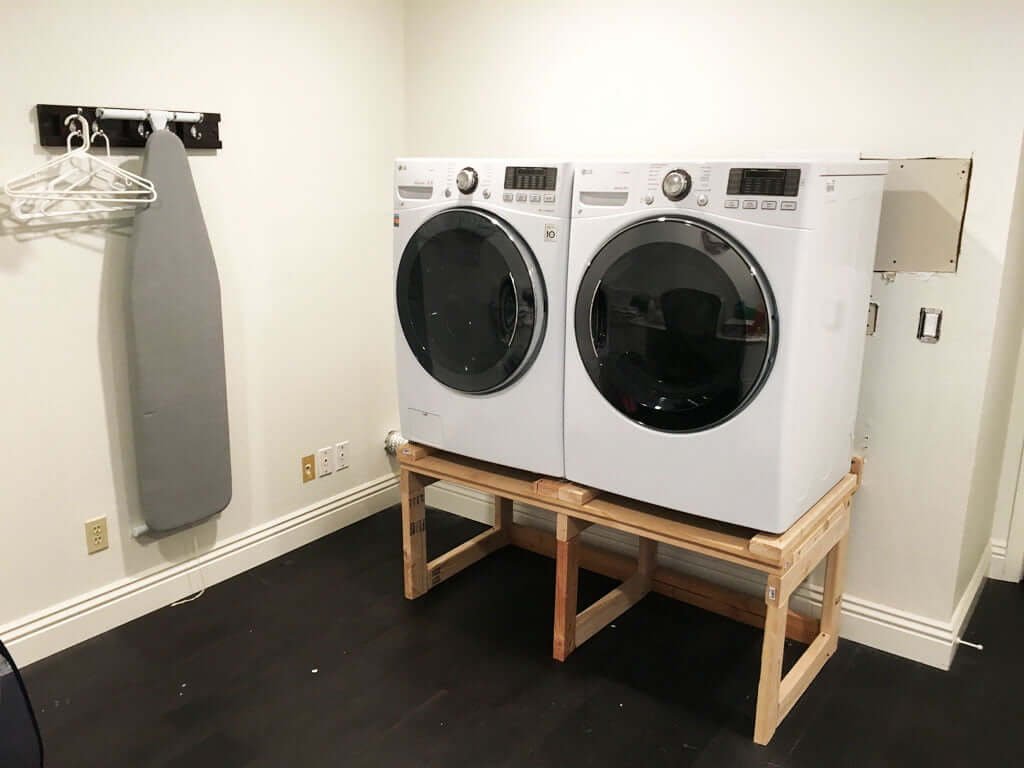 The washer and dryer have been raised up via a temporary raised platform built by Matt. Do I likey? I likey.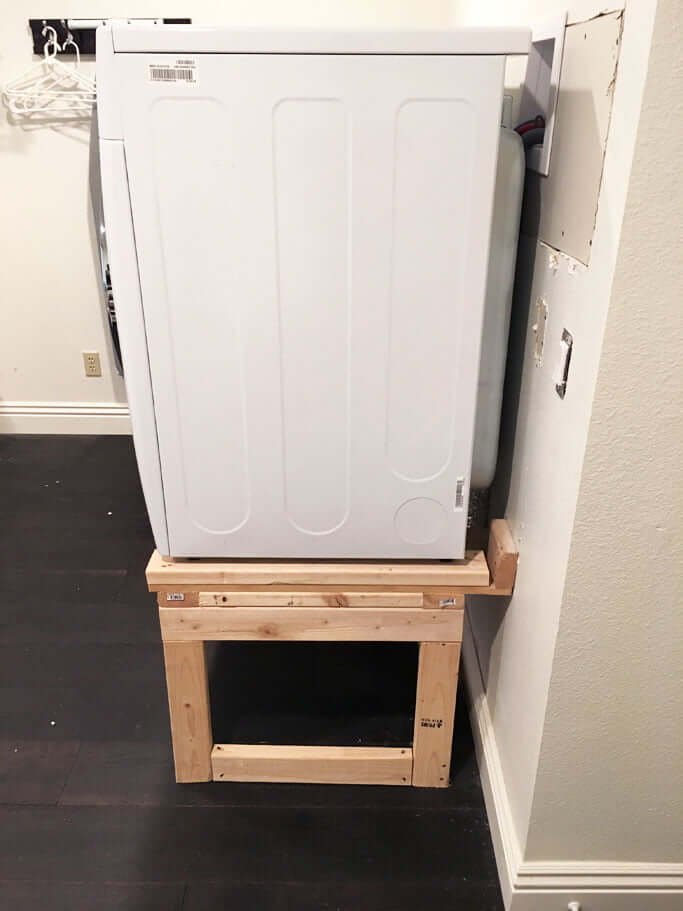 RAISED WASHER AND DRYER:
How to determine the perfect height.
We determined the exact height I wanted the raised washer and dryer at by doing some top-secret testing: Matt doing some measurements while I pretended to reach where I wanted to. It was that easy.
I also wanted to have the biggest drawers possible for underneath, but you'll see all of that (and why!) in the final laundry room reveal!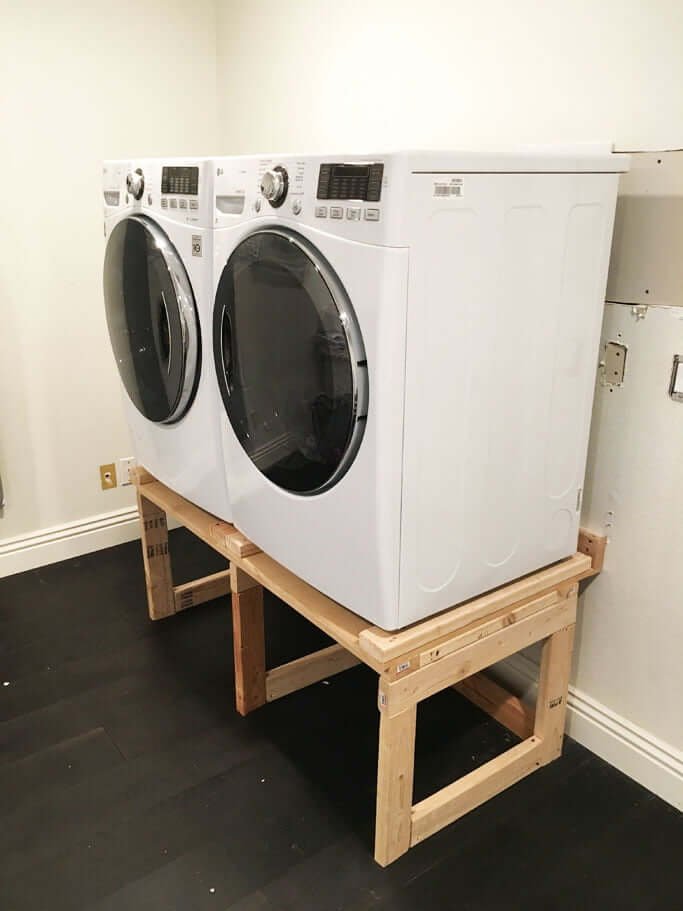 I asked Matt if he'd like to add the technical details about what he did, but his answer was to shrug. He said people will only want to see the photos of the final raised washer and dryer, how the laundry room turned out, and how we got there.
He tells me, "All I did was move the water lines, and do XYZ to the electrical, and…"
This man says it in the unimpressed tone of "That's easy stuff anyone can do." (He really believes it is! Do you feel empowered? I do!)
Below is a sneak peak during install. Click through to see our COMPLETED raised washer & dryer!
Click to see the final raised washer and dryer (along with 7 Laundry Room Must Haves!) in our finished laundry room!
UPDATE! Matt spent weeks putting together our Laundry Cabinet Plans for you guys! An ambitious beginner can DIY them, or you can hire someone to build them for you in a weekend if you don't want to be bothered.😆
Next…
➜ Before you do ANYTHING else, I've said it earlier and I'll say it one last time: No matter where you live, how big or small your house is, whether you rent or own, YOU NEED THIS: "The Complete Home Design & Strategy Guide!" The clock is ticking for all of us!
➜ Learn how we max out the function of a room: Steps to a Successful Room Layout, or if you're curious what happened to the old laundry room space, check out our small-but-mighty completed mudroom.
➜ Our complete list of every single home project is viewable HERE!