Today we're sharing how and why we utilized a queen murphy bed cabinet in our multi-purpose room, how it works, & how it gives us a 3-in-1 "guest room"!
***Links to bed are under each photo below!👇
Our house has four bedrooms—three upstairs (plus one large bonus room we've often toyed with remodeling into another bedroom or two) and one downstairs.
The prior owners used this downstairs bedroom as an office. We've also seen neighbors with the same layout use this room as a playroom or a guest room.
We didn't need a playroom (we have this room upstairs, and you can see how it looked before in our upstairs tour). But we did need an office—and a guest room—and a laundry wall when we moved it to make this must-have in our home!
MURPHY BED CABINET
Guest Room Decisions: Think Daily Needs!
Some readers who've seen stories other websites have done on how this downstairs room of ours serves three different functions have wondered how this could not be weird! Some questioned having laundry machines in their guest room (see why we did this!) and thought we should just dedicate this 4th bedroom to being a guest room. And while I 100% understand what they're saying and theirs seems like a typical reaction, let's think about this!
Here's the deal: when you're considering what to dedicate a large space in your home to (like an entire bedroom with a big chunk of your square footage), think DAILY NEEDS! (We created this guide to help you nail down yours too!)
So, we needed
Laundry room (used nearly every day of the year).
Computer/desk space (used nearly every single day of the year).
Guest room (used what, maybe 7% of the year?)
Why on earth would we inconvenience ourselves and try to smoosh in a computer/desk space into another room simply to make more room for our 7%-of-the-year guests? And why on earth would we inconvenience ourselves by not giving ourselves this awesome entryway (which we use dozens upon dozens of times every day as a family going in and out) just to avoid moving the laundry into another room?
And why would I want to feel claustrophobia keeping my laundry in that old space just so our guest room would look Pinterest-worthy?
The short answer is: I wouldn't!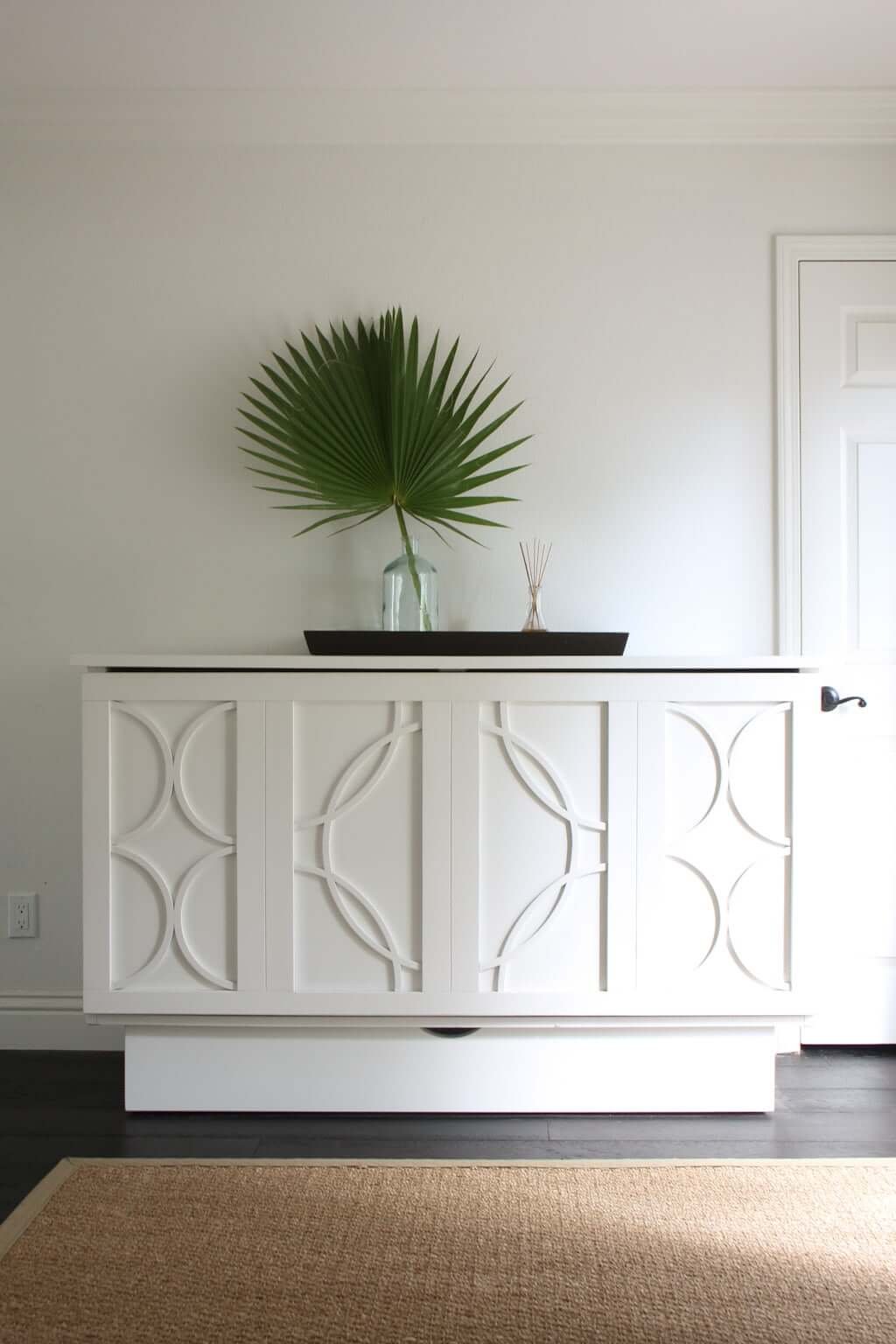 Ours is now being sold HERE! (If you're looking for my twin bed ideas + links, those are here!)
Someone asked if there were other styles that weren't "traditional" and I found these options: one, two, and three.
QUEEN MURPHY BED
"Why didn't you do a wall murphy bed?"
You know, we originally considered doing a wall murphy bed, but the problem was threefold:
They're usually big & imposing-looking, and I didn't want this room drowning in one (it already gets low light).
We'd have to drill into the wall, and we wanted the flexibility of moving it (because there were two potential spots we could put it in and I never like to make things permanent until I'm SURE sure, and I had plans for the future development of our bonus room upstairs…).
I loved that this cabinet bed could be used for extra surface space if I needed it for laundry, setting down extra baskets or clothes, etc. (Which I didn't end up needing, but we sure used it to set a million other things onto throughout the day! 😆)
PS: When making ANY interior decision like this, make sure it aligns with your home strategy! Haven't created yours? Then you NEED this: "The Complete Home Design & Strategy Guide!" We've done all the work so you don't have to!😊)
MURPHY BED CABINET QUEEN
"How does it work?"
First, I'll give you a "bird's eye view" of how the room works both
during the average day in our home (murphy cabinet bed put away) and
while guests are staying in our home (cabinet bed out)!
ROOM WITH MURPHY BED CABINET FOLDED UP: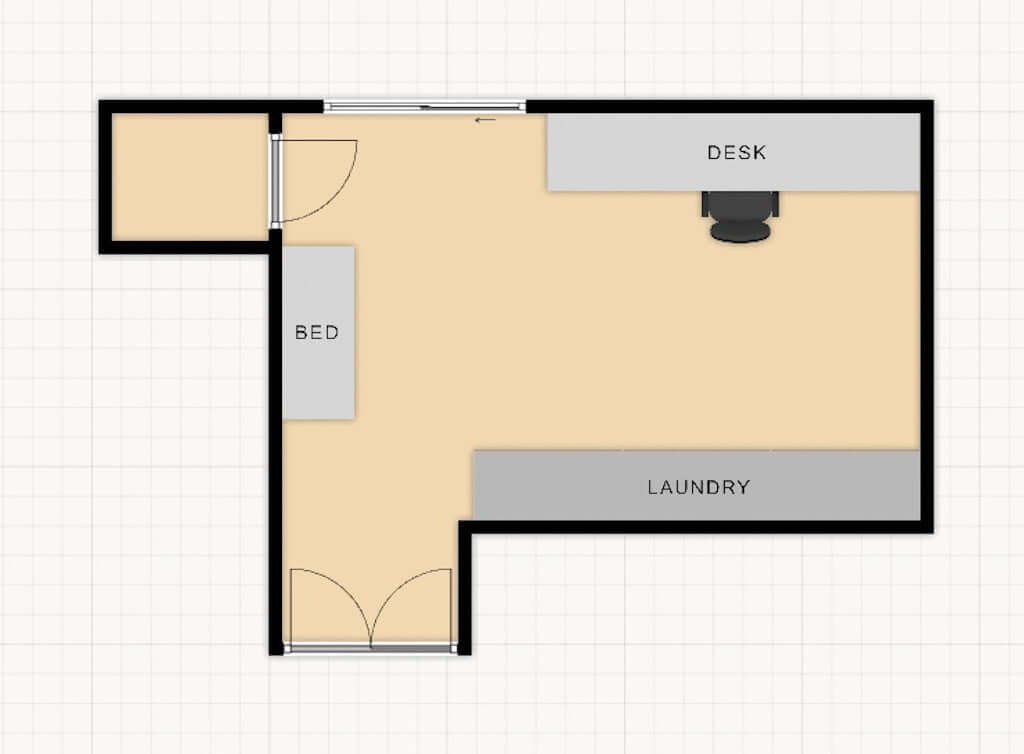 See other views of this room here.
NOW WITH folding cabinet bed expanded OUT:
We do some things to warm up the room for guests as well, such as moving in side tables, lamps, welcome signage by the girls that I'll share about below, etc.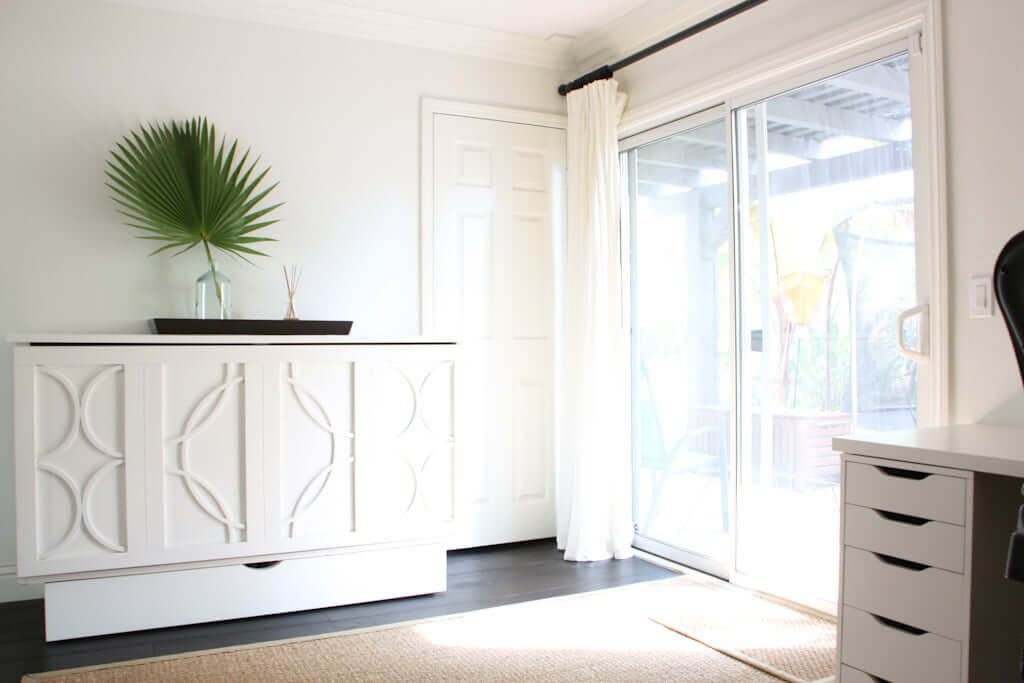 Ours is now being sold here! (If you're looking for my twin bed links, those are here!)
Not sure if a cabinet bed is the best option for you? I've compiled "The Only 7 Guest Bed Options You Actually Need to Know About!"
QUEEN MURPHY BED CABINET
"How do you fold it out?"
It's so simple that our young children know how to do it!
Flip open the top panel.
Pull out the lower drawer and front section of the cabinet.
Flip up the three support "feet".
Fold down that section.
Pull out the mattress.
And voila! Setup takes about 1 minute.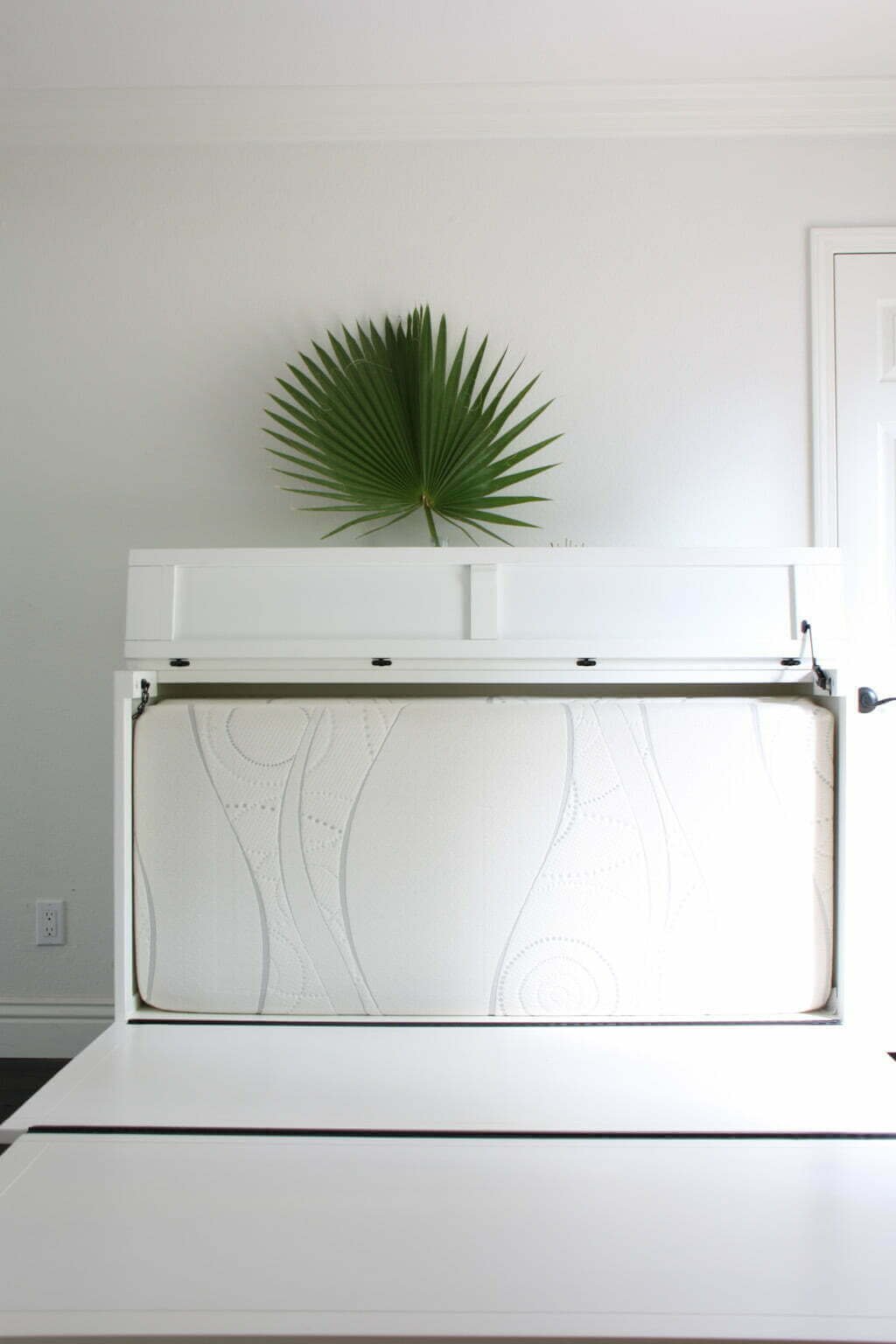 Ours is now being sold here!
The "non-traditional design" options for those who asked: one, two, and three.
queen MURPHY BED
"What's the best cabinet bed?"
There are several options out there, but we truly, honestly love ours! We've had it for years and it's held up beautifully, and most importantly,
THE FOLDING MATTRESS IS COMFORTABLE!
The last thing you want is to spend money on a beautiful folding cabinet bed you found on the internet, only to have it delivered, assembled, and find out the mattress is awful!
Ours is a foam mattress. When we ordered our cabinet bed (same as this Wayfair murphy bed cabinet), we were a bit nervous about how the mattress would actually feel, but both Matt and I (who have different mattress "likes" for firmness) both agreed it was surprisingly comfortable! We had no idea what we'd get!
I recently asked our most honest guest what she truly thought (knowing she wouldn't lie to me), and she answered, "I love this mattress! I always sleep so well when I'm here!"
So there ya go, people! That's our review of the best cabinet bed we found! 😊 The original website we got it from is no longer in business, but we found the exact same one (with the exact same mattress) for you guys to order on Wayfair here if you are so inclined. (PS: There's a version HERE on sale, or there's grey or two other colors.)
First, MAKE ABSOLUTELY SURE that doing that fits in with your ultimate home strategy! (Haven't created yours? We created "The Complete Home Design & Strategy Guide" to help you nail that down first and foremost!😊 EVERYONE needs this!)
MURPHY BED CABINET QUEEN
What do guests say about being in a multi-purpose room?
And as another friend told me, grinning, "It's nice to know I could just do some laundry if I needed to!" 😄
Maybe we just have awesome guests, but they always seem to be here for us and not the room they're staying in. 😉 So it hasn't been an issue for us!
And the best part?
WE DON'T HAVE A GIANT QUEEN BED TAKING UP A ROOM 90% OF THE YEAR! 🎉
Score!
Ours is now being sold here!
* This post contains an affiliate link for the cabinet bed, which we may make a small commission from, at no extra cost to our readers.
CABINET BED QUEEN
What you can learn from this!
In our years of experience with this setup (as well as past years of having dedicated guest rooms), we've learned that cabinet beds are an amazing way to maximize your space! And like I said, we (and our guests) have had great experiences with this one we bought! (It sells out often, so if it's out when you click, here's another version of the bed HERE! An even less expensive option than our original is here, or there's a grey version. Another supplier I found has a range of different beds like this!)
Other tips:
Don't worry about what anyone else says! It doesn't matter what anyone else thinks about your guest space—what do YOU think about it? Does it work for you and your daily life?
Do what works for you! If you have 8 bedrooms or tons of extra space to have dedicated guest rooms, awesome! But if your space is limited, don't be afraid to get creative! You do not need a dedicated guest room, and this murphy bed cabinet makes that even easier to make work well!
Stand by your decision! Boom!😄👊
PS: I've mentioned it earlier and I'll mention it again because it's SO important: No matter where you live, how big or small your house is, whether you rent or own, YOU NEED THIS: "The Complete Home Design & Strategy Guide!" The clock is ticking for all of us!
Next…
➜ I've compiled "The Only 7 Guest Bed Options You Actually Need to Know About!"
➜ Want to see more photos of the rest of our guest room? They're here. You can also see how the room looked before in our tour of our (servantless) downstairs! Although if we were to have a live-in maid (which I often tell my children is the only way they'll get my attention more often 😂), the maid could live in here, right? 🤣 Oh yes, tears of laughter…
➜ Our complete list of every single home project is viewable HERE!