Wondering about the best height for kitchen counter tops? Today we're sharing all about the standard kitchen counter height and why you are officially brilliant to consider customizing your kitchen countertop height!
Do you ever have back, neck, or shoulder pain?
If you spend a good amount of time in your kitchen, have you ever considered that this might be because of an inappropriate kitchen counter height for your body type?
And did you know that you do NOT have to keep all of your kitchen counters at the same standard height? (Glory, glory hallelujah!)
Yes, it's true. And some of you have never heard this, so Matt and I are here to bring you The Good News of Kitchen Counters!
For example…
You can have a custom kitchen counter height for your sink area.
You can have a different countertop height for your kitchen island.
Then you can even have a different height for your stove area!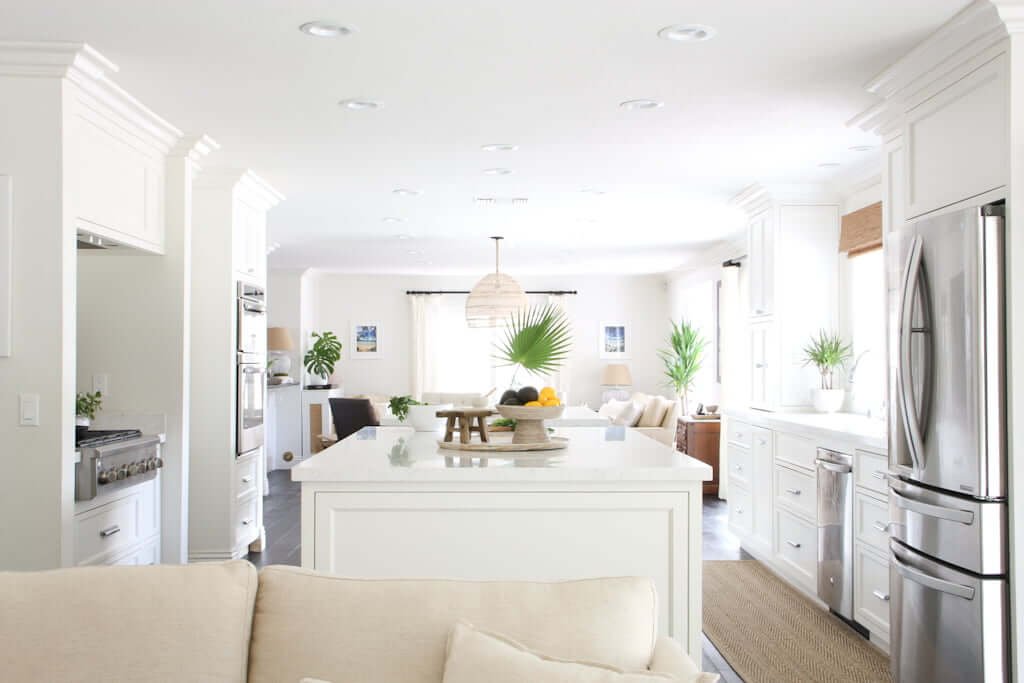 Steal all our kitchen tips HERE!
And our list could go on!
Your kitchen countertop height could be lower than the "standard" height. Or it could be higher than the standard kitchen counter height. It all depends on the tasks you're doing in those spaces and how you want to work with them.
How exactly? Read on!
STANDARD KITCHEN COUNTERTOP HEIGHT
What is standard kitchen counter height?
Standard kitchen counter height is usually 36″. (Kitchen cabinets are usually manufactured at 34 1/2″ so that a 1 1/2″ countertop will reach the 36″ average kitchen countertop height.)
And most people keep this standard height the same for their whole kitchen, regardless of the work they'll be doing on and around those surfaces. (Standard kitchen counter height and depth is generally 36″ high and 25″ deep.)
But did you know that this "standard kitchen countertop height" was set almost 100 years ago?
Yep. 100 years ago. One hundred.
I don't know how many of you have lived in older homes, but if you have, you'll know what I'm talking about! Shorter ceilings? Yep, they had those 100 years ago for sure. Shorter doorways? Also 100 years ago. (I'm refraining from doing my best Valley Girl accent and saying, "That was so 100 years ago…" But there! I snuck it in! Ha! Another reason I love writing…no one can stop me!🤣)
Things change. We've grown, for starters. Why shouldn't our houses grow with us? The typical kitchen counter height just doesn't always make sense for everyone.
PS: Honestly, before making ANY interior decision, first make sure it aligns with your home strategy!  Haven't made one?  Then you 100% NEED this trusted tool we created for you: "The Complete Home Design & Strategy Guide!" (EVERYONE needs it! Don't miss out! If you do just one smart thing for yourself this entire year, it should be this!)
STANDARD KITCHEN COUNTERTOP HEIGHT:
3 Reasons to Avoid the Average Kitchen Countertop Height
Not sure if you want to keep the average kitchen counter height or not? Here are three reasons you may want to avoid that standard counter height.
REASON #1: Ergonomics.
Whether you're a tall person or a short person, you'll want to customize your kitchen countertop height to save your back, neck, and the rest of your body from spending hundreds or thousands of hours in positions that aren't good for your body!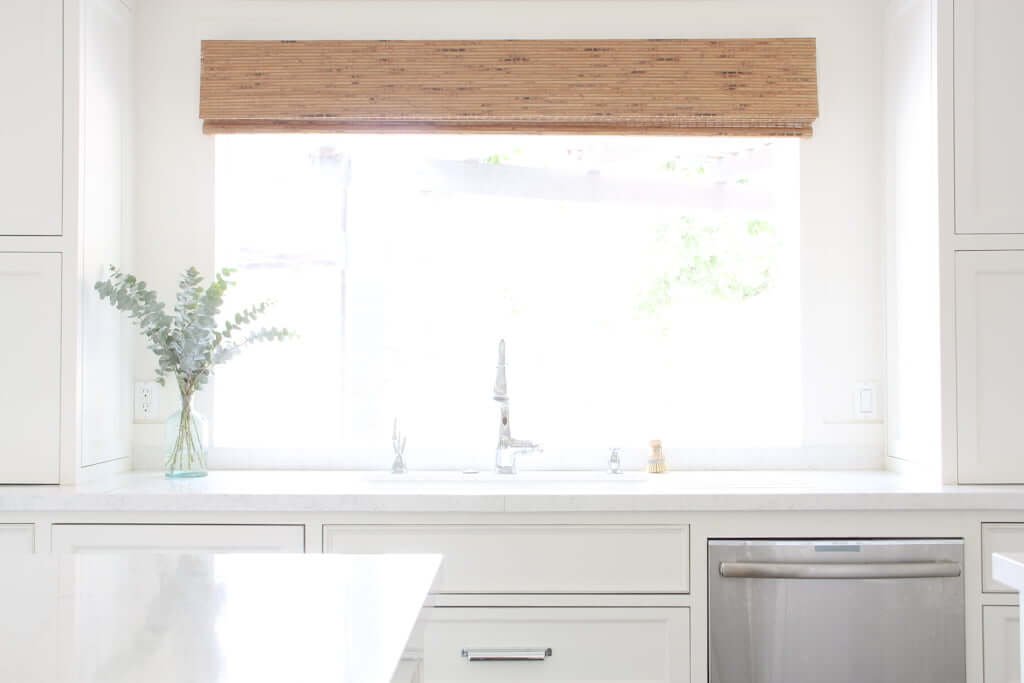 Don't stop at your countertops! Get the rest of our kitchen tips HERE!
REASON #2: You can make your counters any height!
Even if you decide you want a raised countertop by only a half inch, you can! Especially when you're having your kitchen cabinets custom-made, the sky's the limit with what you can do. People get their clothing custom-tailored to their bodies—why should your kitchen countertops be any different? (Especially if you spend a lot of your time in there!)
REASON #3: DON'T STICK WITH STANDARD height JUST BECAUSE OF COST.
When you're having your kitchen cabinets built, adding an extra inch or two to make your countertops higher shouldn't increase your cost by much at all.
(In the same way, if you decide to make your countertops an inch or two lower, see if you can get a small discount!😄 Why not?! If they charge a little extra to make them higher, certainly they would charge a little less to make them lower—it's only fair!😉)
PS: We did a custom counter height in our bathroom remodel, and you can see an example of this counter height in our vanity!
RAISED COUNTERTOP HEIGHT
3 Things to Consider Before Lowering or Raising Countertop Height
#1: Elbow height.
Don't worry as much about your overall height as the height of your elbows from the floor. Your elbow is like a hinge and you'll usually have it bent in some number of degrees for kitchen work.
(I say usually but really, is there ANY task you do with straight locked elbows? Please let me know if you think of one! All I can come up with is if you're kneading dough but even then, you've gotta bend your elbows just as often, if not more!)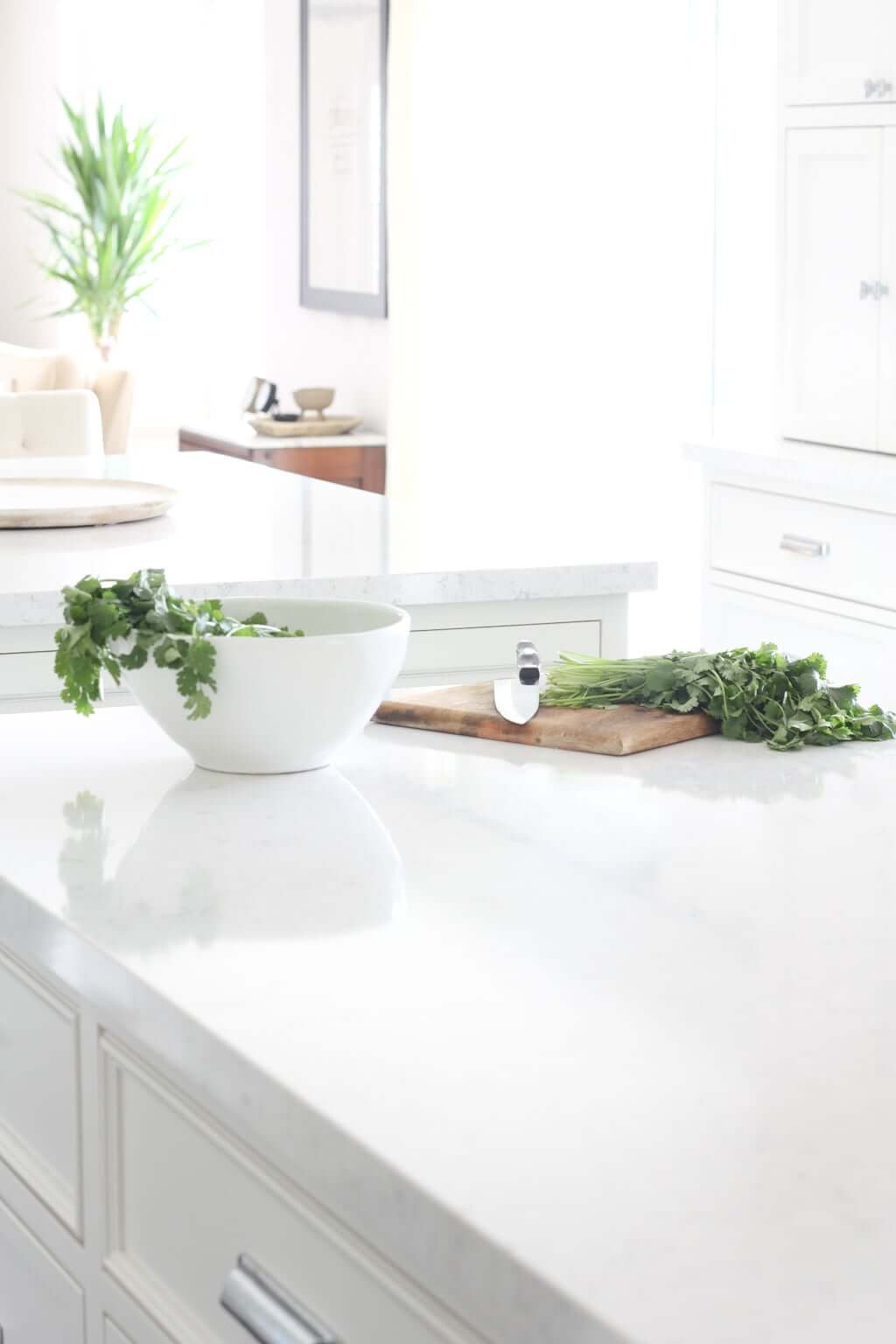 Don't stop at your countertops! Get more kitchen tips our post "Make Life Easier: 21 Genius Kitchen Hacks!"
If your countertop is too low or too high for your elbow height, you tend to get into awkward positions in order to keep your elbows in a workable position. So whether your countertop height is too low or too high, it all hurts your back.
#2: What hurts?
If your upper back, neck, and shoulders hurt after working in your kitchen, your countertops are too high. If your lower back is what's hurting, then your kitchen countertops are too low.
PS: Before making ANY interior decision, first make sure it aligns with your home strategy! Haven't got yours? Then you 100% need this: "The Complete Home Design & Strategy Guide!" (EVERYONE needs this!)
#3: YOUR TASKS.
Make a list of what work you typically do in your kitchen. I'm not a big baker or bread-maker, so it wasn't important for me to have a super low surface for kneading dough.
Also, consider whether the counter work you're doing is light or heavy. Are you pushing down a lot when you're doing XYZ task, or is it a light movement? All these are factors to take into consideration.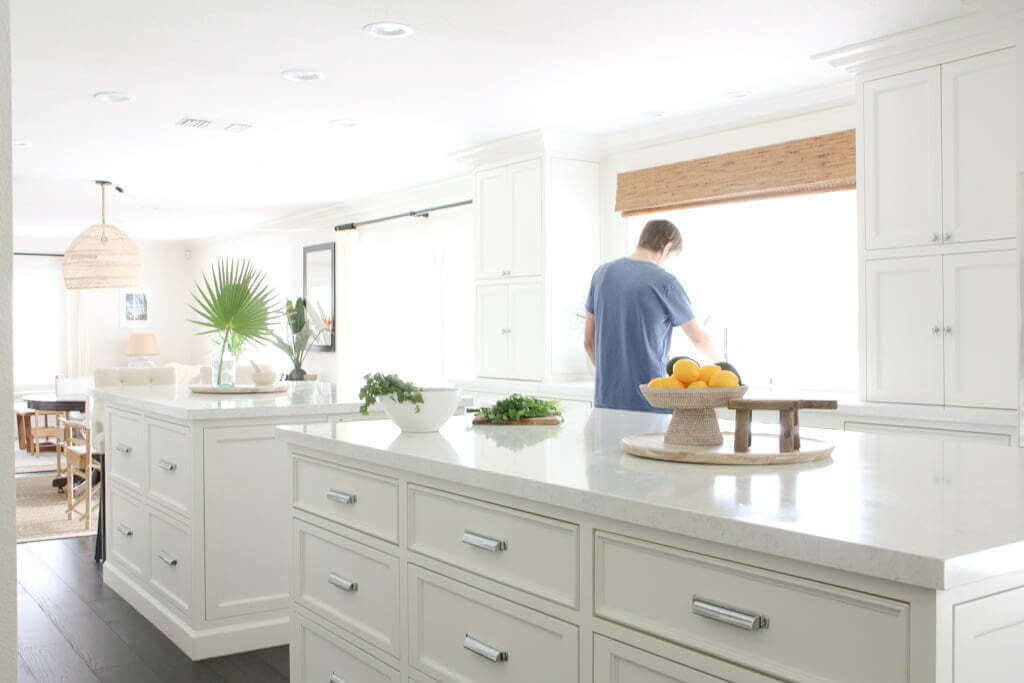 We created a bundle of kitchen guides to help you with your own kitchen! Download our printable Kitchen Design Bundle today!
ergonomic KITCHEN COUNTER HEIGHT
Ergonomic Kitchen Countertops
People talk about ergonomics in the workplace so we don't get carpal tunnel syndrome or give ourselves a bad back, but what about the kitchen? If you eat out a lot…okay, fine, maybe it's not as important for you.
But if you and your loved ones spend a lot of time in the heart of the home (a.k.a. the kitchen), you may want to take a look at your countertop heights!
Buying one of these ergonomic kitchen mats may seem easiest, and it may help a little, but sometimes a fuller approach is necessary!
(Speaking of ergonomics, our post about how we did 100% drawers instead of lower cabinets is another way to save your body from constantly getting into awkward positions that are unnecessary.)
If you're having trouble picturing the problem, here's a helpful graphic I found: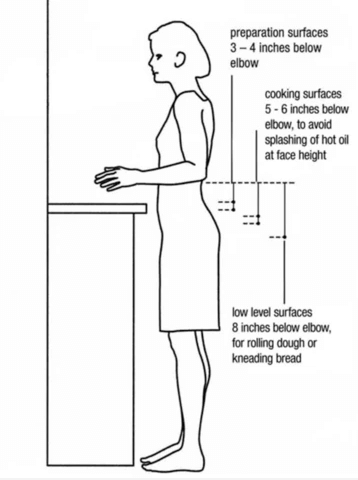 "Ergonomics is the relationship between one's body and how it interacts with the environment around them. If that environment is not made to fit what the body needs then the best thing to do is to fix the ergonomics versus having to make yourself fit in an uncomfortable environment."

source
See our countertops in action in this video!
Next, see exactly what we did to customize countertop height! (We also discuss resale.) Or check out our post about how we saved money on countertops in our kitchen & bathrooms!
I've said it earlier and I'll say it one last time: No matter where you live, how big or small your house is, whether you rent or own, YOU NEED THIS: "The Complete Home Design & Strategy Guide!" EVERYONE needs this!
Next…
➜ Our complete list of every single home project is viewable HERE!