Looking for laundry shelves or laundry room shelf ideas? Max out the functionality of your laundry space—today we're sharing the 3 smartest types of laundry room shelving with you!
Why is The Drawer Queen writing a post about shelves? (If you haven't read about how I think drawers are the solution to all mankind's problems, thus we did 100% drawers in our kitchen in lieu of any lower cabinets, you'll want to check that out!)
The reality is that sometimes—just sometimes!—a shelf is exactly what you need. (Shocker, I know.)
"When should I do a shelf instead of a drawer?"
"How do you know if you need a shelf somewhere in your laundry room?"
"How deep should laundry shelves be? Should they be shallower than my machines?"
"What do you put above a washer and dryer?"
"What different kinds of shelf options do I have (other than floating or laundry room wall shelves)?"
*This post contains affiliate links, which are no extra cost to you and help us keep this site alive.
We'll address all of this (and more) with examples of the three different types of laundry room shelving we did in our own space…
…and WHY we chose WHAT we did, WHERE we did!
LAUNDRY ROOM SHELVING
#3: Pull-out Laundry Room Shelves Below Washer & Dryer.
You should know…I have a quirky thing about my clean laundry. And it is this:
I've never liked how the clean laundry you pull out of the washer and want to move over to the dryer inevitably has items falling out onto the floor. Right? You can't stop it. You can't control it. It happens.
One solution would be to keep my laundry room floor perfectly clean all the time, so that clean laundry falling on it wouldn't phase me, but alas. I do not live in that fantasy floor world. My floors are NOT perfectly clean all the time. (And I've embraced that beautiful bit of reality.)
Yet I draw the line at dirty clothes when there's such a simple laundry room shelf solution. You've just gone to the effort of cleaning your clothes; who wants them dirty immediately afterwards?
I'd never had the answer for this laundry-dropping problem until now, when I had the opportunity to actually do something about it. What ideas could I whip up to solve this problem?
BEHOLD!
My glorious laundry room shelf solution!
My must-have of all must-haves!
shelf slides | rug | pulls | laundry cabinet
LAUNDRY ROOM SHELVING
Laundry Room Shelves Under Washer & Dryer:
This glorious solution is in the form of a pull-out, sliding shelf you can extend underneath the washer and dryer, like a barrier between that area and the floor. (I would think this was REAL MAGIC except for the fact I do have to pull them out myself, which is a tipoff.)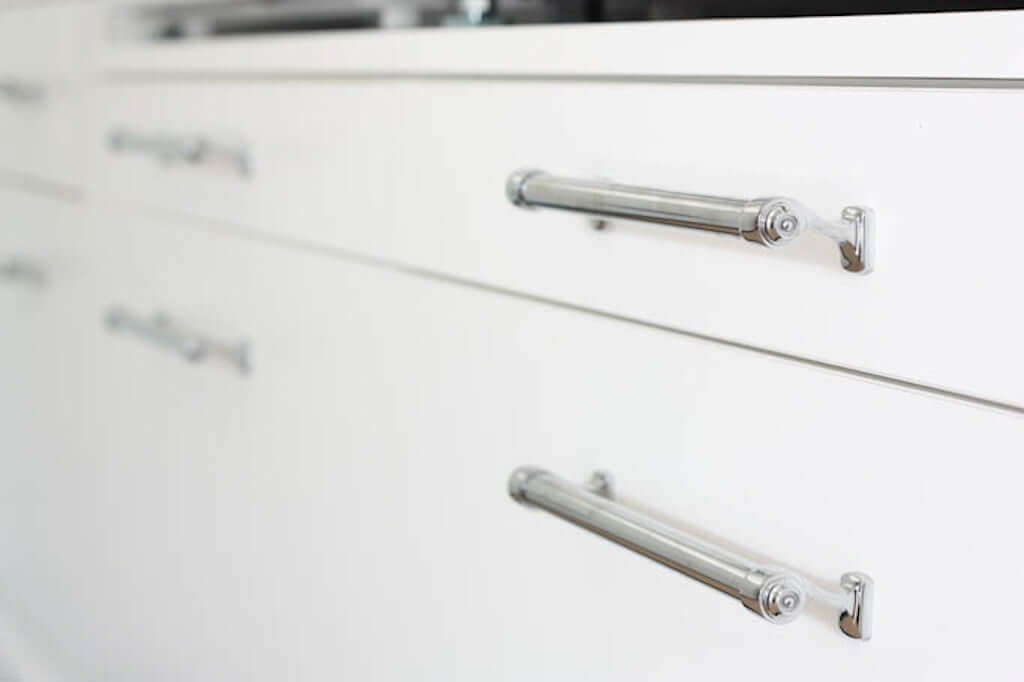 So you're pulling out a bunch of clothes to transfer to the dryer and bam! All the tiny articles of clothing come out with them and fall. Whaddaya do?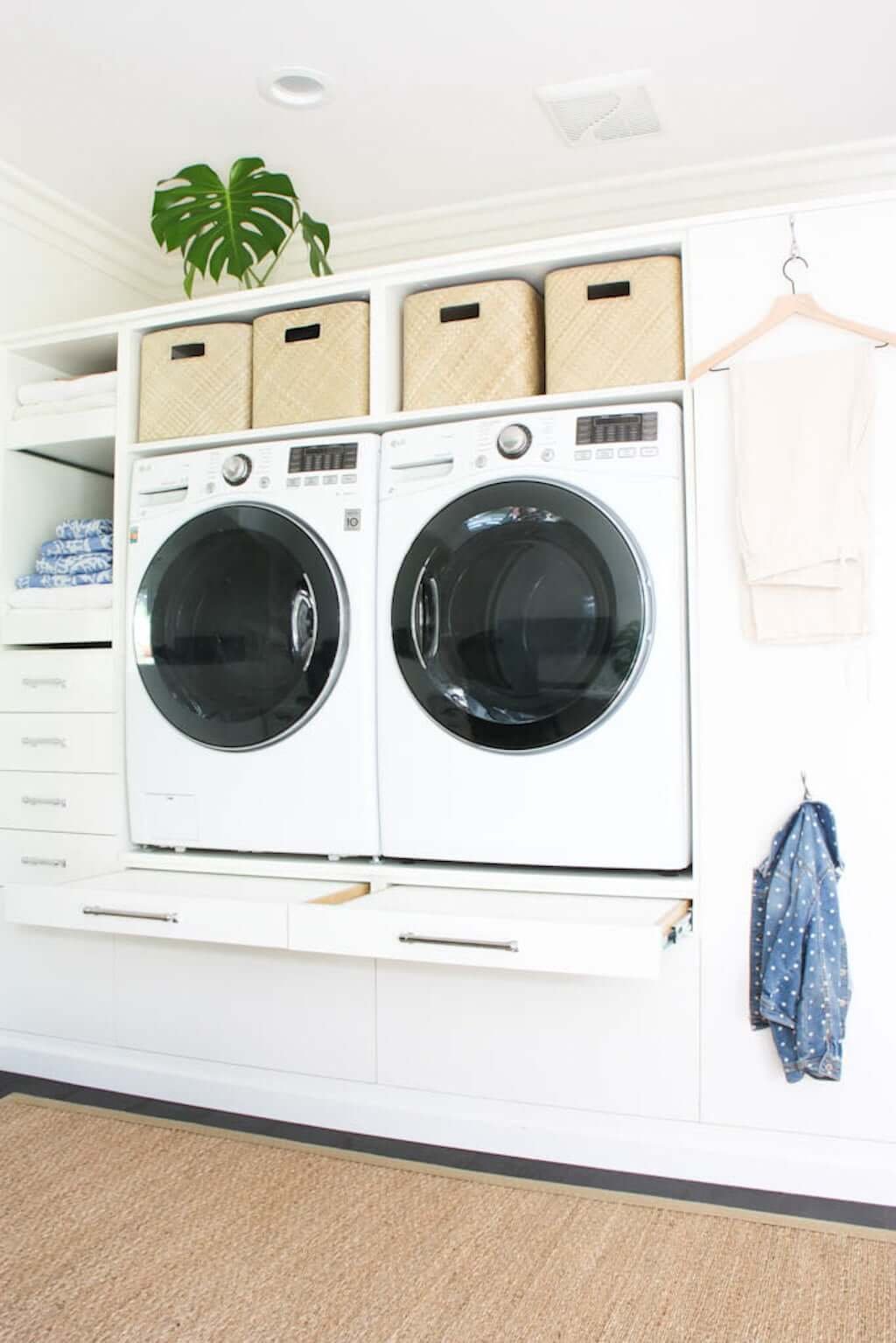 similar baskets | pulls | hangers | hooks | linen pants | plant | vase | towels | rug | washer | dryer | laundry cabinet
No biggie now! They're just on the washer and dryer shelf. Voila! Into the dryer they go and they're still as pure and innocent as the moment they were washed.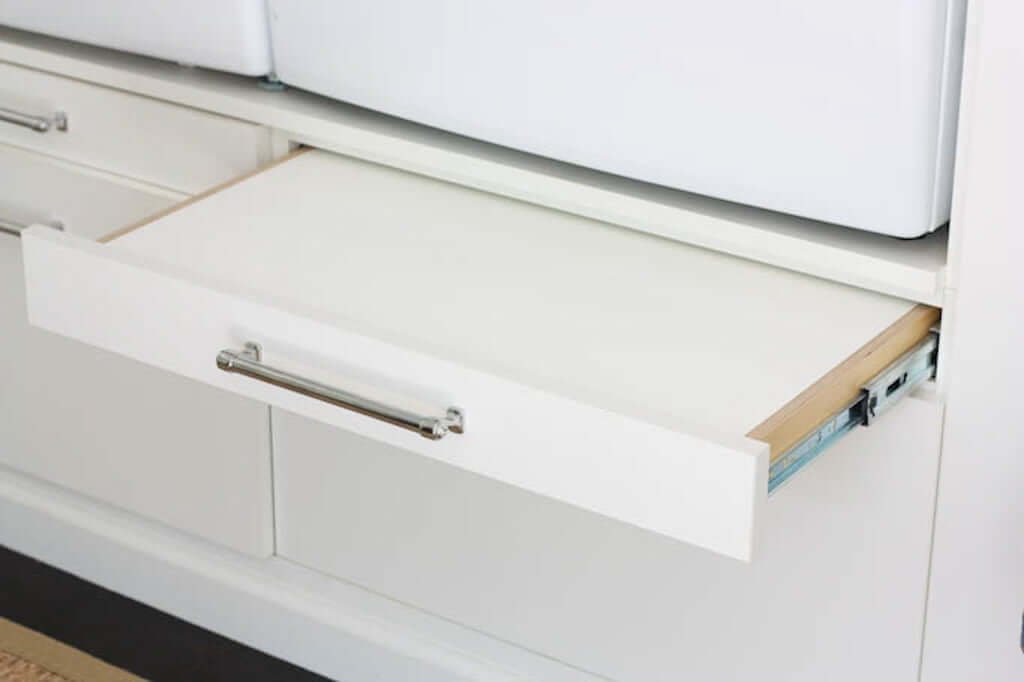 The other major benefit I've been finding to this washer and dryer shelf is that the pull-out is also a perfect place to set the laundry basket when you're pulling out dry clothes.
Two birds with one shelf!
LAUNDRY ROOM SHELF
#2: Laundry Shelves Over Washer/Dryer.
Now, I've seen many a laundry room with a laundry basket shelf below the washer and dryer, but I specifically wanted that space for something else (read about it here).
Also, another pet peeve of mine:
Laundry shelves over the washer & dryer that have a bunch of "little" things on them.
4 reasons to AVOID laundry room shelves like that:
If you want to maximize your space above your washer and dryer, you're going to want extra deep shelving above them (because washers and dryers are extra deep appliances). However…
…not only are the shelves usually hard to reach, that depth especially makes it hard to reach little things that inevitably get tucked behind each other on those laundry shelves.
The top laundry room shelf is usually impossible to reach without having to drag a stepstool out of somewhere, and I have better things to do with my time than go find a stepstool—in both the kitchen and the laundry room

(yes, I should write another blog post about how I try to avoid needing a stepstool)

.
It looks cluttered.
Hmmmmm, so…less-than-ideal both functionally and visually? Remind me why people do this to themselves? 😂
SOLUTION: Put something up there that
1) is on the large side and won't get lost (a.k.a. easy to reach) and
2) looks clean and uncluttered.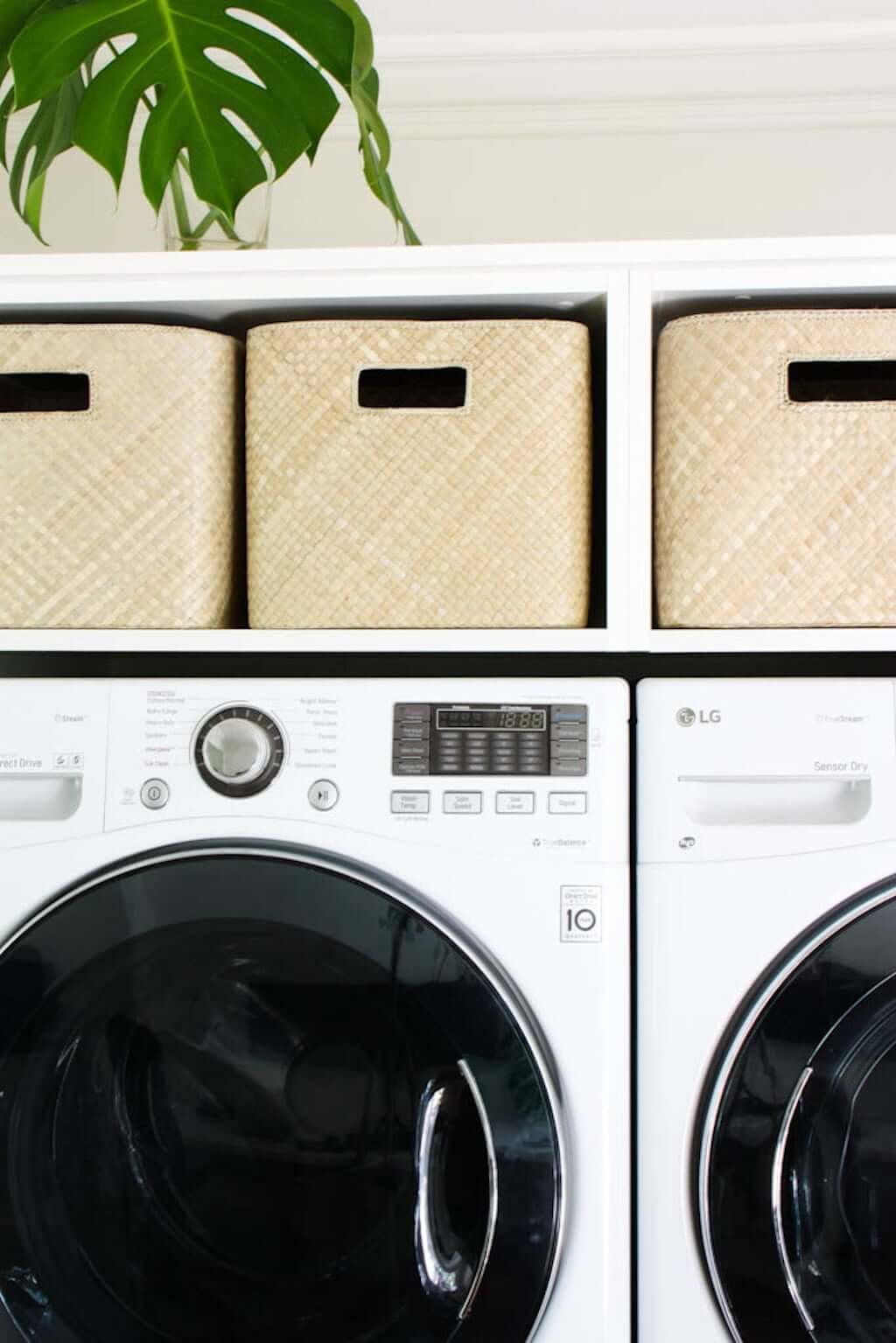 similar baskets | laundry cabinet
For me, this solution was a laundry basket shelf above my raised washer and dryer. (Well, technically it's two laundry shelves, and I have two baskets on each shelf.) I can grab my baskets easily and this area looks crisp and clean. No fuss, no drama, and no cutesy signs telling me to do my laundry.😂 (I already know, sign!)
➥ LAUNDRY BASKET TIP: If you're going to go woven, make sure it's a smooth weave with no "splinters" sticking out. (Those might enjoy grabbing onto bits of your clothes.)
similar baskets | laundry cabinet
Do I want to see my laundry detergent, however pretty it might be compared to others, on display above my washer and dryer? No, I do not. Which brings me to our final Shelf Discovery…
LAUNDRY ROOM SHELVING
#1: Full-extension Laundry Room Storage Shelves.
At some point, many of you wondered where I ended up keeping my detergent and his friends. Come on over to the left side, dear reader, and I'll show you.
We have two sliding laundry shelves that pull out. Why did we have them pull out? I'll show you that too.
(You already know why if you know about my mostly-hate relationship with deep shelves, such as when I talked about the mudroom in this post or in our laundry room video.)
purifying bag | pulls | towels | baskets | washer | laundry cabinet
Washers and dryers are DEEP. They go way back. So we had to build everything in this laundry room to the depth of the washer and the dryer (so that it wouldn't feel awkward, right?).
Plus, think of how awesome it would be to have the drawers below be extra deep! And the shelves above to be extra deep! So that meant all the storage to the left would be extra deep too.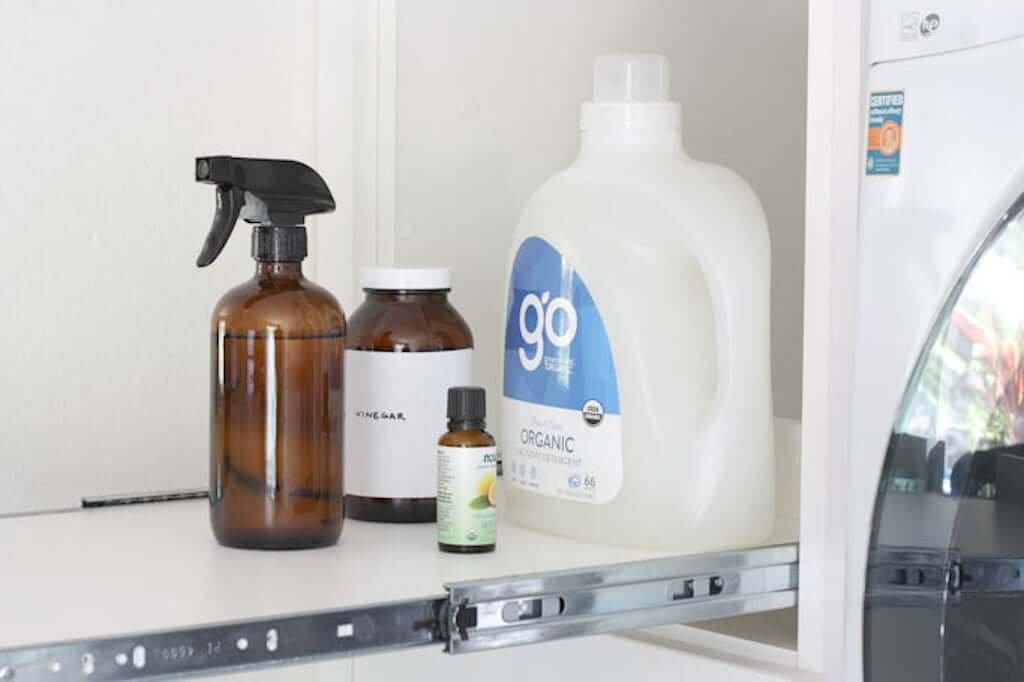 our favorite non-toxic detergent | spray bottle | lemon oil | shelf slides | washer | laundry cabinet
THE PROBLEM:
I knew I wanted laundry room shelving for our non-toxic detergent and other bottles (years ago I started moving over to using all-natural cleaning products…another story).
But extra long static laundry room shelves = extra long pain. I mean, can you imagine having to reach back 3 feet to try to get a certain bottle that rolled or got pushed back there over time?
No thank you. Homey don't play dat. So…
THE SOLUTION:
We used full extension drawer slides on these laundry room shelves, to allow you to pull them out fully. We used this one.
What I also love about these shelf extenders is that I still feel like I have so much room to spare! We have all our laundry "stuff" on these shelves, and there's still more space when you pull it out.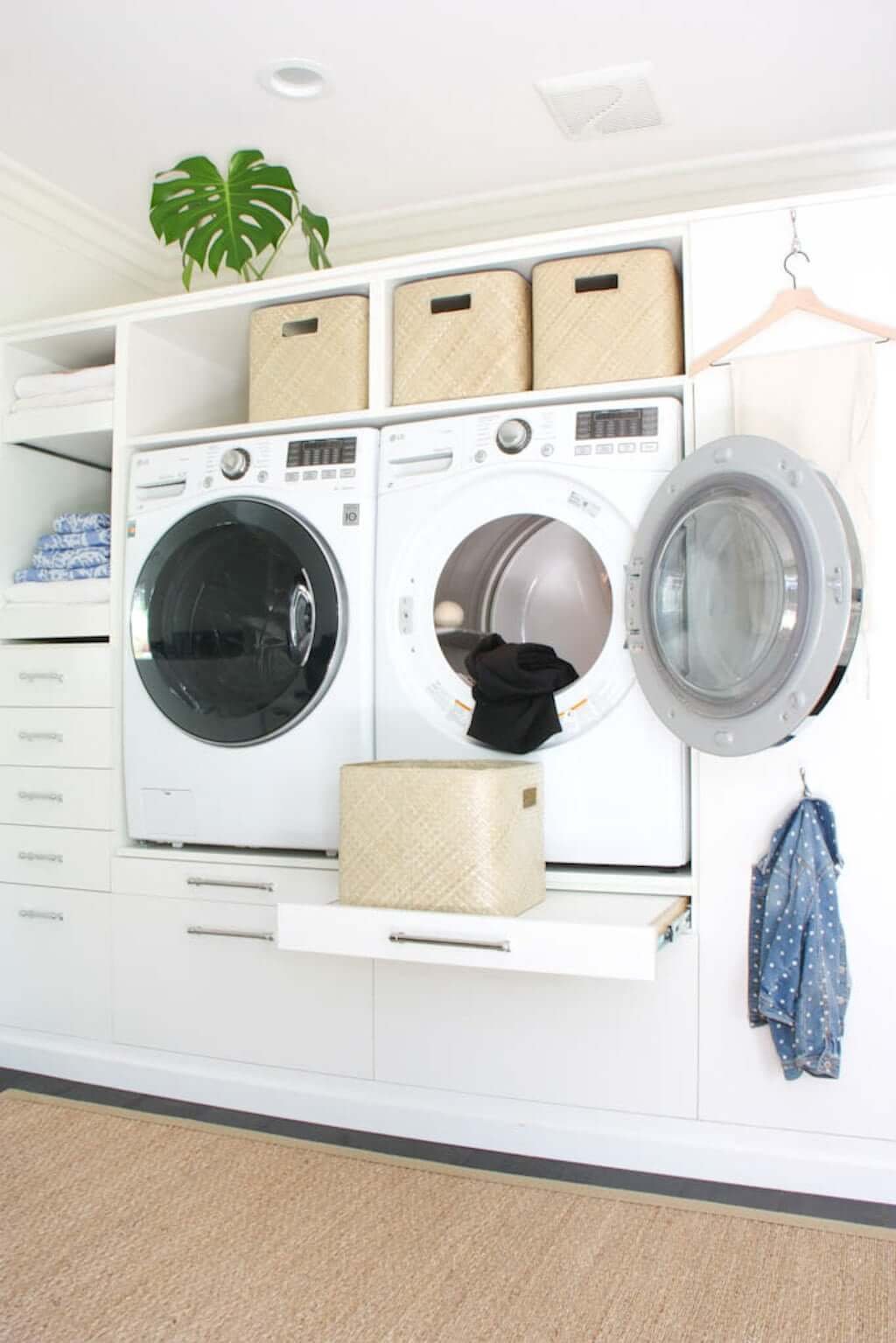 baskets | pulls | hangers | hooks | linen pants | plant | vase | towels | purifying bags | rug | dryer balls | washer | dryer | laundry cabinet
(The ball you can see above in our dryer is one of a set of these dryer balls we love using. We say no thank you to dryer sheets. And yes, of course we buy ones that are made from New Zealand wool!)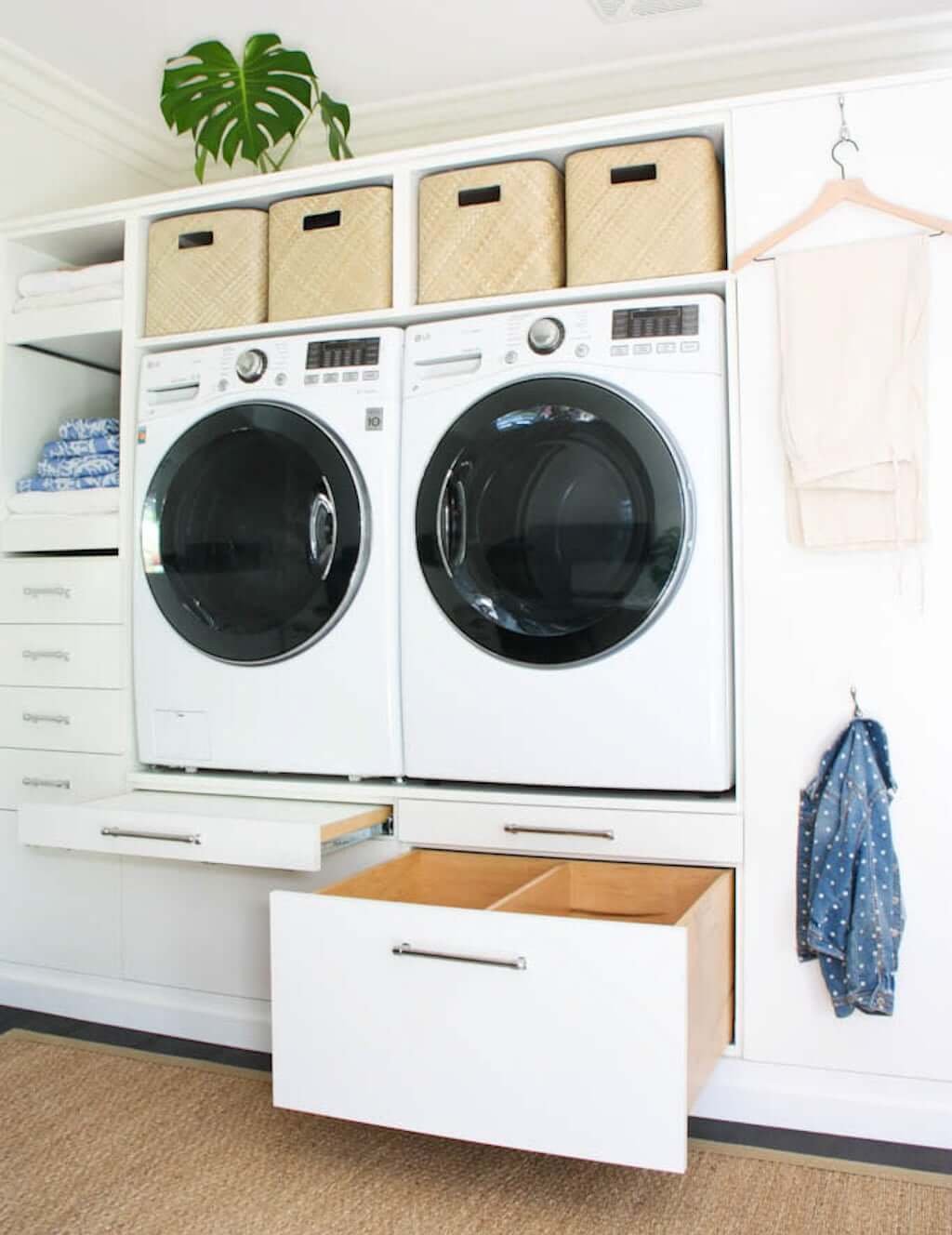 laundry cabinet + drawers & shelves
➜ NEW! Matt spent weeks putting together our Laundry Cabinet Plans for you guys! An ambitious beginner can DIY them, or you can hire someone to build them for you in a weekend if you don't want to be bothered. 😆 Get them HERE!
---
If you missed the full tour, you'll want to check out our 7 laundry room must-haves! Or maybe you're wondering why we have a laundry "wall"? Click HERE to see why!
If you've already caught up on those, you might enjoy seeing our other home solutions, such as
PS: You can view every single one of our house projects HERE!
To see the shelves in action, check out this video we made of them!
And here are the slides in action! 🙂