When you have a laundry space, getting a laundry room shelf seems to be the #1 thing people start looking for.
However, DON'T BUY THAT SHELF until you can answer the following questions!😆
Is it just one shelf you want (or more than one)?
Do you know what depth is ideal for your situation?
What exactly do you want to keep on those shelves…
…and do you have a list of their measurements?
Have you figured out exactly how high your first shelf should be?
…and so many more questions you need to answer before buying a thing!
I'm not only a Design Architect; I run an interior design business with my Build Engineer husband and today we're giving you the only 5 types of laundry room shelf you actually need to know about and choose from!
So let's figure out the one ideal shelf setup for you!😍
Wood Shelves for laundry room
#5: Floating Laundry Room Shelf (most common)!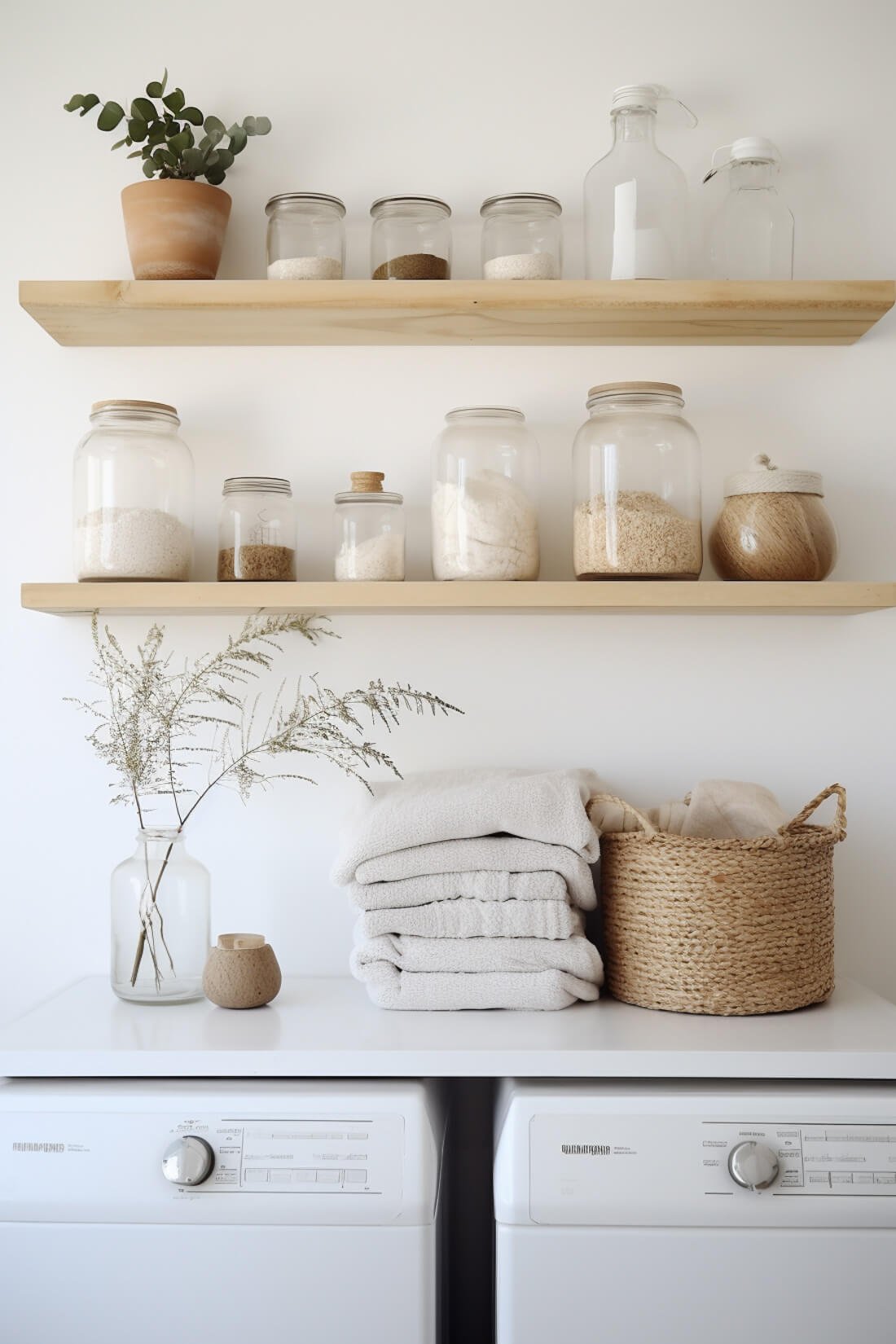 A floating laundry shelf is probably the #1 type of shelf I see people do in their laundry room, but I'm putting it as #5 because…
…I've shared before about my aversion to open shelving and why. 😉
However, there is also something to be said about open shelving in a laundry room, so I can tell you three positives about this option!
Because it's not a cabinet you have to open, you can grab what you need immediately.
If you're storing things you use daily (or almost daily) on the shelves, I can get on board with them for efficiency's sake.😉
They're cost-effective and easy to install. I get it! 🙂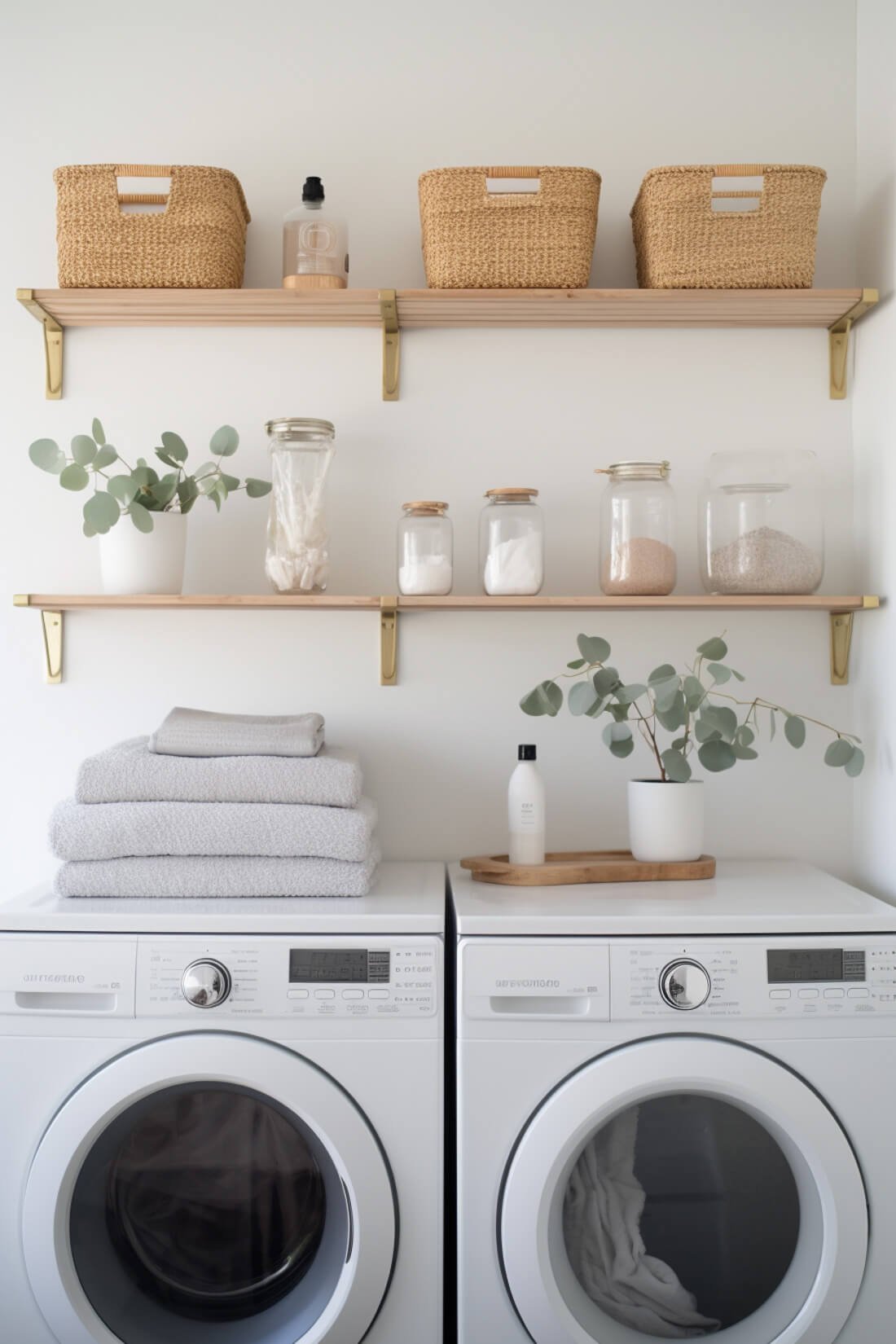 Especially if you have a small, narrow laundry room (and you want it dark, as our below client did), open shelving can help give some breathing room to your space!
My other thoughts:
Make sure they're the right depth! (Deeper than most!) Laundry machines are deep and standard shelves are literally a pain to your body to reach.
If your laundry room isn't on display, and it's in a back area you don't see from the rest of the house, open shelving here is less distracting.
Especially if you are focusing on your laundry room not being over-decorated, I salute you and give you approval if open shelving is what you want! But please do read about your other options below…🤗
WOOD SHELVES FOR LAUNDRY ROOM
Similar Styles to "Pure" Floating Shelves!
If you do decide you want to go with a hanging shelf (or shelves) above your washing machine, you do have some stylistic options that vary from a "pure" floating shelf!
#1: Shelf with Brackets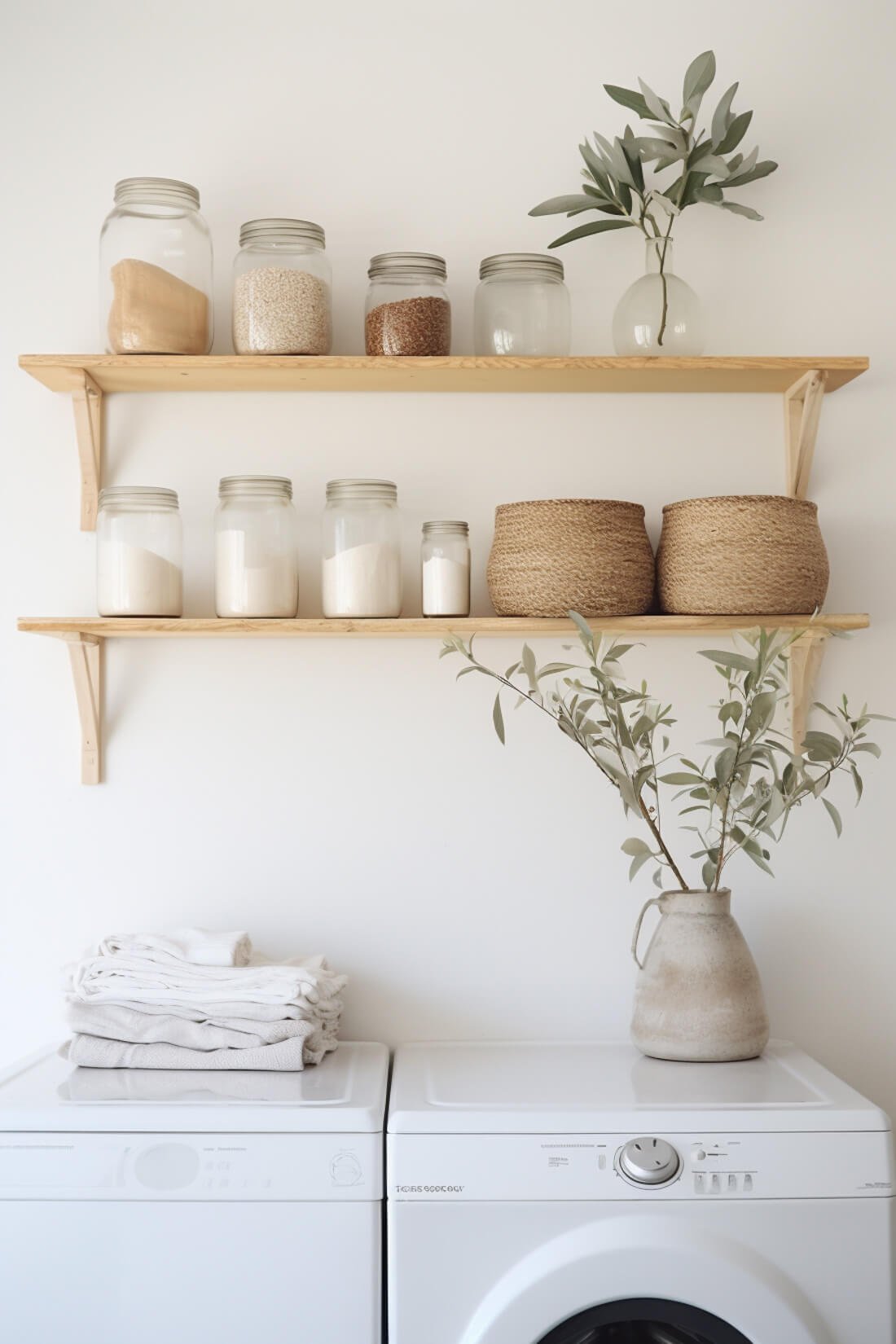 If you can't do "purely" floating shelves, you can add brackets below each shelf either out of wood…
Or you could choose shelves with metal brackets if you don't dig the wood ones…
(I share a number of gorgeous metal + wood options further below!)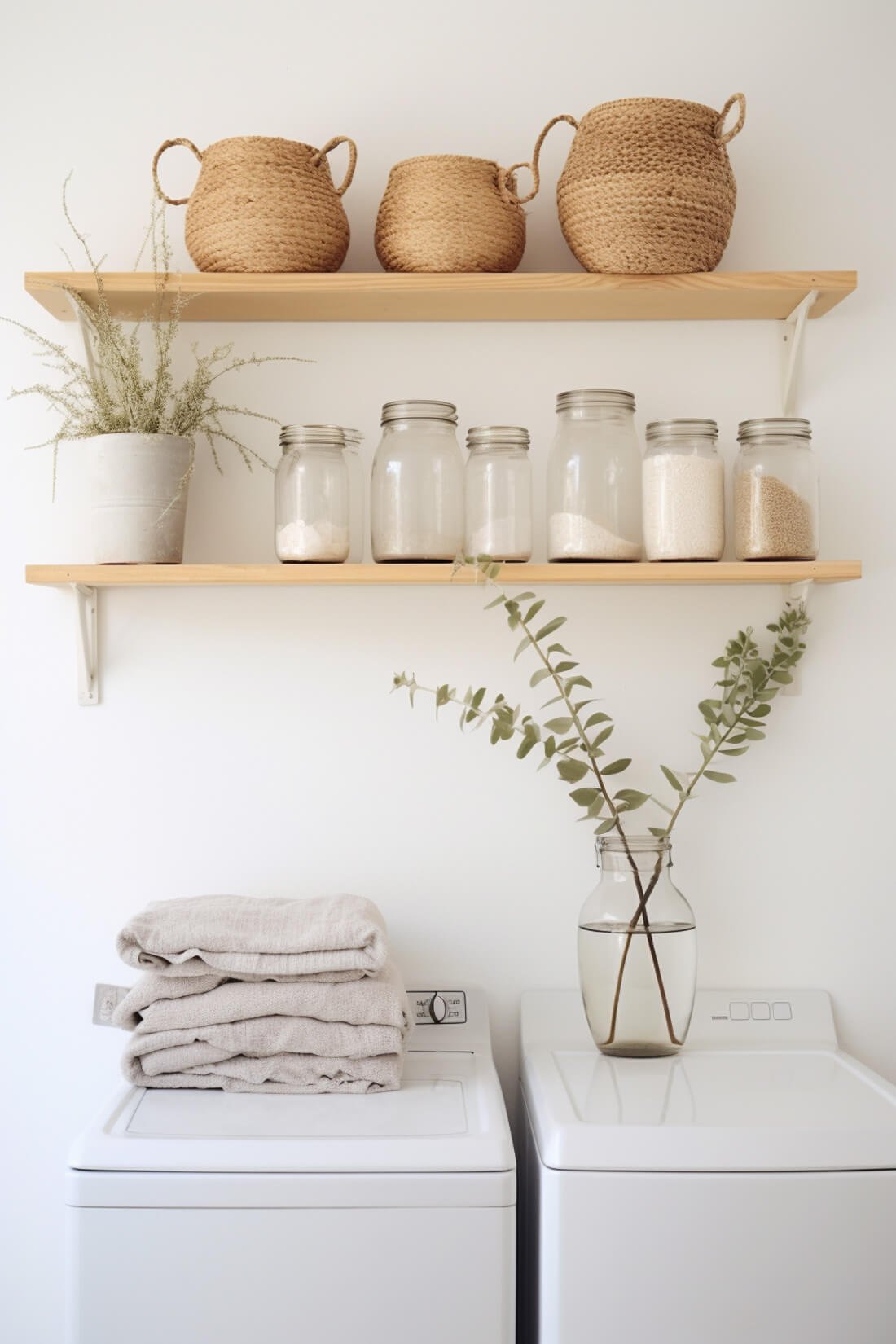 #2: Laundry Room Shelf With Hanging Rod!
One of my favorite ideas to suggest (if you love the open shelf look) is to incorporate a wood or metal rod mounted below your hanging shelf.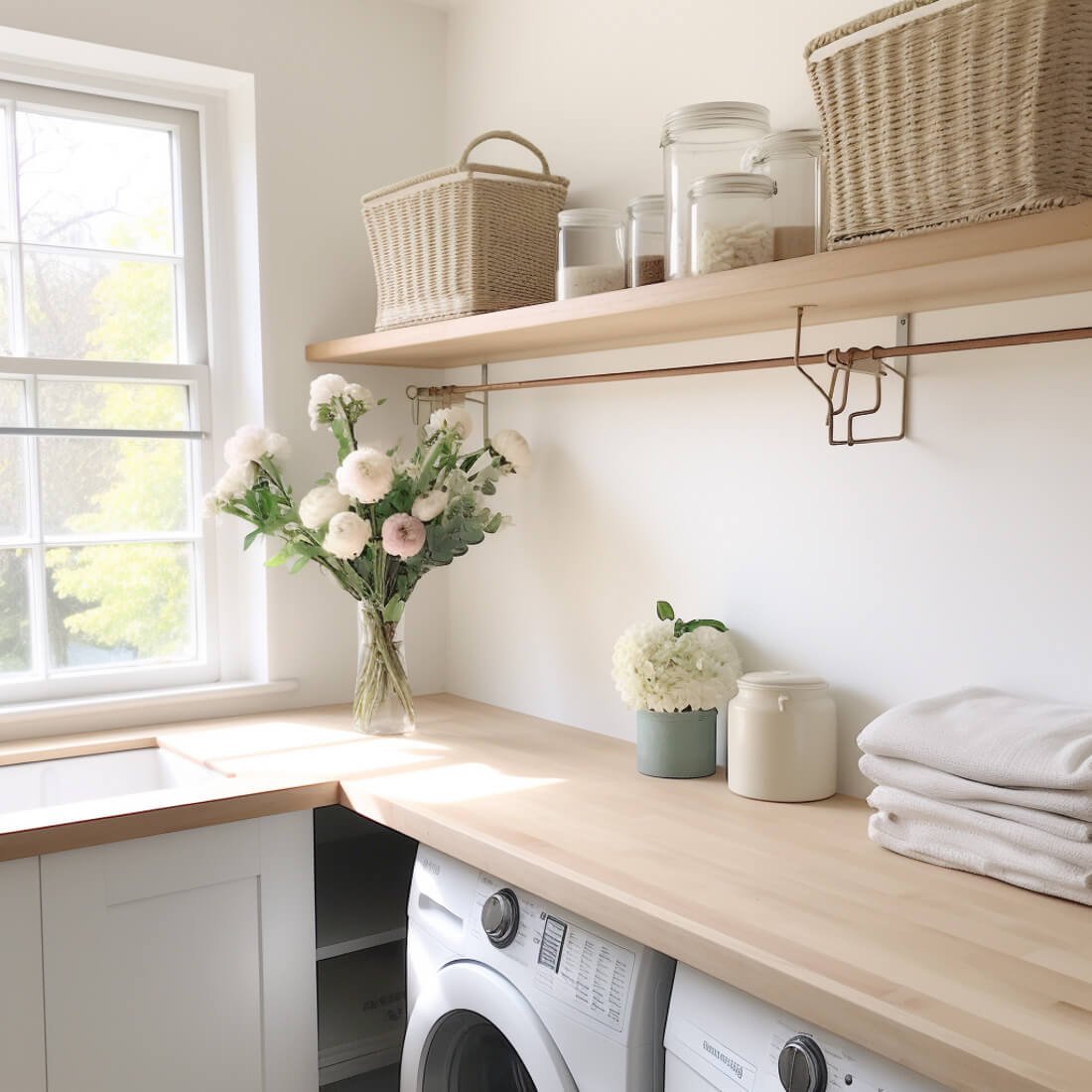 Whether your laundry room is small or large, incorporating a hanging rod is one of the #1 requirements for people who're in the habit of hanging hanging all or certain items!
Even if you can't find a pre-created laundry room shelf with hanging rod, you can add one yourself! DIY at its finest!😄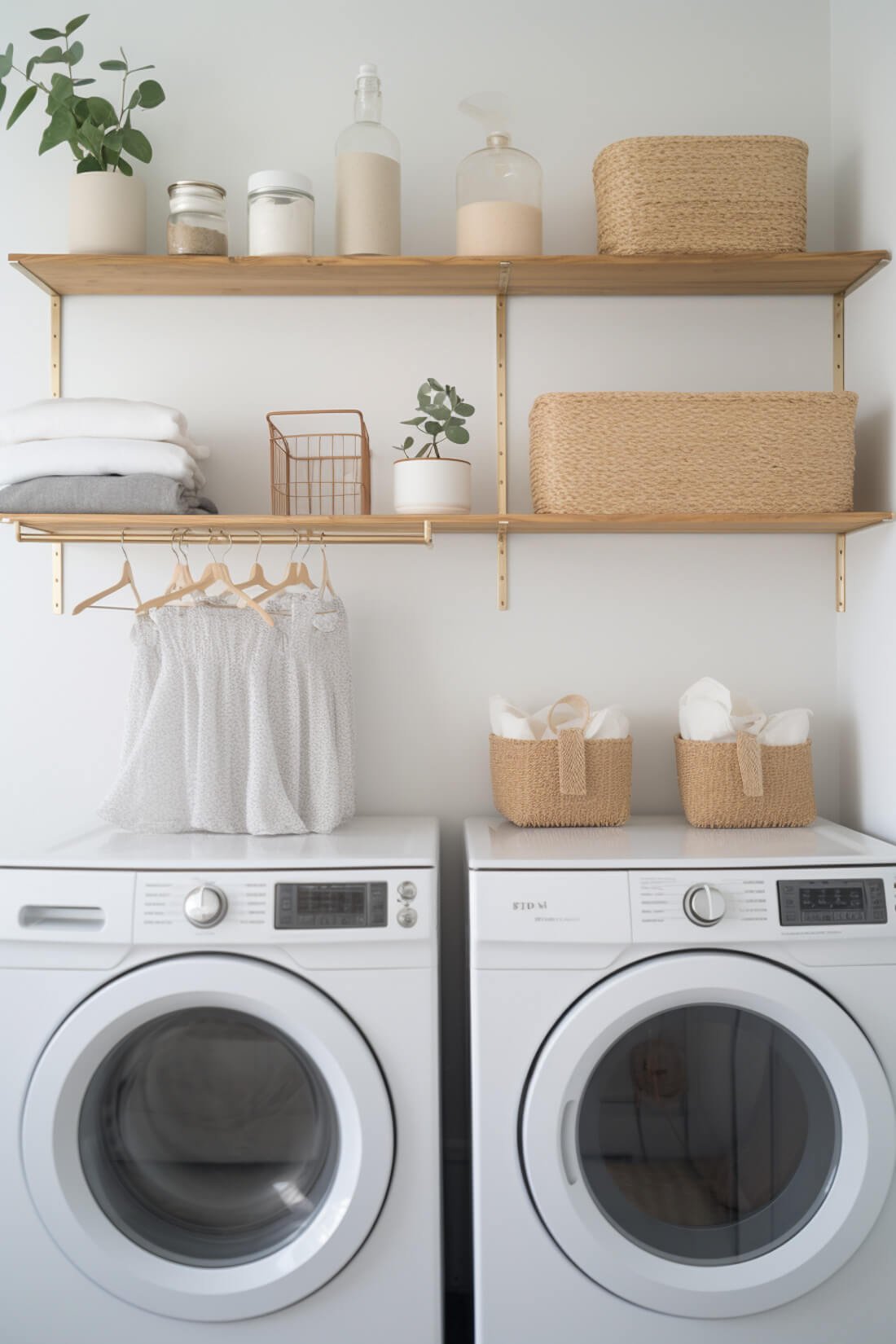 You can pre-buy this and this one.
#3: adjustable Laundry Room Shelf
While this isn't necessarily my favorite option, if
a) you're not sure what height(s) you want, and/or
b) being able to adjust your shelves is important to you functionally…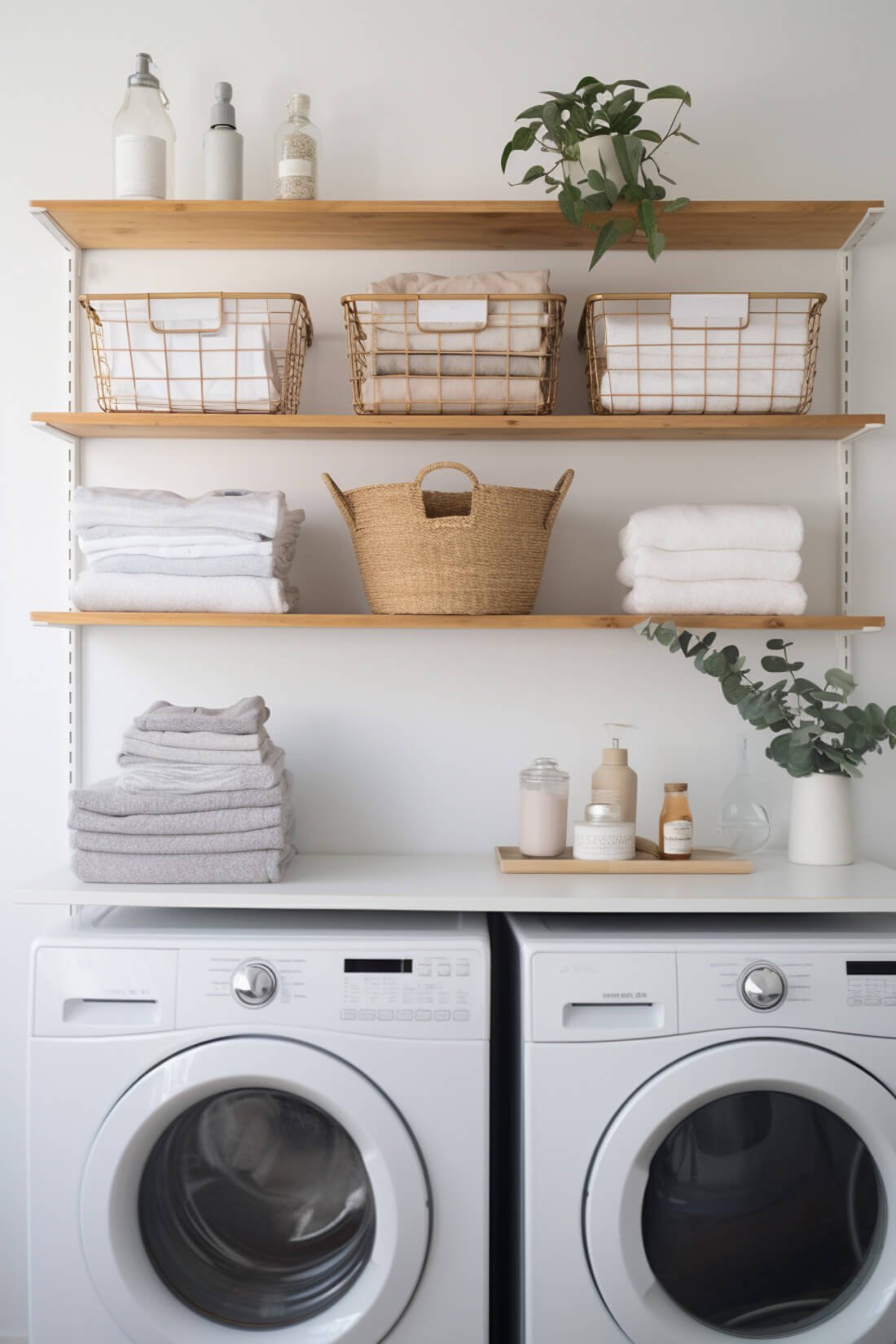 …I have to mention that you have this option open to you!
You'll simply mount metal tracks to your wall, then your shelves can pop in and out of them depending on the heights you want as you use them and decide what you like best! 😊
Laundry shelf
#4: The Freestanding Options!
Ideal for renters or those of us who just aren't sure about doing something permanent to our walls at this point in time), a freestanding laundry shelf is a fantastic option!
I also like this if you're in a testing period for your laundry room, seeing what works and what doesn't!
This could be a cabinet rack that fits over the top, or something like this that can be stored right to the side!
If you can't find anything you like, creating your own DIY design (like the below) with some simple wood pieced together is another clean, simple idea!
laundry room shelf ideas
#3: Built-in Laundry Room Shelf!
What I love about built-in laundry room shelves is they can be just as simple as the floating shelf idea people generally think of…
…but it's immediately upscaled because of the relatively tiny extra effort of making it look built in!
For example, the below is the simplest laundry room shelf with a built-in look that you could do so simply! (Plus, if you have anything loose stored in them, you don't have the risk of it falling off the left side into your sink!)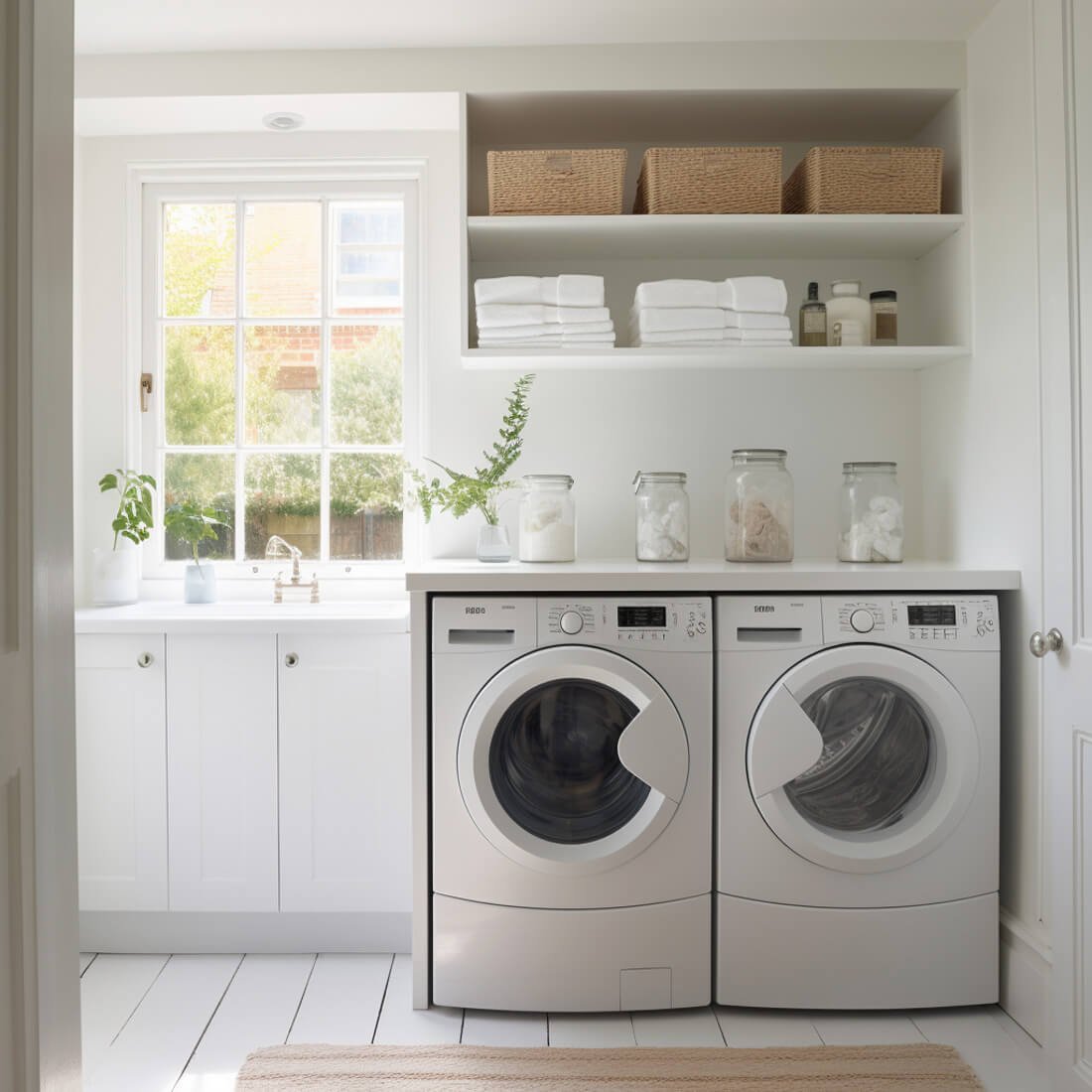 Below is another example, the only difference being the thicker shelves and incorporating molding (if you like a more substantial look than the above)! I'm the Queen of Design Ideas and there are so many options that I want you to be aware of! 🤗
If you have high ceilings and want to fill your wall space with all your glorious laundry room shelf ideas, while keeping it simple, here's how it could look! (I'd add a library-style ladder as well, as I've done for clients before!)
If building your own shelves seems too daunting, why not get creative and use wall cubes? I created the below concept to show you how this could look upscaled while being something you could so easily get from here!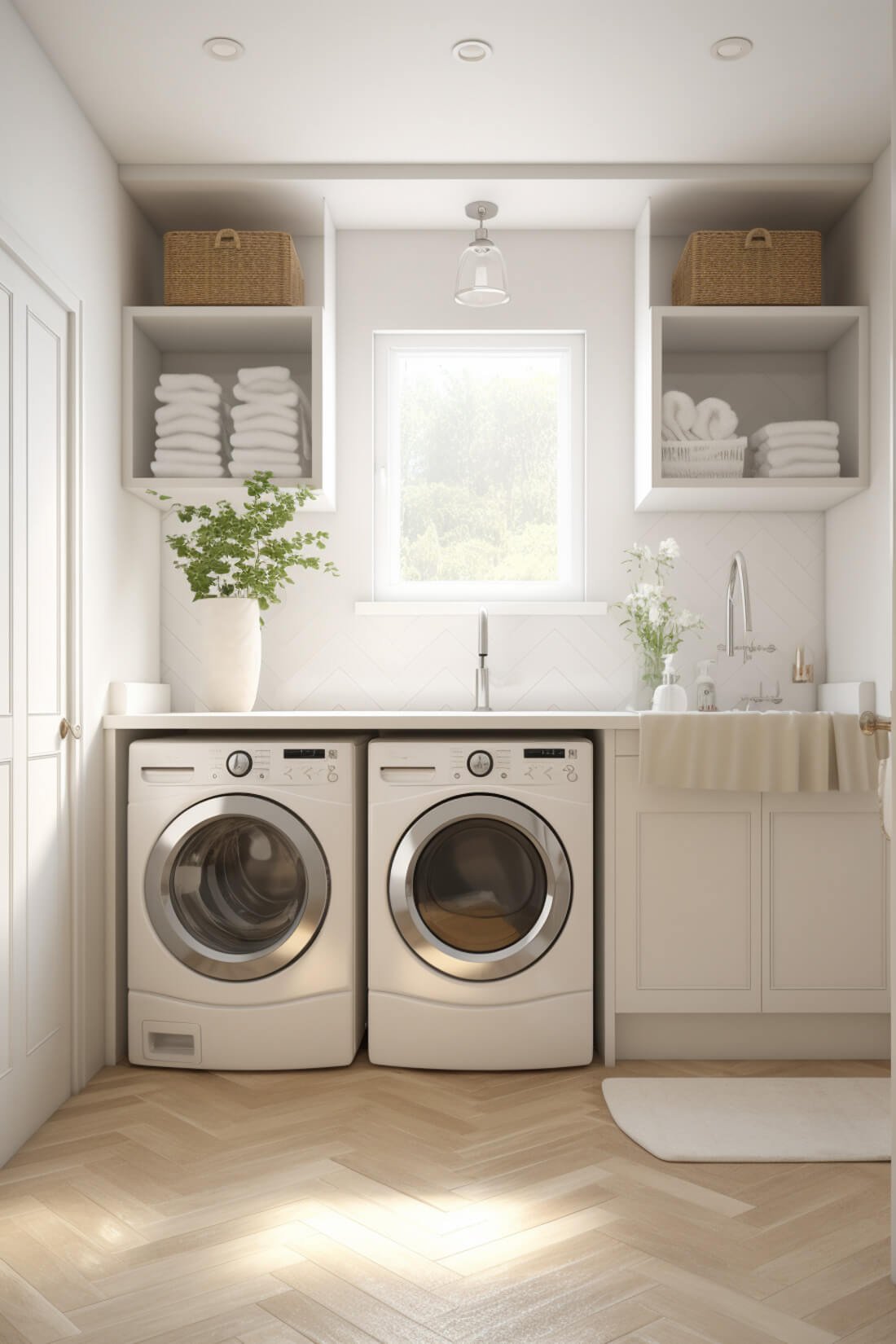 Pre-made cubes like these come in all kinds of finishes these days, from classic white to natural woods…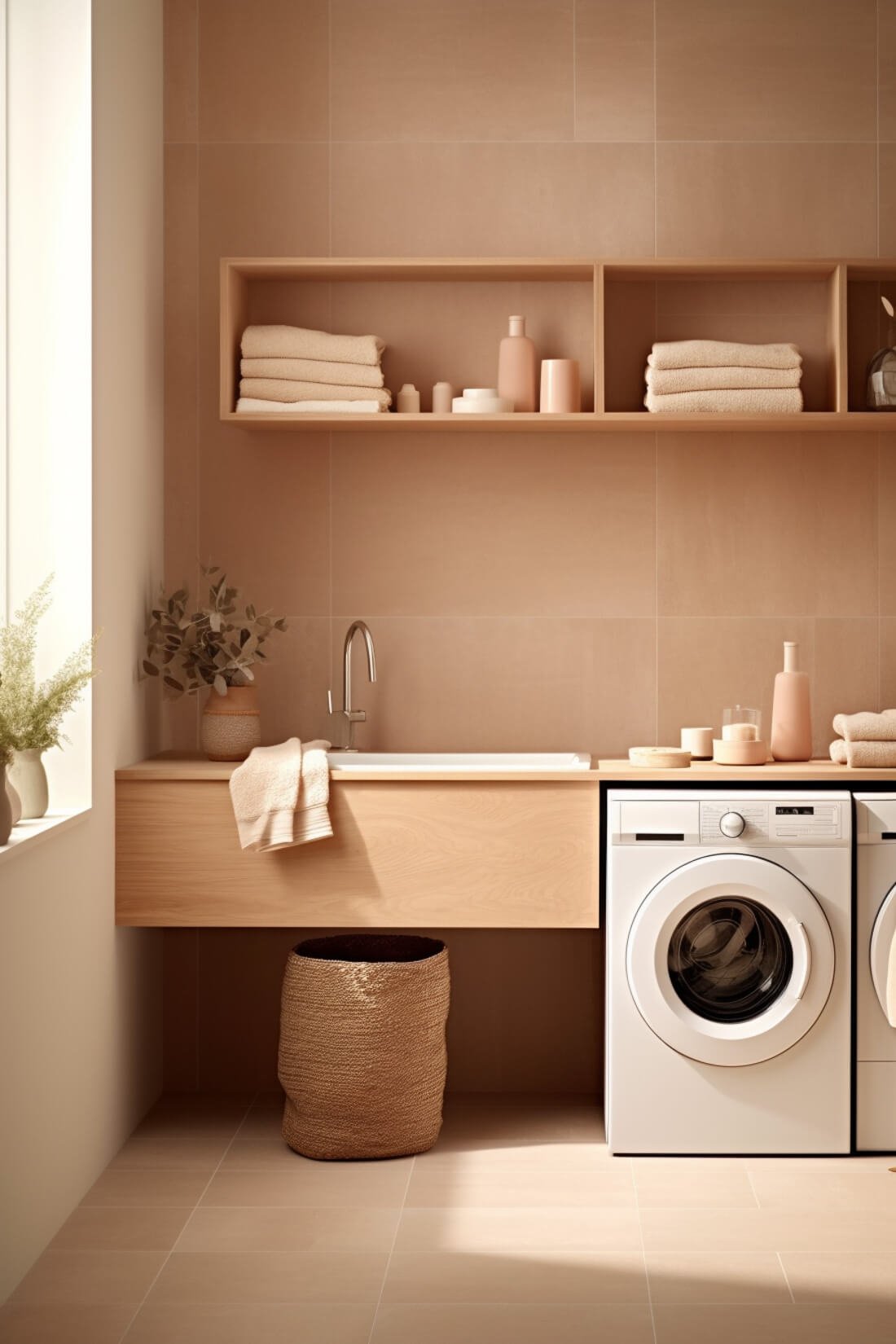 This 3D minimal design concept below I created to show you how you can keep thinking outside the box—your built-in shelves can be any size, any height, and any configuration! (We'll talk about sizing below!)
Here, the warm wood ties into the warmth of the cabinets and floor (and helps warm up those "cold" white machines, which I talk about in our #1 easy laundry room decor tip).
Before we move onto the next type of "hidden" laundry room shelf you can do, I want to show you another concept I created for a moody-design-loving client with a small laundry room. This is like simple open shelving but not your everyday open shelves! With the simple addition of a metal accent, extra support is provided as well as some design flair and tying into the other metal accents in the room.
Clearly, you do NOT have to stick with boring shelves in your laundry room if you don't want to, but regardless of your preference, let's get back to the list with the #2 functional shelf I recommend!
laundry shelf ideas
What I like about shelves hidden behind cabinet doors is simple:
Zero visual clutter.
Never worry about having to make your laundry supplies "pretty" or on display.
Automatically looks clean, organized and pulled together!😍
Here, we incorporated both upper shelving and a cabinet for hiding miscellaneous/busy items. (I'd mount a hanging rod in that open space as well, even though it's not installed yet in this pic.)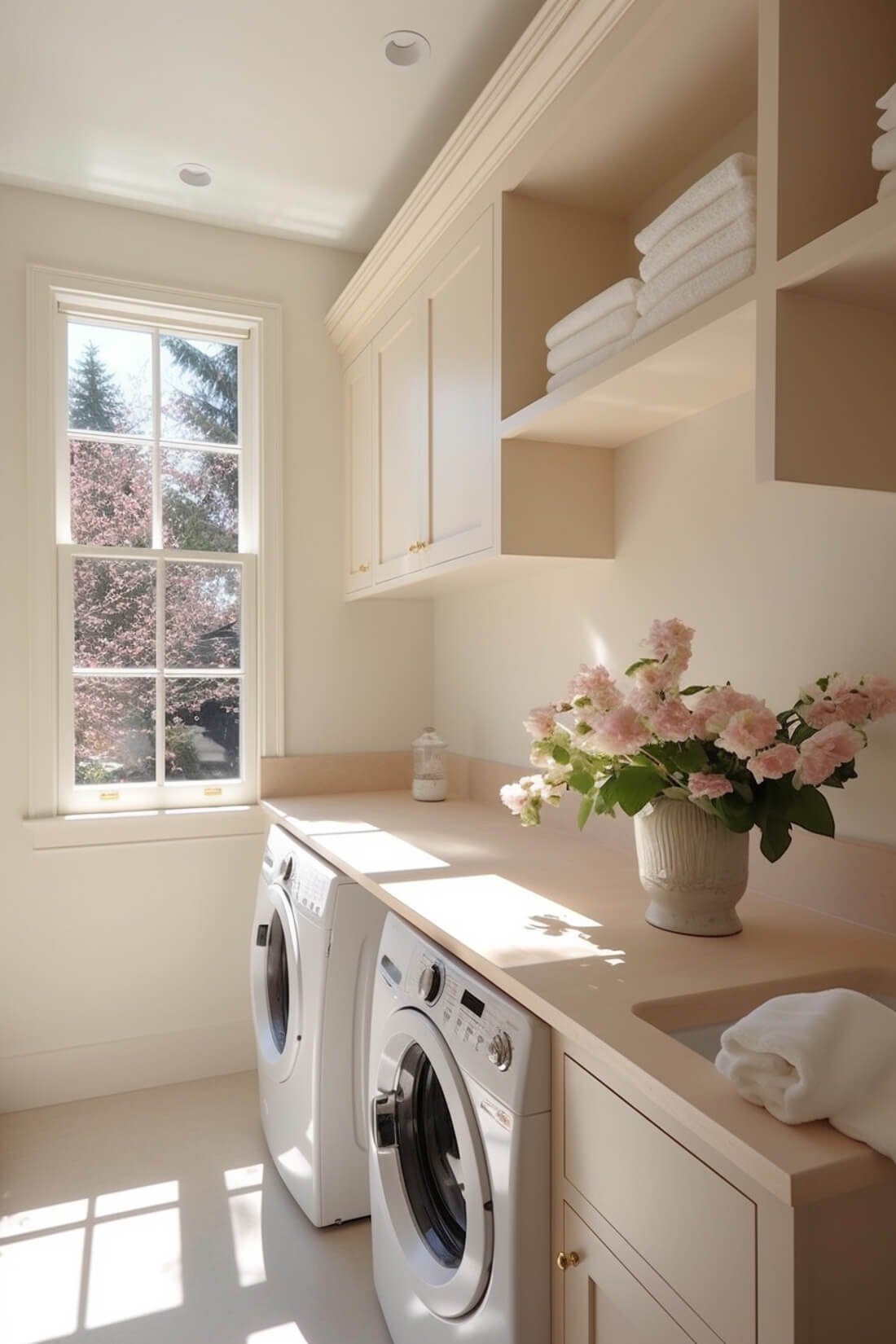 Laundry room shelf ideas
"How do I organize my laundry room without cabinets?"
How do you organize your laundry room without cabinets? I'm so glad you asked! 🙂
Because that's exactly what we did in our home! (You can see it HERE.)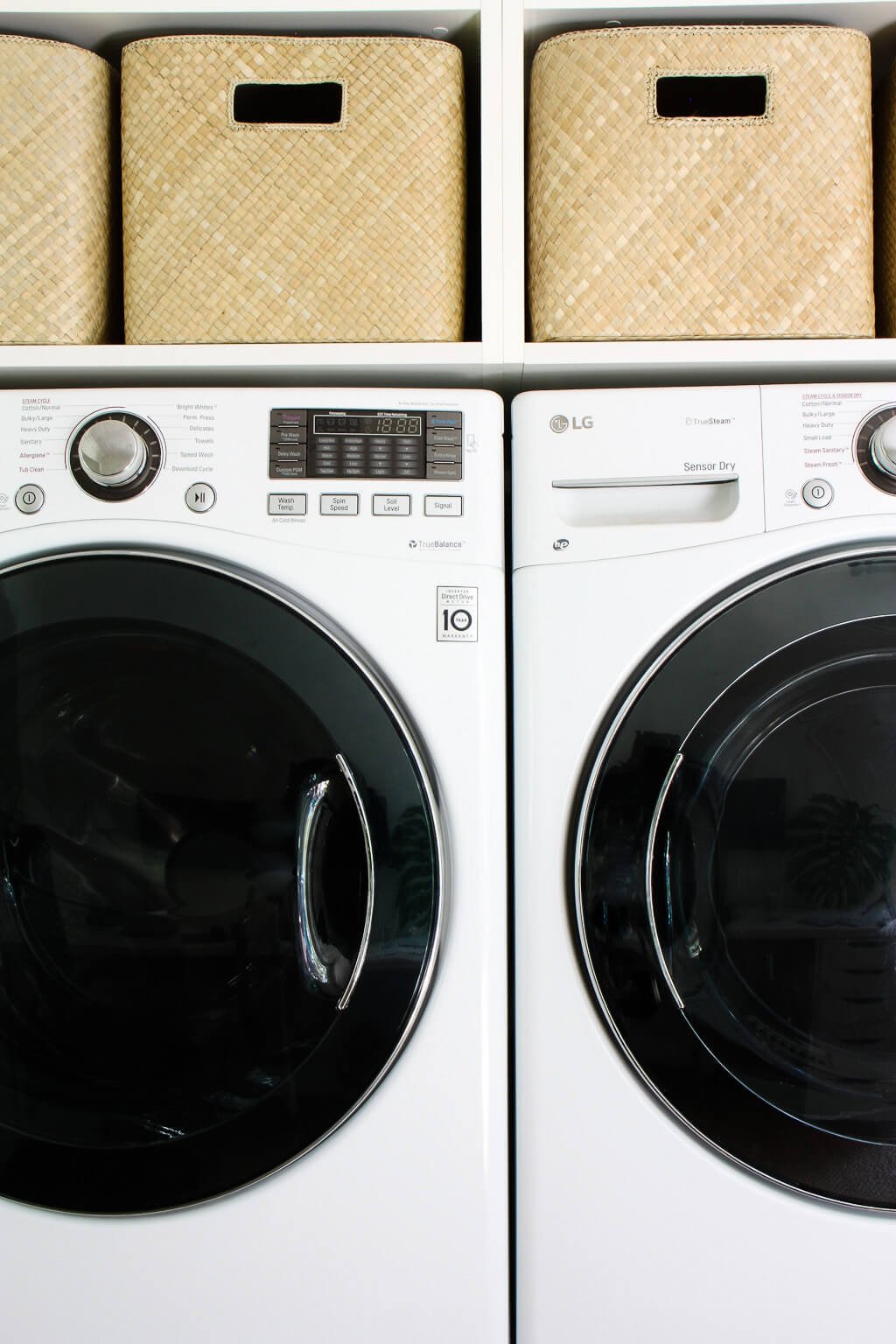 laundry basket shelves
#1: Pull Out Shelves!
My #1 recommendation to you is not to do simple standing shelves but to make them pull out on slides like these!
Why?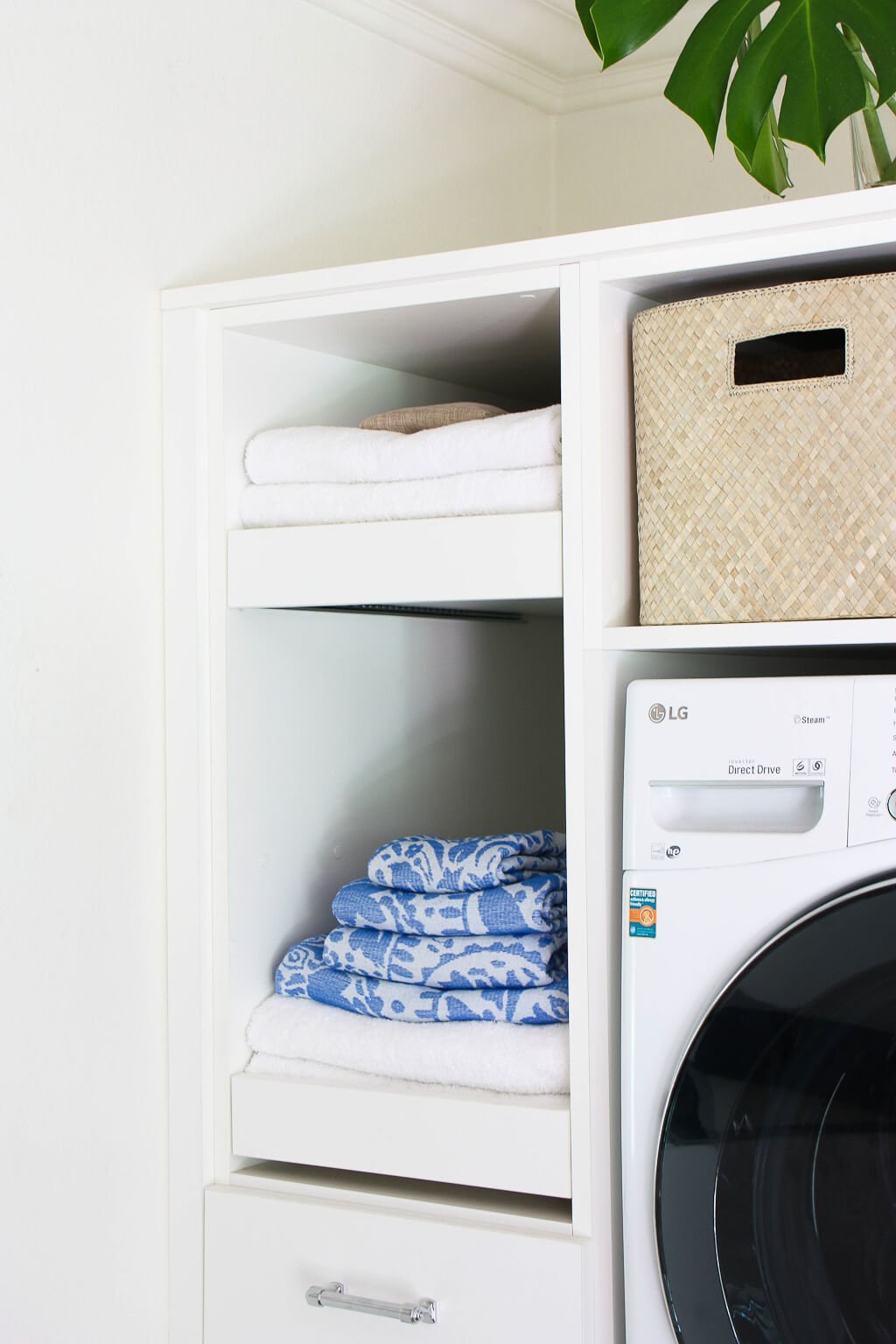 Pull-out shelves will maximize your storage and functionality in extra-deep spaces (which is typical when you're wanting to store things the same depth as modern washers and dryers)!
You can see how we did ours HERE!
LAUNDRY ROOM OPEN SHELVING IDEAS
"How do I add shelves to my laundry room?"
The simplest way is to add freestanding shelves you don't have to attach to your wall!
The next easiest way is to do a French cleat for your shelves. (You can see how to do this here.)
The third way is to screw the shelves directly into your wall. You'll want to locate your wall studs with a stud finder (or even a small magnet, the old-fashioned way that's making a comeback!) in the area you'll be installing them, since this will provide much more support than installing directly into your drywall.
Make sure they're level! A leveler is the best way to do this, or if you want to go really low-tech, try setting a ball or cylinder-shape object on your shelf and see if it stays put! If it moves, you'll be able to tell which way your shelf is tilting and adjust accordingly!
LAUNDRY ROOM OPEN SHELVING IDEAS
"Can I add shelves if I have a window?"
Yes! Even if you're working with a window in your laundry room, you can do simple built-in shelves to each side…
…or just run it right across your window like we did here!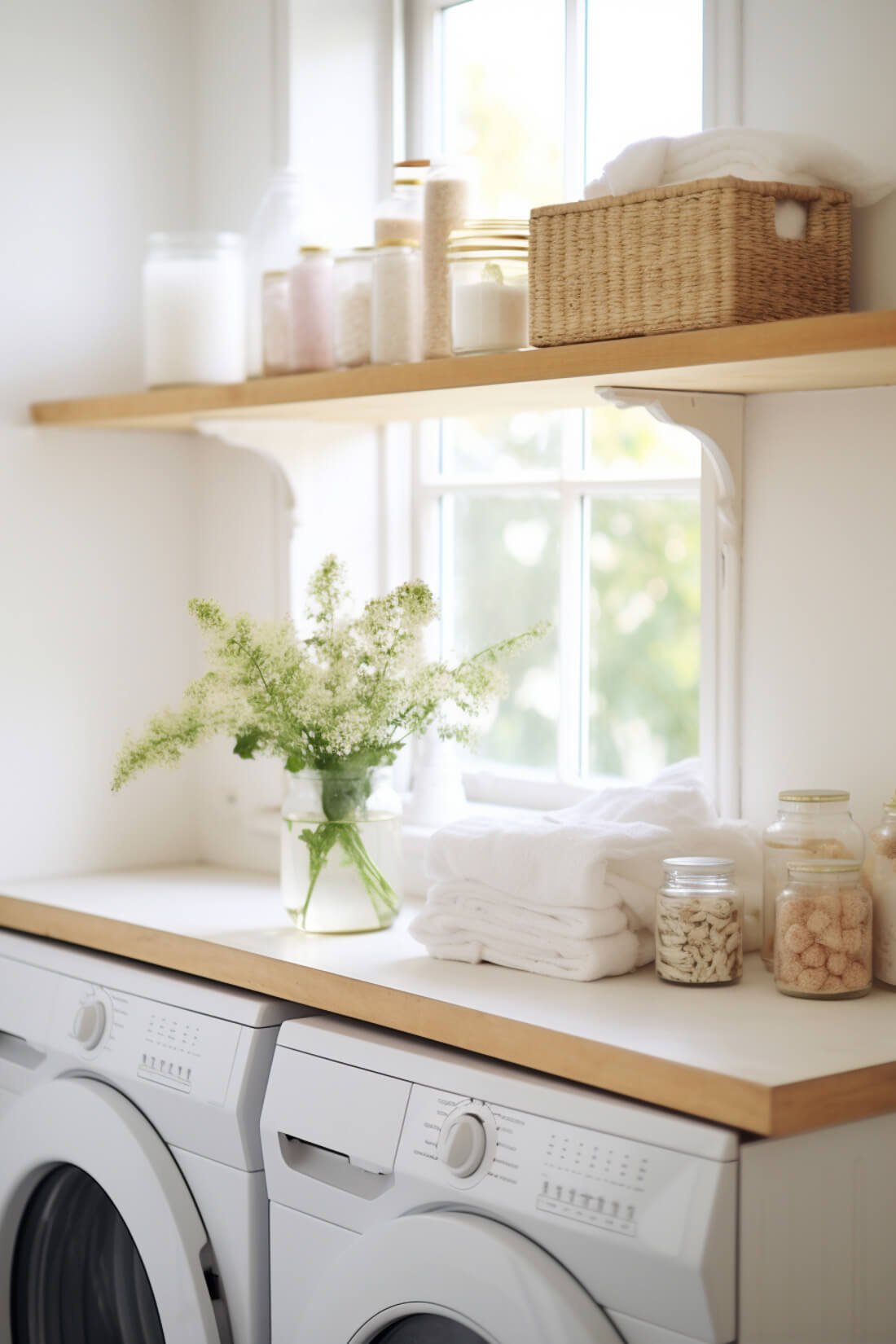 You can also work around your window and fit the shelves in where you can, on the wall perpendicular to the window, or in a corner!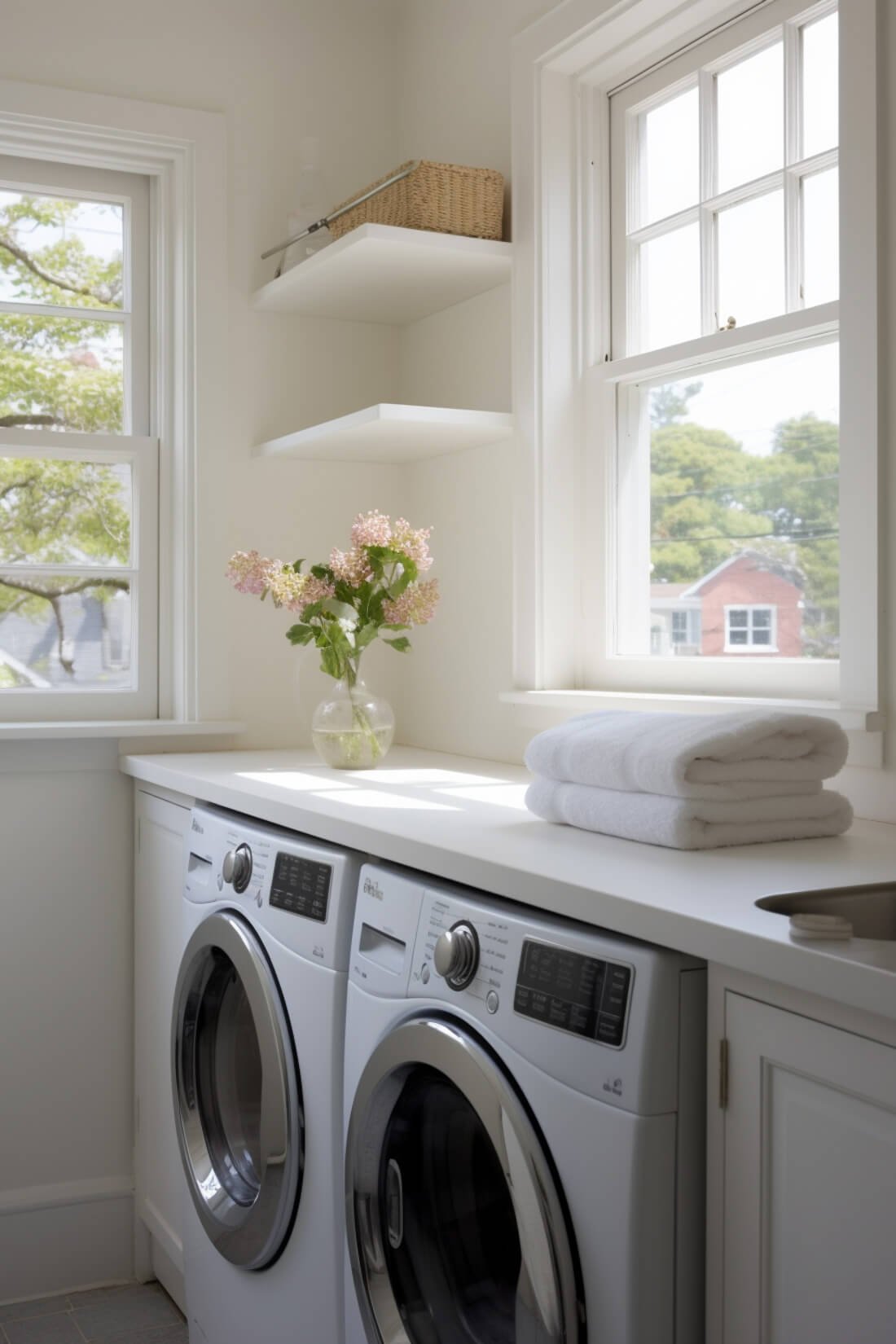 laundry CLOSET SHELF IDEA
"What about shelves in a laundry closet?"
If you have a closet, consider stacking your washer-dryer and putting more easily-accessible shelves to the side…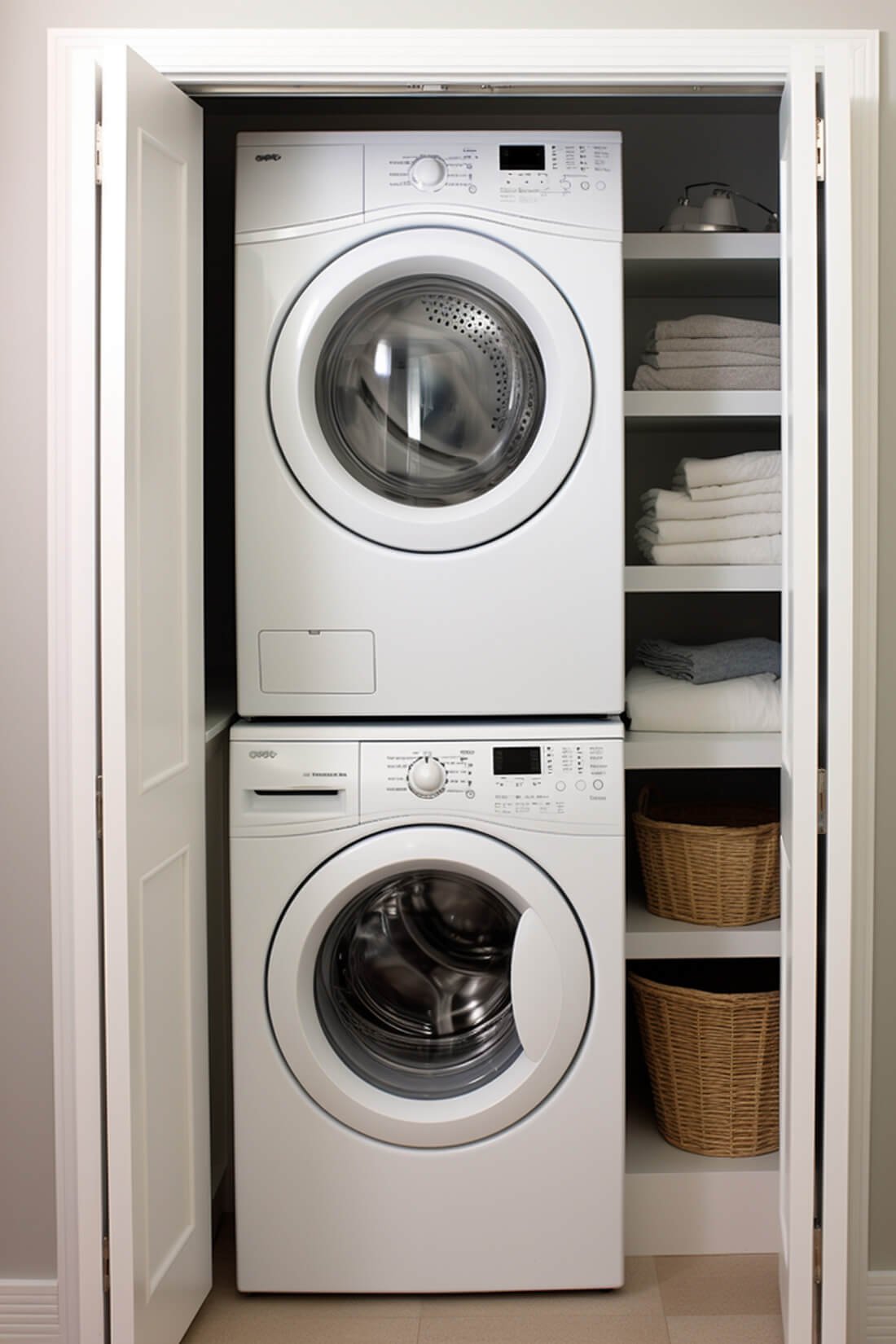 …but stacking washers and dryers is another topic for another day! 🙂
wood shelves for laundry room
"What do you put on floating shelves in a laundry room?"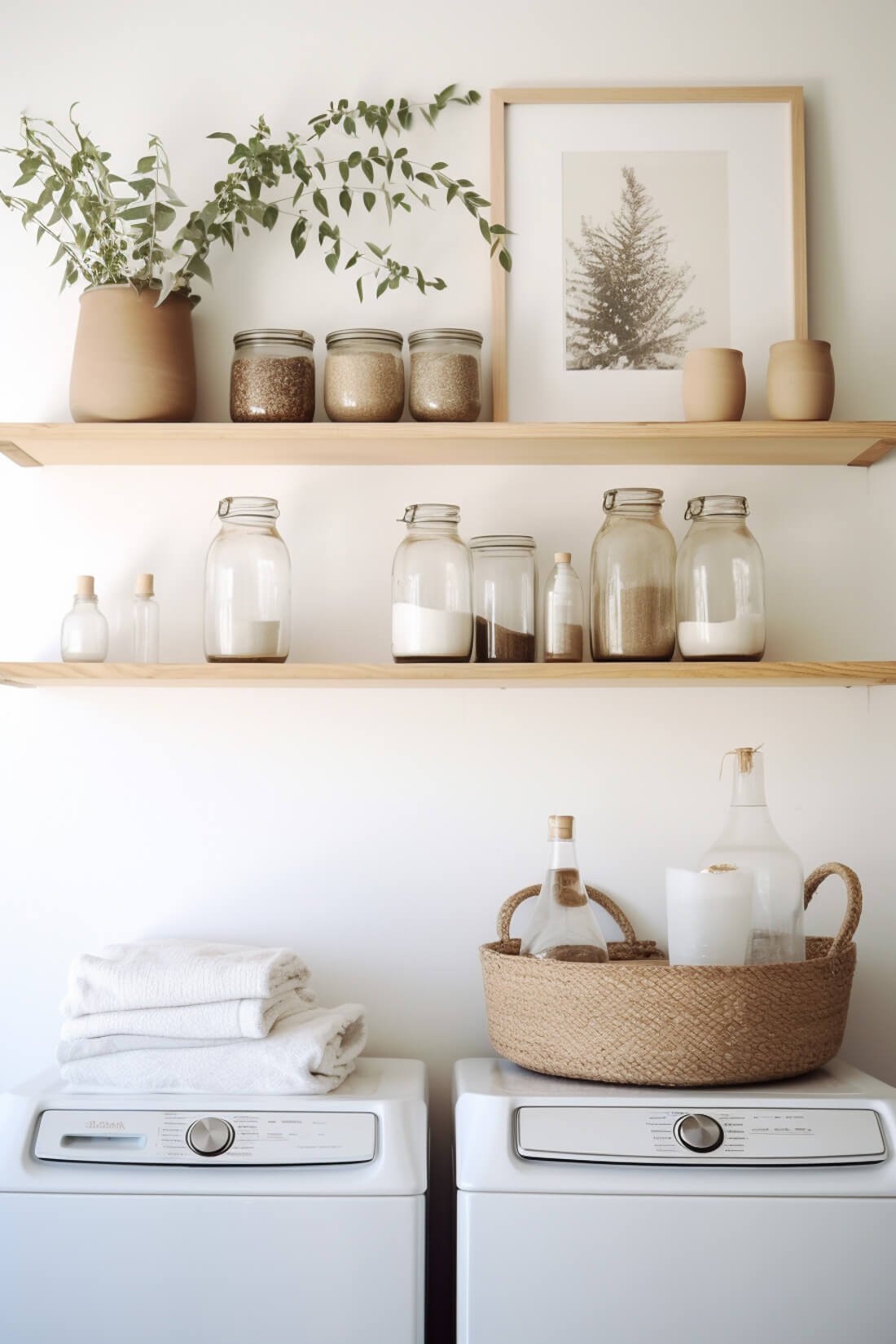 Personally, I'm always going for function first! 🙂 And then, if I have space to spare, I'll go with some décor. I have ideas for that in my post on laundry room décor!
For function, think about what you use most (and can access easiest!). This could be:
Laundry detergent or pods
Dryer balls
Fabric softener (see below for hiding these things in prettier containers than the standard plastic they usually come in!)
Stain removers
Dryer sheets
Lint rollers
Clothespins
Scented sachets
Sewing supplies
Extra bulk supplies (see below for hiding these things)
Extra cleaning supplies
Container for lost items (random coins, receipts, etc found in pockets…rocks and shells if you have kids 🙂 haha)
Pretty containers holding the above!
Baskets full of the above!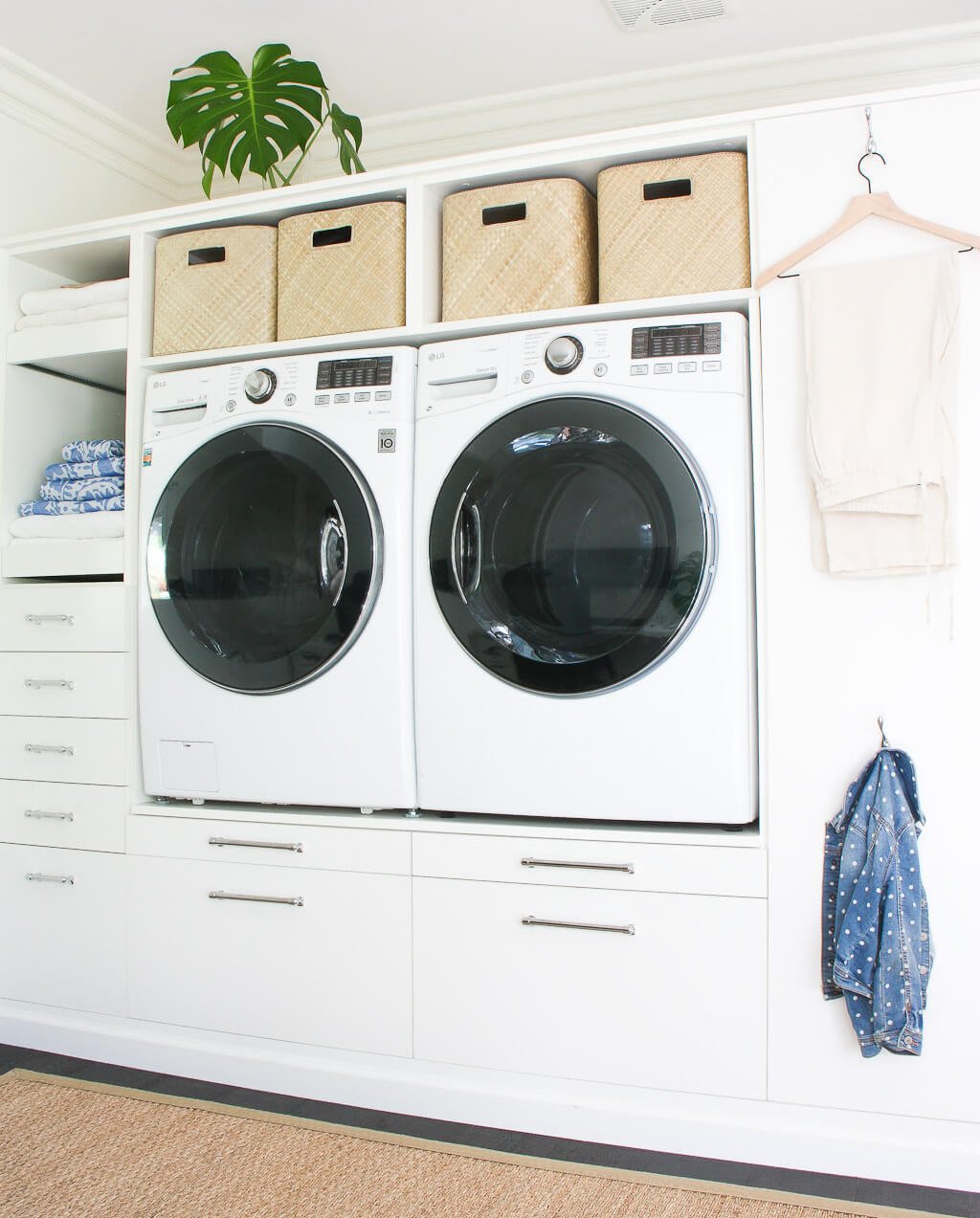 You can see in our laundry room that we used our upper shelves for our laundry basket storage! I found this the easiest for me both ergonomically, and I love the aesthetics of the baskets instead of seeing my laundry supplies!
(I kept my laundry supplies "hidden" in pull-out shelves to the left, as well as "hidden" in drawers underneath that as well!
laundry shelf ideas
"How deep should a laundry room shelf be?"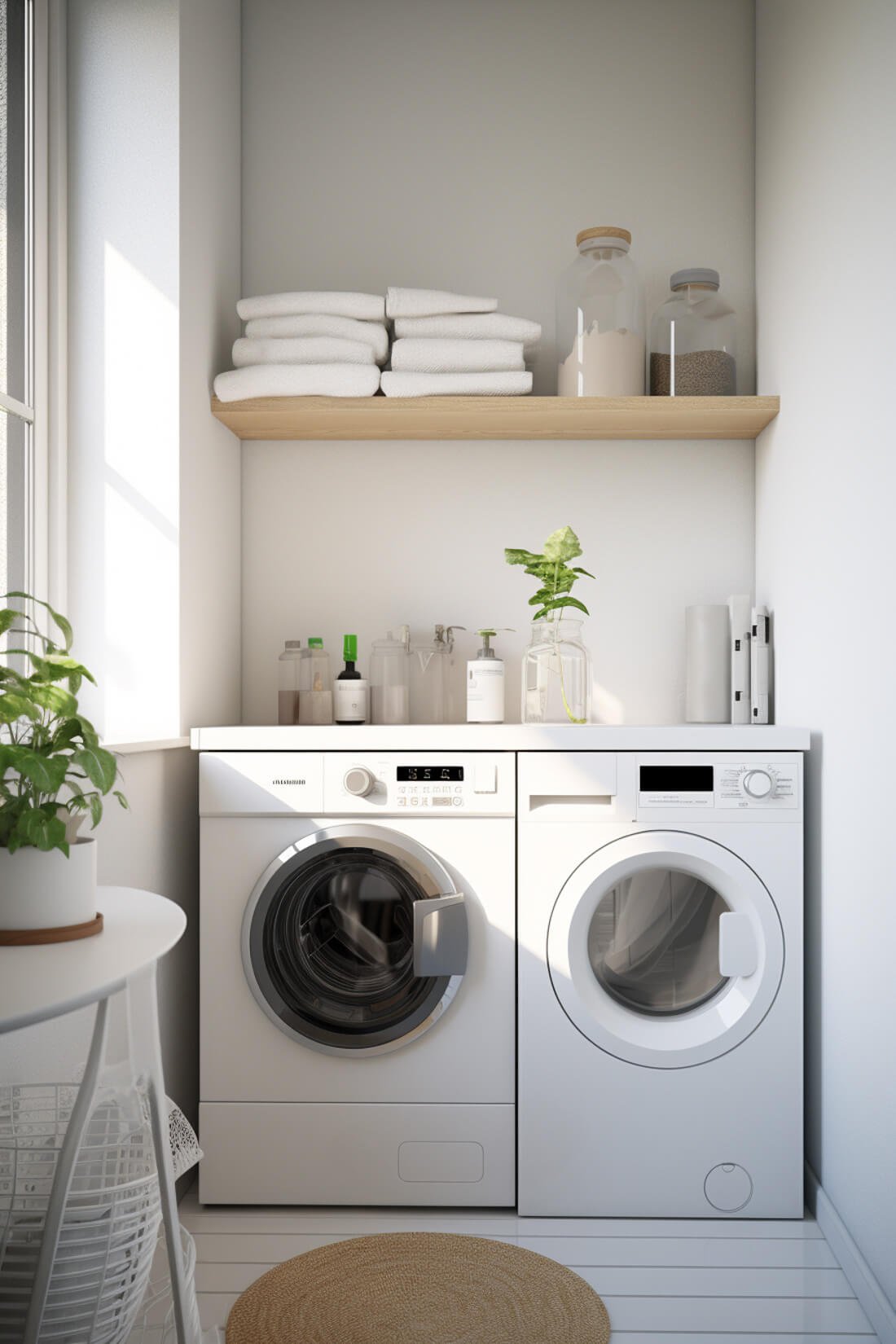 People often ask "What is the best depth for storage shelves" and this is where—as a designer—I really make my clients THINK FIRST!
I make them first prioritize what they use and where they're going to keep it in the laundry room design, as well as frequency of use and their reach (this is not solely based on your height!).
The quick answer is "Anywhere from 10"-30!"
For example, if you're putting something larger—like laundry room baskets stored the long way back—you'll want them to be more in the 20-30" range depending on your setup!
If, however, you just want simple laundry room shelves that will fit standard containers, it's usually about 10-14" depth.
Get your strategy and storage planned out AHEAD of time—and then you'll be able to answer this question ("How deep should my laundry room shelf be?") 100% perfectly for YOU and your needs!
We designed THIS for our washer and dryer, ideally suited for my height and reach!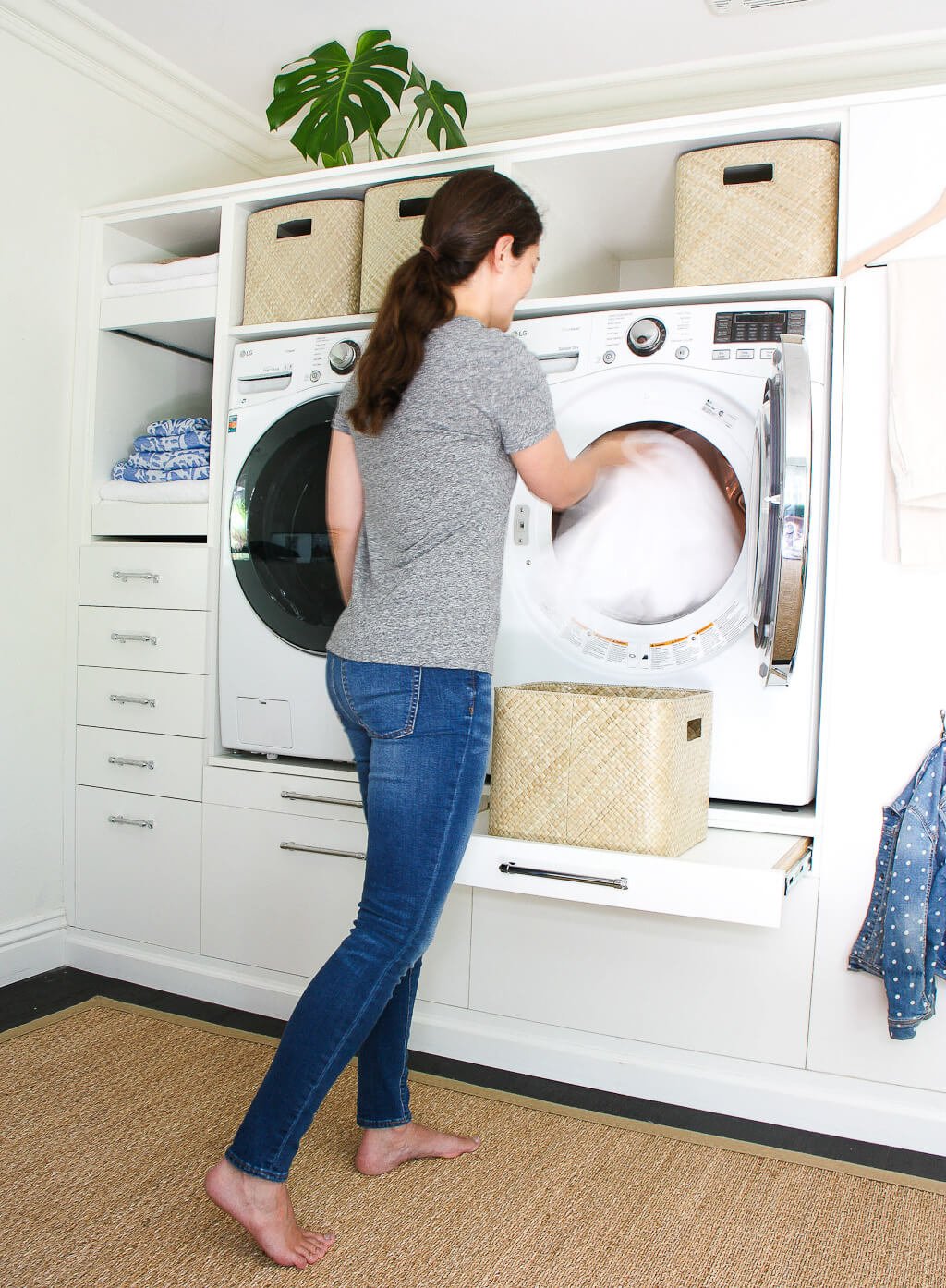 Laundry room shelf ideas
"How do I organize my laundry room without cabinets?"
Here are more ideas for ways to organize without cabinets!
Baskets
Floating shelves or open shelving units
Wall hooks
Pegboards
Tension rods (I love how easy, flexible and non-permanent these can be in a space!)
Rolling carts
Under-shelf baskets (these can hook underneath or slide in!)
Drawer dividers (get our DIY plans for these and achieve instant organization!)
Vertical space or over-door organizers
Ladder shelf
Wall fold-downs for hanging, drying, or even a more accessible shelf for folding!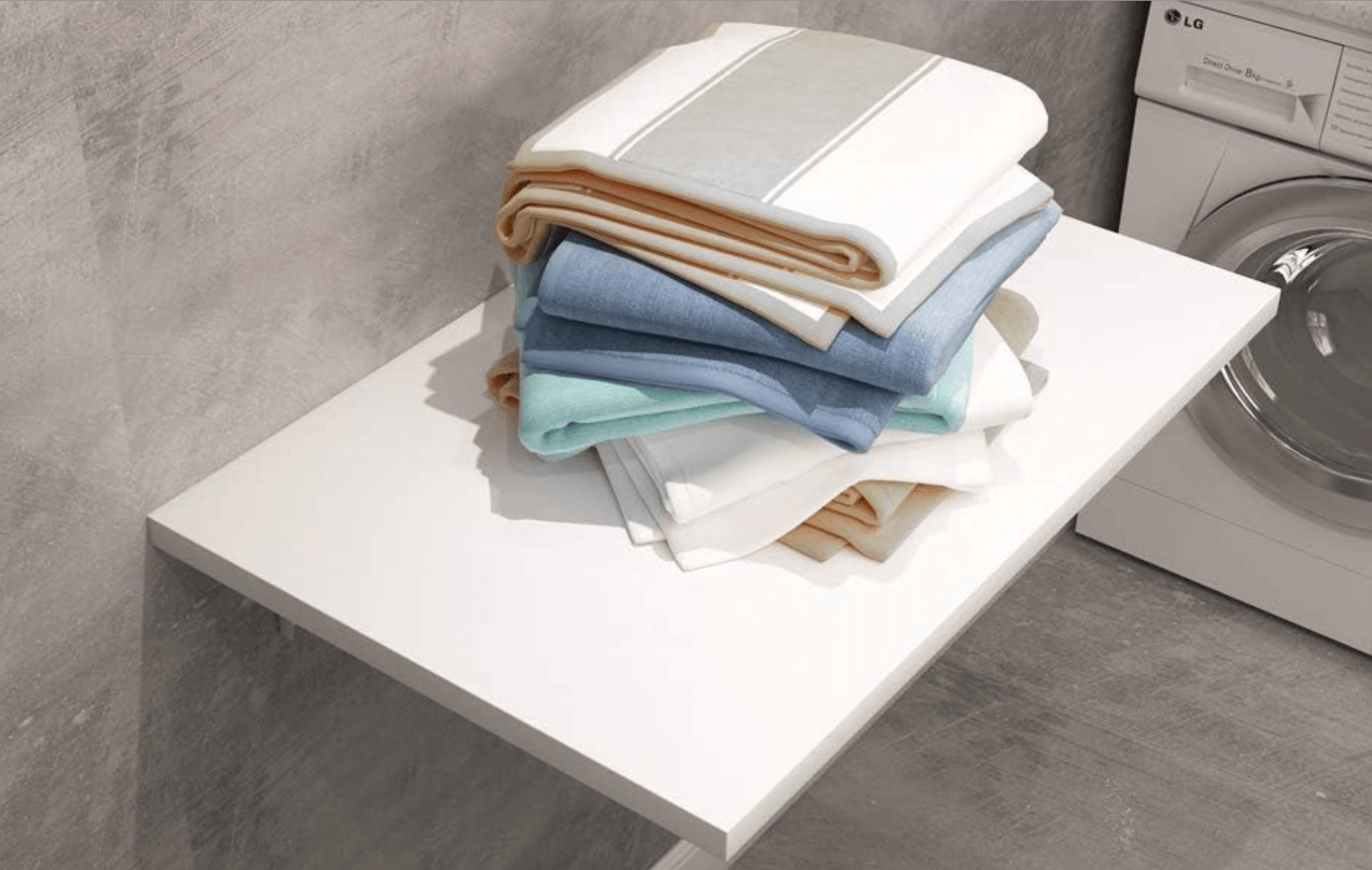 Next…
We have 15+ FREE laundry lists, tips & hacks for you!👇
PS: You can see all our house projects here!