Updated May 2022
First, we gave a full master bath tour in our upstairs house tour. Now we're going to show you our master bathroom remodel floor plans!
Let me tell ya, we are SO excited to share this one with you!
It's big! It's brilliant! It's…going to be beautiful! (Aha! I knew I could find another B word.)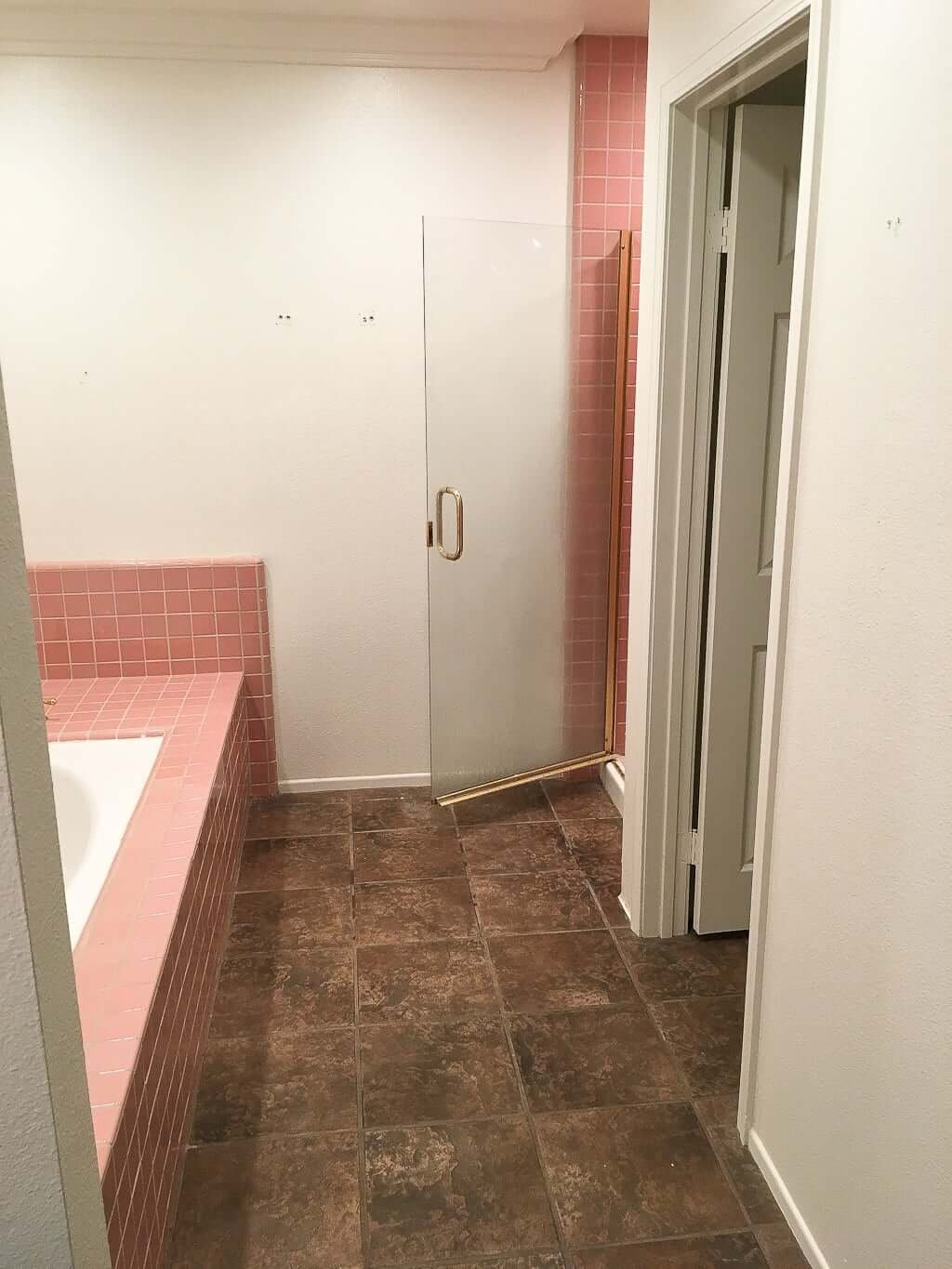 Q: "Why are you changing the floor plan?"
A: It started because of the shower.
Ladies and gentlemen, Exhibit A: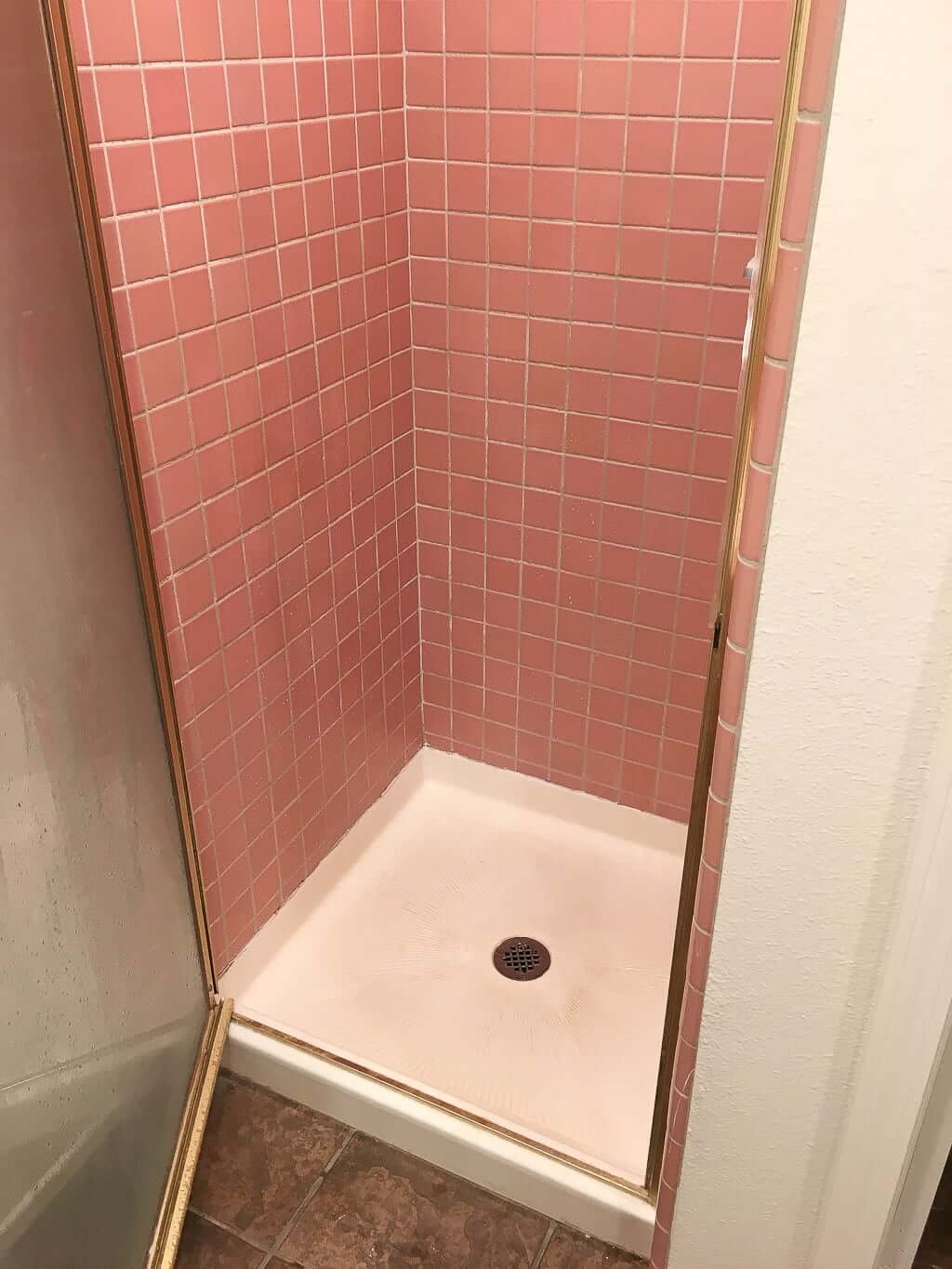 This shower is small and narrow. And you know how I feel about narrow.
If you are a narrow doorway, shower, or space, your chances of being on The Jess Radar are 100%.
They can't run. They can't hide. Narrow spots can't escape me.
I WILL find the narrow spaces, and
my eye will zero in on them like a missile lock confirming its target.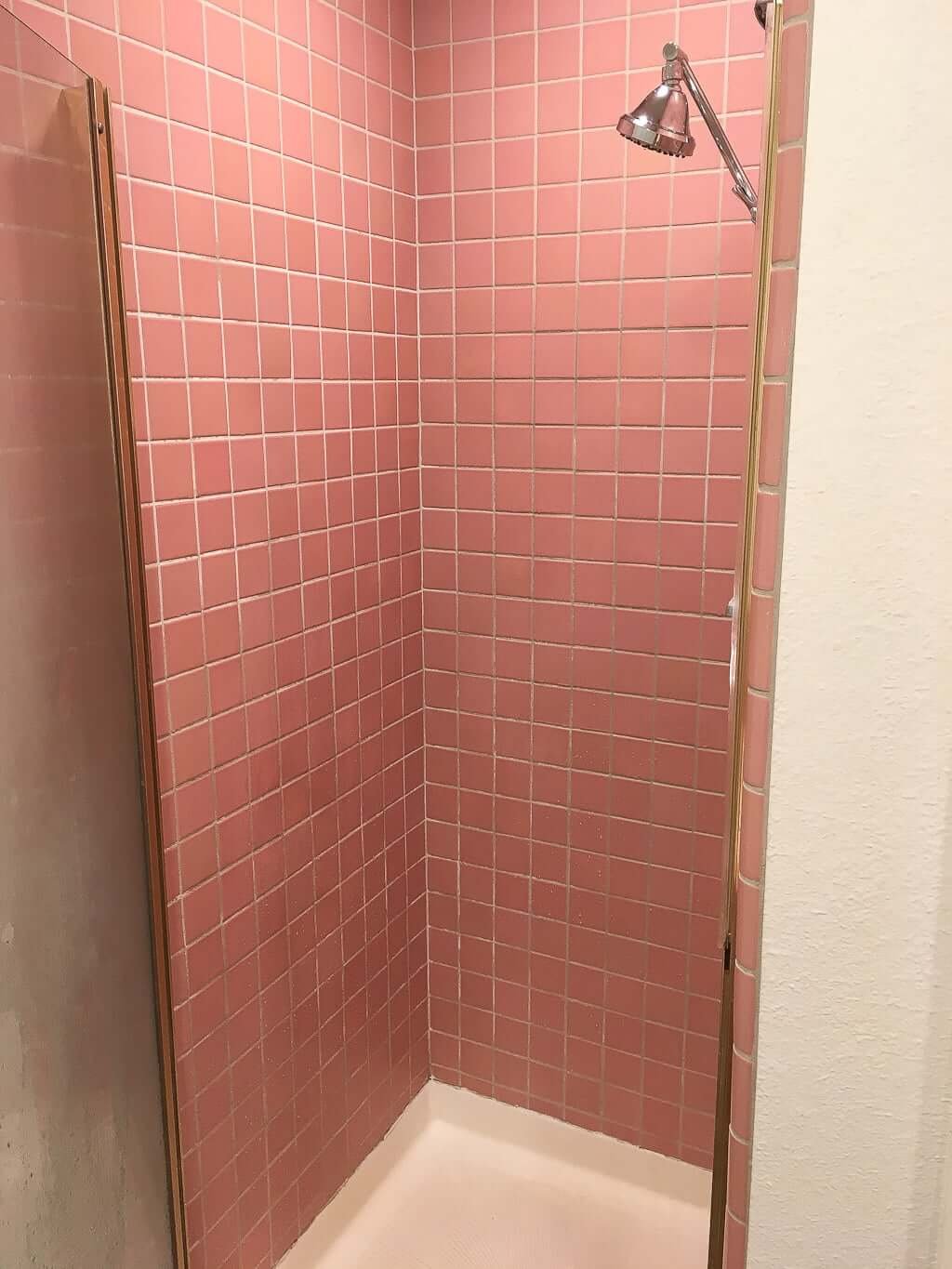 Lest you think I was the only one bothered by this shower, oh ho ho! Let me assure you that Matt's annoyance level was raised before mine was.
He's taller than I am. His arms are longer than mine are. Matt is just overall larger than I am, and this shower was NOT his favorite.
Plus, the tile was getting pretty gross, and parts of the shower were falling apart. Which all just added fuel to our remodel fire.
(I do wonder, between this shower and this old laundry room we ripped out, were adults somehow smaller in the 1980s?)
---
BATHROOM REMODEL FLOOR PLAN:
Figuring out the flow.
We'd seen some houses in our neighborhood (with this same layout) have their showers expanded by being built out along that back wall, but that wasn't our cup of tea.
For one, those just looked like expanded showers. They seemed out of place. Like the easy way was taken out.

(And you know I WILL TAKE THE DIFFICULT ROAD NO MATTER WHAT, if it means everything will look good and flow well!)

They'd have to run the shower glass into the top of the tile on the tub surround, and that looked awkward to both Matt and me.
We wanted to make it look as though the bigger shower belonged there and flowed well in the bathroom.
So we had to find another way.
---
BATHROOM REMODEL FLOOR PLAN:
Brainstorming ideas.
We started looking at the W.C. and thinking, "Hey, that could be a nice size for a shower!"
So we took some measurements.
We stood in there and pretended to take a shower. (Well, at least I did.)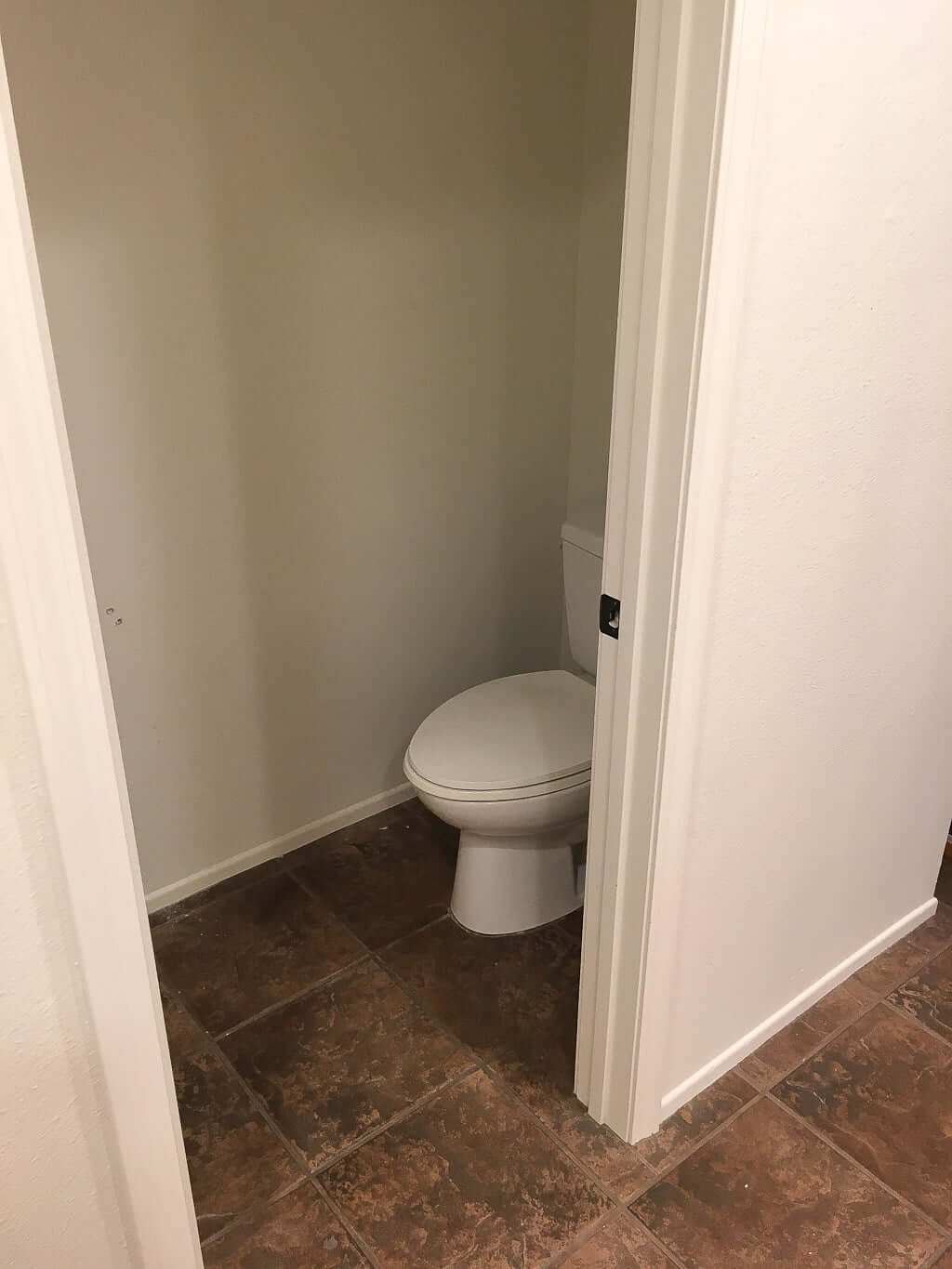 Hmmmm…could we just "flip" the toilet and shower areas?
No, turns out doing that wouldn't be up to code, because the shower area (as it is) is too small for a toilet with a door.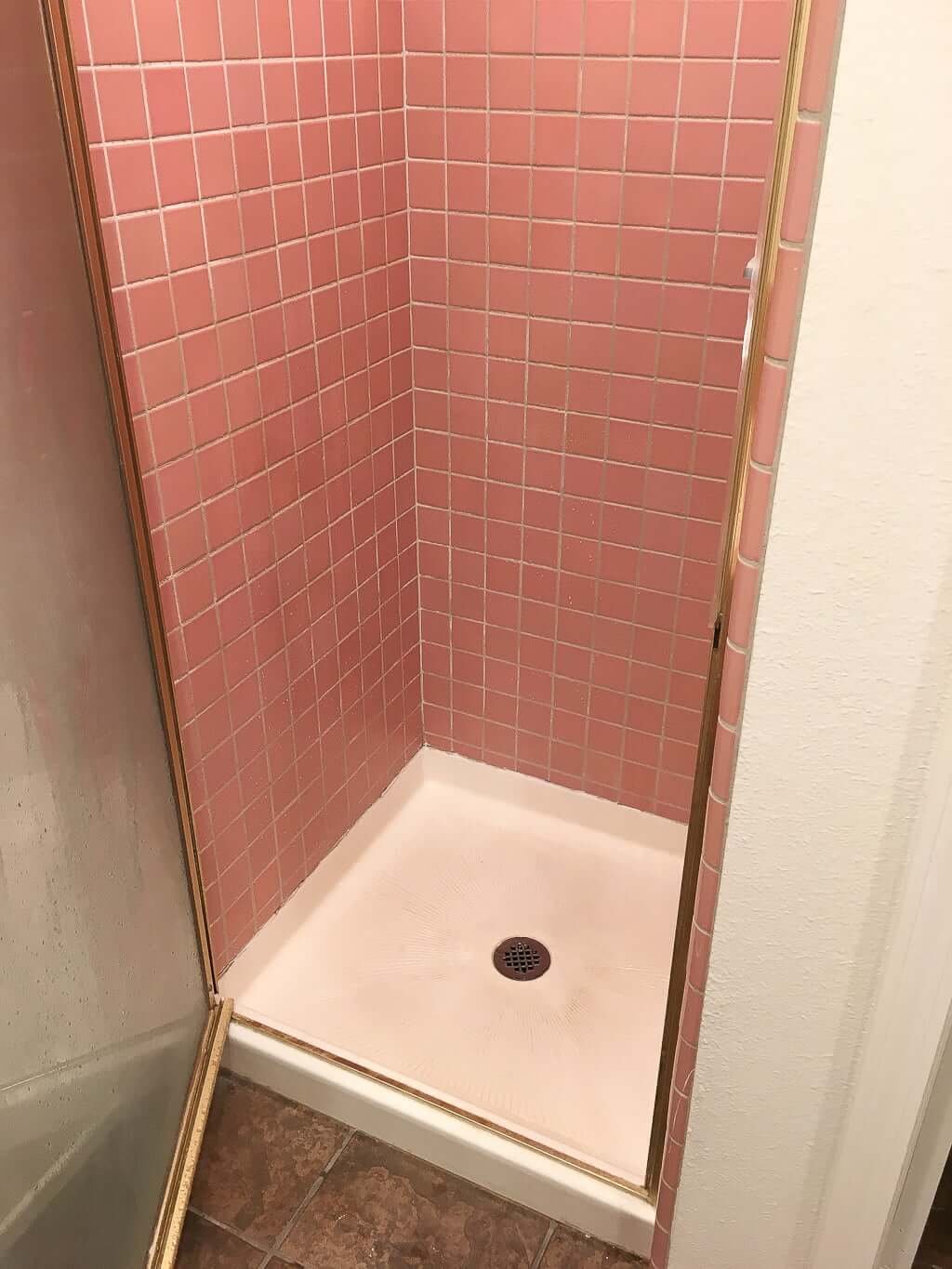 Matt and I did some more creative thinking, and eventually came up with this plan that worked and followed all the codes.
THE BEFORE & AFTER FLOOR PLANS: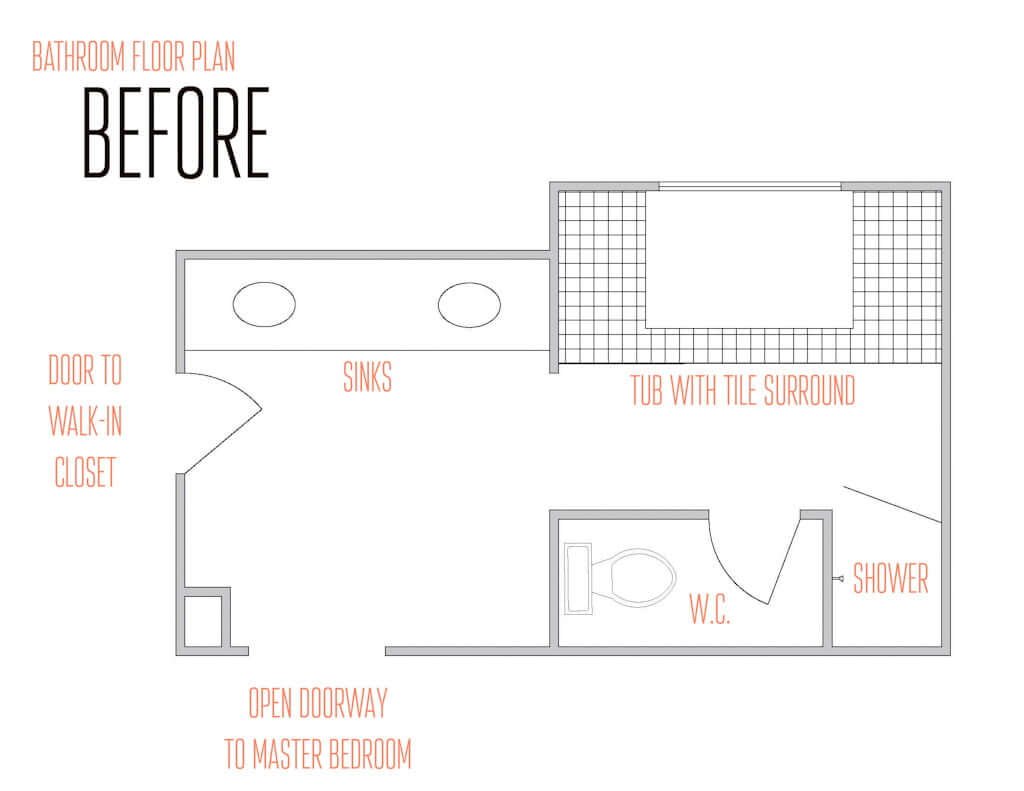 Below you can see our "swap" of the shower and W.C., plus several of our other changes.
Our key to success? Push the walls for the entry door to the W.C. out a bit! Then we added a perfectly-placed angled wall, carefully measured, that would still flow well with the rest of the space and not stick out into the room.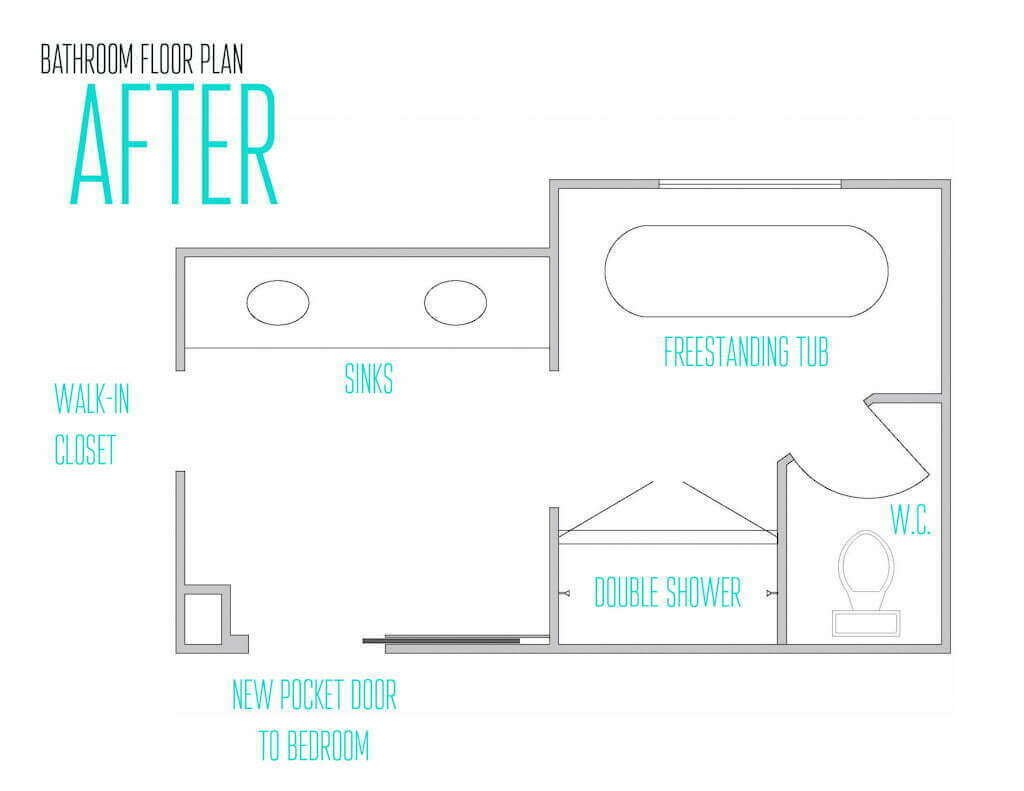 (Note: This isn't drawn perfectly to scale. Just a quick layout to give you an easy idea of the changes!)
OUR NEW BATHROOM REMODEL FLOOR PLAN CHANGES:
Create double shower where old W.C. was.
Create new W.C. where old shower was, expanding the walls as necessary to fit to code.
Replace tub with tile surround with a freestanding tub (to create a more open feel and floor space).
Replace old vanity and sinks.
Add new pocket door from bathroom to bedroom.
Remove old door to walk-in closet (too cramped and unnecessary).
We went back and forth on whether to get a freestanding tub or keep the built in. I'll talk about why another time, but in the end we decided to go for a freestanding tub and it's totally the right choice!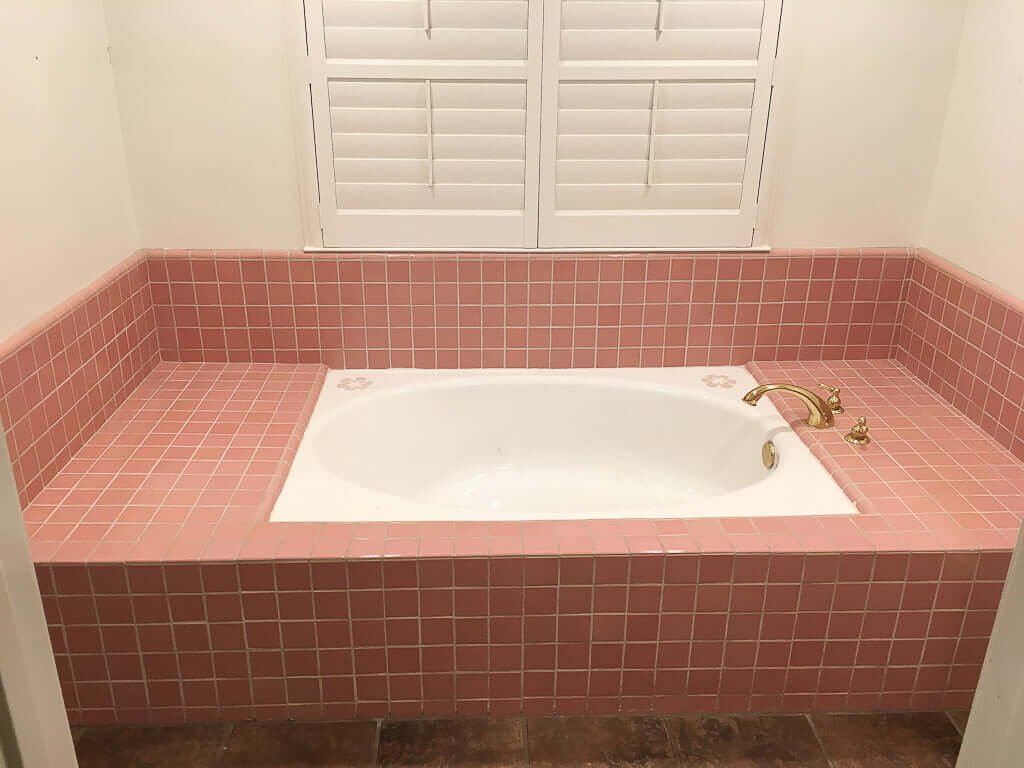 The final "before" photos before demo starts:
You can see we're already getting redo for demo. That medicine cabinet is going to disappear too, so I hope you weren't too attached to it.
The master closet door is removed and the doorway's taped off to keep dust out. Time for DEMO!
Next steps on our bathroom remodel:
How we got our high-end floor tile for (almost) free.
Where we installed wainscoting.
What the luxurious tub area looks like!
Or, you can see every single one of our house renovation projects here!