Life is hard enough. So why not make life in the kitchen as easy as possible? We're full of kitchen organization ideas, and today we're sharing 5 that have made life easier for us. (One reason being that they're 5 of our most-used areas!)
KITCHEN ORGANIZATION IDEAS
#1: Upright Stove Utensil Drawer
First, let's talk about the two vertical drawers we created on either side of our stove.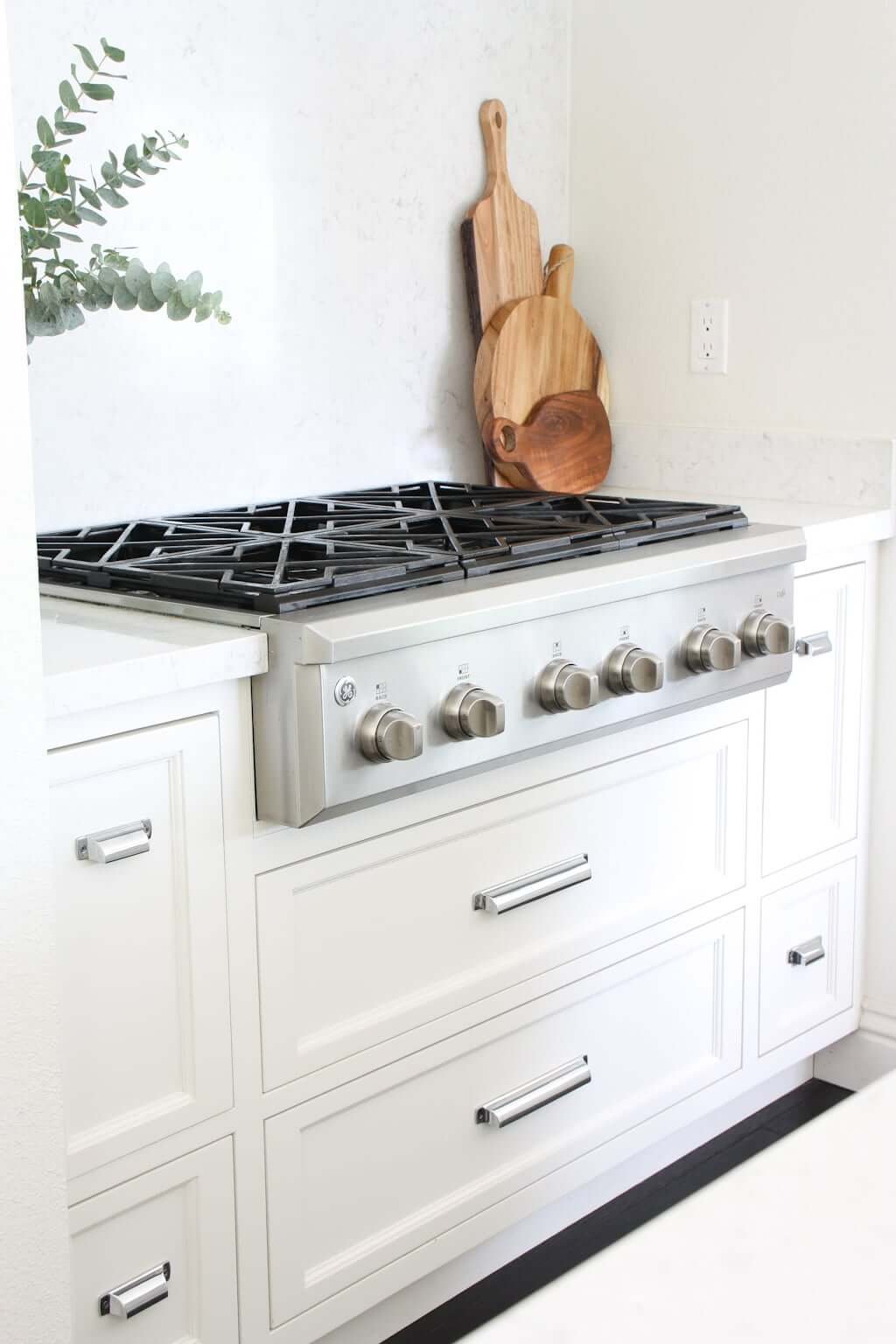 drawer divider | serving tray | cheese board | serving board
These vertical drawers were both born out of the simple fact that
I did not want to store my stove utensils out on the counter.
Why? Because we couldn't relocate our stove, it left us with little counter space on each side. So my plan was to keep that precious counter space AS CLEAR AS POSSIBLE! Thus, I had to conceive of a way to fit my stove utensils into a drawer near it, and I did not want a regular horizontal drawer in which I had to rummage around to find the tool I needed.
Thus, our idea for a vertical drawer was born.
We broke it up into both larger and narrower compartments for the different tools, and each one has a specific place. We have organized, designated spots for
Wooden spoons (large)
Wooden spoons (small)
Metal spoons
Wooden spatulas
Whisks
Tongs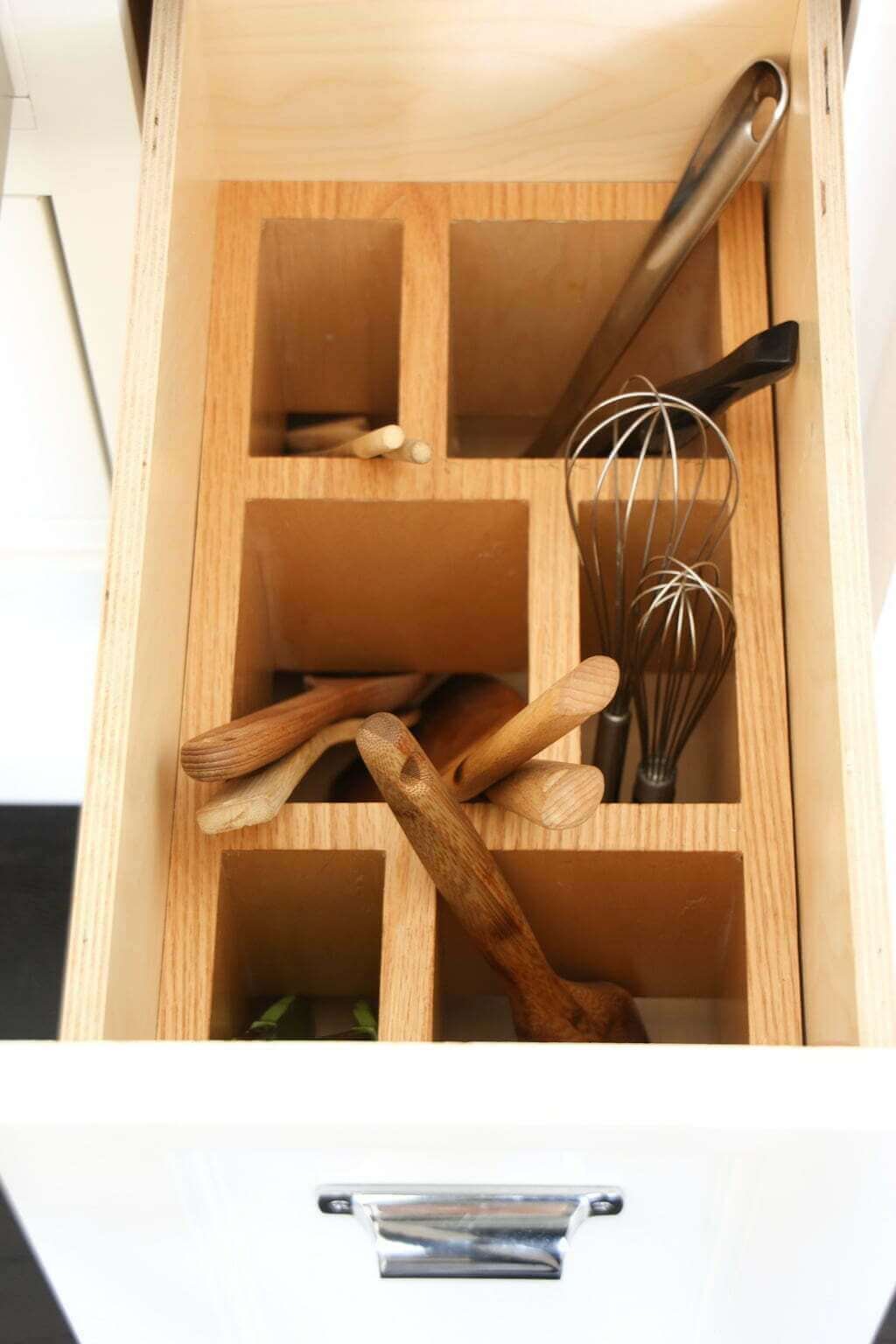 drawer divider | wooden spatulas | whisks | tongs
So when Matt or I am cooking up a storm, we can easily pull open the drawer and immediately grab exactly what we need!
drawer divider | wooden spatulas | whisks | tongs
It's such a simple thing but it gets used constantly and so efficiently and
THAT MAKES US SO HAPPY!
---
➜ Need immediate kitchen help? Download our Kitchen Design Bundle! (3-in-1!)
---
Now, let's look to the left side of the stove. I now needed to design another vertical drawer to the left so that there'd be that symmetry on either side of the stove. What else do we use when cooking at the stove (and that could be stored well vertically)? That answer comes next…
---
KITCHEN ORGANIZATION IDEAS
#2: Spice Drawers
Now, because we designed this whole drawer on the outside to visually match drawer #1,
these are not your usual spice drawers.
See why we did it this way and how each "level" slides back (saving your back!) in our spice drawer post!
PS: You can get your own spice drawer like this with our spice drawer plans!
---
KITCHEN ORGANIZATION IDEAS
#3: Tea Drawer Organization
See our full post on our life-changing tea drawer DIY dividers!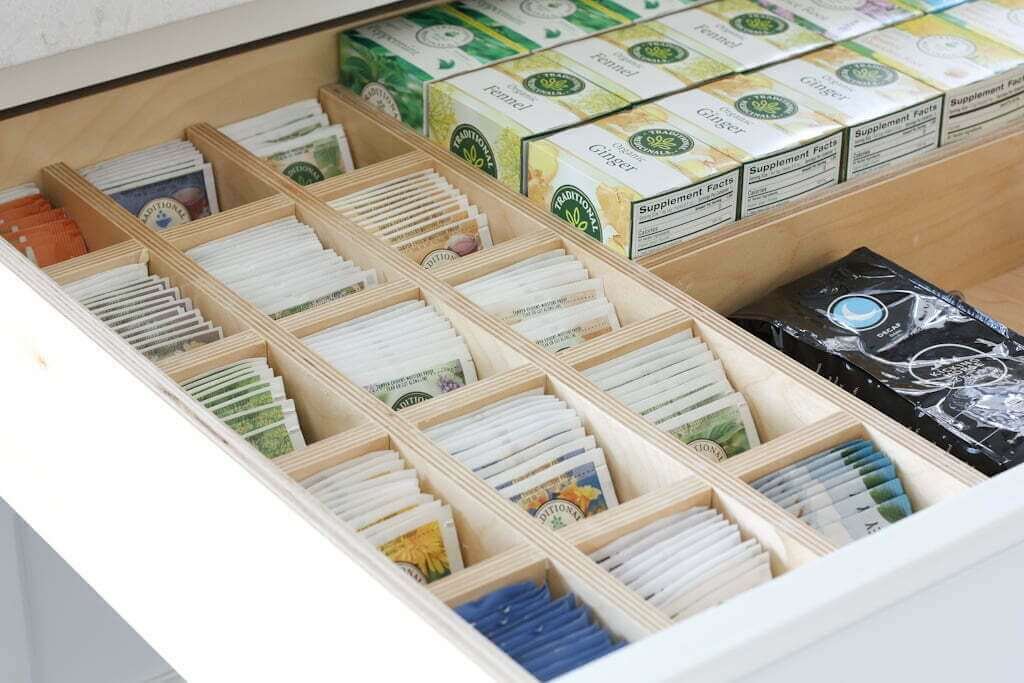 Some of our best tea recommendations (and one coffee one sneaked in there!) for you are:
fennel | licorice | peppermint | ginger | earl grey | english breakfast | dandelion root | throat coat | my favorite Swiss water process coffee!
---
KITCHEN ORGANIZATION IDEAS
#4: Tray Organization
We mentioned this in our cabinet storage post, so I won't go into too much detail except to say that we use these so often that it's sooooooooooo nice to have all our trays so simply arranged and easily available.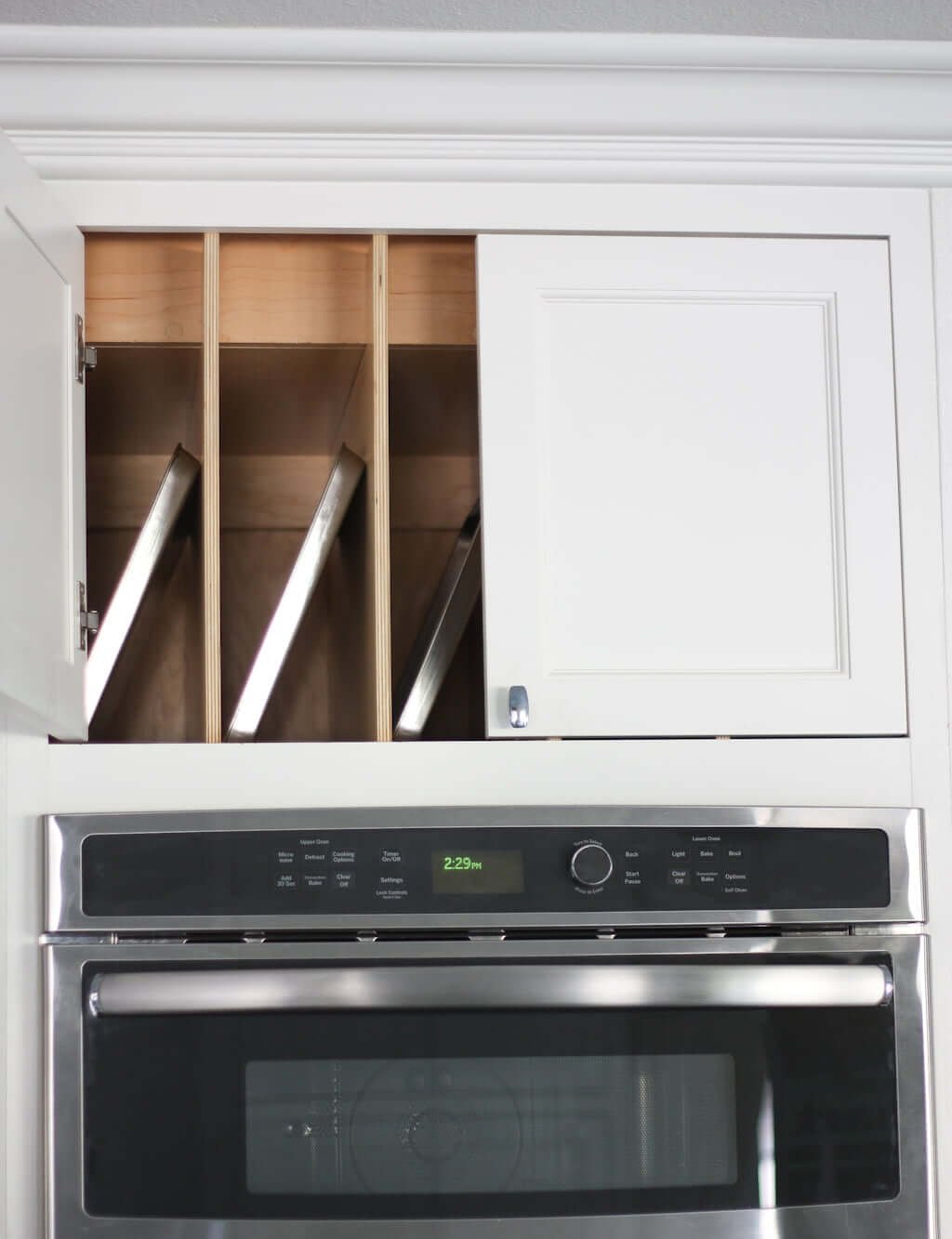 ---
KITCHEN ORGANIZATION IDEAS
#5: Kitchen Drawer Organization
Instead of buying pre-made drawer organizers, we made our own!
These are all arranged on and attached to a thin board below. So it's all removable if we ever need to do any deeper cleaning.
drawer divider | garlic press | measuring cups | pizza cutter | can opener
Why don't I like the premade drawer organizers?
They rarely (if ever) fit your drawer like a glove.
Thus, they shift and move around every time you open your drawer.
I find this annoying.
I try to minimize all annoyances when within my power to do so.
Drawer organization is easily within my power; thus this annoyance was identified and eliminated ASAP.
Do I sound like an efficient hit man (or woman) of poorly-designed kitchen organizational materials? That's A-OK with me!
Start yours here!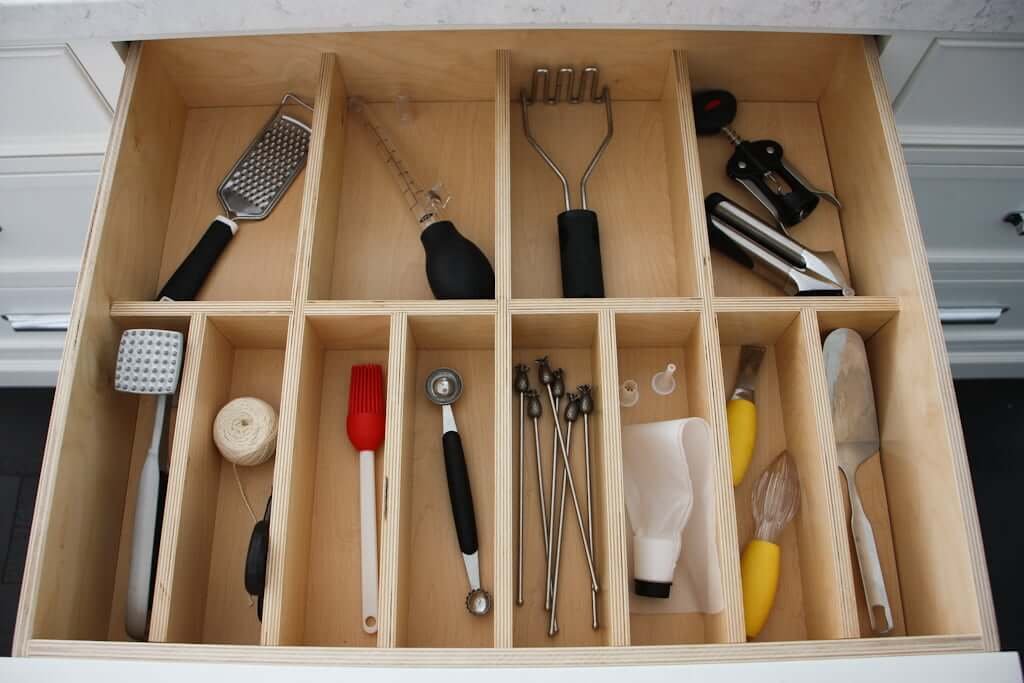 ---
➜ We wrote 3 kitchen guides to help you with your own kitchen! Download our Kitchen Design Bundle! (3-in-1!)
---
To see more kitchen updates, go to The Complete List of all our kitchen design & organization posts HERE, or click one of the below!
Or, see all our home projects here!