Today we're sharing our #1 SUPER EASY laundry room decor tip!
No, it's not "Add a sign telling you to wash your laundry" or "Put out all your functional laundry items in decorative glass jars" (and actually, I'd advise against both those things, but more on that below!).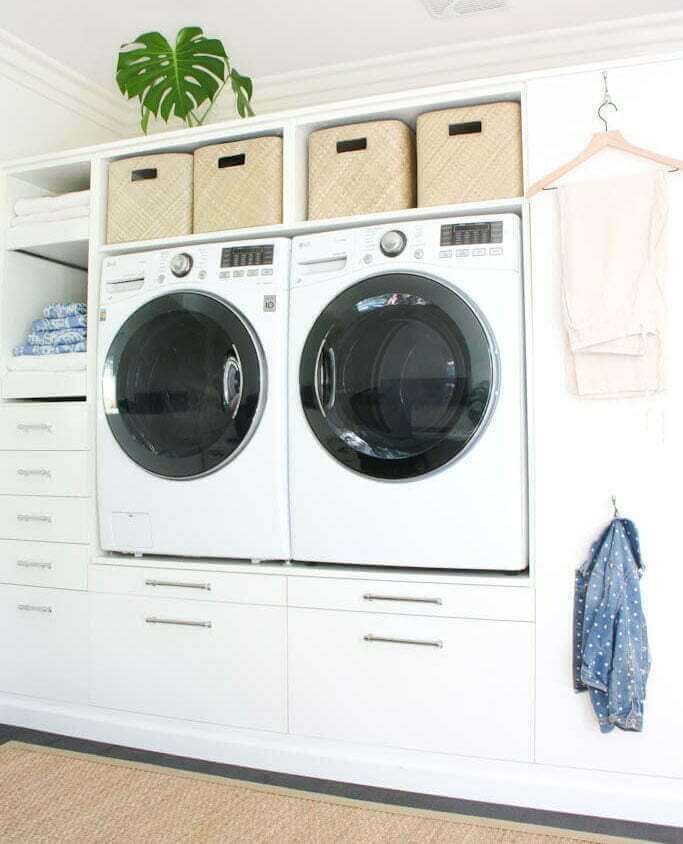 similar baskets | laundry cabinet
Our #1 laundry room decor tip is this:
Add something woven!
Why should you do this? Read on for 3 reasons & tips!
LAUNDRY ROOM DECOR
#1: Brings warmth!
Woven items bring warmth to what are usually stark white machines.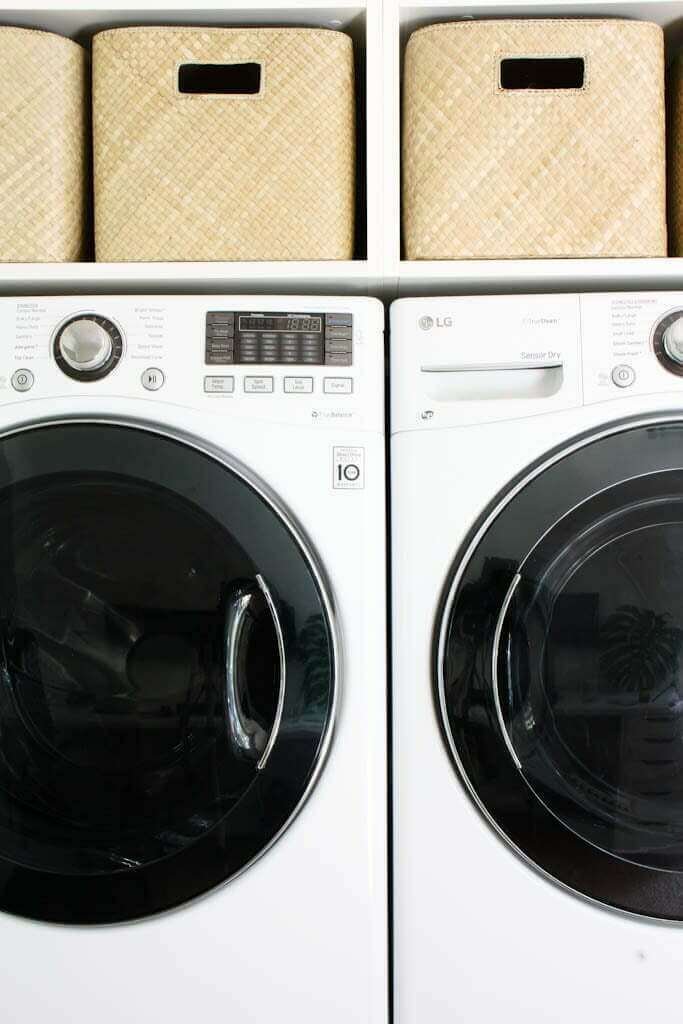 similar baskets | laundry cabinet
Too much white can start to look cold, and the fastest way to warm a white space up is to add something woven, in a natural color, to the space.
This could be in the form of something like
Tall storage baskets for laundry essentials
Seagrass belly baskets for tossing in dirty clothes
Woven hyacinth laundry baskets with handles for transporting the clean clothes
I especially love finding anything woven with a lid! This hides whatever's inside, and you all know how much I love to hide things in the home! 😆 Gives an immediate clean and tidy look!
And no better place to do that than in your laundry room!
LAUNDRY ROOM DECOR
#2: Brings depth!
Woven items bring something handmade-looking to an area taken over by two machine-made appliances. Here, we used four woven pandan baskets for our laundry room decor solution.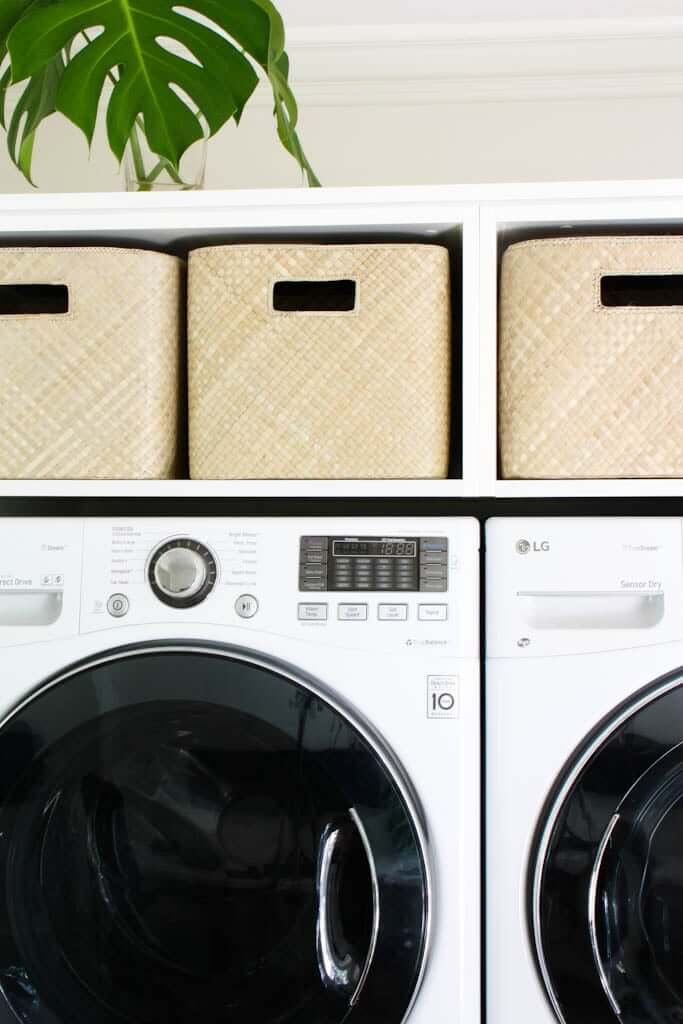 similar baskets | laundry cabinet
LAUNDRY ROOM DECOR IDEAS
#3: Keep it simple!
KEEP IT SIMPLE! Don't do too much.
Overdecorated laundry rooms are a no-no. This is still a workroom!
Make it something woven that's still functional for the space.
similar baskets | laundry cabinet
LAUNDRY ROOM DECOR
What to avoid!
We recommend avoiding laundry decor like
Clutter! (Keep your items to a minimum!)
Busy, unnecessary laundry signage.
Laundry room decor placed on open shelves just for looks and nothing inside.
Decals that attach to washer and dryer doors that just make it look cluttered.
Wreaths, hanging ivy, dated-looking faux plants.
And yes, avoid open shelving as much as possible! (See our post on the 3 Types Laundry Shelves You Need.)
If you have a lot of cluttery items you must keep in your laundry room (say, bottles or jars of something you use in your laundry room), utilize your baskets or woven boxes! Group these items into a well-fitting container—preferably with a lid—and suddenly your 17 items looks like it's really only 1 item!
SMALL LAUNDRY ROOM DECORATING IDEAS
Acceptable Laundry Room Decor Accessories 😊
Other ways to warm up a laundry room (in addition to our #1 tip above!) are
Artwork
Plant life (preferably real, or a good-looking faux one!)
Labeled containers (always a good trick if you want to look extra-organized, although we haven't needed to do this in our own laundry room because of how we already have it organized)
If you must store laundry essentials in some kind of container, make sure they're opaque and not see-through (often looks more cluttered and busy unless it's done right and tastefully/minimally).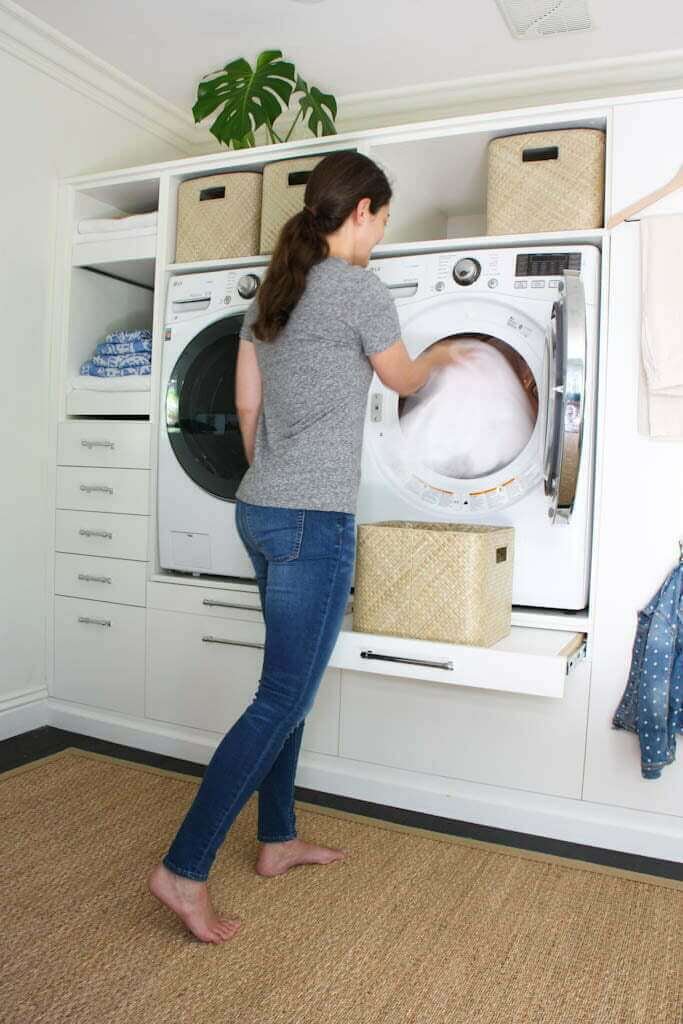 similar baskets | laundry cabinet
Next, see our 7 laundry room must-haves! Or if you've already seen those, you'll want to check out "The Only 3 Laundry Shelves You Need!"
➜ NEW! Matt spent weeks putting together our Laundry Cabinet Plans for you guys! An ambitious beginner can DIY them, or you can hire someone to build them for you in a weekend if you don't want to be bothered. 😆 Get them HERE!
➜ Our complete list of every single home project is viewable HERE!