Looking for smart new guest bedroom ideas? We've created The Ultimate Guide to putting together your guest bedroom, from small guest bedrooms to decor and paint to office/guestroom combos…and how to make yours a reality!
We'll also answer popular questions such as
"What makes a good guest bedroom?"
"How do you layout a small guest bedroom?"
"How do you stage a guest bedroom?"
"What furniture should you have in a guest bedroom?"
"What to put on wall in guest room?"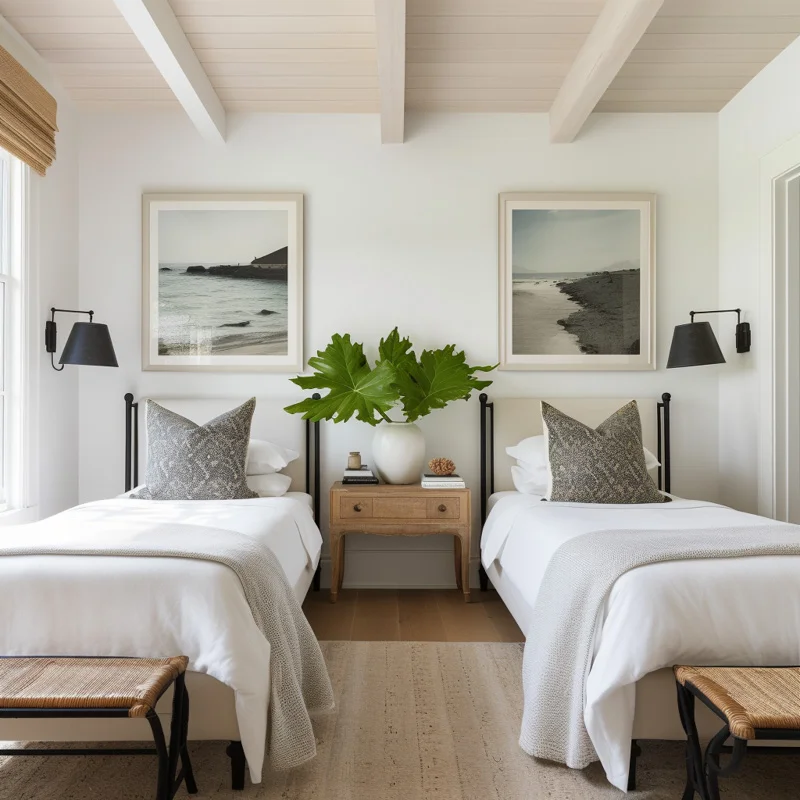 PS: We've also created FREE guest bedroom checklists for you further down, plus our 5 free WiFi Card Designs (choose your favorite and size to fit to your ideal)! 😍🤗👇
GUEST BEDROOM IDEAS SMALL
#1: The Story of Our Guest Bedroom!
We had a kinda-usual-yet-unusual guest bedroom layout and did THIS!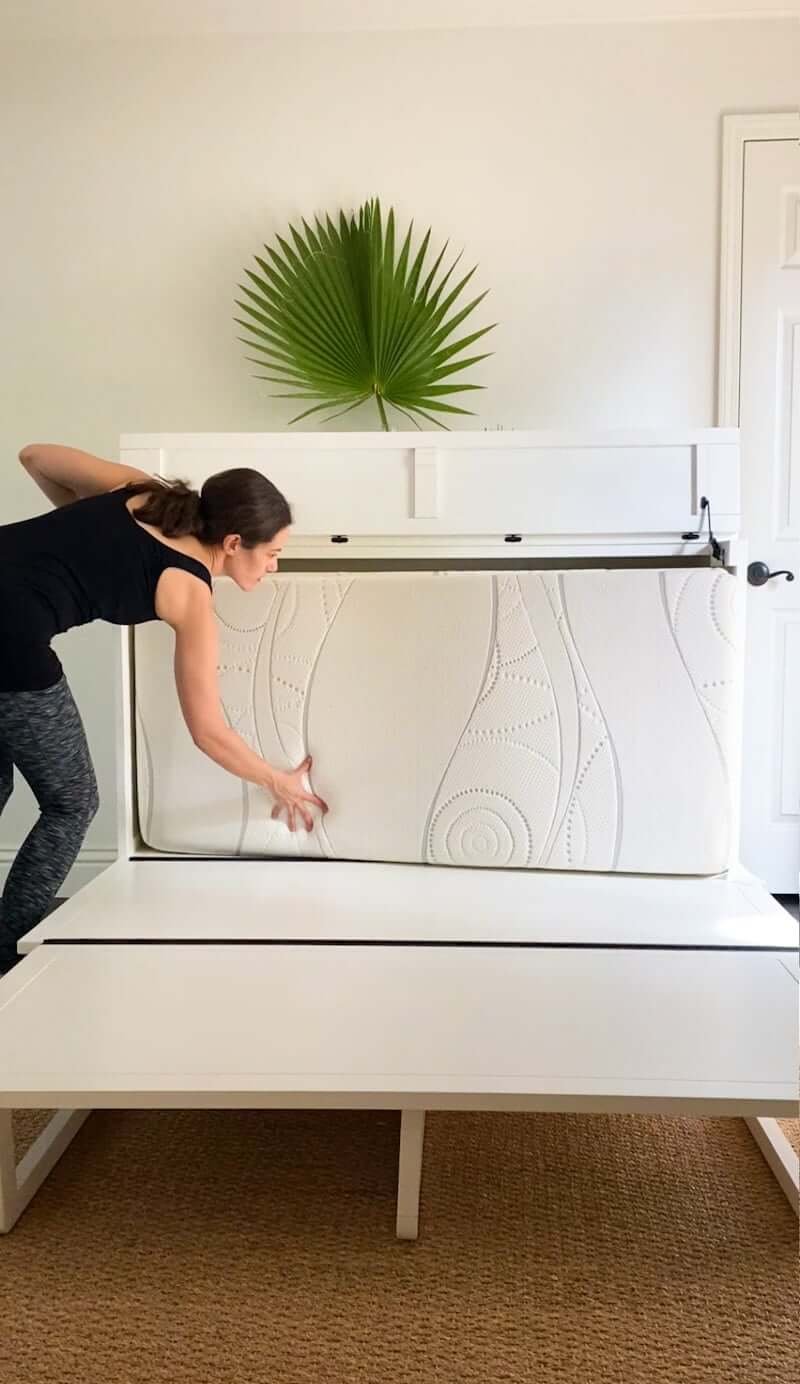 If that doesn't work for you, we share more ideas below…
…plus, our Expert Room Design & Layout Guide also helps you pull any space together both with style and function prioritized for you and your space specifically!
GUEST BEDROOM HOME OFFICE
#2: Guest Bedroom Office Combo
We love sharing guest bedroom office ideas…maybe because that's a popular solution we've utilized ourselves! 🙂
I've helped clients pull together guest rooms and maximize their space for years, and I'll help you below too.
We've put together THIS post to make it simple, so you're not having to analyze EVERY option…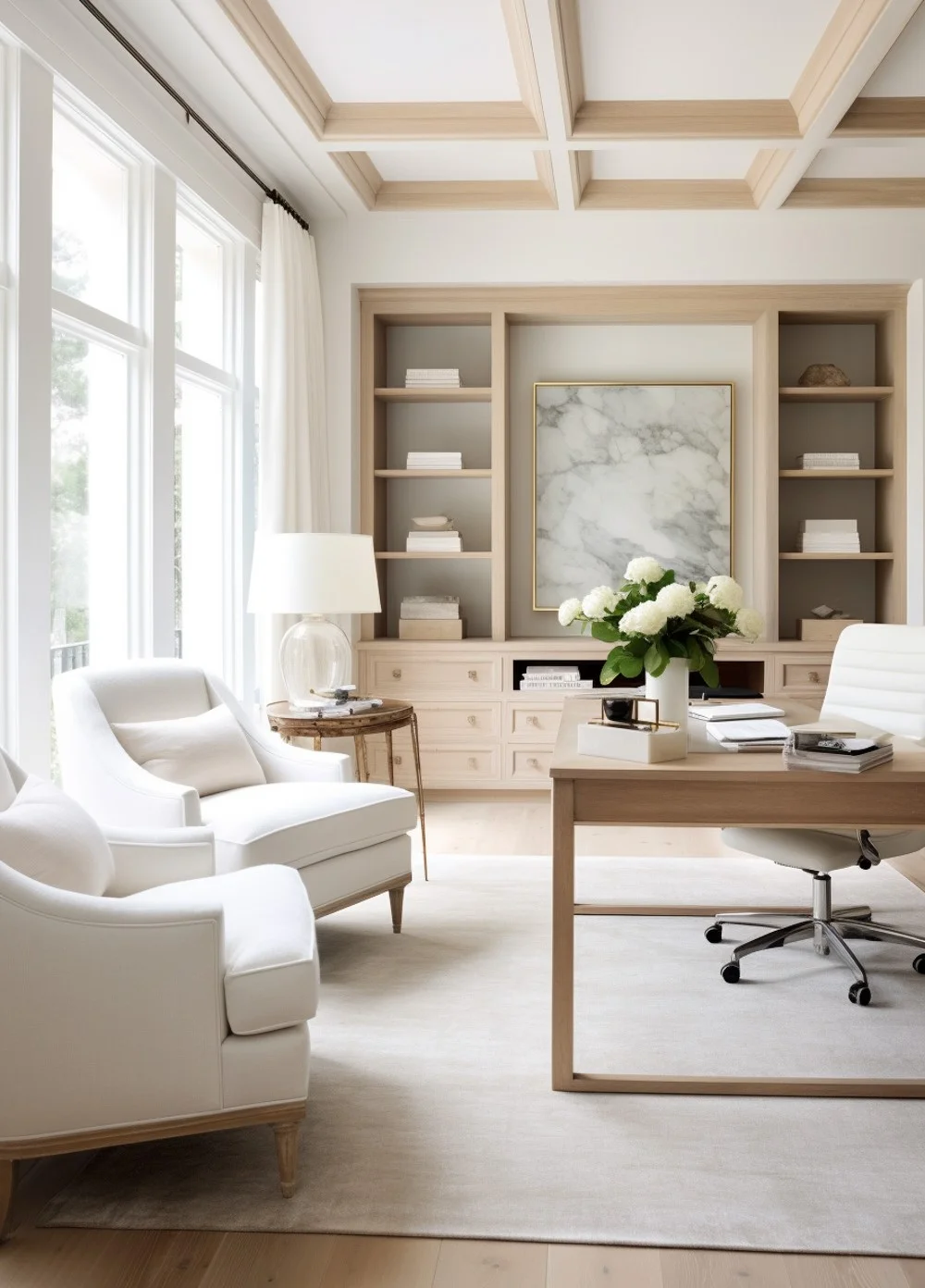 …this way, you only have to know about These 7 Office Guest Room Ideas (and choose from there)!
SO many people are looking to maximize every inch of their space making a guest bedroom/office combo!
GUEST BEDROOM HOME OFFICE
#3: Guest Bedroom Closet
If you need to fix up the closet in your guest bedroom to maximize efficiency, check out this post showing how we completely transformed two standard closets in our house!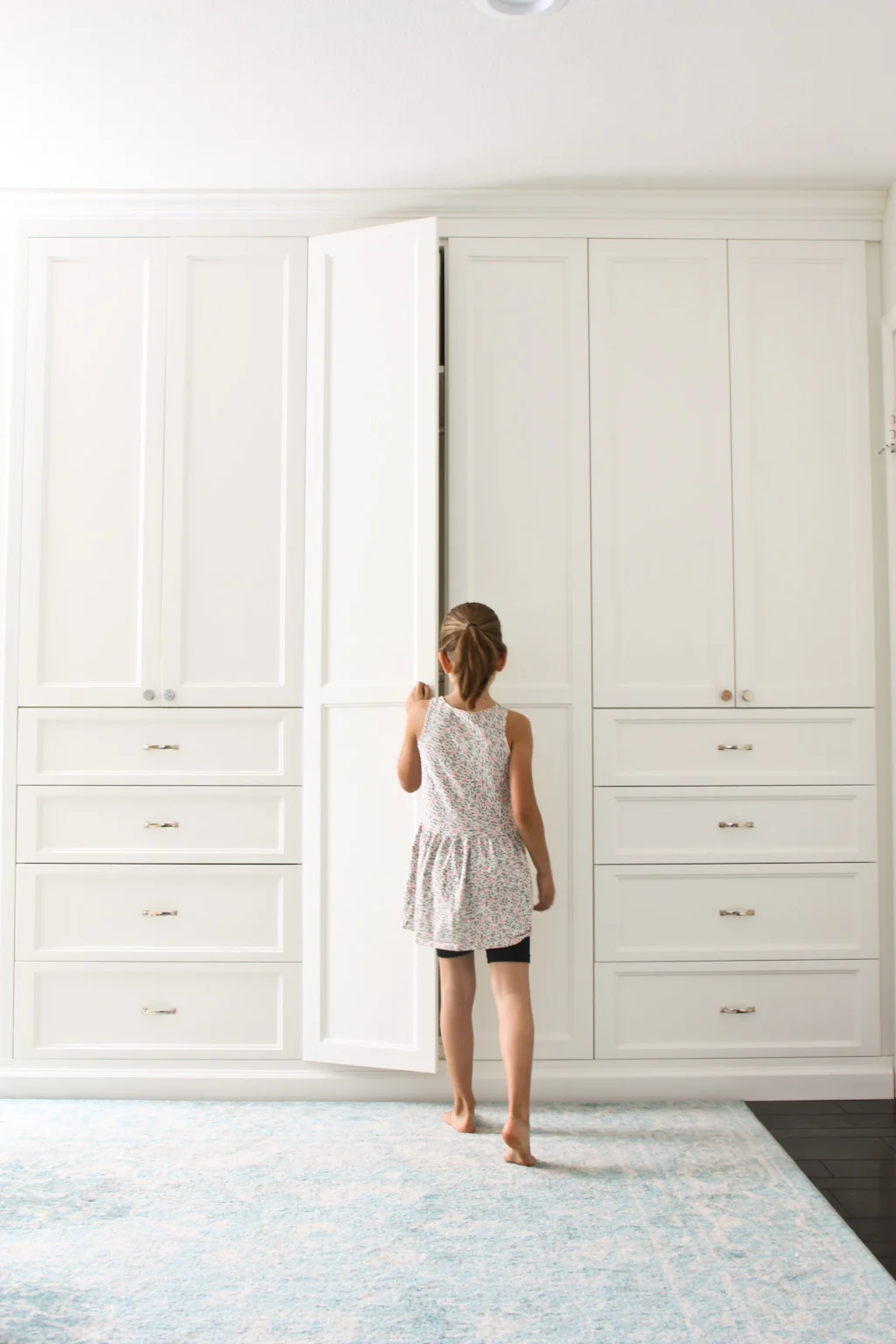 Closet Built-Ins: The Genius Way to Convert Your Basic Space for Max Storage
GUEST BEDROOM IDEAS
#4: Guest Bedroom Decor
My #1 tip is to include a REAL plant (or flowers) into your space right before your guests arrive, as it will bring life and freshness to your guest room!
(I've even just run out to my garden, uprooted a few succulents or small plants that look good in a pot, and put that in the room when I didn't have time to go to the store! 🙂 )
Other than that #1 tip, I have a LOT of other good ones, from rugs to wall hangings to even faux plants and trees! (Amazing for the height factor and drawing your guests' eyes UP!)
#1: Under-bed Rug Sizes: The Only 7 Rules You (Actually) Need!
#2: Guest Bedroom Luxury: 13+ Tips for Making It Look & Feel Like a Hotel Getaway!)
#3: What to Hang Above the Bed (or Not)!
#4: The Best Woven Pendant Light Ideas Under $150!
#5: The 25 Pros and Cons of Dark vs Light Hardwood Floors!
#6: The Best Faux Olive Tree (Plus 3 Tricks to Style it Realistically)!
#7: Stone Planters for Plants & Trees (Client Projects!)
#8: How To Make a Fake Tree! (THIS ONE TURNED OUT AMAZING!!!)
GUEST BEDROOM HOME OFFICE
#6: Guest Bedroom Paint Colors
Your guest bedroom will be 100% unique to others, so there's no one-color-fits all answer.
We've put together this easy-to-follow guide of The 7 Strategies for Choosing Interior Paint Colors to help you nail down exactly what you (and your guest bedroom space) actually need!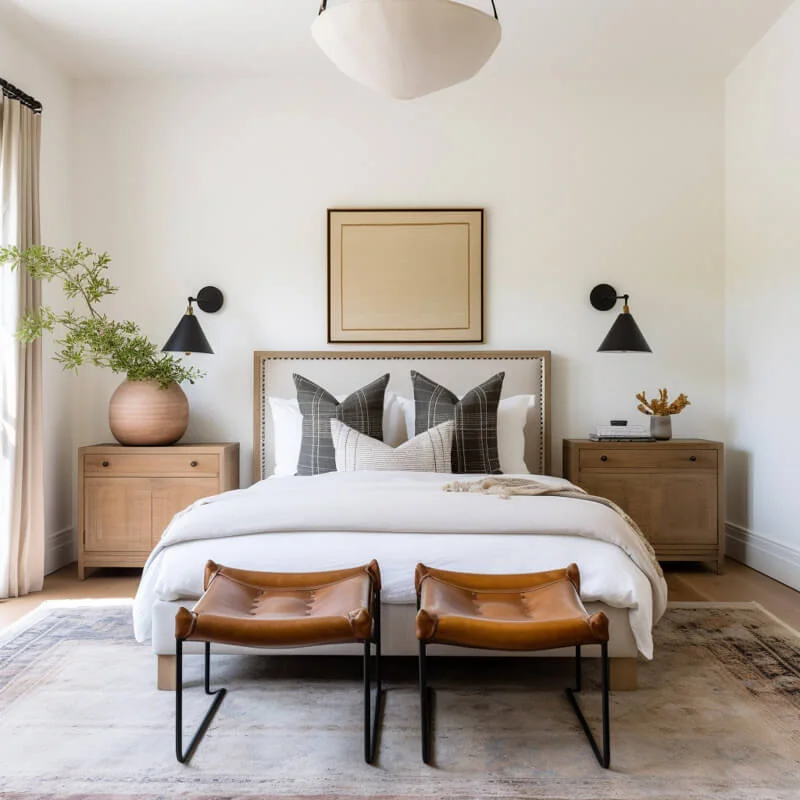 GUEST BEDROOM HOME OFFICE
#7: Guest Bedroom Designs
My #1 tip for designing your perfect guest room is to follow my instructions laid out step-by-step first in my guides such as "The Expert Room Design & Layout Guide!"
You can also see examples of my client guest bedroom designs in posts like these:
1. The Only 7 Guest Bedroom Office Combos You (Actually) Need to Know About!
2. How to Make Your Bedroom Look (and Feel) Luxe!
3. Bedroom Rug Sizes Under Beds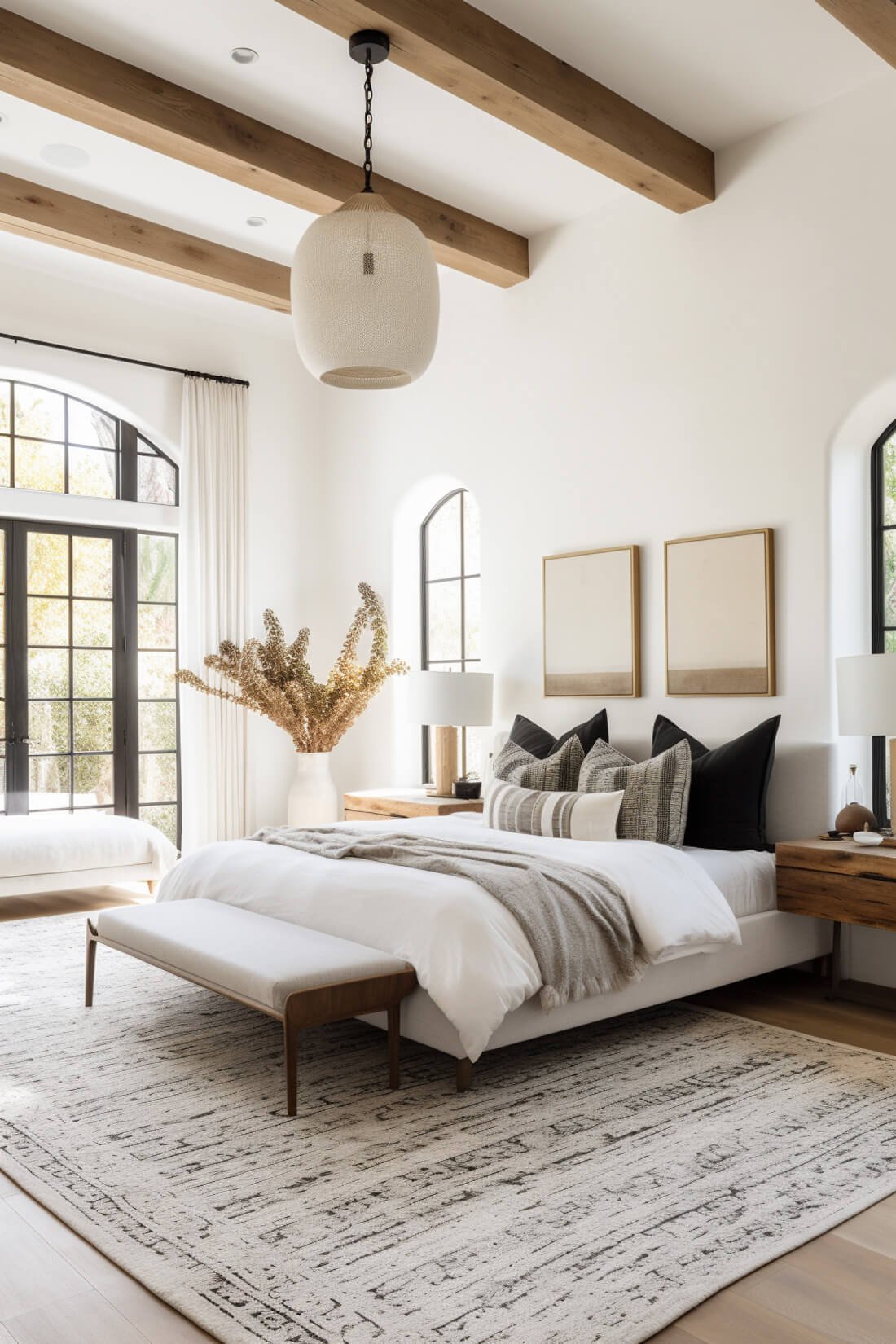 If you're concerned about the cost of furniture, I share my always-makes-me-money tips on how I make most of my money back on furniture!
GUEST BEDROOM DECOR COZY
#8: Guest Bedroom Ideas: Cozy Modern
I couldn't find ANY cozy modern beds I liked, so we DIYd our own bed!
(And then I sold it when we moved for twice what we paid in materials. 😉 )
We also created this FREE DIY Bed Tutorial you can use to follow and learn from what we did!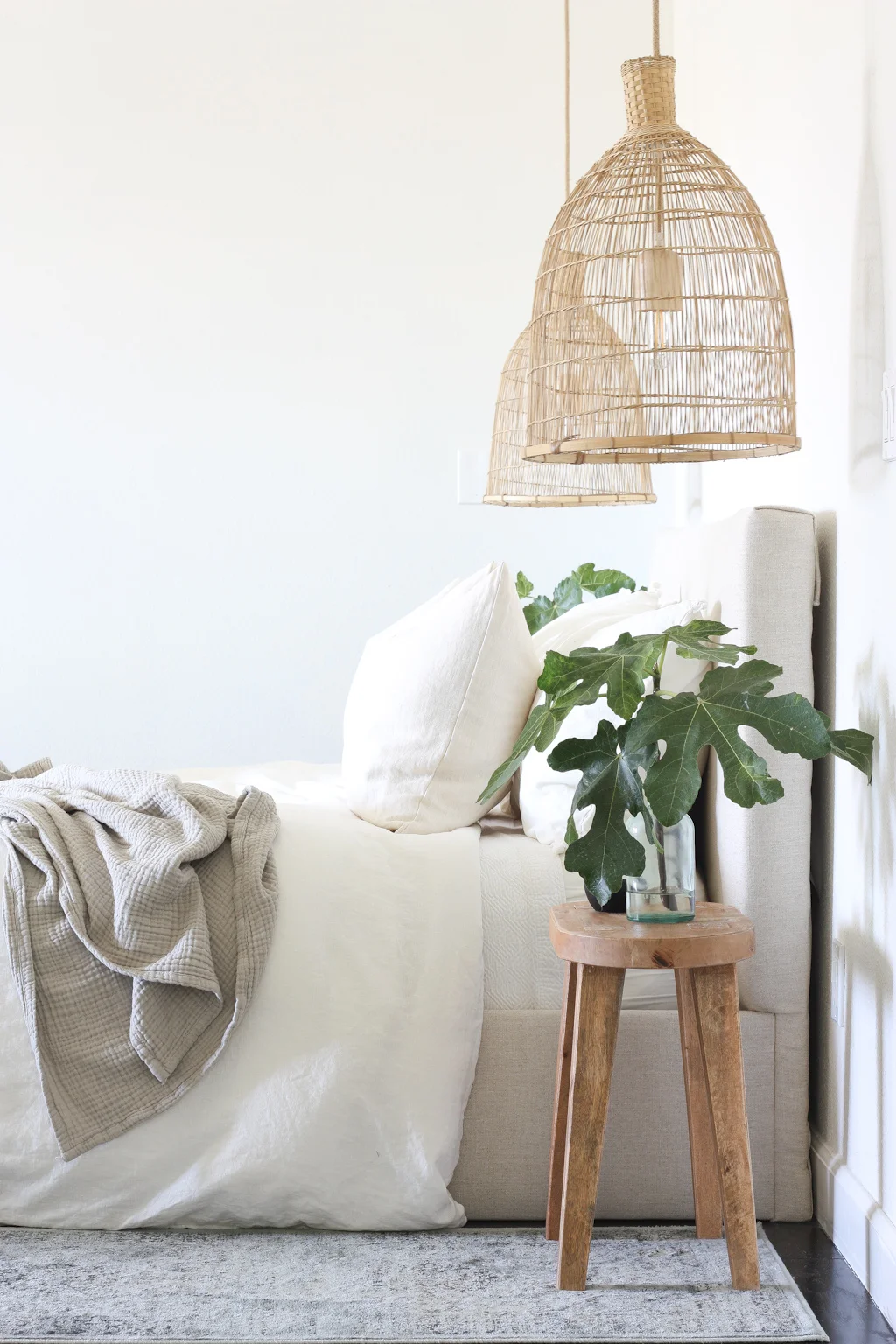 GUEST BEDROOM DECOR COZY
#9: Guest Bedroom Ideas On a Budget!
I cover a lot of budget-friendly and DIY ideas in the decor section above, but I've also got more ideas you can use, from using what you already have to thinking differently about any new items you might buy!
If you missed my post on how we make most of our money back on furniture, you'll want to read that!
I've written How to Use Older Furniture! (even make it look like new in seconds!)
If you have a bookcase or a fireplace in your guest bedroom or multi-purpose room, we've done these related projects on a budget!
GUEST BEDROOM HOME OFFICE
#10: Guest Bedroom Essentials: 3 FREE PRINTABLES!
We're giving you 3 FREE "guest bedroom essentials" printables…
…all three of which you are welcome to use! 🙂
Guest Bedroom decor IDEAS
#11: Guest Bedroom Decor!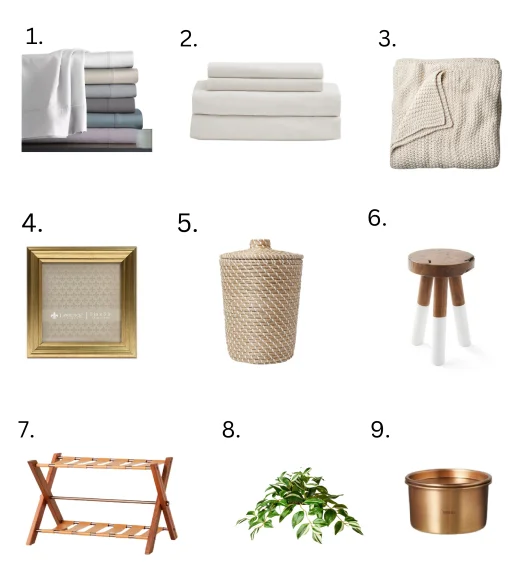 Next…
If you've missed these in the article above, my top 3 "next" recommendations if you're looking to save your time (and focus on your real guest bedroom priorities)!
PS: Click to see all our house projects HERE!