Today we're sharing over a dozen of our favorite tips on how to make your bedroom look like a hotel room!
Summer may be over but you can still make your bedroom into a hotel-feeling getaway!
How? We're sharing our 13 favorite ideas below.
CREATING A HOTEL ROOM FEEL
#1: Simple Bedside Table
When you're on vacation, you don't tend to bring a bunch of "stuff" to fill all the surfaces. Try keeping the same mindset in your bedroom and keep as little as possible on your bedside table. These surfaces are not for storage! (If you do need storage, get a basket with a lid, or keep it in a drawer.)
HOW TO MAKE YOUR BEDROOM FEEL LIKE A HOTEL
#2: Soft Bedroom Rug
If you have hardwood floors in the bedroom, the right rug makes all the difference when it's the first thing your bare feet touch in the morning—as well as the last thing you feel before climbing into bed at night. Even in bedrooms with carpeting, a beside or under-bed rug can help ground the space.
HOW TO MAKE YOUR BEDROOM FEEL LUXURIOUS
#3: Matching Bedside Lighting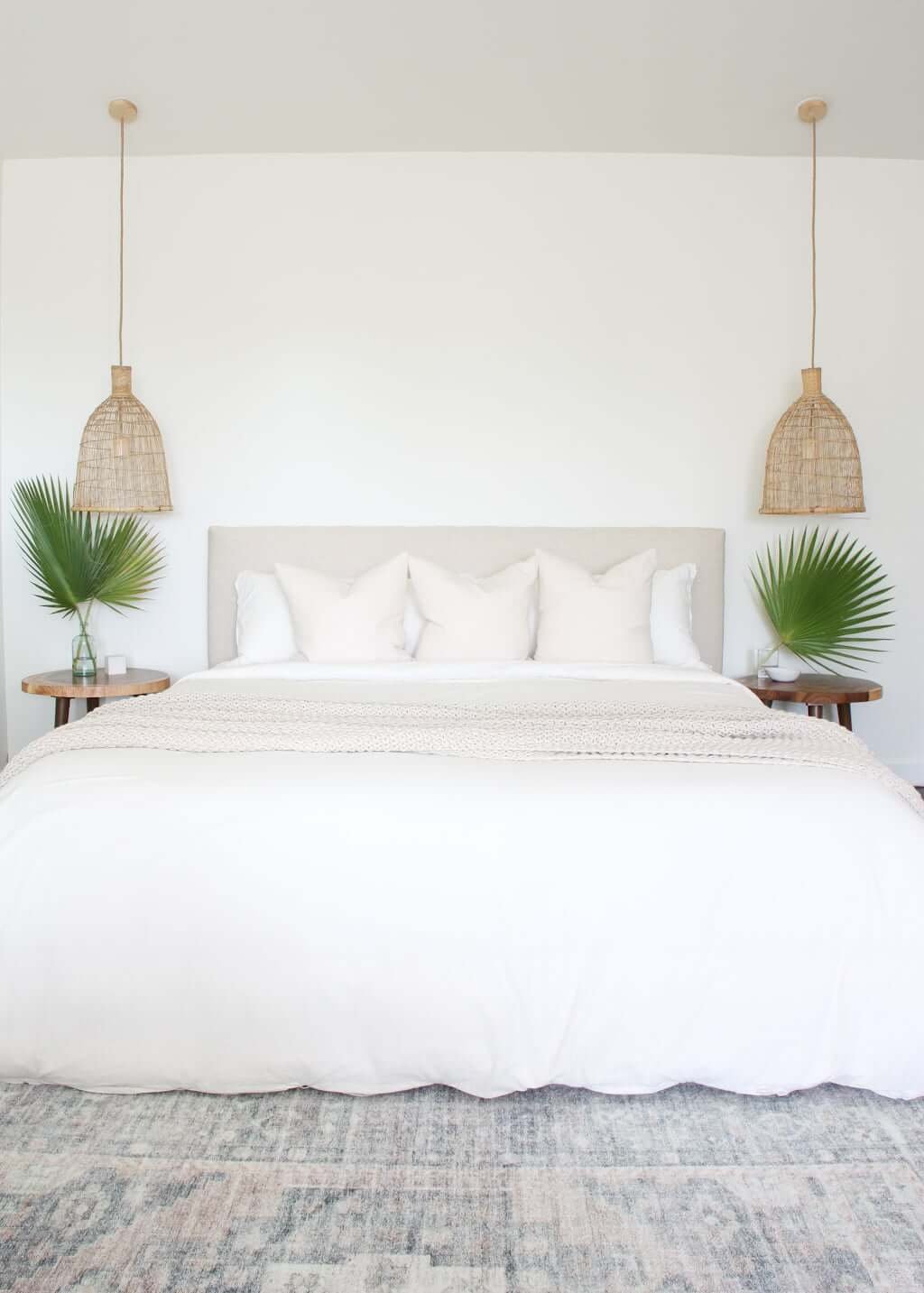 The "mismatched, curated" look can work in some areas, but your bedroom lights are not the place for it! Matching bedside lamps, sconces or pendants pull the room together visually and keep it simple for the eyes.
HOW TO MAKE YOUR BEDROOM FEEL LIKE A LUXURY HOTEL
#4: The Right Bed Sheets
For a hotel-style feel, go for simple, crisp white sheets. We like percale, but sheets are so personal that you should choose whatever material feels most comfortable to you!
HOW TO MAKE YOUR BEDROOM LOOK LIKE A HOTEL ROOM
#5: Fresh Plants
I don't know the exact science behind this, but it's 100% true—bringing in some real greenery to your bedside table brings a touch of freshness we all need around us, day and night! The simpler, the better.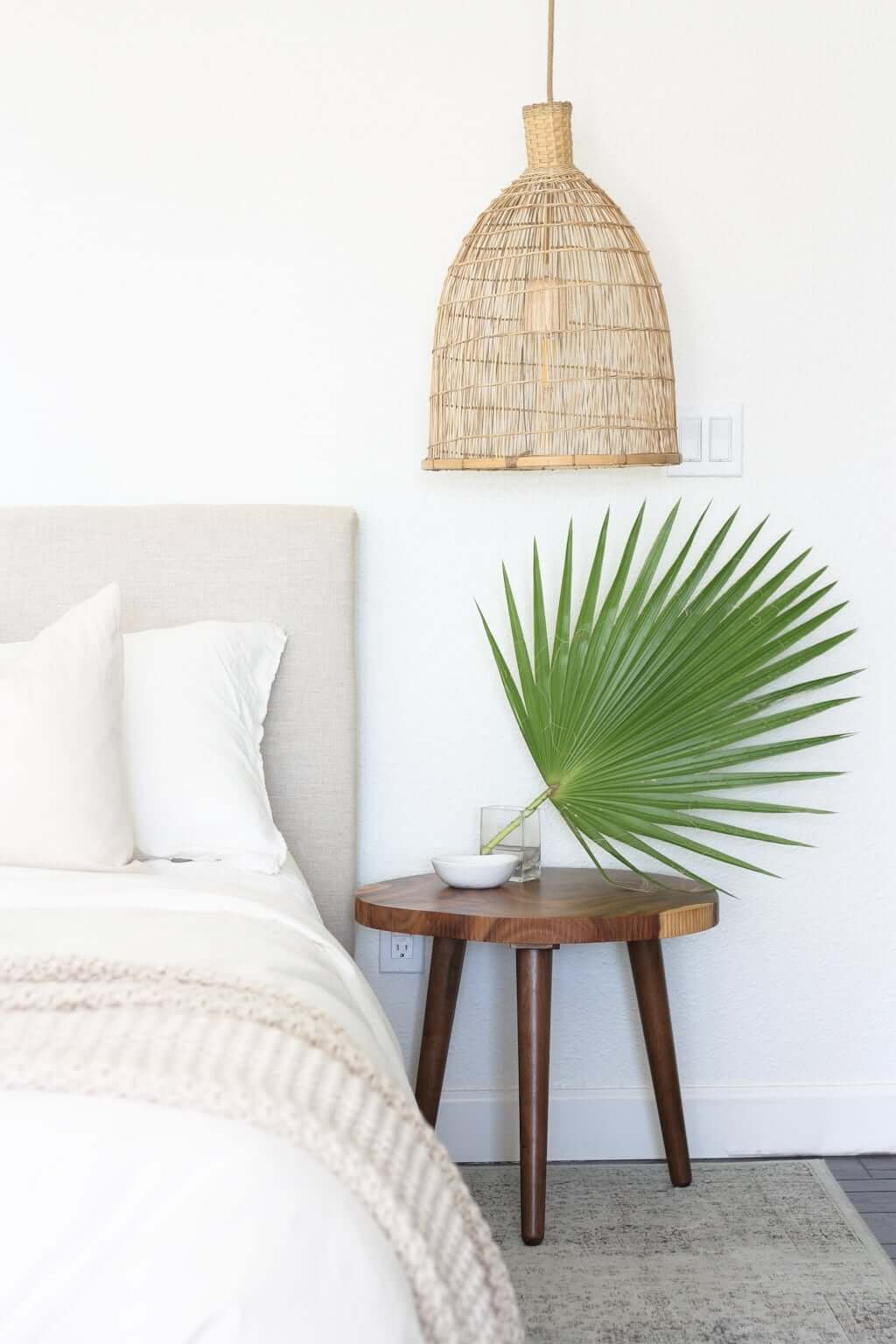 HOW TO MAKE YOUR BEDROOM AN OASIS
#6: Small Hotel-Like Details
Add a few of the tiny touches often found in hotels. Whether it's a nice quality bottle of water on the side table or some simple, cozy slippers laid out next to your bed, we don't have to be on vacation to enjoy some "little luxuries."
HOW TO MAKE YOUR BEDROOM AN OASIS
#7: Block Light & Sound
Along with a good sound machine (whether it's white noise or the sound of waves so you can pretend you're next to the ocean!), hotels often have light-blocking curtains and drapes. Layering sheer curtains with blackout shades is one way to mimic what hotels do. Just try to avoid the big, heavy curtains or valances that feel a bit stifling.
HOW TO MAKE YOUR BEDROOM LOOK LIKE A LUXURY HOTEL
#8: Include Seating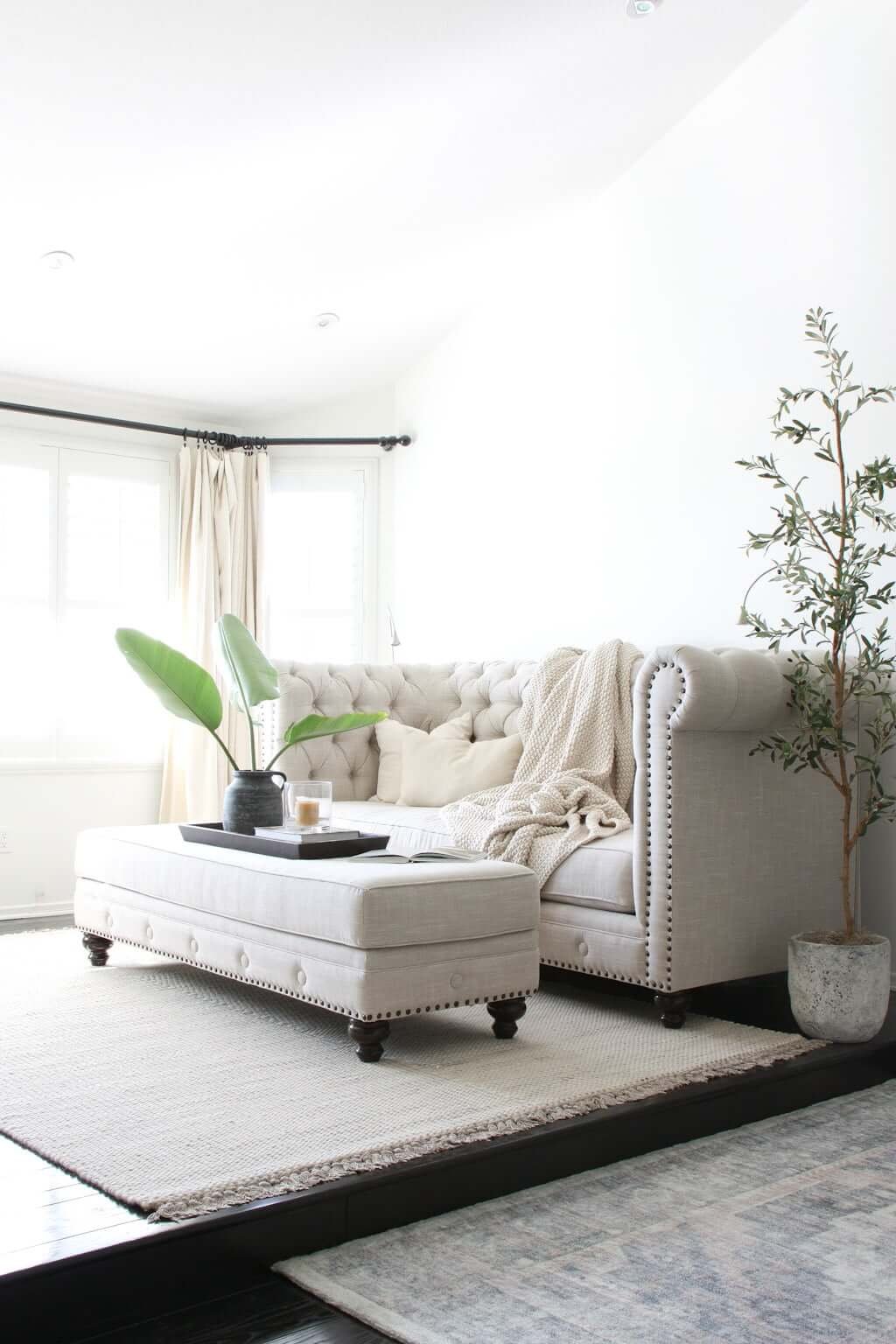 Add a small seating area, if you can! While we're grateful to have the large seating area we do in our bedroom now, we haven't always had that! We've lived in places where there was barely room to walk around the bed, but if you can, try to fit at least a chair or small ottoman into your space to give it a little more of that cozy, home-away-from-home feel.
HOW TO MAKE YOUR BEDROOM FEEL LUXURIOUS
#9: Naturally Fresh Air
Try to keep the scents in your bedroom's air minimal ("just say no" to the synthetic plug-ins). Get one of NASA's recommended plants for natural air purifying, or use these Moso bags (they use charcoal to purify the air naturally, and we've featured them in our laundry room before as well).
HOW TO MAKE YOUR BED FEEL LIKE A LUXURY HOTEL
#10: Think Symmetry
Overall, hotels keep things symmetrical—especially around the bed. Try to mimic this in your own bedroom and enjoy the fresh feel it gives.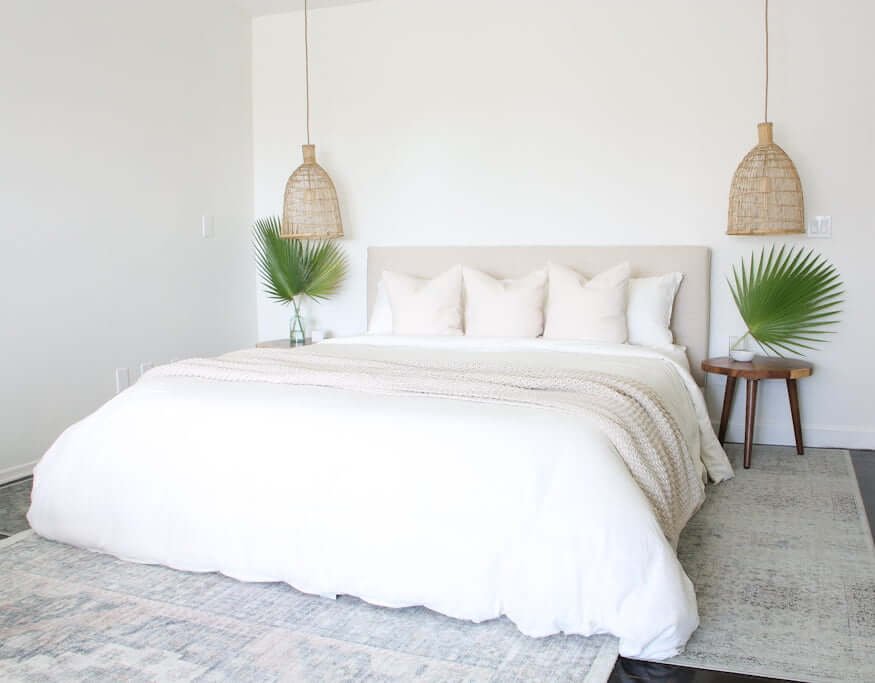 HOW TO MAKE YOUR BEDROOM LOOK LIKE A HOTEL
#11: Natural Pillows
What's your "dream pillow" that you'd find in your ideal vacation paradise? Take that and make it yours! Whether that means hard or soft to you, a good pillow is worth investing in, as you spend 1/3 of your life with your head on it!
HOW TO MAKE YOUR BEDROOM LOOK LIKE A HOTEL SUITE
#12: Keep It Simple!
I can't say it enough–keep your sleeping area simple! Again, think about what you see in a hotel. Keep artwork simple and minimal. Have a beautiful mirror or a spot for a cozy robe. Get any workout equipment or clutter out of the bedroom area and enjoy the simplicity.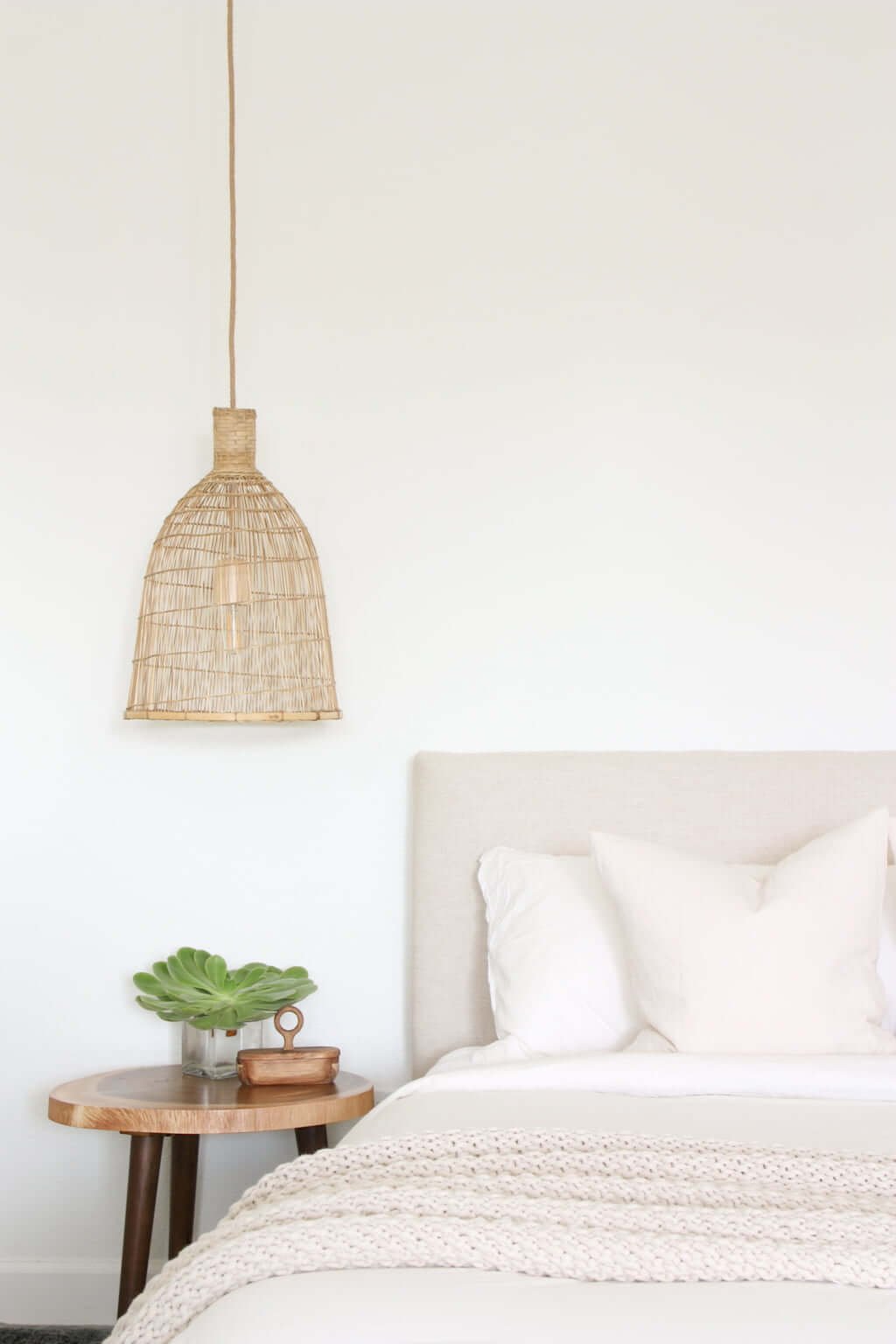 BOUTIQUE HOTEL STYLE BEDROOM IDEAS
#13: Use What You Already Have!
Save your money and take advantage of what you already have! We switched out wood tables from our living room and put them in as "new"-feeling bedside tables (you can go back and see the change in the first photo on this post). It's amazing how furniture-switching can change the whole feel of a bedroom—for free! (It may not look like much of a change to someone else, but believe me–you'll notice the small but powerful difference because you're in it every day!)
Next, see how we created our simple DIY bed. (You can also check out our bedroom sitting area and our post on "What To Hang Over Your Bed.")
➨ To see every single one of our home projects, click here!