As if finding the perfect rug isn't hard enough…
…too many websites list the "wrong" rug size for king bed setups!😮
A bedroom space doesn't often feel "complete" until the rug layer finishes it off. A rug will ground your space visually, add texture and softness, and so much more!
When you're looking for the right rug size under a king bed, you can certainly automatically go with the standard 9×12 or 8×10 rug size, but I'm here to help you answer this once and for all, ideally for you! 🙂
Those standard online answers don't take into consideration
The type of king bed you have! (Some are wider or longer than others due to the bed frame, whether it's a thick upholstery or platform bed, etc.)
Whether you have items at the end of your bed (or if you plan on adding them in future)!
Your current life situation! (See #2 below!)
You should know the rug mistakes to avoid so I'll go over that as well! (Just as important as knowing what to do! 🙂 )
I'll also answer popular questions like:
"What size rug to put under king size bed?"
"Is 8×10 rug too small for king bed?"
"How much space should be left between rug and nightstands?"
"How much space should I leave around my bedroom rug?"
"Which way should a 9×12 rug go under a king bed?"
"How much bigger should a rug be than a bed?"
"What size runner for a king size bed?"
"Is 5×8 rug too small for king bed?"
Rug size for king bed
#7: The "right" rug size depends 100% on your situation!
I'll talk about this even more as we go along, but if you're looking for "the right" or "the perfect" rug size for your king bed, I'll help figure it out for you! 🙂
Your situation is unique!
Your room shape is unique!
Your bed and nightstands are unique!
Your room size (ceiling height, width, depth, number of entry/exit points!) is unique!
Your life goals are unique! (I help you figure out how your home is connected to making your life goals happen HERE!)
Your material preferences (and whether you'll be going barefoot on your rug) is also unique to you!
Your color preferences are unique!
Your lifestyle is unique!
Do you see it? Don't just look at "size alone" for your rug! 🙂
Rugs cost substantial money (especially for under a king bed!)…you want to be sure you've selected the right one before you bring it home or order online!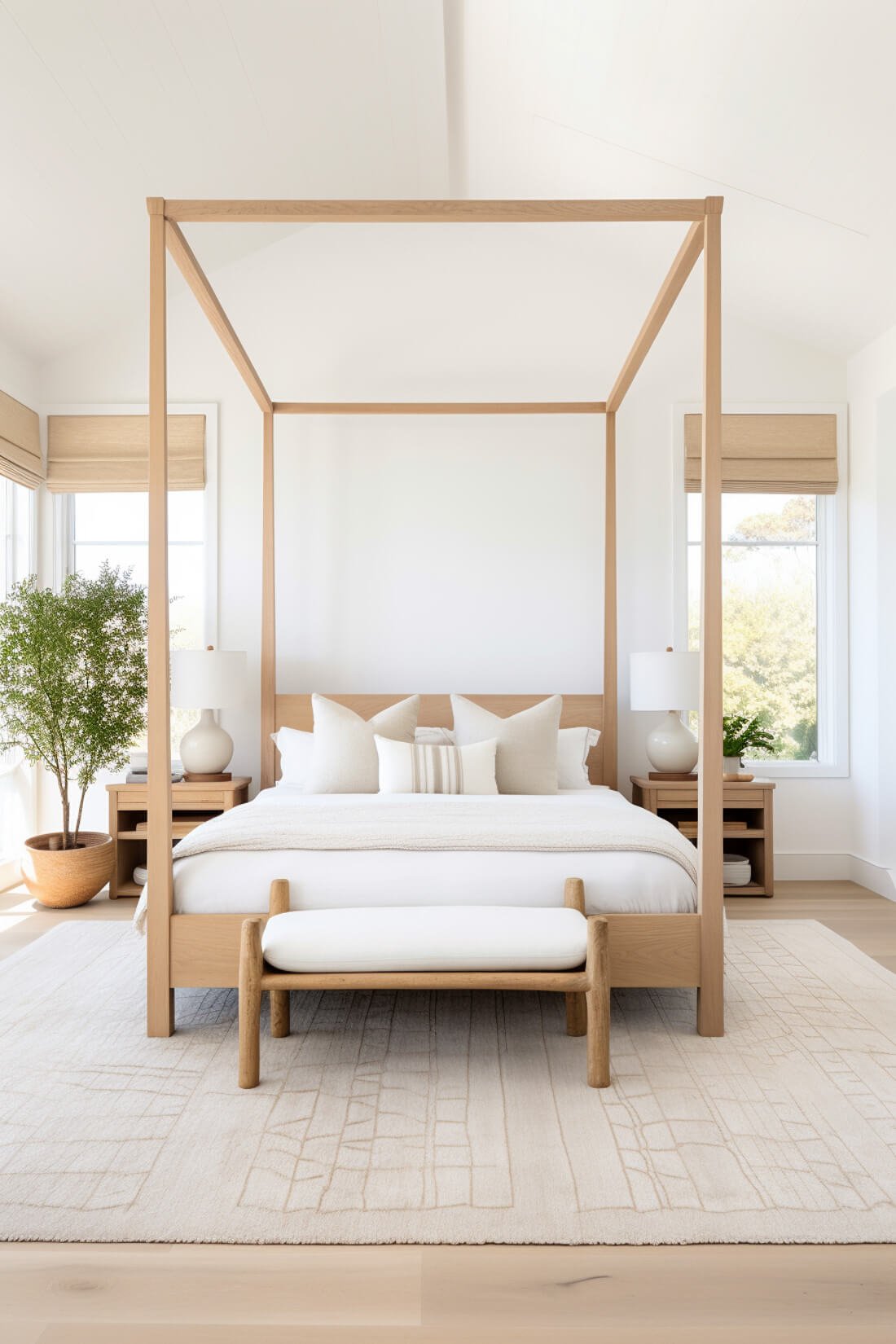 RUG UNDER BED RULES
#6: Know the Rules…but You May Need to Break Them!) 🙂
There are a lot of rug rules out there, such as
"The rug should only cover 70% of the floor."
"All of your small furniture should fit on the rug."
"Your big furniture should fit on the rug but if it can't, at least the front legs."
"Your rug shouldn't come closer than 6″ to a wall."
Here's a graphic I created to show you what I'll illustrate in the rest of this post, from the 5×8′ (which is not recommended but still possible in special situations) all the way to the largest area rugs for under king beds!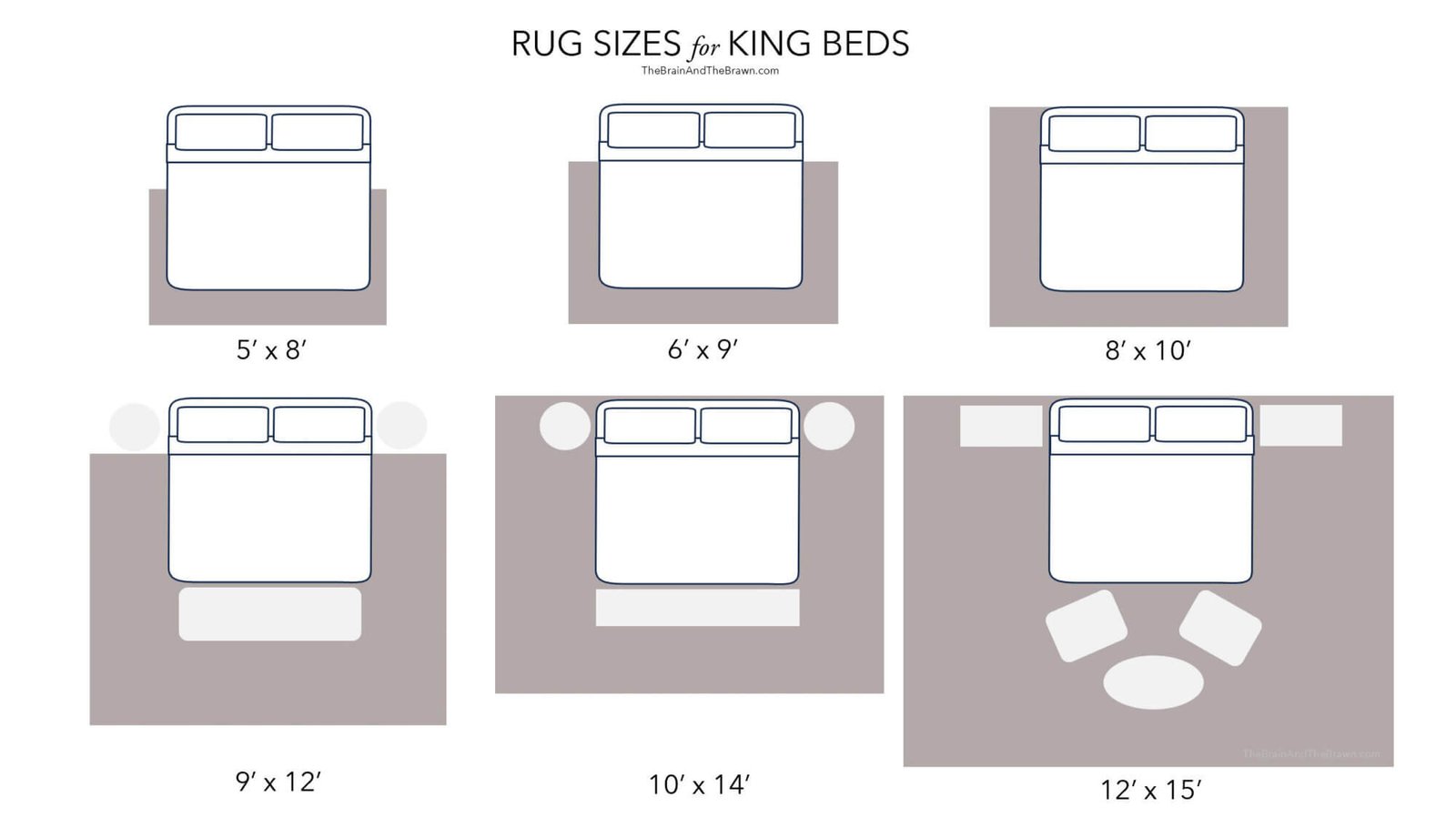 King bed rug size
#5: Pattern Affects Your "Size"!
Just as important as your rug size is the scale of your rug pattern, which will affect what size (actually) looks good in your room!
In a small bedroom, use a smaller-scale pattern!
In a large bedroom, you can do something with a larger, bolder pattern!
Mistake: Not paying attention to the scale of your rug pattern!
You don't want your pattern to overwhelm the space or take your eyes down. (Another reason I like neutral, peaceful rug patterns.)
TIP: Go Neutral to Give Yourself Space In the Future!
A good quality rug will be on the pricey side and it's an investment…
…so you really need to love it!
It will also need to last you years and years to come, and a neutral color will give you that flexibility.
Whether you love color or neutrals, your style will probably change in future years and a neutral high-priced item is the smartest decision you can make! (Save your colorful, trendy choices for lower-priced items! 🙂 )
Below is a perfect example of a client who's happy to take her time, stay simple, and can change anything (and almost everything!) out in her room when she wants to…while not having to pay to replace that large, beautiful, cushy, glorious-feeling rug under her feet!😍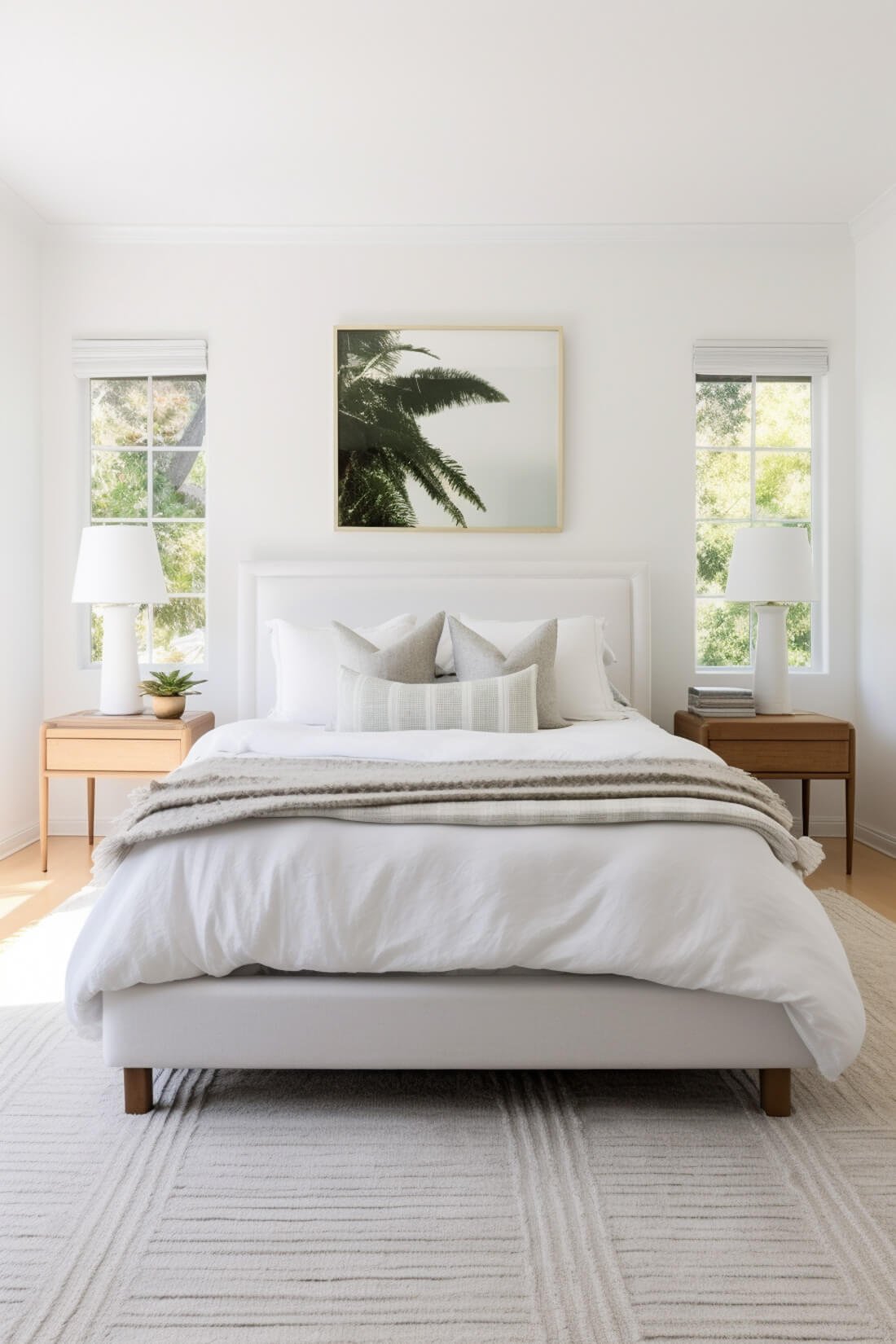 In contrast to the below…
…the blue rug is nice, but the owner will always need to work with it in future if she wants to change out her artwork, pillows, blankets, etc. for different colors. It still works well because blue and white is such a classic, but you really need to love it if you go this route! 🙂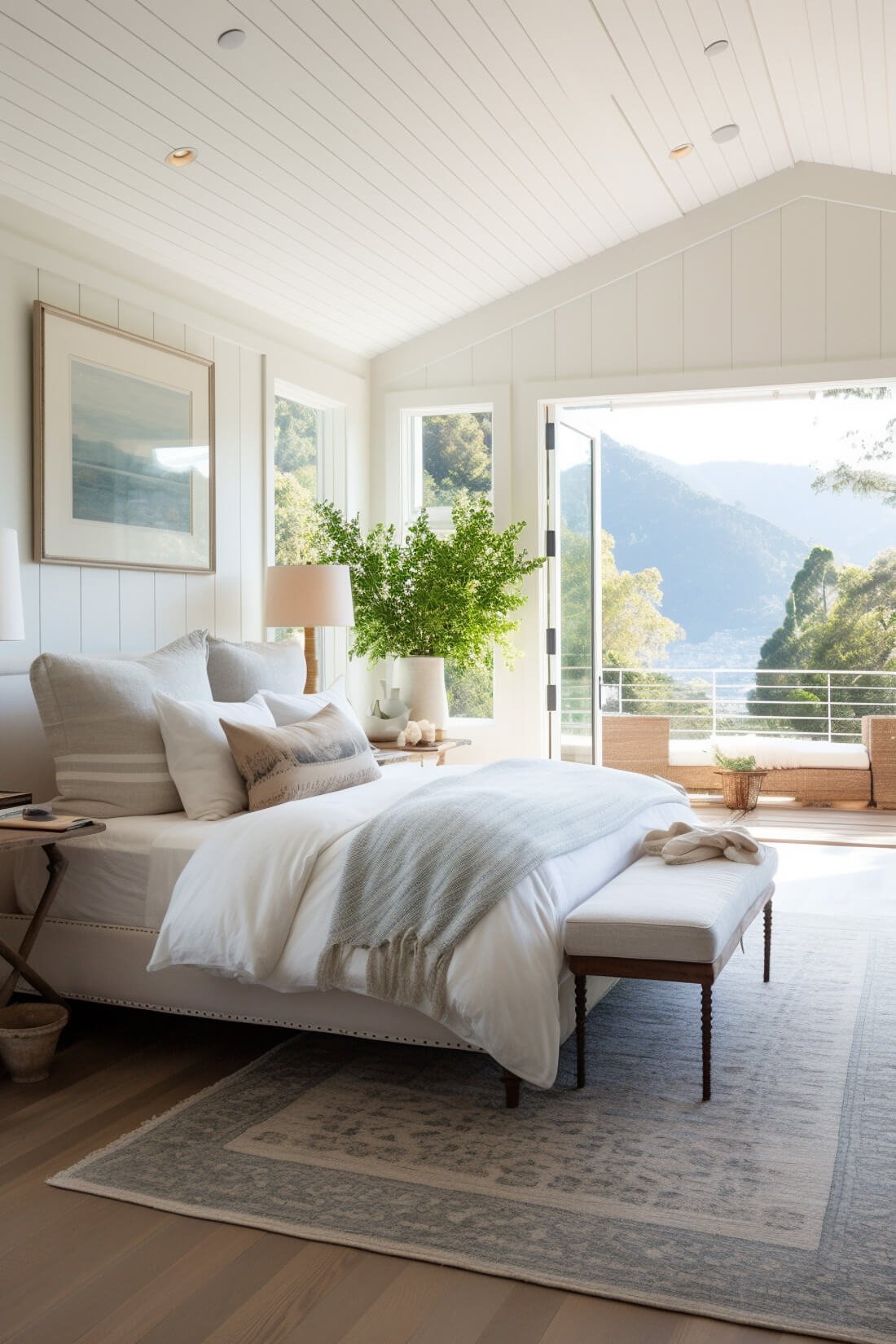 Please keep in mind that
neutral doesn't have to mean boring! 🙂
Not by any means! You can still choose a "neutral" rug with gorgeous texture, like this one we chose below! (We also went bigger than the typical 8×10 or 9×12, but more on that further down!)😊
Another neutral yet textured rug design we chose: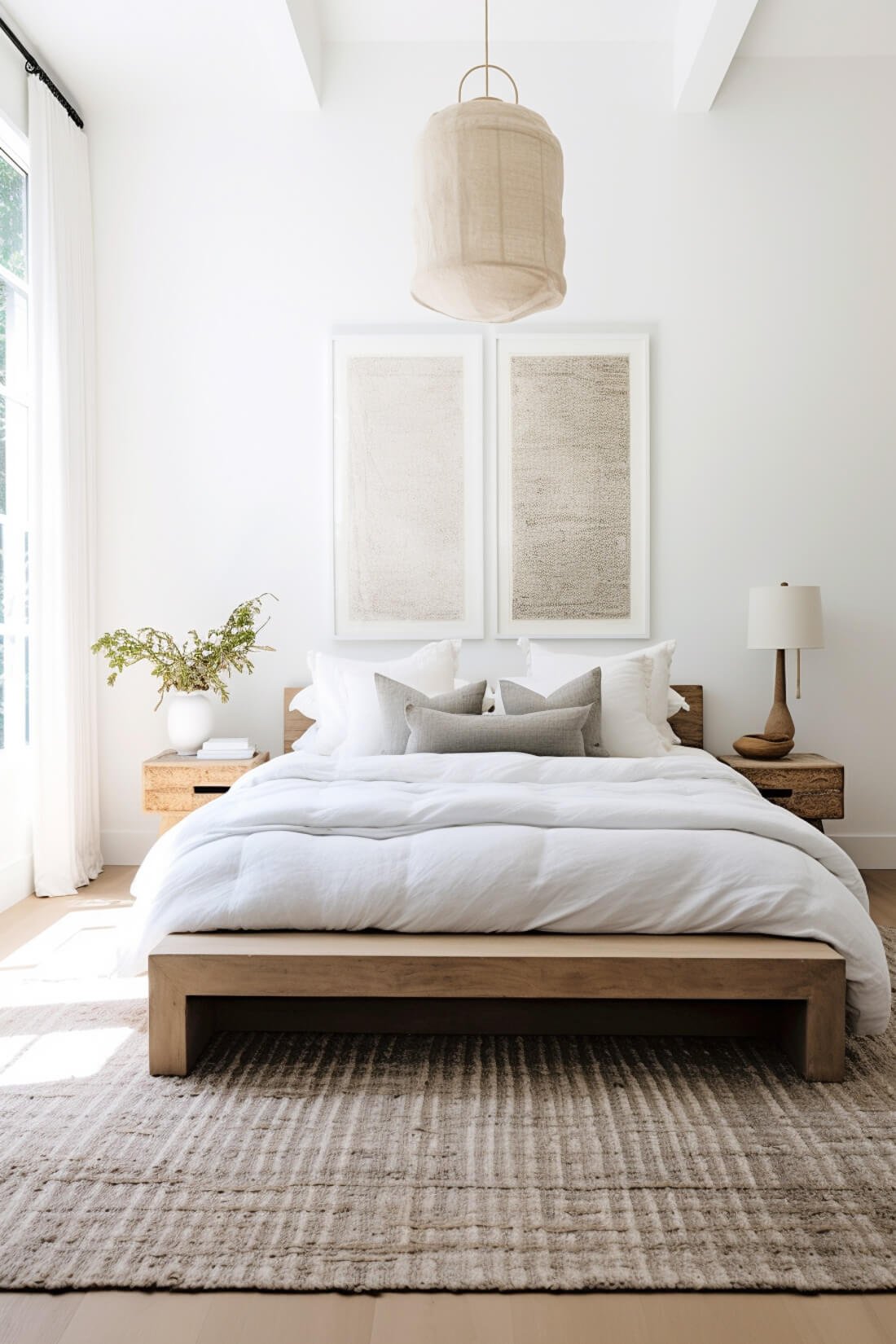 Rug size under king bed
#4: A 9×12 Area Rug is "Standard," However…!
If you simply want to know the most basic answer ever to the question "What size rug to put under a king size bed?"…then I'll give you the basic answer of 9×12.
However, you do have other options, such as…
An 8×10 if your budget is tight (or you can't find one you love yet)
Going bigger (and better!) than a standard 9×12 (I'll talk about that further down)
Runners (let's talk about that next!)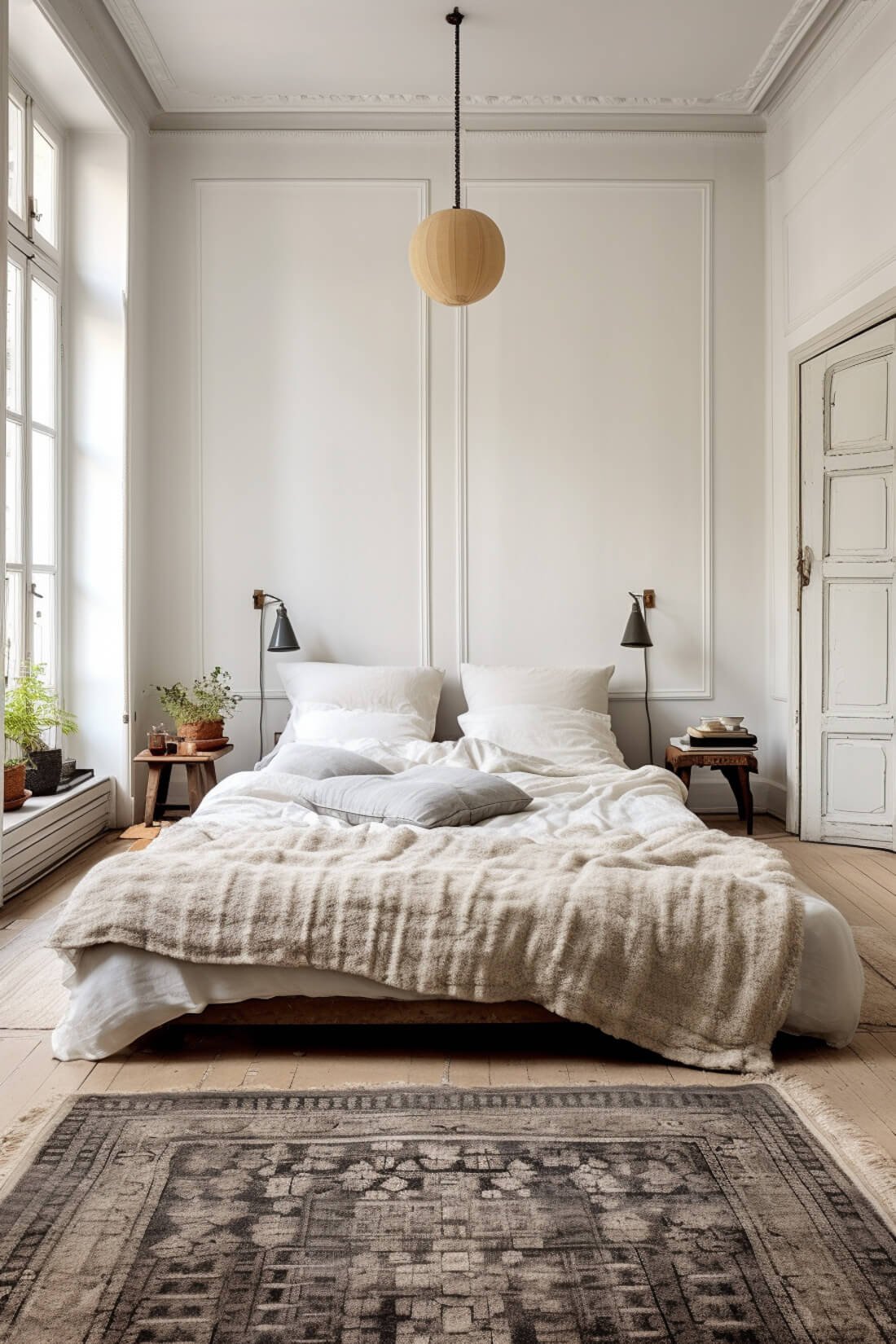 King bed rug size
#3: Runners can be your best bet!
If you can't find a big rug you like but you want something for the interim, or you're budget-conscious, or you're going to be moving soon and don't want to invest in something hefty, go with runners!
(This is what happened to me! 🙂 )
Sometimes designers can be the most indecisive about their own spaces, but in this case we were in the middle of building our own bed so I wanted to wait and see how things came out.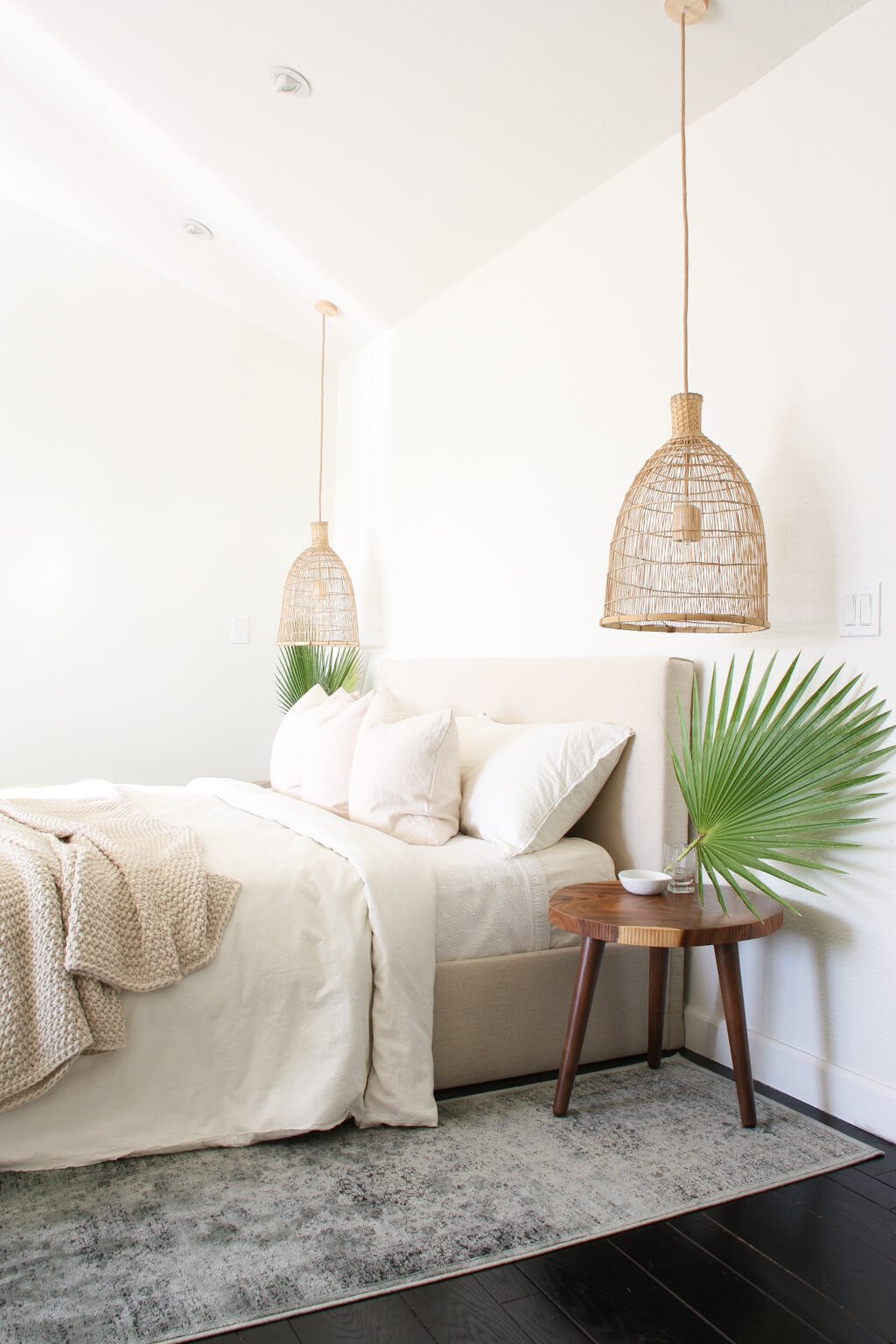 I found these super plush, delicious-feeling-on-bare-feet rugs for a super affordable price (and I loved the color even though it said "green"…in real life it was more beautiful!).
And again, breaking the rules, I ran our runners under our side tables! I like this for so many reasons (protects your floors, keeps continuity, looks nice, easy to clean) and encourage you to embrace it as well with runners, especially with open-style side tables like ours!
Even when I played with different side tables later on, it works beautifully!
best rugs for king bed
#2: It's okay (sometimes even advisable!) to layer!
Even if you already have carpet in your bedroom, can you add a rug?
Absolutely yes!
To some, it might seem odd to layer a rug over a room that already has carpet, but just think of how the Bedouins layer rugs in their tents and how much cozier it feels.🥰 (And not just for your feet—but for your eyes! Visually the rug will ground the space, even in a carpeted bedroom.)
If you're not sure about this, try doing runners along the side of the bed (see #3 above) since they're less expensive and still help define the space.
Rug size for king bed
#1: When In Doubt, Go Big!
When in doubt, size up! Don't skimp on your rug size, especially under a king bed!
One of the most common rug mistakes I see people make is getting a too-small rug. (I get it; rugs can get exponentially more expensive the larger you go!)
But honestly, a too-small rug will make your room feel even smaller. So when in doubt, size up and enjoy the expansive feeling you'll get!
For example, this client wanted an elegant yet cozy, peaceful bedroom with no clutter…and the extra large rug (10×14) helps achieve this!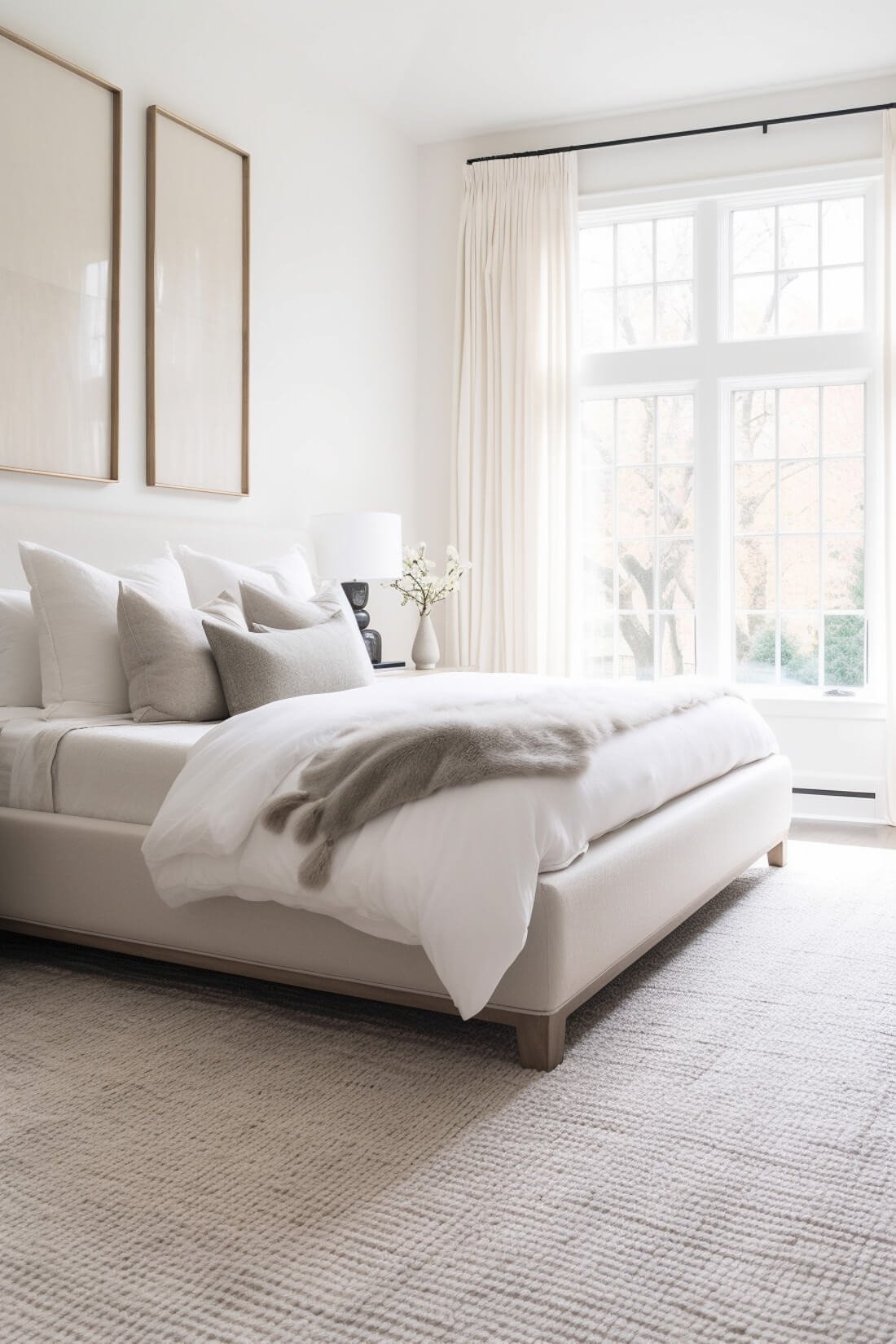 Going bigger than the standard 9×12 rug under this canopy bed (regardless of whether it's a canopy bed or not!) gives this homeowner room to play with having a chair or ottoman at the end of her bed (sometimes people are undecided and need some "testing phases" to help decide what's actually functional)!
RUG SIZE FOR KING BED
"Is 8×10 rug too small for king bed?"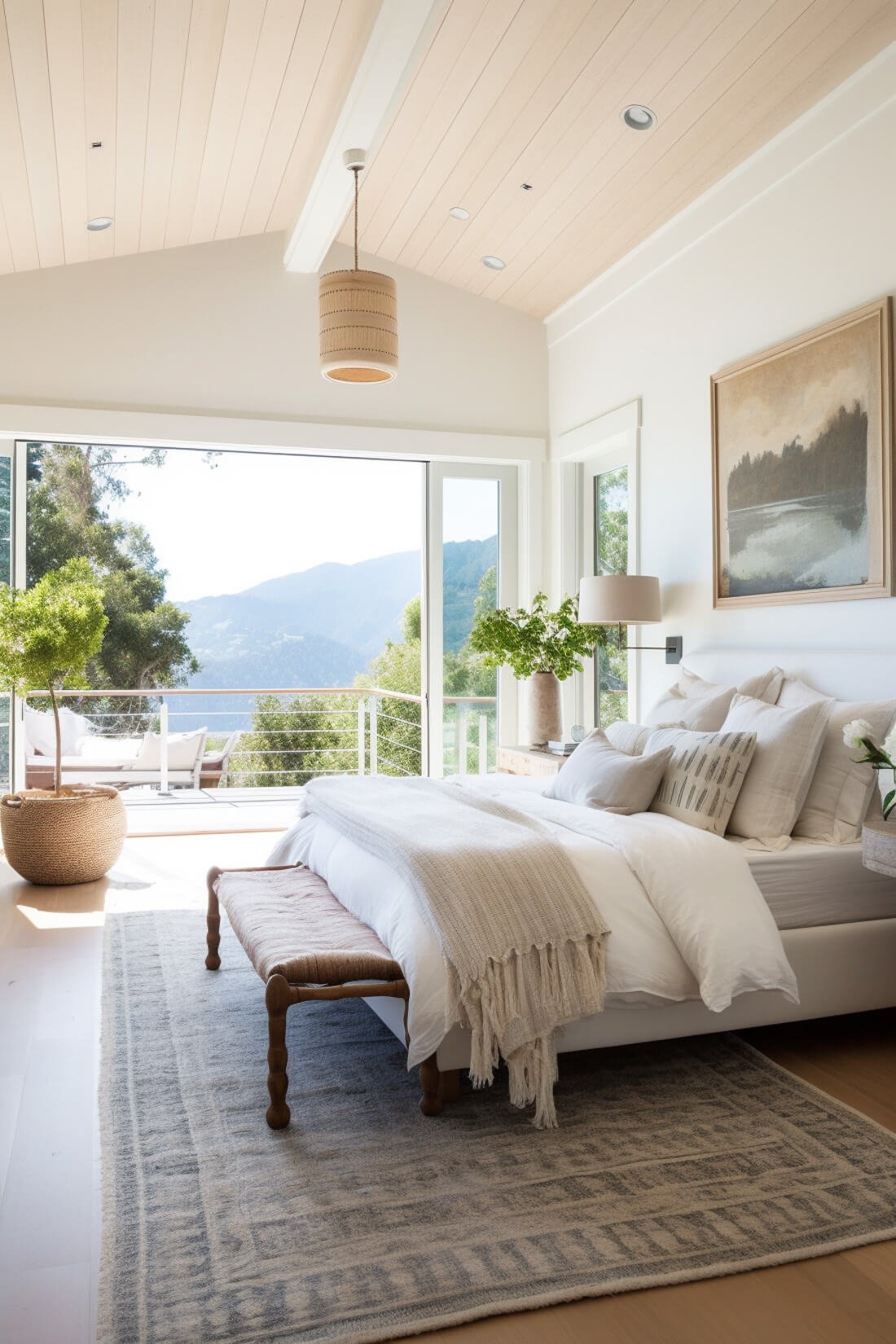 This is a great (and very common!) question…
You can certainly make an 8×10 rug work if a 9×12 is impossible.
You do this by "scooting" the rug down further towards the end of your bed, making sure the 10′ rug side is in line with your headboard…
…and ideally not having anything at the end of your bed makes this work even better! 🙂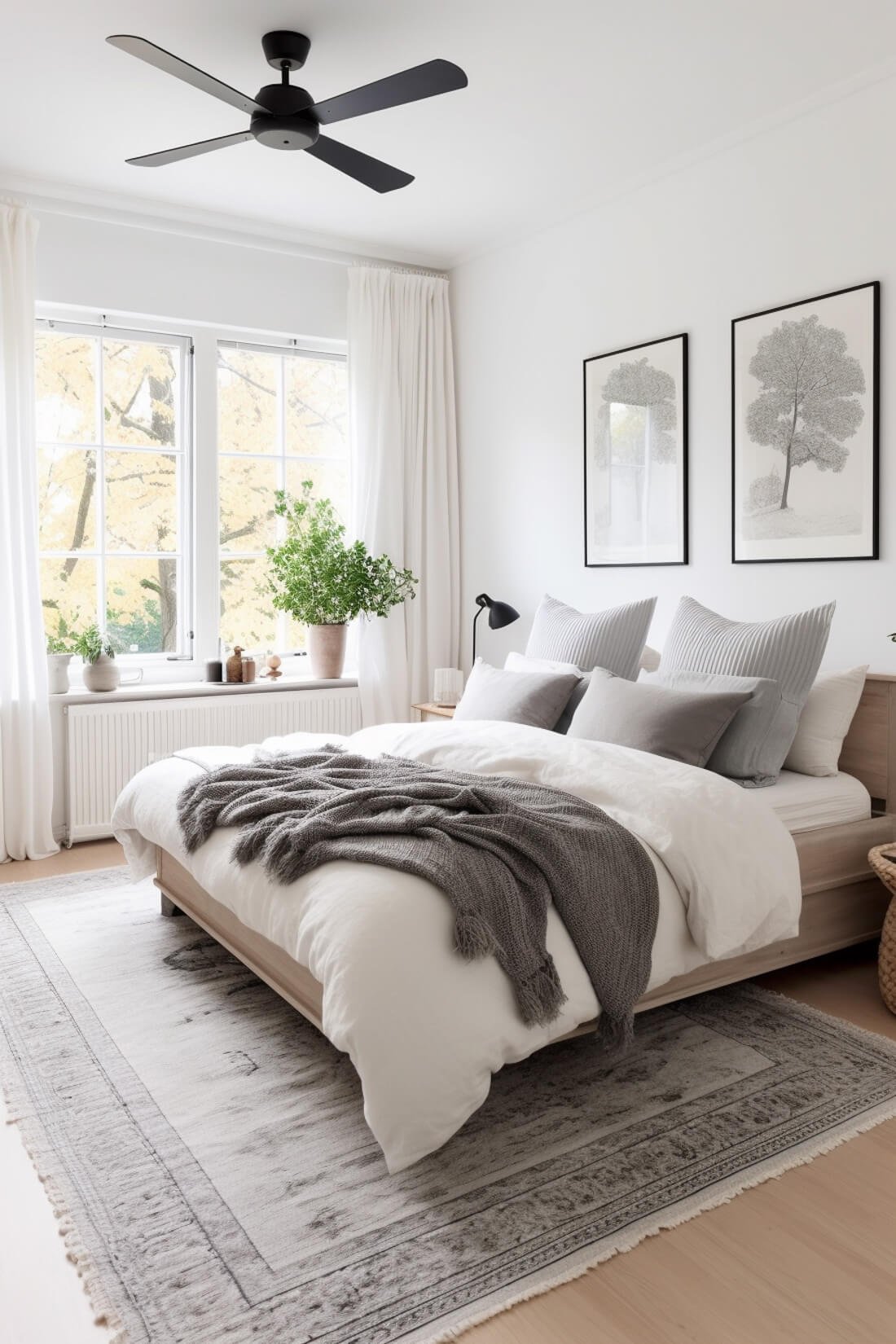 Note the round, woven nightstands in the above design, which is a great segway into the next popular question…
KING BED RUG SIZE
"How much space should be left between rug and nightstands?"
Many designers create "rules" for this, but in my experience that's a mistake!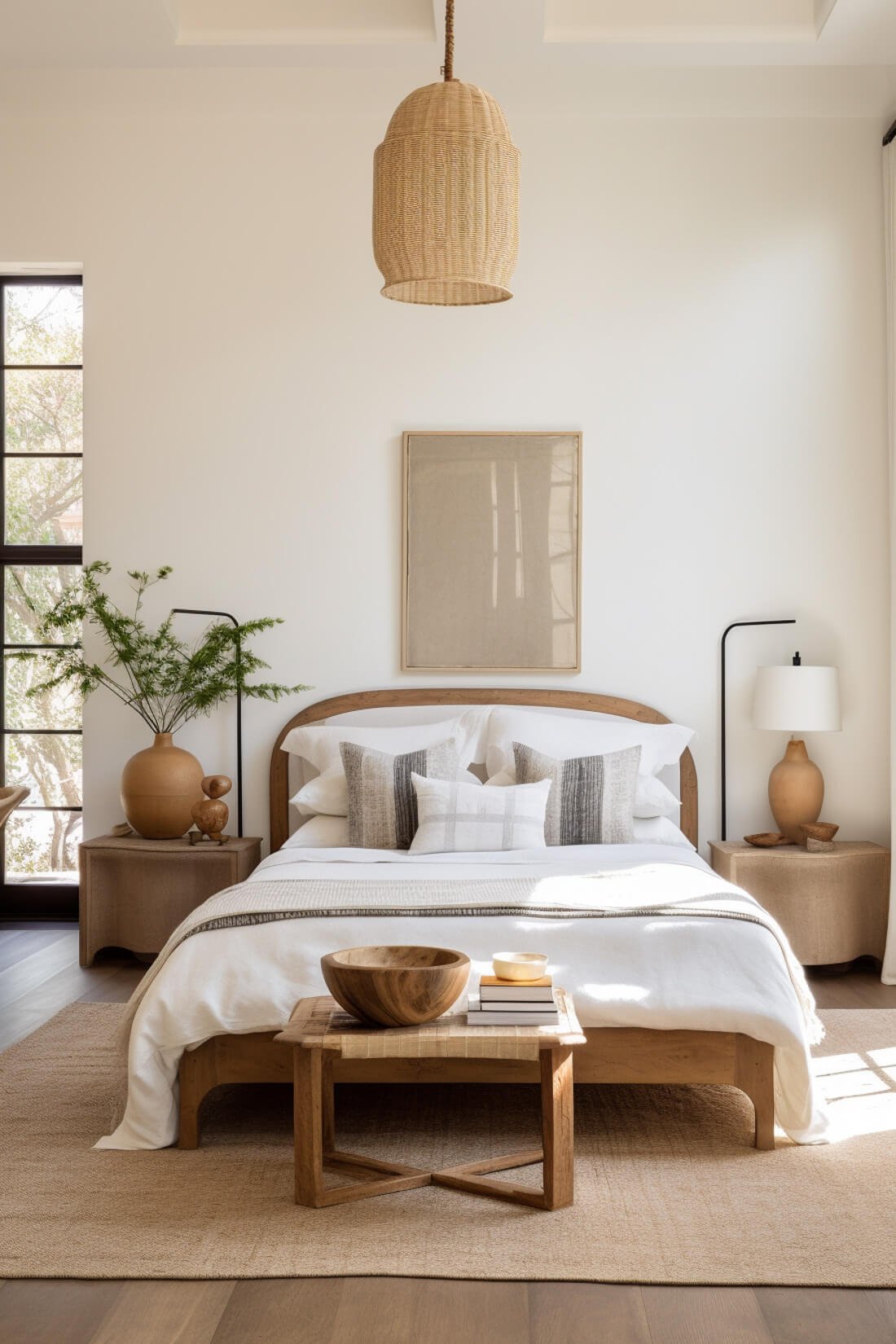 Aesthetically and strategically, I take into consideration so much more, such as
The depth of your nightstands
The style of your nightstands (are they round? rectangular? thick base? legs? open base? heavy base? etc)
Whether you need space for a bench or deeper sitting area/chairs at the end of your bed
The thickness of your headboard (thicker, upholstered headboards will scoot your body's placement on the mattress further from the wall, which correlates to your rug, so I like taking these unique features into consideration with rug placement as well)
For example, below the rug is technically a bit too close to the legs of the nightstand…however, the owner doesn't have anything at the end of her bed so she chose to shorten that space up.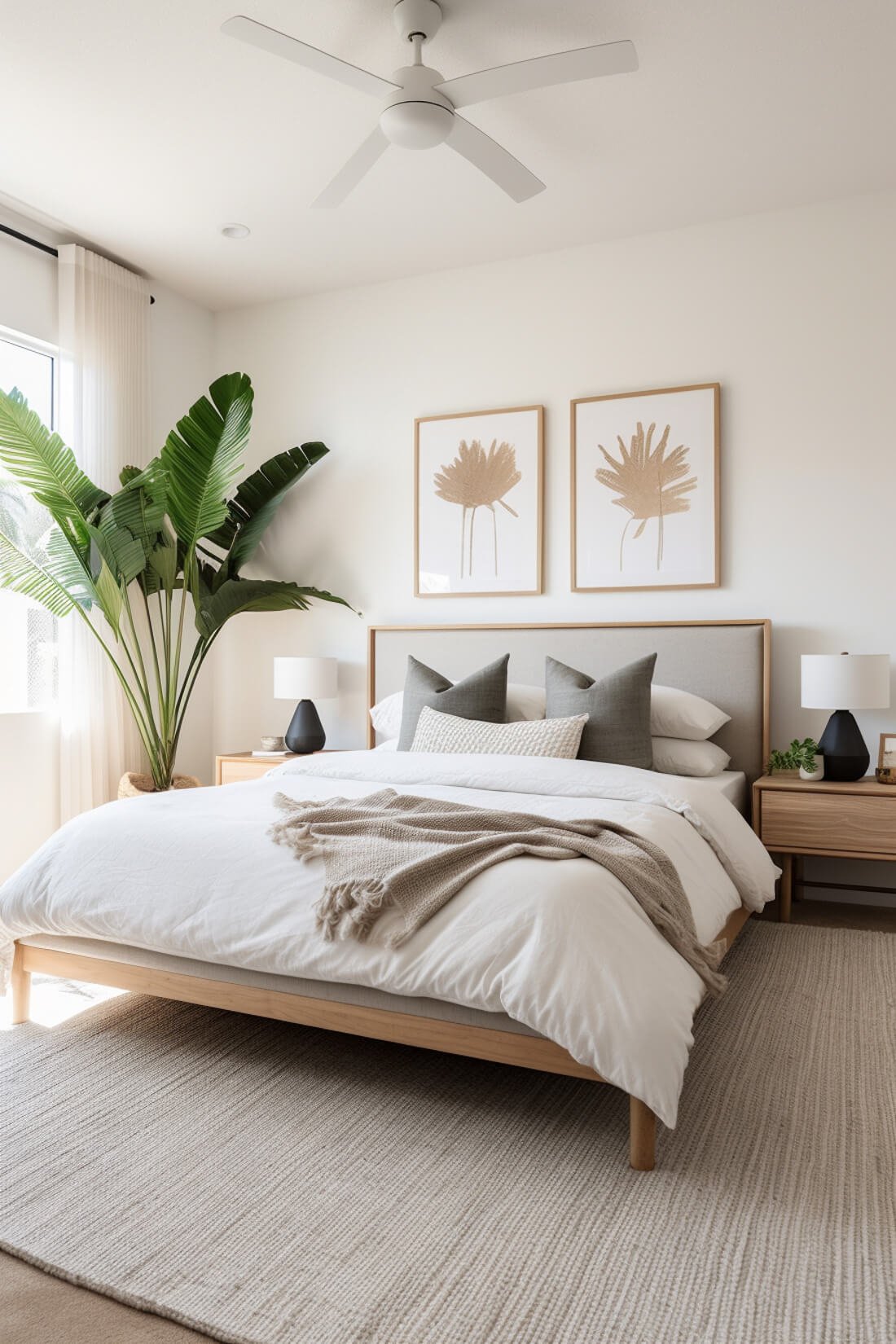 Should she choose to add a bench or chairs in future, she could easily scoot her rug down to accommodate and not have to buy a new rug! 🙂
bedroom rug space & sizing
"How much space should I leave around my bedroom rug?"
If your bedroom setup has walls that would run into the edge of your rug, I like to leave at least 6-12″ of floor space (or "breathing room"!) around the edge of my rugs/between them and the walls.
Ideally your rug will extend 1′ past the end of your bed. However, if you have a chair or a bench at the end of your bed, you'll want to take that into account! It's best if both have that 1′ extension past their end point, whatever that ends up being.
9X12 rug under king bed
"Which way should a 9×12 rug go under a king bed?"
I say that depends on whether you have something at the end of your king bed or not!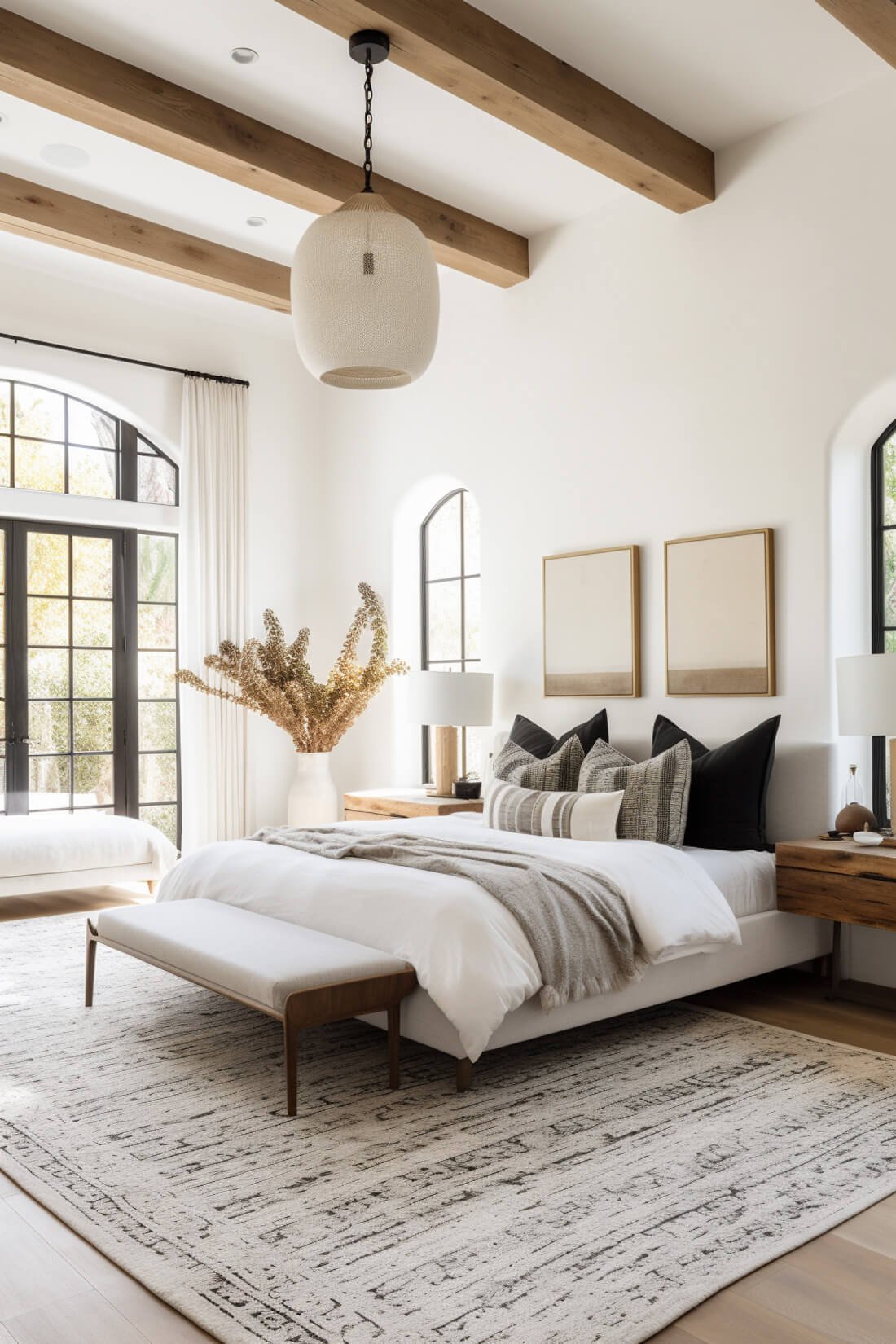 If you have a bench at the end, such as in the above bedroom, you would do the "long" way from your headboard down to past your bench.
However, if you have nothing at the end of your bed, and you can still leave that 1-2′ breathing space for your rug past the end of your bed, go with the 9′!
For example, this rug is placed incorrectly to my eye UNLESS the homeowner is out shopping for something to put at the end of her bed. 🙂 If the owner doesn't plan to put anything at the end of this bed, the rug under this king bed should be turned 90 degrees.
This will also provide more ample cushy rug footing underneath as the owner(s) walk to and from the side of the bed!
rug size FOR BEDROOM
"How much bigger should a rug be than a bed?"
A good rule of thumb is to leave enough walkway space to the side of the bed, so that when you're walking alongside your bed, you're not one-foot-on, one-foot-off the rug!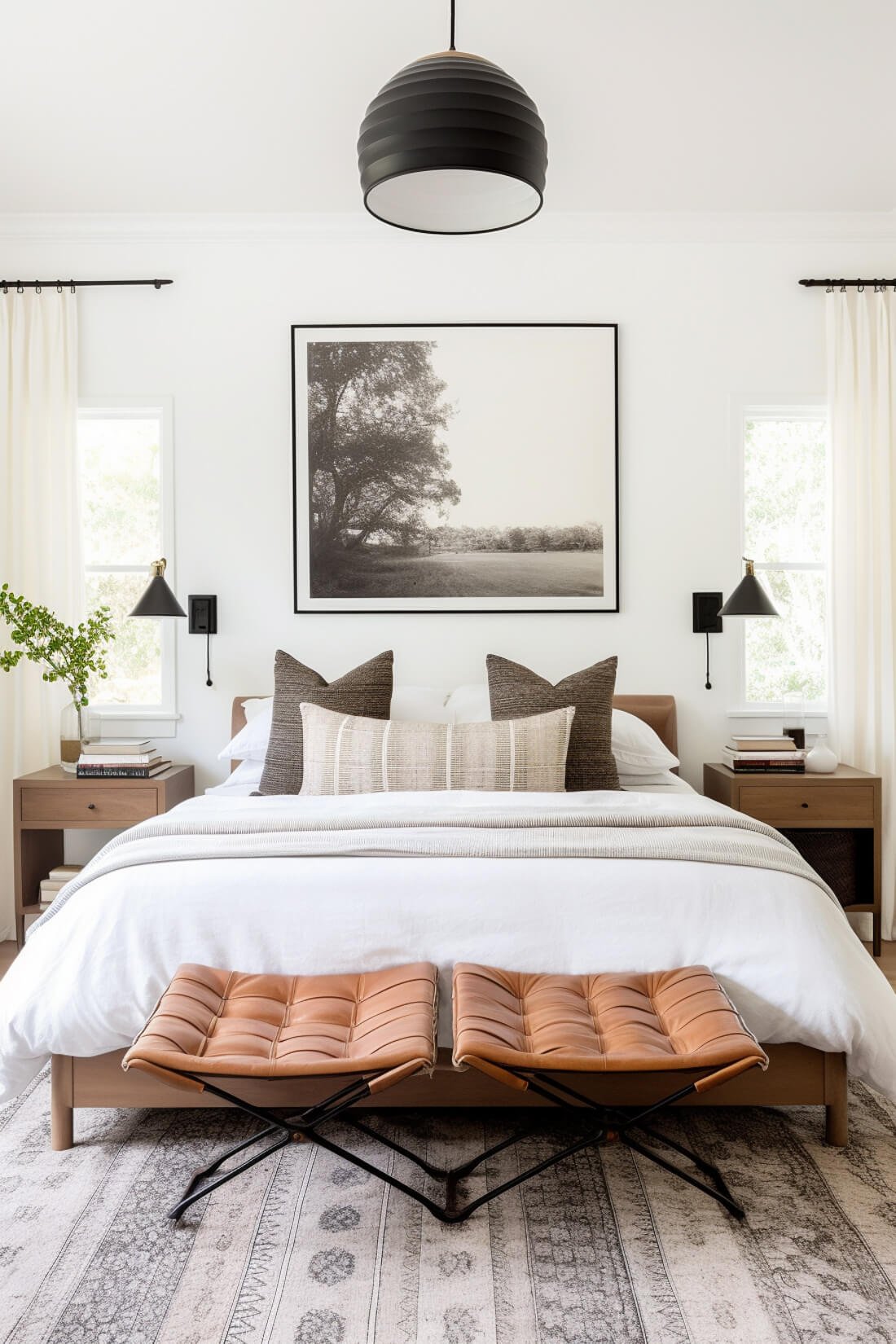 Since people usually want (or already have) a 8×10′ or 9×12′ rug, I've created the below graphic to help you see all the potential layouts you could use with your rug, depending on your actual king bed frame, nightstands, and whether you want a bench or seating at the end of your bed! (Or nothing at all!)
RUG RUNNERS FOR KING BED
"What size runner for a king size bed?"
If you haven't skipped the above tips in my post, you'll know that it depends on everything from your headboard to your nightstand!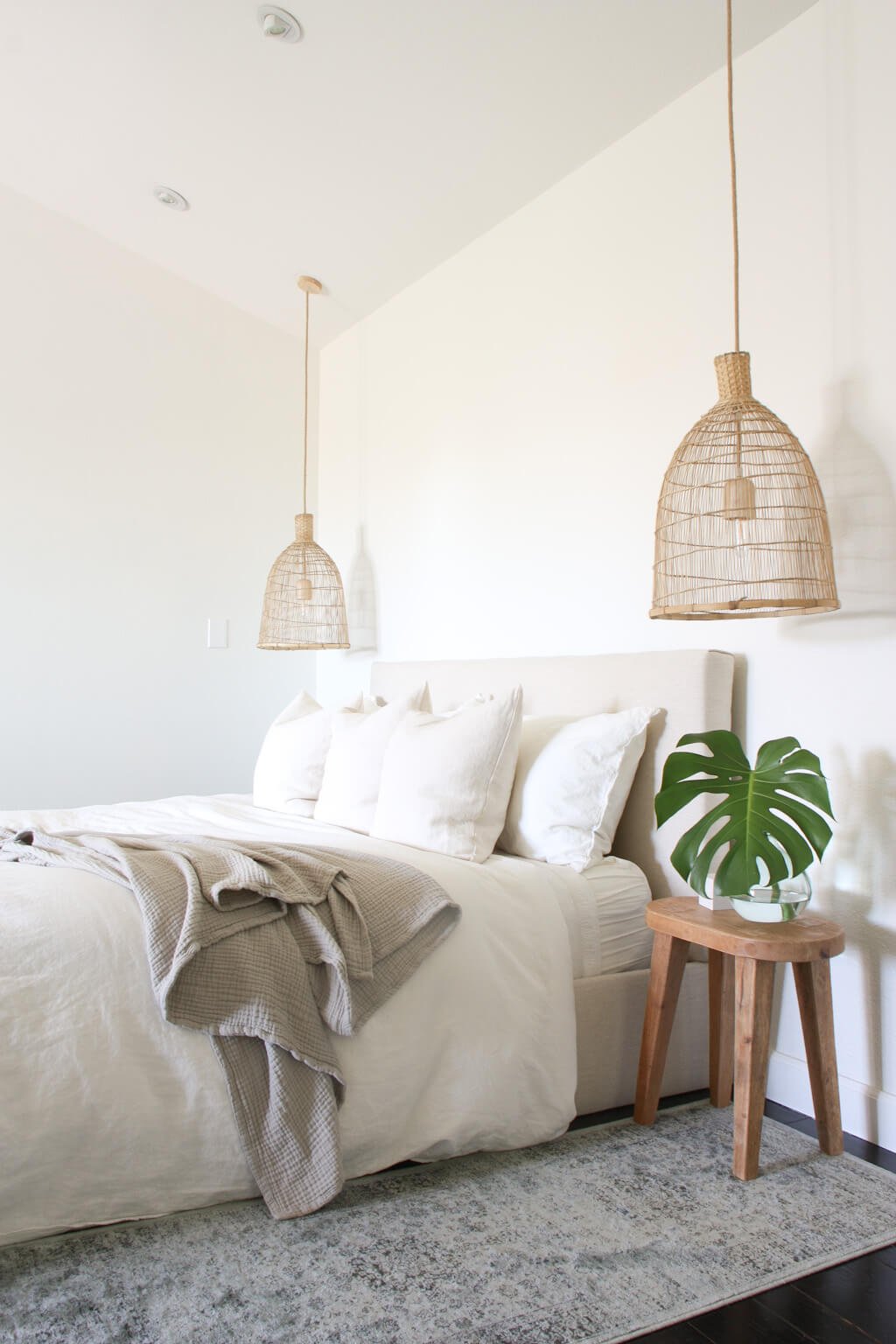 However, I'll tell you what size we used for ours: this 2'x8′ runner in the most luxurious-yet-affordable fabric! (Currently available in 3 different colors.)
rug size under king bed
"Is 5×8 rug too small for king bed?"
Typical rug size for a king bed is 9×12. You can get away with an 8×10.
If you're wanting to use a 5×8, I would generally say that is too small and steer you towards the runner solutions we've discussed above! (If cost is why you're going small, would a 6×9′ rug work better? Yes, in this case the bigger the better, whatever you can swing!)
If you already have a 5×8 rug you love and are looking to keep (like I was!), try mixing it with your runners and use it at the end of your bed! (I loved it as a "morning stretch" area because it was so soft! Better than any yoga mat! 🙂 )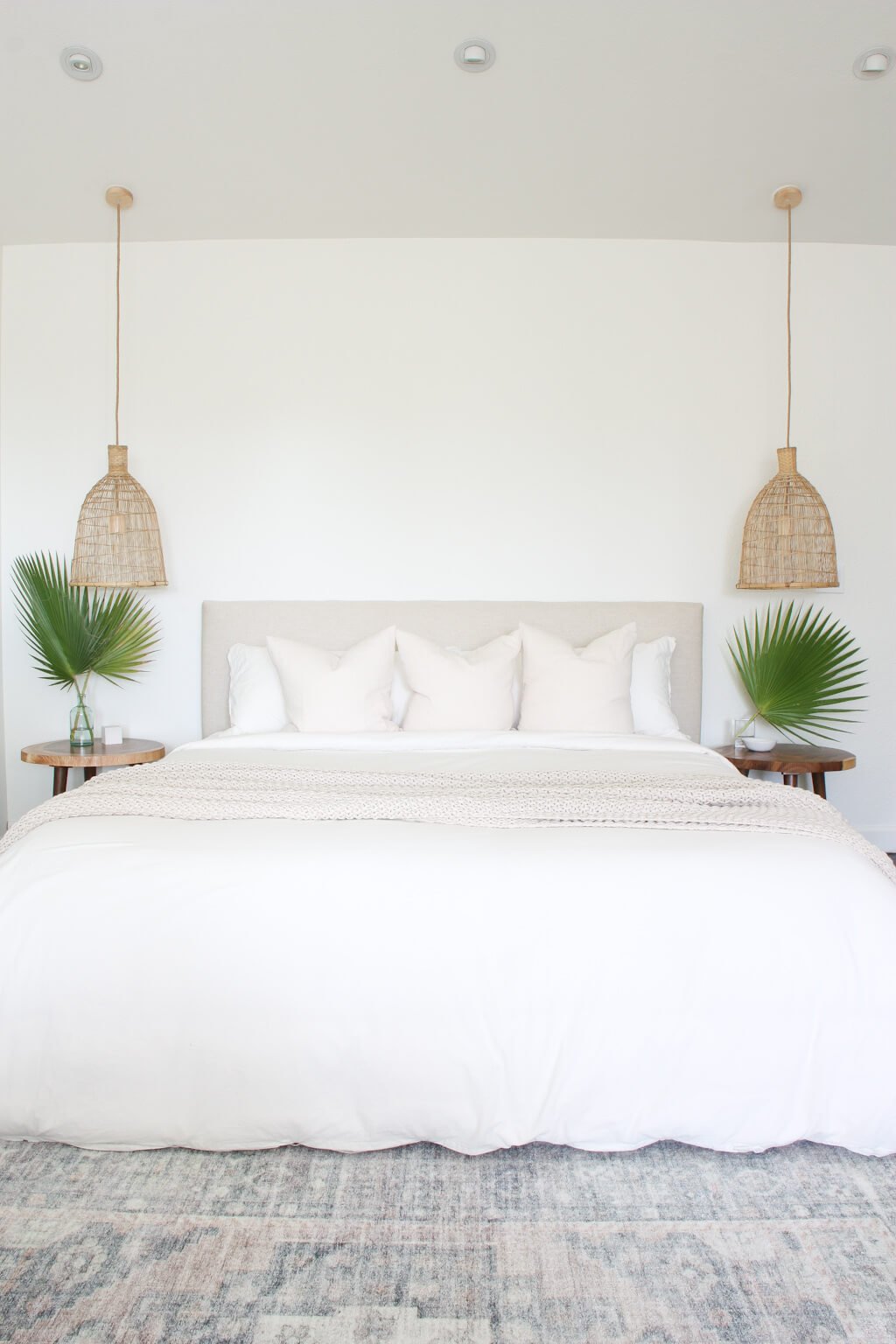 RUG FOR MASTER BEDROOM
Mistake: Not centering your rug!
This might sound obvious but it happens more often than you'd think! Especially with non-symmetrical rugs (such as the below). It's gorgeous but feels "off"!
So in this case, if you find a one-of-a-kind rug you love but it's not symmetrical, you might try playing with rotating it (what I'd do with the below)…
…or I'd choose something for the end of the bed that covers over the rug and "distracts" the eye from seeing its non-symmetry.
In the below room, we used a striped rug that was also asymetrical with its stripes, but it works because of the consistent pattern and scale of the room.
You can also see that the center line of the rug is kept right in the center of the bed!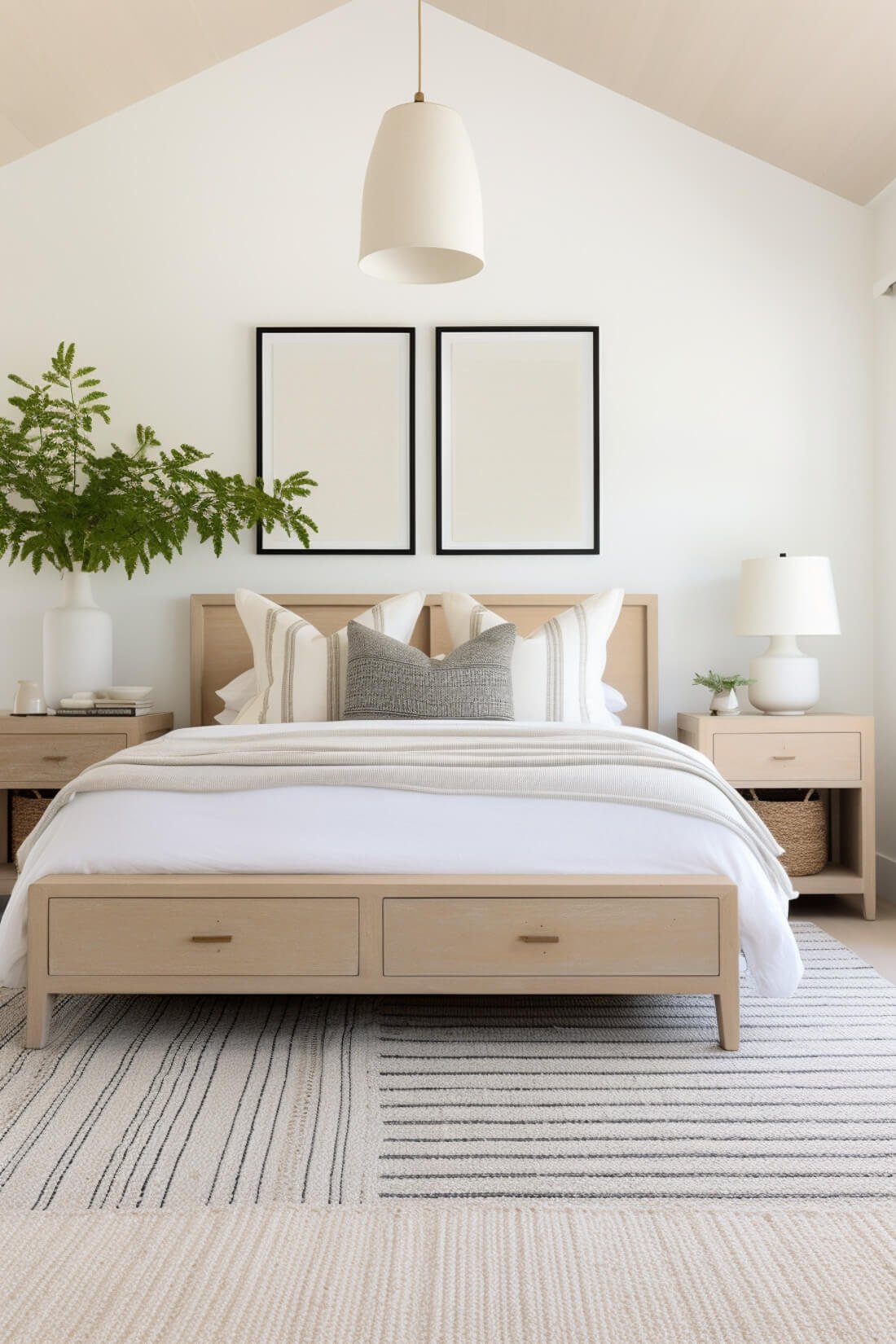 king bed rug size
"What size rug to put under king size bed?"
In summary, while typically you'll want a 9×12 rug, there are so many other factors to consider!
As discussed in this article, we've covered other considerations such as
Nightstands and bed/headboard/sideboard thicknesses
Rug runners
8×10 vs 9×12 vs beyond!
Space in room
End of bed requirements/future plans
For example, I absolutely love how the below bedroom turned out, but you'll notice this platform bed is longer and wider than the "average" king bed because of the extra wood in the design! So typical rules don't always apply to your king bed rug size because of all the factors I encourage you to keep in mind from this post! 🙂
Next…
Trying to fit a bed in your guest room/office? We've got The Only 7 Office Guest Room Ideas You (Actually) Need to Know About!
Or The #1 Simple Home Must-do EVERYONE Needs Is Here!
Need closet help? You'll want to know about our Closet Built Ins: The Genius Way to Convert Your Basic Space for Max Storage!
You can see our full bedroom with sitting area HERE!
PS: The full list of all our personal (and client) home projects is here.