Today we're sharing pictures of our painted brick fireplace before & after…but are we finished?
When we first toured the upstairs of our current house, we were pleasantly surprised to see there was a red brick fireplace in the bedroom. (Well, technically it's in the master bedroom's raised sitting room.)
While a bedroom fireplace wasn't something we were looking for, I wasn't going to kick it out of bed in the morning. (Bad metaphor, but you know what I mean.)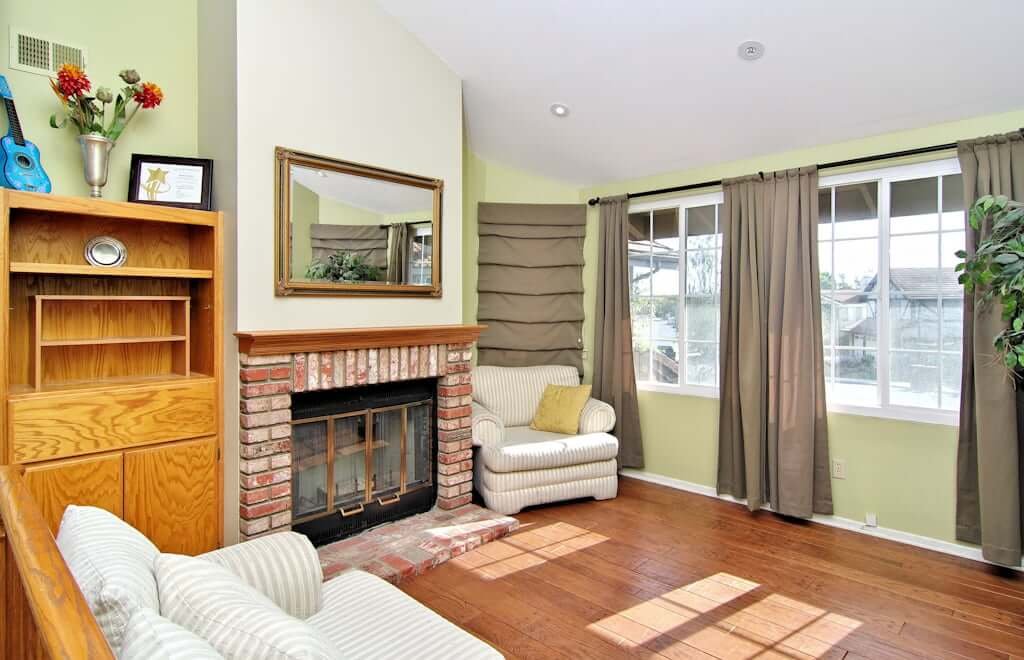 Once we bought the house, we were preparing to have the entire interior painted. And—as opposed to the downstairs fireplace—I was 100% confident I wanted to cover over the red brick on this upstairs fireplace!
I didn't like the coloring in the brick, and I knew white would have the perfect "California cool" vibe I wanted in here. So it was an easy decision.
Since the painters would already be in our bedroom, painting all the walls (plus all the walls in our master bathroom!), having them take care of painting our brick fireplace white would be an easy add-on.
PAINTED BRICK FIREPLACE BEFORE & AFTER:
DIY vs Hiring Out
A.K.A. "When It's Smart To Hire Out!" (My rhyming tagline.)
As mentioned in our post about our downstairs bar makeover and painting those cabinets white, there are times to DIY—and there are times to hire out.
This was one of those times.
1. Time & effort.
I'd recently given birth to our first child, and the amount of time and effort it would take for me to do this painted brick fireplace project myself—with an infant—was just too much at the time.
It's always best to paint your interior without furniture in the way. Or, in our case, before all the furniture got moved in.
2. Practicality.
Since the whole room would be undergoing a paint transformation and a wood floor transformation, we knew this was the right move: to get this brick fireplace painted for us.
3. Money.
Because the painters were already in the space with all their paint, dropcloths, and other equipment, they charged next to nothing to add in painting the red brick fireplace.
(Although you can see here they taped it off at first, before we asked them to add it back in.)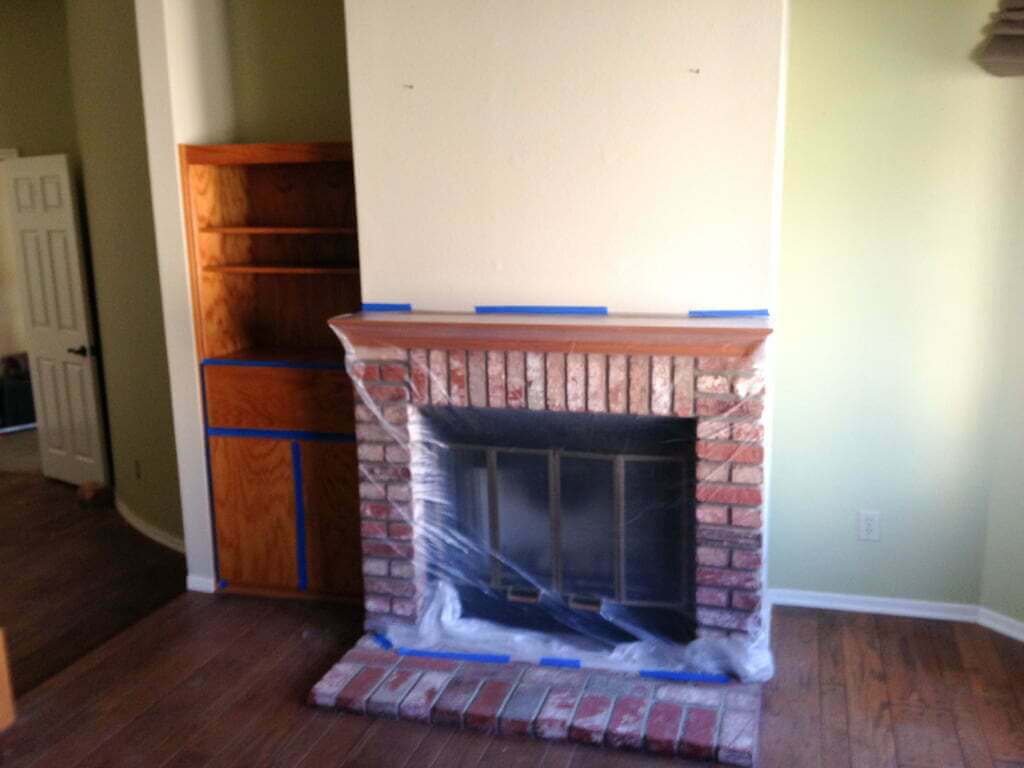 Hmmmmm. I wonder if that's all they charged us for—removing the plastic they'd already put up? Because the cost was ridiculously minimal.
PAINTED BRICK FIREPLACE BEFORE & AFTER:
The built-in bookshelves to the side of the fireplace.
The eagle-eyed among you may have noticed the built-in oak bookcase to the left of our soon-to-be-painted brick fireplace.
Yes, I noticed that too.
Whaddaya think? Should we keep them? (There's a drawer in there too.)
We decided to keep the built-ins BUT…we had the painters throw a blanket of paint over that bookcase as well, while they were at it.
I know, I know…you're thinking right about now that we're pretty footloose and fancy free with the white paint…
…AND YOU'D BE RIGHT! We are exactly that. Footloose and fancy free with the white paint. (I'm actually writing a post about why we did white in the areas we did in this in house.)
Because you know why? IT'S JUST PAINT! If we really dislike it later, it can be repainted or, in the case of those bookshelves, even sanded off. (It is possible to remove white paint from the brick fireplace some day in the future, should we choose to do that, but I'm approximately 107% positive at this point that that day will never come. I may be strangely indecisive about some things (like that stone fireplace downstairs) while at the same time vehemently confident about others.
So if you're asking the question, "What color should I paint my brick fireplace?" and you're wondering about white, keep reading!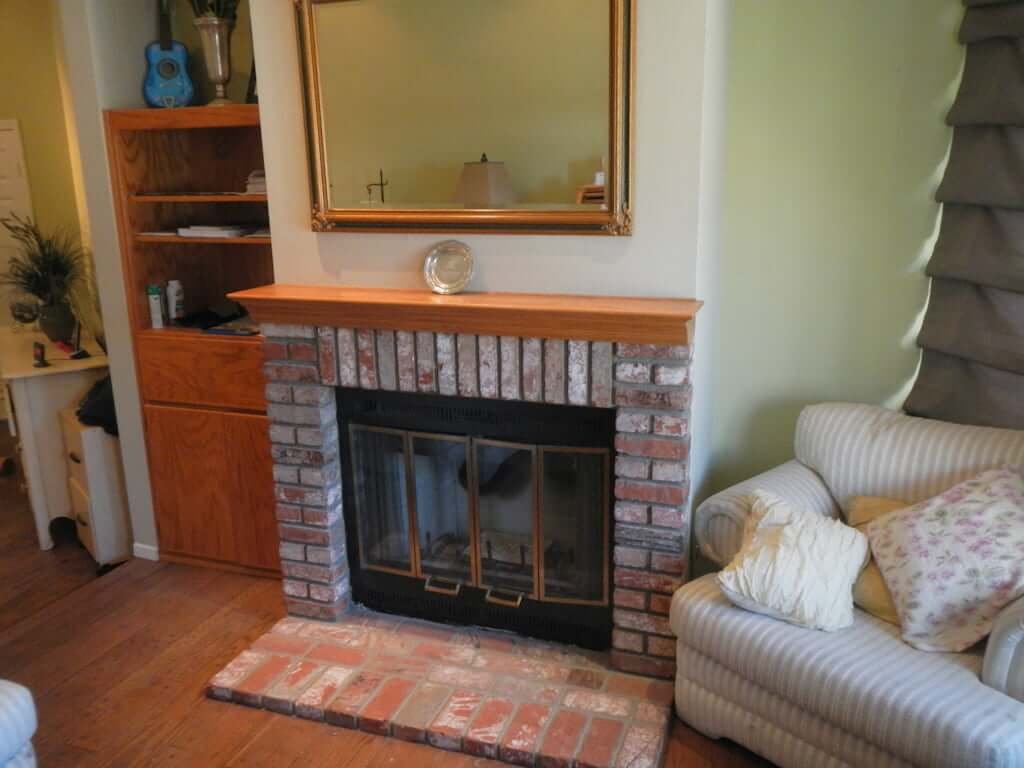 "Hey, painting guys? Please throw those bookshelves into your paint plans too. Smother them with that luscious paint and call us when you're done."
Oh baby…I'm telling you. Sometimes you appreciate hiring things out SOOOOOO MUCH MORE when you've DIYed them yourselves before. (Like when we paid these guys to paint our dry bar cabinets white.) Your appreciation levels are taken to heights you never would have experienced otherwise.
PAINTED BRICK FIREPLACE BEFORE & AFTER:
The Current View
So back to painting the brick fireplace.
Here's how it looked before:
And here's how it looks today:
mirror | planter | wood tray | similar jar | similar tray | gas log kit
(If you're interested in one of the items you see in our photos, the links under each photo will take you to that item!)
Before: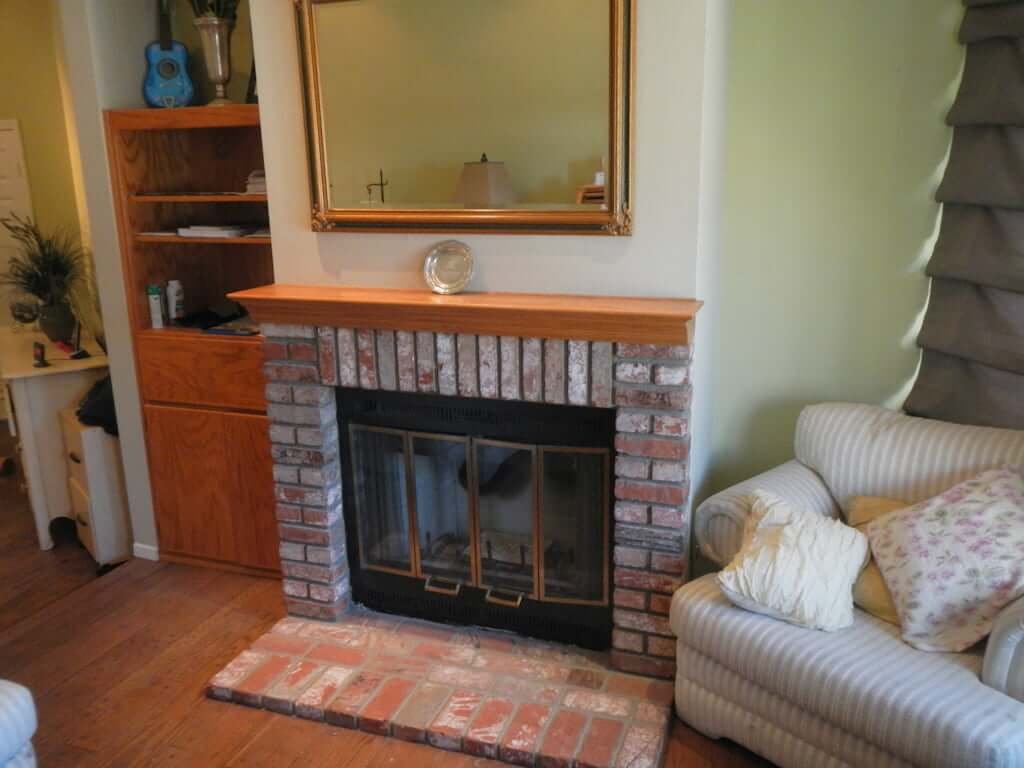 After: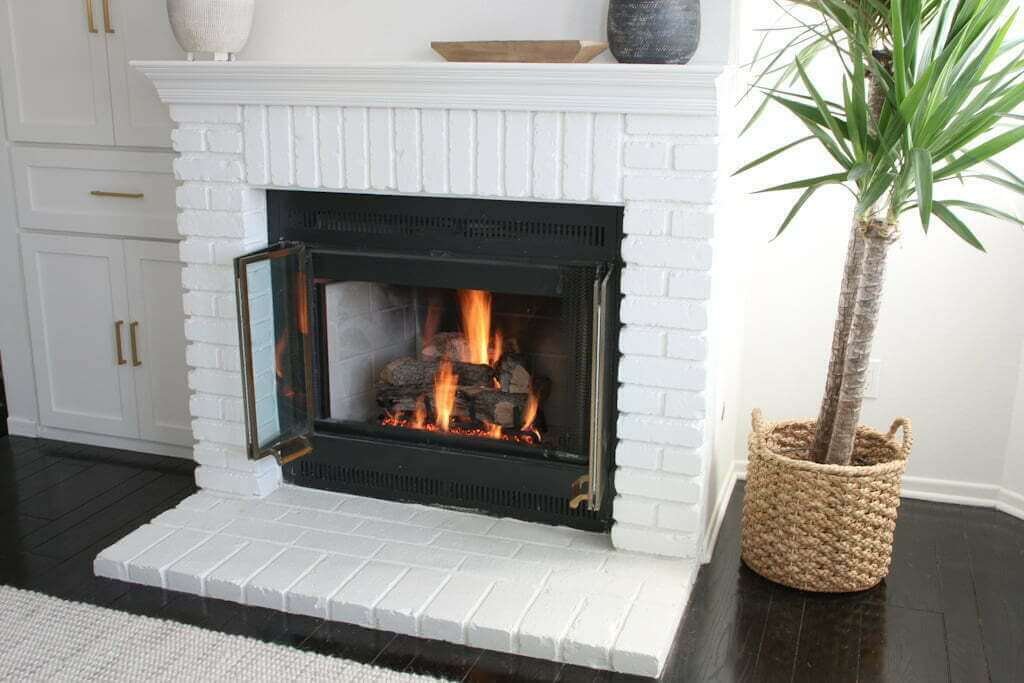 planter | wood tray | similar jar | similar tray | gas log kit
See my post with tips on fireplace mantel styling!
PAINTED BRICK FIREPLACE BEFORE & AFTER:
But are we finished?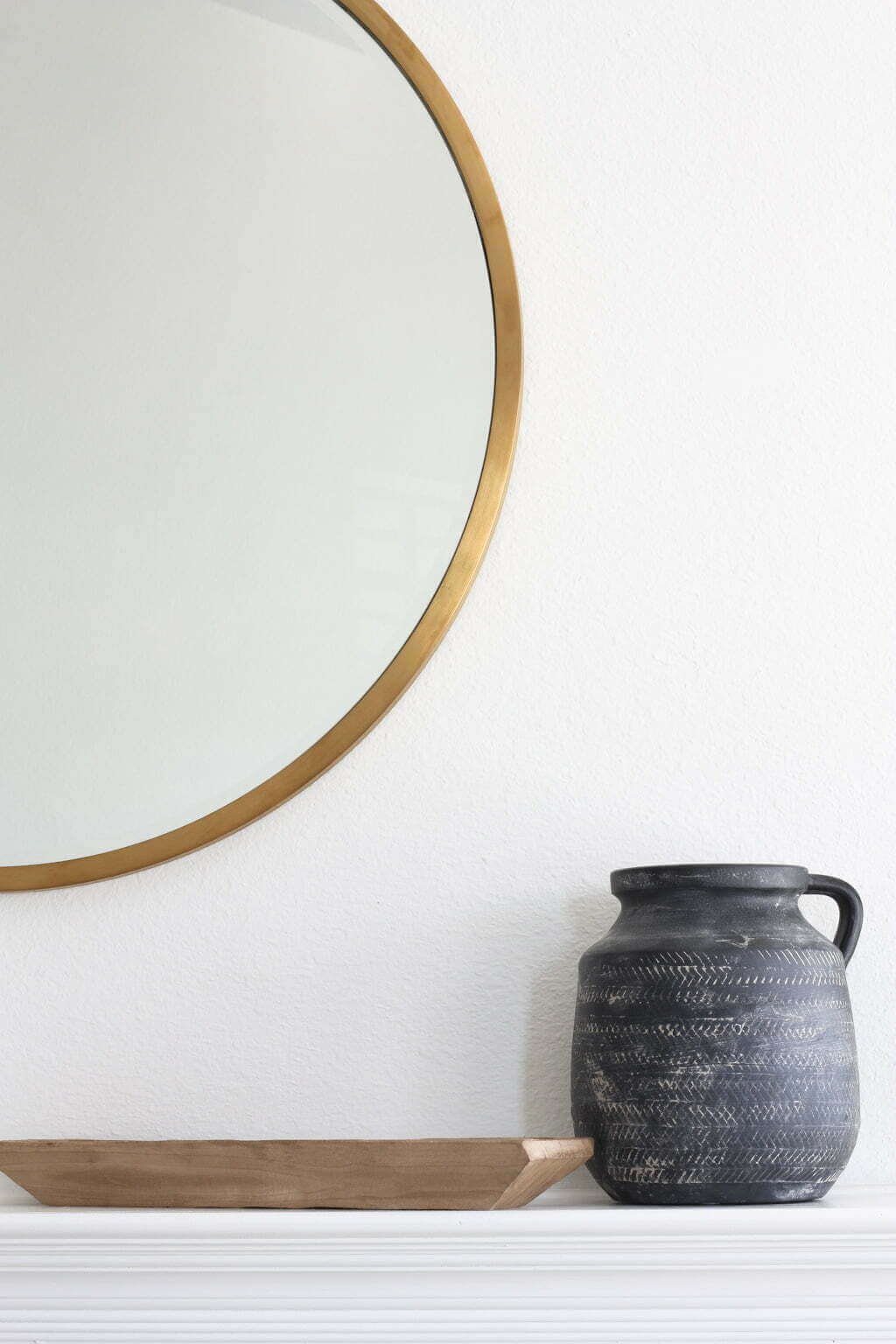 mirror | wood tray | similar jar | similar tray
Is this all we're going to do to this painted brick fireplace?
Maybe not.
You know I have ideas. Big ideas.
But sometimes it's smartest to do something quick to tide you over visually for a bit.
And for now, with so many other projects on our priority list, we're 100% content with this fireplace for now.
Maybe we'll have time to address the next phase of this fireplace if we get bored next year. (Bahahahahaha!?)
We also converted our fireplace to a magically instant, totally realistic-looking gas fireplace, the story of which you can read about our downstairs stone fireplace here (with 5 reasons why we did it)!
I was adamant that we would never do a gas fire unless it looked and felt as realistic as a real wood fireplace, and this one passed the Jess test. (I am admitted picky, but it pays off, people!)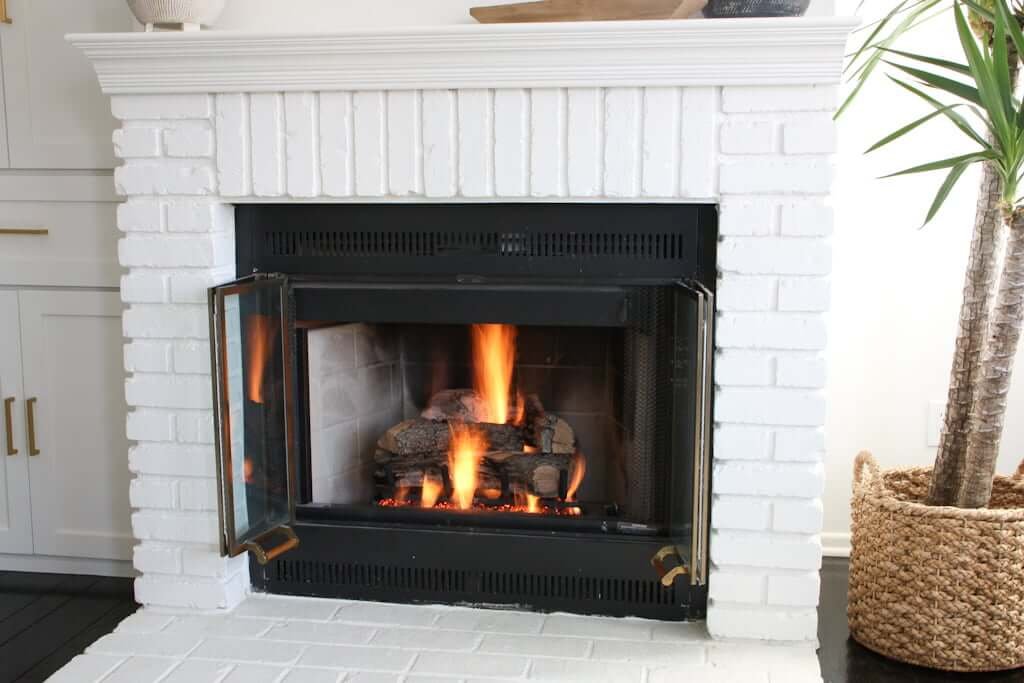 gas log kit | tray | similar jar | similar tray | planter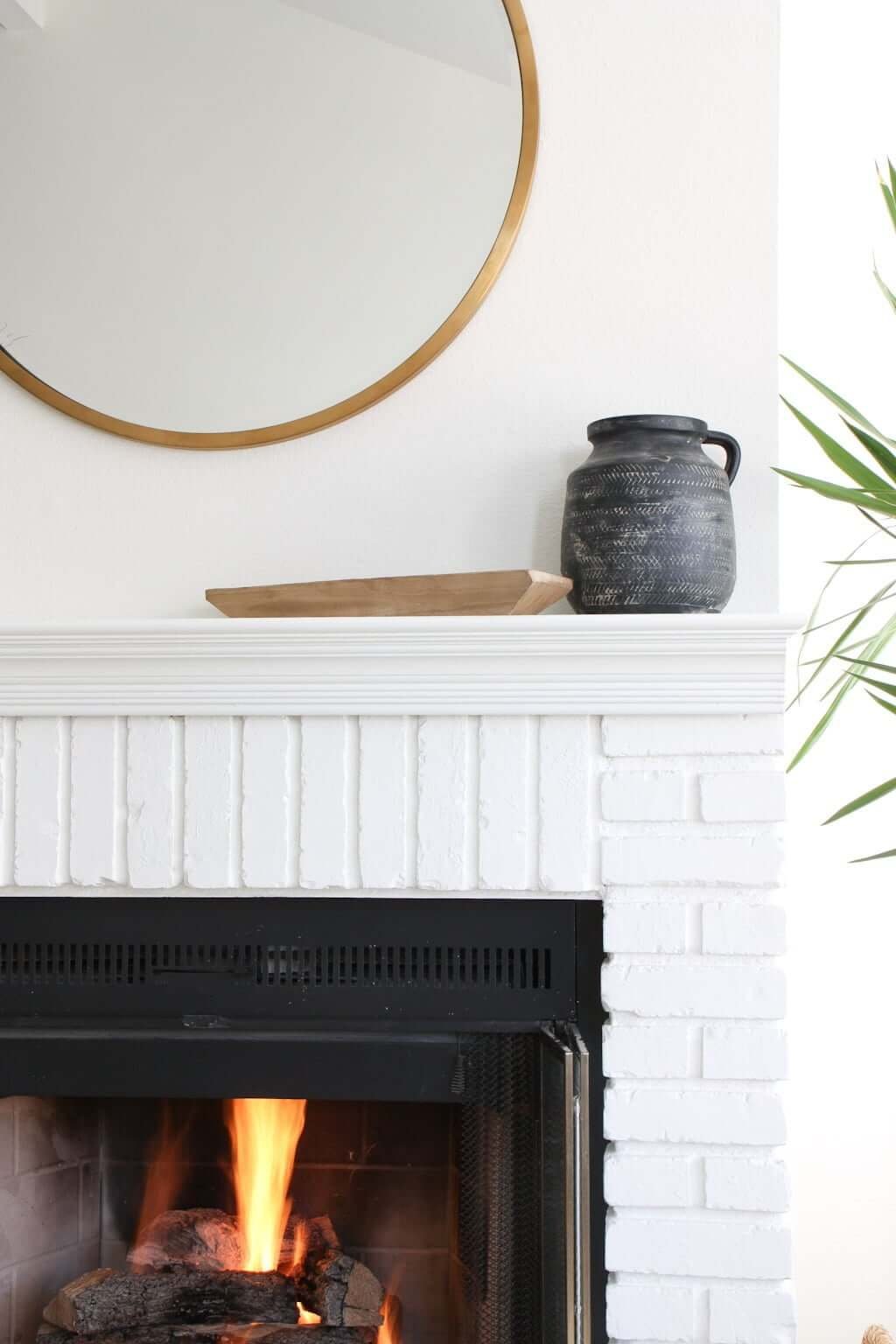 Click to see how we updated the rest of this sitting room!
You can also see how we painted our old stone fireplace white and the 3 reasons we converted our wood-burning fireplace (it's been magical!).
An easy breakdown on my mantel styling tips can be found here.
All our house projects can be found here.
*This post contains affiliate links, which are no extra cost to you but help us keep this site alive!