Whether you're looking for rattan, wicker, or bamboo pendant lights, we've pulled together 15 of the best woven pendant light ideas for you—all kept under $150!
And now it's time for our first installment of the new series,
"Go Internet Shopping with Jess!"
Whether you actually need a new woven pendant light, want a new pendant light, or don't need or want any lights of any kind, come along and see what we can find that's under $150 and still super cute!
It's going to be so much fun! Let's go!
WOVEN PENDANT LIGHT IDEAS UNDER $150
#1: The One We Chose for Our Bedroom!
Let's start with my personal favorite of the moment: the handmade woven basket light from Thailand that we bought for our master bedroom. (Well, two of them if you wanna be exact.)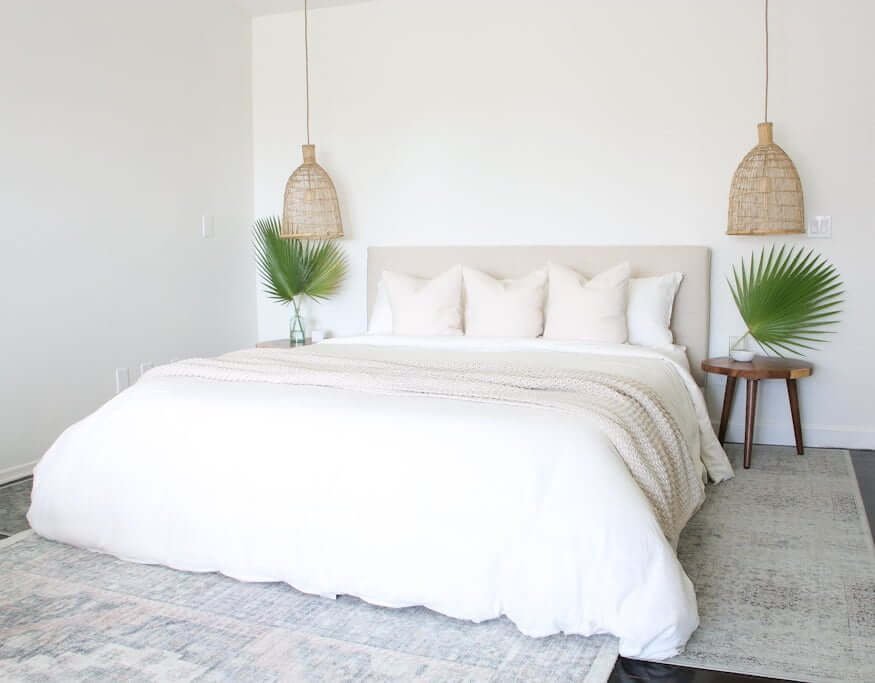 handmade fishtrap pendants from Thailand
One of the things I also liked about these was that I could choose what color cord I wanted—white, black, or natural. You can see we went with natural.
We also could choose whether we wanted them to be wired to just plug in or whether we wanted to have them mounted to our ceiling (which we did), and we could choose the length of cord we wanted to perfectly match where we wanted them to "land"! Personally, I love that level of customization.
Speaking of customization, these come in 3 different sizes! We ordered the "Large" size so be sure to select that option if you want to make the biggest visual impact (which we did). Too small can look a bit anticlimactic, and we wanted these to be a focal point!
WOVEN PENDANT LIGHT IDEAS UNDER $150
#2: The Pendant Narrower Than Ours.
These are similar to ours, but narrower. If you had a narrower bed space or just wanted to give your bedroom the look of more height, the shape of these pendants would do that! (Because they're so narrow and tall, that tricks the eye a bit into seeing a taller room. Our ceilings are already so high that we didn't need that extra help, so we went with the above.)
They also come with a variety of options for the color of your cord, and can be wired to be plugged in or mounted into your ceiling.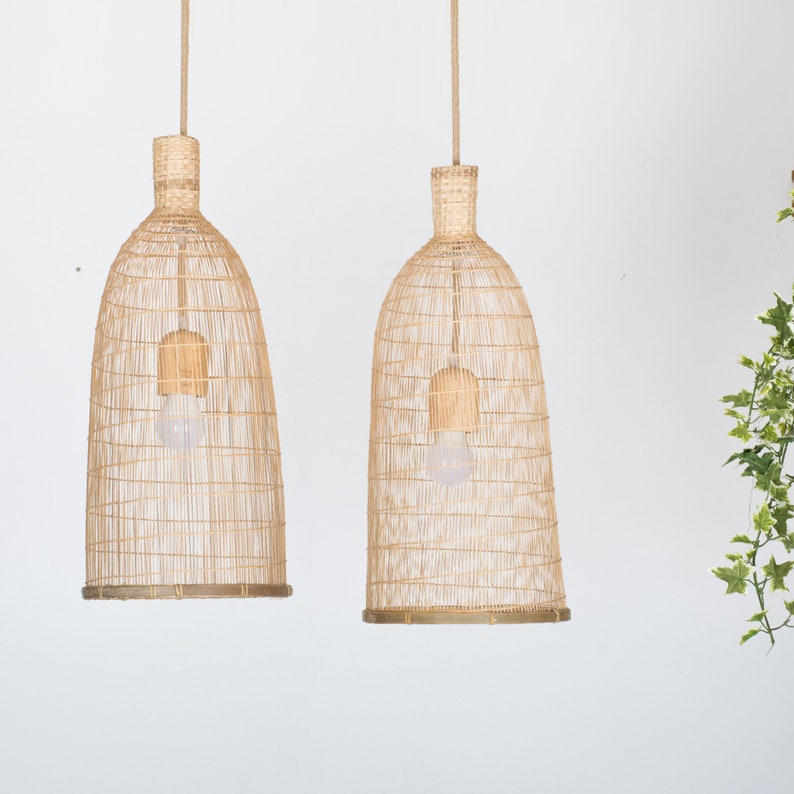 WOVEN PENDANT LIGHT IDEAS UNDER $150
#3: The Thicker Bamboo Pendant
If you're wanting a thicker bamboo material for your woven pendant light, this is a great option! Sometimes you want something that looks a bit more substantial, and the shape here is unique! (You'll notice that some of my favorite things are 1) handmade and 2) have a unique shape!) You'd just need to buy your own cord kit, which you can purchase here (we found one with a natural cord!).
WOVEN PENDANT LIGHT IDEAS UNDER $150
#4: The Loveliest-shaped Pendant.
I ALMOST bought these for our woven bedside lights! The shape is just so beautiful! In the end, with our specific bedroom shapes and lines, I decided to go with the woven pendant lights above (in #1) because of their shape…
…but I'm still looking for a way to incorporate these somewhere else in our home because the shape is just so lovely to me!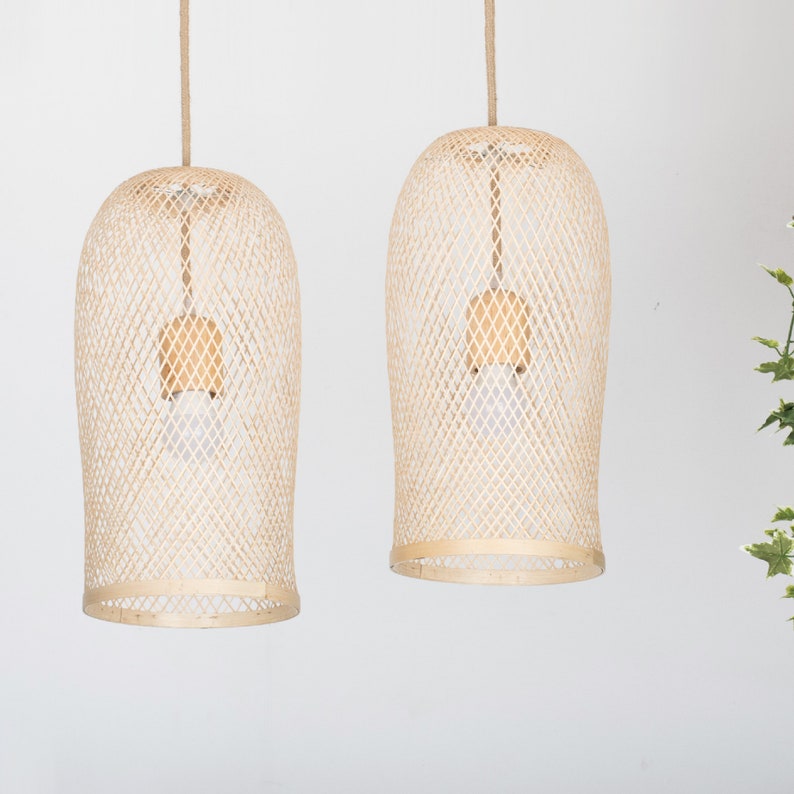 WOVEN PENDANT LIGHT IDEAS UNDER $150
#5: The Dark-colored Teardrop Pendant.
If you're looking for a darker colored woven pendant, as well as the lovely curves of a teardrop shape, I may have found the winner for you! Made with natural twine, this woven pendant light could bring that modern contrast you're looking for in your bedroom.
This would be super cute in a girls or boys' room that needs a little modern flavah without being too stark and cold! It's warm but modern. I like it!
WOVEN PENDANT LIGHT IDEAS UNDER $150
#6: The Light-colored Rattan Pendant.
This one I actually ordered for one of my daughter's bedrooms—I was able to snag the last one!—but then it got held up or lost in shipping for some reason, so we had to cancel it and try again. It's come back into stock now, so guess who's ordering another one of these?
WOVEN PENDANT LIGHT IDEAS UNDER $150
#7: The Woven Pendant with Two Things I Like.
There are two unique things I like about these next woven pendant lights, especially for a bedroom: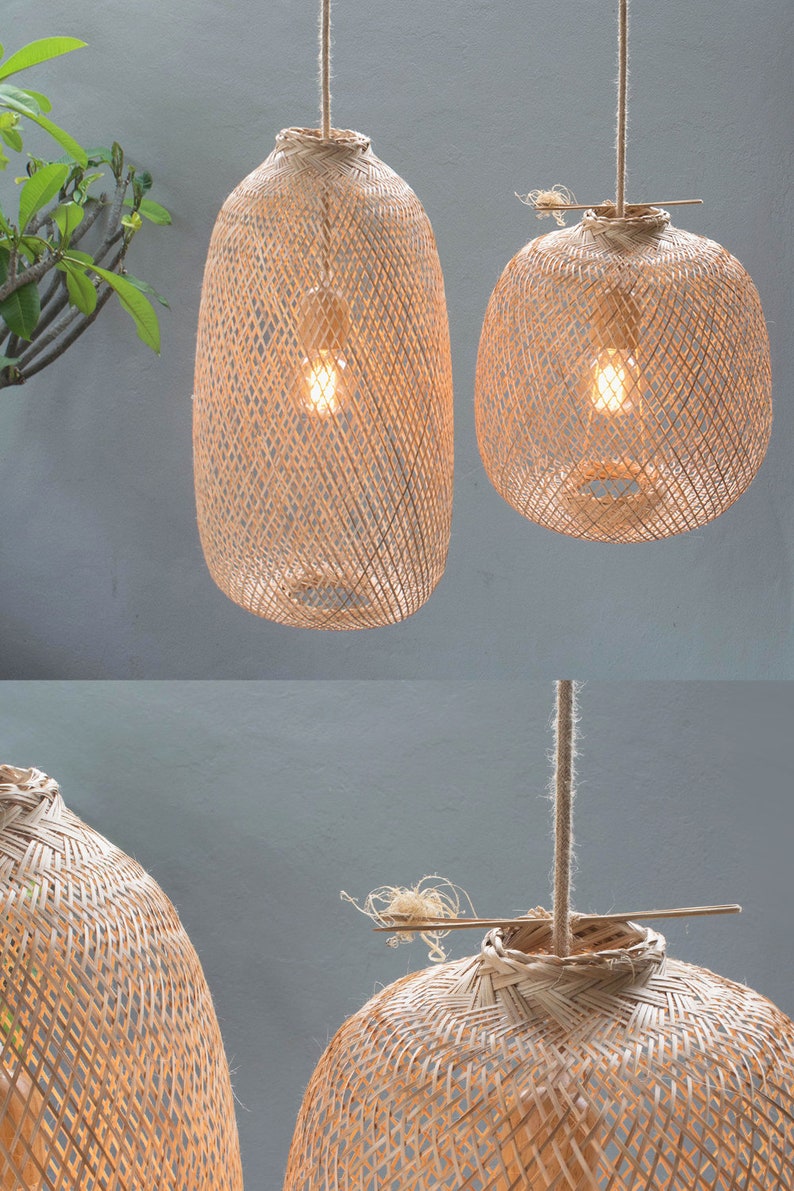 What I like about these is they
1. Come in a variety of sizes (six to be exact! Which I love for customizing any space—you can get exactly what you want), and
2. They can change shape! (Sometimes you need a taller shape in your space, sometimes you need a rounder shape. I like that these are flexible and can be shaped into the perfect one for you.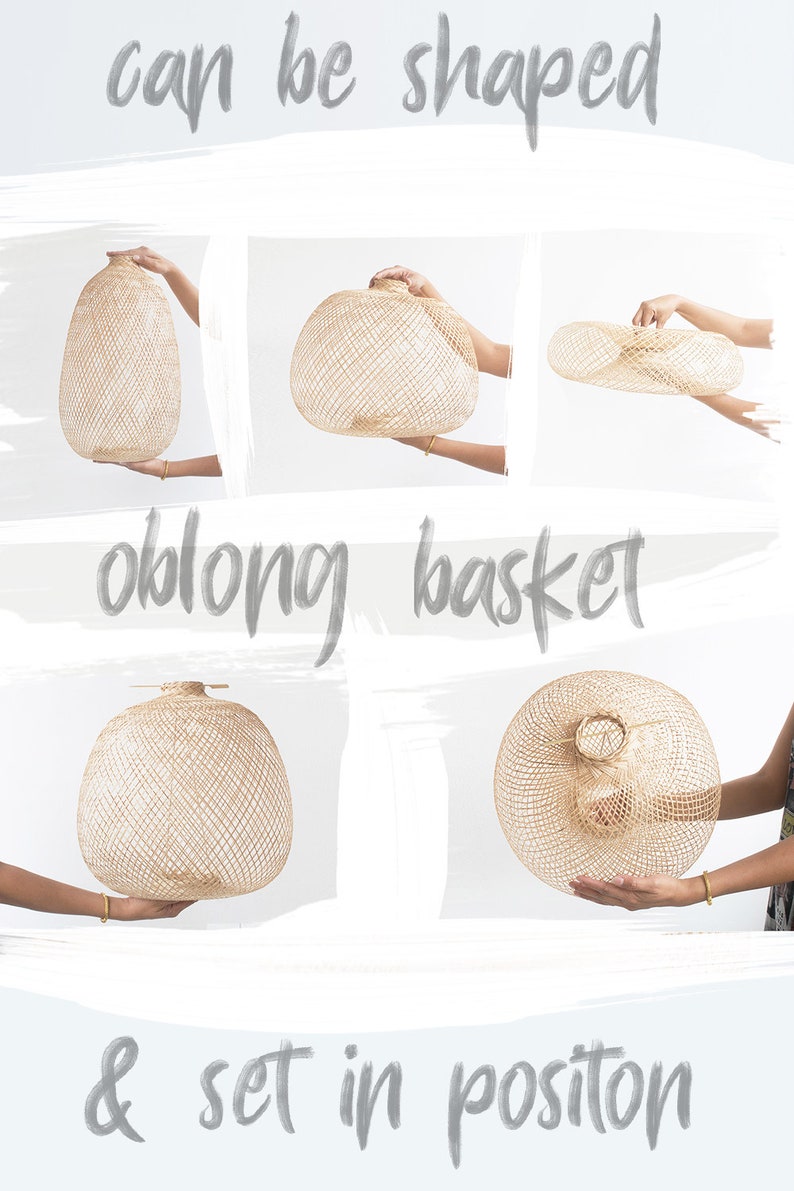 oblong or spherical wood pendant lights
WOVEN PENDANT LIGHT IDEAS UNDER $150
#8: The Blue & White Woven Pendant.
Call me crazy, but I don't hate this one. In fact, I think it's adorable!
I can envision it in a playful coastal bedroom or at a beach house, can't you? So unique and fun!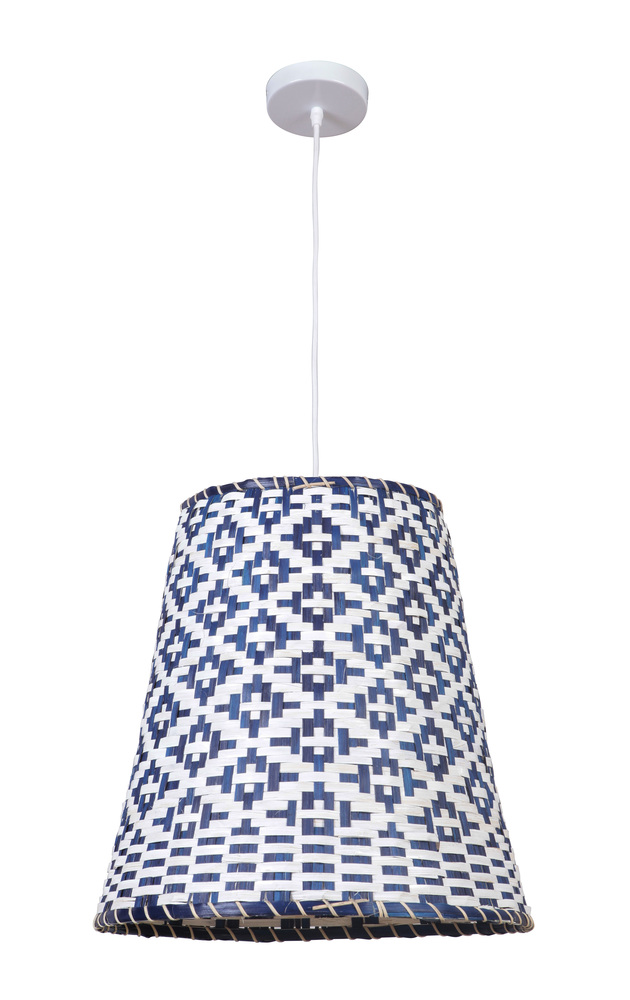 blue & white woven pendant light
WOVEN PENDANT LIGHT IDEAS UNDER $150
#9: The Woven Rattan Light with All the Lines.
What I love about this woven pendant light isn't just the shape (which is stunningly curved), but the interest all those different lines give! The way it's woven is unique, and this one just makes me wish I had 180 bedrooms to fit all the pendant lights into. (And that's saying something. Because I already think we have plenty of bedrooms in this house.)
WOVEN PENDANT LIGHT IDEAS UNDER $150
#10: The "Light & Bright" White Wicker Pendant
If you want an even lighter look, or you have darker walls or a darker ceiling and really want something that pops, consider this white pendant light!
The dome shape is perfect for so many spaces and could fit with a variety of decor styles! (Modern, coastal, Scandinavian, bohemian, and more.)
dome-shaped paper wicker pendant light
WOVEN PENDANT LIGHT IDEAS UNDER $150
#11: The Handmade Basket Pendant
Another woven one I love! Isn't the shape and detail beautiful?
I've been thinking of getting one of these for my other daughter's bedroom. (I'm telling you, I need more bedrooms for this. Or just more clients who need bedroom help and can be swayed over to my way of thinking.? bahahaha! They'll never see it coming and I can live vicariously through them! The whole end goal of our business!?)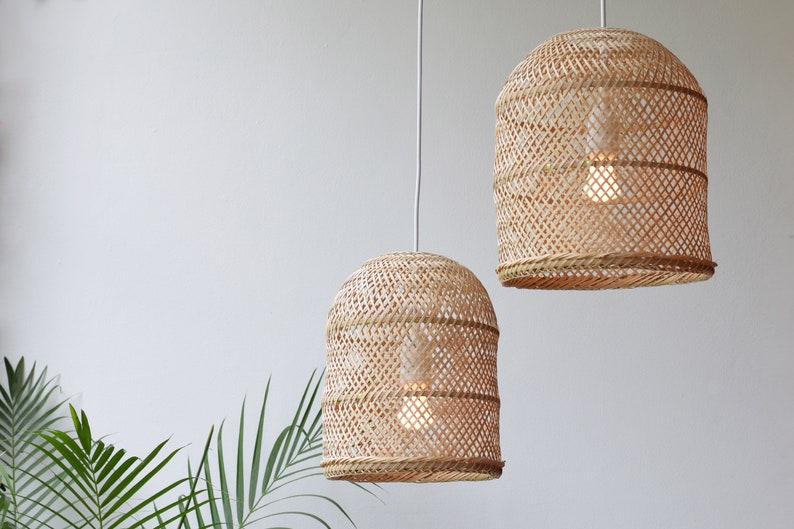 WOVEN PENDANT LIGHT IDEAS UNDER $150
#12: The Round Black Woven Pendant Light.
If you want the woven texture but not the natural color, this black woven pendant light has the perfect touch of modern as well as the handmade look. Not too stark but not too earthy.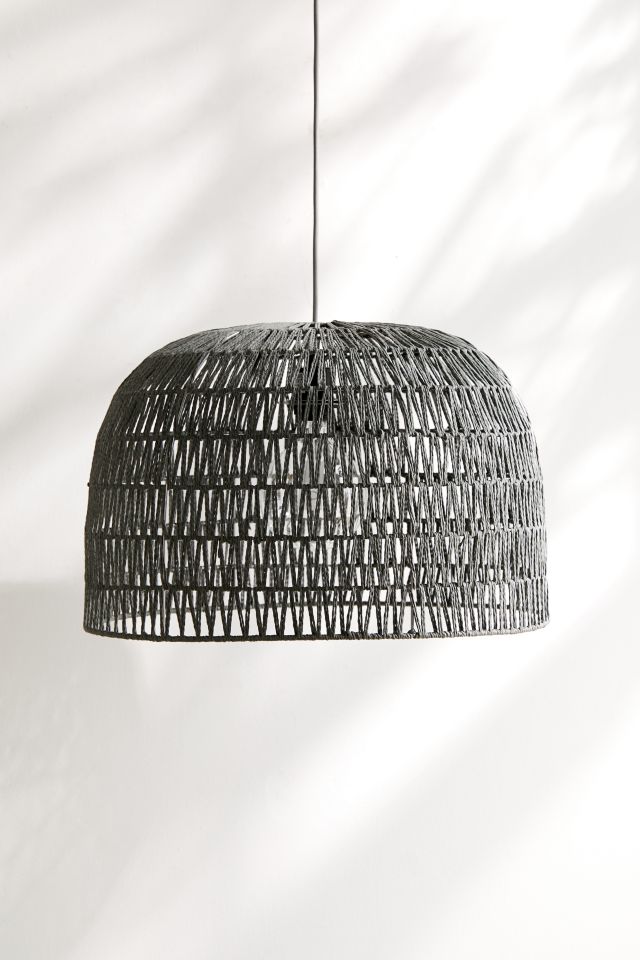 WOVEN PENDANT LIGHT IDEAS UNDER $150
#13: The Diamond Shape Jute Pendant
So much about choosing the right lighting is about the SHAPE, not just the materials or size. The right shape can make or break your room!
If a diamond shape pendant is what you need, and you love the natural feel of jute, you couldn't go wrong with this one. The lack of any curves gives it a more modern twist—do you see it?
diamond-shaped jute pendant light
WOVEN PENDANT LIGHT IDEAS UNDER $150
#14: The Pendant That's Especially Fun.
If you're wanting a pendant light that's more unique or unexpected, I like this black one with a jute shade!
Ideas: I can picture it in a modern kids' room to add a bit of playfulness, or in another space that just needs some movement—achieved by the unique shaping of the jute on this woven pendant.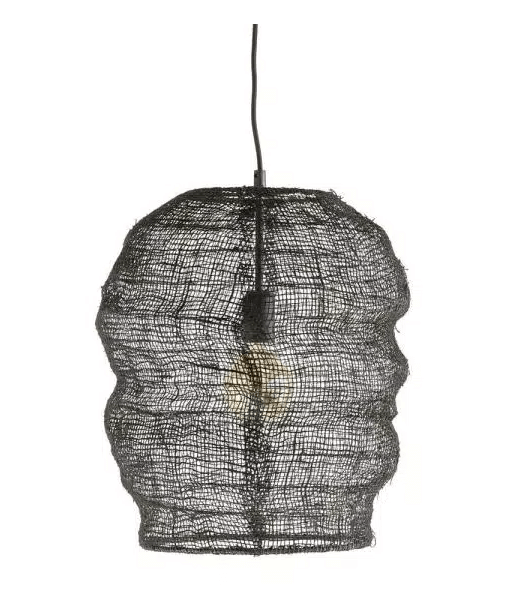 WOVEN PENDANT LIGHT IDEAS UNDER $150
#15: The Ones I Secretly Really Want.
Speaking of unique, I really, REALLY want an excuse to use these woven bamboo pendant lights somewhere! They just look like a repurposed fishing trap from Thailand, don't they?
(I know, now it's not such a secret that these are the ones I really want…because, well…you know [sigh]…it's the internet…and here I am, sharing my deepest woven pendant light fantasies with you, dear reader.)
The only problem is, if I buy ALL these pendants I love, my house is going to look like a Woven Pendant Warehouse, and that is not the look I'm going for. Sigh. (Although to live in a Woven Pendant Warehouse doesn't sound entirely awful to me. I'm sure the Swiss Family Robinson wouldn't have minded either.)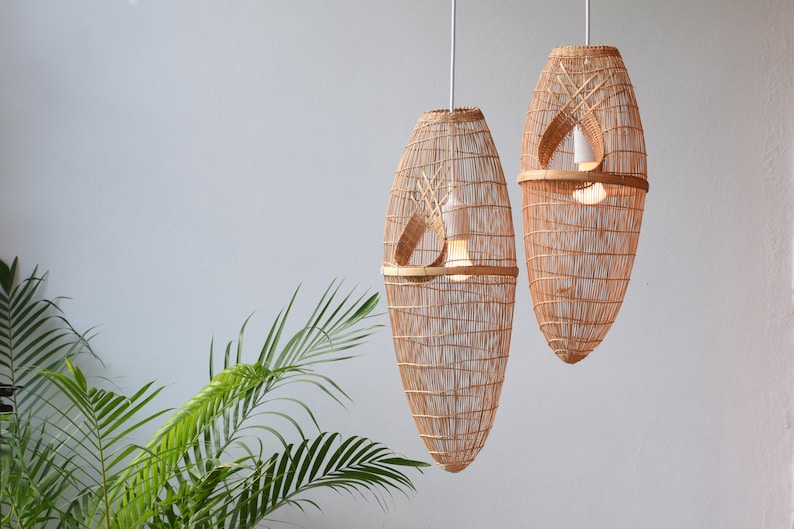 How was that shopping trip? It was fun to do that together!? You and I can continue to do more shopping together right here!
If you're looking for more real-life examples on how we've used woven pendant lights, check out our dining room as well as our bedroom.
Or you can see all our renovations, rooms, design tips, and more on this page!
*This post contains affiliate links, which are no extra cost to you but help us keep this site alive!