Don't ask "What to hang over my bed?" First ask, "Should I even hang something over my bed?"
I have good news for you! You do NOT always need to hang something on the blank wall area above your bed! 🙂 So feel free to escape any pressure you feel to have to put something there.
It's called "leaving negative space," and it can actually be a huge POSITIVE. Leaving negative space in a room gives the eye a break and lets it center on your desired focal point.
But first things first: maybe you haven't identified your desired focal point in your bedroom? If so, spend some time figuring it out, as that's good to nail down first.
Do you want the focal point of your bedroom to be
Your headboard?
Your entire bed?
Your overhead lighting or chandelier?
Your bedside lighting?
Your decorative pillows?
Your wall color, wallpaper, or wall treatment?
A piece of artwork?
A gallery wall of personal photos?
A round mirror?
Etc. (Endless possibilities!)
pendants | table | blanket | duvet | rug runner
WHEN NEGATIVE IS POSITIVE.
Rather than automatically hanging something over your bed, sometimes it's far better to let your other design pieces speak for themselves. Leaving open space gives your eyes a rest between all the other things usually going on in a bedroom.
Leaving the wall space above your bed open is great in times like (but not limited to!) the following:
You have a tall headboard.
You have stand-out light fixtures.
You have a stunning wall treatment behind your bed (such as wall moldings or board-and-batten, or even a contrasting color wall that already makes your bed pop!).
For example, in our bedroom, I wanted the focal point to be our hanging woven pendants. Therefore, I knew I wanted to leave the wall space above our headboard completely empty. If there was something like artwork or a mirror there, your eye would get confused about which to look at first. I wanted it to be a simple choice. (Our poor eyes get a lot thrown in front of them every day, so I like to give them a break!)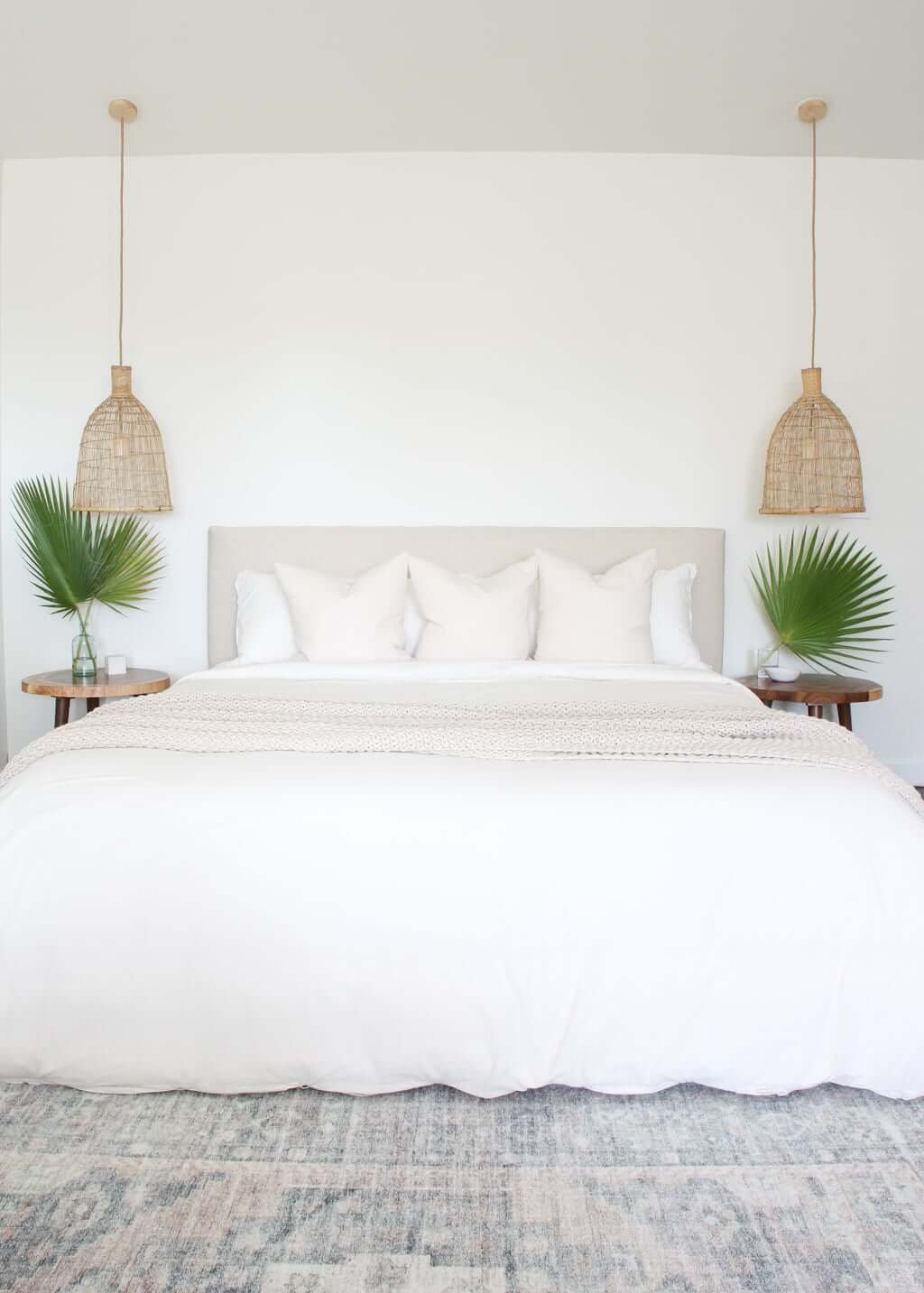 pendants | table | blanket | duvet | similar rug | similar rug
Click here to see how we designed our own bed, plus our 4 bed must haves!
Other factors to consider when deciding if or what to hang over your bed can include
Ceiling height
Bed size
Placement of lighting
Any windows
WHAT TO HANG OVER THE BED:
Inspiration Without Something Above the Bed
Here are 3 more examples of when nothing works best over the bed!
This first example has nothing mounted on the wall over the headboard and yet it doesn't need it! With the wall treatment high above, the two extra large lamps, and the four stand-out pillows arranged on the bed, your eye has plenty to look at!
With the sculptural ceiling light above plus the distinctive bedside lights (not to mention all those horizontal wall planks!), this bedroom has more than enough places for your eye to go!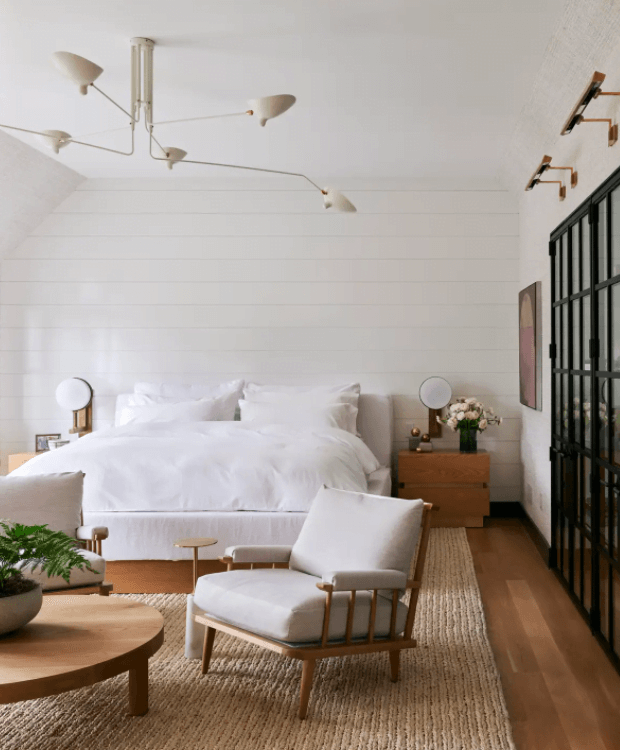 This is a great example of a unique focal point: the view from the bedroom window. While not all of us are lucky to have a gorgeous garden view right outside our floor-to-ceiling bedroom windows, this room doesn't need much else without it! It can get away with so much simplicity, and I love that.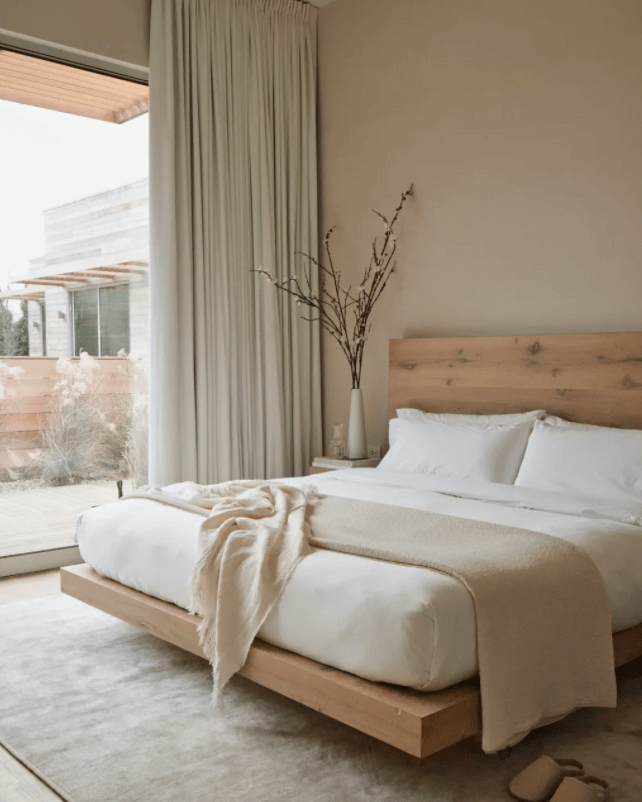 My friend Autumn shares her incredible master bedroom transformation on her blog as well! Click to see how she didn't put anything over her bed either and it looks SO peaceful!
WHAT TO HANG OVER THE BED:
Before we continue…
I do want to point out that—as in so many things with design—this decision of whether to hang something above your bed or not can be subjective! What communicates "calm" and "bedroom serenity" to me may not be what communicates those same things to you.
There are, however, many universally-accepted and agreed-upon design elements that communicate something specific. Sure, some rules were made to be broken, but some rules are there to ensure a better chance of success!
In the end, it's good to ask for advice, but don't feel constrained by imaginary rules like "All beds must have something hanging above the headboard." It's not a rule. And sometimes there's no right or wrong in this particular area. As I encourage friends and clients concerned about their final decisions,
"Do what you love. Do what makes your heart sing. In the end, you don't have to listen to anyone else's opinions. You are the one who's living with it!" 🙂
That being said, there's also a time and place to listen to your designer if he or she strongly feels there's a good way to go with something particular in your space. You're paying them for their expertise and judgment. Thus, if you've chosen a good one you have confidence in, you maaaaaay want to weight their advice a bit more heavily.
WHAT TO HANG OVER THE BED:
Inspiration with Something Above the Bed
On the flip side, here are 3 examples of when hanging over the bed does work.
The bedroom below is highly symmetrical. The two windows on each side, the side tables, the lamps…almost everything matches perfectly. And at the same time, none of those symmetrical elements stand out. Mounting something in the empty space above the headboard gives your eye something to focus on here. (I may not have chosen this particular photo, but hey…hope they love it!)
Since the below lamps don't stand out, and the headboard is mostly hidden behind pillows, this room needs a focal point—and these palm prints deliver just that! (They also tie into the leaves on the side table, which reinforces the "greenery" focus in this space.)
This next room has more of a minimalist feel. There's no headboard, no symmetry with the side tables or lighting, and the framed art above each side table is also mismatched. With a huge piece of detailed artwork over this bed, the room would have looked too busy. It needed something simple above the bed to provide a focal point and bring some plant life to the room.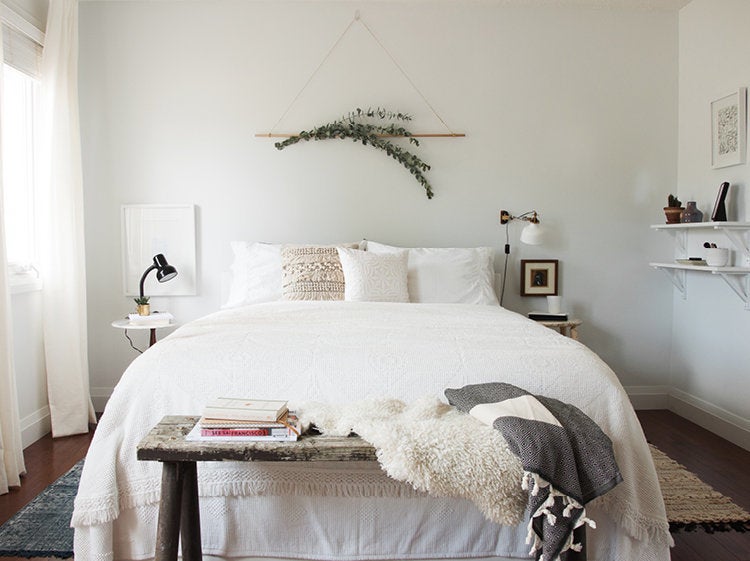 Believe me, I'm not against hanging something over a bed—sometimes it's the right move! But unfortunately, too often I see it done unnecessarily and thus I'm sharing this tip today.
Don't be in a rush to throw all kinds of stuff above your head as you sleep. Try living without anything there for a few weeks and see how you feel.
If your bedroom is feeling busy to you or already has a focal point (or several!), it may be best to put down the hammer and nails, resist hanging all the things, and let your other design elements stand on their own.
See how we designed our own bed, or check out more design tips here!