What do you do with your old furniture?
Us? Ours is here in this family room. Can you tell??
coffee table | frames | basket | seagrass rug | similar lamp | similar side tables | similar chair | couch | pillow | yucca | philodendron
Yes indeedy. 3 out of the 4 main pieces of furniture in this photo are 15-20 years old. (Try spotting them!)
5 STRATEGIES FOR USING OLDER FURNITURE IN YOUR SPACE:
1. Embrace the imperfections.
You may be shocked to hear me saying this, but I'm telling ya:
designing your home is NOT the time to be a perfectionist.
(Well, is there ever a good time for that? Maybe only for people like heart and brain surgeons…I'd want a perfectionist there…but I digress.)
Rooms that look "too" perfect are usually devoid of warmth. Imperfections show that life is being lived in our homes!
From the old "shabby chic" trend to the vintage and "well worn" looks so sought after today, it's a timeless truth: some people will pay big bucks for furniture that looks like it's been through the wringer! Don't be too quick to kick your old furniture to the curb (literally).
2. Mix it up.
Layers of new and old can give a room interest and depth. So mix in some newer or more modern pieces of furniture or decor, but not too many! Keep it balanced.
For example, let's talk sofas. It may seem like an obvious choice, but I'm telling you: new pillows and/or a new throw can work wonders for an older couch. We've had an old sofa for years, but I've sewn myself new pillow covers inexpensively several times and it's almost like getting a brand new couch! Buy a new throw from HomeGoods (they have some really high quality, lovely options averaging $20-25), or move in a "new-to-you, Living Room" throw from your bedroom to freshen it up if your budget is too tight.
Check out this page to see some of our favorite (and reasonably-priced) items for bringing a few new pieces in to freshen up around your older ones.
3. Work with it! (Not against it.)
Let your older furniture lead the way! Instead of trying to hide your old stuff, see if it can actually help set the tone in your room.
For us, all our older pieces felt casual and islandy when all together, so we went with that as our foundation—and it works! So now instead of sticking out like a sore thumb, our older furniture looks like it was intentional and purposeful for the space.
In our dining room, we're using a table that belonged to a great-grandparent!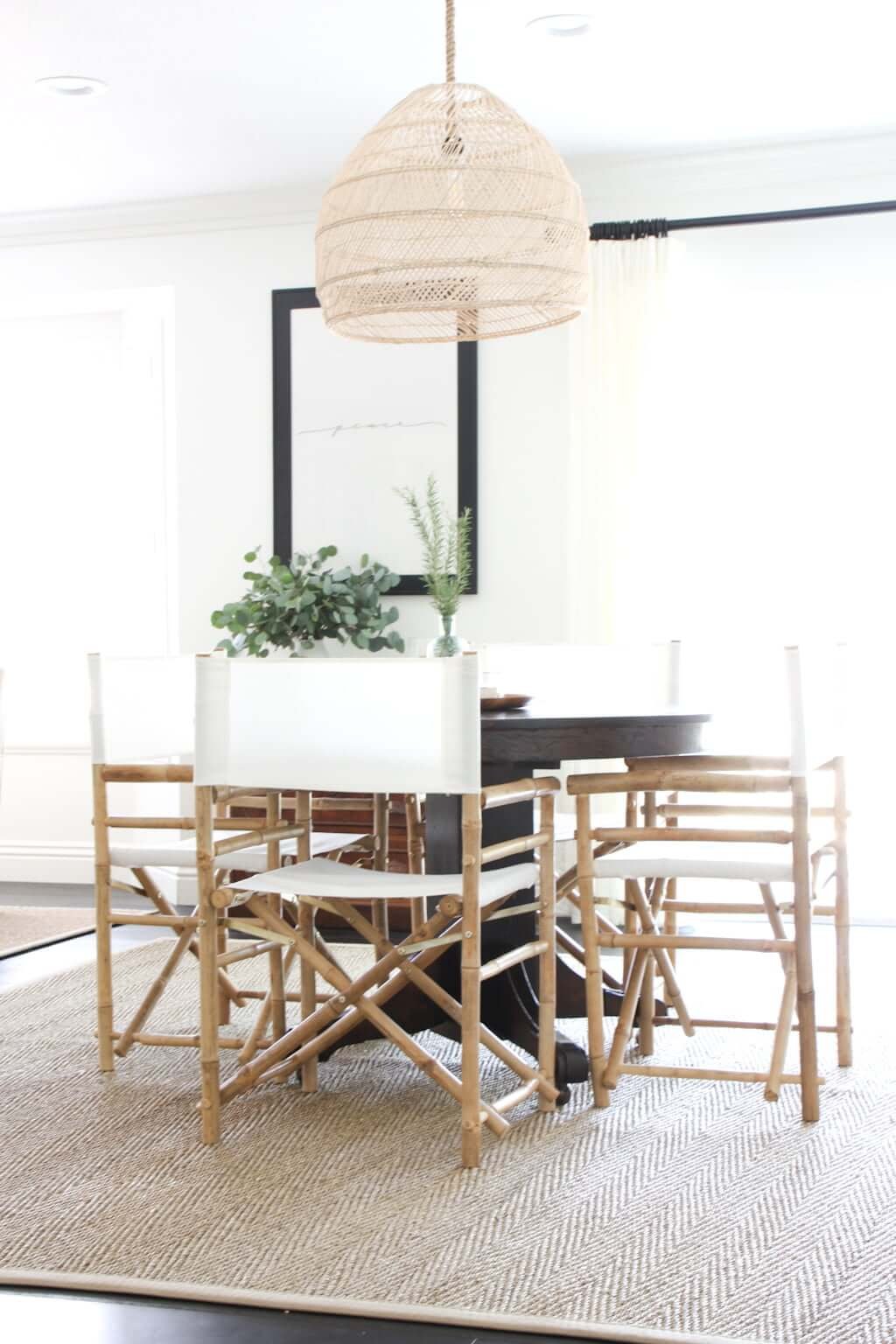 Even the frame on the wall is over a decade old (and yes, I've used the Sharpie trick mentioned below!). But you wouldn't be able to tell, would you?
4. Add plants.
(Not "pants," as I first accidentally typed. But a pair of pants displayed in your room would definitely be the Number One talking point and would distract from any unsightly furniture you might have. Just sayin'… Consider that a bonus tip!)
Nothing says "fresh" and "new life" like plants!
Make sure you have plants in every room possible, not only for your design aesthetic but for the health benefits as well! (Even if they have to be faux, they'll make a difference. Trust me.)
This "Shop Our House" page has some of our favorite faux and real plants listed for you.
Alfie & Gem has a number of cute cotton baskets for plants, as well as these gorgeous wooden plant stands!
5. A little touchup never hurts.
You don't have to be a big DIYer to do a little quick touchup yourself.
For example:
I've filled in nicked furniture legs with a Sharpie and no one can tell.
Is the paint chipping off an old table or chair? Touch it up or repaint it if that's the look you want. Or sand it down fully to expose the natural wood, or even just sand it halfway to give it that expensive "vintage" look.
You don't always need to have a chair or couch completely reupholstered. (Our Pottery Barn sofa in the photo above has lasted us 15+ years…and it's still going! Last year, two cushion edges started pulling apart, so I figured I had nothing to loose. I grabbed a needle and thread and–while I'm by no means a master seamstress—they look good as new and should last us a few more years at least!)
Click to get free tips on how to style a console or table as well as how to style a stunning mantel.
See the rest of our home here.
Scroll to shop our family room: