Looking for smart home office guest room ideas? Or maybe you're wondering how on earth you can maximize your room that serves as a guest room office? As a professional in room layout & flow, I've collected the 7 categories you can choose from here today! (PS: See what we chose HERE!)
We had limited (some might call it zero) space for a guest bed, let alone an entire guest bedroom. Sure, we had what was technically considered a bedroom downstairs, but we also needed that to be an office!
You don't have to be a professional designer to know that traditionally, combining both an office and a guest room does not go over well.😆
However, I'm here to help you figure out today how to use the space you have and what you can do with it!
Click here for our FREE Interior Design Guide!
And instead of creating another internet list that makes you scroll through "99 different office guest bed ideas", I'm going to SIMPLIFY them for you into
the 7 different types
of office-slash-guest room bed options you have!
Let's not waste your (or my) time! Categorizing is the most efficient way for you to figure out what will work for you!🤗
I'll also answer popular questions such as
"How do I set up an office guest room?"
"How do I merge office and guest room?"
"What should every guest room have?"
"How do you make an office also a guest room?"
"How do you maximize space in a guest room?"
Let's go!
PS: If you want to skip right to our #1 recommendation, just scroll down or click here!
OFFICE GUEST ROOM IDEAS
#7: First, Let's Get the Obvious "Bed-in-Room" Option Outta the Way!
This photo is great. It's great! However, it's
not reality for the vast majority of us!
Being able to take up most of an entire office with a large bed (or two, in this case) is not a "luxury" most of us have. (I put that in quotes because my mind immediately goes to having an extra large room to clean, and then I'm not so sure it's a luxury. My own definition of "luxuries" for me include things like "low maintenance" and "easy to clean."🙌😄)
But taking up 50-75% of a guestroom with a guest bed that is consistently left out is a valid option, and so I include it.
Alternative idea: Get a twin bed for your office with a trundle underneath like this upholstered bed or this white one! It takes up less room and can still sleep two people!
GUEST ROOM office IDEAS
Type #6: Sofa Bed in Office Guest Room.
This is often the second "easy fallback" option people think of when it comes to a guest room office setup where they're trying to save space.
And it's a perfectly good option IF you actually need (and will use) a sofa in your office space!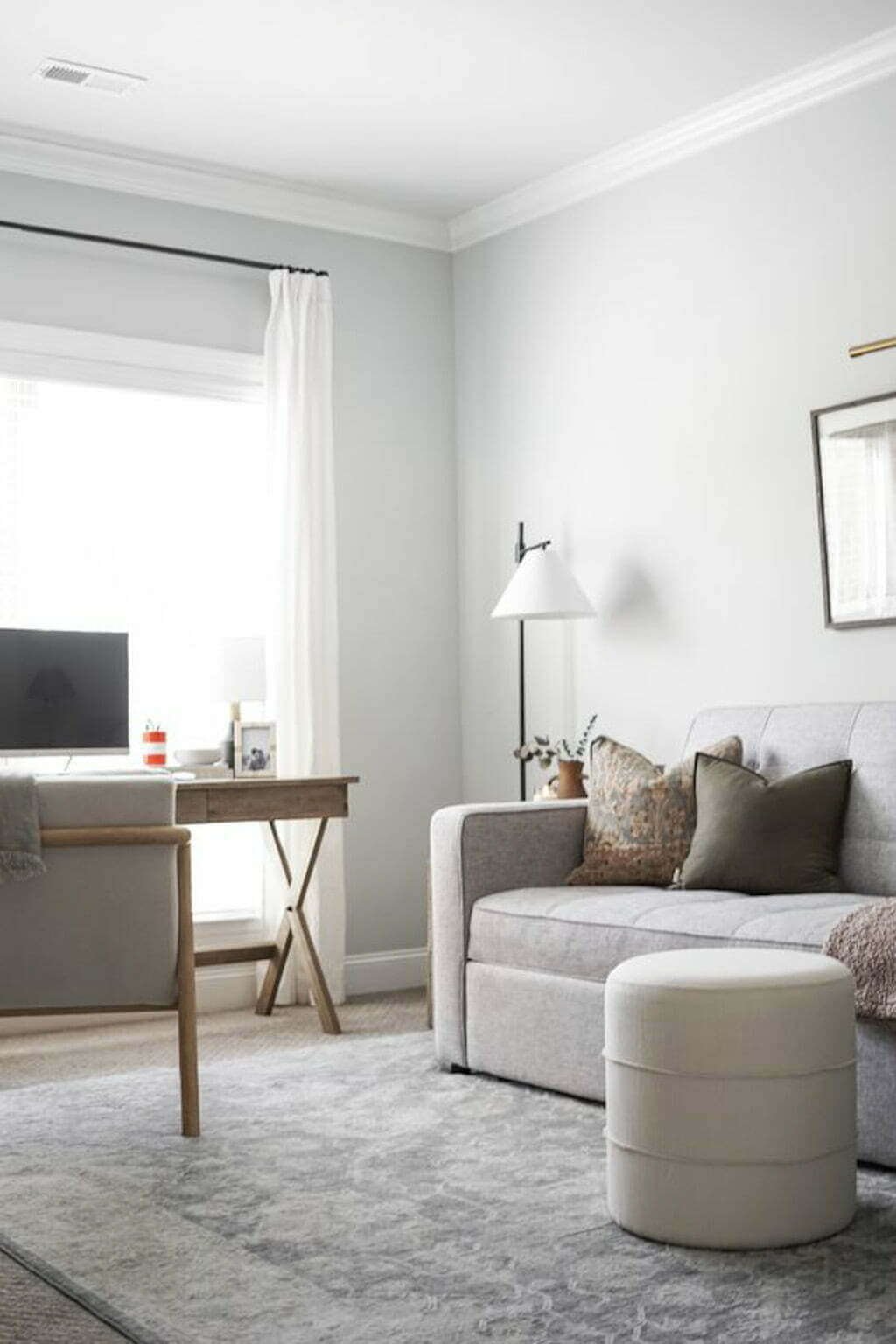 Need even more guest bedroom ideas? I got you!
Here are the best options if you want to go this route: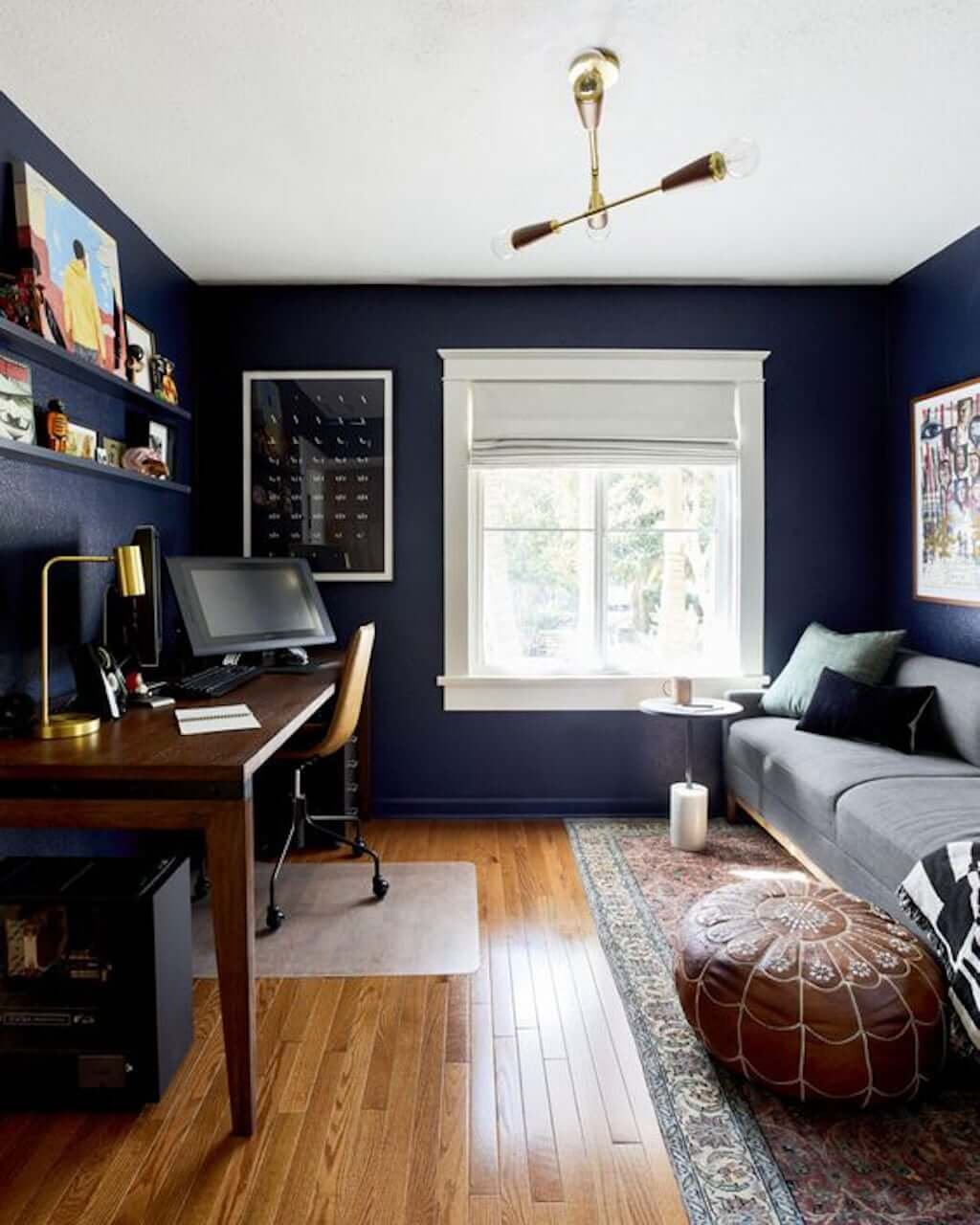 But if you don't actually need a sofa in there for other purposes, or they're still too large (because let's face it, sofas—even the compact ones—still take up a lot of cubic feet!), one of your perfect options is still to come below!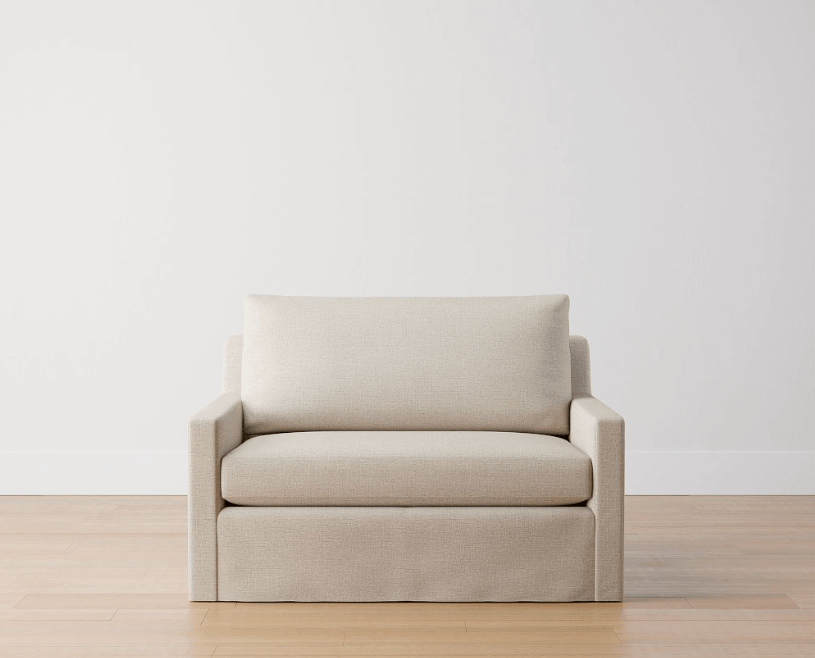 Alternative: If you don't have room for a queen sofa, try a twin (or two!). I actually considered this at one point for our guest room…was imagining two upholstered chairs with a table between them that we could use during our regular days as a hang-out spot…but then when guests came, we'd have two spots for them! (But we ultimately decided on this.)
There's also this inexpensive option that folds up into an ottoman when not in use!
PS: This grey version has a $15 off coupon right now, if you like that color more!
OFFICE GUEST ROOM IDEAS
Type #5: Simple Fold-out Office Guest Room (Futon-esque)!
A much simpler, smaller option than a full sleeper sofa is getting more of a futon-style piece of furniture, and then you simply unfold it and sleep directly on it!
This option is great for
a lighter, airier feel,
taking up less space, and
cost-effectiveness.
Here's the sleek pictured one above!
This King one is pretty cool too! Looks substantial and if you can swing the size, snag it!
If you just need something simple, quick & inexpensive, this is the coolest one in that category!
A modern, small one that doesn't look futon-ish! (It can be difficult to find futons that don't look like futons, if you know what I mean!😆)
GUEST ROOM OFFICE IDEAS
Type #4: Daybeds (With or Without Trundles!)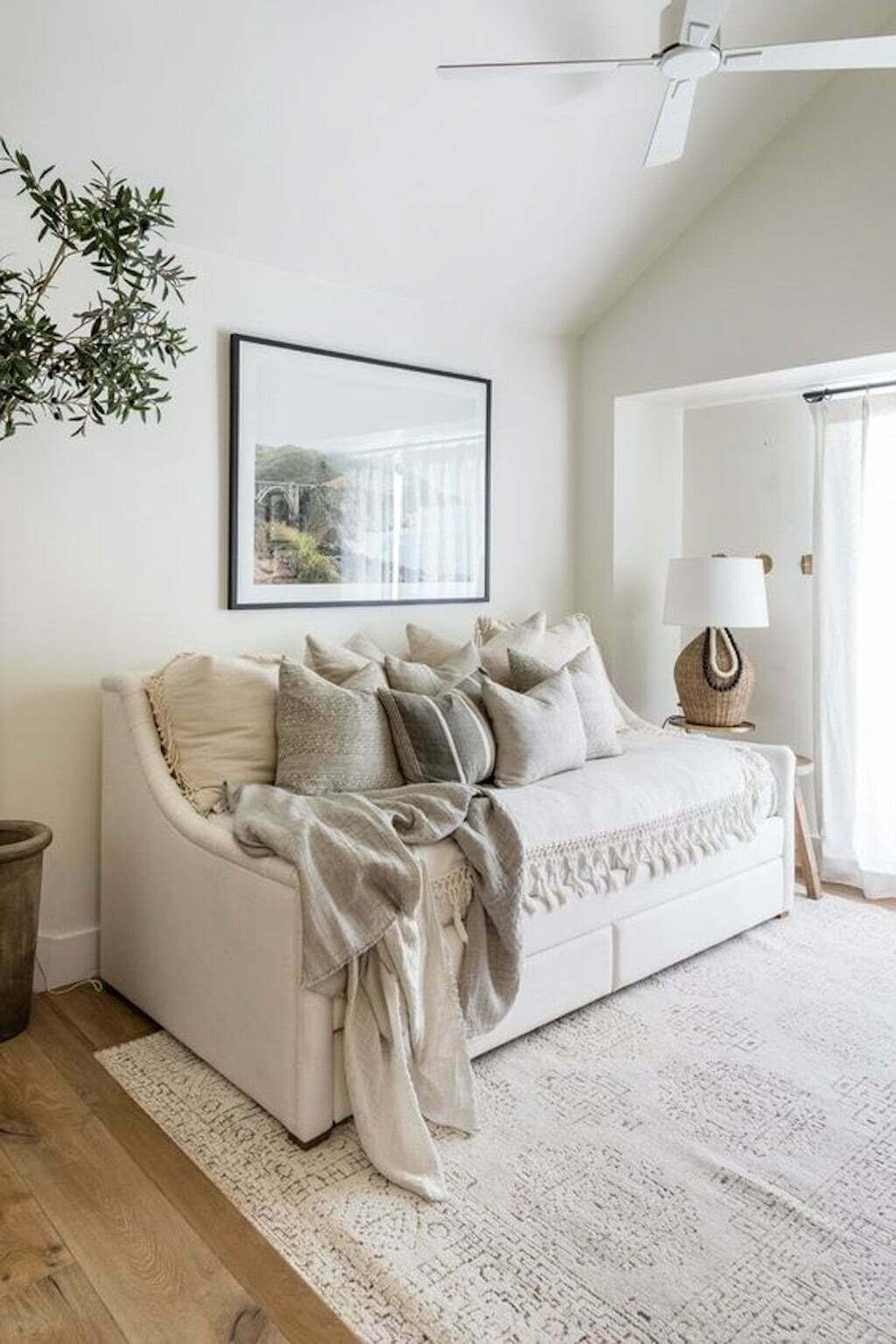 This is another popular option! And while they're absolutely beautiful, in my experience daybeds (most of them, anyway) are actually less useful than just getting a couch.
Why? I don't know. Maybe because they're often a bit higher and deeper than a couch, so they don't beckon you to sit on them. We had a daybed for years and literally never sat on it. I think our kids did finally, because they could climb up and play on it (we had it in our playroom), but even then, it wasn't used often enough…
…and so we sold it!
(Honestly, I need to write a post about how I sell our used furniture and get so much of our money back out of it so you guys can see! It's on my list, but that spreadsheet has about 187 ideas…possibly more.)
Here are three daybeds if you're wanting to go that route!
Me? I'd get this beauty! And goodness, I might even use this more than we used our old vintage daybed! It doesn't take up as much space as all the usual daybed-sleepers you see, and you know how I love sleeping close to the floor. Best of all, the resale on this brand, in my experience, is incredible. Especially after you've enjoyed years of use out of it. I could write a blog post about that too.🤣
A nice affordable option if you're feeling strapped for cash and can't swing the above.
This has storage drawers beneath instead of a trundle, which I like because you could keep your extra linens and blankets inside! Not sure how comfortable those pads are night after night, however.
If you haven't yet, get our FREE Interior Design Guide!
small GUEST ROOM IDEAS
Type #3: Office Murphy Bed Desk (Vertical or Horizontal)!
Now we come to another well-known option for office guest room situations worldwide:
the wall "Murphy bed."
I originally considered this option for our guest bedroom but decided against it.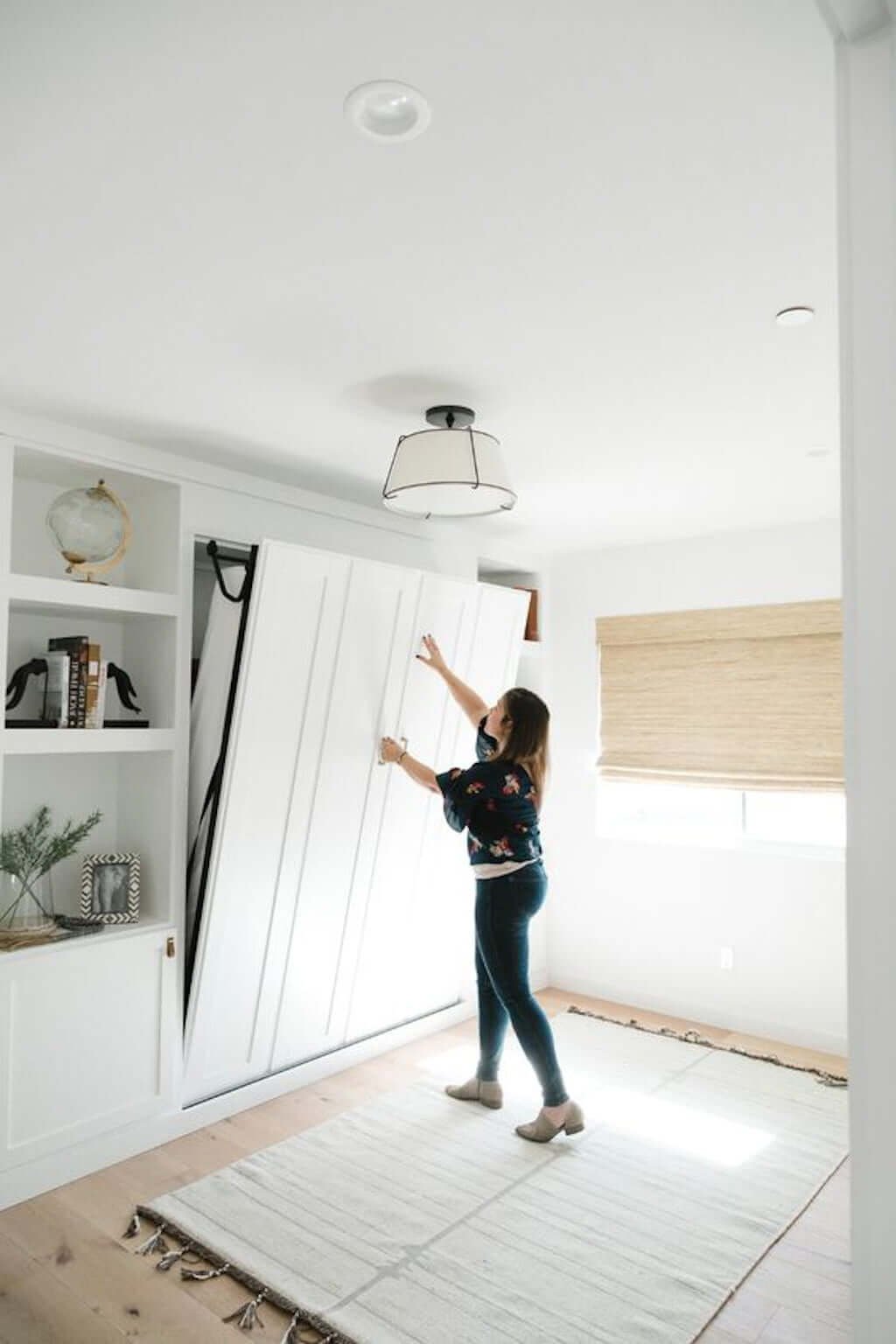 Why did I decide against a murphy bed in our office guest room?
Well first, it really depends on your space. In some rooms, it's great. Usually when you have a higher-than normal ceiling, plus a room with big windows and that faces good natural sunlight throughout the day, which helps it feel like a bright and airy space!
However, in our already-small room and with 8′ ceilings, when I closed my eyes and consulted my Designer Vision, it cringed.
No, a big wall Murphy bed was not a good choice in our room, and wouldn't be for many rooms like it.
However, that doesn't mean you can't have one! If you have the space, the height, or you just plain love it, then do it!
PS: If you have an extra-large space that you're trying to divide into sections (i.e. separate your guest bed space from your office desk space, a Murphy bed can be a great design tactic for separating the zones, like the below example)!
home OFFICE GUEST ROOM IDEAS
Type #2: Bench-turns Bed (Ideal for Tiny Spaces!)
For super-tight office spaces, I love this because it's simple and straightforward!😊 No rolling out sofa beds or trundles, and the "mattress" you get to choose. It won't come with the premade sofa or futon bed; it can be super soft or firm—however you like it!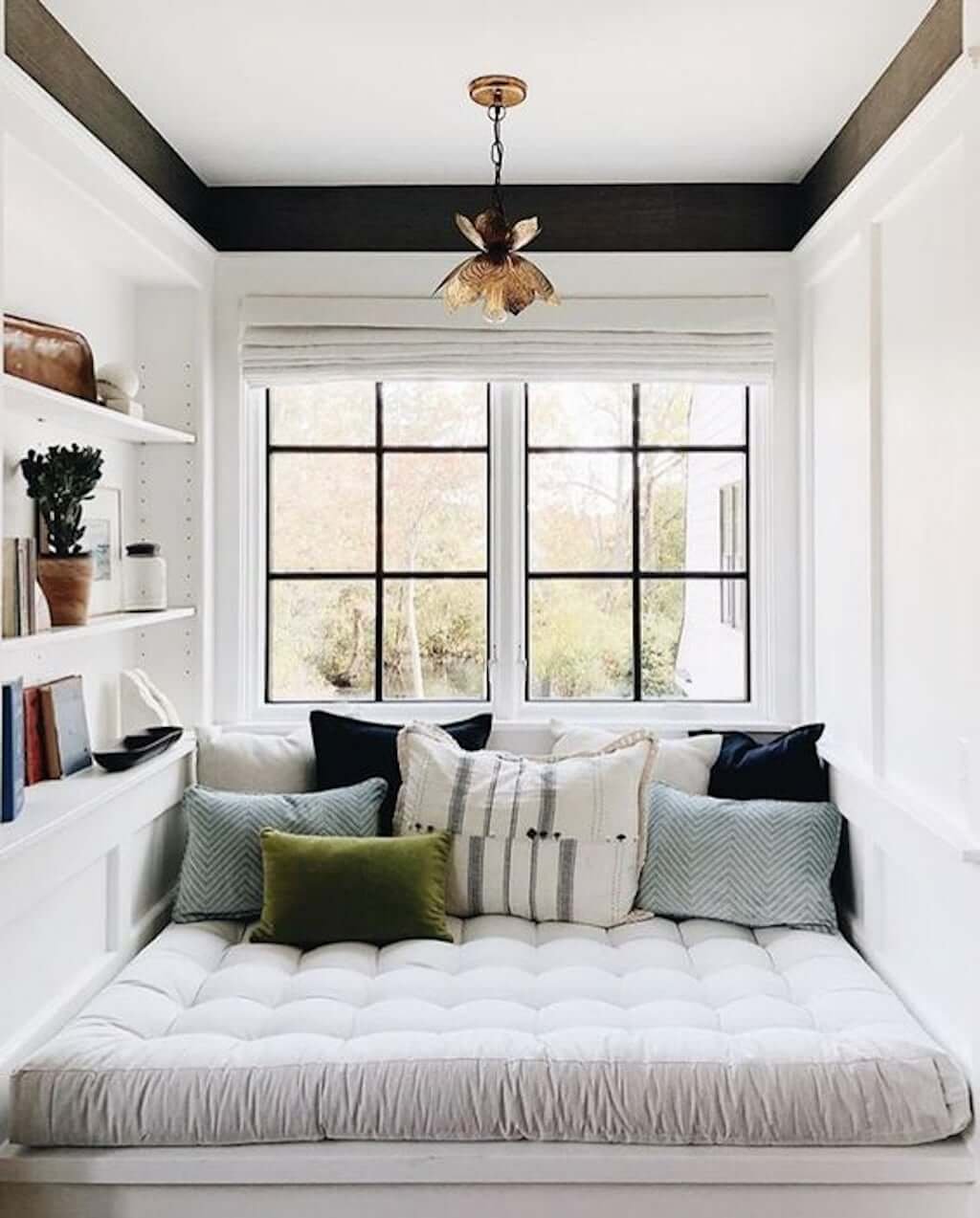 It can be a window seat or a simple built-in against the wall. You get to just work with the space you have!
Sure, only one person or a couple small kids could fit on it, but if you're only entertaining the random friend or just looking for an extra spot for kids to sleep during a family gathering at your place, this is a functional solution!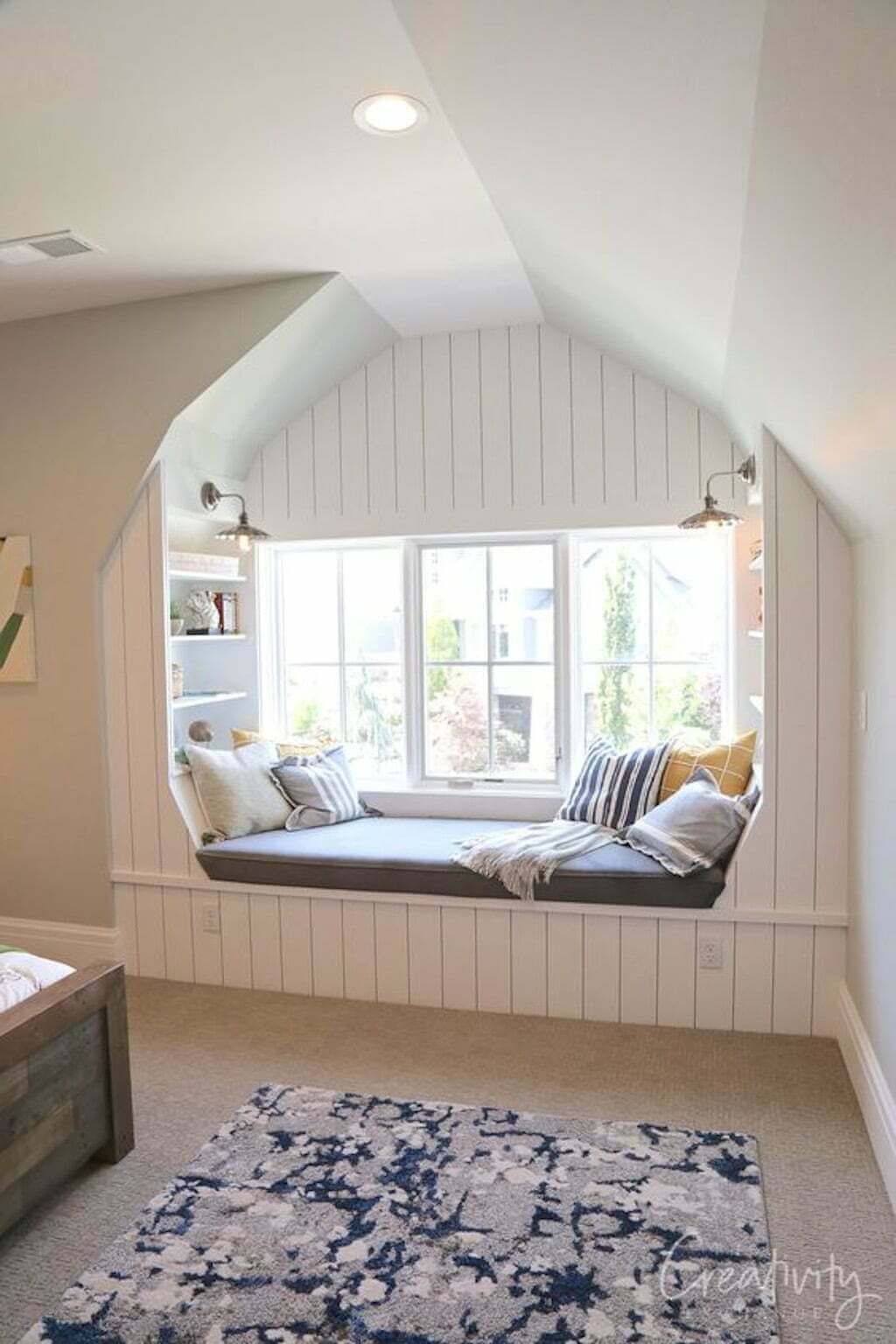 (Plus, it makes a great reading nook when not being used as a bed! I'd totally hang out at this cozy bed one by the window!)
OFFICE GUEST ROOM IDEAS
Type #1: Console/Cabinet Bed in Office!
This is our #1. For over seven years we have absolutely, positively loved our cabinet bed in our office guest room!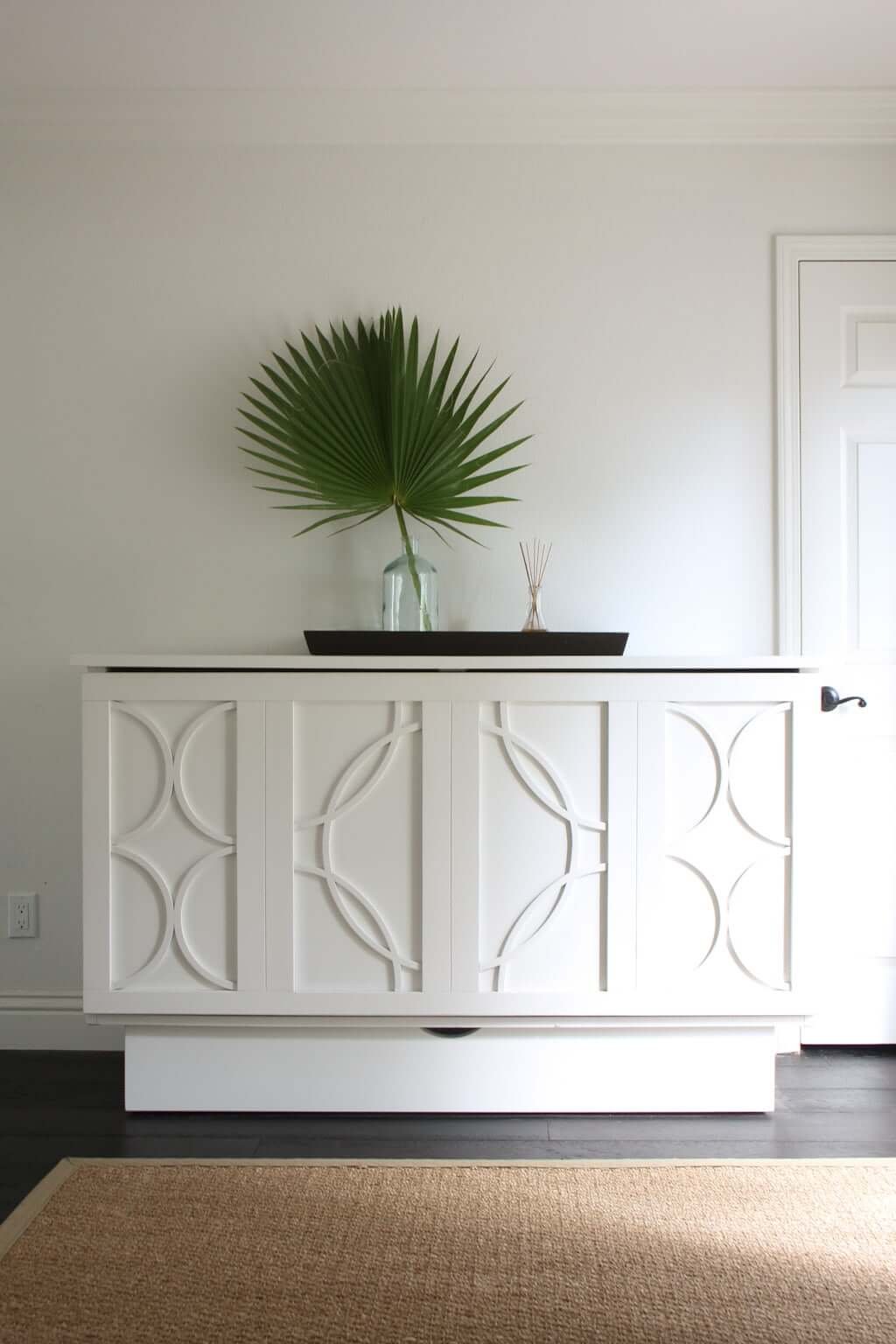 Our "surprise" hidden cabinet bed!
Why? It folds up against the wall just like a console table AND provides you with a comfortable queen bed!
My original idea was that I'd use the top of this cabinet bed to fold laundry, but in reality, I didn't. Because it was viewable from our entryway, we often put fresh clippings in a vase here. (Or just used it as a spot to set random stuff on at times, because that's real life. Tables come in handy!)
(See our full layout of this office guest room HERE!)
Why didn't we just do a murphy bed? Although I'd dreamed of having a murphy bed (before I really analyzed our room)…
…when I started actually brainstorming my design work, it just felt too tall and imposing in a small space!
(Plus I think everyone can tell it's a murphy bed, right? Ain't no one foolin' nobody there!)
But this cabinet bed…people would constantly walk by it and have no idea it wasn't anything other than a deeper-than-usual console table. And I like that!
Ours doesn't have springs (and we like that), but here's one that does:
I also couldn't not include this awesome built-in hidden bed that fits within this category! (But you can't buy it in a store, clearly.)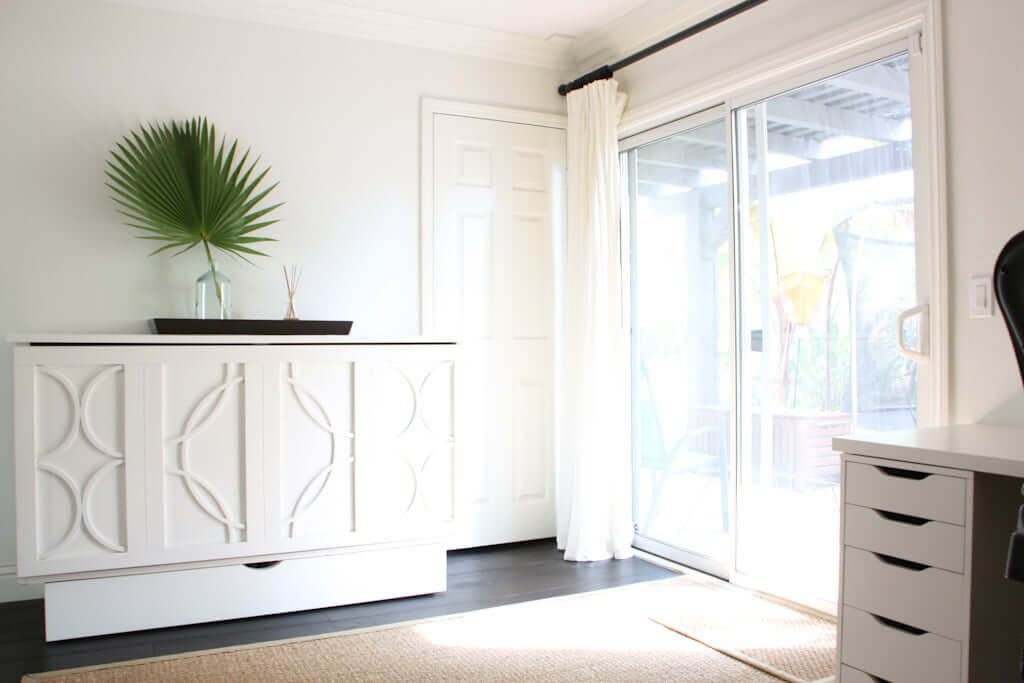 If you want to see exactly how we laid out our office guest room (and what other surprising functionality we added in to make this a 3-in-1 purpose room), check out our office guest room layout!
Here's a quick video of our Murphy bed guest bed in action! 🙂
Up Next…
We're sharing the best 13+ easy ways to make ANY bedroom get a luxurious hotel feel!
👉 You can also use our FREE interior design resources to help you with your room color, choosing wall decor, all the way to finding the perfect rug!
PS: Or you can browse our home room-by-room HERE!