We recently sold our house for FAR over the asking price suggested by the realtor—without having to hire a professional staging company!—and today we're sharing our tips for staging a house for sale yourself!
Alternative title for this post: Our House Never Looked So Clean! 😂😂😂
Some days, Matt and I wondered why we didn't just sell our house ourselves and save mucho dinero.😆 Because we didn't need a realtor help to tell us how to make our house look nice, or to stage it. It was already done because of what we do!
First a little story…
The first time our realtor came through to discuss, I specifically asked about our front room (shown below) and whether I could start selling off the chairs…and the piano…or whether I needed to leave them there for showings. (Because it's the first room people see when they walk in the door.)
"You can sell them," he said to Matt and I. "The more minimal you go, the better."
OK great, says Jessica's brain. And so I put the chairs and our piano up for sale, and they sold in lightning speed. (Some days I think about writing a post teaching people how to sell used furniture online, but then I also don't have 97-hour days to do every single idea I think of, so…🤣 )
side tables / chairs / rug / similar pillows / similar pillows / similar pillows
Here are the 4 chairs I sold! (UPDATE: They're on sale right now!)
STAGING A HOUSE FOR SALE PHOTOS
Lesson Learned: Listen to Yourself Over Others.
The second time this realtor came through, he stood in shock in the room. "You sold all the furniture? Already? Oh no! This room is empty now and it's the first one you see! Now you're going to need to hire a stager to get some furniture in here!"
Now I am going to show you
THE EXACT FACE I MADE TO MATT:
😑
Duuuuuude. We didn't want to pay a stager when we'd had perfectly good furniture in there weeks ago.
Thus, we went into problem solving mode and discussed a plan to pull some of the furniture from our family room (where the TV lift cabinet is) and put it into the front room, leaving the family room open for anyone's imagination. (That space was originally an addition to the house, we think for a game room because they also added the bar area, so someone could picture it as that, or as yet another living room…of which we had 3 downstairs…)
Here's that same front room with our "family room" furniture moved into it…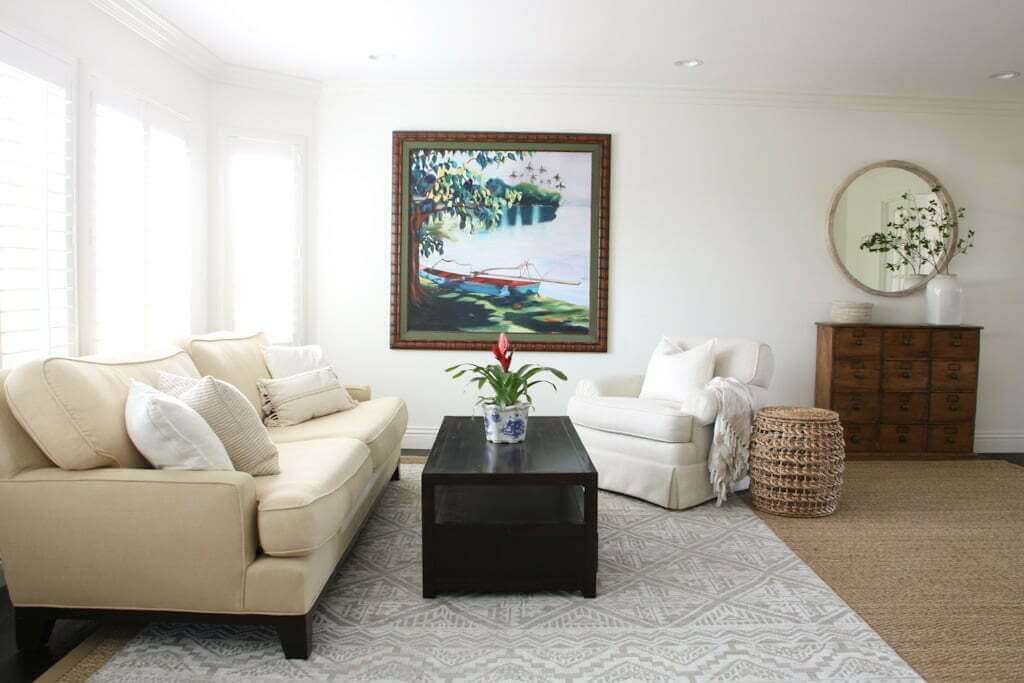 Still looks great, right?
STAGING A HOUSE FOR SALE PHOTOS
Switching Rooms Around!
So here's the family room where we took the main furniture from…
..and below is how that same room now looks with most of that furniture removed! (I sold some of it, and the rest we moved into the front room.)
Because of the location of this room, plus that bar area to the side, this could be reimagined by potential buyers as anything they wanted: another living space or game area, perhaps?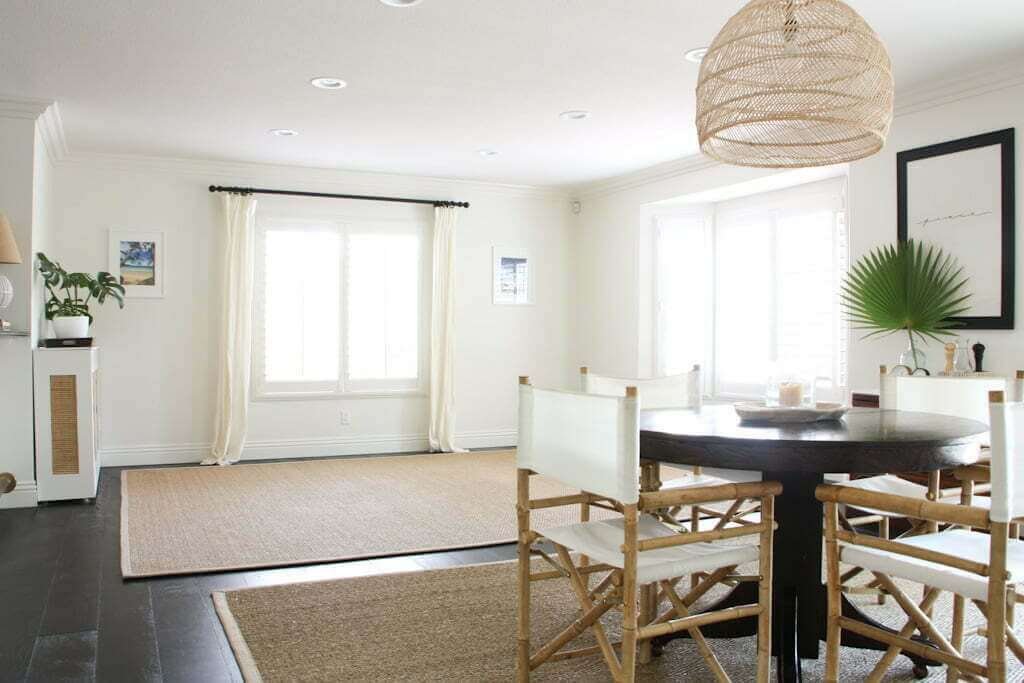 Staging crisis averted.
Funny though, when the stager came through, she just kept saying about our house, "I wouldn't change a thing!" And kind of chuckling to herself.
"Of course, I'd like the business, but you guys don't need me!" she said as she was putting on her shoes to leave.
So I'll show you some pics of this downstairs area "staged" by us. (Which you know we're already in great practice of because I do it all the time for this job. Our house doesn't naturally have every speck in place, and here's proof.)
Here are my top 3 tips for staging a house for sale yourself!
STAGING A HOUSE FOR SALE
Tip #1: Simplify!
Even in our home which we've done a lot of decluttering to, I tried to simplify every single thing I could! This meant things like
Fewer wall decorations
Removing all but 3 or 5 items from side tables, mantels, and tabletops (odd numbers please the eye!)
Storing away (in boxes in the garage) all my extra vases and items in the glass cabinet area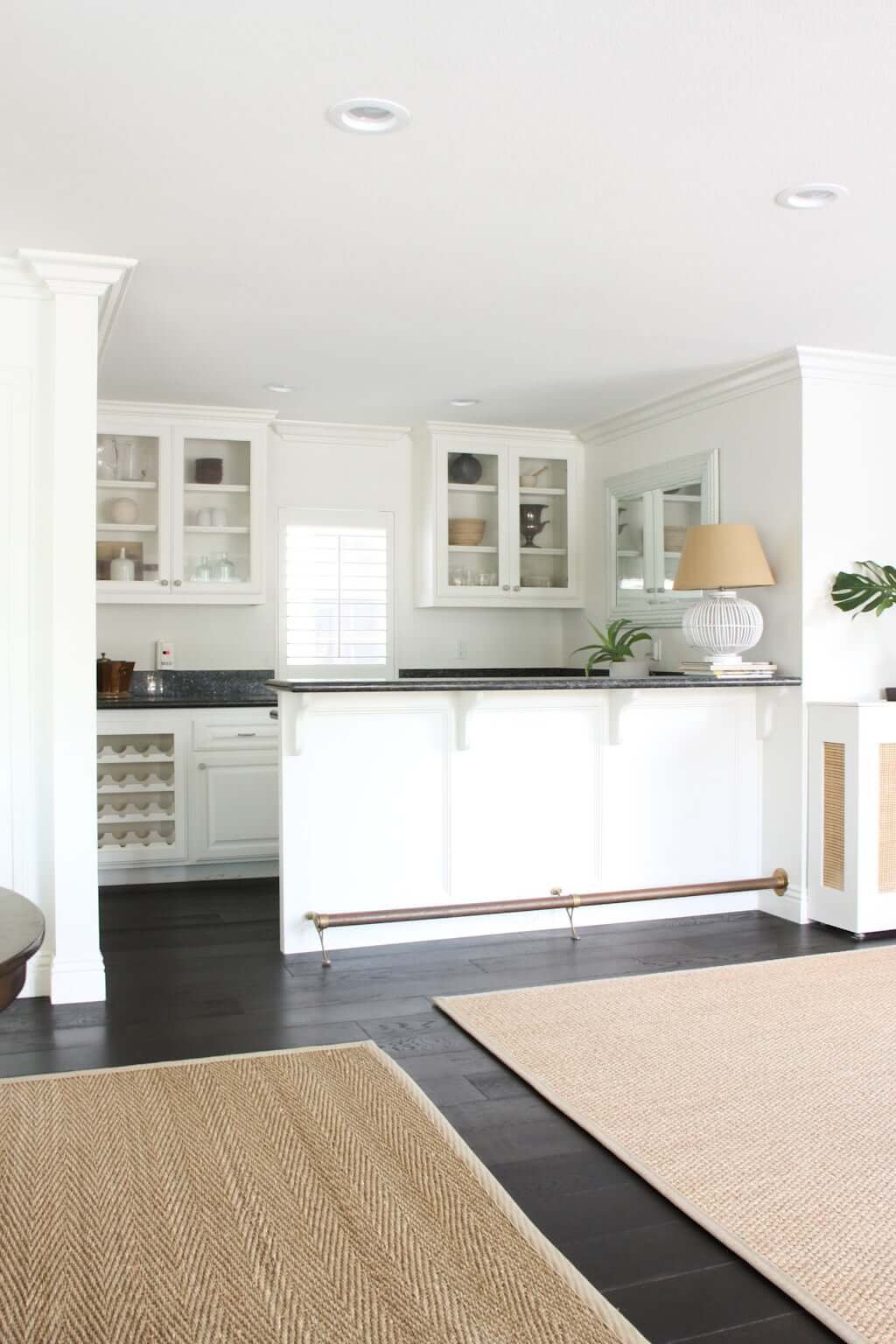 This room that was added two owners ago in the 1990s wasn't used much by us, and the open shelves with glass doors always annoyed me a little bit…while not enough to make it to the top of my priority list after these projects.
I kept extra vases, pitchers, and bowls in here. Because of the glass doors, when it came time to stage the house for sale, I just cleaned up the shelves and voila. A tidy little area hidden back by this family room space.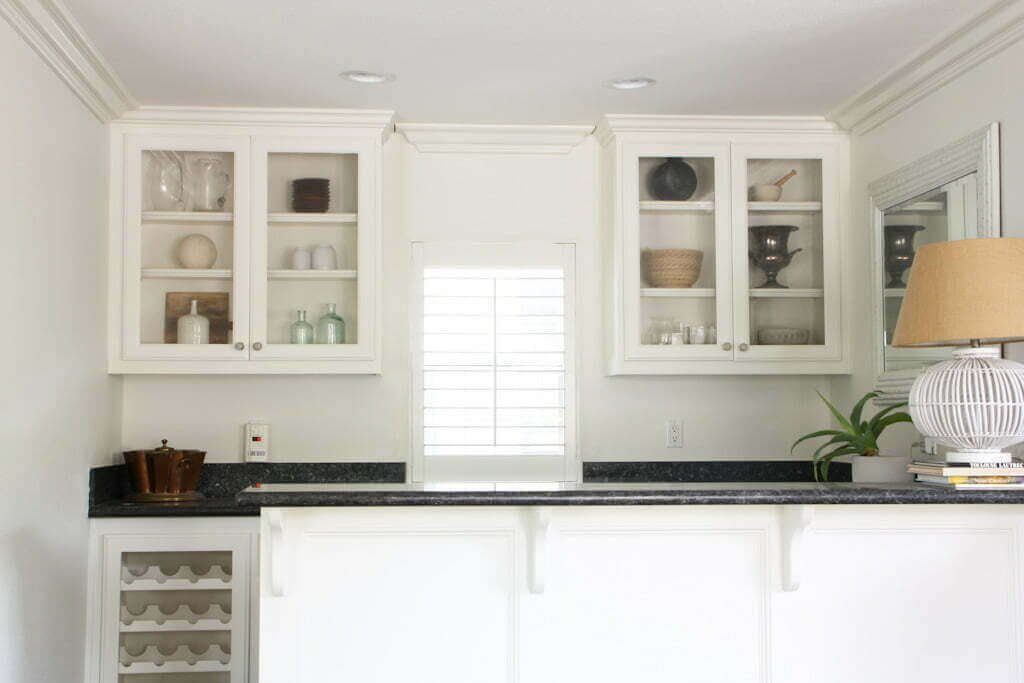 STAGING A HOUSE FOR SALE
Tip #2: Keep curb appeal in mind!
First impressions matter.
If your front door hasn't been painted in years, a $30 gallon of paint and an hour of your time will go a long way in making your home look clean, fresh and cared for!
If you need to,
Pressure wash
Replace old house numbers
Update lighting
Grab a new welcome mat
Flowers or fresh plants alongside the front door feels friendly and warm!
Clean up your front yard and add fresh mulch.
If your entryway has room for a chair or two, make sure those are in good shape—add a fresh pillow or two for extra oomph!
STAGING A HOUSE FOR SALE
Tip #3: Remove personal items.
You want your potential buyers to be able to envision themselves living in this house. You don't want them to see it so much as your house.
Thus, removing most (or better yet, all!) of your personal photos showing you and your family/friends throughout the home is best.
Idea: Replace them with inexpensive artwork from places like HomeGoods or Target (or borrow artwork from a friend from a week if you're trying to be uber-budget-conscious)!
Idea: If you don't want to replace framed photos, you can "cover" them with generic artwork or prints inside the frames.
STAGING A HOUSE FOR SALE
Tip #4: Give it "warmth & life"!
What I mean by this is, make your home feel cozy and "alive" when people walk in.
Examples:
If you have side or table lamps, turn those on during photos and showings.
If you have a fireplace, make sure it's going! Like you just walked out of the room and left it looking cozy and perfect.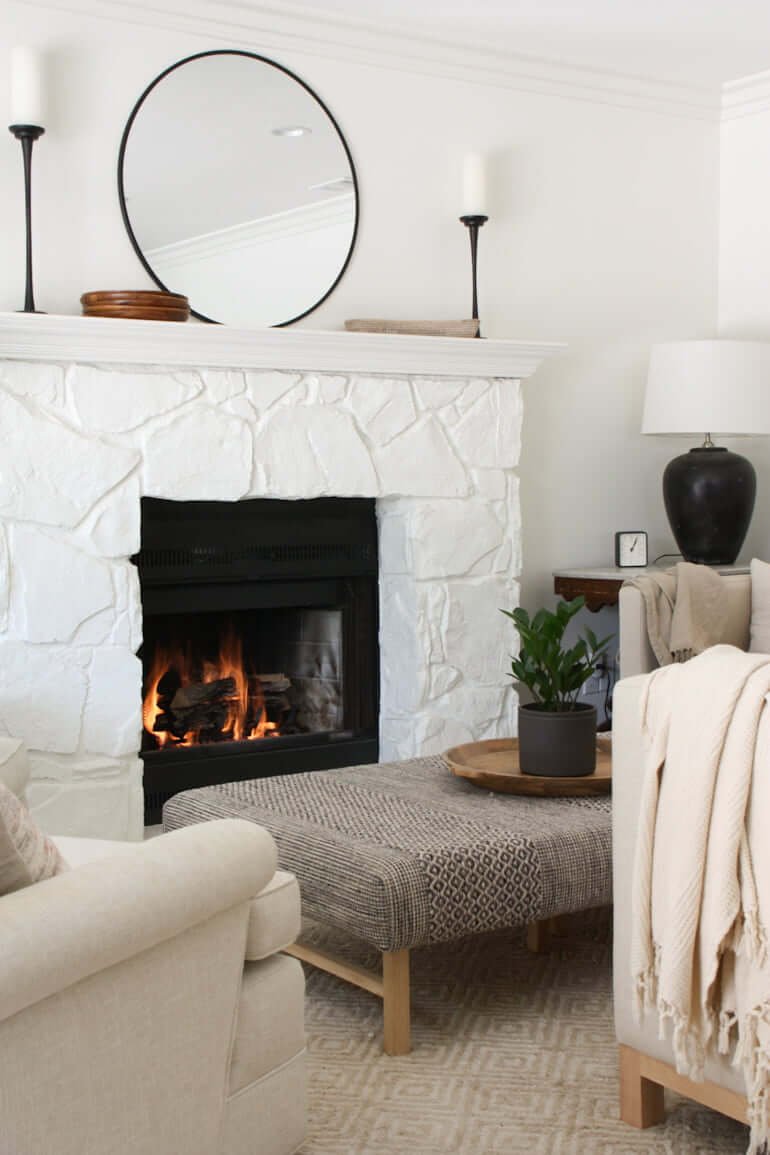 Light music playing in the background can also help. Something chill and easy to notice but not notice, if you know what I mean.
Blankets draped strategically over couches, armchairs, and the end of your bed give a great balance of lived-in but styled look!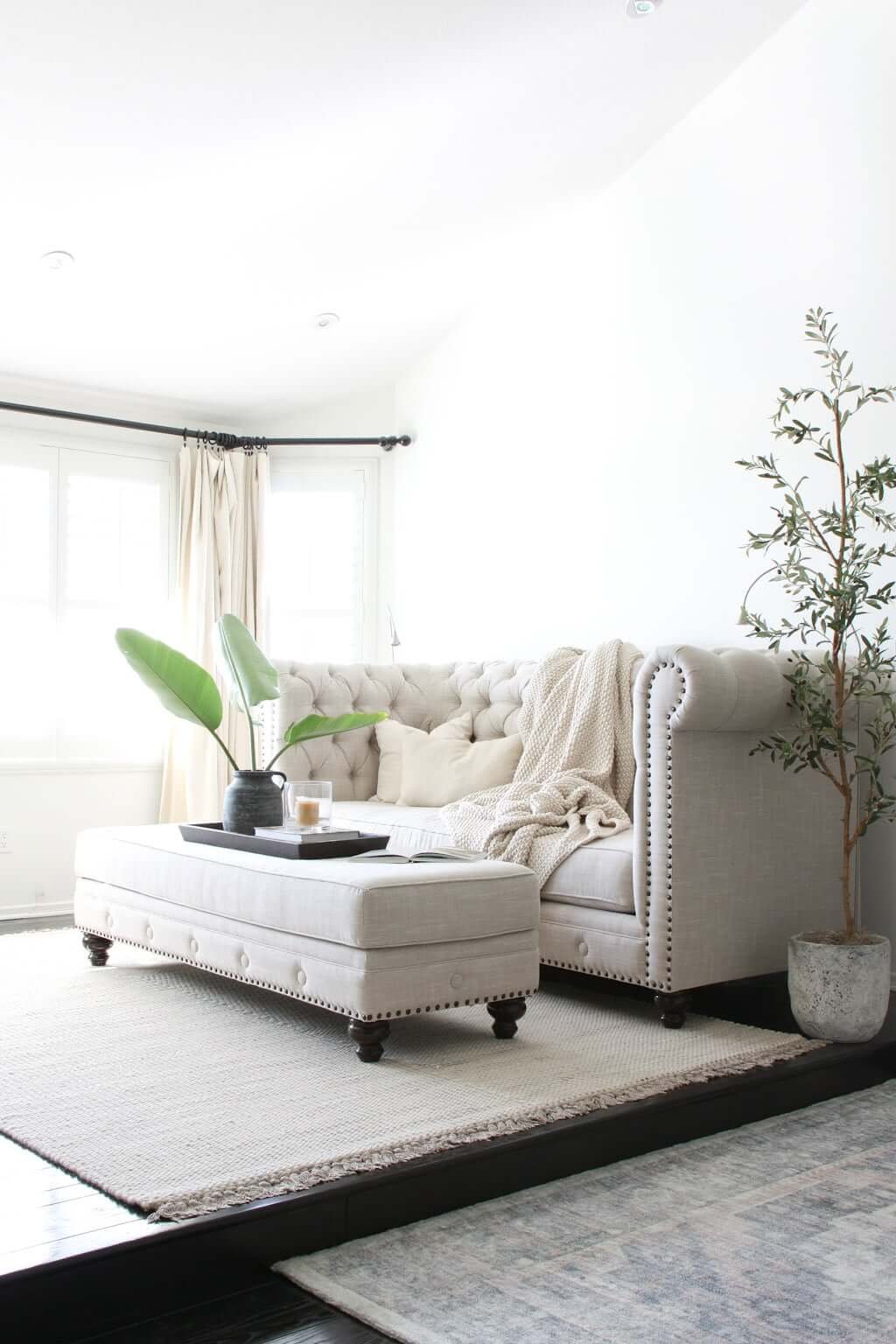 Some people like to light candles for showings. I didn't because I'm careful about fragrance, so this is up to you. If you have pets, you might need this. Our house didn't have any bad smells, everything is super clean and fresh and we often leave our windows open to the delicious air outside, so I didn't want to cover this up with any candle or plug-in fragrances. (Plus some buyers may wonder, "What smell are they trying to cover up?") So this one's up to you!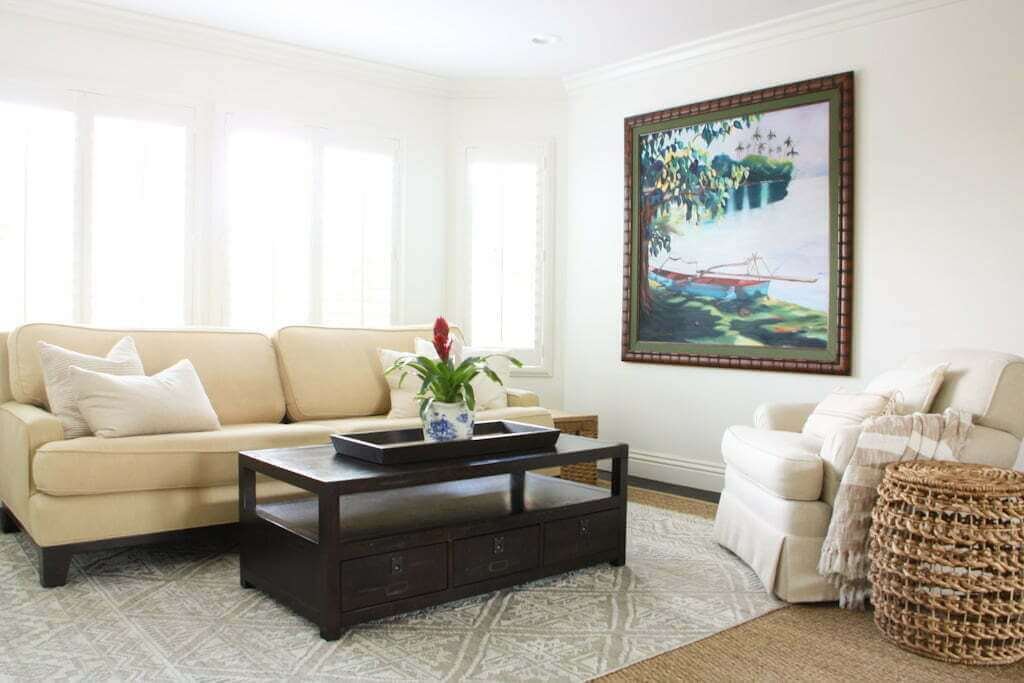 HOUSE FOR SALE
Tip #5: Think function of rooms.
If you have any multi-use spaces, consider slimming those down to make it clear and easy for people to envision how they'd use it.
For example, our laundry room we used with our guest cabinet bed as well as an office space. This worked awesome for us, and the layout worked for our guests too!
However, when it came time to sell, I decided to sell our cabinet bed just to simplify the space.
Plus, we'd explained to the realtor as he let other realtors and buyers tour the house know that our laundry cabinet was removable! So that did NOT have to stay the laundry room…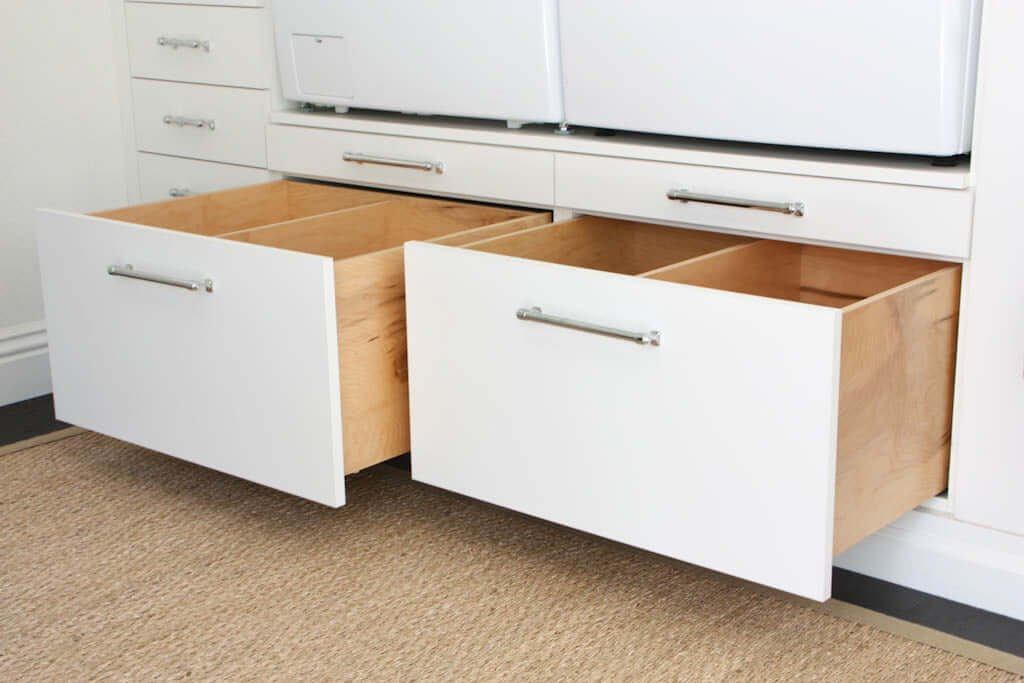 PS: See our laundry room.
HOUSE FOR SALE
Tip #6: Clean!
I wasn't going to add this one at first, because it seems so obvious, but really. It has to be said. Clean.
And clean well.
Not just the obvious "seen" things, but the unseen things.
Clean the inside of your microwave. The runners in your sliding doors and windows. Every inch of your toilets (people might use them and inspect).
Clean your windows, inside and out. That one's easy to forget.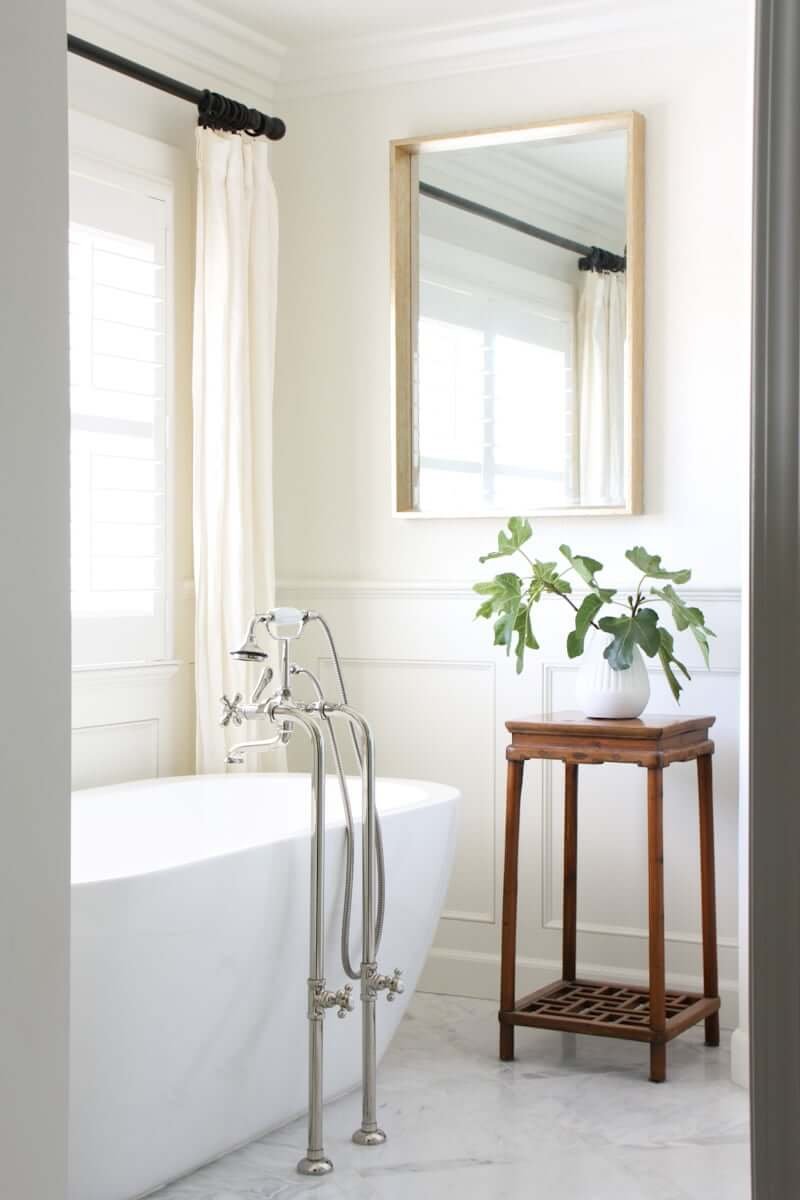 Whether you hire someone or do it yourself, don't use anything that's overly fragrant or repugnant (I find the smell of bleach off-putting, but others think smelling it equals "clean," so this is up to you.)
If people see you haven't taken care of the little areas, they may be much more concerned at the care you've taken in maintenance of your home's bigger areas.
STAGING A HOUSE FOR SALE
Tip #7: For the love of all goodness, ADD PLANTS!
This is one of my absolute favorite, FAVORITE tips! Plants are amazing! And not ones you're trying to rescue or revive…go get new ones from Home Depot that look amazing and put them IN EVERY ROOM!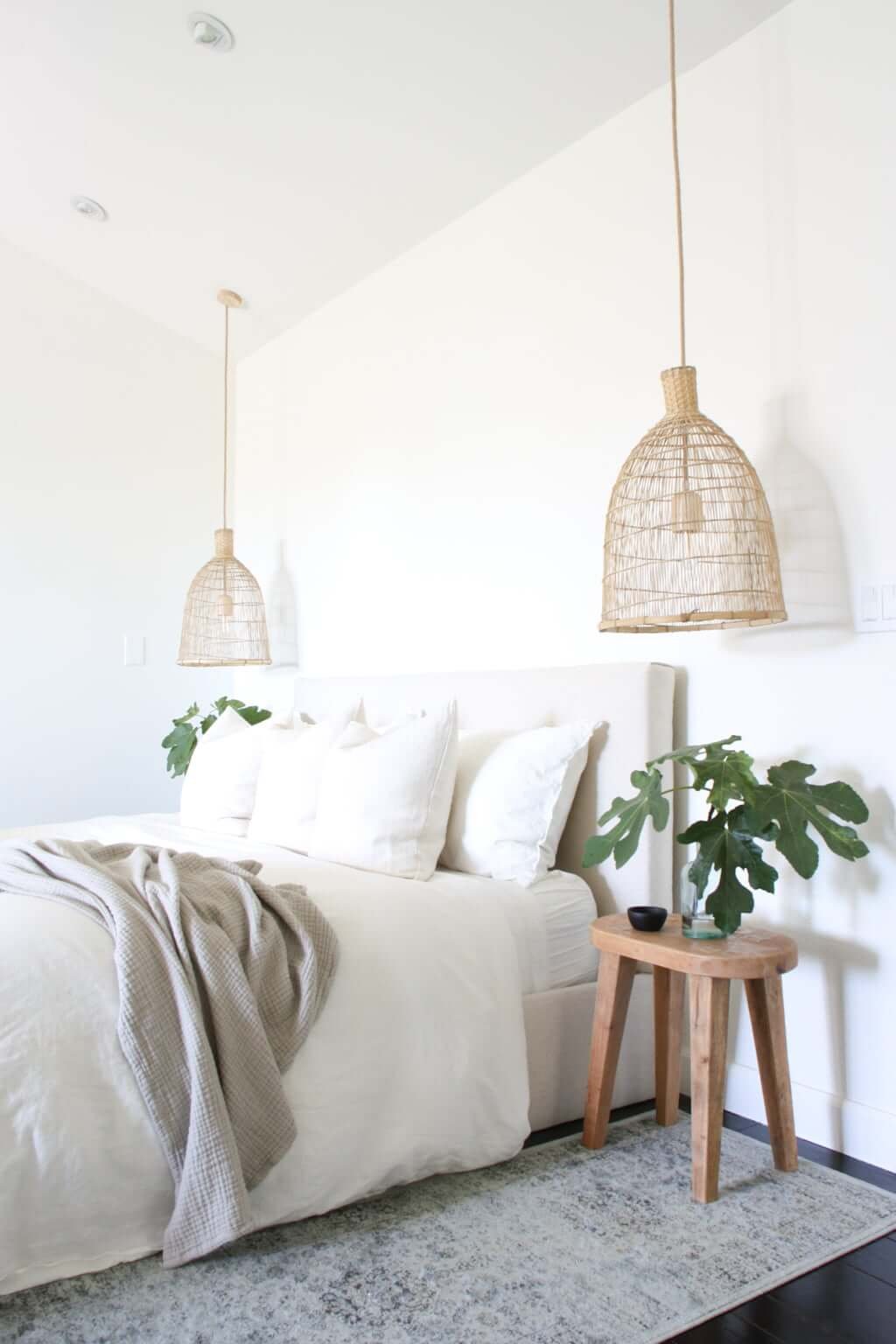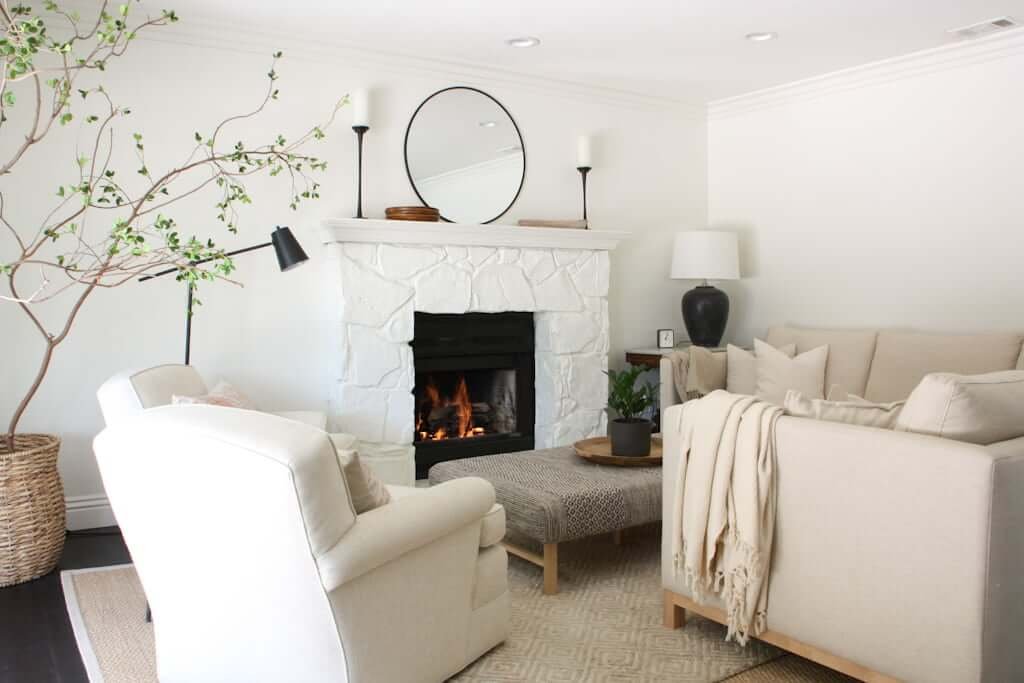 For example:
Entryway: If you have an entryway table or shelf, no matter how small, add a plant here! Welcome people in with a fresh look, first and foremost!
Living rooms: Put a palm or other tall plant in a corner or spot that needs height, and/or add plants on the side tables and coffee table/ottoman!
Bedrooms: Plants on the bedside tables for sure!
Kitchen: Absolutely add a plant or two in a countertop corner or in the middle of your island!
Bathrooms: 100% YOU NEED A PLANT IN EVERY BATHROOM! Nothing says "Fresh!" in a powder or full bath like a fresh, gorgeous new plant on the countertop. It's amazing how good it looks and just up-levels the entire space!
Here's a quick peek at how our kitchen and our dining space looked right before the photographer came in to take photos (this is from that empty "flex space" room I mentioned earlier, with the bar area to the right of where I'm standing):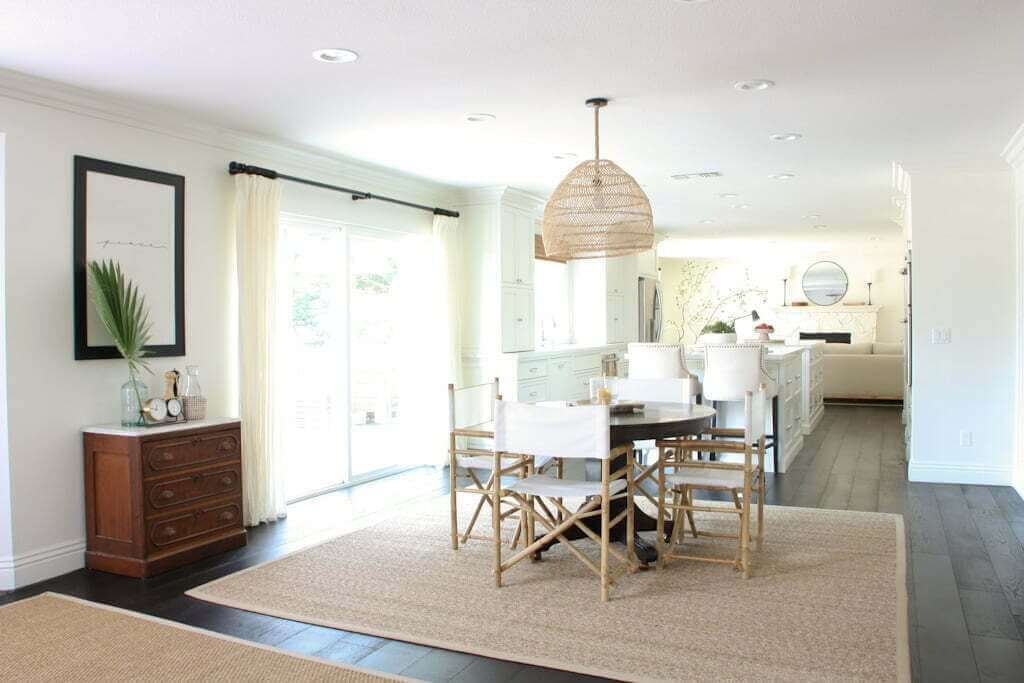 Why on earth are we selling this amazing house and moving? Here's why! (And where!)
➜ You can browse our home room by room HERE!