Some people don't even like to use the word "downsizing," preferring the word "rightsizing!"
So whether you prefer "rightsizing" or "downsizing," the point is that we made the decision to sell our big, beautiful, highly functional house in the suburbs to test out living in a smaller house near the beach.
And while this house we're currently renting is still bigger than my ideal, it's been a great way to
See that going down 1,000 sq ft is still not small enough for my ideal perfect sized home for 2 adults and 2 young children. 😉
Check out how the local beach houses are built and designed as we plan for future changes we'd make (we could buy this one if we wanted, or find another).
Experience what a smaller house and much smaller outdoor space saves us in maintenance time and energy!
I jotted down over 30 (yup, 3-0!) different fun, cool things we've been able to do since moving into the beach house and having more of these resources (time, energy, money, etc), but I'll pick just 7 to share with you today!😊
DOWNSIZING TO THE BEACH
#7: Our Fat Tire E-bikes!
When we first moved to the beach and I started doing my morning walks, I found a stretch that was almost always completely free of people (a rarity in Southern California!).
The reason was that there was no parking for this long stretch, and so people would have to walk quite a ways to get there. During the weekends, more people would walk on it for sure, but no one was really hanging out there!
It reminded me so much of our New Zealand life, where we'd enjoy football-field stretches of beach all to ourselves, that I started wondering how we could take advantage of it.
Just Matt and me? Sure, we'd totally walk there with our towels, umbrella and refreshments for the day. But with a 7 and 4-year-old? Not so much. Walking on the beach for miles is hard enough on adult legs.
Beach wagons don't work well for long distances. I asked Matt if he could pop a motor onto one of those beach wagons, and he started looking into it. I mentioned getting beach bikes (and getting electronic ones!) and he wasn't sure about it.
So I did what I usually do when my quiet-but-stubborn husband soundlessly puts his foot down:
I waited.
Then I suggested it again. He said no, so I tried to resign myself to it.
But every time I walked on this stretch of sand, my heart and brain were on one page:
"This is what we need to do! You gotta push for it, Jess!"
Long story short, Matt finally got on board, researched good e-bike options with fat tires for the beach, and voilà!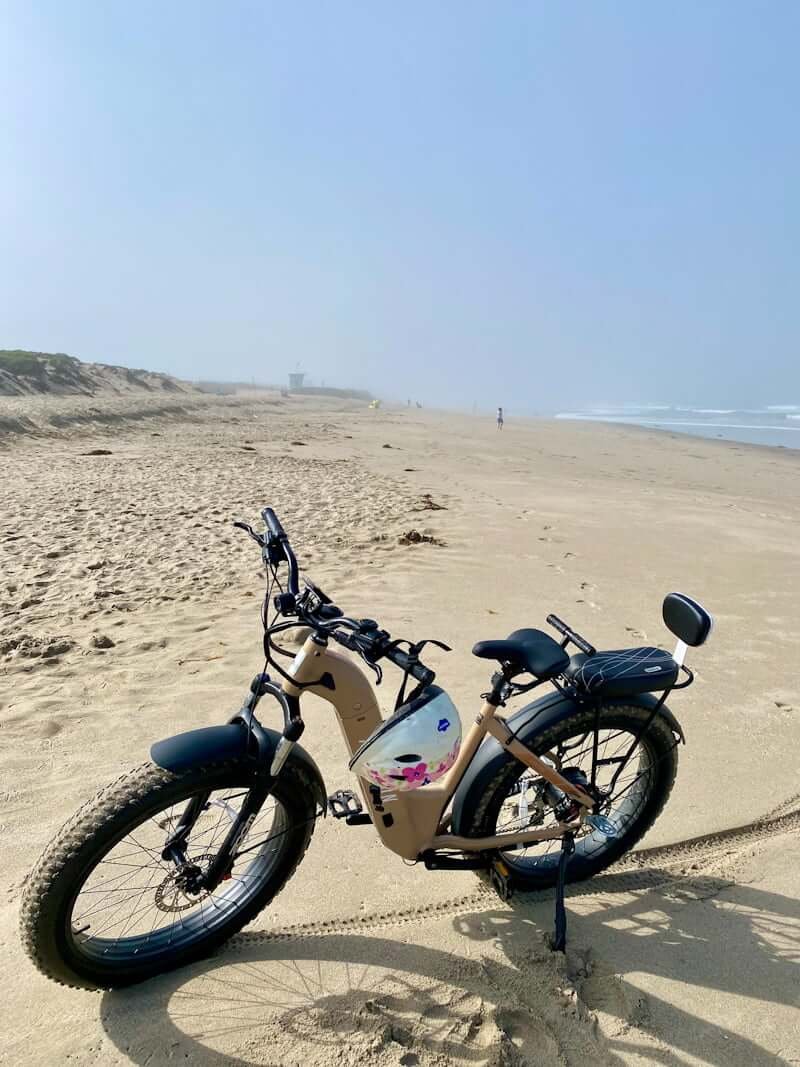 Did we know if we'd like them at first? Nope! Never had beach bikes before! (And to be honest, everytime I saw people on e-bikes I was suddenly The Biking Purist, scoffing, "How lazy are THEY?!" 🤣🤣🤣)
But then I realized the genius of the e-bikes, because they allowed us to go through sand that would have been difficult even on regular fat-tire beach bikes…
…AND they worked on the streets, which we also have had
SO MUCH FUN WITH!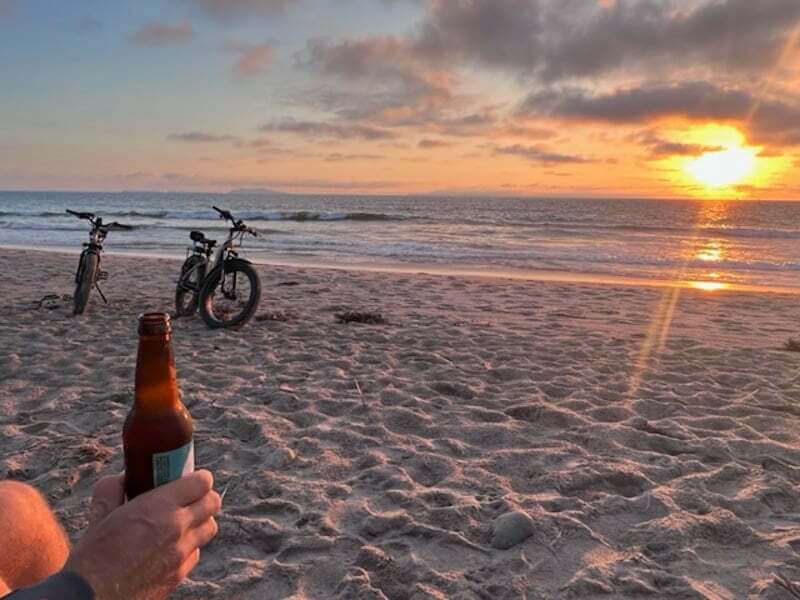 We've biked to farmer's markets, cafes, outdoor concerts, the grocery store, harbors, restaurants, neighborhood scouting trips, and just for good clean family fun!😊
DOWNSIZING TO THE BEACH
#6: Swimming with Wild Dolphins!
Matt and I fell in love with ocean swimming when we lived in New Zealand. Having spent so many years living in Oregon (where the water is so freezing and the weather so miserable most of the year that they don't even call it the beach, they call it "The Coast" 😂), the REAL beach, sand, and warm water was paradise!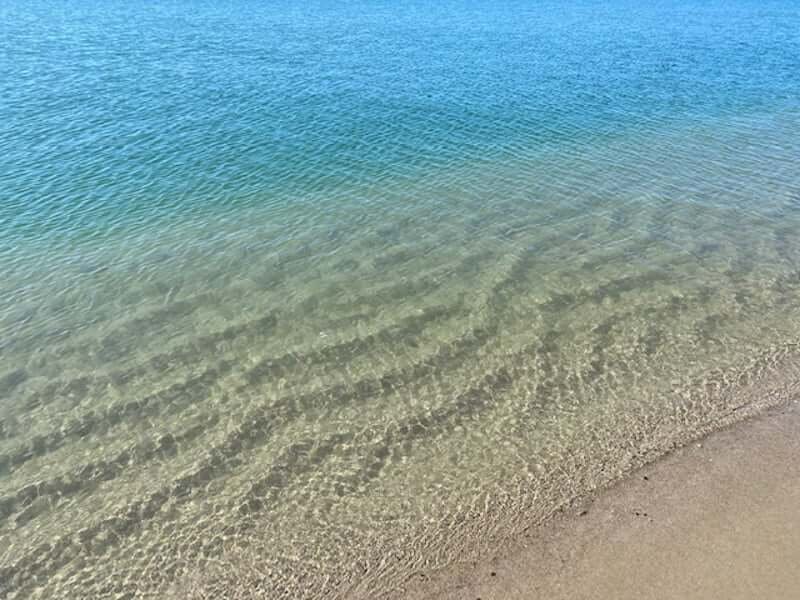 Now living in California, we once again could embrace our love of swimming in the sea! There are tons of surfers around here, and while we've tried surfing, we made the decision not to make it one of the places we invest our time and money into.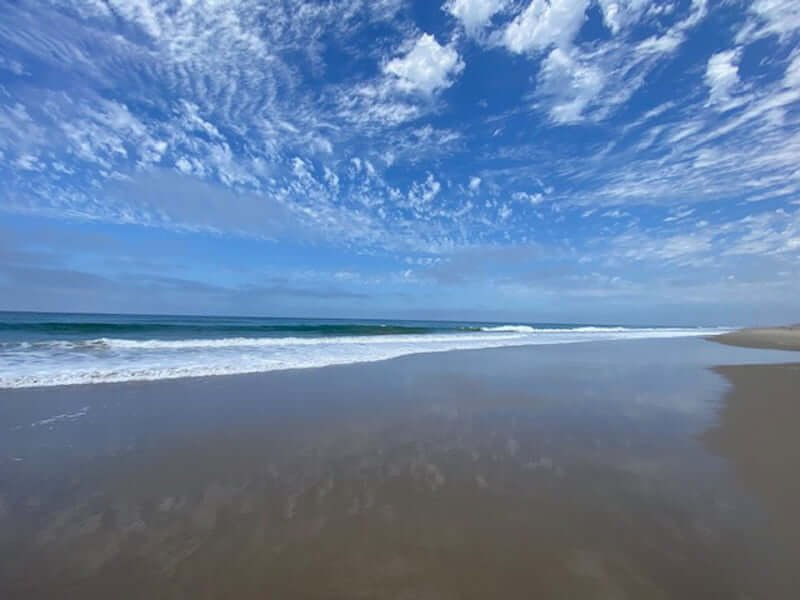 PLUS, swimming in the ocean takes the best part of surfing (at least for me!) and gives it to you the whole time: bobbing up and down with the waves, feeling the pull of the currents, enjoying the wind and fresh sea air, and spotting the occasional wildlife!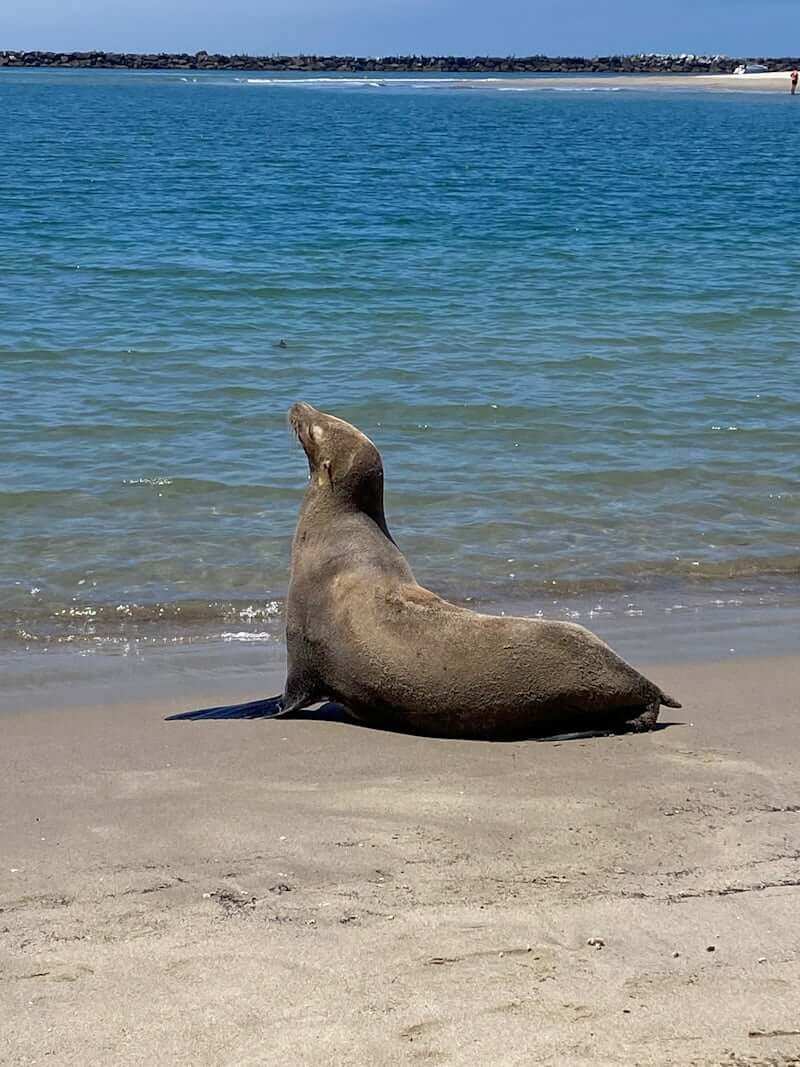 Birds: I don't like birds (long story) but I will say that I've been surprisingly impressed by all the different birds we have here on our beach! Especially the ones that cruise around and then suddenly dive (see, I don't even know their names—I try to avoid knowing as much about birds as possible 🤣 but my 8-year-old constantly tells me so I have to actively try to block it out 🤣).
Fish: Our beach is a popular spot for fishermen. (And I've seen one or two fisherwomen.)
Seals & sea lions: Too many to count! And too many fun stories to tell here! (I'm trying to keep this brief, which Matt is laughing at me for. "I don't see why you ever think you can keep it brief!" he just said to me.😆)
Whales!
Dolphins!
While we've seen dolphins swimming along our beach, from small to massive pods, both moving locations as well as fishing and playing in the waves, nothing prepared us for the feeling of being out swimming in the sea…
…and then dolphins showing up!
Wild dolphins is different than those dolphins you can pay to swim with. That's all controlled. Dolphins showing up during your morning swim is very uncontrolled.
My first time, I had popped out to go swimming while Matt was with the girls on the beach. As the waves roll in, you don't always have straight visibility to what's immediately near you if they're on the other sides of those crests.
And so suddenly, I start hearing these "poofs" and realized it was a pod of dolphins heading my way, as they surface for air!
Everything is so quiet when you're out swimming in the ocean, and so it was just me swimming and seeing too many dolphins to count and hearing their breaths…no words to describe the feeling.
This happened several more times over the summer, and not once did we get tired of it. Forever-memories for sure!
DOWNSIZING TO THE BEACH
#5: Consistent Horseback Riding Lessons!
I just realized I need to share just a smidgen of background on this so you can understand how HUGE this was for me!
Backstory: When I was a little girl, I loved, loved, loved horses. (Like, horse posters covered my room for several years.) I dreamed about horses, drew horses, read stories about horses, wrote stories about horses…the whole bit.
However, I was never put into consistent horseback riding lessons. Instead, I was put into other types of lessons that were not my choice.
Thankfully, my dear grandma knew some people near her home in southern California who owned stables. And so many times when I would stay with her, she'd arrange with them for me to have a lesson. They even taught me to jump horses, which as a 12-year-old I thought was just such a treat!
Fast-forward several decades, and I'm a mom with two young children being told by several trusted friends that I need to find forms of self care. (Ah yes, the elusive "self care!" 🤣 Oh, I started to hate that phrase!)
Problem was, I struggle to know what could be self-care for me. Reading about it, one author suggested thinking back to when you were a child and what you liked to do!
Jess as a child: Running around outside barefoot, exploring, designing house plans, writing, and—you could see this coming, right?—horses.
I sat in front of my computer screen thinking back to the horse thing and thinking, "Really? I could take horseback riding lessons as an adult?" It sounded too crazy. "But what will my kids do at the same time?"
Fast-forward to me finding a place that worked out how my daughters could both take lessons that slightly overlapped me taking a separate lesson (which was cool because I got to watch them ride, then they'd get to watch me ride, but it still didn't mean our entire day gone), and bingo…
…our horseback riding lessons every week began!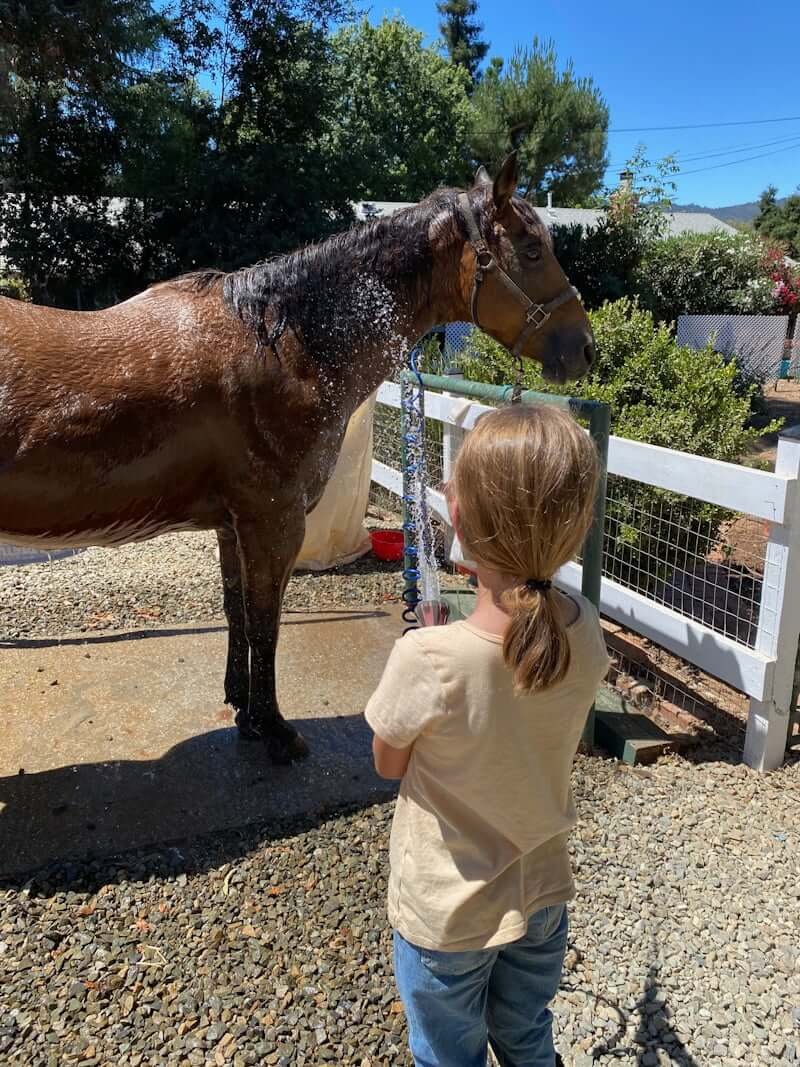 Bonus: The girls received so much education on horse care over this past year.
Thank you, Downsizing Adventure to the Beach, for making this long-forgotten childhood delight possible. 🙂
PS: Am I interested in competing or owning a horse? No. That takes more time and commitment than I have at this phase of my life, and it's been more than enough to introduce it to my life as a "hobby!" It's like horse therapy, right? Honestly, every time we leave to drive home, my body is so calm in such a unique way. And my kids sleep so well that night, so win-win.🥰
DOWNSIZING TO THE BEACH
#4: Travel!
Downsizing has allowed us not just more resources to put towards travel, but the resources to plan the travel!
While we enjoy being spontaneous, some trips you have to plan in advance, and that takes a lot of time and energy.
We've traveled to so many cool spots in California, as well as seven other states, and it's been so much easier to get away when you have less at home to take care of!
Once we rented a trailer and hauled it behind Matt's truck through all the southwestern states with the kids for two weeks…
…but of course we keep coming back to California. Yosemite is lovely, but there are so many other less well-known, chill, and beautiful spots in the state!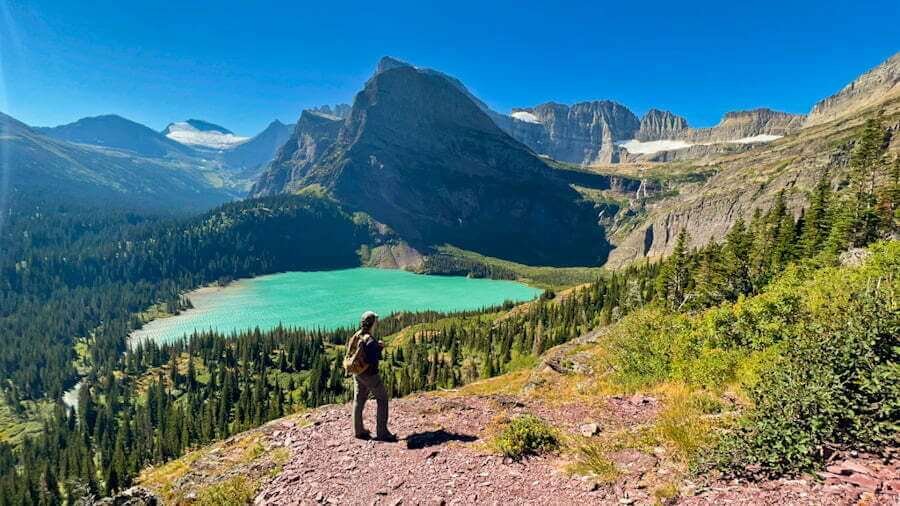 We also combined a trip to Montana along with visiting friends in Idaho, Washington and Oregon….
…and I still think the California coast is 10,000x more beautiful than the Oregon coast! (Matt and I both have lived in Oregon for over 20 years so I feel I can definitively give my opinion on this one.😂🤣)
Big Sur is another California favorite, just in case you're taking travel planning notes. 😉 Notice the famous waterfall into the Pacific…even the most seasoned travelers have gotta admit it's unique!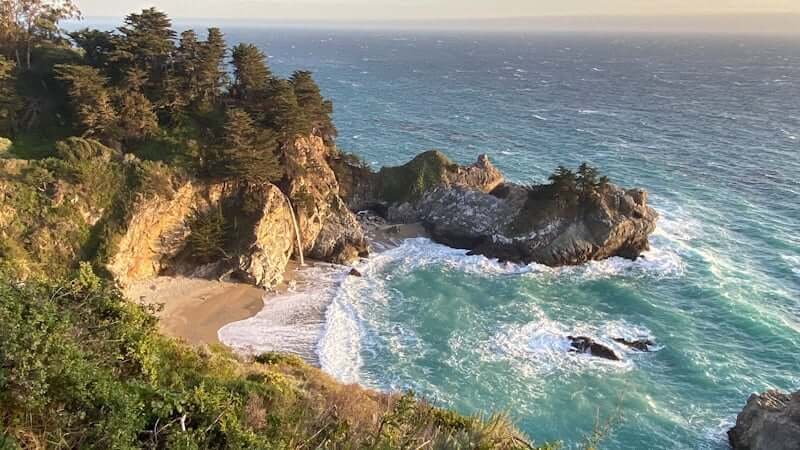 I'm going to exercise my self control and only show one more to represent our love of tidepooling all along the California coast, from northern California all the way down to almost-Mexico here! 🙂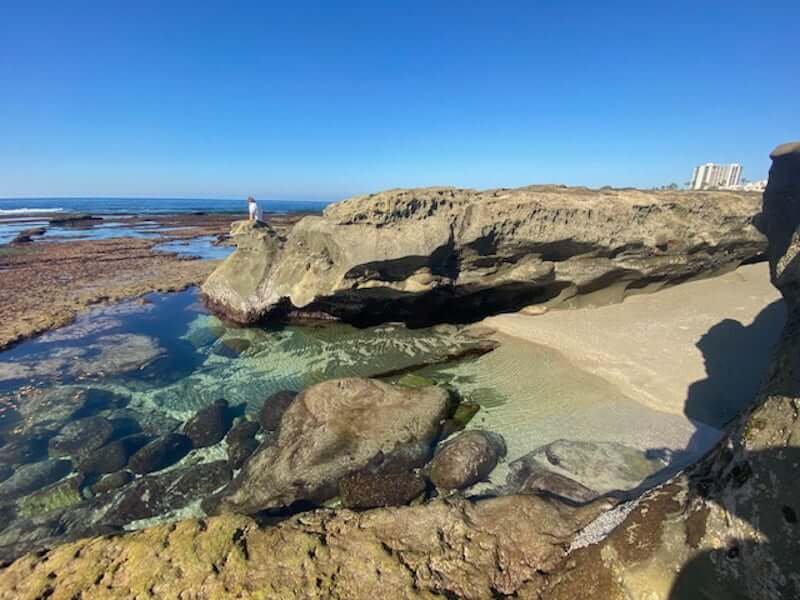 DOWNSIZING TO THE BEACH
#3: Pottery & Archery Class "Dates" With Each Daughter!
One of the top reasons we sold our house was to have even more time with our young children.
Since downsizing, we've not only had more family time at home playing games or doing projects together, or going to the beach as a family…
…but I realized that I had time to spend individually with each girl going out on dates!
Often these dates looked like going out to coffee or lunch, or going shopping for something they needed, but I wanted to do something even more special with them while I could!
For my oldest daughter: we spent 6 weeks taking a pottery wheel class together! I'd always heard it was difficult and so I wanted to try it for myself, and she lit up when I suggested it.
We had SO MUCH FUN! It was indeed difficult, but I love now having that experience and newfound appreciation for handmade pottery! (i.e. When those potters charge $32 for a gorgeous handmade coffee mug, I now can see why!) We made a number of bowls, cups, and other useful handmade pieces of pottery that hopefully we won't break and will last for years! 🙂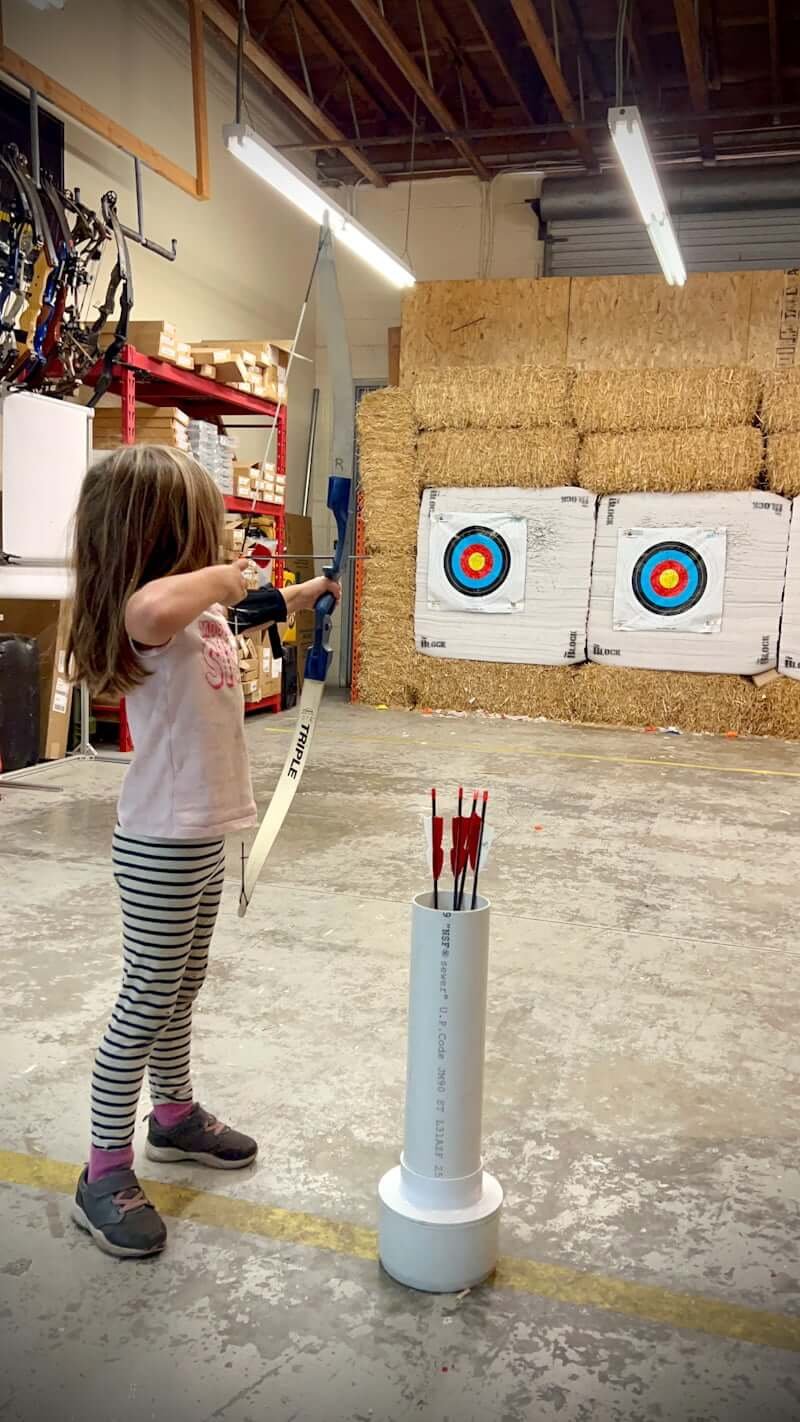 For my youngest daughter: we took archery lessons together! She actually asked, and asked, and asked about archery for so long that I finally booked a date just for the two of us. And she was a natural! Who knew we had a budding archer in our home?
So we've been doing that together as our weekly "date" together, and I'm so thankful we had the time opportunities for this!
DOWNSIZING TO THE BEACH
#2: Using The Beach As Our Backyard!
There isn't just one perk to being steps away from the beach. We've learned it's something we use and enjoy for so many different activities!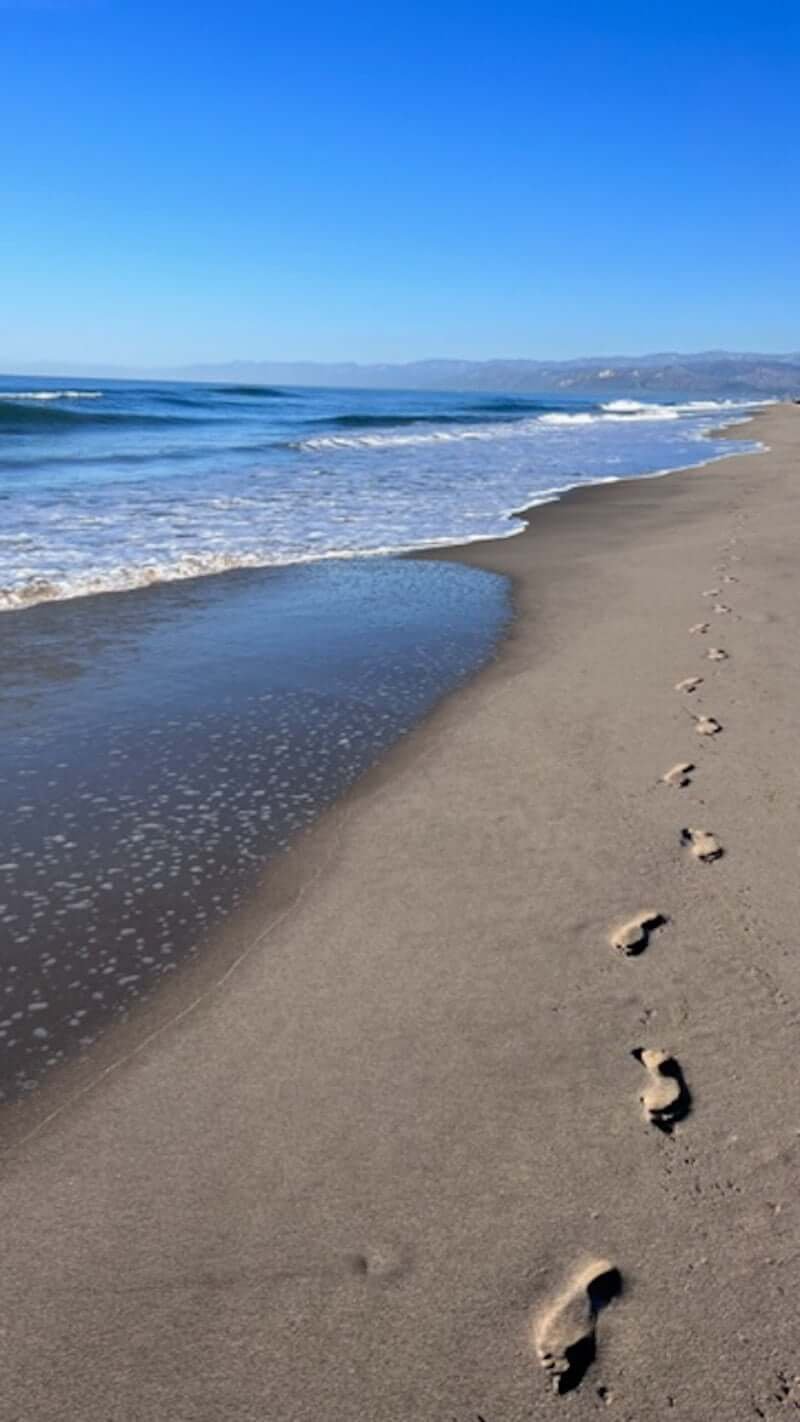 Mama uses it for morning or sunset walks. (Sometimes, if Matt's schedule allows, I'm able to get out and walk on the beach for 2 hours—one hour out, one hour back!—which is heaven for a homeschooling + working introverted mom who needs alone time to recharge!) I base it on the tide, which throughout the year shifts from mornings to evenings at sunset…both are incredible and this opportunity was not lost on me.
Often, Daddy makes four breakfast burritos and we take them out for a morning "Breakfast on the Beach"!
When the kids are going stir crazy and need to run off some serious energy (or get all those big noises and girl screams out of their system 🤣), we can just pop out to the beach! (Whether this is better for the kids or for mama, who can say. 😉 )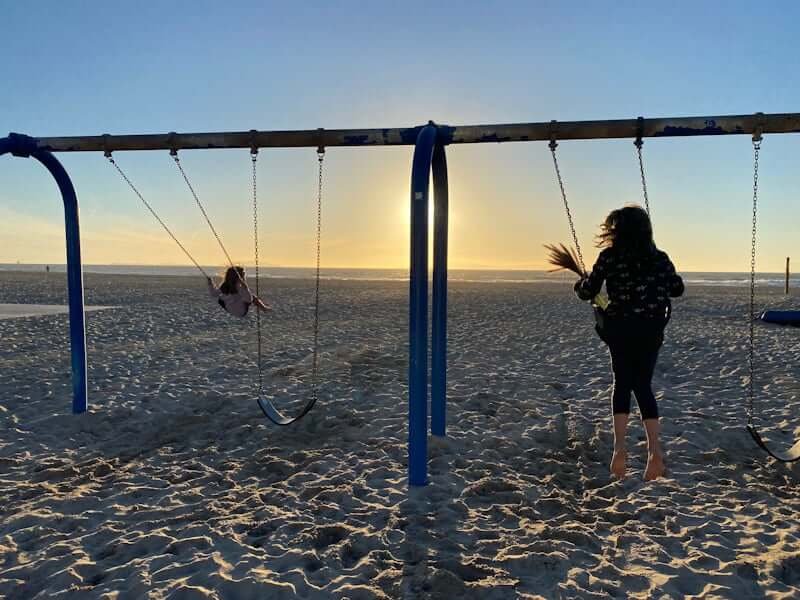 Family game time is AMAZING on the beach, and we can do it anytime we want! We've played baseball games, soccer games, football, frisbee, 37 variations of tag, and a host of other games out on the big open sands!)
The girls saved up to buy their own kites so we have the perfect place to fly them on windy days. (They tried doing this in our suburban areas but it just doesn't work as well, if at all.)
At sunset, we often pop out as a family to enjoy the view. Sometimes we're just out there for a short, easy time, and sometimes we bring out snacks and drinks to enjoy it for much longer!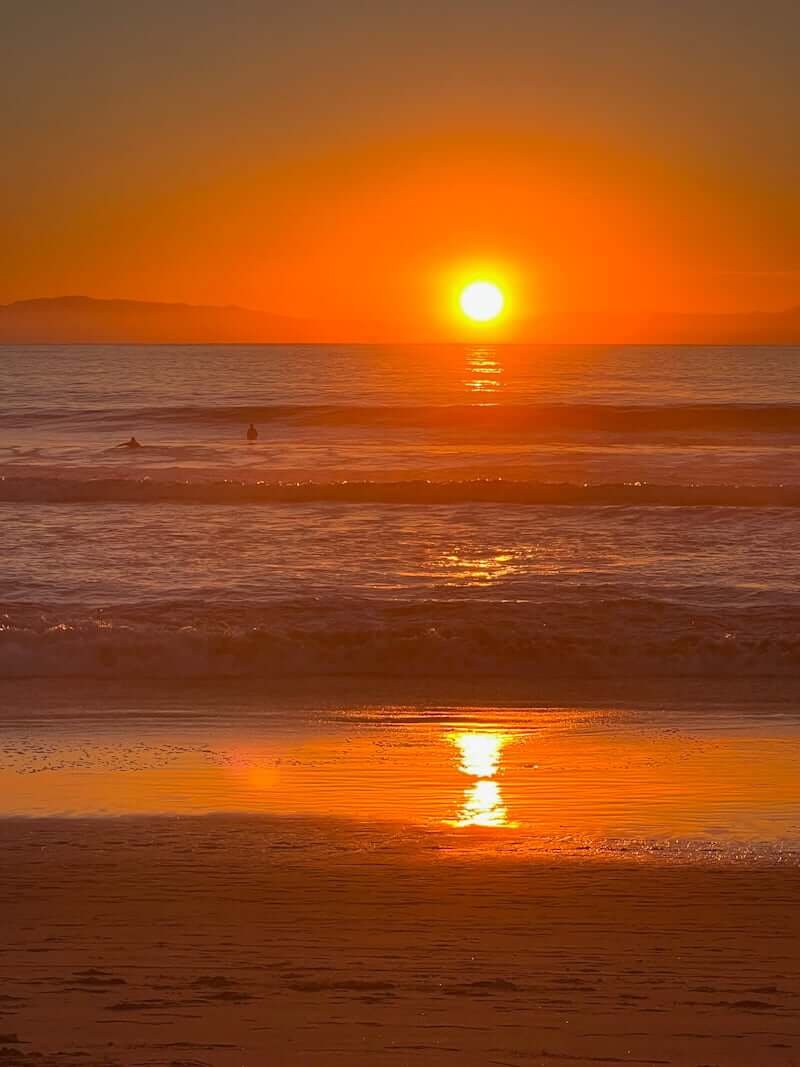 The below photo is on one of our sunset bike rides with the girls, and on the way back we kept stopping to look for sea glass. (We have MASSIVE containers full of all the different colored sea glass we've found over the last year! I never saw myself getting into it but holy moly, it's addictive!🤣)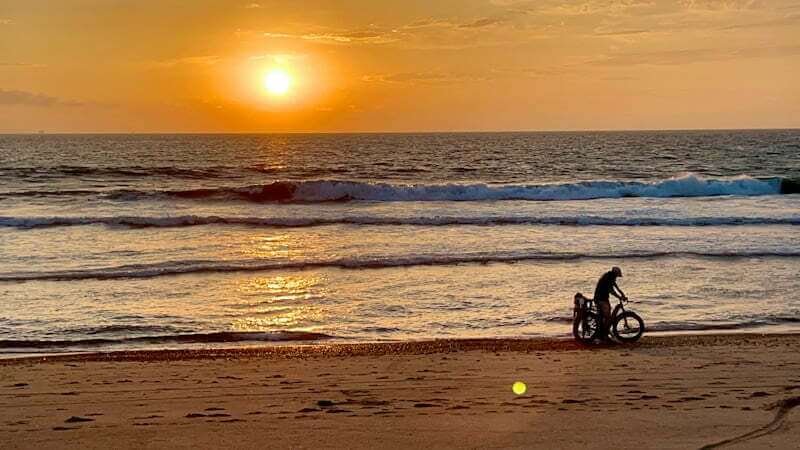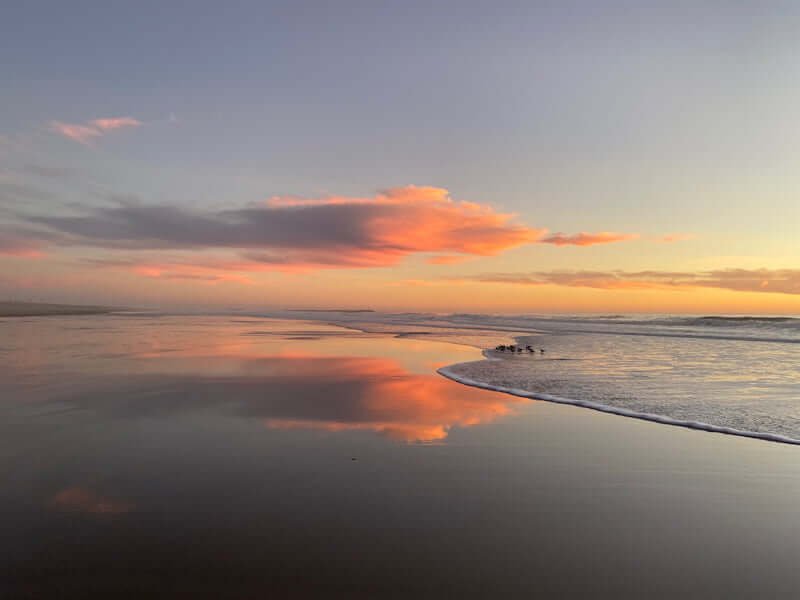 DOWNSIZING TO THE BEACH
#1: Friends & Neighbors!
We've moved a lot, so I know that each time you do, you never know what kind of people you're going to "get"! (Both good and not-so-good!)
With this move, we scored big! Our neighbors are amazing, and the girls have made friends both with a lot of humans and too many dogs to count. We've also met some awesome fellow homeschoolers through group events, which is fun because we're often both on more flexible schedules! (Which means more beach days and field trips are possible all together, which can feed my adventure bug. 😉 )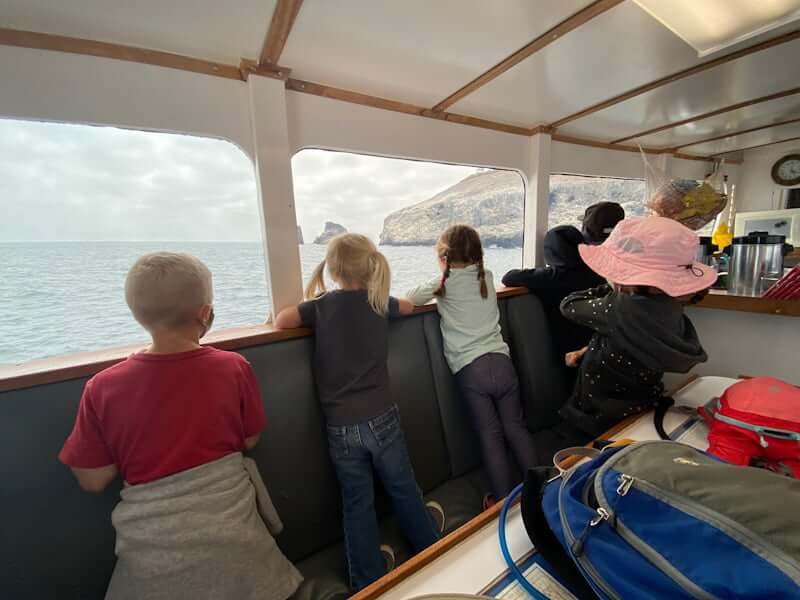 The girls also did a number of fun sports, art and zoo camps. (During one of them, another homeschooling mama and I would go hiking in the hills around Santa Barbara…or rollerblading along the best beach and harbor pathways. I hadn't rollerbladed since I was maybe 13, and she was amazing at it, and it was SO MUCH FUN. I laughed a LOT at myself…e.g. "That car had better stop because I can't!"😂🤣)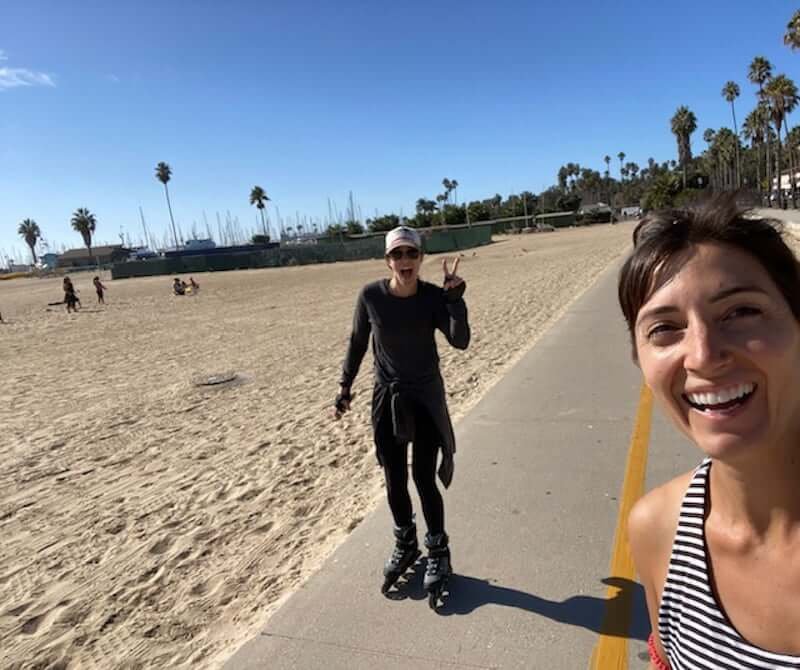 DOWNSIZING TO THE BEACH
What's Next?
Honestly, I had trouble narrowing it down to just seven things. (I know, imagine that.😆)
We've truly just been enjoying our time SO MUCH this past year that I don't have time to include them all here…
What's next? You may not believe it…coming soon!😉
👉In the meantime, while I haven't even come close to writing posts about every single one of our adventures and travel destinations, but I've done a few and you can see them HERE!