In today's post all about our master bedroom sitting area with fireplace, we're sharing
1. Layout ideas with floor plans and dimensions
2. How we expanded our usable size without major renovations
3. Answering the question "What do you do with the sitting room in a master bedroom?" with a variety of master bedroom sitting area ideas.
4. Before & Afters of our own sitting room!
---
Before we bought this house, we were not looking for a master bedroom with fireplace and sitting area. It never crossed our minds. It wasn't even on our "Would Be Nice but Not Necessary" List.
Yet we got one, albeit with a layout, dimensions and floor plan we weren't in love with at first—but we'll get to how we fixed that!
"Why," you might ask, "Weren't you two in love with this area at first?" Well, it had this lovely wood railing right along the step from the master bedroom sitting area to the sleeping area.
If anything could "ruin the mood" in our bedroom, it was this railing! And don't nobody want that!
Thus, it was eliminated faster than you can say 1986.
(Check out the remarkable before and afters—along with how and why we refinished the hardwood floors in our bedroom—here.)
MASTER BEDROOM WITH SEPARATE SITTING AREA:
How It Looked "Before"
This is the only room in our house with high ceilings! Everything else has 7′ or 8′ ceilings.
The master bedroom sitting area with fireplace, pictured before we bought the house:
The Master Bedroom Floor Plan "Before"
Before we purchased this house, here's what the master bedroom with sitting area floor plan looked like:
The railing was 8′ long and we removed it for these 3 reasons.
Not only was the railing itself dated, but functionally we just couldn't wrap our heads around why it was necessary. We dreamed of opening up the room so we could step freely between the sleeping area and the master bedroom sitting area. No railing in the way dictating the layout or floor plan.
We actually gained usable space without adding an inch to our sitting room, simply by removing that railing. It improved our layout options, but I'll get into more details on that later.
This separate sitting area was about to get a major makeover—including an expansion of the sitting area dimensions—with minimal renovating!
MASTER BEDROOM SITTING AREA:
The Sitting Area Dimensions
First, let's start with our master bedroom sitting area dimensions, including the fireplace:
From the windows to the step, it's 12′.
From the back wall to the fireplace, it's 12′ 9″. (This doesn't include the space to the left and the right of the fireplace, which add another 2′ in depth. The left side is filled with a built-in bookcase, and the right side is open.)
Now, with those dimensions, let's discuss the floor plan challenges and what we did!
MASTER BEDROOM SITTING AREA FLOOR PLAN:
Determining the Ideal Purpose & Layout
When the prior owners lived here, they used this master bedroom with sitting room as a multipurpose space (from what we can tell judging by the furniture that was placed there). A rolltop work desk suggested that work was happening here. A loveseat and several chairs hinted that lounging around by the fire might be happening here, although the ottoman wasn't in front of any of the chairs and was pushed up against a window. The sitting furniture also wasn't optimized if this couple wanted to sit together in front of the fire.
We're not against multipurpose rooms. Sometimes they can be highly functional! For example, our 4th bedroom downstairs is actually our laundry room, office, and guest room (which I 100% realize sounds WAY too crammed and weird when you're just reading about it in these words I'm typing, but when you actually see it, you'll understand how it works!).
However, there are times in certain rooms—like a bedroom—when you want to keep the "purposes" as few as possible. A bedroom is best kept for sleeping and relaxing, as much as it possibly can be. Many articles can easily be found on the internet about this (such as here and here).
So how exactly would we decide how to use our separate sitting area, as well as set up the ideal layout? First, we wanted to nail down exactly what we'd use it for, which brings up a common question we'll discuss next.
MASTER BEDROOM SITTING AREA IDEAS:
"What do you do with the sitting room in a master bedroom?"
Before we were the unsuspecting owners of this master bedroom with separate sitting area, we didn't know the answer to that question!
While the prior owners had a small loveseat there, it looked like they primarily used it as a workspace (as the loveseat was covered in clothes and the desk was covered in papers), even though they also used the downstairs bedroom as a large office.
We could see at least three directions we could go with this sitting room in our bedroom:
MASTER BEDROOM SITTING ROOM & FIREPLACE:
Idea #1. Use it as an extra workspace.
This can be a good solution for people who don't have anywhere else they can possibly work from.
As mentioned earlier, we'd turned the 4th bedroom, located downstairs, into our laundry room/guest room/office. You might think that combination would be too crowded…but nay! We have a stunning cabinet bed that folds up into a very small space and acts exactly like a console table to us in that room. So really, in daily life, it just feels like a laundry room and office!
So, not only did we not need an extra workspace (even come COVID), but we just intrinsically believed it wasn't a good idea to have a workspace in our bedroom. (More on that later.)
MASTER BEDROOM SITTING ROOM & FIREPLACE:
Idea #2. Use it as an exercise or hobby space.
So many possibilities here!
While our home has lots of space, we do not have a dedicated gym room. So, someone could potentially do that with this space. (Personally, we like having the space be something beautiful and calming to look at—since it's our bedroom and we look straight at it from our lovely bed area—and gym equipment just doesn't say either of those words to us.)
We've seen neighbors with the same house floor plan use it as a hobby area, such as for musical instruments or other endeavors, but we weren't in need of that. (Our top two hobbies are travel and the house, so thankfully we weren't in need of yet another room for something!)
[Although, now that I'm thinking about it, I wouldn't mind if Matt wants to take up massage therapy as a hobby! Then we could 100% forget the seating, put a massage table into this space, and make it into a candle-lit spa area. Hey! A girl can dream!:) ]
MASTER BEDROOM SITTING ROOM & FIREPLACE:
Idea #3. Use it as an adults-only retreat & relaxation haven.
This was the first option we were really drawn to and have stuck with. While our home already has both a living room and a family room, an "adults-only" retreat didn't sound too shabby either.
And like I said at the start of this post, we were not looking for a house with a master bedroom sitting area. Not one bit! It is in no way necessary or imperative to our lives. But while we have it, why not use it?!
MASTER BEDROOM SITTING AREA BEFORE & AFTERS:
Remember how the separate sitting area looked before?
Before:
Master Bedroom Sitting Area After:
area rug | blanket | olive tree | moss | pot | area rug | similar rug | similar rug
MASTER BEDROOM SITTING ROOM & FIREPLACE:
The wall above the couch:
While we've left it open for now (negative space can be a positive!), I do have some ideas for future artwork above the sofa. Right now I'm mulling over the idea of something large-scale, modern, and abstract to give this space a little more drama if we decide we want that.
But for now we're just happy to have this comfortable, open, stress-free space to curl up in!
The furniture:
We decided to go with one large couch and a ginormous ottoman (more on those below). The reason we did this was to create an uber-cozy spot for relaxing, reading, enjoying the fire, talking, and connecting together as a couple.
The curtains, plants, & all decor:
I'll talk alllllll about the decor further down with some closeups. Links to each item will be below each photo showing that item!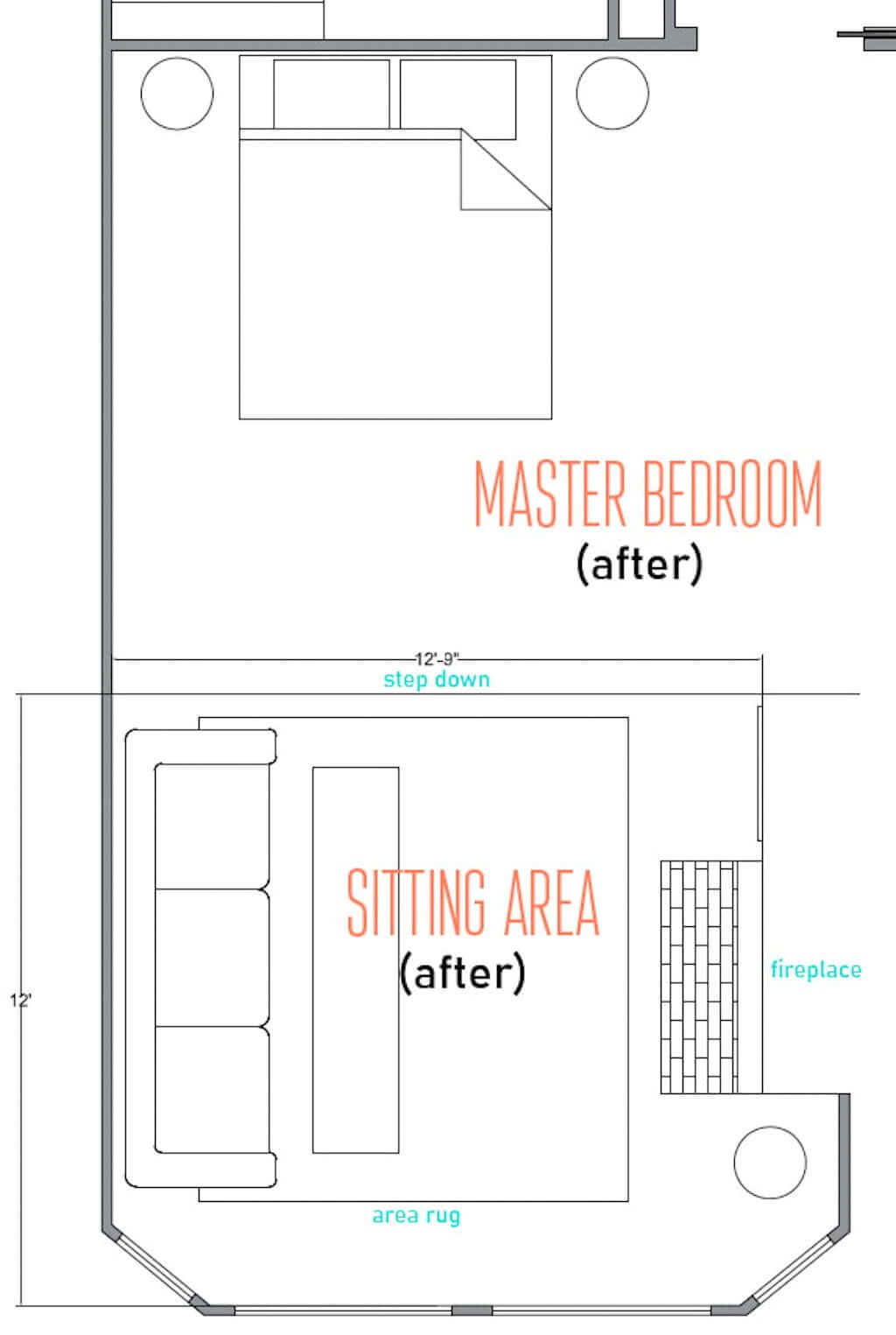 Master Bedroom Sitting Room Before:
Master bedroom sitting room AFTER: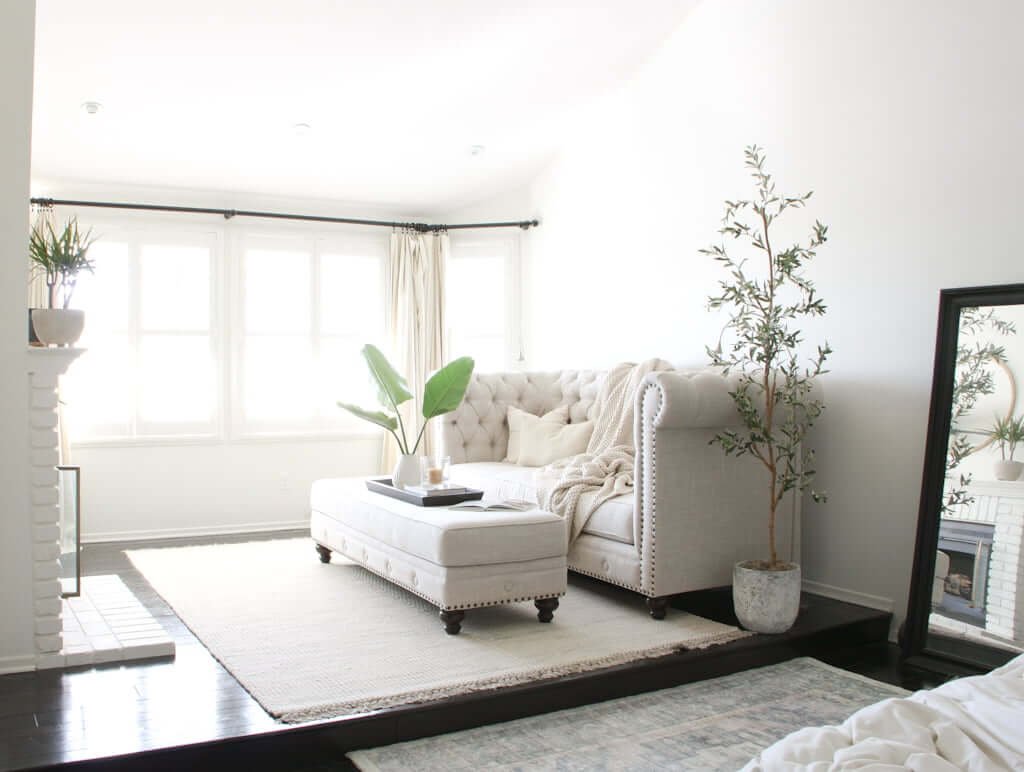 area rug | blanket | olive tree | moss | pot | rug | similar rug | similar rug | planter
I've also thought about adding some lighting hanging from the ceiling here, but haven't found my "vision" yet. I'm not worried; it'll come when the time is ready! We have puh-lenty of other projects to focus on!:)
We also updated the brick fireplace in our sitting room with a super quick but impactful makeover, which you can see WAY more about here!
Master bedroom fireplace "Before":
Master Bedroom Fireplace After:
mirror | wood tray | planter | similar jar | similar tray | gas log kit | rug
All the info on how we transformed this fireplace can be found right here!
MASTER BEDROOM WITH SITTING AREA LAYOUT:
Sitting Room Layout Ideas
If you're looking for layout ideas for your own bedroom sitting area, there are many! While I'd like to say they're unlimited, it really depends on your space.
DIMENSIONS & FLOOR PLAN
For example, do you have windows in the space? A fireplace? How many square feet do you have to work with? And is the room you have more of a square shape, or is it more rectangular? How narrow or wide are the dimensions you're working with?
ROOM USE
How will you use the space? Do you plan to be there alone most of the time, or do you want to share the space with your partner while you're in there (or a mix of both)? If sharing the space, do you want to sit together or does each person want their own separate chair or sitting space?
I highly recommend that you consider what activities you want to engage in while in your master bedroom sitting area. Will you need an ottoman or a coffee table? Side tables? A place to keep books or your sewing? What kind of storage will you need?
And while all the experts recommend not having a TV or computer in your master bedroom sitting area, you may need to—so how will that function? How will that look? Where will you need it? Do you have all the outlets you need where you need them, and so no one will be tripping on cords?
PRIORITIES
Take into consideration your priorities for the room. If you have a fireplace, do you want to be close to it or further from it? Do you want to face the fireplace or another area? If you have windows, do you want to look out them while you're sitting, or have your back to the windows? Do you have a view you want to take advantage of? Or maybe you have a porch outside French doors from your sitting room (lucky you!).
For us, we knew we'd be using this space both separately and together, but mostly together. So we went with one couch, which was also dictated by the sitting room dimensions we were working with. (I talk more in-depth about our sofa further below.) And while we both agreed on not having a TV in our master bedroom sitting area, we knew we'd want to face the fireplace.
Your space for a separate sitting area may only have room for one comfy chair or chaise tucked into a corner. Or maybe you have room for two couches placed across from each other, perpendicular to the fireplace, which gives gorgeous symmetry.
Maybe you don't want an ottoman but you want a chaise with a small side table. Maybe you don't want the cozy high-backed sofa style we have (I go into detail about why we chose it below!); you want something lower and more modern-looking.
Every space is so unique! We do offer design help (for both local and long-distance clients) if you'd like additional help addressing your space and making it an intentional, organized, beautiful room. Click here to find out more and book your free design consultation.
MASTER BEDROOM WITH SITTING AREA DECORATING IDEAS & DETAILS:
Here I'm sharing more details about each of the more detailed design decisions we made in regards to things like couch size, curtain selections, plants, decor, and rugs.
The Curtains & Rod:
I want to draw your attention to the windows, because they have such an awkward layout for curtain rods! Well, I should clarify: they have such an awkward layout for curtain rods to look good.
You can see it on the floor plan images in this post. There is a large set of windows on the main window wall, but then two smaller, narrow angled walls with windows on each side.
Sure, you can just buy standard curtain rods and hang one big one, then two little ones to each side, but I don't like the way that looks. It's too broken up, and I wanted it to look seamless—like the entire window area is one piece, you know? No end caps from the smaller curtain rods bumping into the end caps of the larger rod.
Our answer came on a trip to Ikea, where we found thick wooden drape rods that we could cut at angles to join together. I'm planning on doing a post on how exactly we did this, but for now you can see how much nicer this looks than if we'd done standard curtain rods.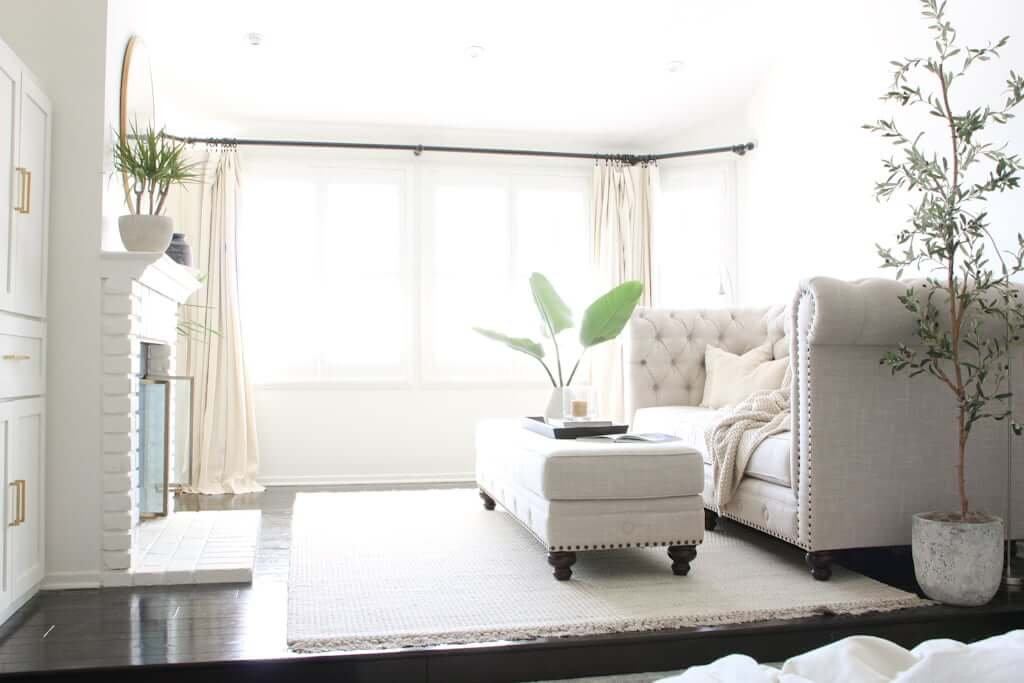 area rug | blanket | olive tree | moss | pot | pillows | book | rug | similar rug | similar rug| mirror |planter | similar jar
The curtains themselves we had custom-made for the sizes we needed. I wanted a linen-style fabric in a cream color (a bit darker and warmer than our wall color), but most importantly, I wanted them to be blackout curtains! As these are curtains into our sleeping space, and darkness is important for quality sleep, I learned long ago that it was important to block as much light as possible during sleeping hours.
There are places you can buy similar blackout curtains like these, but since our widths and heights were not standard, we went custom.
MASTER BEDROOM SITTING AREA:
The Sofa:
We learned to love sofas with high backs in New Zealand, where we had a sectional we absolutely adored because of the higher back that wrapped around the corner peace and made a cozy little nest. I spent a lot of time in that spot after recovering from a surgery, and I learned how wonderful it felt to be more "enveloped" by the couch.
Shorter couch backs definitely have their place, but in this space we knew we wanted height. And we wanted that height to wrap around us, thus the high back AND sides to the couch. We love that we can sit forward-facing together in this couch, with the huge ottoman extending the space and making it feel almost like a huge bed…
…or we can each sit lengthways on the couch, facing each other, with those luscious high tufted sofa backs wrapping around us. In fact, we often seem to sit this way when we're talking and connecting at the end of the day, sharing the big comfy blanket between us!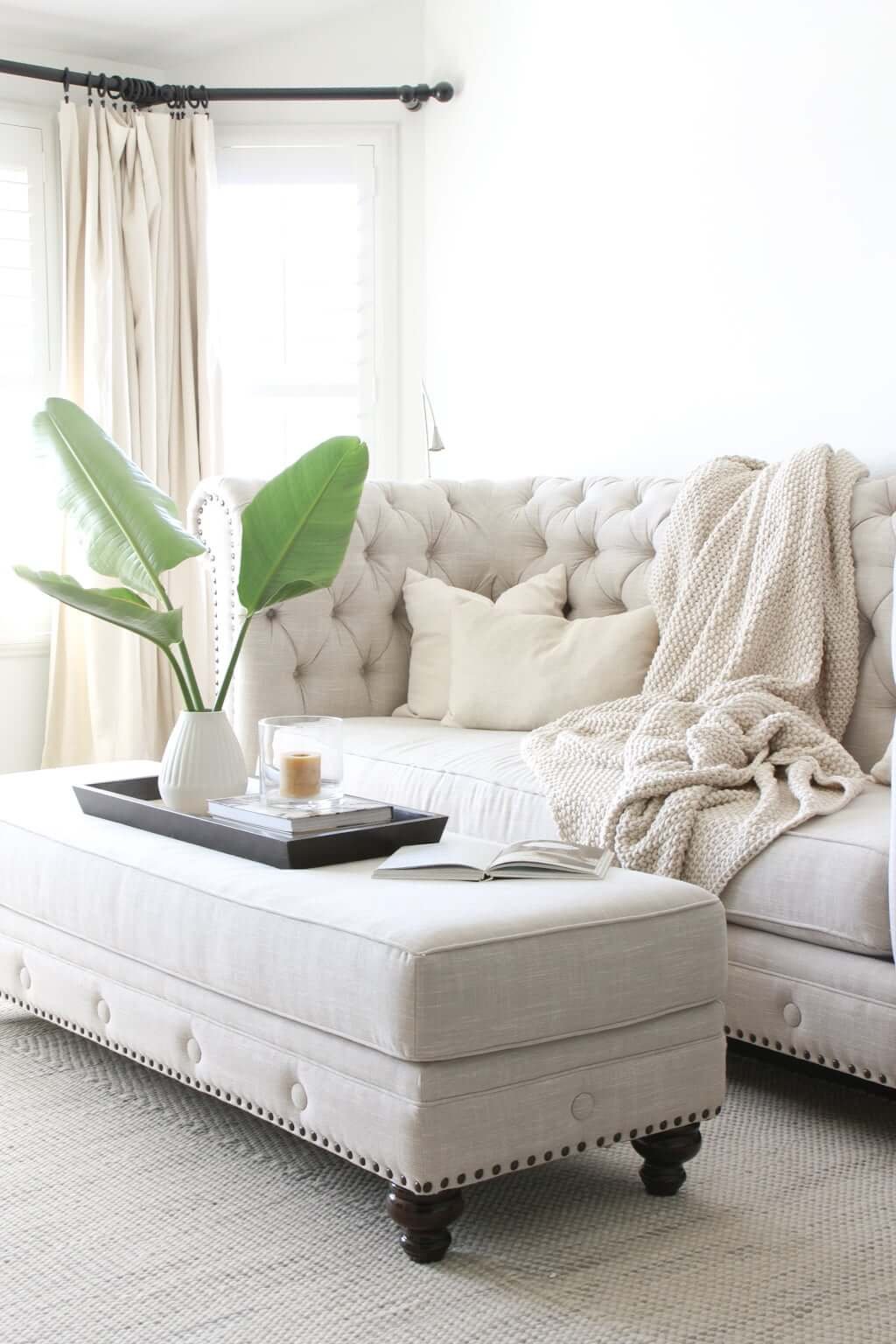 MASTER BEDROOM SITTING ROOM:
The blanket:
Speaking of this blanket, it's worth mentioning BECAUSE IT IS SO AWESOME. I have a bit of a blanket obsession, but that means I am super picky about them! This one I've seen sold out a few times, and I wouldn't be surprised if they discontinued it because it's been out for so long, so if you get a chance, snag it! It's got such a good feel, a gorgeous weave, and it's the perfect mix of light and heavy feeling because of the material and the holes in the weave. They have it in several colors—ours is called "Natural."
The tray:
Trays are a must-have for sitting areas, especially when you have an ottoman-slash-coffee-table. Not only does it work well for setting your cold or hot beverage onto, but it corrals all other items you might want to keep there, pulling everything together for a cohesive look.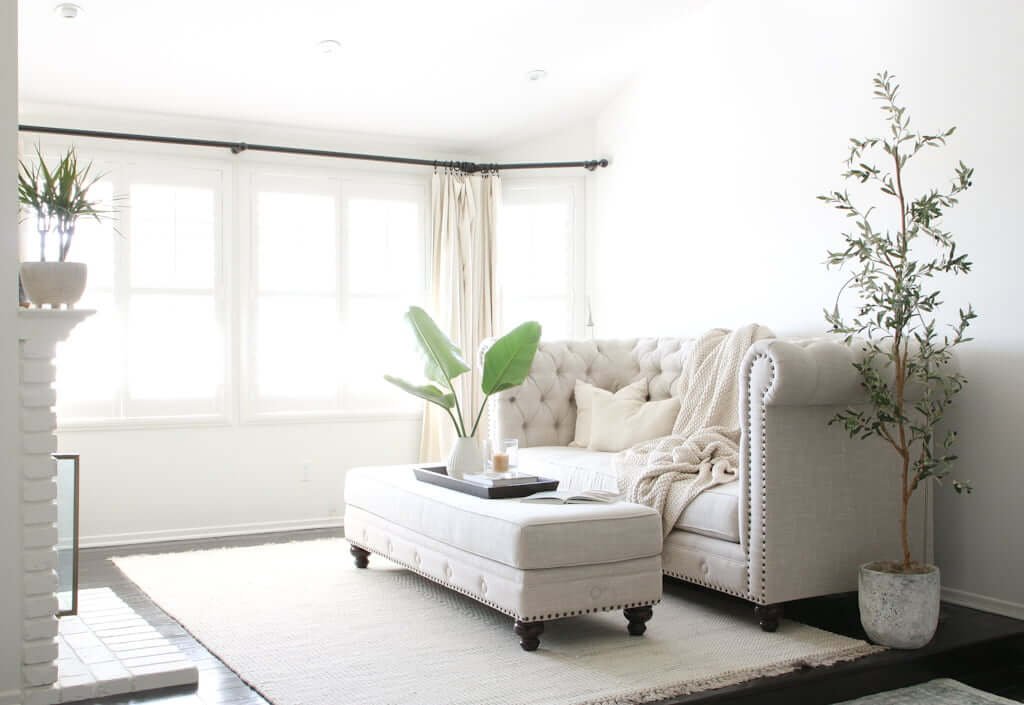 area rug | blanket | olive tree | moss | pot | pillows | book | planter | similar rug | similar rug
MASTER BEDROOM WITH FIREPLACE AND SITTING AREA:
The rug:
If you asked Matt, "How many rugs did Jess have to try before she found this one?" he'd probably just shake his head and laugh, trying not to answer. Because the answer may be horrifying to some. To others, it's completely understandable.
RUGS ARE HARD! I could write a massive article solely on how to choose the right rug. I've learned so much through trial and error.
This one I love because it's
1. handmade
2. made of natural materials
3. the perfect blend of soft while also durable (we originally had a super-soft rug in here, trying to go super luxe feeling, but it just didn't hold up well given how much we use this space!)
4. a gorgeous color. (Ours is called "Oatmeal." Even the name is comforting and warm-sounding!)
5. a unique pattern. It's not the standard symmetrical rug—it has some cool interest to the pattern—but from a distance, the color and pattern still looks even and consistent.
6. affordable. (Area rugs can get pricey, fast!)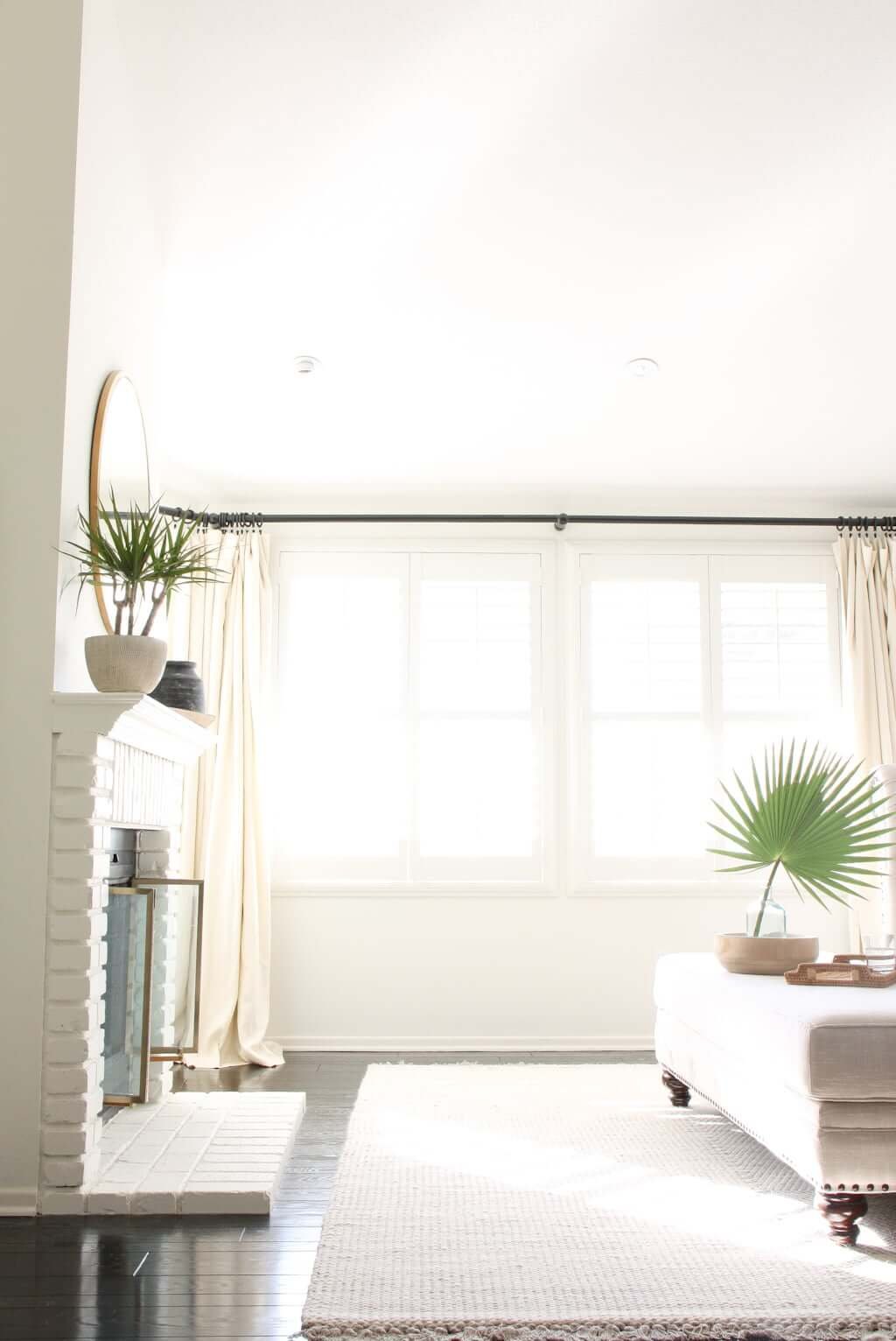 (I love this rug so much that I have the runner version in our master bathroom, in front of our vanity.)
They have most sizes still available as of the time of this writing, so if you're looking for a great rug in an area that gets a good amount of use, we are clearly huge fans of this one!
large rug | blanket | olive tree | moss | pot | pillows | book | rug | similar rug | similar rug
MASTER BEDROOM WITH SITTING ROOM:
The "other" rug:
You may notice that we have another rug in our bed area, and it has a much different look than the one we used in our sitting area.
Personally, I love to not have rugs be too matchy-matchy. I also love layering rugs, which we've done in our living room and family rooms. While I didn't technically layer two rugs here, they're so close to each other that it gives off a slightly layered look, and so I think the same "rules" apply. (Again, a blog post on the "rules" of layering rugs is another one I'd love to write! No shortage of ideas in this brain!)
With our original hardwood floors in the bedroom, I love to layer different rugs to give a cozier feel. Right now we have three different kinds. (The other two you can see better here.)
While the exact rug we show here in our lower bed area is sold out, this one has a similar look and feel. I'll say it again, a good rug is hard to find!
The pillows:
I decided on neutral pillows in our master bedroom sitting room, which blend in and help bring a calm feel to this space. I did play around with some other colors and textures, but in the end I stuck with natural-colored, linen pillow covers. Ikea has some great ones, or there are these pillows on clearance at Target today at the time of writing.
The plants:
For years, I tried keeping a large plant alive in this room—and on this side of the couch, away from the windows. (That's just where it visually looks better and helps separate the two spaces with these high ceilings.) But because the blackout curtains keep so much sunlight out, and the plant was away from the windows, it was difficult. (Even for someone who loves plants as much as I do!)
As much as I try to keep everything REAL and NATURAL in my home, sometimes you just gotta deviate from that a little! I started looking for a tall faux plant that would still keep the more sophisticated "California cool" vibe we had going on in this space, but it HAD to be tall and narrow!
It was a tall order (no pun intended!), but I finally decided on this faux olive tree. Later, I started spotting it all over social media (which, at first, I was a bit disappointed to see because I ideally wanted something more unique, but I have a different outlook on it now!). Now I see the fact that it's in so many homes as speaking to
1) how affordable it is for a tree that NEVER DIES and needs zero maintenance and
2) how many different, varieties of homes and spaces this olive tree fits into!
Because this olive tree is so popular, it goes in and out of stock often, so if you're able to catch it on a day it's in stock, order it!
I fell in love with the planter it's in, which fits it perfectly, and covered the interior olive tree base with this moss.
Here's the view from the bed (well, my side of the bed!) into our master bedroom sitting area!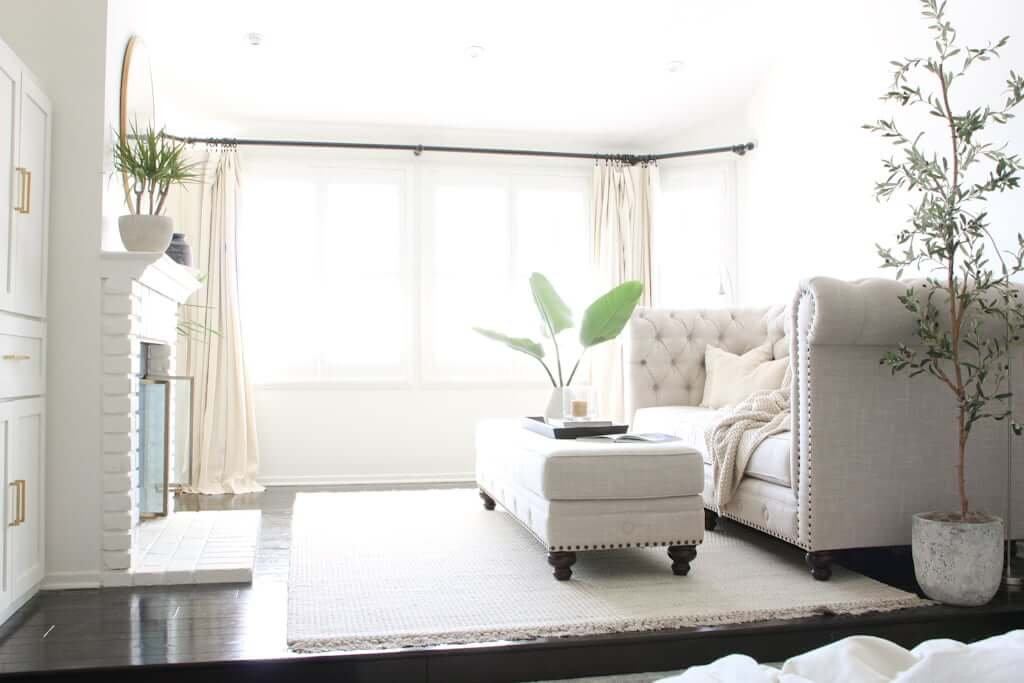 large rug | blanket | olive tree | moss | pot | pillows | rug | similar rug | similar rug | mirror | planter | similar jar
Click to see the actual sleeping area of our bedroom, or to see our sitting room fireplace makeover.
We were able to move our bed because of how we expanded our master walk-in closet before our master bathroom remodel.
What size rug do you actually need for your king size bed? We go over it all!
See all our other rooms here, or on the Shop Our House page.
Don't forget to grab our FREE interior design guide!
And if you'd like to work with us RIGHT NOW you can check out our plans & design guides!
*This post includes affiliate links to help support our site.