Today we're walking you through how and why we made our hidden TV lift cabinet, as well as answering these popular questions:
"How do you make a hidden TV?"
"How much does a pop up TV cabinet cost?"
"How do you make a TV lift?"
"Do TV lift cabinets work?"
"Why hide your TV?"
"How do you DIY a lift cabinet for a TV?"
"Can you make a motorized lift to hide your TV?"
"Can you hide your speakers too?"
And if you want to sing "Smooth Operator" to yourself while you read this post (like I am while writing it), you earn an extra 17,000 bonus points!
We'll also address why we did this DIY project differently than most TV lift cabinets out there!
NEW! Make your own TV lift cabinet for cheap using our plans!
Why hide your TV?
The truth is, I'm not a complicated woman.
Today's short story about The Big Black Rectangle is no different.
My plan was simple: hide the TV.
Why? My reasons were threefold… (Anyone else hear Phoebe's voice saying that about Chandler in a box?)
TV LIFT CABINET
Reason #1: The function.
Functionally, I wanted our living room to not be "The Place Where We All Watch TV." Call me old-fashioned, but I really want a family atmosphere where our living room is more like, "The Place Where We All Connect!"
While there are all kinds of ways you can hide a TV these days, I still feel like the layouts of most living rooms make it clear that "Hey! They're trying to hide their TV right there!" Couches are pointed right at it on the wall, even if there are attempts to hide the fact that it's the obvious focus of the function of the room.
Even with the frame TV, where you can attempt to fool yourself and others into thinking it's just a ginormous TV-shaped piece of artwork, we all know it's still a TV. (i.e. Are you fooled by these? Of course you aren't!)
And I didn't want that because…
Reason #2: The reminder (or lack of).
When I started dreaming up ways we could DIY a hidden TV, my kids were even younger than they are now, and still the TV was a reminder to those little brains. The Big Black Rectangle was always in front of their faces as they played in the living room—a constant reminder that TV was there.
We didn't let them watch much of anything, especially the first couple years, but they still quickly learned what That Big Black Thing was for! Interesting pictures and sounds came from it! For example, if they finished playing with a puzzle on the coffee table, they'd look up and BAM, there was that TV screen staring them right in those cherubic faces. It was an instant visual reminder. They'd point and gurble out something that meant, "Watch?"
And the more that happened, the more I was convinced I needed to make that big black rectangular reminder DISAPPEAR like magic!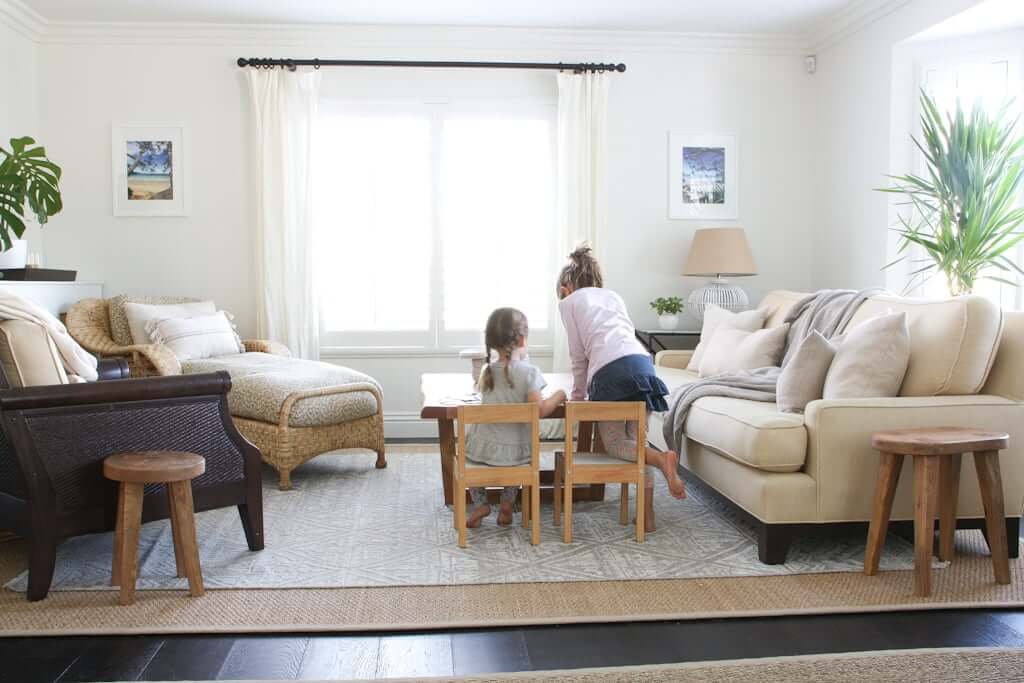 I didn't want to get rid of it entirely, because there are times (ahem…sick children) that being able to have them watch a kid-friendly video comes in handy. But on our average day at home, I was aiming for them to rarely ask for TV, much less think about it! I wanted them to grow to be creative, self-entertaining individuals.
Even if you don't have kids, I still think it's brilliant to hide your TV! It's too easy when you're tired or don't have a hard plan or schedule for your day to look up, see The Big Black Rectangle just like my kids did, and immediately be triggered into thinking about crashing onto the couch and just zoning out for a bit. Nothing wrong with that occasionally…
…but I know many of us who like to spend time connecting with others face-to-face, and like to create and make things and think freely, don't need the reminder that there's a passive option right there to "entertain" us 100% of the time.
Reason #3: The look.
The fact that millions of people are searching the internet for how to hide their TVs means I don't need to write to much about this one, because chances are you already agree with this! 😄
Does anyone think TVs are stunningly gorgeous? Because we're hiding them in corner TV cabinets, armoires, behind sliding barn doors, maps, and mirrors, putting other frames around it, coming up with ways to fool the eye into not seeing The Big Black Rectangle, and trying to make it look like a piece of artwork. (To name a few.)
It's safe to say that most of you don't love the look of TVs, and neither did we.
POP-UP TV CABINET
"How do you make a TV lift? And how do I decide on a design?"
First, make a list of what you want from a hidden TV lift cabinet. Such as
Where are you placing it? Living room, bedroom (such as at the end of your bed), or are you envisioning an outdoor TV lift cabinet?
What's the size of the TV you're using for your TV lift cabinet? (Height, width, and depth.)
What's the final height you want to view your TV at?
Next, ask yourself what you're hoping to achieve from the cabinet, such as
Do you want it simply to blend into the rest of your room, or do you want it to stand out?
If you want it to blend in, choose elements that sync up with the rest of your room. (Ours, for example, was white wood with woven cane material, which we'll explain more about function-wise below!)
Do you want it solid or with some pass-through for sound? (We'll share about why we wanted this as well below.)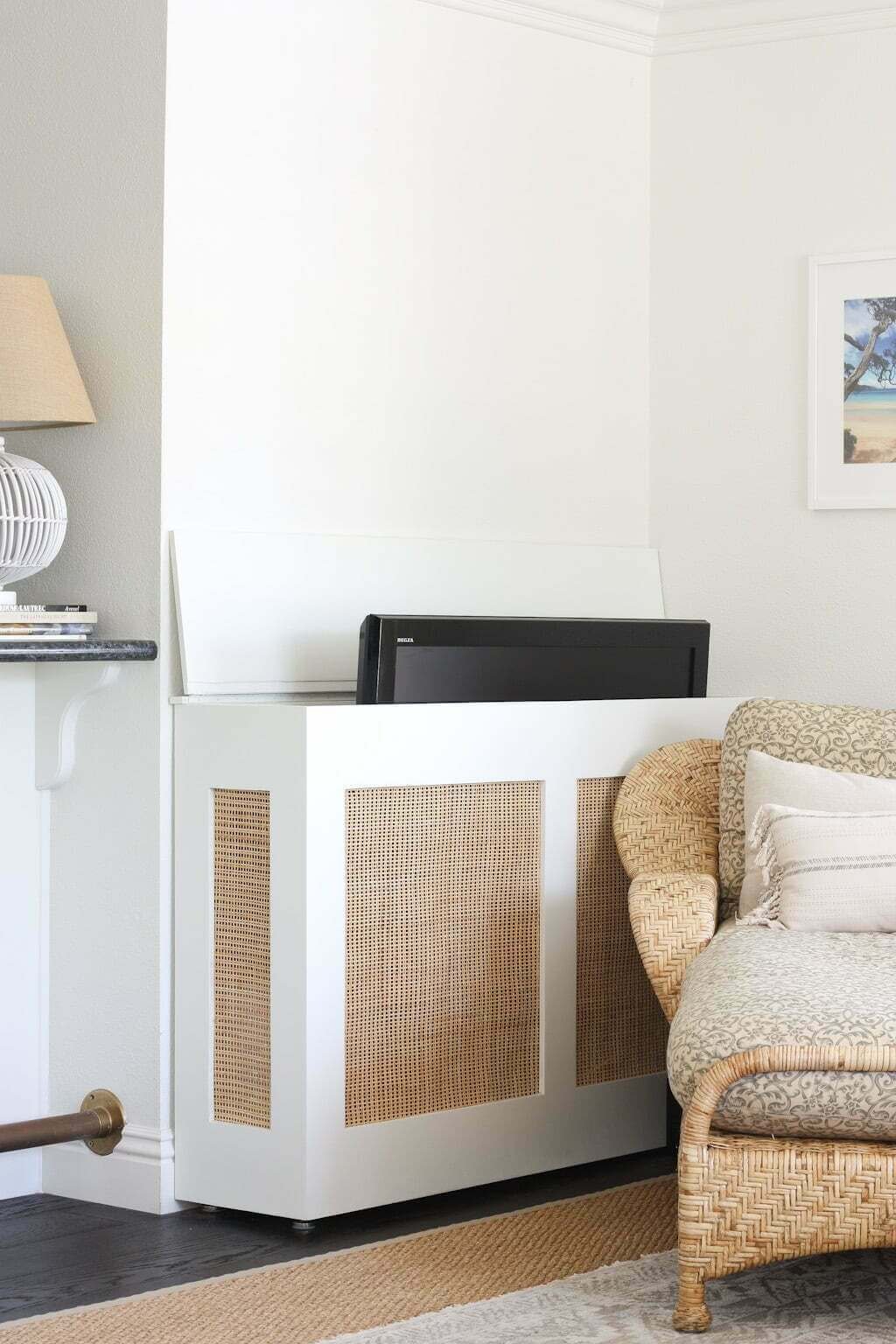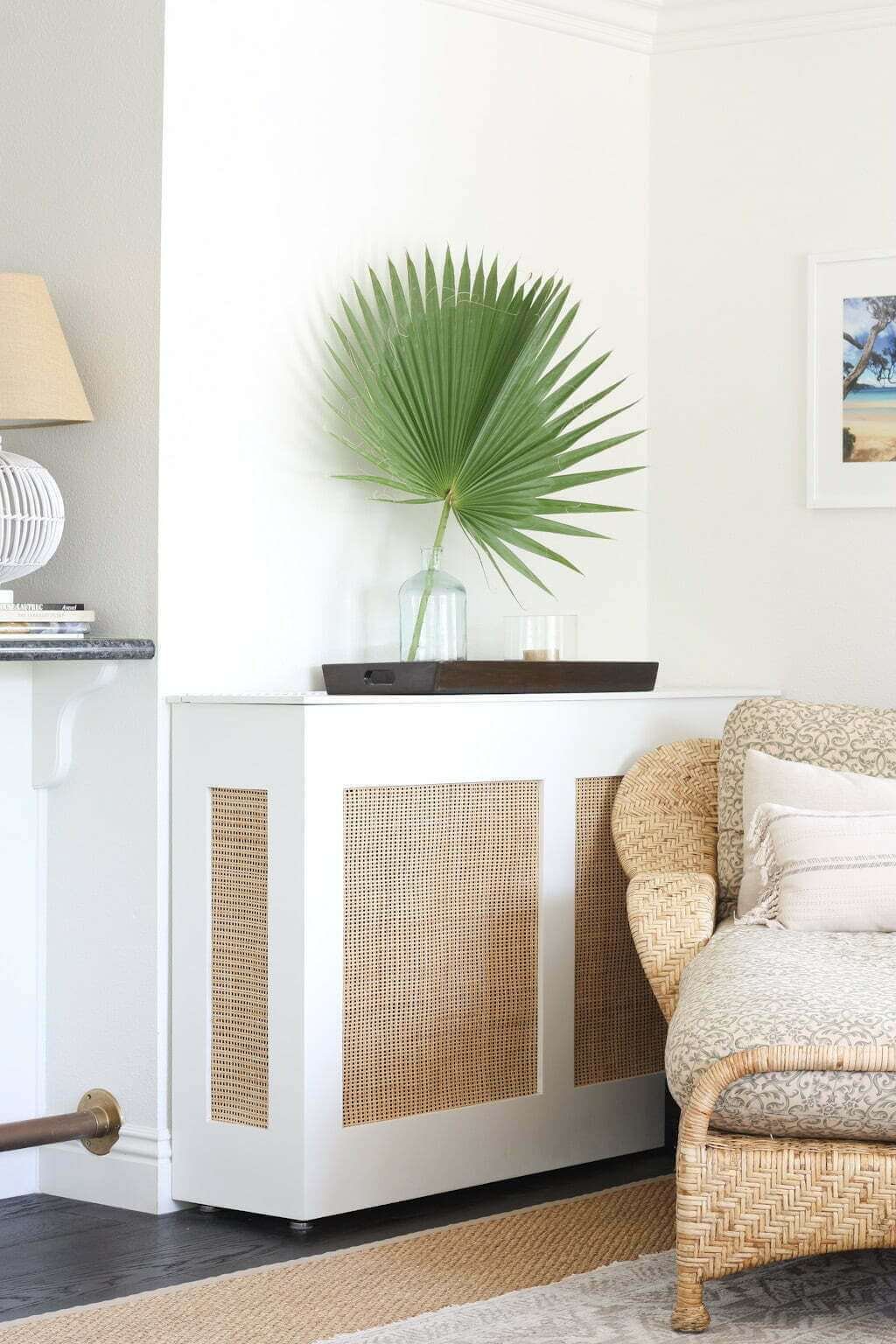 ---
➥TIP: Don't be afraid to take your design in stages!
For example, I wasn't sure at first if I wanted all-white (to blend in more with the walls) or some wood tones and white. I ended up asking Matt to paint the wood white and leave the cane material. When I first saw it, I still wasn't sure if I liked the blend together or if I wanted to paint the cane as well—but now I love that we left it as is!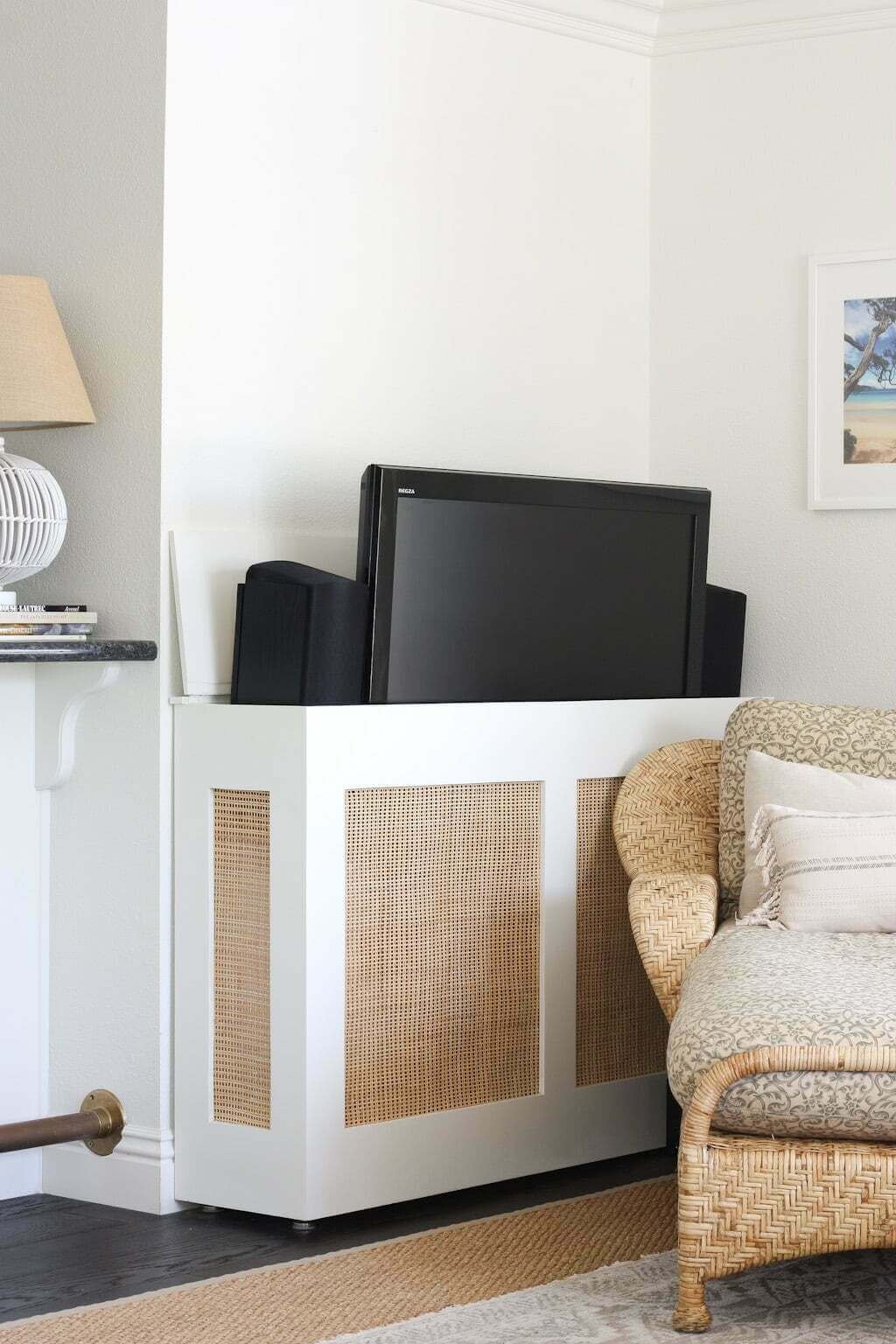 "How do you hide the TV speakers, especially if you have surround sound?"
We have five speakers and while two of them (the rear speaker) are hidden in other spots in the room, we have a set of three speakers that give better sound directly from the TV. (So I am told by Matt. Me, I leave speakers and sound quality up to engineers like him and funnel my creative juices more towards obscure Friends references. We all make our choices.)
So that these three speakers would also be hidden with the TV inside the retracting TV stand, Matt installed two of these on either side of the TV, and one below it. (See photo below.)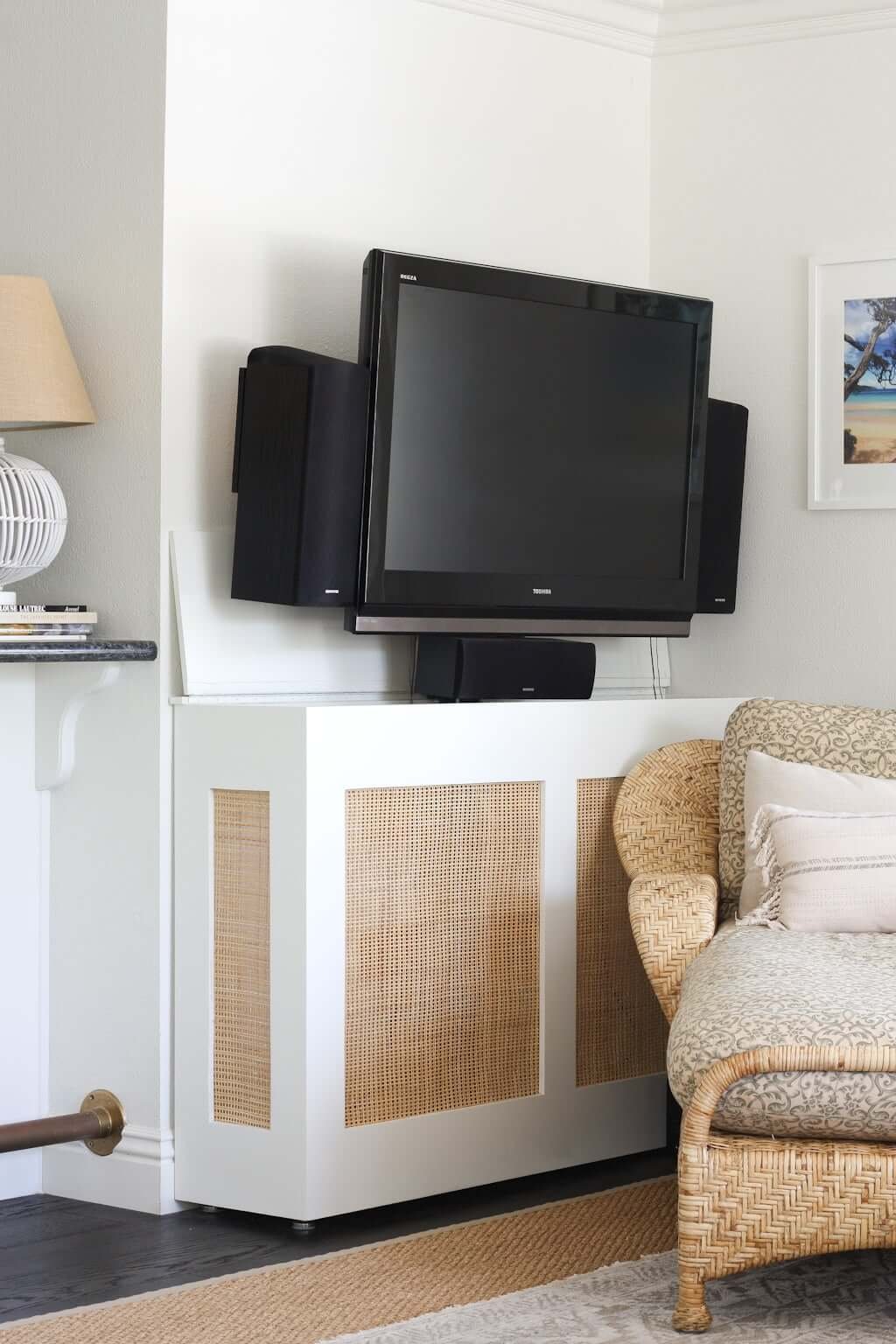 Some of you may not need to have your speakers with your TV like this, if you don't have surround sound. And I'd say that would make a much prettier picture here but I'm more interested in showing you reality! And the reality is that if you're going to embark upon a project to hide your TV—and you have surround sound or extra speakers—be careful not to forget about "hiding" those as well!
TV LIFT CABINET
"What if you want to play music from the speakers without seeing the TV?"
I'm so glad you asked! This was actually the whole reason we went with the cane finish on our hidden TV lift cabinet. (Which is another element that's different than any other motorized TV lift cabinets we've seen out in the DIY world.)
Because these same surround sound speakers in our living room are what we usually listen to music from (did I hear someone say family dance party?!?)…
…we wanted to be able to listen to music through those three speakers around the TV even while the TV was hidden in the pop up TV cabinet!
Hence, the cane element that provides the hiding without completely muffling the sound.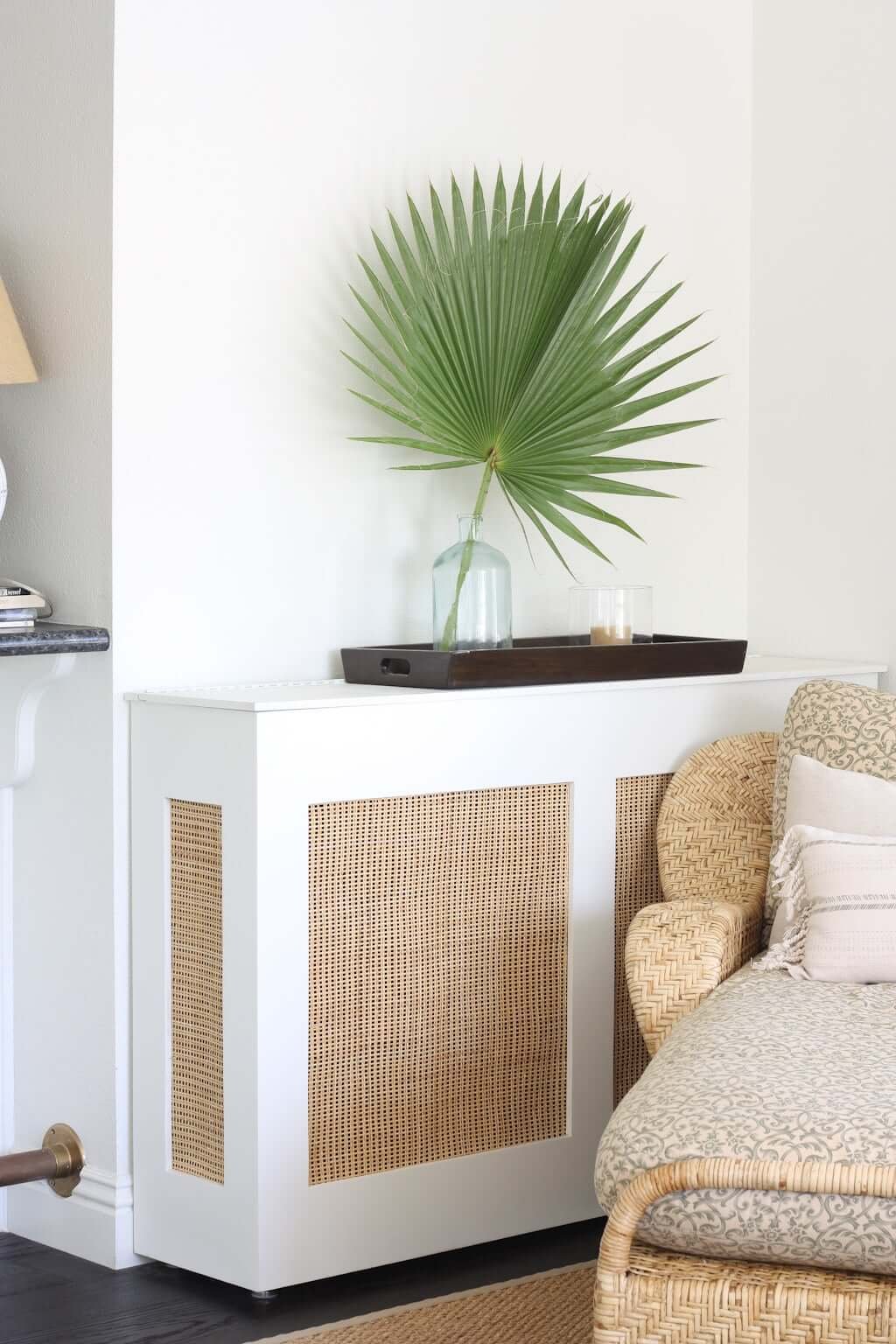 Whether you want yours bigger, smaller, or with different materials, we've got you covered! Get our TV lift cabinet plans HERE!
The last little piece I'll mention is about the furniture in front of our hidden TV lift cabinet (and the speakers). If you're wanting to use a material that still allows sound to come through your speakers even while the TV/speakers are retracted, you'll still want to consider the furniture that's in front of it.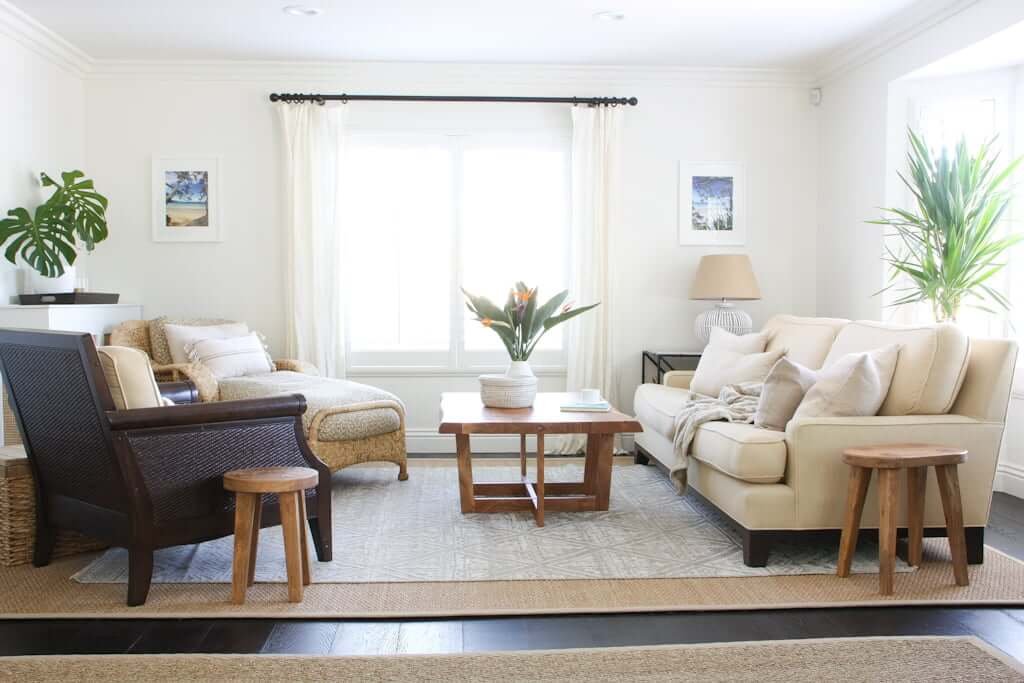 Right now, we have our woven chaise to the right side, which would partially block the right front speakers if we were to leave the speaker inside (and not have it lift up with the TV). And previously, since I'm the Queen of moving furniture around, it was in a different spot with two slipper chairs in front of it.
Just something I believe is important to mention as you consider your lift TV cabinet elements: depending on your final style, consider the furniture around it!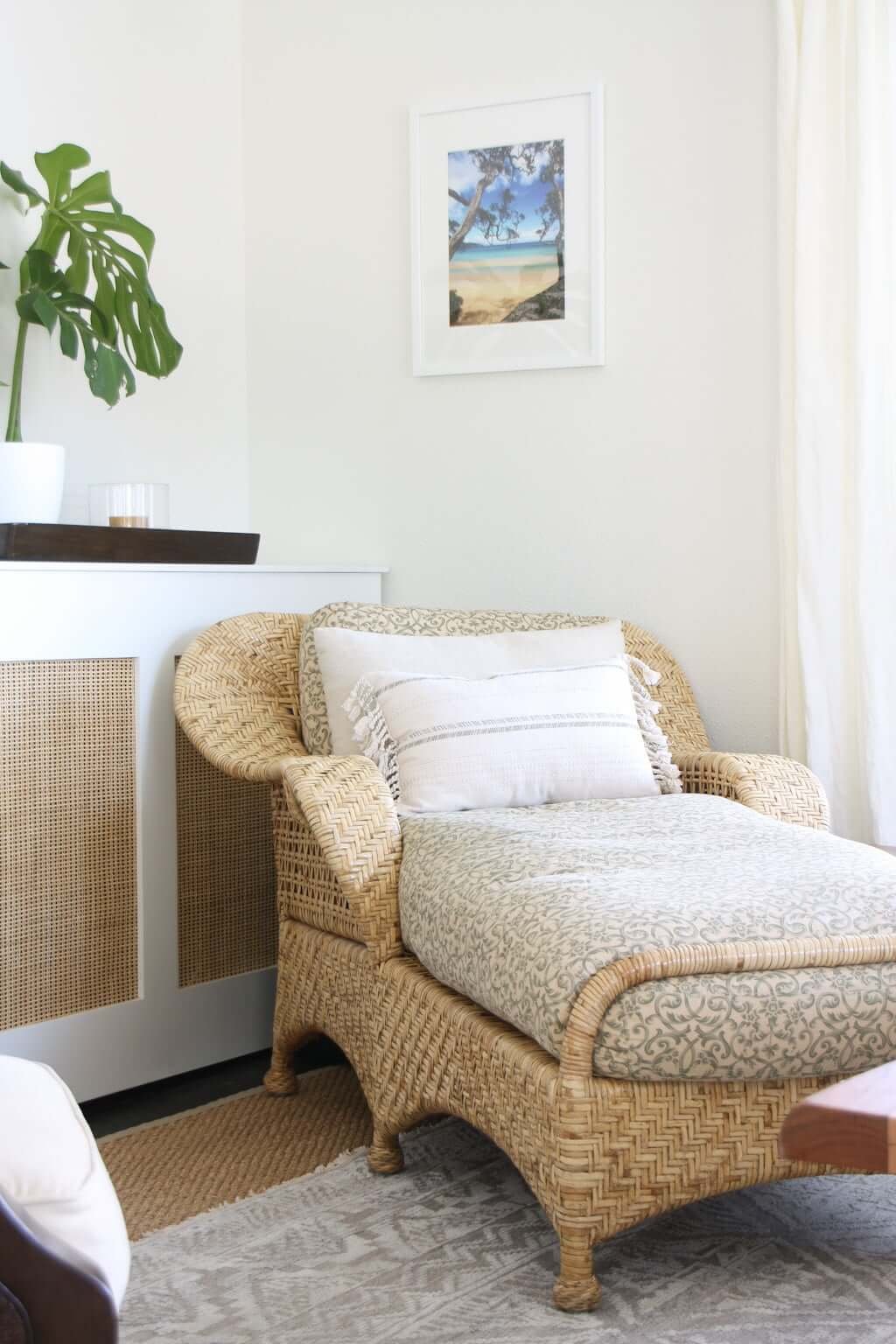 Download our TV lift cabinet plans HERE!
DIY TV LIFT CABINET
How to Make This Lift TV Cabinet
While buying a pre-made TV lift cabinet can cost anywhere from $3,000-5,000, we built ours for less than $150! (Plus the cost of the lift mechanism, which felt like a great deal compared to what we'd pay for a pre-made version. Just grab your power tools and do it for up to 91% cheaper!)
➜ We've broken the instructions down into three steps, available in our Plans & Design Guides area! (Or you can get to the plans directly by clicking here.)
Here's a preview of our hidden TV lift cabinet in action!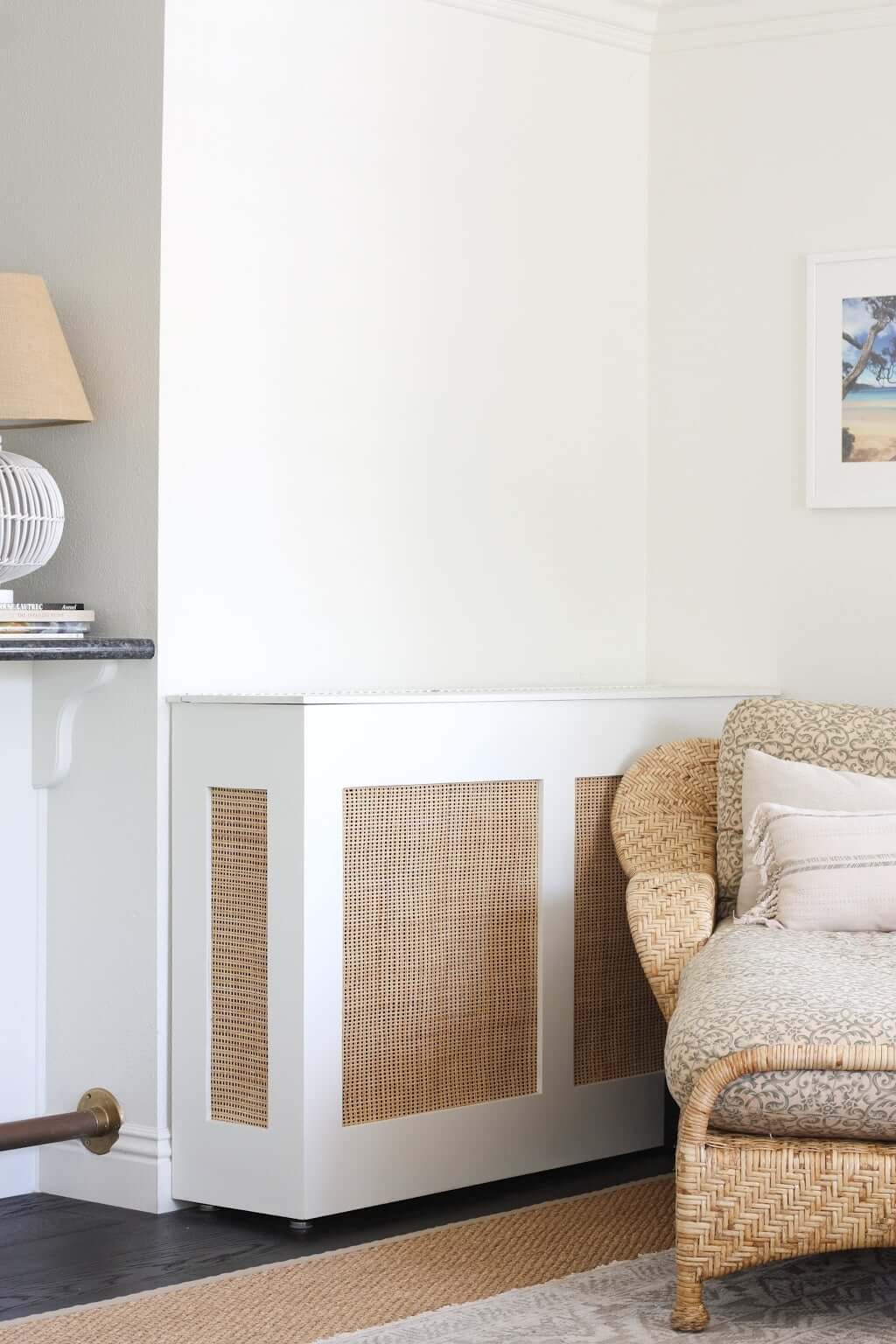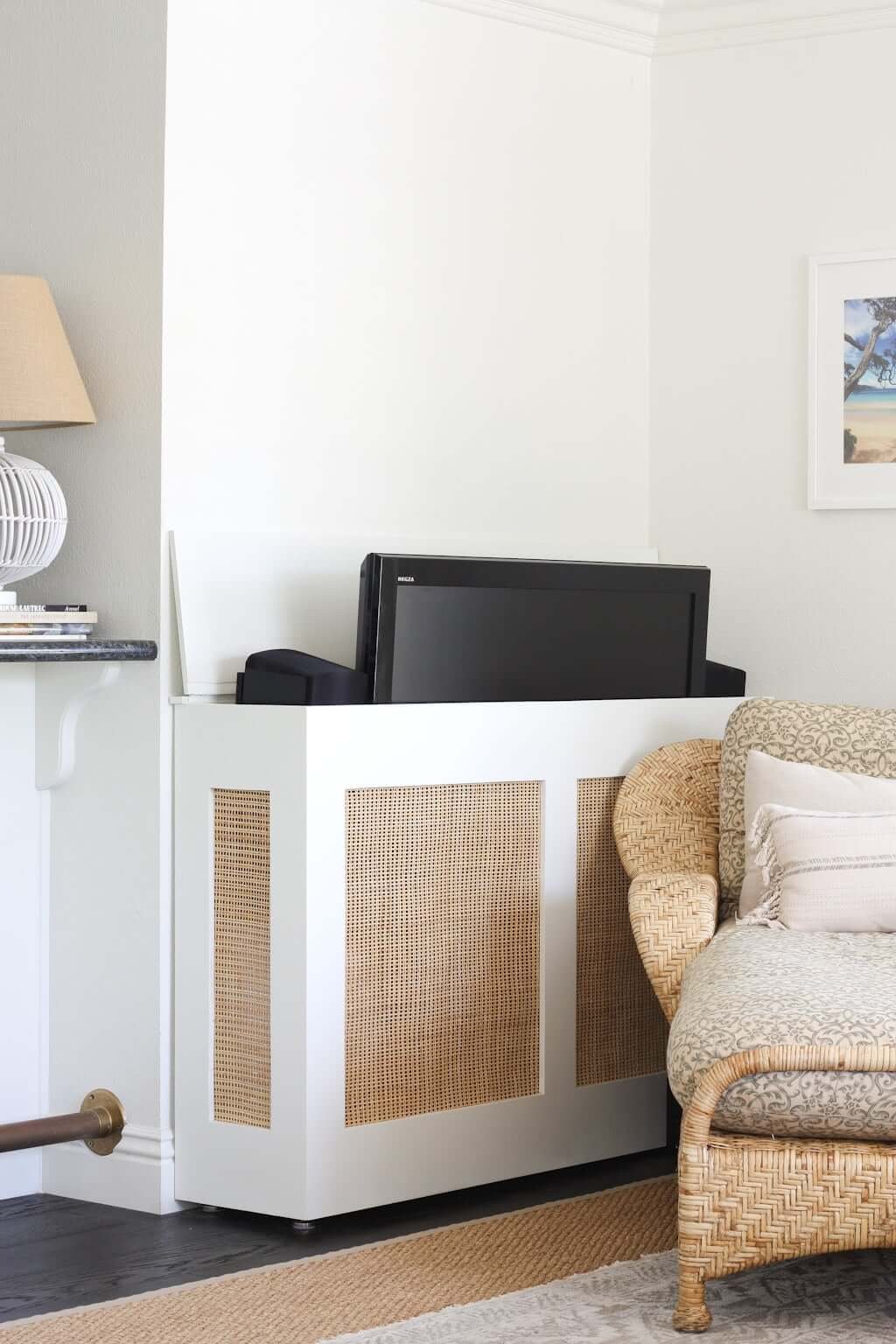 If you prefer to see it "live", we also have a quick clip of our pop up TV cabinet DIY on our Instagram page, or this below video from our YouTube page!
We used THIS TV lift mechanism.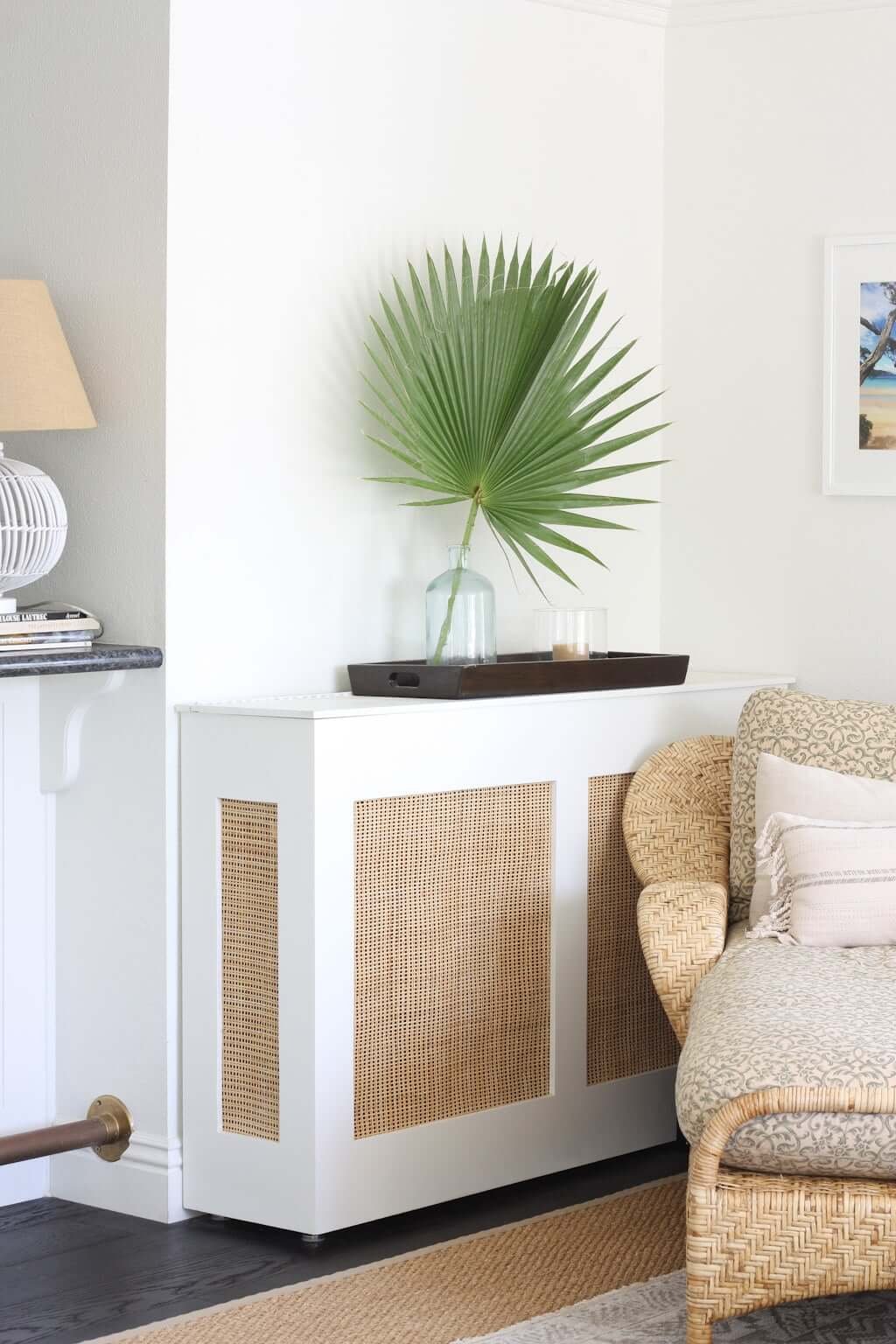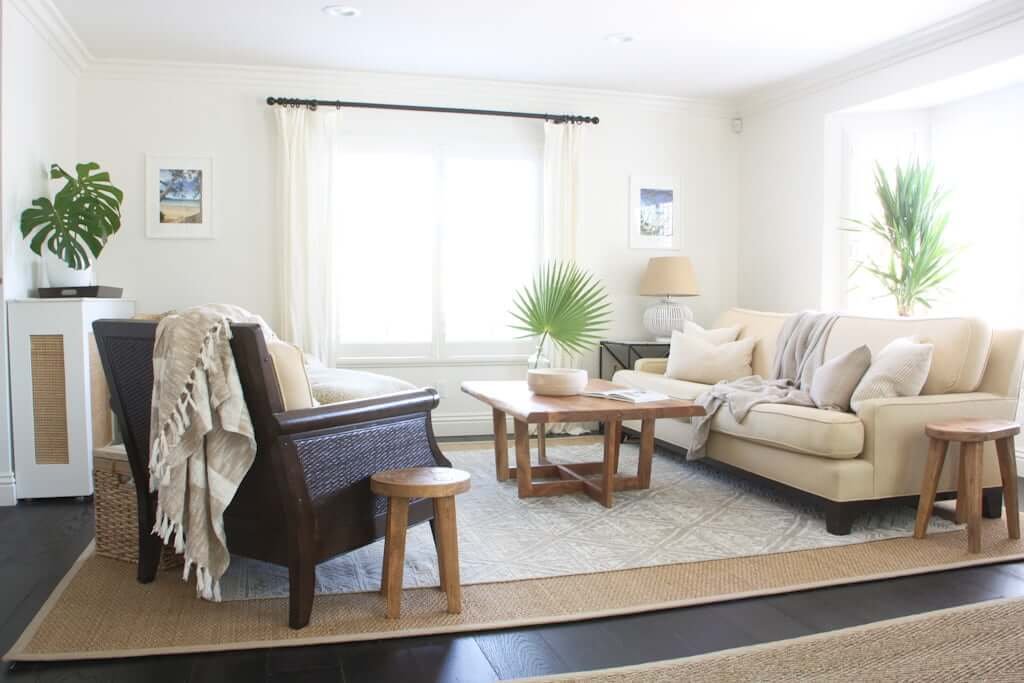 ➜ If you want to make your own TV lift cabinet, you can download our plans HERE! (Including variations if you want it for a smaller or bigger TV, or if you want it made with other materials!)
Next, see how we did a stunning, GINORMOUS faux tree DIY in our other living room, as well as our DIY ottoman (which is made out of a material that may surprise you!)
You'll also want to check out
➜ Our complete list of every single home project is viewable HERE.
* This post contains affiliate links, which are at no extra cost to you but help keep our blog up & running!