We recently decided to create our own ottoman coffee table to better fit our space and our family's needs. As per usual, no stores sold exactly what we wanted, in the size that best fit our space, with the style that fit with our room, and in the height we wanted.
Soooooo, you know what that meant for The Brain and the Brawn. WE MADE OUR OWN!
We'll also be answering popular questions such as
"What is an ottoman coffee table?"
"What can you use to make ottoman legs?"
"How do you make an ottoman coffee table?"
"Are ottoman coffee tables practical?"
"What's your ideal material for a DIY ottoman?"
Ottoman COFFEE TABLE
3 Reasons to DIY!
#1. Ideal width and depth.
Most store-bought ottoman coffee tables are either rectangular or square. We needed something that was inbetween, in order to fit our space.
We determined that our ideal width and depth for our ottoman would be 33″x57″. That would fill out the space nicely as well as still leave some room in front of the hearth. (Our kids love to sprawl there on the rug in front of the fire on especially cold days.)
#2. Ideal height.
We made a happy discovery with our last two ottomans. They were storage ottomans which we removed the small feet on each corner from (after knocking our toes into it one too many times). That resulted in slightly lower ottomans, which we discovered we LOVED.
Why did we love the lower height? It just made it so much easier to truly "put your feet up!" Most pre-made ottomans are made to be closer to a coffee table height. So many people these days use ottomans as coffee tables as well, so this makes sense.
However, we wanted to use our ottoman primarily as an ottoman. If we do need to set down a drink or other item, we tend to grab one of the wood plates seen on our mantel and use those next to us on the couch. That's just what works best for us.
#3. Ideal ottoman coffee table material.
Because we both have kids and we like to put our feet up in this cozy room, we decided to do a soft ottoman coffee table instead of a hard one.
While there are many lovely upholstery fabrics out there, I loved the idea of doing something extra thick and hearty-feeling for a place where feet get put up. I started thinking about making our ottoman cushion out of a vintage rug. Yep, a rug ottoman!
DIY OTTOMAN COFFEE TABLE
Inspiration Ottomans
One place you can buy a premade vintage rug coffee table ottoman is from Shoppe at Amber Interiors. However, you will pay for it.
The costs of these coffee table ottomans range from $2,000-2,500.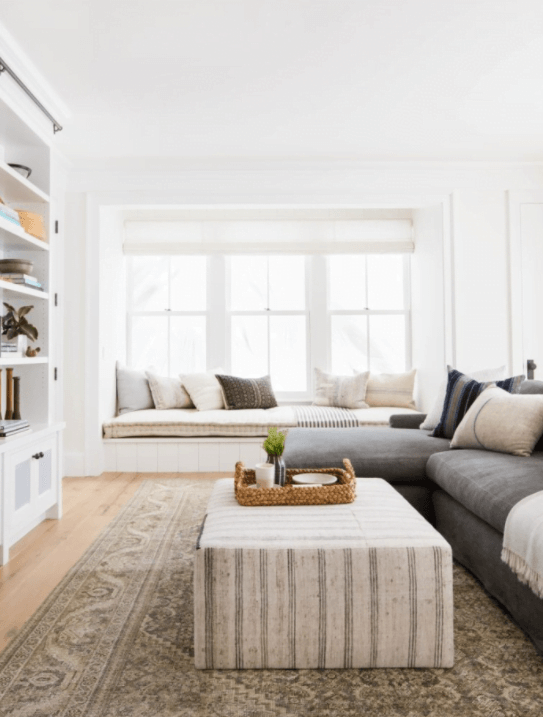 DIY OTTOMAN
Why are we making it ourselves?
Even if I decided it was worth it to spend $2,500 on a rug ottoman (in a house with young children, no less), I still wouldn't be happy with the options. Why?
I don't want stripes.
I don't want busy or bright colors.
While stripes and bright colors have their place, this family room of ours is not the place. This room's purpose is for relaxing, conversing, & connecting. I want no distractions. I wanted our DIY ottoman to help keep things peaceful and subtle.
One of my favorite design tips:
Always keep the room's purpose in mind!
Living room BEFORE:
mirror | plates | vase | basket
Above is our family room with our painted fireplace and the old ottoman coffee tables. (We bought these after our first was born. Our pediatric dentist highly recommended soft ottomans for the earliest years with young children, as he'd seen so many accidents, and we are SO glad we took his advice during that time!)
rug OTTOMAN COFFEE TABLE
The rug search begins.
I started by looking for a vintage Kilim rug. While I found several that were gorgeous (and I'd love to find some for other spots in our home in future), I was never able to find one with the right subtle pattern for this room.
Surprisingly, one day I came across this rug that looked like it might have great potential. Not only did it look like it had the right coloring for our DIY ottoman coffee table, but it also had a great pattern! Not bold or bright, and nothing that would compete with the rug we already have in the family room. It almost looked too good to be true!
I ordered the rug and knew I could return it if necessary. (And I actually ordered the same rug in two different colors—one with more beige, and one with more grey & black.)
I ordered the 4'x6′ rug size, knowing that would give us enough material for the exact size we wanted in our ottoman coffee table. We calculated the height in inches we'd need, as well as another 1-2″ for stapling it underneath the ottoman frame.
DIY OTTOMAN coffee table
The Testing Period Begins.
I've written before (such as here and here!) about the value of doing a test period with any home or room design. You'll want to check those out if you haven't already.
Here you can see how I perched the tester rug on top of another coffee table (the one we bought when we first got married over 15 years ago! it's still going strong!). I wanted to see how it might look in the space.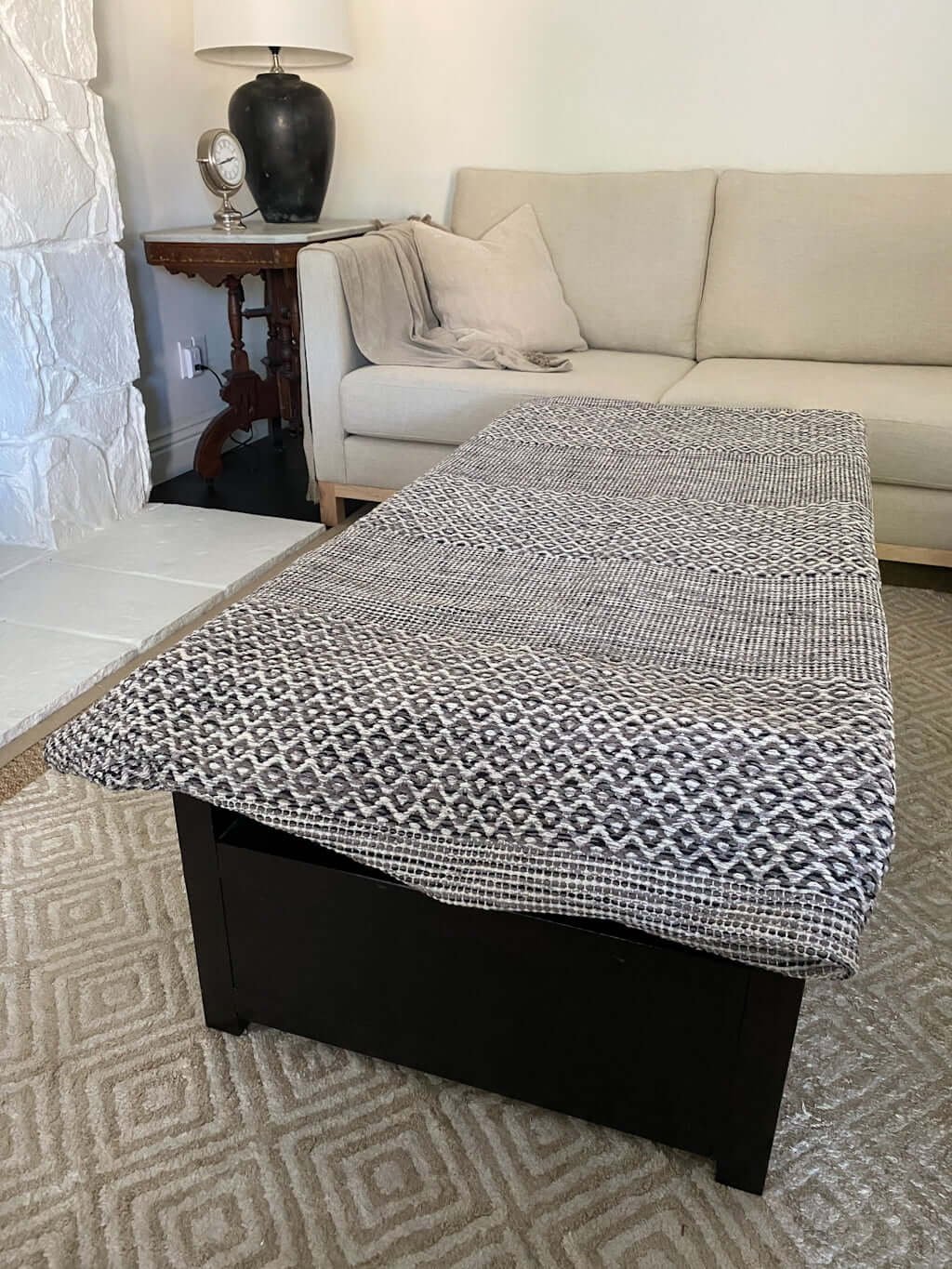 DIY OTTOMAN COFFEE TABLE
Deciding Rug Color.
Originally, before receiving the rugs in hand, I'd been leaning towards using the more beige-colored one for our DIY ottoman. I envisioned it looking the best in the space. But thankfully I hadn't been 100% sure, and that's why I also had ordered the darker version. I could also imagine that one looking good because it would
provide a subtle contrast to the rest of the room and
tie in to the touches of black elements in the room, such as the fireplace, mantle candlesticks, and lamps.
Sure enough, after trying out both of the rugs in the space, I decided that the darker rug was the way to go!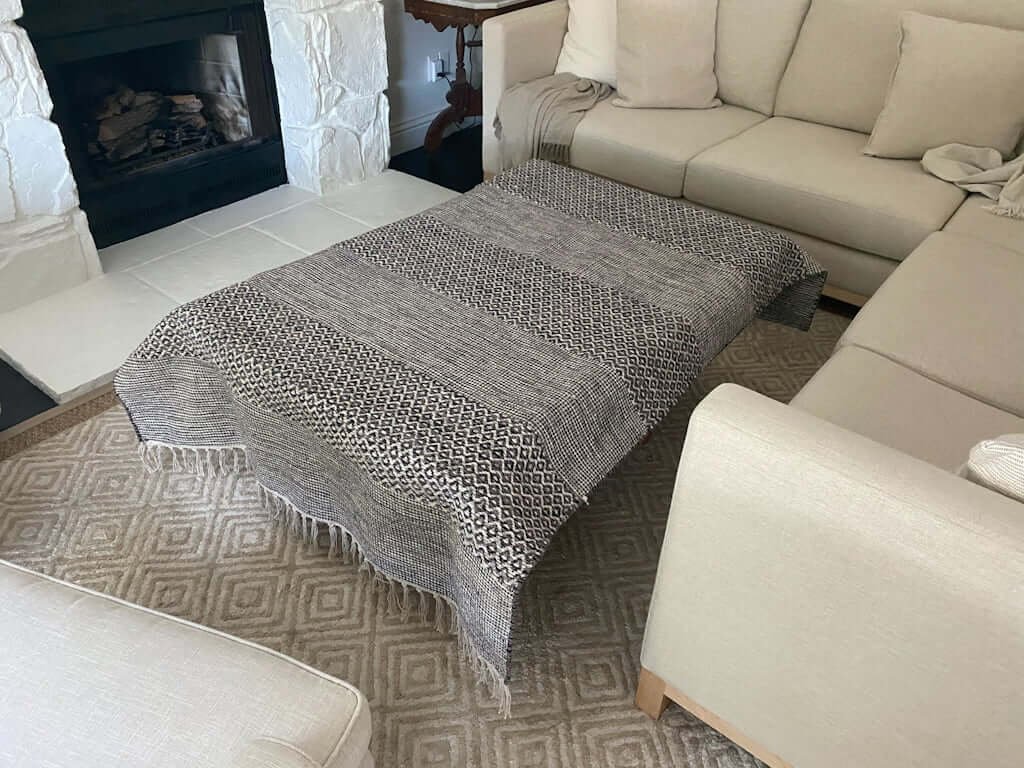 I didn't care if the rug was a vintage rug or not. This one still has a natural, almost bohemian feel to it, and I wanted that in the space. The rest of the room has more classic and modern elements mixed together, so I loved the idea of introducing an ottoman for our feet that was just a tad more rustic and relaxed and not too fussy at all!
When I first touched this rug, I was sold! It has such a good feel to it: warm, thick, and will wear well.
DIY OTTOMAN coffee table
What we love about this option!
Because the old coffee table this is perched on isn't the expanded size we want to make our rug ottoman, this photo doesn't show the new size accurately. I folded up my "rug mockup" to make sure I liked how it looked, even though I wanted to expand it.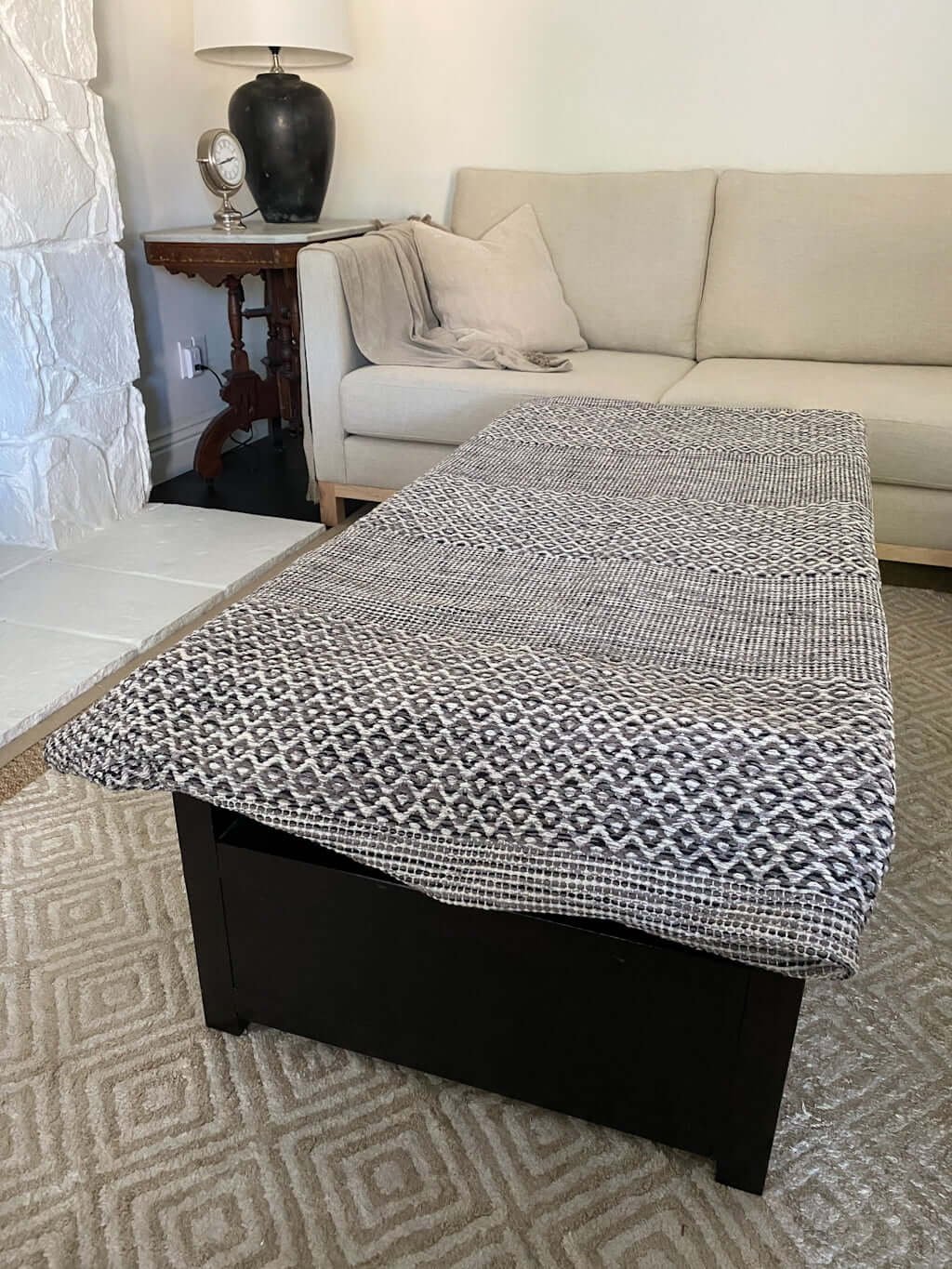 The tassels are folded under. I repeat, it will not be this exact size in the end. We're doing a custom shape for this rug ottoman coffee table, as mentioned earlier.
I love that
This ottoman will be made well.
It's exactly the size we want.
It's the exact material and color and pattern we want.
It's going to be under $200 in cost.
Our exact DIY ottoman coffee table dimensions are going to be 33″x57″. We like 14″ as our final height (that just feeeeeeeels right with our couch!).
See exactly how we built it—and how it turned out!—HERE!
PS: You can quickly see every single one of our house projects by clicking here, from our complete bathroom remodel to why we ripped out our new kitchen!
*This post contains affiliate links, which are no extra cost to you but help us keep this site alive.