You've all seen the beauty shots of our home. You've maybe even seen the photos I shared of what our house looks like on an average day with chilluns.
And if you've been following us this year, you've seen how we staged our house for sale!
But have you seen how our house looks like when we're moving out of it? And—given that we've moved a lot (by choice!)—how do we do it? And how do Matt and I deal with the overwhelm of not only moving but downsizing at the same time? (And with two kids now, which absolutely adds its own multi-levels of difficulty!)
And what was the absolutely, positively, most laughable thing I insisted on bringing with us from the old house?😆 See below!
MOVING + DOWNSIZING with a family
Phase #1: First, You Need the Right Boxes…and Your Pouncing Stance.
You can see our family room peeking through the windows to the right back there. I wrote about how we cleared that room during staging for sale and why.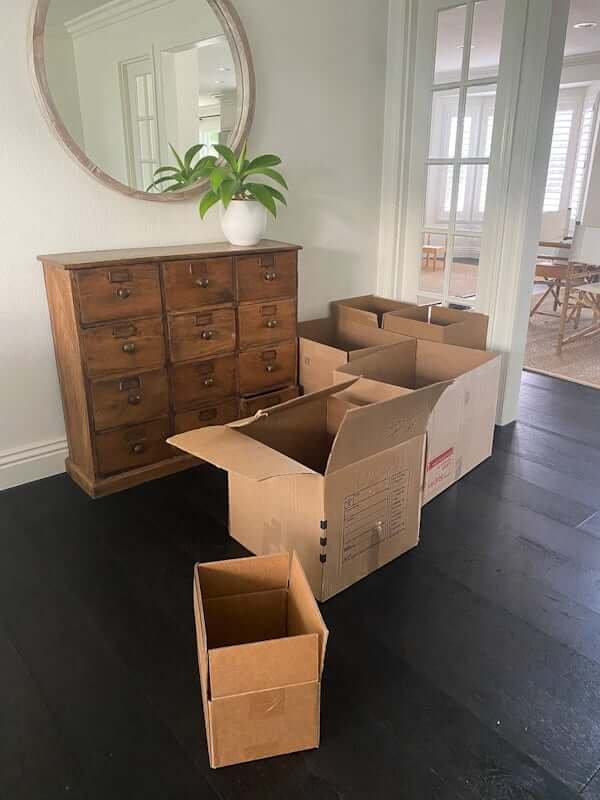 So we were a teensy bit of the way there, because we'd already sold and cleared out some things beforehand, but we still had 90% of the way to go, man!
First, let me say:
Moving boxes are expeeeeensive!
Have you ever checked prices on those things? Man alive! No thank you!
In the end, we got allllllllll ours for FREE! How?
#1: For months we saved every medium-to-large box we received on our doorstep, especially for moving time. (Small boxes are rubbish when it comes to moving. Don't do it.)
#2: I set up an alert in the "Free Stuff" app a friend told me about and waited. So many people are getting rid of boxes after moving, but so many of them are also rubbish. Small, flimsy, smell like smoke and other fragrances, etc. You have to be patient and then, when the right one pops up (like ours did one day from a guy saying, "Paid $300 for these boxes new. I'm done moving, now free!"), pounce on it with your claws at the ready.
(OK, maybe no claws, but it goes with this picture of the kind of pounce you'll want to simulate.)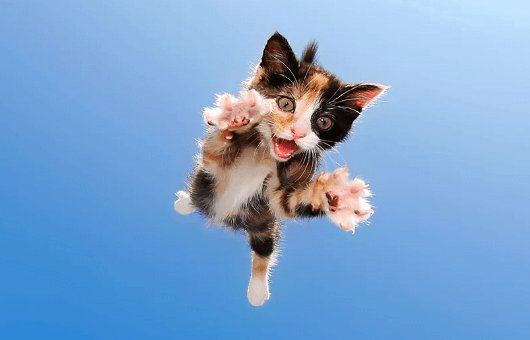 Can't you hear it? "Watch out, box man! I'm comin' for them!"
Told my kids to jump in the car (PJs on is fine!) and off we went!
I just couldn't in good conscience pay hundreds of dollars for one-time-use cardboard. And I knew that when we were done, I'd give them to someone else to use for free too!
No landfills involved.
MOVING + DOWNSIZING with a family
Phase #2: Sell Off Any Obvious Objects!
If you've seen the beautiful DIY tree we made in our fireplace room, you'll know
how specific I was about the size and shape I wanted in that spot, and
how carefully it was put together.
For a number of reasons I won't get into at the moment, I decided to sell this tree. I put it up for several hundred dollars and a gal from L.A. snapped it right up.
(Literally. She and her boyfriend snapped several of the branches because she wasn't being careful—even though we repeatedly reminded her and even tried to help them carry and load it up. But she didn't seem to care, so okay!)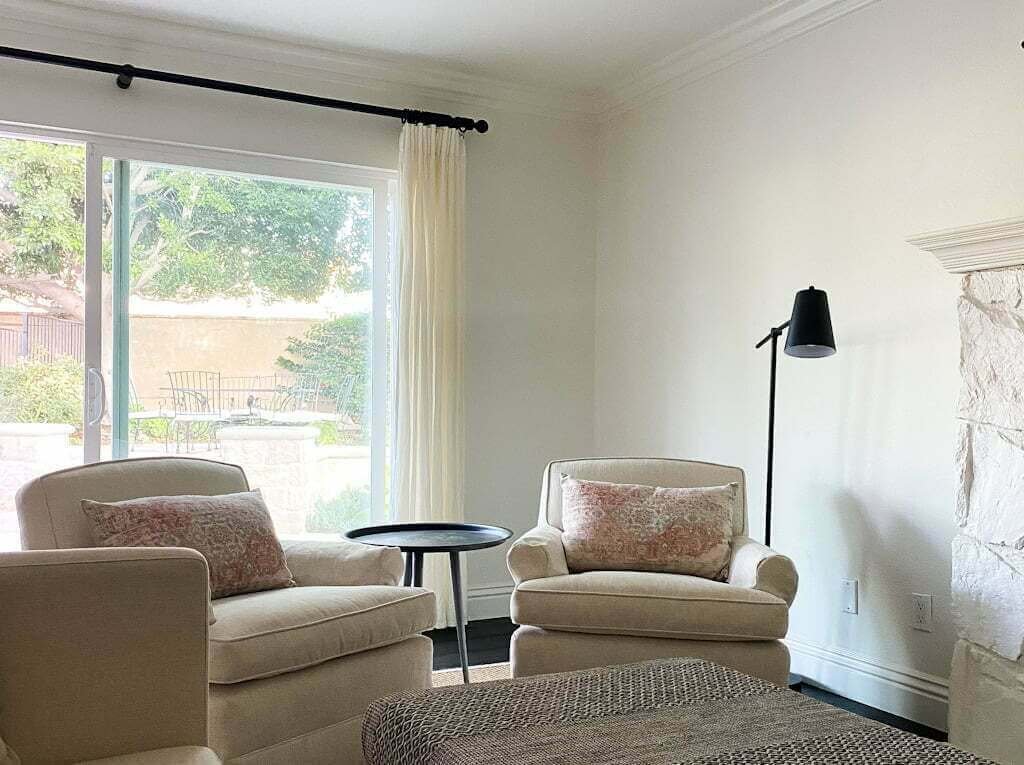 (It's OK! I can make one again!)
Here's a pic I snapped one afternoon as I rested on the couch, staring over at my previously gorgeous green corner!
Letting go is all part of the moving process. And you'll get better at it every time you do it!😊
MOVING + DOWNSIZING with a family
Phase #3: Pulling Boxes Out of Your Attic That You Forgot Existed.
We have a secret door in our master closet that leads to an "attic" space. In there we'd stored
Baby stuff.
Christmas decorations.
Easter decorations. (I started creating these because it felt wrong that Christmas is more of a "decorating" holiday than Easter, and I like good rebellions! 🙂 Such as, why do we just do Christmas nativities as a visual reminder? I saw a couple Easter scenes years ago and had to have them! Here's one on sale! All other suppliers are more expensive. I'll have to keep looking for the other one I found of Good Friday…my kids love to set them up every time and talk about what's happening!)
Autumn decorations. (Because faux autumn-colored leaves are the only kind we get to see in southern California.)
Old photo albums and childhood memory items.
Old kids toys.
Random boxes of things we couldn't let go of for one reason or another.
Random items we had extra of, like extra rug pad material. (We had huge 13′ sections all rolled up that we cut off off, so even after we cut what we originally added for under our seagrass rugs, we hung onto the extra just in case we needed it for future rugs. There are always backstories behind the random but sometimes quite large things we keep, aren't there?)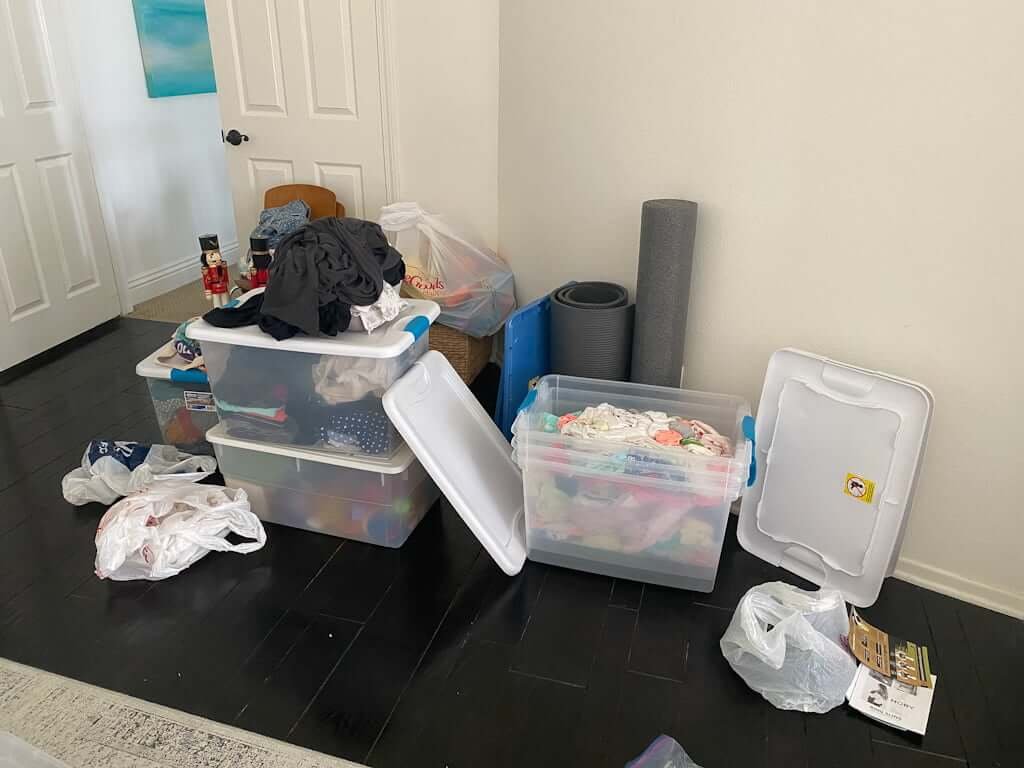 MOVING + DOWNSIZING with a family
Phase #4: Kick Yourself for Buying Anything, Ever.
I've written about organizing our arts & crafts-slash-homeschool room. And yes, it's simple and beautiful.
But in moving, I realized we were going to have to lose that big set of 3 drawer sections (in order to use for clothes, since we were losing our closet and the girls were losing all their awesome built-in drawers)!
So we pulled out the tall plastic drawers (seen in pic below) from a downstairs storage closet and I started working on condensing everything in those 18 drawers into the 7 plastic drawers of varying sizes you see before you.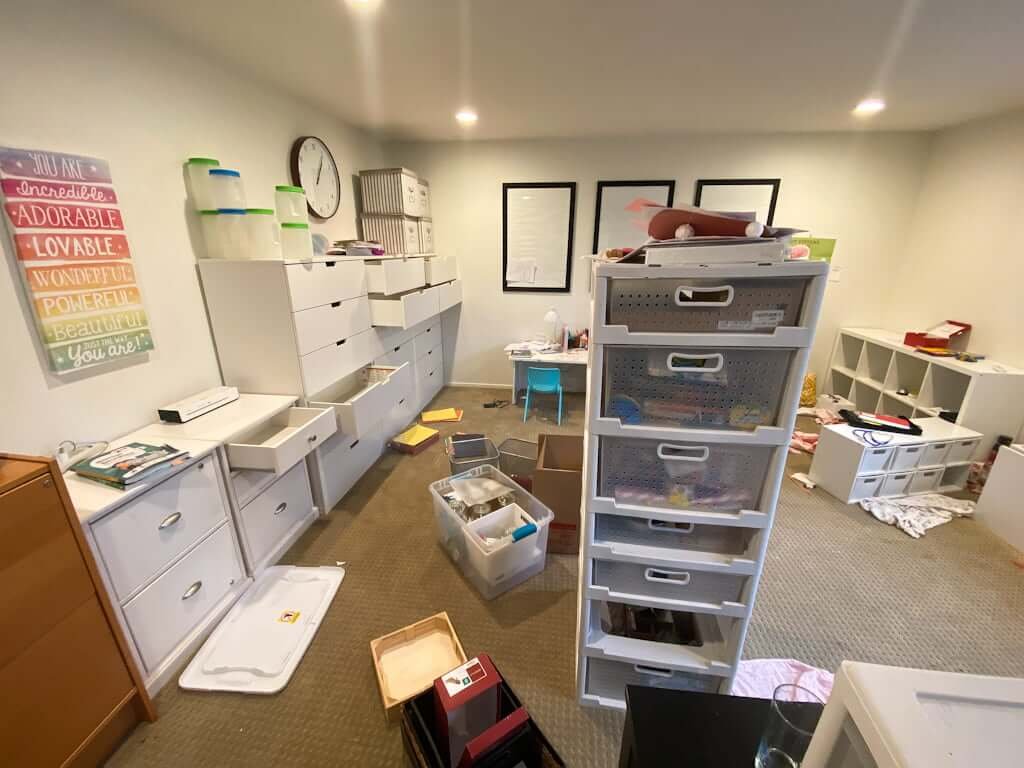 I got the girls involved as well, and while we'd be organizing and re-sorting, we'd talk about all the fun things we'd do in the new house.
Which brings me to the next topic…
MOVING + DOWNSIZING with a family
Break #1: Pause to Process Emotions from Your Children!
Understandably, my oldest had the hardest time leaving the house. She'd lived most of her life here and vacillated between excitement over the new place and sorrow over leaving "the only place I've ever known!" (Her words.)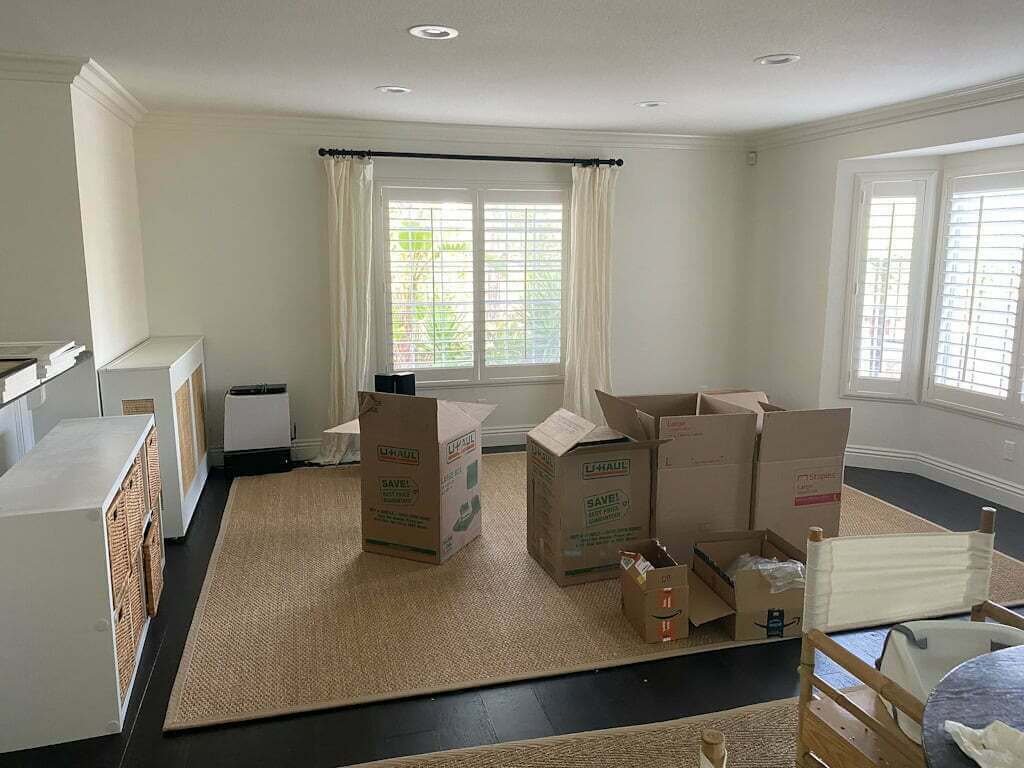 One night while I said goodnight to her, I blurted out something (as I do, because I just say things as I think them) excitedly about, "Well, this is the last night we can go back on our house sale! It's official tomorrow!" She sat up, clutched my arm, and begged like a maniac, "Do it! Take it back! Undo it, mama!"
Oh my heart!
I shared my range of feelings with a friend who's known me since I was nine years old. She was there for encouragement…
While Matt and I confidently believed that selling the house and moving to the beach was 100% the best choice for all of us, it's still hard! Just because I've moved a lot doesn't mean it's easy! It just gets a little easy-er because you know you'll look back and be glad you did it…
PS: Nowadays, that same child will often say how much she loves living here at the beach and—while we all sometimes mention things we miss (which is our backyard 99% of the time!)—is "so thankful we moved, Mama!" So if you're a parent reading this right now and you're worried about moving with children, be encouraged! So far, the experience has been nothing but good for both of ours! (And even better than if we'd stayed!)
MOVING + DOWNSIZING with a family
Phase #5: Speaking of Children…We Make Ours Pack Too!
We have one Collector and one Super-tidy child.
Miss Super-tidy…I don't even have a memory of helping her pack. I think she did it herself in a couple quick sessions, and she's only four years old.
Making The Collector pack was so much effort. Sure, I could have just poured a glass of wine, shooed her out of the room, locked the door and quickly packed her myself (and tossed a lot)…
…but we thought it's important they learn how to go through material possessions both in everyday life as well as while moving locations. How to let go, even when your sentimental items as a 7-year-old are literally folded pieces of paper.
So I poured myself a glass of wine, took a deep breath, and sat next to her on the floor and we worked through it together over various days over the weeks…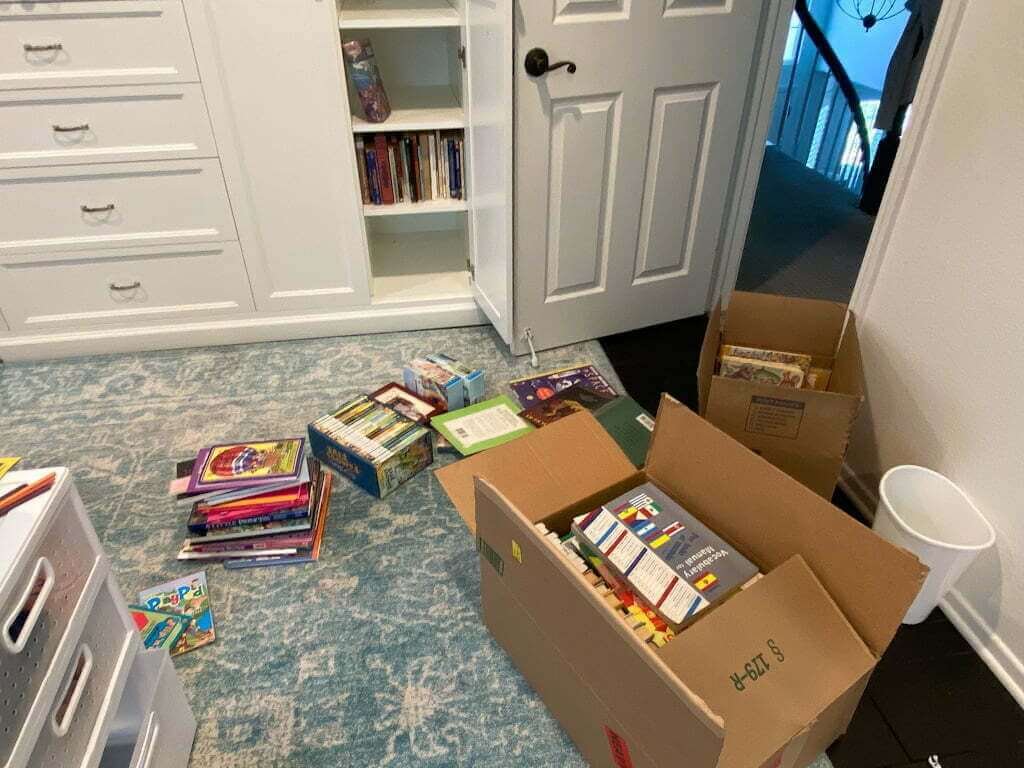 We literally cannot keep enough books for this child. She's an insatiable reader, for better or for worse.
And books are one of the heaviest, most annoying things to have to cart around. (Yes, we have a Kindle for her as well for alllllllll the e-books, but many amazing books are not available in electronic format! Like The Famous Five series you can see there on the floor…)
MOVING + DOWNSIZING with a family
Break #2: Eat Chocolate!
I found this photo among all our moving photos and remembered reality: chocolate is part of survival.
Several fellow homeschooling mamas invited our girls to their homes on different days so all our kids could play together while Matt and I focused on packing. (You're the best! 👊Fist bump!)
When I arrived to one friend's home to pick them up one afternoon, she'd made chocolate from scratch. (And when I say from scratch, I mean she roasted the cacao beans herself, and so on. I mean…jaw drop.) On top of that, she gave me some of this precious chocolate! For my very own!
When we got home, I gave my children some of it but man, the rest of it I saved for a Mama Emergency! I even labeled the bag to make it clear this chocolate was not to be touched if found.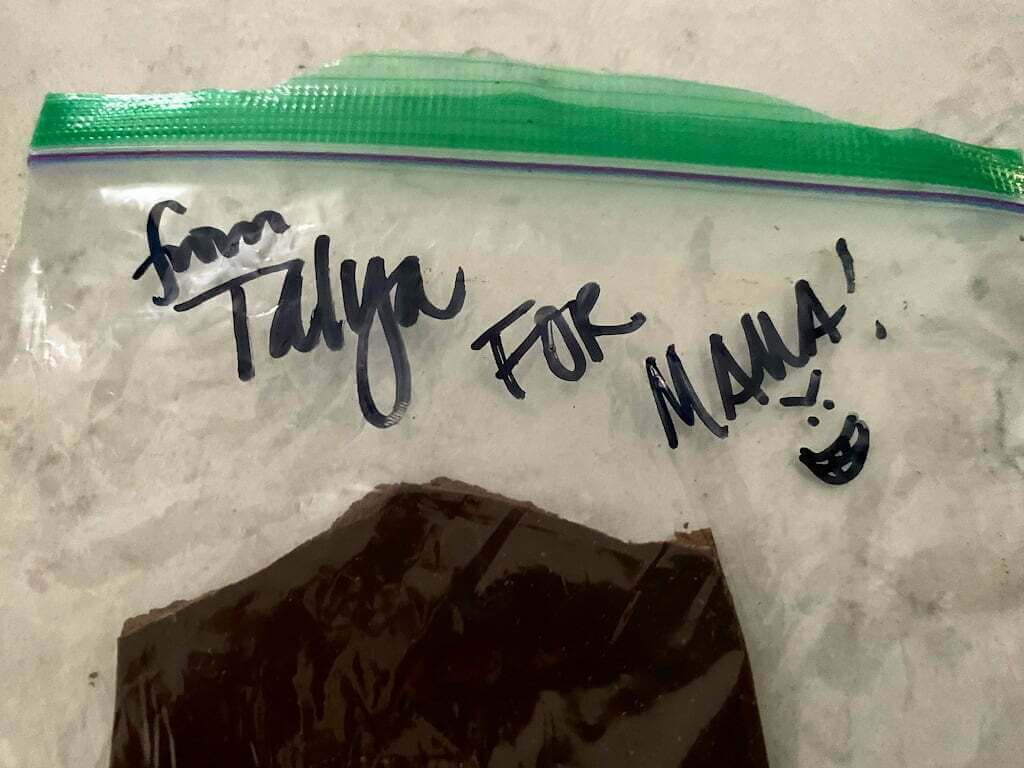 🤣 That's the best happy-scary face I can make with a Sharpie! It worked!
Was I mean to take most of the chocolate?
It was given to me.
This was one of those unique emergency "Put your own oxygen mask on first" situations in Moving-Mama-Land.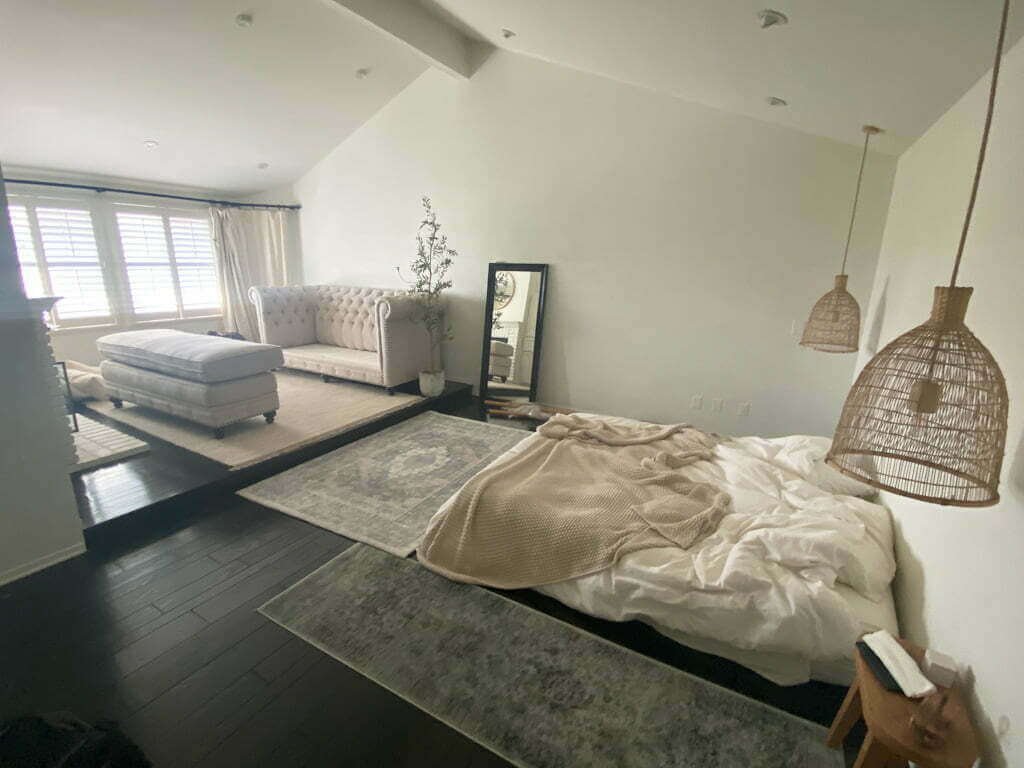 Another several big items we sold:
Our amazingly wonderful DIY bed! (We made great money on it and we can make another—and make it even better than the first!)
Our master sitting room ottoman & couch that we'd designed ourselves. (Our realtor and his wife fell in love with it, so we sold to them instead of the public.)
Moving onward and upward!
MOVING + DOWNSIZING with a family
Phase #6: Move Things Into Garage + Freak Out to Your Husband!
Part of our process is moving our cars out onto the driveway so we can shift the "non-essential items" into the garage. That way it's out of the house, ready for the moving truck, and you don't have to see the boxes or think about those things anymore.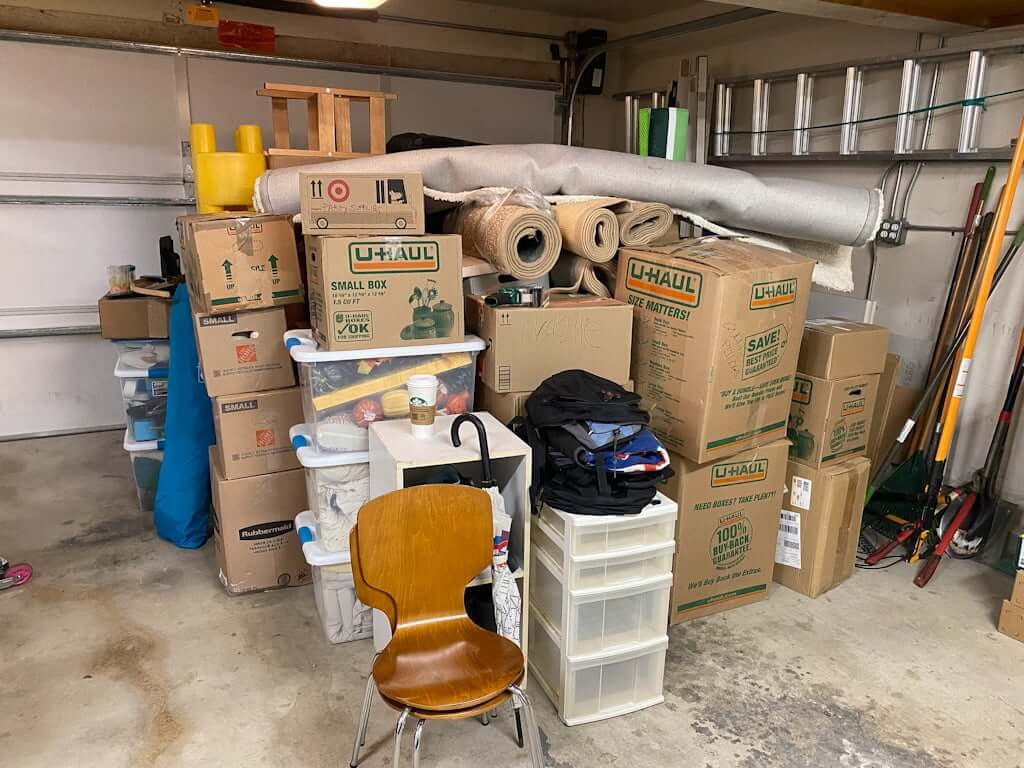 However, if you're like Jessica, you will walk out to the garage one day in the middle of this moving-plus-selling-your-home craziness and have a freak out about all the "stuff" you apparently have.
Yes, I walked out to the garage in the middle of one hectic day and just about lost my mind. I felt like we already had a house full of stuff, yet we had sold so much and still had all these tubs and boxes in our garage?
This is how the conversation went:
Jess: "WHY do we have all these boxes?! WHAT is in them?! I don't understand! What on earth do we have all this stuff for?!"
Matt (calmly): "These are the Christmas ornaments. That is the tub of camping supplies. This box is full of your grandmother's quilts and our couch pillows. This tub has extra painter's cloths in case we need them.."
Jess: "Stop saying logical things, Señor Engineer! Why do we have all this crapadoodle?!" (OK, so I didn't say that, but I'm thinking it. "Don't point out to me all the 'stuff' we've accumulated over the years that is now overwhelming me and I'm kicking myself for ever buying anything!")
Welcome to moving! 🤗Jazz hands! And a laughing face with real tears.😂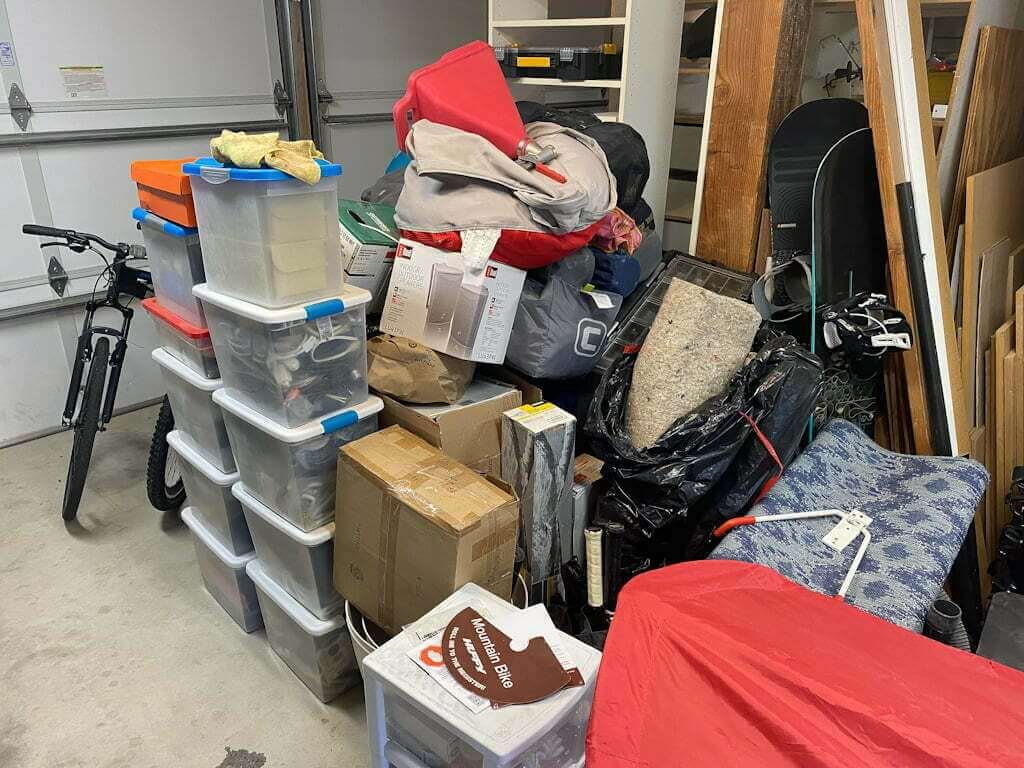 See that extra rug pad rolled up in the garbage bag from aforementioned attic? And other random stuff I spy:
Matt's and my bikes. (You always gotta take bikes to Yosemite, man…they're gold.)
Our snowboards.
Our camping tent. (Marie Kondo's book is right. All this equipment takes up space…ugh! And nothing makes you want to maniacally get rid of it all like moving.)
Our front door entry outdoor rug.
Boxes of old film negatives. (Sigh. Yes, it's on my long list to digitize.)
My kids' convertible canopy wagon that they play in for hours! (Their current favorites are using it as an ambulance and as a shop to sell their wares.😂)
The hanging indoor swing I mounted in the playroom for the girls and know exactly where I want to put it in the beach house. (Since we're losing our big backyard trees with the swings they love so much, I felt like this was important to keep to transition.)
Extra cords of all types and sizes that I am constantly begging Matt to make disappear. We'll probably have to go to therapy over electric cords.
MOVING + DOWNSIZING with a family
Break #3: Pause for Emotions Again.
Sometimes, you have to do this a lot when moving. Mostly from a place you've lived in happily for a long time, and made a lot of memories in.
Both my girls took their first steps in this home, for example.
But guess what?
Now we're living at the beach where both my girls had their first swim in the open sea by themselves! (One with wild dolphins! Another story…)
They both first learned to rollerskate in this beach house! (Literally in this house, as you'll see later.)
And a number of other firsts!
So the "firsts" will continue as they grow up, and I REFUSE to hang onto one building as a shrine to their "little kid" years. Especially if it's holding us back from a better life!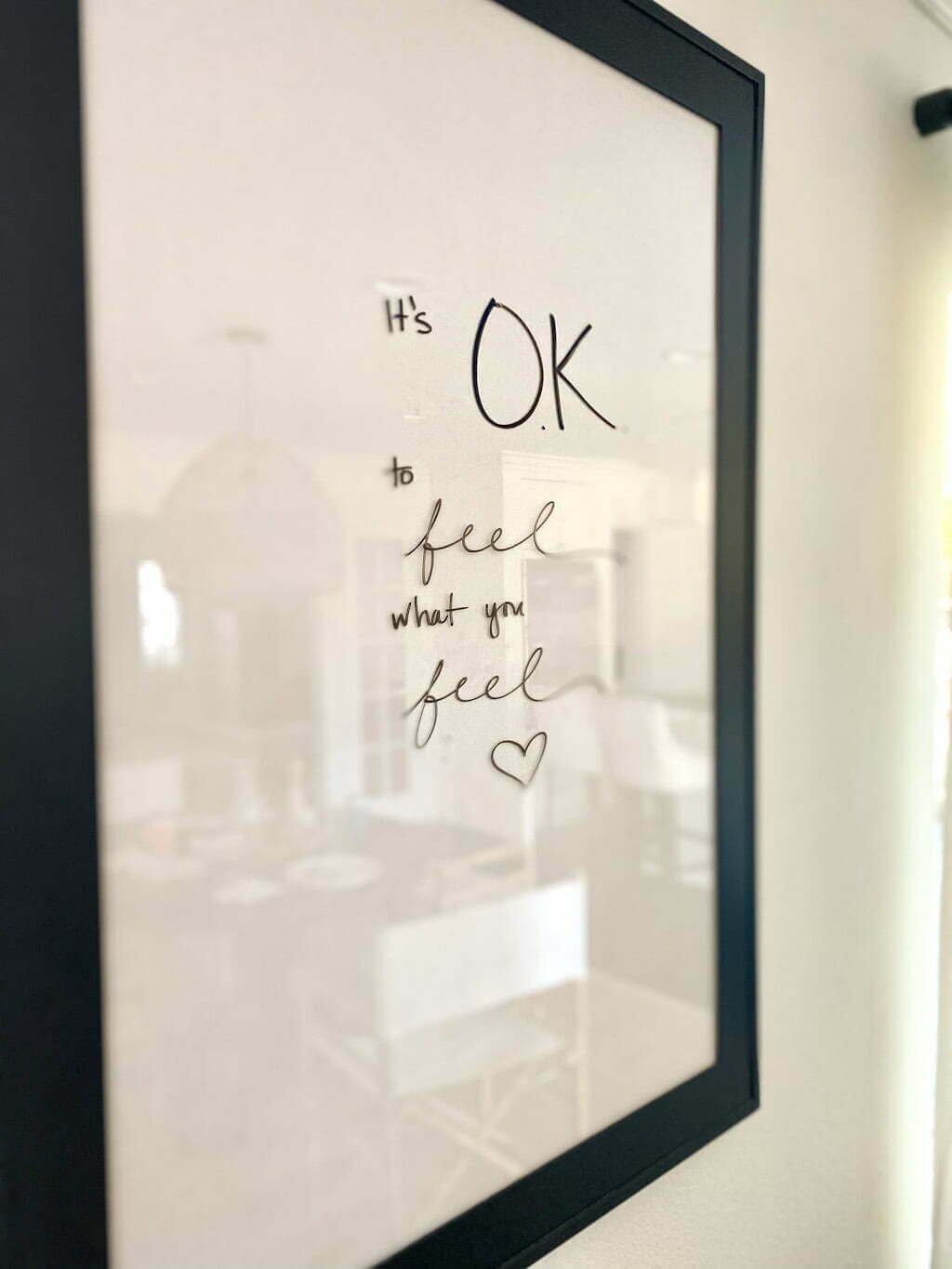 Remember my DIY dry erase boards? I had this message up there for the last month or so of our living in the big house. And it was for all of us!
MOVING + DOWNSIZING with a family
Phase #7: Packing Up the Kitchen Is Last!
Because we're a family that likes to eat, packing up the kitchen is usually one of the last things we do.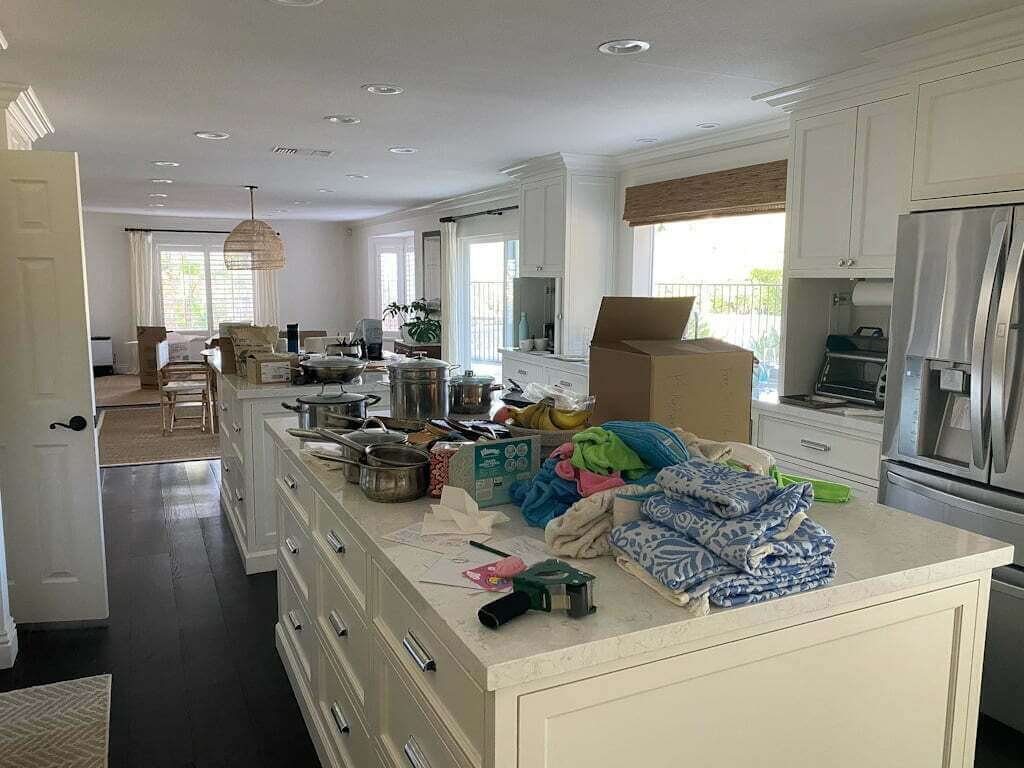 Is this making any of you never want to move again? 😂😂😂
And why not simultaneously be roasting raw walnuts at the same time, just to complicate your life a bit more? (We can't help it. The walnuts we soak ourselves are so good! If you haven't seen my Insta story on that, it's here in the "Food" highlight.)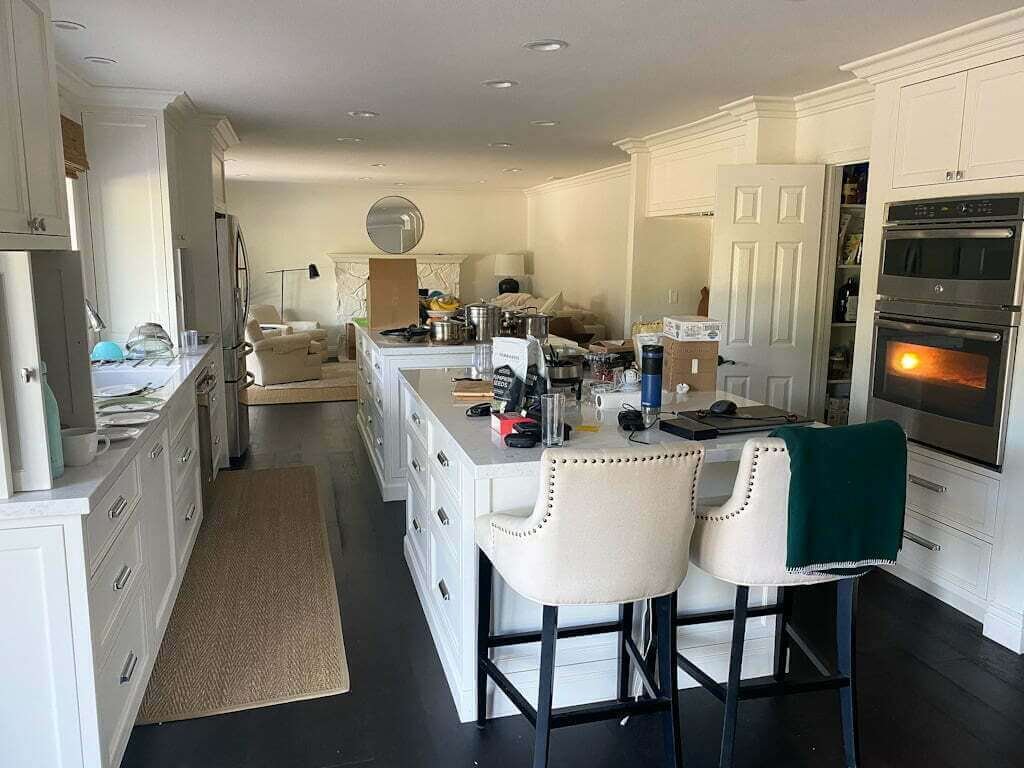 There's always someone who asks about these rugs everytime they show up in a photo, so I'll just link it here to save you (and me) time writing back and forth about it! I love them because they're so easy to clean! You'll notice we have them throughout nearly every room in our house!
MOVING + DOWNSIZING with a family
Last Break: Take a Deep Breath & Accept Creations from Your Children!
Maybe it's how they process the stress they can sense (because no matter how relaxed of a person you are, moving out of a massive house and number of large outdoor spaces will introduce a number of levels of stress into your life!), but our girls like to make us little gifts and notes.
Our four-year-old made us a set of adorable puppets to play with…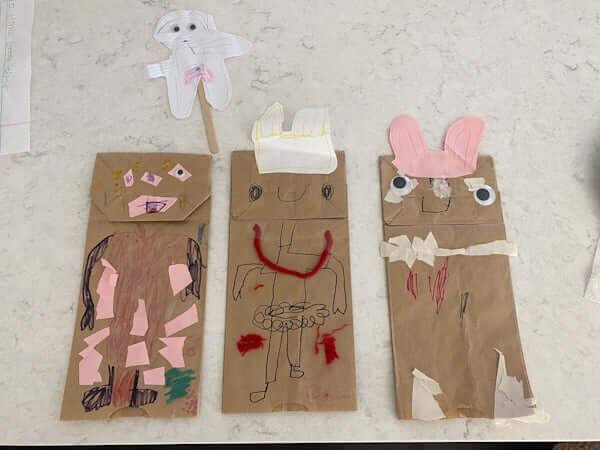 And then my seven-year-old simultaneously humbled me and encouraged my spirit by writing out some of her and my favorite verses (out of her head, clearly) and leaving them in an envelope labeled "For Mama!"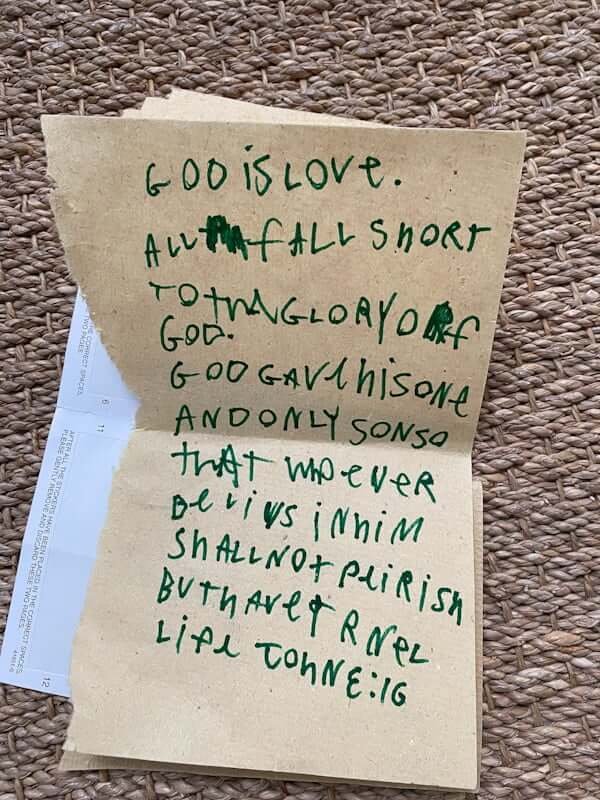 If ever a mother was encouraged to bravely stay the course of moving and make a huge change for her family…that was it, bucko!
MOVING + DOWNSIZING with a family
How We Save Money Moving + Final Encouragements!
So, we always get quotes from movers because why not? But it's always "too much" for frugal Matt and Jess, who like to DIY as much as possible when it makes sense.
We thought we'd be willing to "splurge" on a full moving service for this move, since we were staying in the same state—just moving out to the beach, right?—and couldn't be too ridiculously costly…right?
Imagine your best, loudest negative buzzer sound.
It was ridiculously expensive due to "demand."
So Matt and I did our next favorite thing: packed everything light and "easy" that we could, then hired guys that do random moving jobs on their off days and were recommended by someone we knew as great movers (who also packaged everything really well!).
DAY #1: We packed up the moving truck and my car ourselves, drove with the girls out to the beach house, and unloaded.
DAY #2: I packed up my car with the girls and drove out to the beach house to unload and start unpacking & moving in, while Matt worked with the movers to bring over The Big Stuff.
Like what?
Basically anything Matt needed other men to help him lift, or that would be safer with 3 guys lifting (or packaged well first, like our nicer artwork and mirrors).
Our sectional sofa.
The large drawers/dressers.
My massive citrus trees and pots.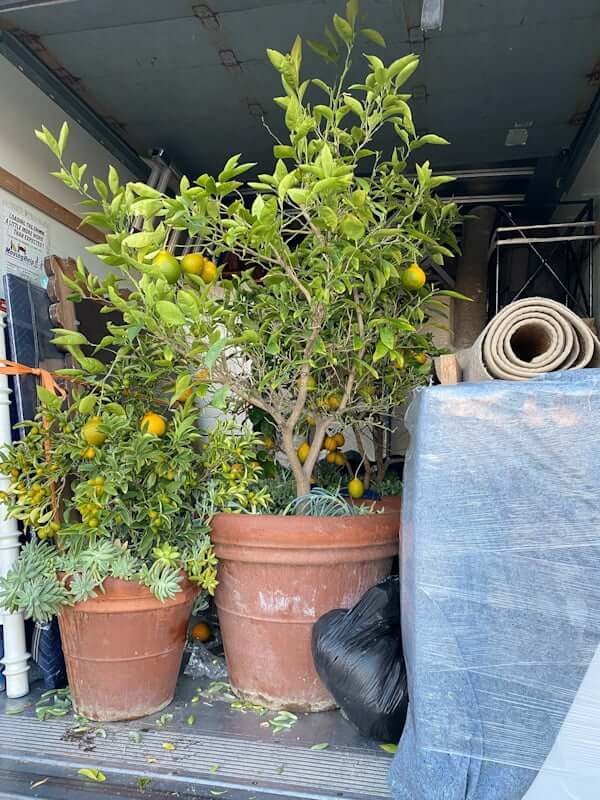 YES, I am the Crazy Plant Lady who brings her ginormous citrus trees in pots when she moves.
(And these pictures hardly do the size justice. People are always shocked when they see these in person and realize Yes, this is a TREE!)
We had several citrus trees planted in the front courtyard of our old house, but everything in pots you can bet your buns I made sure to bring with us!
We brought our special
Blood orange tree
Tangelo tree
Pink lemon tree (how else can you make pink lemonade?!)
Kumquat trees (we have two!)
Grapefruit tree
Mexican lime tree (the best limes for making drinks!)
My plant babies did suffer some minor losses on their trip out to the ocean vistas (you can see one of our tangelos fell into the moving truck in the pic above), but overall they arrived undamaged! The guys (with Matt) did an awesome job!
As we loaded the moving truck on Day 1, we were encouraged by several friends who came over with their kids to help load. It was amazing how fast everything disappeared out of our garage and into the back of a moving truck when you have 30+ hands helping! Then the moms talked and the kids played…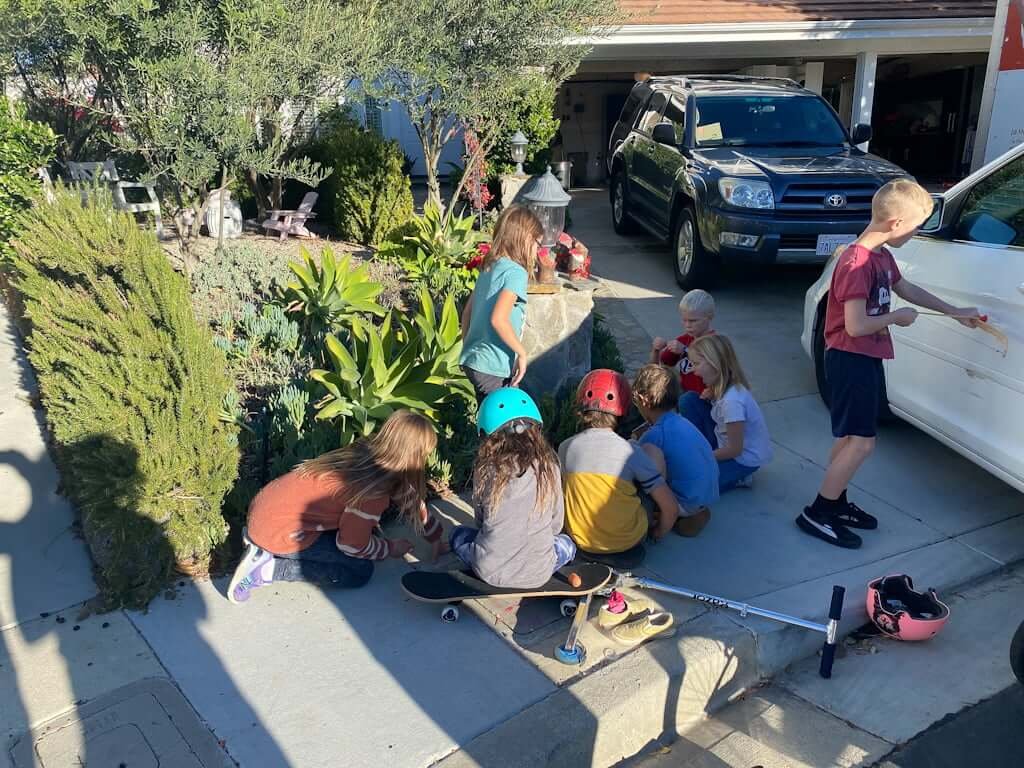 In these days we live in, I miss people having community to help with big projects…just like the barn raisin' days of old! 😂 (It's possible my eyes witnessed the barn raising scene from Seven Brides for Seven Brothers one too many times as a child.)
MOVING + DOWNSIZING with a family
Next: Setting Up the Beach House!
I intended to show you how we started setting up the beach house once we arrived, and how it looked, but I'll do that in my next post!
In the meantime, here's a sneak peek at our "new" 1980s beach house kitchen for ya!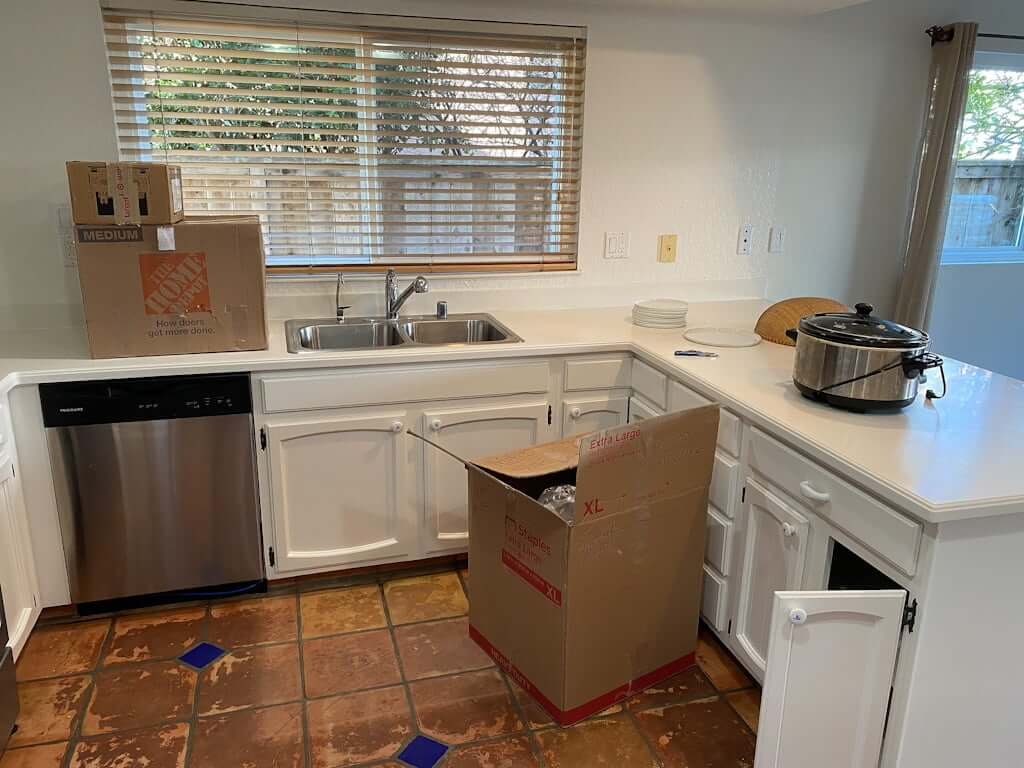 Do you think we can fit everything from this massive kitchen into THIS kitchen now? You better betcha we can! (Contrary to all the trolls who love to leave us messages about our kitchen organization saying, "You're only organized because your kitchen is so huge." Matt and I grin! We've lived in much smaller than this, so it'll be child's play!)
➜ WHY did we sell our beautiful, big, remodeled California home to move to this little and old beach spot? Read the story of why we sold our house!
➜ As we look to the future, you can see where my design brain is going in our beach house interior design plans!
➜ Our complete list of home posts is here!