As my friend Daniel Tiger says,
"That was fun, but now we're done!"
(At least, that's how we sing it in our family.)
It's true! We've sold our big, beautiful California house!
We've known for awhile this would be happening one day, and now we can share it with you all! We'll share more about the Who, What, When, Where, and Why below, but let me first tell you, we are exciiiiiiiiiiiiiiiiiiiiiited!!!!!!!
(And a little nervous, because as DT also sings, "Sometimes you feel two feelings at the same time–and that's okay!")
(Did I begin this blog post thinking I'd quote Daniel Tiger two times? Nope! But what can I say…1) That tiger's a genius!🤣 and 2) Life is full of surprises! Hence where we find ourselves today!)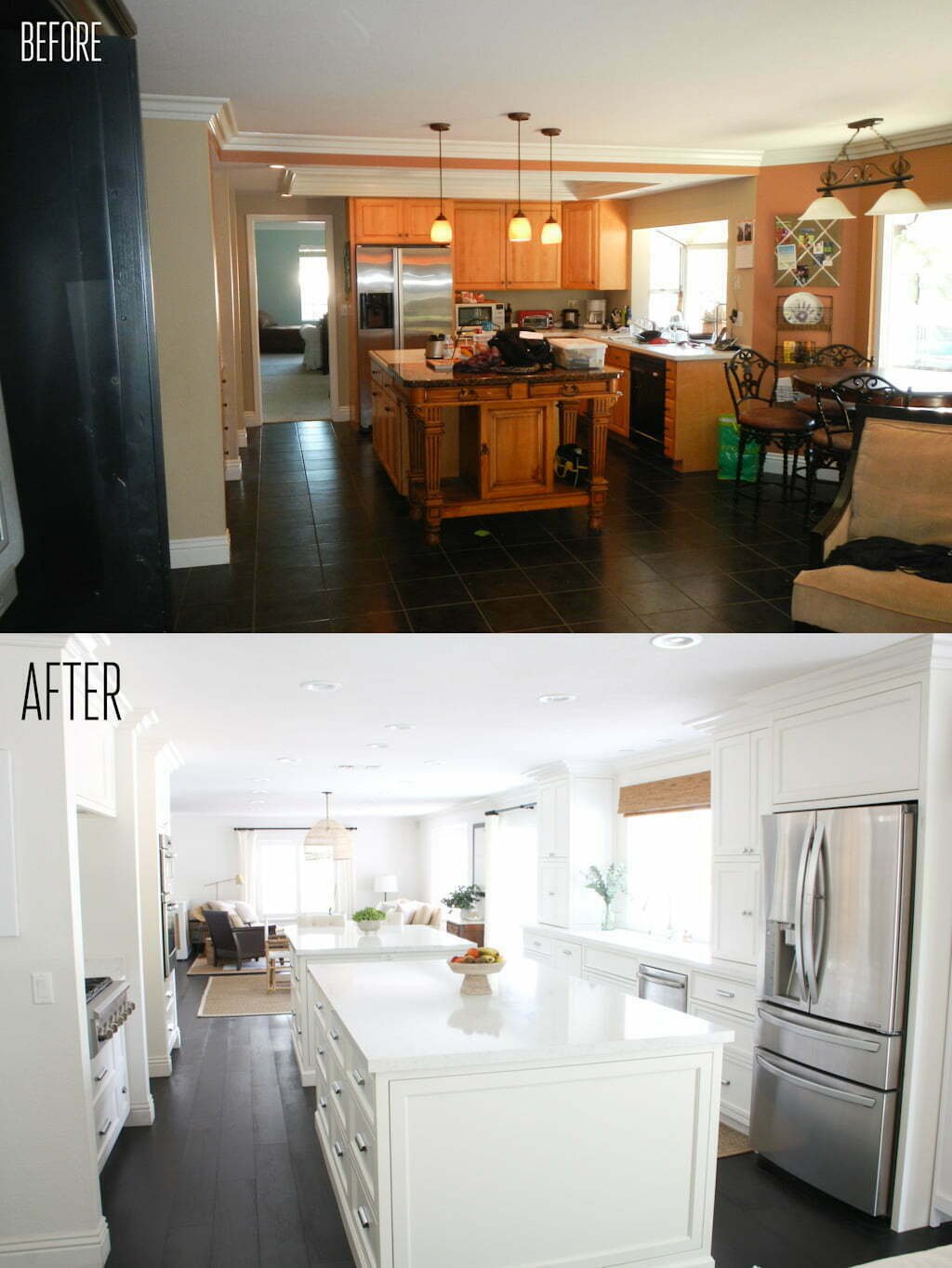 If you missed our kitchen transformation, you can find anything you want about it right here!
WHO:
Our family. The 4 of us (plus two goldfish).
WHAT:
This is the long story told short:
We put our home up on the market and, while the buyer was there the first day, we still held three days of showings before we were told that we'd have so many offers coming in that Matt and I decided we wanted to
CUT! IT! OFF!
(Not to be confused with "Cut. It. Out!" from Full House.)
Yes, we cut showings off early. We had to for our family's sanity.
Because showing your home is a blankity-blank P-A-I-N! (We're singing this like the "p-i-m-p" song.)
We sold far, far above our starter asking price.
Done and done.
Moral of the story: hard work pays off! (To remember what our house looked like when we bought it, take this tour!)
WHEN:
Now! We found a new place and have been ready to rip the bandaid off (exactly what we said we did when we moved to New Zealand). If you know us, you know: once Matt and I get something in our sights, we don't mess around! 🙂
THE WHERE & WHY:
I fully realize this will have to be another post, so that'll come next!
Summary:
It is 100% our decision! Nothing is "making" us move! We literally are the ones who put it into motion. Matt's job is able to go remote and he can work from anywhere, so it has nothing to do with his job. We're making a huge lifestyle change for the even-greater-good of our family! 🙂
IN THE MEANTIME…
In the meantime, I still have a ton of blog posts I never did about this big house that I wanted to finish up–so many renovations we never showed you (like our girls' Jack n' Jill bathroom, our downstairs bathroom, the girls' closets, and 387 other things we did to pimp out this house…) and other lessons and tips we wanted to share with everyone…so don't be confused in the coming months if you see us living somewhere different but still sharing posts about this house!
Or maybe I'll just let it all be, and the internet will have to live without ever seeing 100% of every corner of this casa! 🙂

We're excited about taking this huge leap and looking forward to sharing more with you guys! Our story continues, we've just "grown out of" this house on many levels, and this promises to be one of our most exciting developments yet!
I mean, you thought this house was good? Most of these ideas were ones we implemented over 7 years ago.
SEVEN YEARS AGO!
And since I am The Idea Machine, I have SO MANY NEW IDEAS that have been sitting in my noggin for all these years! Matt and I both have learned SO much since then, so you just wait until the next house we buy…:)
Fist bump,
Matt & Jess
**Update: All the details on how and why we're selling is here!
➜ If you're not on our "Insiders" email list yet, you can join us HERE (and get our Design Mini-Guide for free!)!
You can also make sure you don't miss a project by following us on Pinterest…
➜ Need our guidance on your own home project? Get instant help with our Design Guides + Plans!