One of the most unorthodox moves we made in our kitchen renovation was (aside from our double islands, which all contractors assured me was "weird" but we all can see who's laughing now and her name starts with a J) to do our kitchen island without pendant lighting.
If you're not happy with any of the kitchen island lighting ideas you've seen out there, this post is for you!
Are pendant lights going out of style? And why did we decide to nix the famous "pendant lights above the kitchen island" phenomena?
Three reasons, my friend. Come and see.
Why We Designed Our Kitchen Island Without Pendant Lighting:
1. We have shorter ceilings.
Unlike newer homes or new builds, our nearing 40-year-old home did not come with soaring ceilings. (Nor did it even come with 9′ ceilings, which I would still take in a heartbeat over the eight-footers!)
No, like many older homes, our home has 8′ ceilings and it's impossible to raise them because—hello there!—we have a second floor up above.
So unless we want to lose a massive chunk of our upstairs bedrooms and bathrooms, we must live with our 8′ ceilings contentedly, and make the best of it.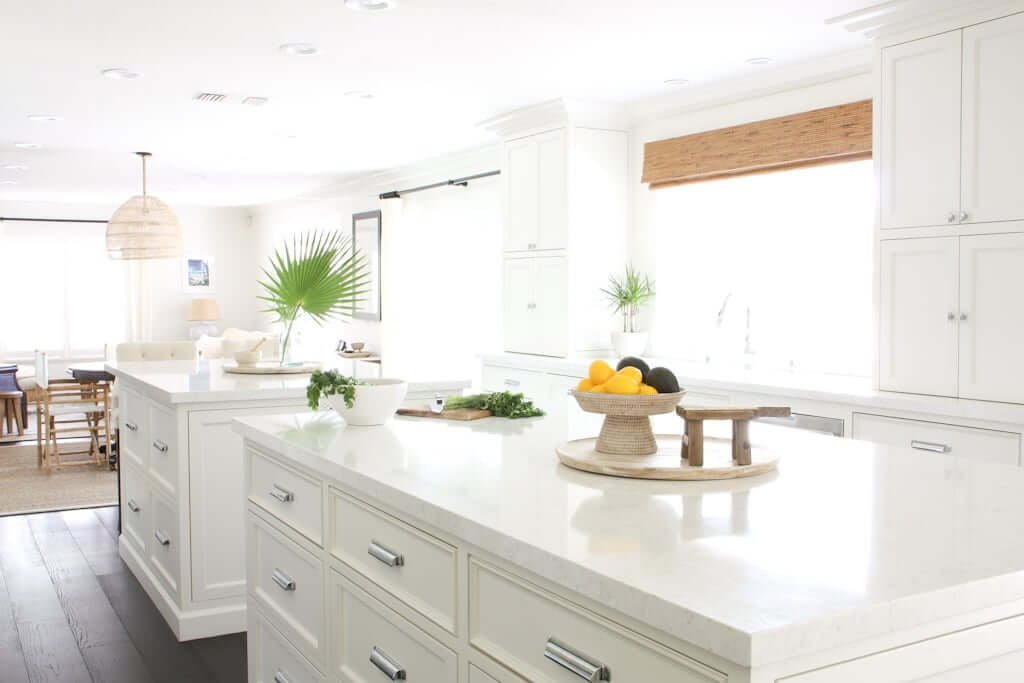 Here in the kitchen, that affected our decision whether to do pendants in our kitchen—or not. If we'd had higher ceilings, I would have loved to get some massive, large-scale pendants in here for a more dramatic focal point…
…but that's where there's no cookie cutter solution to home design (especially in older homes!). Just because 80% of the kitchens we drool over on Pinterest have gorgeous kitchen pendants does NOT mean that we should automatically put them into our homes!
Be thoughtful about it. Consider your space.
In our case, we decided pendant lights would hinder rather than help us. Why? I'm so glad you asked, because that brings me to our next reason!
kitchen island lighting ideas
2. It's a cleaner look.
Because we were ripping out a wall in our kitchen, we knew more of our downstairs would become visible. By that I mean, as you're standing on one side of the kitchen looking through it, you see quite a bit of the rooms on either side.
Our kitchen is not a U-shape or L-shape kitchen. Your eye doesn't just stop on a wall in our kitchen, because it's more of a large-scale galley kitchen. Instead, your eye continues in our living room on one side, or—even busier visually—the side with our dining room and family room, along with a little peek into our bar area.
That fact about our particular home layout gave us yet another reason to do our kitchen without pendant lighting. The view from one end of the house to the other—through our kitchen—would be more cluttered visually with pendants over our islands.
Even when you're standing within the kitchen—say, Matt at the sink and Jess at the stove—when we'd turn to talk to each other, the pendants would be in the way because of our low ceilings and inability to raise them as high as would be best, in my opinion. Sure, we could do smaller pendants or see-through glass pendants, but 1) I didn't want to go small as that often doesn't look right, and 2) I did not want see through glass pendants in this space. (Personal preference.)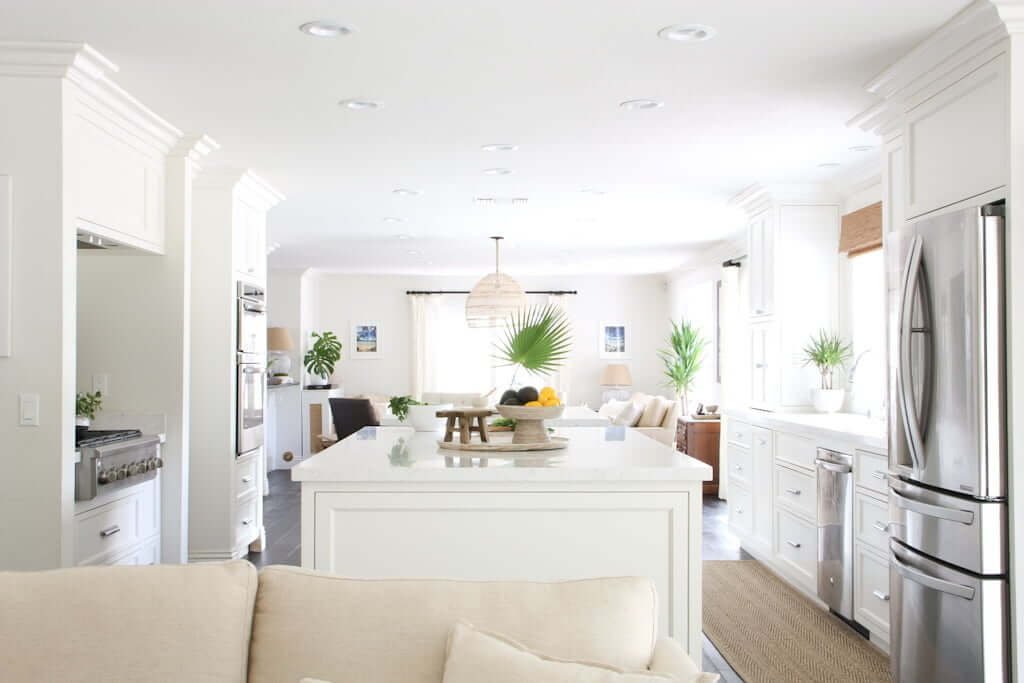 You also might have noticed in the photo that when you're standing in our living room, looking through the kitchen into our dining room and our family room, you can see the large woven pendant we have above our dining room table. Sure, we could still do pendants in the kitchen, but there's something inside me that instinctively loves simplicity and says to just focus on one pendant, instead of having two, three, or four different pendants (and in different styles) to focus on.
In the end, we decided that—for us—putting in pendants would be visually distracting. Trust me, I've mocked up and photoshopped every possible pendant style and design into this kitchen?, and even the ones I thought 1) would for sure work or 2) might maybe work…simply do not.
Less is more.
(It's also nice to be standing on the other side of the kitchen and be able to look out the big window to the pool, without pendants in your way—keep in mind those low ceilings we've got!)
So if your kitchen is "between" rooms, and adding pendants would clutter the view visually, you might do well to consider having no pendant lights in your kitchen. (Do not fear! You won't be alone! You'll be in good company!)
---
➜ Need immediate kitchen help? Get our Kitchen Design Bundle (3-in-1!) right now!
---
island PENDANT LIGHTS
3. Pendant lights are unnecessary for our lifestyle.
We remodeled this kitchen over six years ago. So we've had plenty of quality time to test it out.
And both Matt and I will tell you we've never felt that we needed pendant lights over the islands.
Most of the day, our kitchen has natural light coming in the windows, and that's my absolute favorite way to work! (Maybe because I'm an HSP.) Natural light isn't harsh on the eyes, and I find it so much more calming not to have artificial light when I don't need it.
In the evening, when we might be prepping dinner or having people over, we have the overhead lights on and they've been great! We haven't wished to turn them off for something like a softer pendant light (even though I wondered if I would!).
The thing is, a kitchen is—above all!—a workspace. (One of the highly used workspaces in many of our homes!) And a good workspace needs good lighting. For us, our overhead lights work perfectly for that, and when we're done working in there and moved on to another part of our home or to our outdoor living spaces, we turn the lights in our kitchen off.
Easy breezy. (And saves on our electric bill.)
Sure, we all love the gorgeous large-scale pendants coming down over a kitchen island from 15-foot ceilings, but that's probably not even what most of us really need in our kitchen. We usually have other lighting that can be used—what we don't have already existing is good storage, good counter space, a plethora of kitchen drawers, etc.
Focus on those—focus on making your kitchen work like a dream, without it having to make it necessarily look like a dream. There's no true beauty without true functionality!
A KITCHEN ISLAND WITHOUT PENDANT LIGHTING:
Is it for you?
There are certainly times when a big dramatic pendant or two add the drama and focal point that really makes a space pop. (We've done pendants in our dining room as well as in our master bedroom.)
If your home has higher ceilings and doesn't open up to other rooms where pendants will simply be visual clutter, then that's wonderful! In our case, pendants over our kitchen island simply didn't make sense…
…and we want those of you who find yourself in a unique space (where you're not sure if pendants are a good choice or not) to feel free to not do pendants in your kitchen if you don't need to!?
If you're still unsure about whether or not to do pendants in your kitchen—or any other design conundrums that have you feeling stuck right now—grab a free consultation.
To see all our kitchen posts, click HERE!
Next, to see when we DO use pendants, check out our bedroom pendants and our favorite pendants under $150!
➜ Need immediate kitchen help? Get our Kitchen Design Bundle!👈
---
Other popular posts:
➜ Our complete list of every single home project is viewable HERE!