Ever wonder what to expect when your backyard gets demolished for a remodel?
Better yet, have you ever wondered what Armageddon will look like?
Well, wait…before you can fully appreciate this, let's look back at a few of the "before" views of our backyard. (If you haven't taken the tour of our backyard, you can do that here.)
Here's the view towards the house (before we painted it) from our huge backyard trees.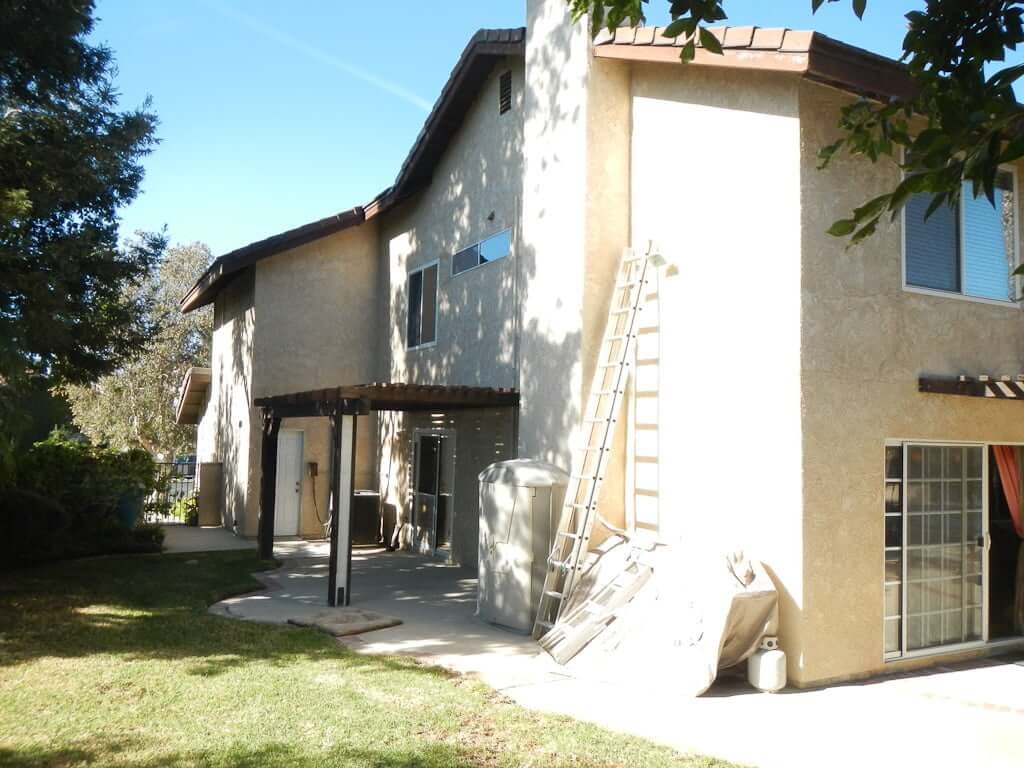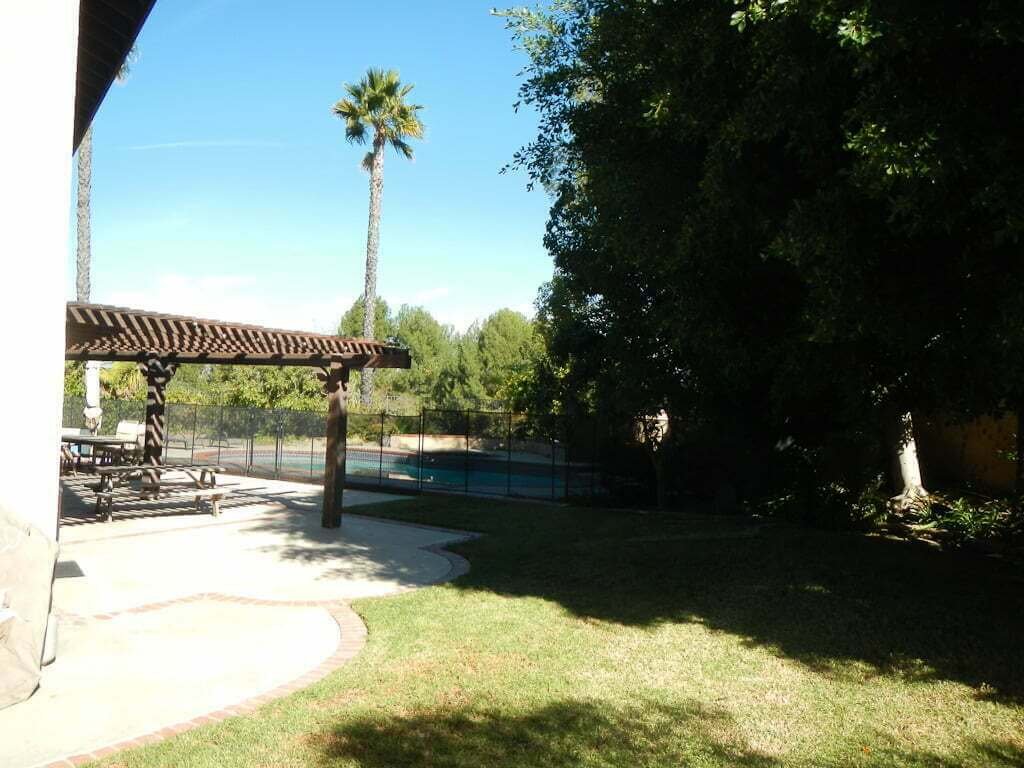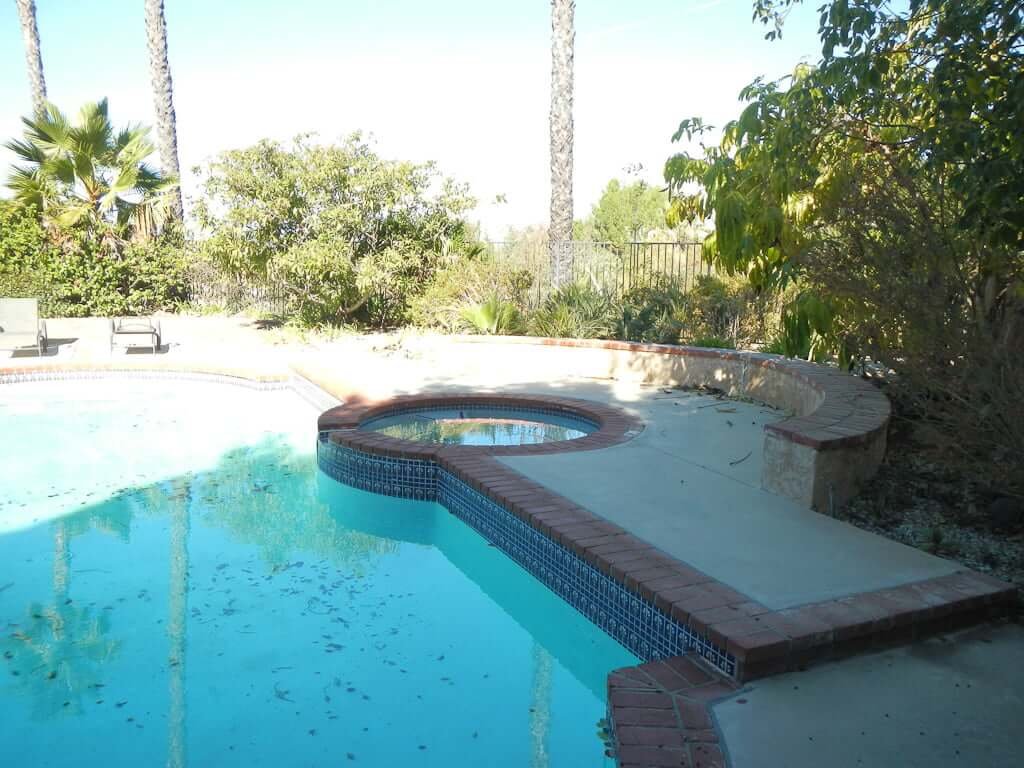 Backyard Hardscape Demo:
Looking at our options.
Sure, it was outdated, but did we REALLY need to demolish this entire backyard full of concrete?
Including the pool?
That was my (Jess's) question early on. I don't typically like to destroy things (unless they're physically hurting me, bringing on a panic attack, or killing me slowly).
I could be overheard plaintively saying to Matt,
"Couldn't we just paint the brick?"
"What if we just added X, Y, and Z and left the rest?"
"That giant shift in the concrete isn't really a bad tripping hazard, right? We can just warn people…"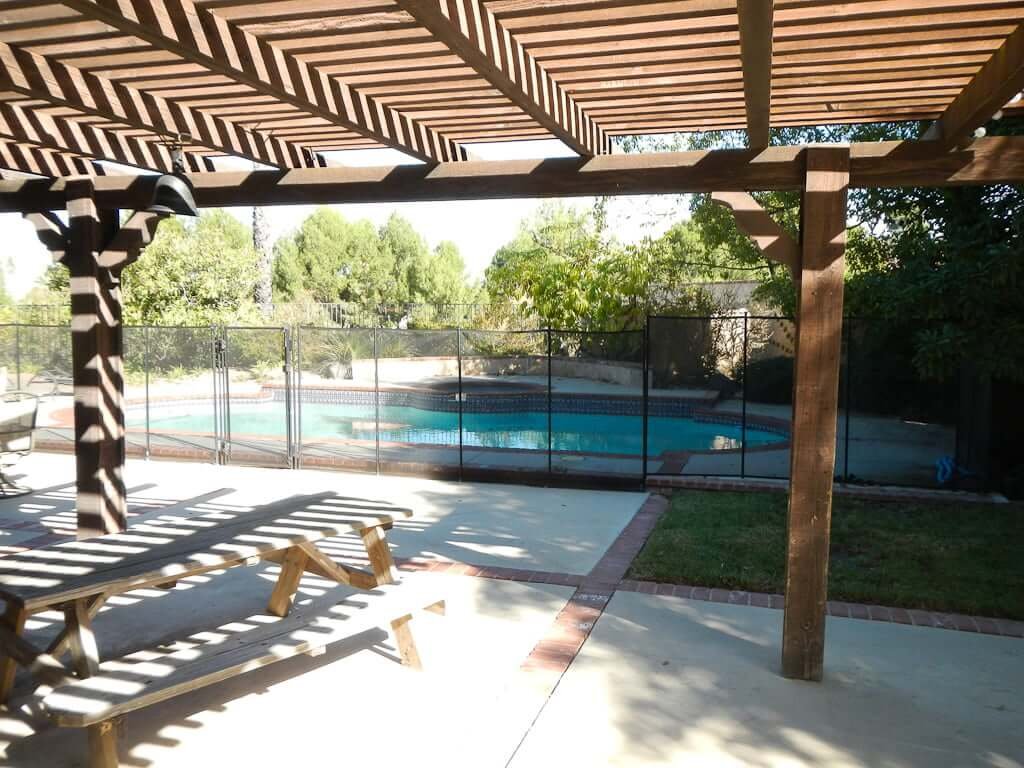 I have a great love for giving new life to old objects, and keeping things as original as possible and reasonable.
However, Matt eventually wore me down and proved to me how taking out all the old concrete would be best.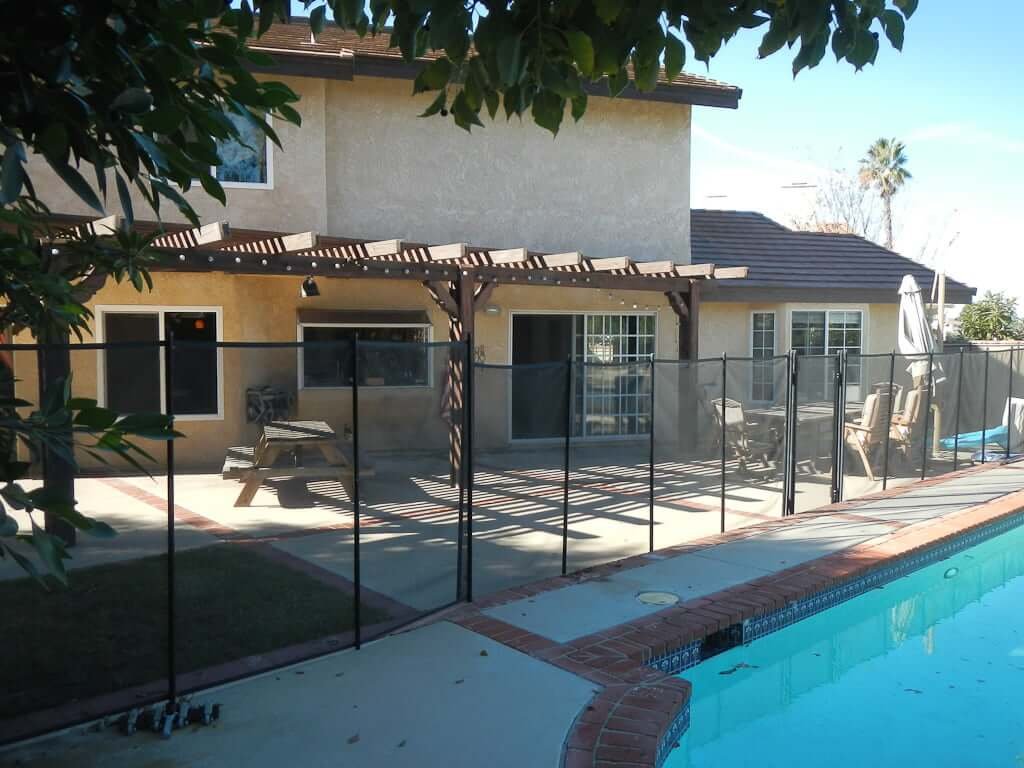 We're cost-aware people who looked at every possible way of doing a conservative backyard remodel. (Which we still did, in a reasonable way. We didn't spend the extra $20k, for example, that we were ballpark quoted to change the shape of our pool what seemed ever-so-slightly. "No thanks, uh…" [imagine me trying to suppress an extreme coughing fit brought on by shock, but still trying to play it cool] "…I think we'll just keep the pool in the same shape it is.")
We looked at…
staining the existing concrete.
repairing the broken areas of concrete.
installing pavers over the concrete.
painting over the brick.
replacing only the brick.
all different combinations of the above (and more).
In the end, we found a small landscaping company owner who outbid everyone for the design Matt and I came up with, but that's another story… YOU are here for Armageddon, right?
BACKYARD HARDSCAPE DEMO:
Before and during.
Here's one view before…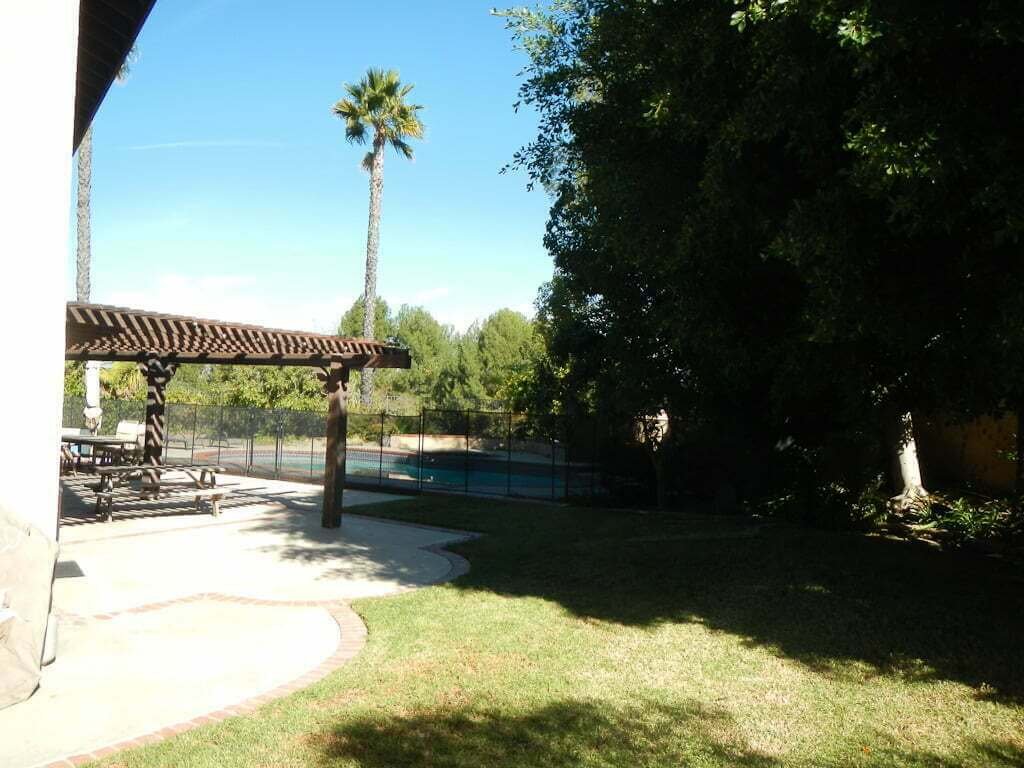 And then during…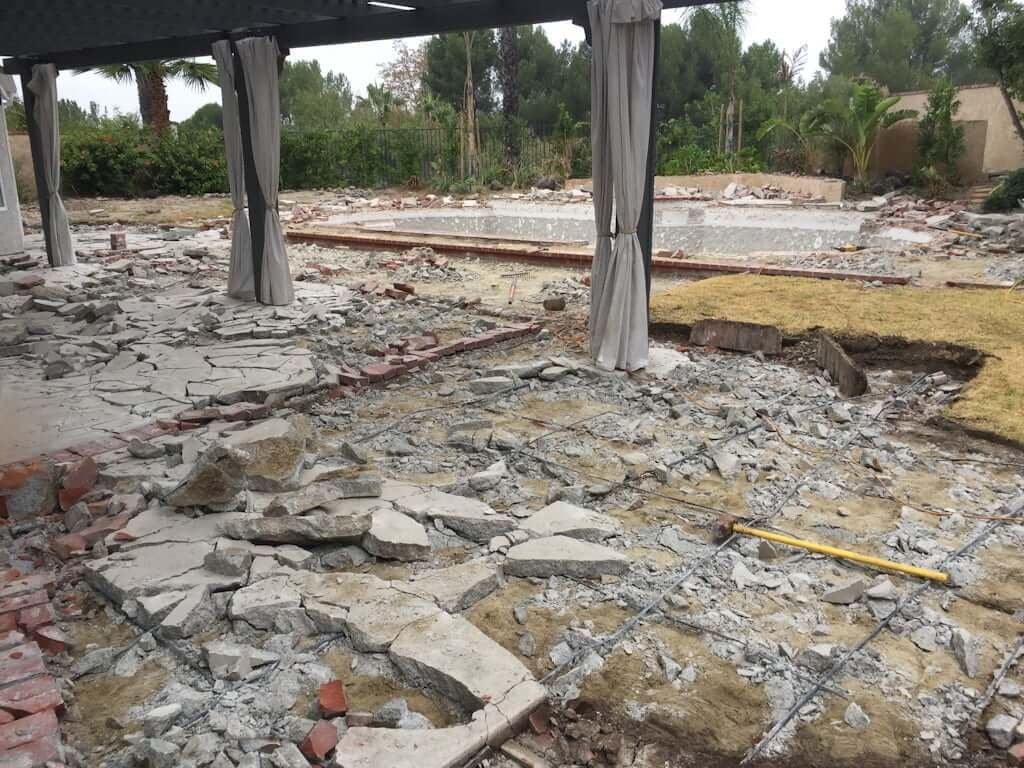 Small aside: the eagle-eyed among you may have noticed my "drop cloth curtains" on the arbor. We had put those up a couple years prior, while we lived here before we remodeled the backyard, to both help with extra shade and to soften the arbor.
Why on earth we left them up during demo, I have no idea. Did we think they would survived unscathed? It's fine…they're just drop cloths from Home Depot hung like curtains. They're replaceable. But still…for some reason we left them up. All I can tell you is that we had lost half our minds just preparing for this project.
Before: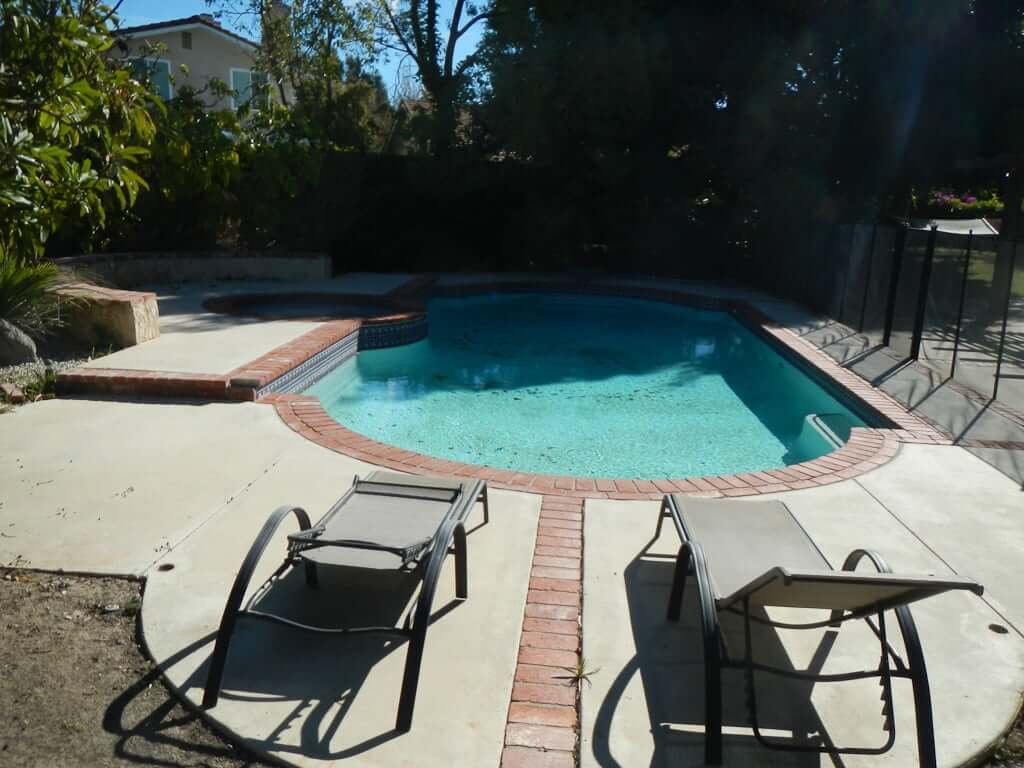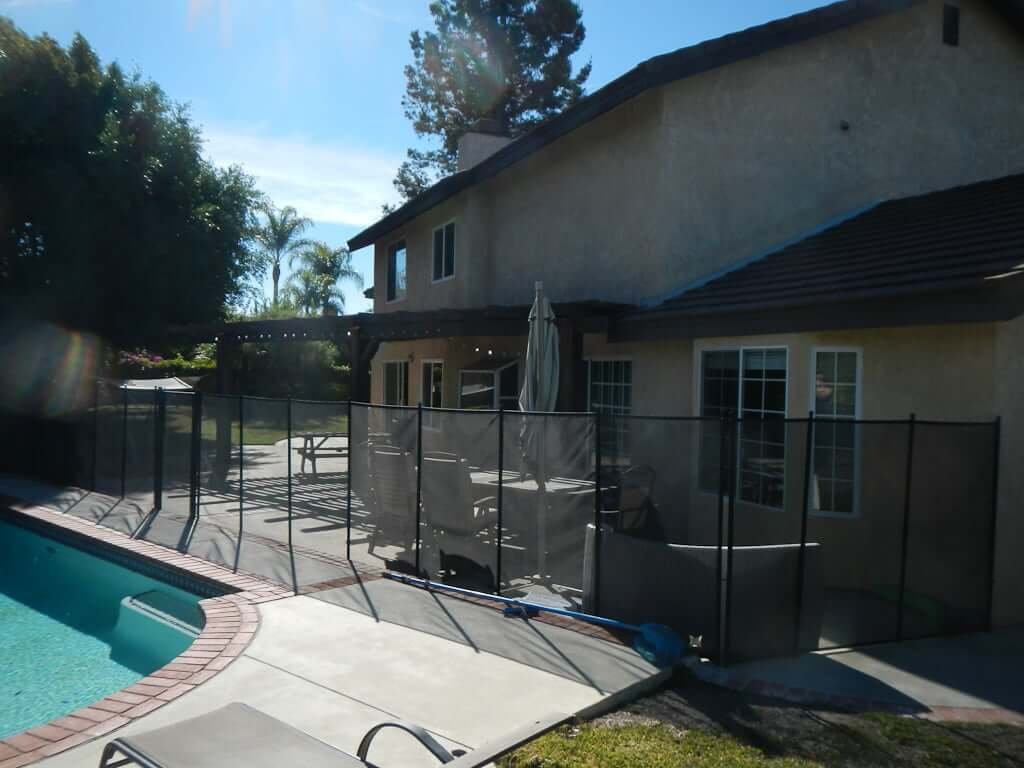 During:

BACKYARD HARDSCAPE DEMO:
The good news.
Now, before you weep for me as a then-pregnant-mama with a 2-year-old, living with jackhammering in our backyard for six straight days while I tried to attempt meals and naps in the middle of first trimester nausea and the many-varied challenges of having a 2-year-old underfoot at the same time…
…I can save you from your weeping.
God graciously smiled upon this weak, pregnant, toddler mother and arranged for Matt's biggest client to need him at a job site in Santa Barbara the very week that all the demo and jackhammering was scheduled to take place.
The very week.
We didn't plan it. It just happened that the first date they could start demo was the same day Matt's presence was required at a job site.
This was years ago, and I am still thankful from the bottom of my heart.
So, my then-two-year-old and I spent the week in Santa Barbara, visiting beaches and zoos and kids museums while daddy worked, all blissfully unaware of the "Dropped A-bomb Look" happening back at home.
Even these photos we didn't take ourselves. The demo crew boss sent them to us. And we glanced at the photos and said, "Oh wow! That is a mess!" And cheerfully returned to our restaurant dinner overlooking the Pacific without giving it another thought. (Before you feel too envious of this situation, let me remind you we still had a toddler with us at that dinner. And I still had to give birth six months later. [Unmedicated, again, because I am insane.] So…just to keep things in perspective…)
And it was all cleaned up when we returned home.
Thank you, Jesus.
(He must have known I wouldn't survive that if I'd been there, pregnant and alone with a 2-year-old, for 6 days of jackhammering and nowhere to go. I'd like to think I could have made it, but really, after living through the jackhammering already on our kitchen remodel for several days with a then-infant, I didn't feel the need to prove anything.)
I told you I'm still thankful! So it warrants documenting this everlasting gratitude.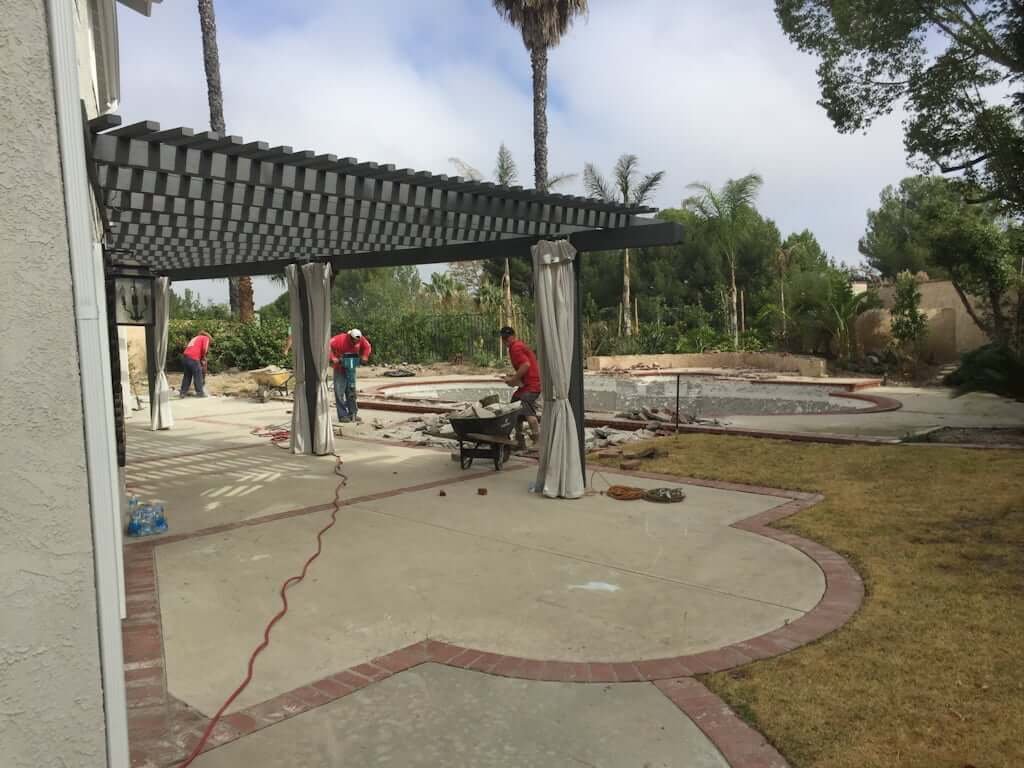 BACKYARD HARDSCAPE DEMO:
"Did you hire a landscape designer? How did you know to tell the guys what & where to demo?"
I'll write another post about this, but I'll just briefly share that Matt and I came up with our own design for our backyard remodel.
100% ours.
But not until after we got a big boost of confidence.
We had hired a professional, big-name landscape company to come up with a design for us. A company with super high ratings, owned by someone in the L.A. area who had his own landscape TV show on HGTV.
And so we thought, "Oh, they'll have some amazing ideas we never dreamed of! Let's hire them to come up with ideas!"
And we did. We paid a hefty consult fee, expecting to be A M A Z E D. If we were gonna do this backyard remodel, we were gonna do it right!
Long story short, when they came back with their drawings, we were so underwhelmed that it was shocking. The company basically took the starter ideas Matt and I had pitched to them (you know, to get their amaze-ball ideas rolling!)…
…and our ideas were the best they ever came back to us with.
(Long story short, after completing our backyard project on our own design, hiring our own small contractor for 1/3 the cost the big company had quoted us, we were refunded the consult fee by that owner. So it all worked out in the end, but we were still just so shocked they were nationally famous and came up with nothing in addition to our ideas.)
All that to say, we're not professional landscape designers but apparently we can hang with them!? Check out our Design Services page if you'd like to get The Brain & The Brawn onto your project for a fraction of the cost of the big companies. (Yep, I'm gonna plug ourselves and let you know that we genuinely save our clients money! We love to help—and to help you do it for non-ridiculous costs.)
To see our completed backyard renovation, click here! (Or see the progression of our backyard after we moved into the house.)
See The Complete List of our backyard remodel!
➜ Our complete list of every single home project is viewable HERE.