Today we're sharing three of the best creative cabinet storage ideas that we used in our kitchen remodel. But why? If you've read our post on why we installed all lower kitchen drawers instead of cabinets, then you know about our die-hard love for drawers all day long.
But what about when drawers are impossible? (Such as in high spaces 6 feet above the ground; you couldn't see inside.) We can't put drawers everywhere. So what do we do in those cases?
This is why we're sharing the three examples of how we maxed out our cabinets and made them highly functional where we were forced to have them. (Imagine me with gritted teeth. Yes, sometimes you are FORCED to have cabinets even when you wish they would all disappear into the night!)
So how do we make the cabinets we had to have be the most amazing cabinets we could?
---
KITCHEN CABINET STORAGE IDEAS
So, because we decided to leave the sink in the same spot, we now had two small sections of "empty" wall space available to either side of the sink. What would we do with them?
In our first house (a decade ago), I'd thought about taking out upper cabinets to go to open shelving. (That was before the open shelving trend hit and went crazy.)
However, now I was 10 years older and 10 years wiser. And I definitely did NOT want open shelving. (My feelings on open shelving is a discussion for another time!) So it was looking like we'd need to have cabinets on either side of the sink (if I wanted storage that I couldn't see, which I definitely did).
THE PROBLEM WITH UPPER CABINETS
Problem: I don't love the look of upper cabinets with counter space underneath. I'm not sure why…maybe it feels unbalanced to me? This big heavy-looking upper cabinet "floating" above a counter below? Maybe. It's not like I couldn't live with that scenario. But really, because I was now being given the choice—I could have ANYTHING in that space I wanted! ANYTHING!—I wanted to choose wisely.
Question: What do people usually put beneath those upper cabinets?
Answer: Appliances.
MY BRAIN'S CABINET STORAGE SOLUTION
We decided to do "double" cabinets on those walls: one set above, one set below. (Yes, I think that helps for me with my upper cabinet dislike—visually having that balance with a solid "support" below. Maybe that's it. Will take some more pondering on that one to say definitively.)
That way, we could store our most-used appliances on the counter (the others are stored elsewhere, to be revealed)…yet hide them in 2 seconds when not being used.
For example, we now go from this: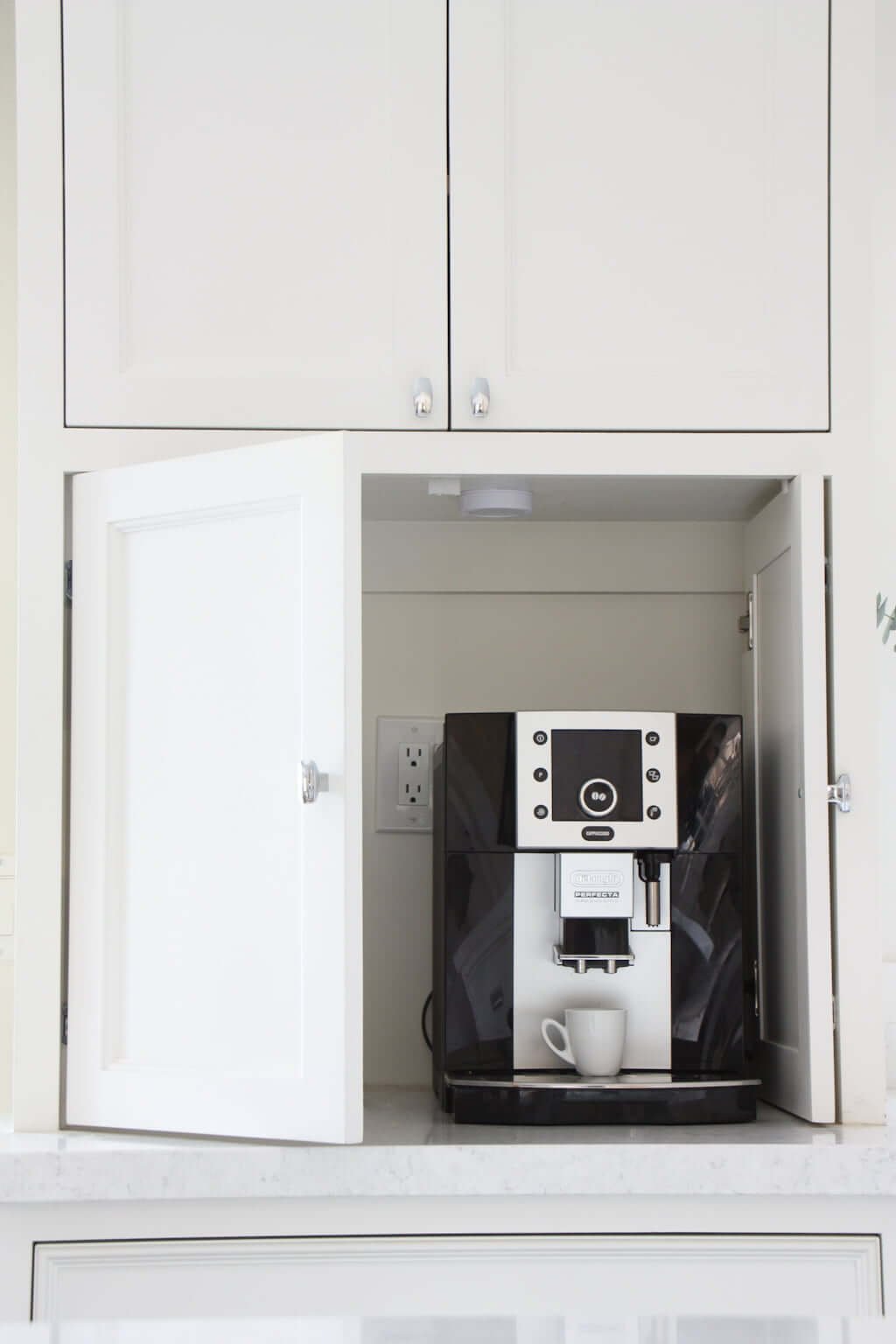 To this: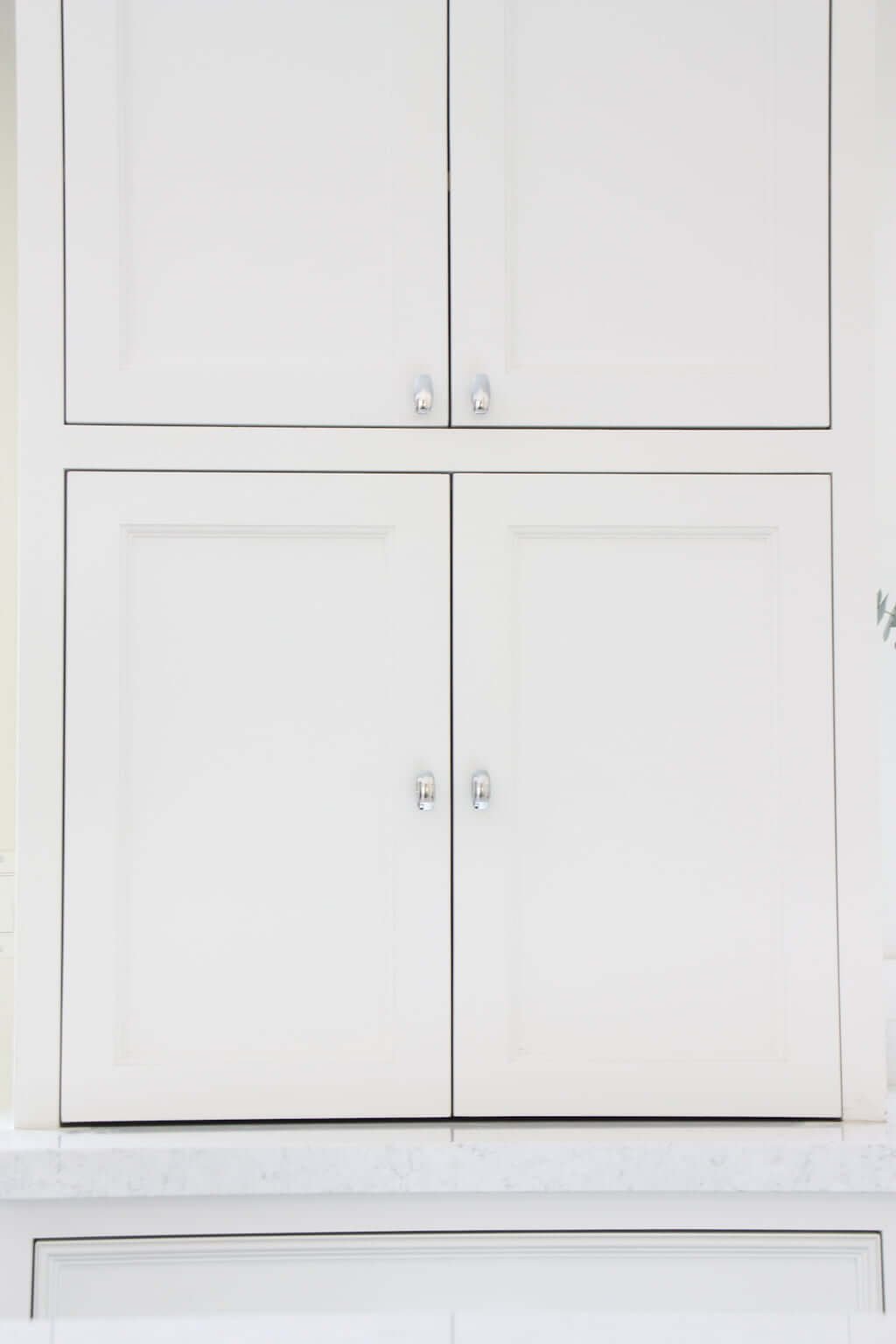 It was all achieved by simply pre-planning our cabinets!
How did we do that? We share more about our hidden appliance cabinets here!
---
KITCHEN CABINET STORAGE IDEAS
The second place we couldn't avoid having cabinets was above the fridge.
But I didn't want it to look like there was a cabinet there. See the details HERE!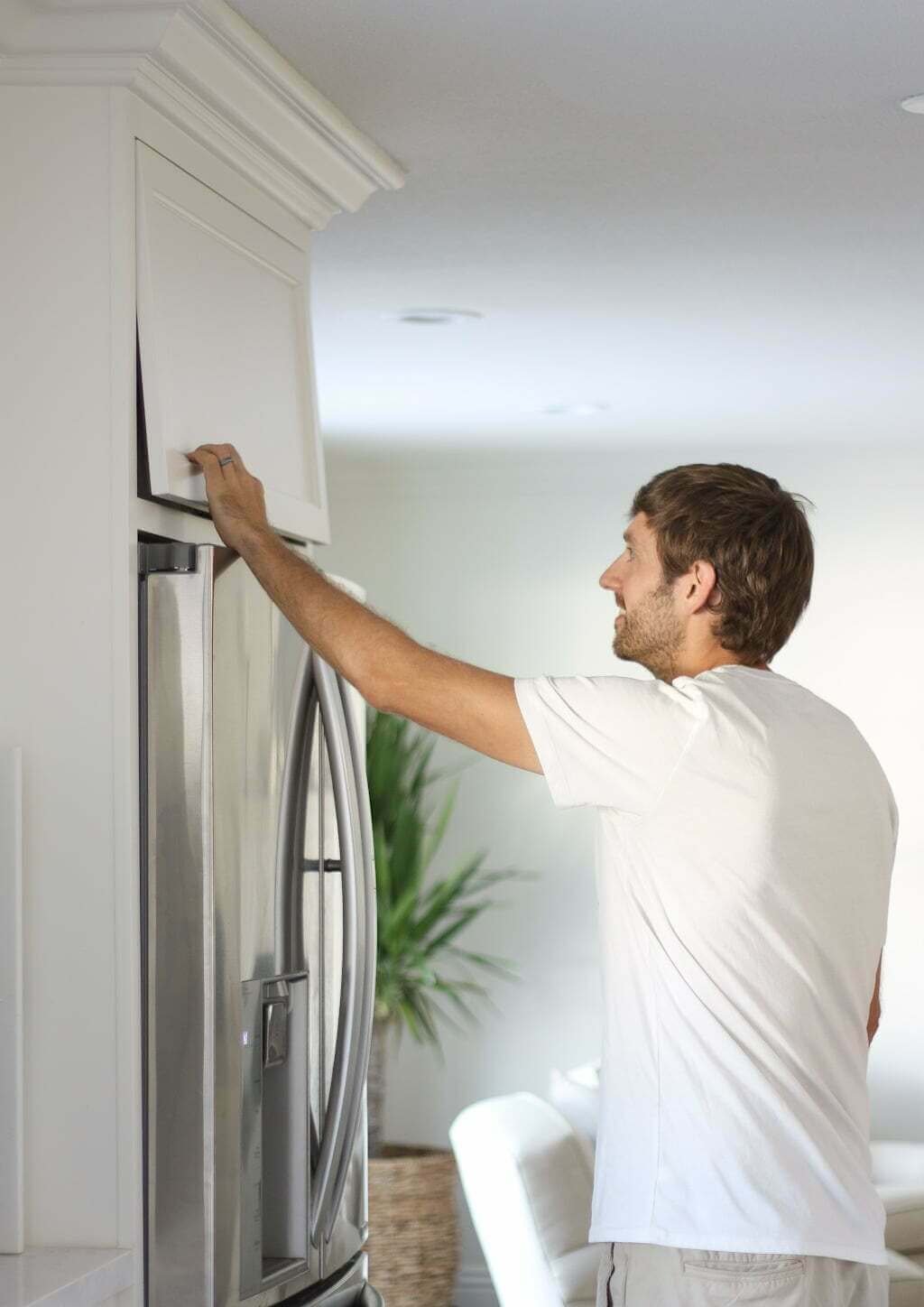 And below, here's a peek at what it looks like when you're coming down the hallway into our kitchen. Pretty subtle and not screaming for your attention, right?
Form + function. Pretty much everything The Brain & The Brawn stand for!
➜ Need immediate kitchen help? Download our Kitchen Design Bundle! (3-in-1!)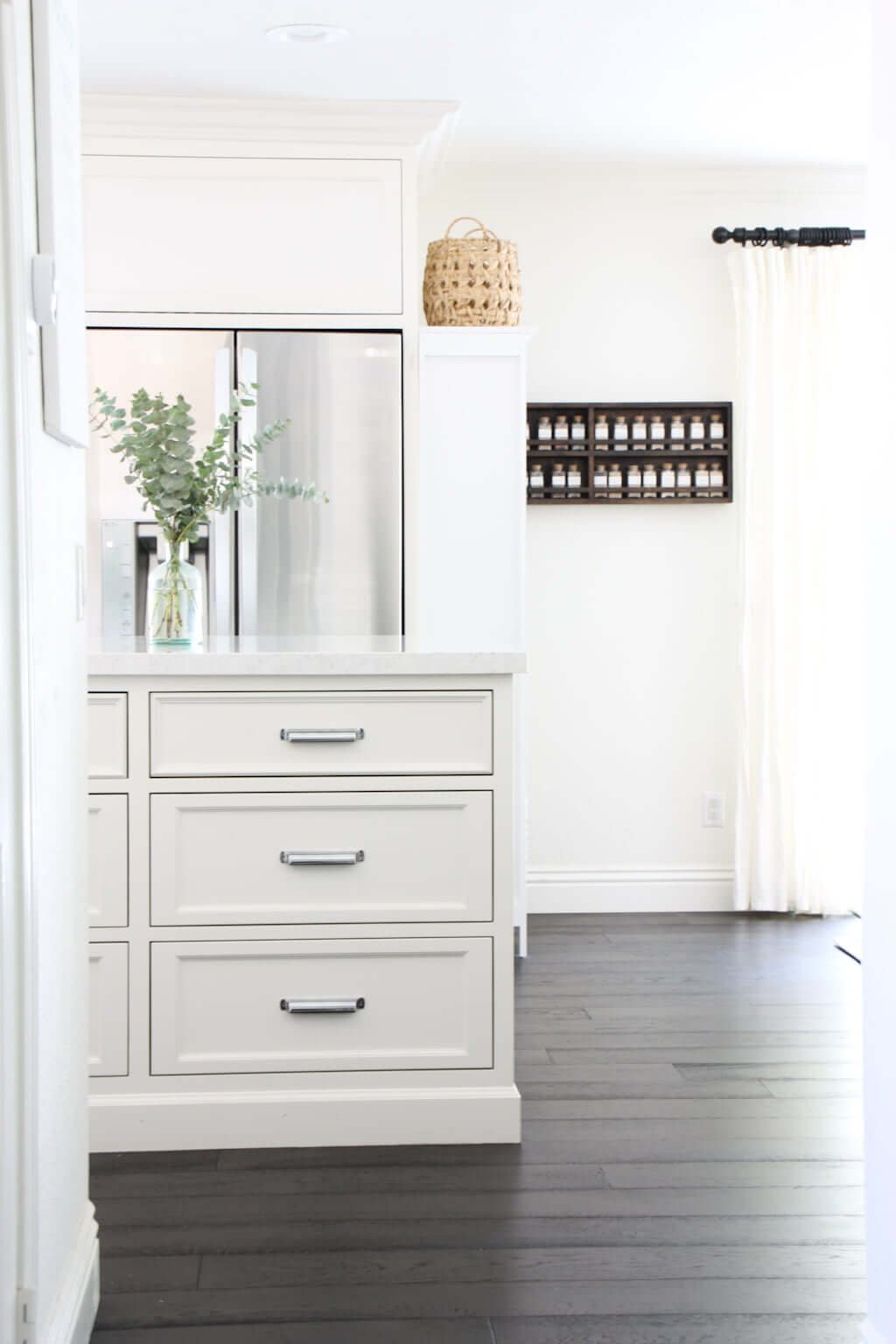 magnet / lift mechanism / vase
See the full post at "How to Make the Cabinet Above Your Fridge Look Good + Reachable Without a Stepstool!"
---
KITCHEN CABINET STORAGE IDEAS
#3: Above-oven Storage
The third place we just couldn't avoid having cabinets was above the oven. Again, what else are you going to put up there? Sigh. Can't do all our drawers up there. It would have to be a cabinet.
But not just any cabinet.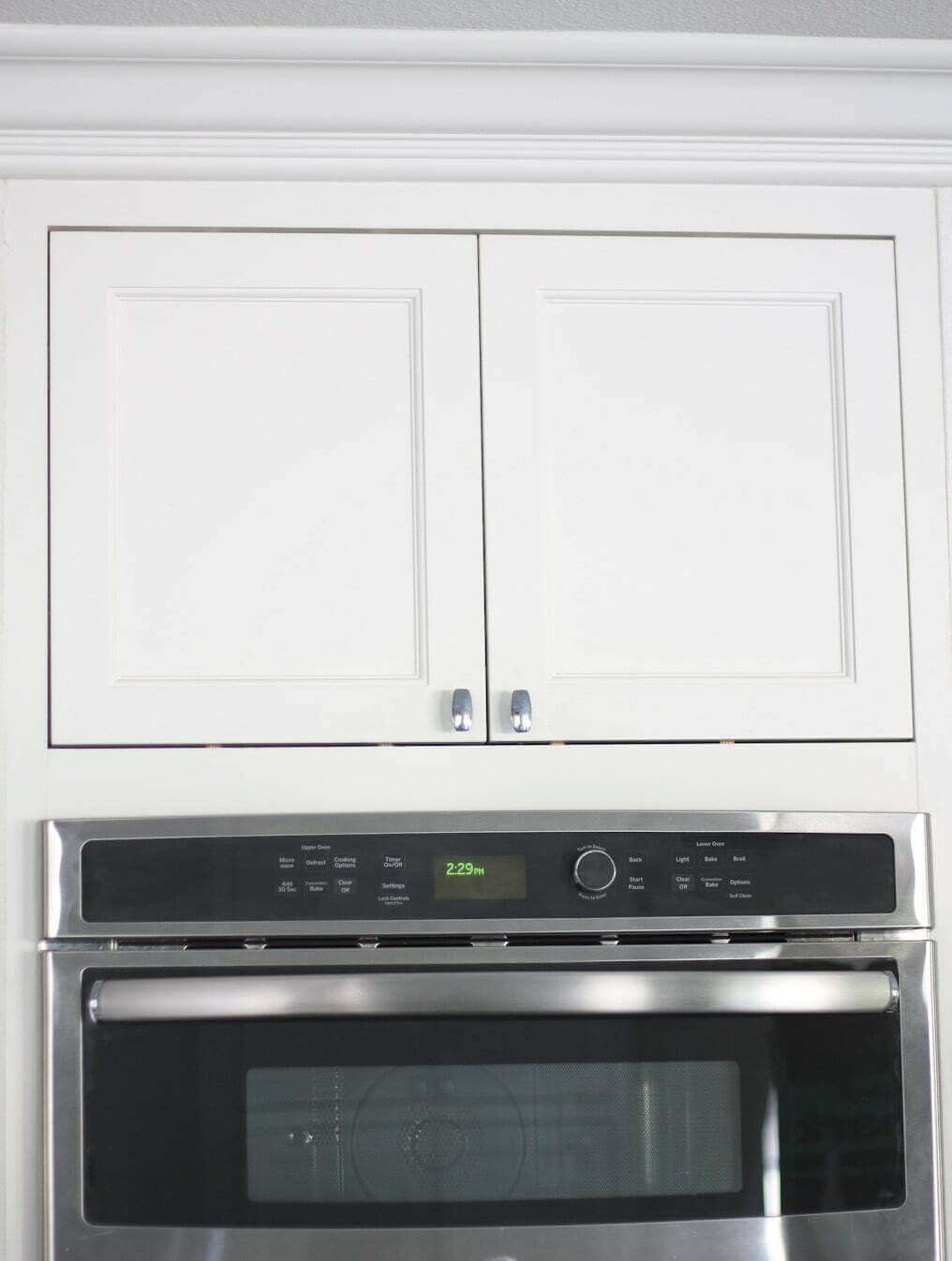 Question: So how could we maximize the space and make it uber-useful?
Answer: We just looked at what would be handy up there.
Q: What was nearby the space?
A: The oven.
Q: And what do we use a lot in the oven?
A: Trays. These trays. They're nontoxic and we use them almost daily.
Q: What's annoying about trays?
A: Storing them in a drawer or cabinet below. Having to have them piled on top of each other. Digging around for different sizes or types of trays.
Q: So how do you solve that annoyance?
A: By turning the trays vertical and separating them!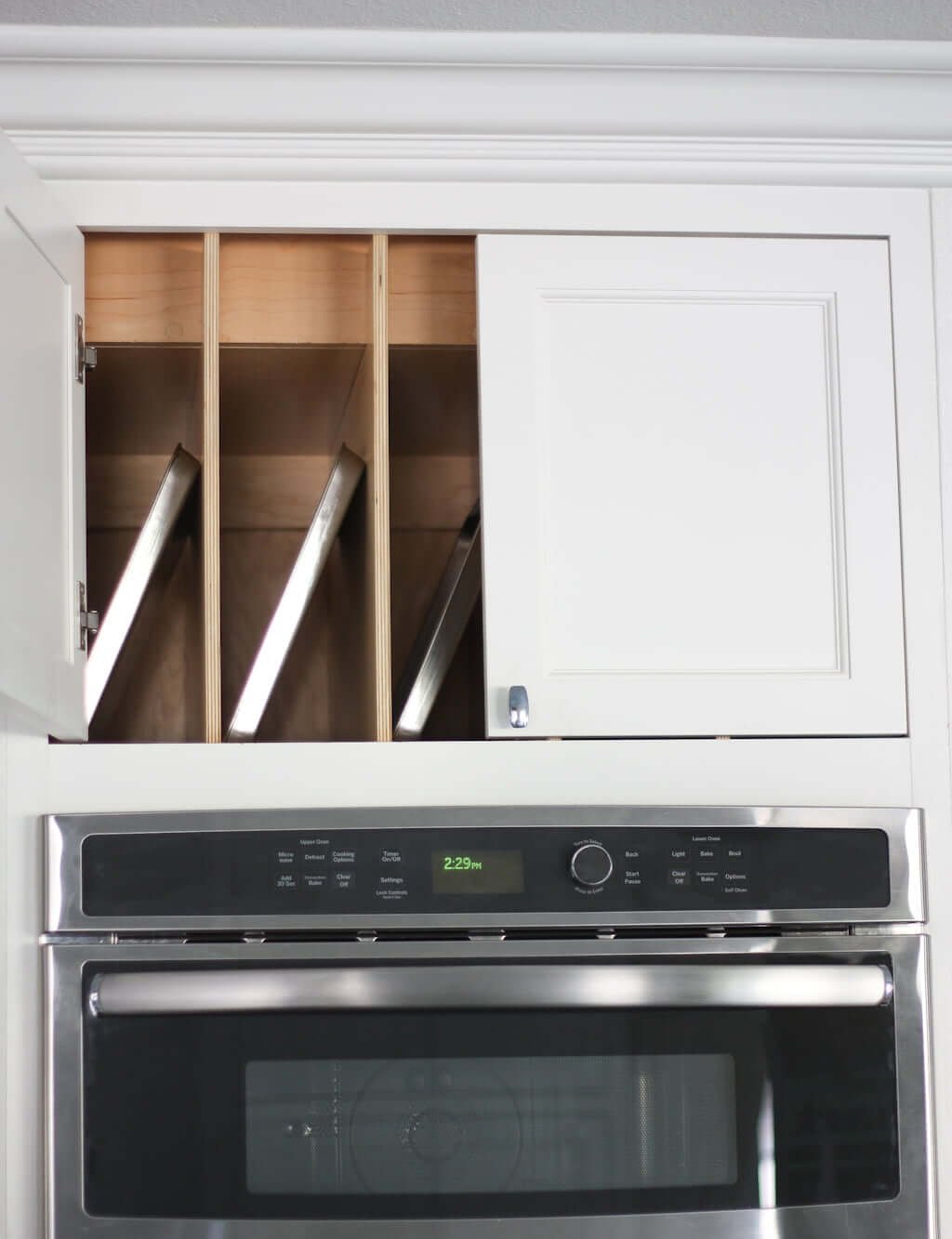 Next, we have 18+ additional kitchen storage "tips and tricks" to share with you in our post on 21 Genius Kitchen Ideas & Hacks!
UPDATE: See our Complete List of kitchen remodel posts! (Full of organization, storage & design tips!)
Or you'll want to check out these other kitchen-related posts:
---
➜ We wrote 3 kitchen guides to help you with your own kitchen! Get our Kitchen Design Bundle! (3-in-1!)
---
➜ Our complete list of every single home project is viewable HERE!
*This post contains affiliate links, which are no extra cost to you but help us keep this site alive!
PS: You can see the upper cabinet storage in action in our quick video below!