Wikiwikiwhat! Backyard makeover time! Yes, our backyard is officially MADE OVER!
If you've already taken the tour of our backyard before we moved in, you'll be more up to speed.
For those of you who haven't taken that tour, have no fear—I'll put in many of the "befores" so you'll feel all caught up. (Although I still think you should check out that original tour because it's a fun one and shows more than this!)
You may also want to check out our "Apocalypse Preview: Why We Ripped Out Our Backyard" to get a glimpse of what Armageddon will look like.🤣
BACKYARD MAKEOVER BEFORE AND AFTER
Area #1: The Side Yard
Anyone remember how the side yard of this house looked before we officially bought it? She wasn't too pretty.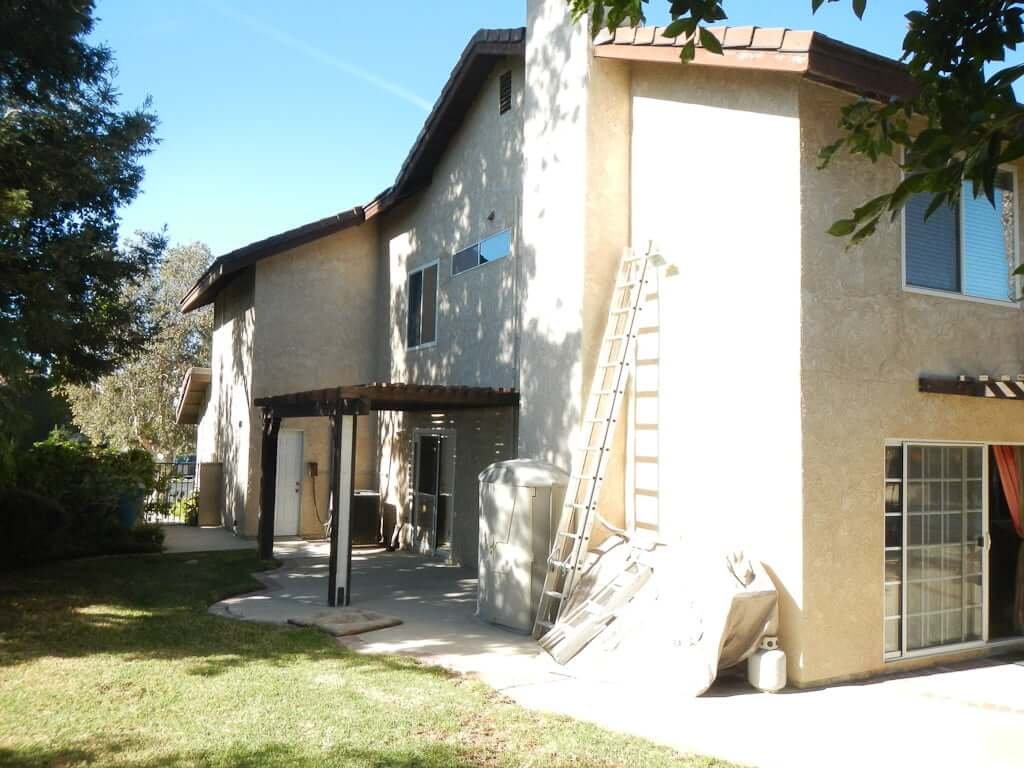 After painting the house, sinking the trampoline, doing some landscaping, and adding a built-in BBQ & kitchen area, she now looks like this: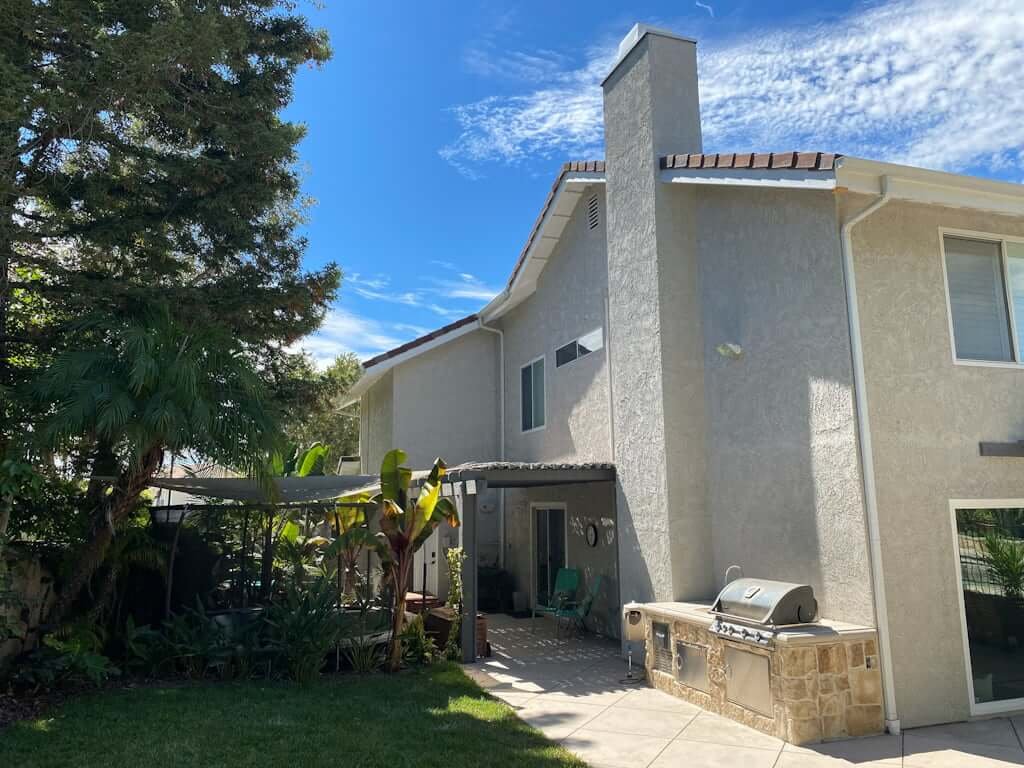 And yes, our house is a "she." She needed this makeover after 30+ years of looking the same, poor thing.
PS: If you're working on any kind of backyard project, you'll need THIS!
BACKYARD MAKEOVER BEFORE AND AFTER
Area #2: New Raised Patio
The view from the back lawn towards the pool used to look like this:
Where there used to be nothing but grass, Mountain Lady spotted a view to the mountains—IF you got the right angle a few feet higher up. So we dreamed up a way to get a raised view without having to build a treehouse. (Which is another fun idea with these massive trees we have. You know I love me some Swiss Family Robinson.)
The brilliant idea was a raised patio, where we have our dining furniture, to take advantage of the view of the mountains. So that same "before" shot now looks like this:
Click to read about Building Our Raised Patio with Retaining Walls, or see The 15 Perks of Building a Raised Patio Instead of a Deck!
BACKYARD MAKEOVER BEFORE AND AFTER
Area #3: Pergola Sitting Area
The pergola attached off the back of the house looked like this: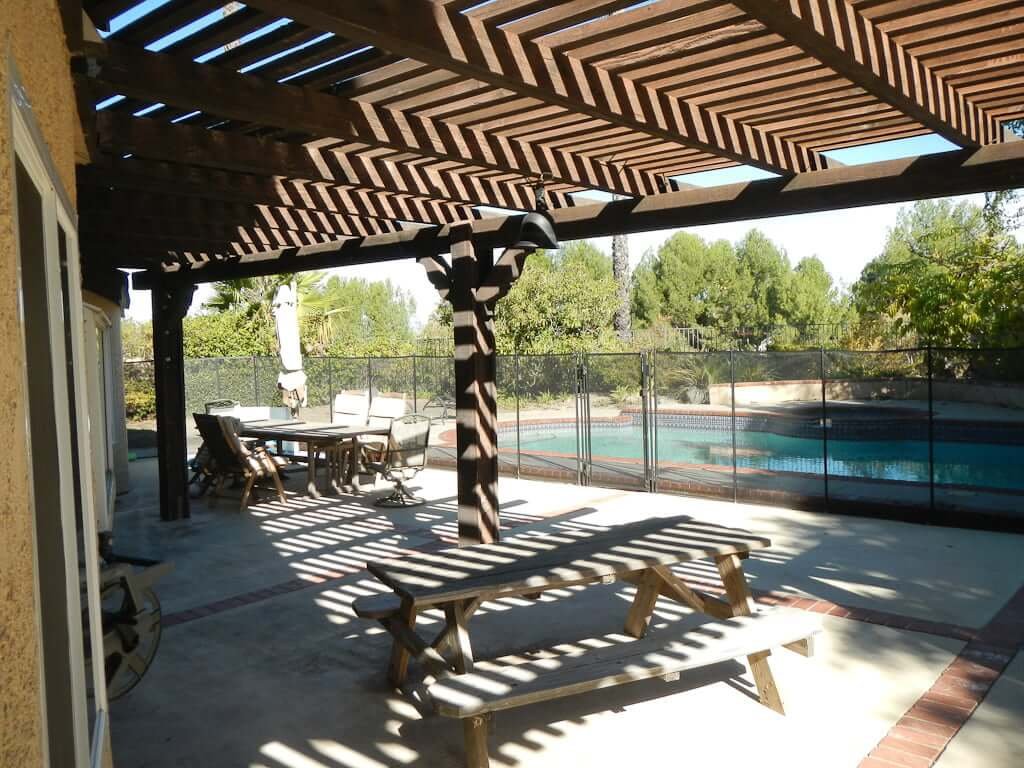 We've discovered this spot gets the sweetest, coolest shade in the afternoons, so it makes this an ideal sitting area.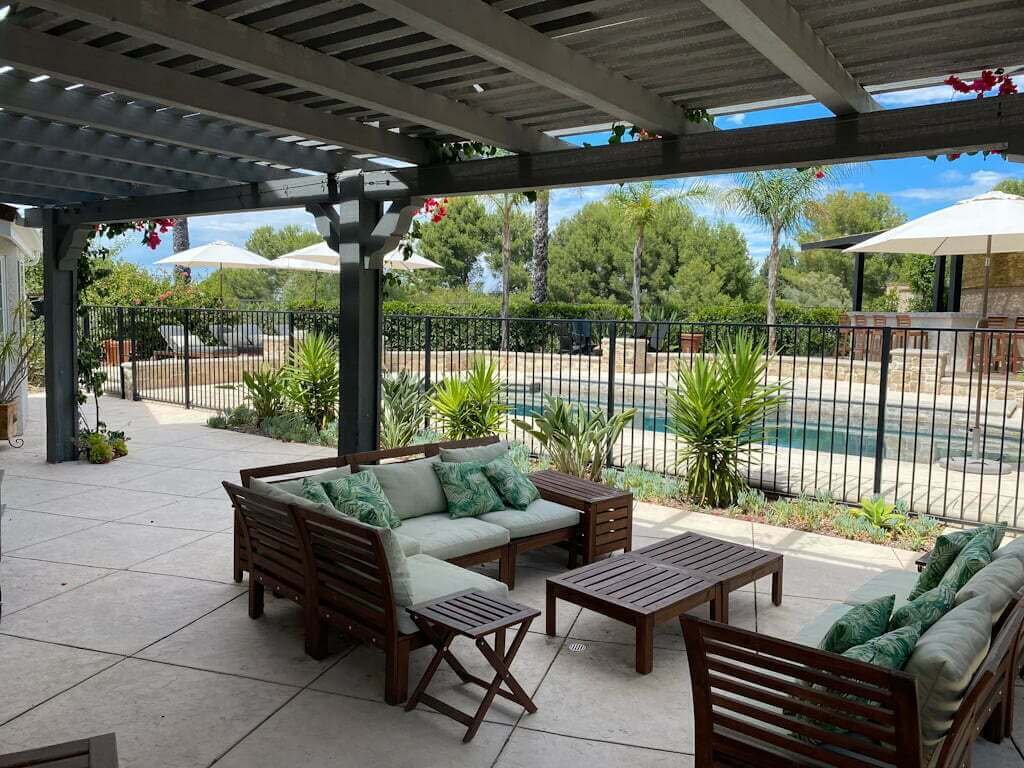 Everyone should read my post on the 15 Easy Mistakes to AVOID in your backyard!
Below is the old view towards the pool:
Our current view: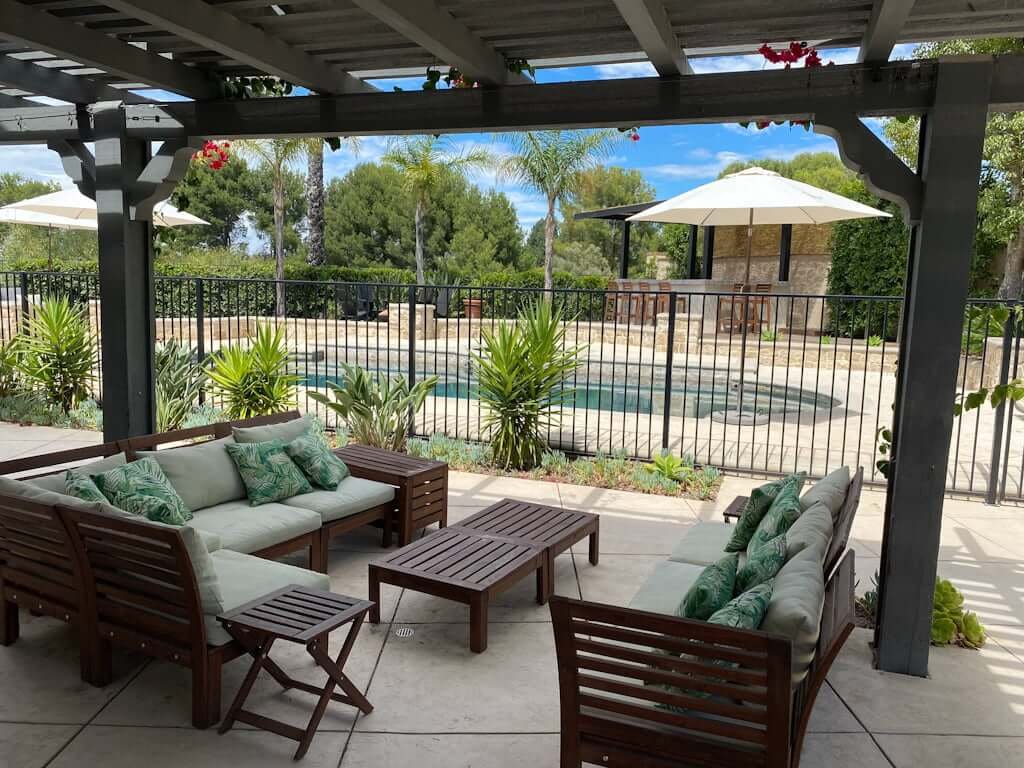 See how this all looked being ripped up HERE!
BACKYARD MAKEOVER BEFORE AND AFTER
Area #3: The Pool
The view through the pool fence that used to look like this…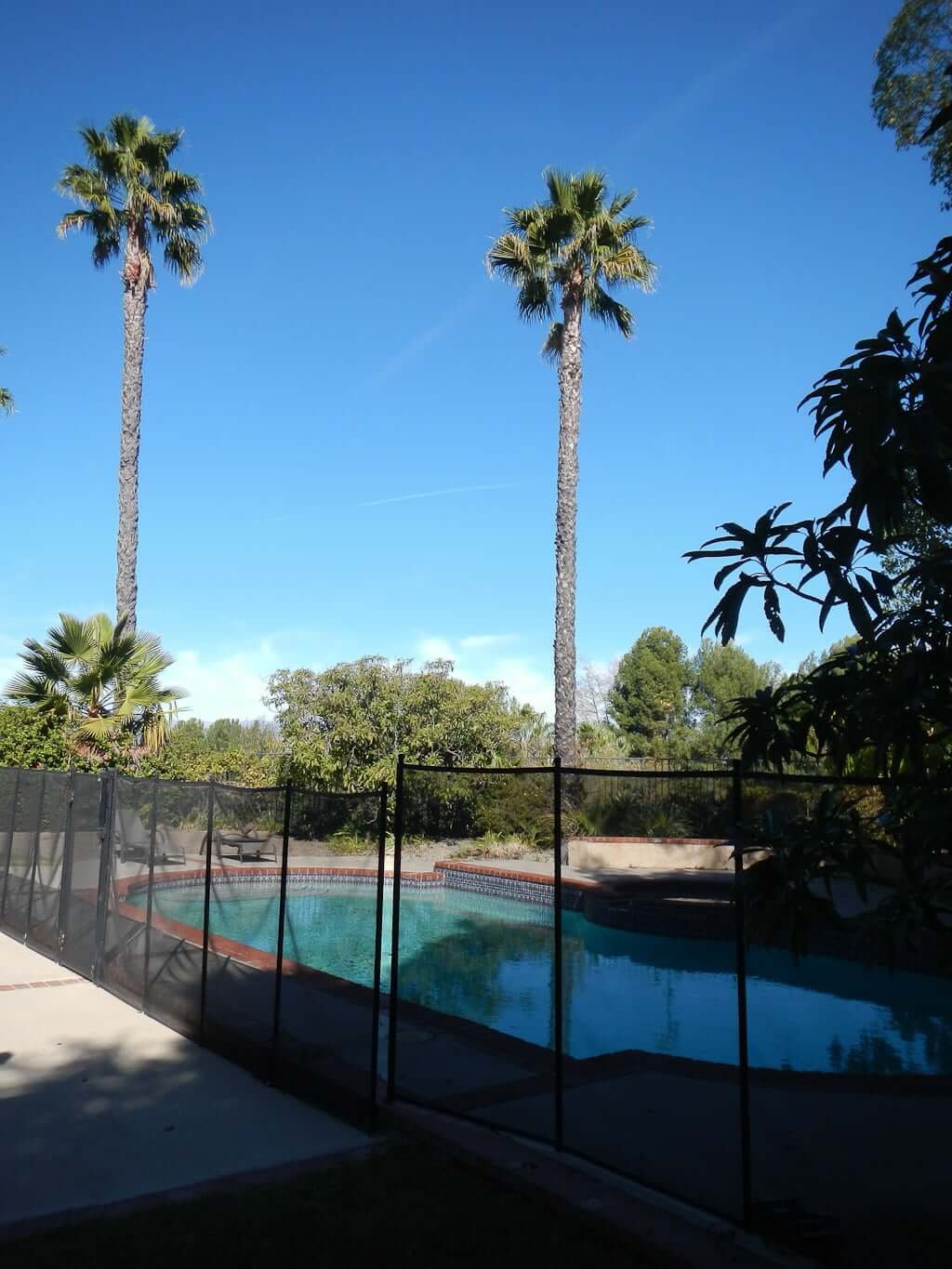 …now looks quite a bit different after we got ahold of it.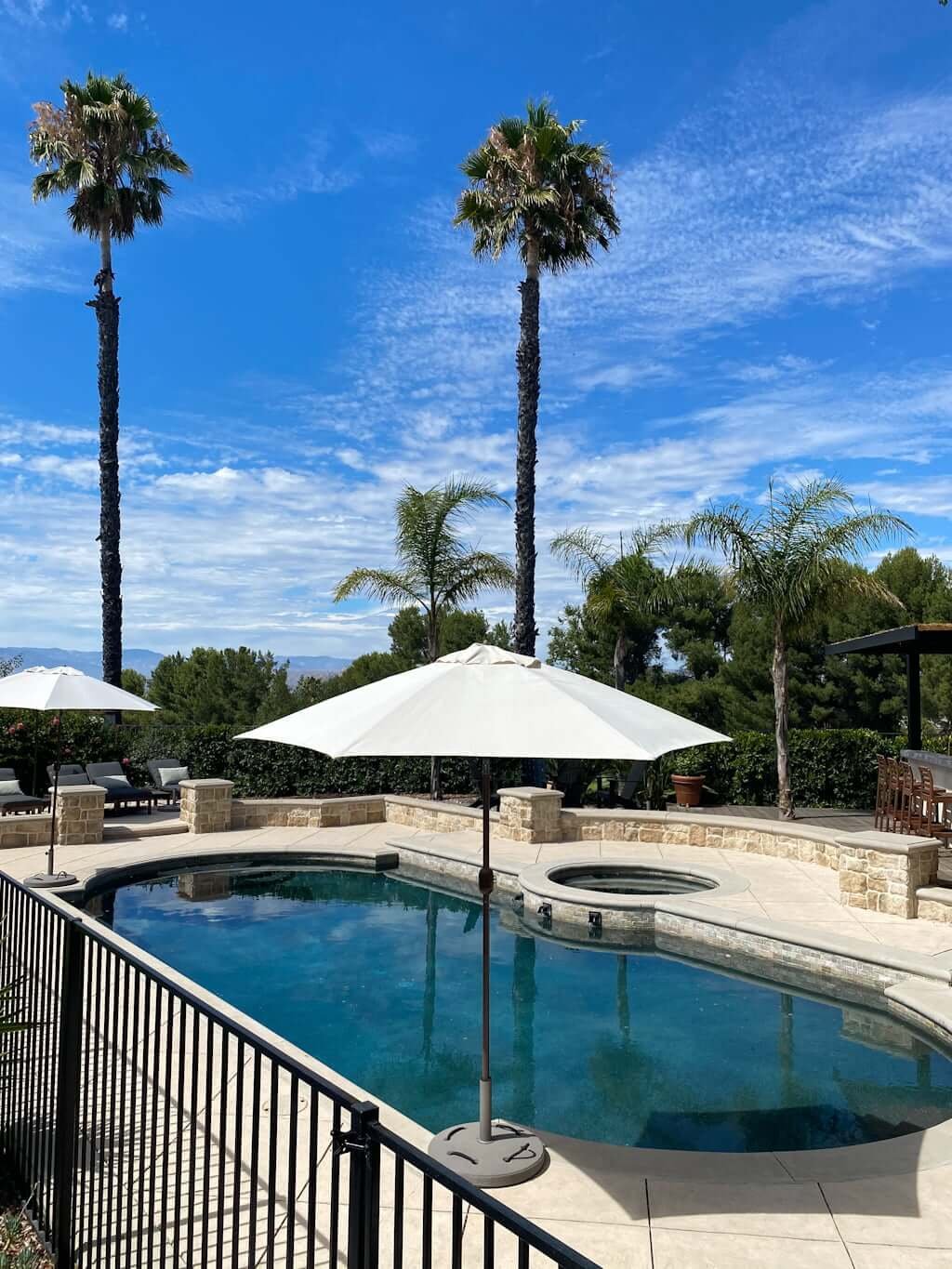 We replaced the removable pool fence with a permanent one.
Someone suggested we keep it removable "because the backyard looks nicer without a fence," but we decided against that. We think the black fence looks beautiful, Matt installed all 75′ of it himself so we know it was done right, it ties in with the other black elements we have going on, and more importantly, it's safe! We have young children, and even when they're grown we'll still want anyone coming over with kids to be able to let them run around the rest of our huge yard safely—without worrying about the pool.
BACKYARD MAKEOVER BEFORE AND AFTER
Area #5: Mountain Views
Before we bought the house, the views of the mountains were blocked.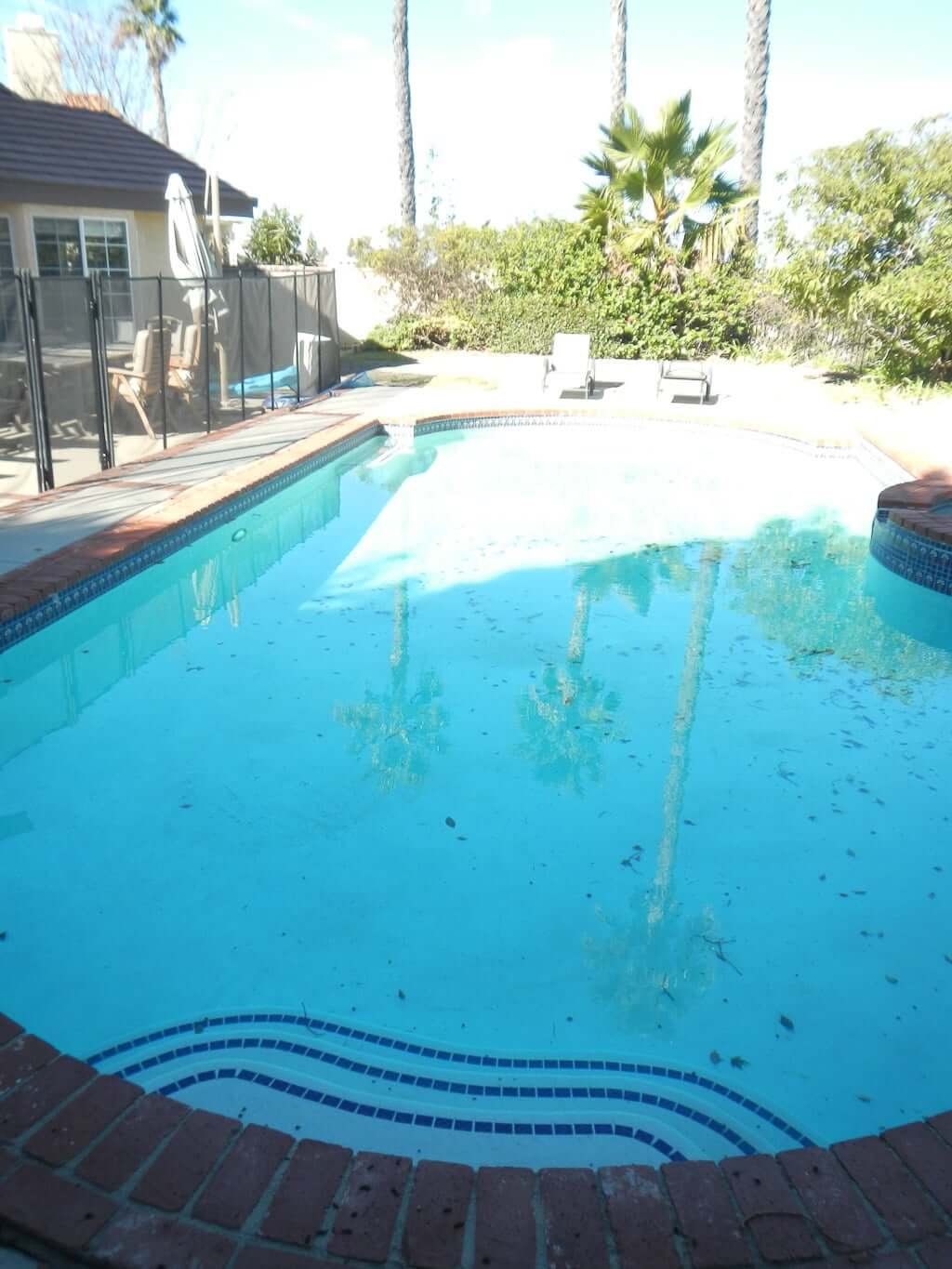 After spending quite a bit of time clearing out all the overgrowth (which was fun, don't get me wrong), that mountain view—even from all the way back here on this side of the pool—cleared up quite a bit. Mountain Lady is happy.
Now if you were to rotate slightly to the right from this view, you'd see our next area.
BACKYARD MAKEOVER BEFORE AND AFTER
Area #6: Outdoor Bar Area
(a.k.a. "The Sunset Bar)
"Before" view from this spot: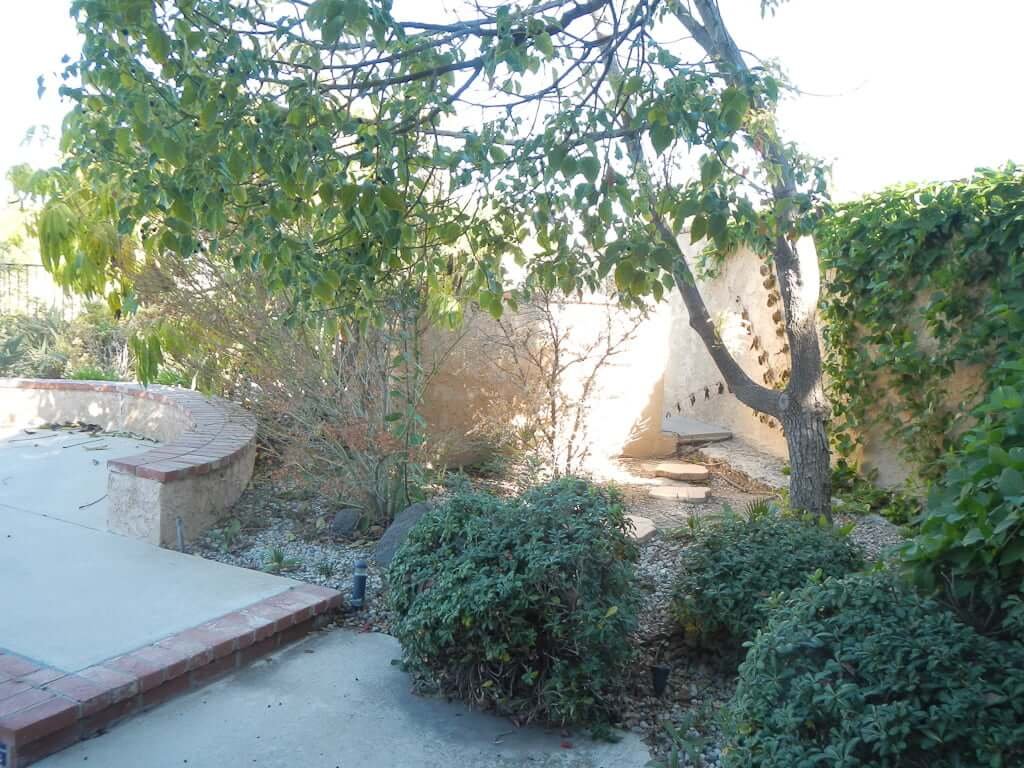 This spot gets a great view of the sunset over the mountains in the evenings, so we started jokingly calling it "The Sunset Bar." (And yes, our children call it that too although they have zero idea what a "bar" is!)
We'll go into all the details about how we created this outdoor bar HERE!
Right now we're just doing a quick spin through, from afar! (Closeups of every area—including the two firepits not pictured—will come another time, we promise.)
BACKYARD MAKEOVER BEFORE AND AFTER
Area #7: Looking back to house from pool
If you rotated yourself left from that same spot again, past the pool, you would see towards the house. That view used to look like this:
And today it looks like this: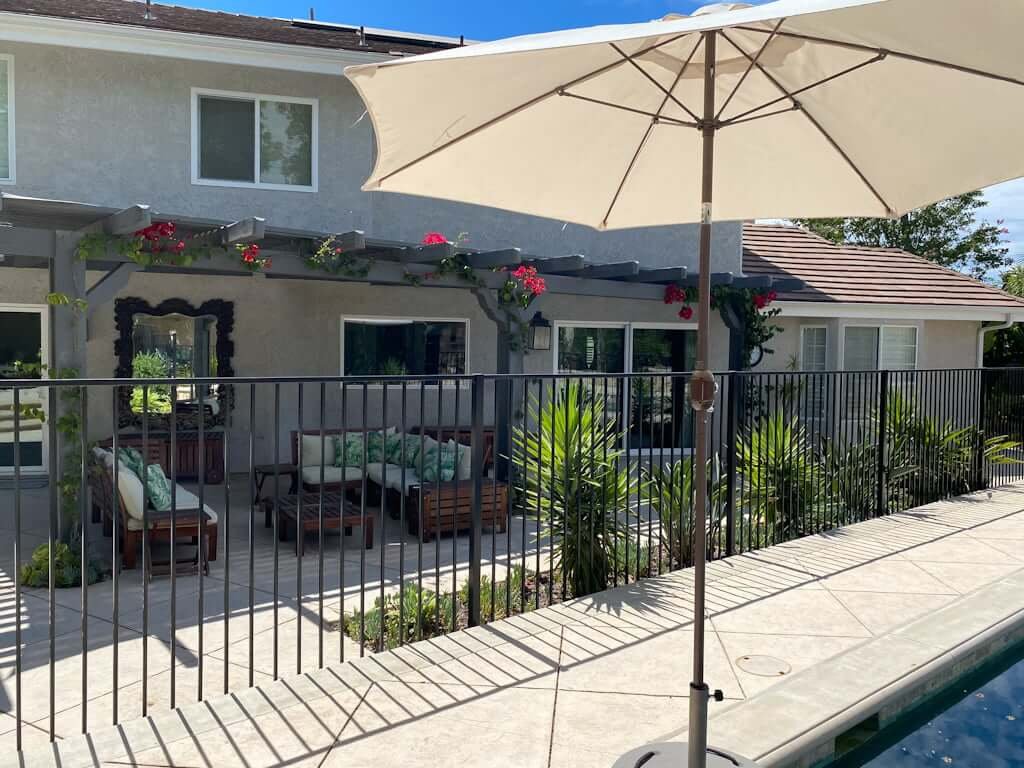 Say hello to my bougainvillea babies! I've been training three bougainvillea plants to grow up the pergola and it's been so exciting watching them grow and flower. (Yes, more adopted plant babies for Jess to nurture!)
BACKYARD MAKEOVER BEFORE AND AFTER
Area #8: Raised Chaise Patio
This spot gets almost all-day sun. Before we moved in, you may remember us sharing this view:
Today, if you came over to enjoy a cool drink with us in the chaises by the pool, you'd see this new view:
If you're serious about saving money on your backyard, you need THIS!
You can also just see the edge of our black chairs for the firepit area on the left (well, one of our two firepit areas), but we'll go into detail with pics of those spots another time. Looking towards the house from the chaises, you used to get this view: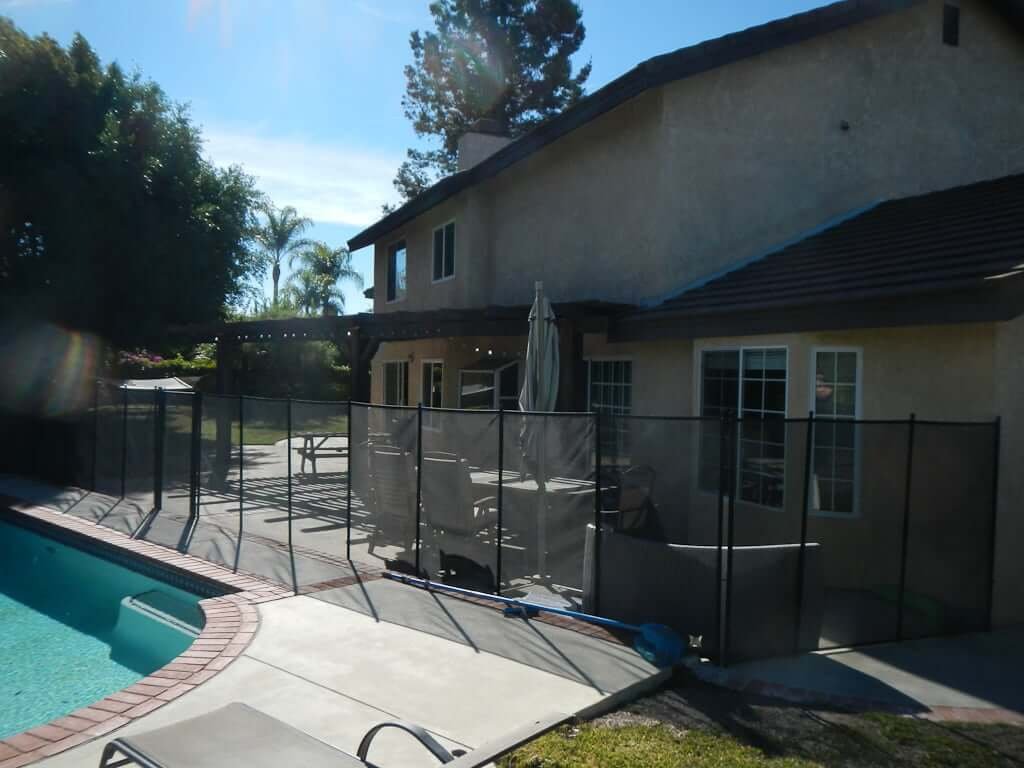 Now here's what we see:
We'll go into all the details and closer photos of everything later, because there is SO MUCH MORE TO SHOW YOU GUYS!
But before you buy a single stone or piece of outdoor furniture, you need to make you've got THIS right!
View The Complete List of our backyard remodel! We've already made changes to our front yard and our courtyard, and there's more to come!
PS: To browse all our house renovations, click HERE!