Wondering whether white quartz countertops are the magic solution for your kitchen or bathroom? We've got EVERYTHING you need to know below, boiled down into 10 quick-n-easy bullet points, from quartz countertop colors and costs to quartz countertop pros & cons!
Want to spoil yourself for life? Because we'll tell ya, after you go with quartz countertops, you'll be hard-pressed to use anything else in future!
(Although I have an undying love for the look of real marble countertops, and we did try marble countertops on our master vanity, so I have years of daily experience with both options.)
We've done quartz countertops in our kitchen, and we've done quartz countertops in two bathrooms in our house. We installed these white quartz countertops in our 2015 kitchen remodel, which means we've now had seven long years of experience with them.
(Yep, that's a 7! I've read some reviews by owners of white quartz countertops after a few weeks or months…and I'm like, "Hmmm, talk to the rest of us in several years to let us know how they really perform!"🤣)
And–BONUS–ours have been subject to over seven years of young children! You'll see below about some incidents on these white quartz countertops with non-washable stamping ink, as well as a couple Sharpie Artwork Episodes. (Yes, easy quartz cleaning tips included below!)
WHITE QUARTZ COUNTERTOPS
The Good, the Bad, and the You-Gotta-Know-This!
We'll also answer questions like:
"Do white quartz countertops stain?"
"Is white quartz good for kitchen countertops?"
"Is quartz better than granite?"
"What are the negatives of quartz countertops?"
"How much maintenance is required for white quartz countertops?"
"Is white quartz cheaper than granite?"
"How much is a white quartz countertop?"
"Do quartz countertops stain easily?"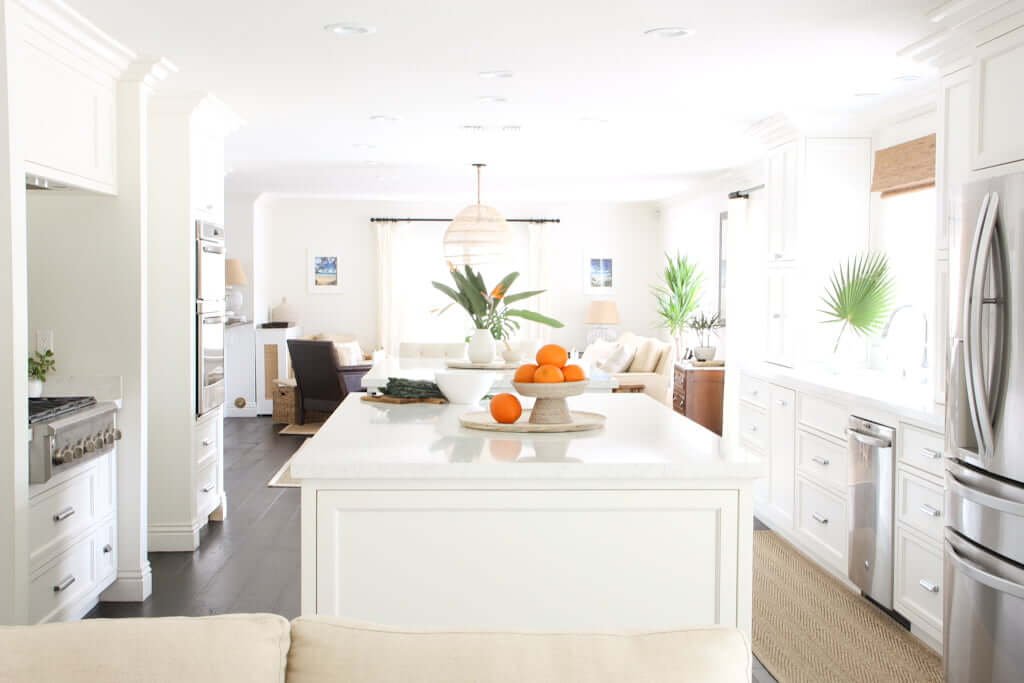 We've boiled it all down to 10 quick-n-easy points about white quartz countertops for you! (With details below each one.) Let's go!
WHITE QUARTZ COUNTERTOPS kitchen
Feature #1: Heat-resistant (Pro or Con?)
While quartz countertops are notoriously touted as "heat resistant," yet we're also told by manufacturers not to leave hot pots and pans on them in case of stains or marking. So which is true?
All I can tell you is our experience after seven years of using our white quartz countertops—and using them hard. The simple fact is that sometimes (especially when you're a busy mom or in a hurry) you just gotta set down hot pots and pans on your counters. Maybe you grabbed it, without thinking, off your stove and suddenly realized how hot it was mid-carry to your islands (ask me how I know). Or maybe you were just too lazy to grab a towel or trivet to set your pots down on (again, ask me how I know)…
…but in our years of daily experience, setting those hot monsters down on our white quartz countertops has never left a mark, stain, or discoloration of any kind!
Now, we don't leave hot pots and pans on our quartz countertops for hours, so I can't speak to that.
But in emergency situations, we've had zero problems with setting blazing hot items down on our white quartz countertops. Zero.
WHITE QUARTZ COUNTERTOPS KITCHEN
Feature #2: Hygienic
A huge bonus for us about quartz countertops was that they were so hygienic! Because quartz is non-porous (unlike natural stones like granite and marble), it resists bacteria. This makes quartz countertops antimicrobial—no mold hiding in the microscopic pores like a natural stone!
Raw meat can fall onto these…raw eggs…no problem, mon.
WHITE QUARTZ COUNTERTOPS with White Cabinets
Feature #3: Stain-resistant.
If you're worried about choosing white quartz countertops with white cabinets, you don't need to be. Manufacturers of quartz countertops say these babies are stain-resistant, and it's true!
No coffee stains, lemon juice stains, spaghetti sauce stains, wine stains, or—the most frequent dangers in our house—strawberry or dark chocolate stains can make their mark on our white quartz countertops. Matt has left tea bags on them overnight, the girls have sometimes left a damp art projects on them (with the stains soaking through the paper onto the quartz before we realized it the next day), and all these stains have wiped right off.
(And in the extreme case that something doesn't come out on the first pass, read my favorite trick below for cleaning quartz countertops!)
See how to choose the best quartz countertop color for you in this post!
👇
We've created 3 kitchen guides to help you get the kitchen you've always wanted!
Get our Kitchen Design Bundle here!
WHITE QUARTZ COUNTERTOPS BATHROOM
#4: White Quartz Countertops In Bathrooms
Quartz countertops aren't just for kitchens—they can be used in bathrooms as well! We'll share more about this in detail below in regards to quartz countertop prices, but we've also used white quartz countertops in two of our bathrooms!
(For our master bath, we went with a marble countertop on our double vanity. Or, to see every single one of our house projects, click HERE!)
QUARTZ COUNTERTOP CLEANER
#5: How to Clean Quartz Countertop
How easy (or hard) is it to clean a quartz countertop?
You're talking to a lazy woman here—the same woman who did grout-free shower slabs in our bathroom and didn't want to hunch over for her washer and dryer.
So here's exactly what I do to clean my white quartz countertops:
Most of the time, we just wipe down with a cloth and super-hot water from our beloved water dispenser.
When I'm doing a deeper clean, I use THIS.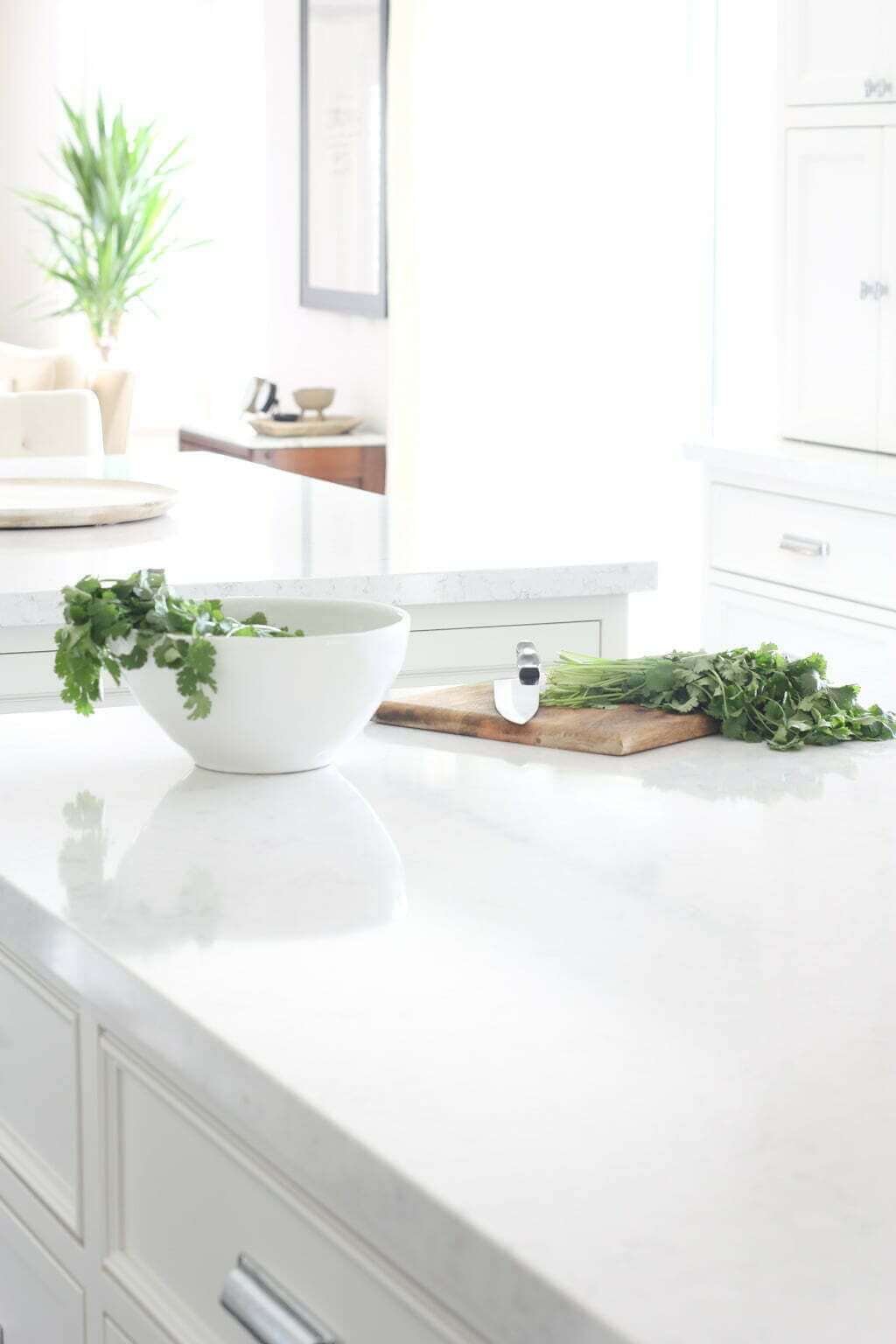 Emergency Cleaning Situations:
Mayday! A few times, my kids have made marks on our quartz and I couldn't scrub them out with just my cloth and hot water. (Think 3-year-old with a Sharpie! There was also an incident with some non-washable stamp ink.)
No problem—just enter my beloved baking soda. It's so mildly abrasive that it just cleaned those Sharpie drawings right off. (Yep, permanent marker. On our kitchen counters. I've told you we live here!)
And yes, I'm so in love with the way baking soda makes my life easier, I buy it in bulk.😆 (Matt used to tease me about it but now he thinks it solves almost everything. Like the Greek dad with Windex, my husband has become even more of a baking soda convert than I have.)
QUARTZ COUNTERTOP COST
#6: Quartz Countertop Prices
"Is quartz cheaper than granite?" Some sources say that quartz can be anywhere from 20-40% more than granite, but from our experience it really depends on the quality of your quartz, as well as your granite!
It also can depend on the size of your quartz and granite slab! If you want to be uber-efficient, calculate your countertop needs ahead of time so that you can know exactly what's the minimum size of a slab (or slabs) you need to purchase in order to achieve your goals!
MONEY MONEY: How exactly We saved big on our quartz countertops:
This ended up being too important to try to cram into this post, so we created a new post ALL about this subject of how we saved money on our quartz countertops!
PS: We even used a big chunk of our white quartz countertop material for our low-maintenance solid backsplash, but more on that in our "21 Genius Kitchen Organization Hacks!"
QUARTZ COUNTERTOP REPAIR
#7: Quartz Countertop Chip Repair: Easy To DIY!
Quartz countertops are durable. It's hard to scratch it even with a knife. Some people claim white quartz countertops show everything, like marks from appliances slid across them…but as you'll see below, we think these people haven't had enough experience with white quartz countertops! You'll see our super-easy solution below under "Cleaning."
We have not had a SINGLE mark that wouldn't come off. Not one.
Wondering how to fix chipped quartz countertop issues? One time we somehow found a chip on the side of the sink edge when something got dropped on it, but guess what? You can fill it in with something as easy as super glue! (Here's the How To article Matt used!)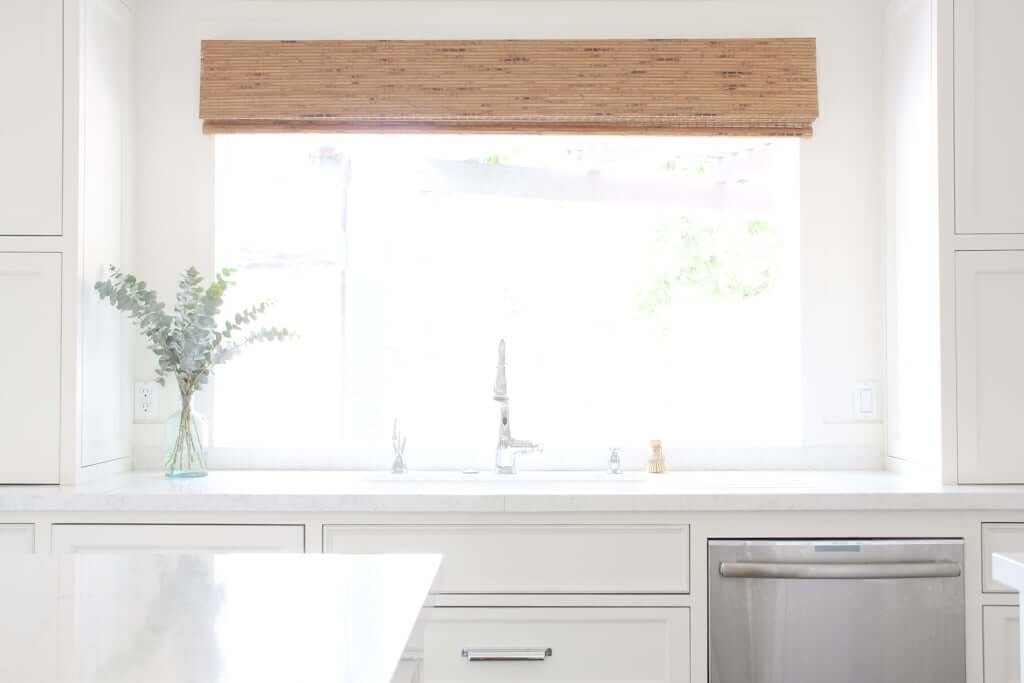 QUARTZ COUNTERTOP EDGES
#8: Most Popular Quartz Colors (with Pros & Cons)
Wondering what is the most popular quartz countertop color?
Well, first I'd advise you to not choose something just because it's popular! Go with a classic foundation for your home and save the popular trends for things that are easily fixable after new trends replace them. Countertops are expensive and difficult to replace—they are NOT the place to go trendy!
That being said, I'll still share with you some of the most popular white quartz countertops so you can compare what options you have. (If you're wondering why I think most people should go with white, read our post on "7 Smart Strategies for Choosing Interior Colors!" (This 100% applies to your countertop color!)
(You can also find black quartz countertops as well as other colors, but for the purposes of this post I'm focusing on white quartz countertop options today.)
UPDATE: My writeup about the most popular quartz countertop colors, as well as the edge options, ended up being too long to include here (story of my life😆), so I included it in a new short post HERE!
"Which white quartz countertop color did you & Matt go with?"
We went with the LG Viatera Cirrus. (See our post about why we particularly like it!)
WHITE QUARTZ COUNTERTOPS with White Cabinets
#9: White Quartz Countertop with White Cabinets
SO many people ask if white quartz countertops can go with white cabinets in the kitchen, and we answer with an excited face + "Absolutely!"
If you're wondering about pairing white quartz countertops with white cabinets ("Is white-on-white boring?"), see our post "Why We Did So Much White: 7 Genius Strategies to Picking Interior Colors!"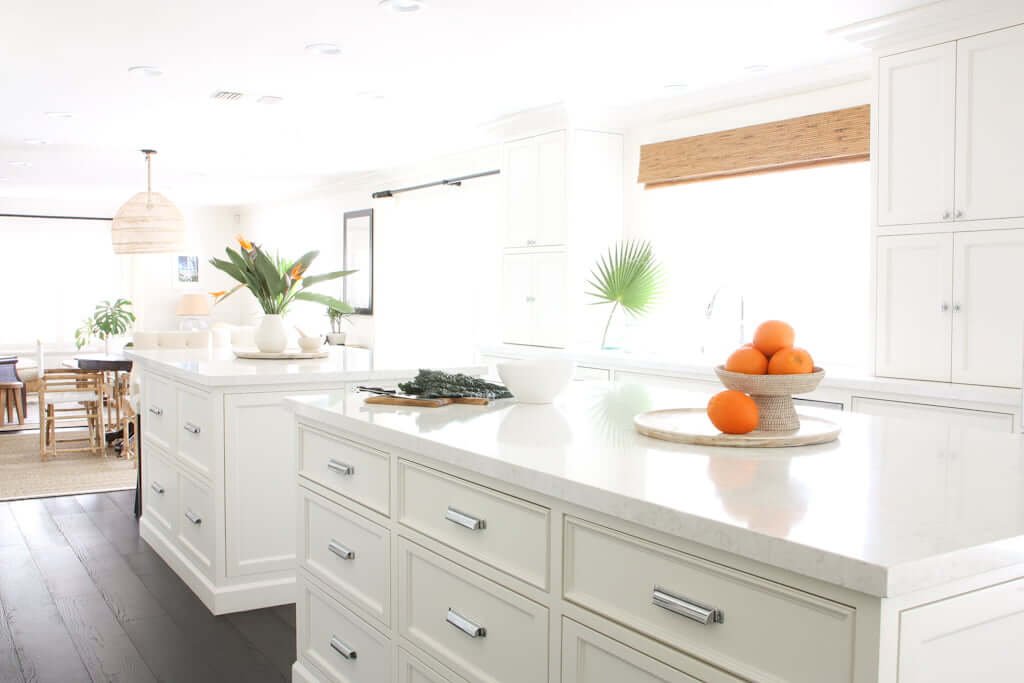 White helps bounce light around the kitchen so it feels brighter and lighter, not to mention the fresh look it gives! (But more on that in my post about when to choose white in your home!)
kitchen QUARTZ COUNTERTOPS
#10: Our White Quartz Countertops are Super-Low Maintenance!
I SAVED THE BEST FOR LAST! (Although you might have guessed this point was coming.) Yep, best of all, our white quartz kitchen countertops are the lowest maintenance countertops we've ever had.
They don't need to be sealed yearly (as is recommended for granite countertops). Quartz rarely gets damaged and if an accident happens, it's DIY-fixable for even the most beginningist of DIY beginners.
Our white quartz countertops are scratch-resistant, stain-resistant, heat-resistant…aw heck, I'll just type up the full list of pros below so it's all in one final place!
WHITE QUARTZ COUNTERTOPS KITCHEN
Summary of White Quartz Countertops Pros & Cons
PROS:
Heat-resistant.
Stain-resistant.
Hygienic.
Can be used in any room, including kitchens and bathrooms.
Easy to clean.
Easy to repair chips.
Good value for the cost.
Variety of colors (with options for veining or no veining).
Fabrication cost the same as for granite or marble.
Don't need to be sealed yearly—extremely low-maintenance overall!
CONS:
Depending on the quality, type, and size of quartz countertops you need, these could be slightly more expensive than granite or even marble.
They're not "DIYer-friendly" (a.k.a. you really should hire a professional to install them!). Don't DIY this—quartz countertops are heavy and require solid reinforcement so it's best to use professionals for your installation. This could be a con for you hardcore DIYers! Us, we like a balanced mix of hiring pros and DIYing; I call it choosing our battles. 😆)
QUARTZ COUNTERTOPS
"What other low-maintenance house tips can you help me with?"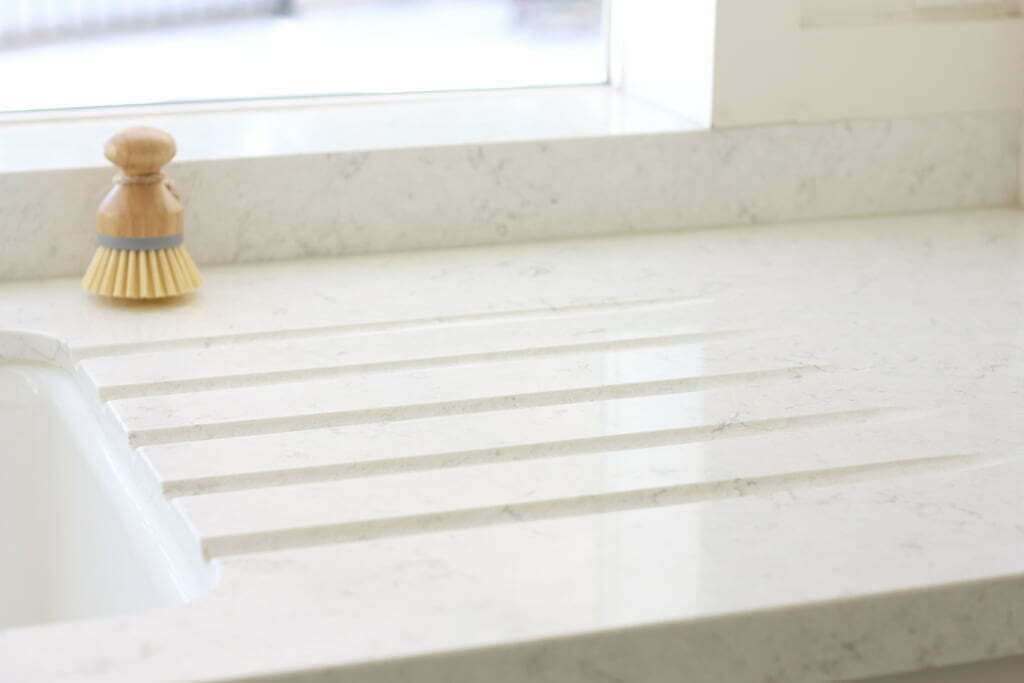 If you're unsure about white quartz countertops with white cabinets, you need to read "Why We Did So Much White: 7 Strategies for Choosing Interior Colors!"
---
➜ Need immediate kitchen help? Get our Kitchen Design Bundle!
---
3 bonus quartz countertop posts:
#1: Choosing the best countertop colors!
#2: How to save money on countertops!
#3: Save yourself from scrubbing: do your backsplash like this!
Or for The Complete List of all our organization, storage, & design ideas from our kitchen remodel, click HERE.
➜ Our complete list of every single home project is viewable here.