We've had our double island kitchen layout for seven years (and still counting!), and we're sharing all we've learned—along with layouts, dimensions, and our #1 tip!
When we received the shocking news that we'd have to rip out our new kitchen, our minds were blown.
Not only for the last-minute surprise factor, but for the major opportunity we had suddenly thrust upon us to
completely change the layout of our kitchen!
We knew fairly quickly that we wanted to remove a kitchen wall to open it up to the rest of the living space, but as for the rest of the layout, we still had to figure it out—and fast!
Thankfully we love those kind of space challenges, so we began sketching out how things could work.
DOUBLE ISLAND KITCHEN LAYOUT
How to Start Your Layout
First, as in any good kitchen remodel, we looked at what we could and couldn't move.
Could we remove the wall? (Yes, we could.)
Could we move the sink?
Stove?
Ovens?
Fridge?
Pantry?
Technically, all of them could be moved. (We've told clients who ask about what can be moved in their kitchen remodel, "Well, anything can be moved…it just adds X cost.") So while we knew we could move any and all of the appliances we wanted, we also knew it would keep our costs down to leave as many things as possible where they were.
Here's the layout of our old kitchen (you can see more pictures of it HERE).
And so you can fit a visual image with that above layout, here's how that same kitchen layout looked when we first toured it: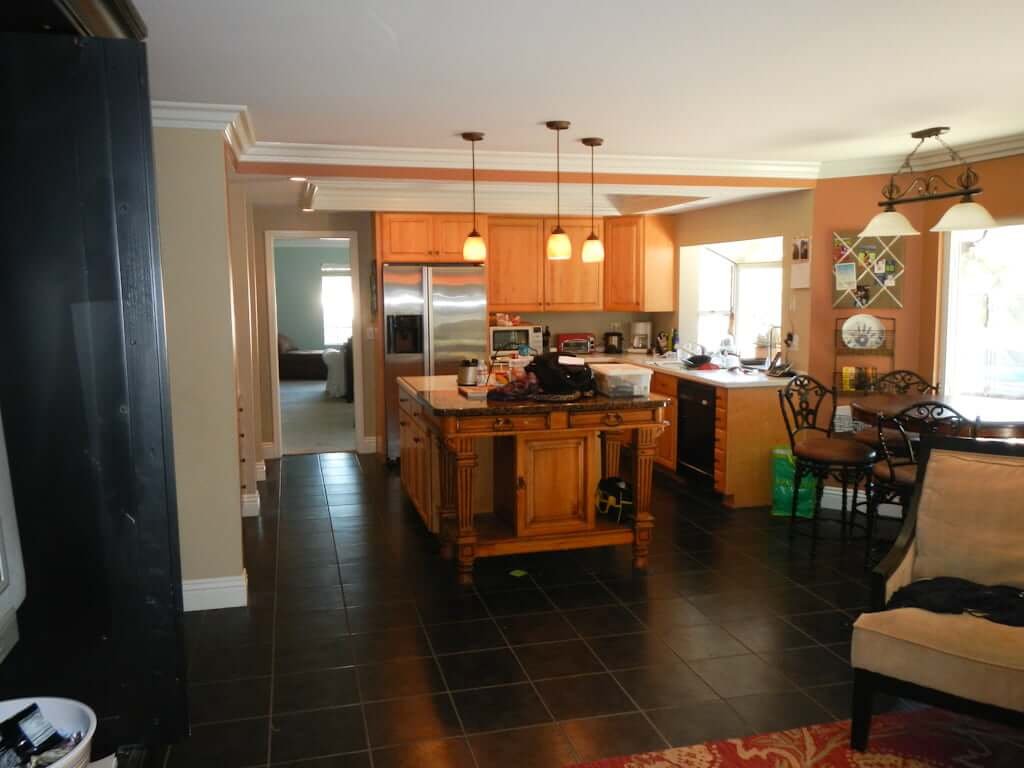 DOUBLE ISLAND KITCHEN LAYOUT
Why have a double island kitchen?
We started looking at what we wanted to leave in place, and two of the things we decided to leave in place were
#1: The kitchen sink
#2: The stove
However, this presented a problem when it came to designing our kitchen island.
I knew I wanted the biggest kitchen island possible! We were finding creative ways of making our kitchen bigger, so I wanted to fill as much of that space.
But imagine what would happen if we did one big island (see the grey box below):
Do you spot the problem?
I did (in my mind at the time, because I was just envisioning at that stage).
My question was
"How do we get from the sink to the stove?"
Sure, maybe that's not a problem if you never need to, oh I don't know, fill a pot with water. (You Italian-blooded readers will join me in horror at this prospect.) Or wash vegetables before tossing them into a pan. Or wash your hands after handling a substance like raw meat or eggs that you don't want to wipe all over the place.
If we never needed to do any of those things (plus more I'm sure you could come up with if we continued this trail of the conversation!), then no problem, mon! Bring in the giant one kitchen island.
But no, I saw a pathway was essential to get us as direct a route as possible between aforementioned sink and stove.
Did that mean we should just shrink the island to be smaller?
No way! Why not just "split" the massive imagined 12′ kitchen island into two smaller ones?
Genius, I say! (No, modesty is no longer my strong suit when it comes to these double kitchen islands. Why? Men forced me into this: this strong, almost dictatorial stance where I'm almost resembling a mad scientist. Yes, I'm like a mad female scientist fueled with assurances of her genius in the science of double kitchen islands. You'll see in my story below…they drove me to it…I was really quite relaxed and chill on the subject before. But we'll get to that in a minute.)
TWO ISLAND KITCHEN LAYOUT
My Genius Double Island Kitchen Ideas Enter the Picture!
Here's how comfortable I am with you seeing my sometimes/often messy and imperfect process: I'm going to show you my first sketch of the new kitchen layout!
(You draw these things thinking it's just for your husband, but when you're a new mom and have an infant on you 23 hours a day, you never get to that "better" drawing you envisioned and that first drawing is the one you work with for months.😂)
You can see here we've
Kept the sink, stove, and ovens in the same place.
Moved the fridge.
Added two islands.
Other random notes on this sketch (which I whipped up on a half crumpled piece of paper never imagined to be shown on the internet one day, but here we are):
I wanted a wall of windows above our sink but was told it couldn't be done, and I accepted it like a lamb.
I also noted something about a better pantry door, and you'll be pleased to know it is six years later and we still have not found a better pantry door.😆 (This is real life for ya! Nothin' but real around here!)
---
➥ TIP: I'm okay with showing you my quickly-sketched, messy, imperfect drawings because
(1) Don't hesitate to draw pictures for people (contractors, workmen, husbands, etc) because you're afraid you "can't draw"—don't let that stop you! Sketch away! It's your brilliance behind it that matters, friend!
(2) Speaking of brilliance, I feel like Einstein probably had an office full of messy-looking compositions and ideas drawn on crumpled paper, so I'll amuse myself by going with the explanation of genius!
---
DOUBLE ISLAND SMALL KITCHEN
Can a kitchen have two islands?
However, my genius was called into question by a gang of unruly henchmen.
(Okay, so they weren't a gang. And they weren't technically henchmen; they were contractors. But they were unruly!)
These contractors came into our house and heard our plans, including the most important factors for them to keep in mind when giving us quotes, which were
#1: Removing the wall.
#2: Creating double kitchen islands in the middle of the new space.
I explained our plans simply and calmly (along with Matt), as if it was the most normal thing in the world, because heretofore I had not been whipped up into a frenzy in defending the genius of my double island kitchen idea.
Contractor after contractor looked at me like I was bonkers. "Double islands?" they'd repeat (while trying to suppress a laugh in the name of professionalism, but I saw through that—I'm an HSP, remember?😊)
Three examples of statements these contractors made about the double kitchen island idea.
"No one does a two island kitchen layout."

(Translation: "You're doing something stupid and you'll never sell your house because it will be weird.")
"I've never seen anyone do that before."

(Translation: "You're nuts and I'm not even sure I want to work with you after hearing your wacky double kitchen island ideas.")
"Oh, you don't wanna do that."

(Translation: "Listen to me. I am the professional. I do this all day. Just give it up.")
And while I've mentioned this contractor story briefly before, it's worth telling here in more detail
because I want to encourage those of you who are considering double islands!
(Really, this is applicable to any home renovation or change that's important to you.)
Stick to your guns! Be ready for those unruly henchmen trying to drag you away from your guns!
DOUBLE ISLAND KITCHEN
Double Island Kitchen Floor Plans: Before & After
My double island kitchen design is still one of our favorite things about the remodel!
See the floor plans below:
Before:
AFTER: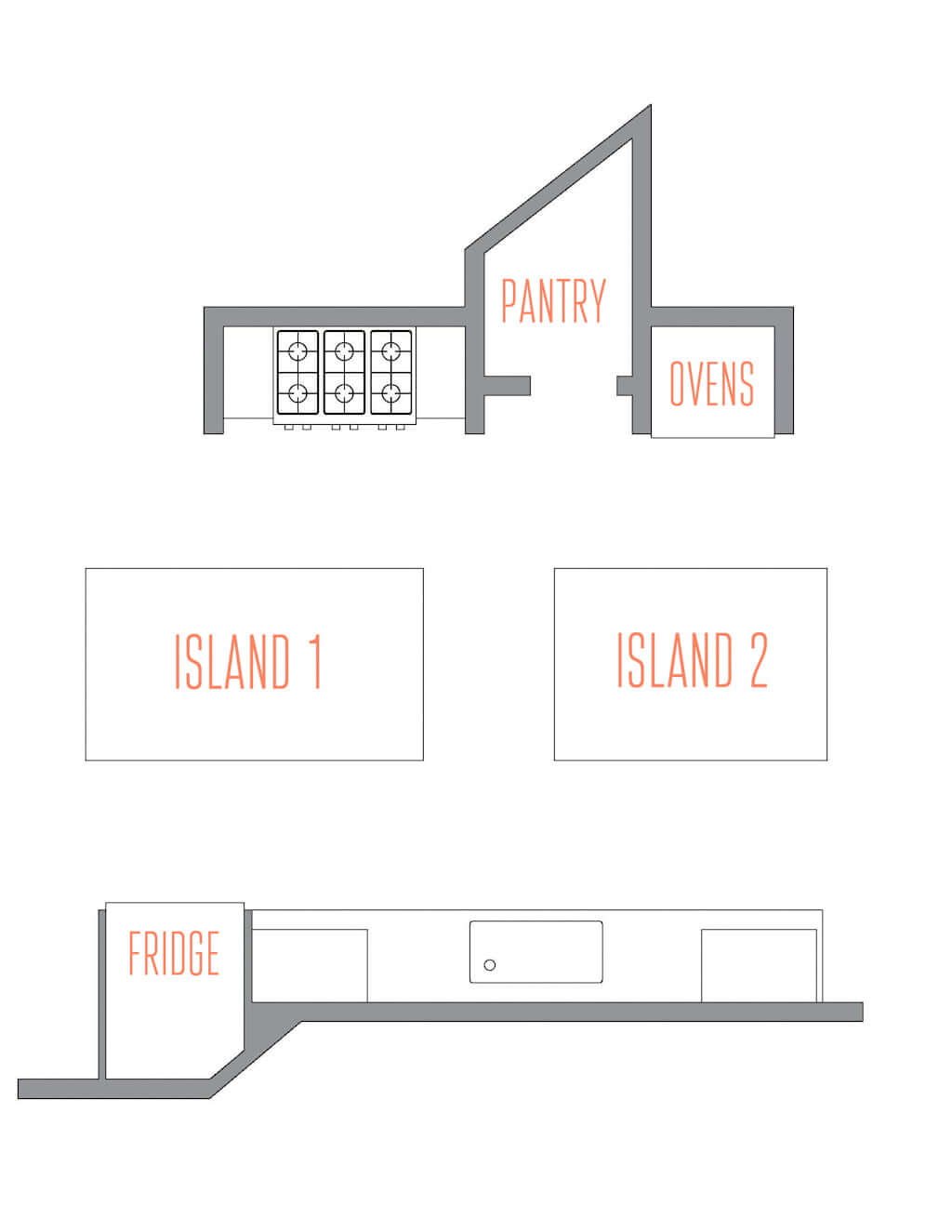 (See how we addressed the kitchen wall removal questions HERE.)
👇
We've created 3 kitchen guides to help you get the kitchen you've always wanted!
Get our Kitchen Design Bundle here!
DOUBLE ISLAND KITCHEN TREND
Are double islands a trend?
You know what? I created our double island kitchen design over six years ago!
It wasn't a trend then, yet was still exactly what this kitchen (and home) needed.
What's the definition of a trend? "Something that comes and goes." "A passing fancy." (Okay, those are my definitions, but I think the Merriam Webster people would approve.)
You can ask the question two ways:
1. "Is there a double island kitchen trend?"
Answer: Maybe in some cases, but I think it's just kitchens getting larger and people getting a bit more creative and pushing those boundaries.
2. "Are double islands a trend?"
Answer: Not if they're done correctly. Not if they're done for a functional purpose. (Like our situation as mentioned earlier.)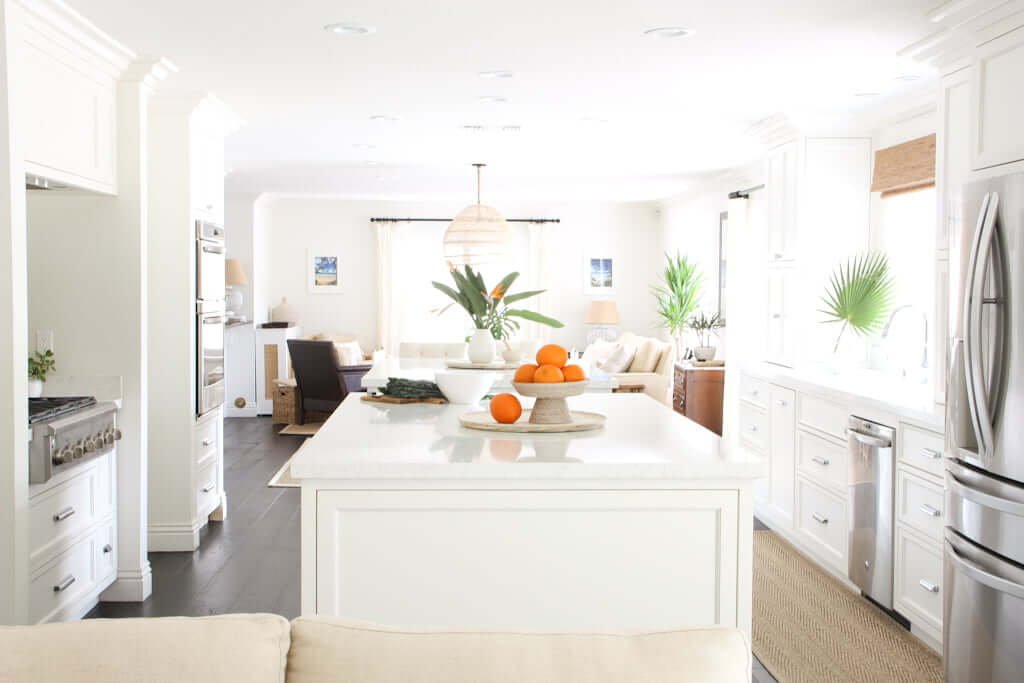 Double islands are no more a modern trend than the materials they're made of and the style they're done in. If something is done well and it's classic, it will last as all classics do. There's my quickest answer for you.
Do what works for you and your space!
DOUBLE island KITCHEN layout
Double Island Kitchen Pros and Cons
What are the pros and cons of having a double island kitchen?
Honestly, so far we've had zero cons! We love everything about them so we see only pros!
DOUBLE KITCHEN ISLAND PROS:
More space.
More storage.
Extra room to work.
Extra room for seating.
More room for Drawer City.
One possible con is any contractors trying to talk you out of it, in which you will expend more energy than you would have by doing something mainstream. (Did you see that? CON. And then CONtractors? Yep, I took my vitamins this morning, clearly!)
DOUBLE ISLAND KITCHEN
Double Island Kitchen Dimensions
You may have been wondering about our dimensions since you saw my sketch earlier, which had put them at 5′ by 2′.
The more we got into the nitty gritty of our kitchen remodel, the better able to determine the ideal dimensions.
Our double island kitchen dimensions are different for each one. Why? It all came down to function and where would be the optimum pathway we wanted? So once we determined that, we knew where we wanted those sides of the double islands to start, then we looked to the outer edges of the kitchen to see where they would end.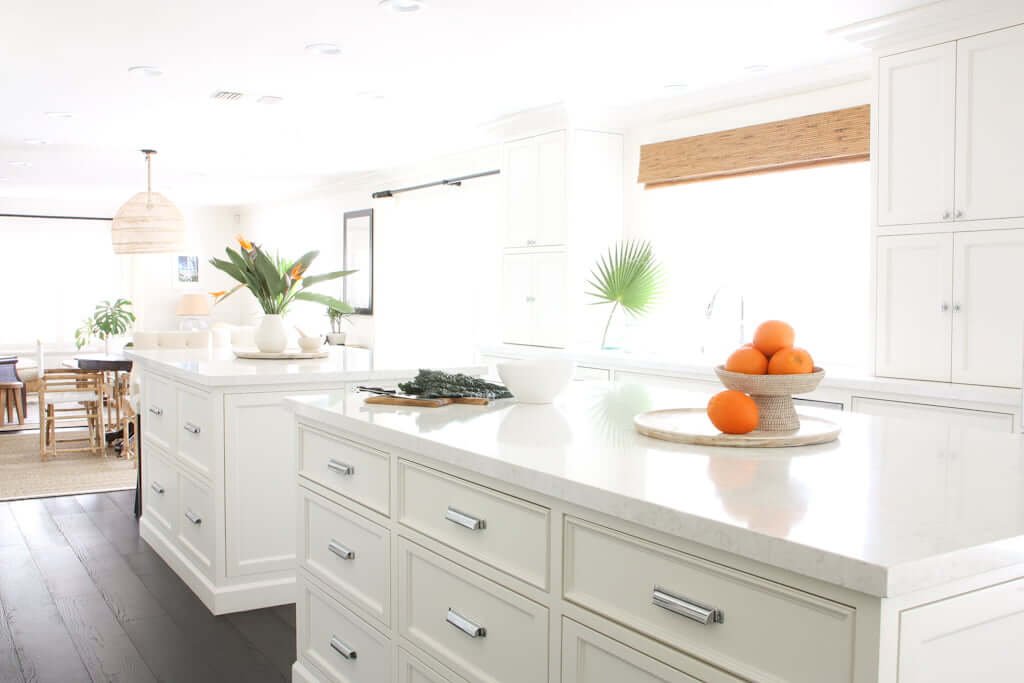 We'll call them Island A and Island B.
Island A is exactly 88″x50″.
Island B is exactly 71″x50″.
Getting into how we organized them is a detailed post I would love to write as soon as I get a chance, but for now you can get a better glimpse by going to this post. (You can also peek inside them here and here.)
DOUBLE KITCHEN ISLAND WITH SEATING
"Where did you put your kitchen island seating?"
Because of the layout of our space, we didn't want to do seating along one of the long sides of the island. (Instead, we chose to make them both double sided kitchen islands. Full of storage!)
Here's a view below of each side of our double sided kitchen islands: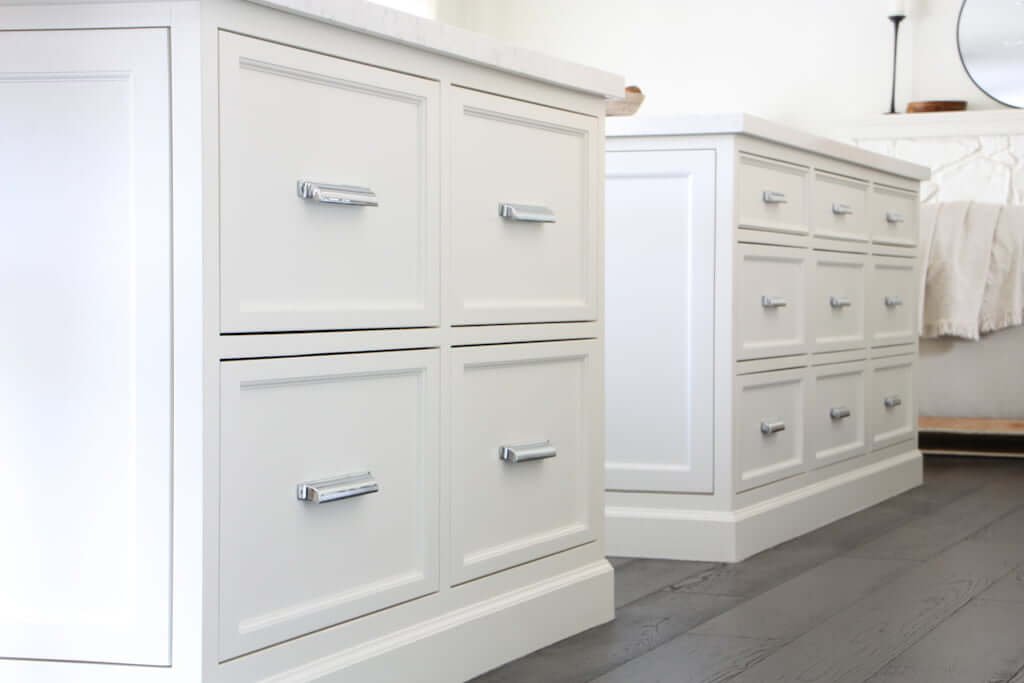 Thus, we decided to add seating at the end of one of the islands.
We did consider doing seating at the ends of both, but in the end (no pun intended, but it made me laugh!) we decided to stick with just one. Because of all the great seating we have in our living room and our dining room (which are right there next to the kitchen because of the way we removed the wall), we decided we'd rather have the extra storage!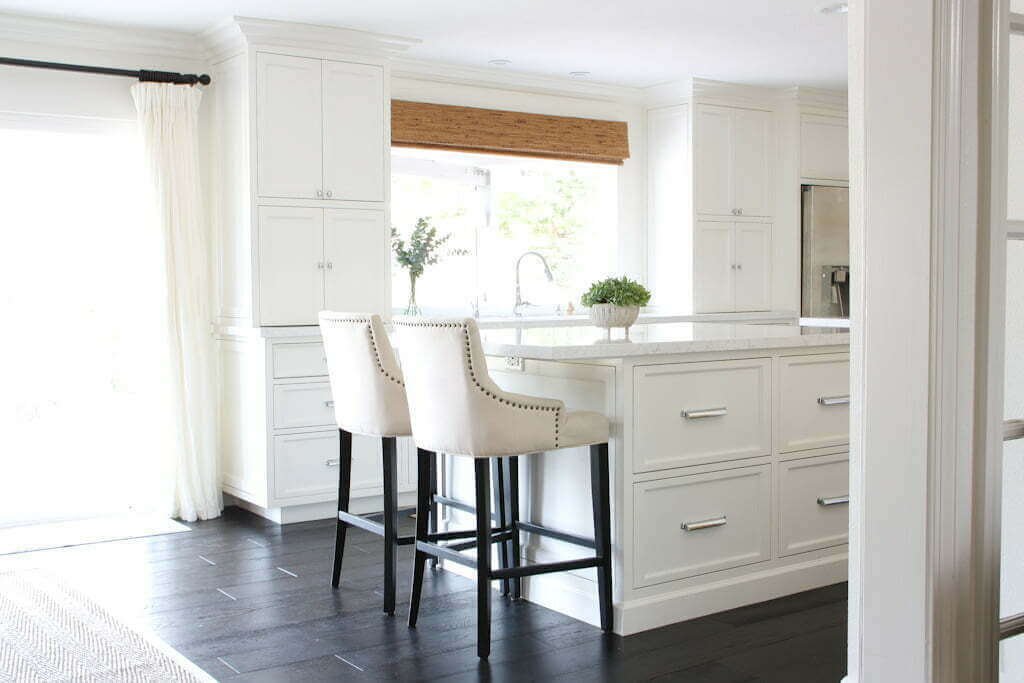 And we've been thrilled with that decision! We've never wished for more seating at these kitchen islands.
---
Need immediate kitchen help? Get our Kitchen Design Bundle!👈
---
To see all our kitchen remodel posts, click HERE.
Or check out these other popular posts:
You can see all our house projects HERE.