Our kitchen appliance storage drawer hack is one we've never seen done before! (We'll talk about the ones we have seen later, as well as why this will equal a longer life!)
While we use our "hidden" appliance storage cabinets for our most-used appliances, we still wanted a place to store the others…
…and I outright refused to have any appliance of mine in a lower cabinet. It had to be a drawer. (See why here.)
KITCHEN APPLIANCE STORAGE DRAWERS
Extra Deep Drawer Idea
Since we were custom designing our islands (yes, that's plural—we put in two islands), I knew we could do almost anything we wanted with what went inside!
Enter my extra deep drawer idea. I envisioned a place to store all our other countertop appliances that weren't used quite as often as our others in the "hidden" cabinets.
I don't know how to explain my loathing for bending over and digging around in lower cabinets to pull out items. Especially heavy appliances. Maybe it's concern for my back. (Much like my loathing for bending over to do laundry, as discussed in our post full of laundry hacks here.) Or maybe it's more about saving my knees.
Either way, let's just call this a professional concern for ergonomics in my kitchen.
But what goes in these kitchen appliance storage drawers? And how do you determine the size?
KITCHEN APPLIANCE STORAGE DRAWERS
Drawer Hack: 3 Steps to Figure Out the Exact Size You Need
First, let's start this appliance drawer conversation by straight-up figuring out the size you need to make the drawers for your unique appliance situation.
KITCHEN APPLIANCE STORAGE DRAWERS
Step #1: Measure.
First, measure all the items that would be stored in your appliance drawers.
We measured our Cuisinart, its blade storage compartment, our blender (plus its base), our slow cooker, our bread machine, and we even measured our mixers and rolling pin for good measure. (That's because I planned for one of the drawers to be a "Baking Drawer" right there near the counter and the oven, and who wants an Official Baking Drawer where your rolling pin just doesn't quite fit into it right? Nobody!)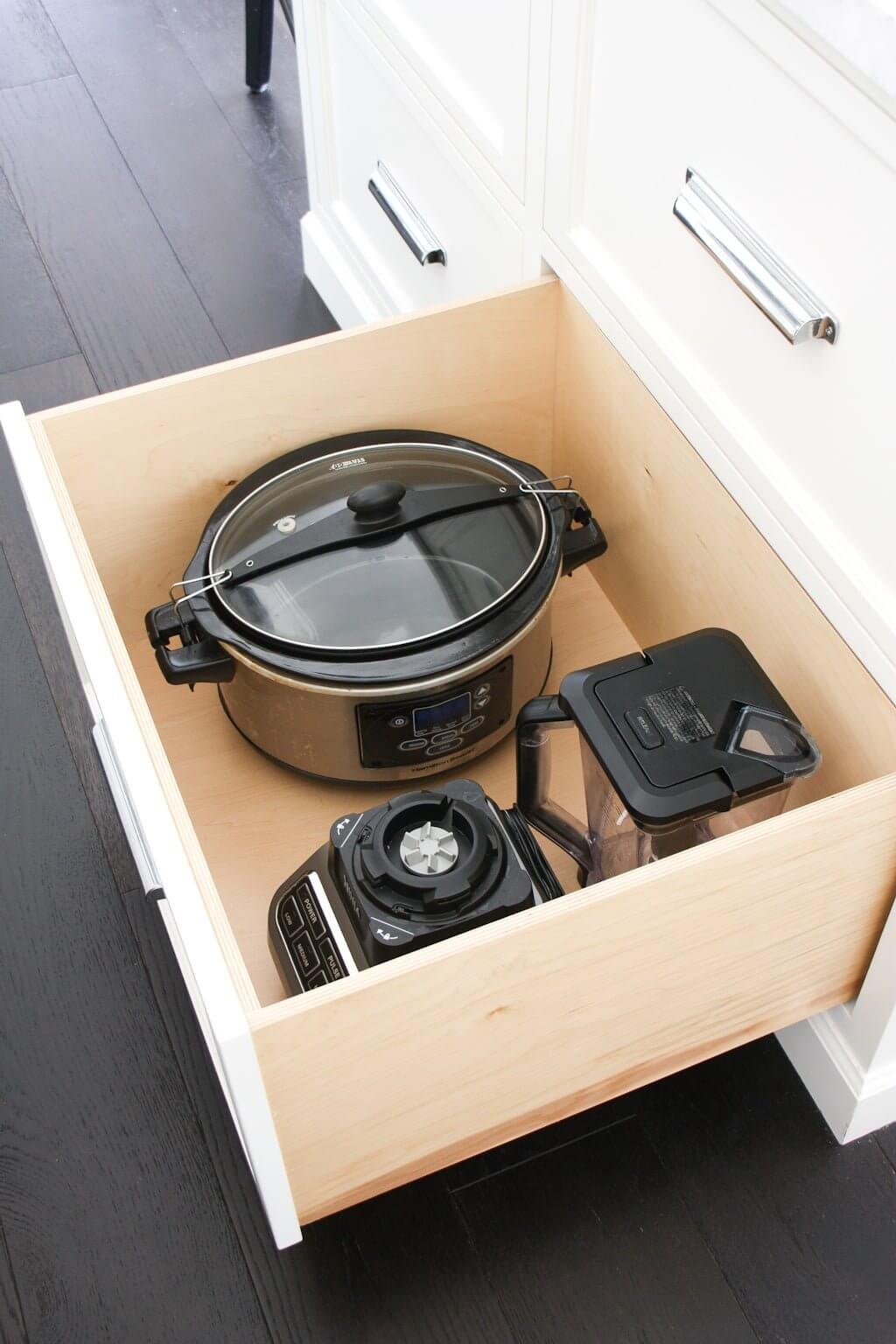 So when you're measuring your items for your kitchen appliance drawers, get every measurement you can. Height, width, depth…all of it.
KITCHEN APPLIANCE STORAGE DRAWERS
Step #2: Determine placements by weight and/or use.
Second, enjoy playing a little Tetris-style game to determine what kitchen appliances you want stored where.
For example, I like to store some of our heaviest kitchen appliances higher up—like our bread machine—because bending down to near-ground level for that does a number on your back. (There I am again with the inexplicable concern for my back! Either I'm aging prematurely or I'm just extra back-sensitive and therefore will have a strong, healthy back until I'm 107 years old. See? These appliance storage drawers and our 7 laundry hacks will equal a longer life!)
So if my slow cooker is in a top drawer and leaves X amount of space, I can then figure out what other appliance can fit into that drawer with it.
However, I don't just determine placement based on weight. I also look at how often we use the item, which is why our Cuisinart is in the top drawer. It's not super heavy, but we seem to use it more often than the rest of the appliances stored in the drawers.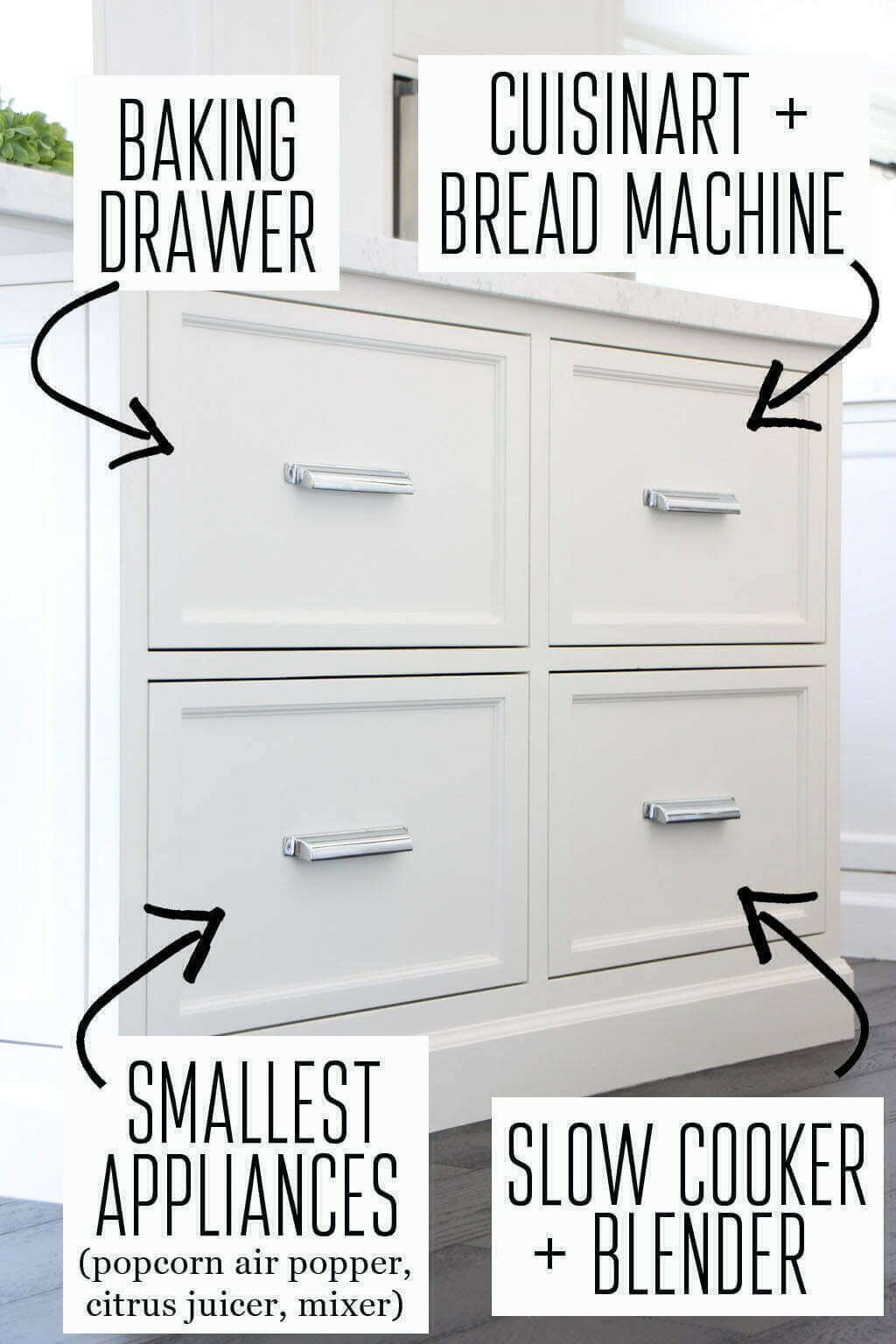 👇
We've created 3 kitchen guides to help you get the kitchen you've always wanted!
Get our Kitchen Design Bundle here!
KITCHEN APPLIANCE STORAGE DRAWERS
Step #3: Add.
Now, before you think you're going to take your measurements from Step #1 and use those as your guide for the size of your drawers, let me give you a shocker and add the third and final step:
Add a few inches in case you ever get larger appliances in future.
Yep. Just in case. Because no one wants to install kitchen appliance drawers only to not be able to use them when you replace, say, your blender.
Consider the crisis averted, my friend.
KITCHEN APPLIANCE STORAGE DRAWER
Why Not Put Drawers Inside of Cabinets?
I've seen people put kitchen appliance drawers within a lower cabinet. I wholeheartedly disagree with that (unless you are retrofitting your existing kitchen and for some reason have to use your old cabinets and their doors—then you have my permission and can sleep at night!).
HOWEVER, if you are designing or remodeling your kitchen and have the ability to make these just straight kitchen appliance drawers, do it!
Why? Let's be logical. Answer me this:
Why on earth would a person intentionally choose to add an extra step to a motion he or she will be doing thousands of times in the next year, not to mention the tens of thousands of times in future years? (If you've read our article about the ridiculously high number of hours our countertop drainboard has saved us, you'll understand that of which I speak!)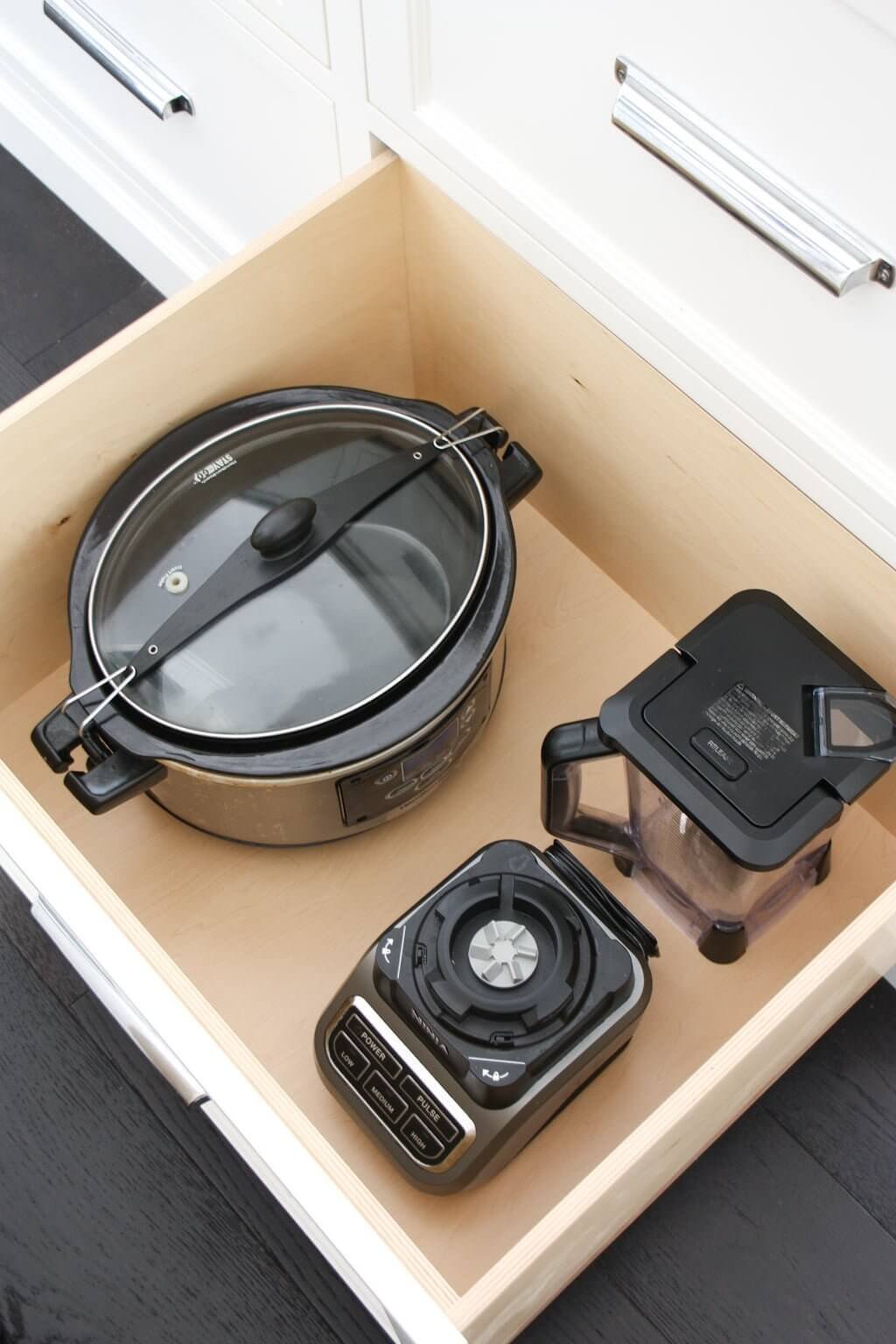 Let's look at it another way by imagining ourselves in two different kitchen scenarios:
Option A: I need X appliance. I open a drawer and there it is.
Option B: I need X appliance. I open a cabinet (and have to open it fully, or else the interior drawer will not come out). Then I pull out an interior drawer to get to my appliance.
Naysayers might say that seems like a small step to complain about, but they're not being thoughtful about this. Sure, it's not a big deal to do one extra step just one time. Or even two times.
But what about 18 times? 1,800 times? 18,000 times?
We don't all need to be rocket scientists to recognize the mathematics of this.
KITCHEN APPLIANCE STORAGE DRAWER
What Size Did We Make Our Drawers?
After following the three steps outlined above, BAM. Extra deep kitchen drawers for storing our appliances. We were done!
Need the blender? We just pull out a drawer and grab it. No fuss. Need the Cuisinart? No problem. Pull out the drawer and there it is! With all its extra blades and everything. Together!
I CAN NEVER GO BACK! It's so good.
We ended up making all four of our drawers 20″ deep x 24.75″ wide x 12.25″ high.
Here's a video of our appliance storage drawers in action!
Do they look strange being a different size than the rest of our drawers? We don't think so! Everyone who comes into our kitchen is more floored by our double islands and how we were able to make a small kitchen bigger. And it's no different than regular kitchens with different sized drawers and cabinets.
Here's a view of how they compare visually with our "regular" sized island storage drawers. Do you see it?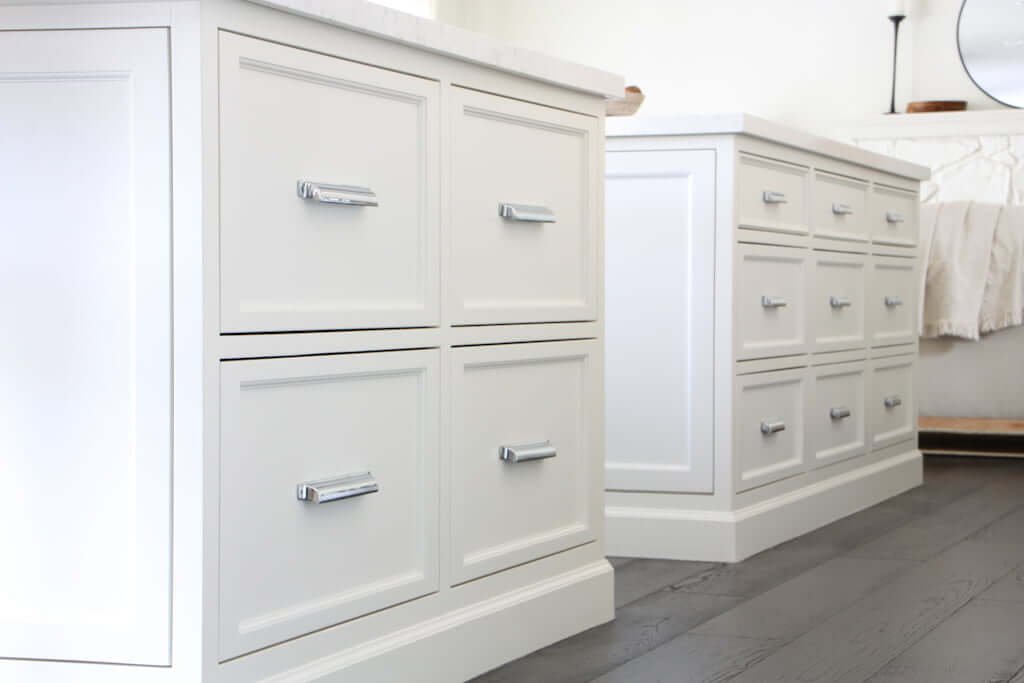 Need immediate kitchen help? Get our Kitchen Design Bundle!👈
To see the 5 reasons why we did 100% drawers and ZERO lower cabinets in our kitchen, click HERE.
Next, check out where our most-used kitchen appliances live, in their "hidden" spaces! Or see the full list of posts about our kitchen remodel, including but not limited to
PS: To see all our house projects, hacks, & free design tips, go HERE!