Today we're sharing how we saved thousands of dollars on our quartz countertops cost—not only for our kitchen remodel (with two large islands), but also two of our bathroom remodels! We'll also share our EXACT quartz countertops cost and answer "How much do quartz countertops cost?"
If you're comparing, going for any countertop material other than laminate is going to feel spendy by that comparison. (Especially when you're doing it for a big project like your kitchen or bathroom!)
(And yes, I just had to make a rhyme for this blog post title. Shorts…quartz…who can resist? 🤣)
SAVING ON QUARTZ COUNTERTOPS
From 1 Room to 3: How We Maximized Our Quartz Slabs
We calculated we'd need 3 quartz slabs for our kitchen remodel (which has double islands, hence the need for more solid slabs so we could avoid the joints)…
…but the problem was, we'd still have a lot of quartz left over!
Boom! Solution? Matt used his Superhero Engineering Brain to calculate out how and where to cut every single piece of quartz for our kitchen within the three slabs. THEN, he figured out how we could maximize and place these cuts so that we'd have major quartz pieces leftover…
…which were the exact measurements we needed for
Our quartz countertop for our downstairs guest bathroom and
Our quartz countertop for our girls' bathroom double sink vanity!
SAVING ON QUARTZ COUNTERTOPS
How to Lay Out Your Quartz Slabs
Our quartz countertop slabs (read all about the exact color we chose) measured 131″x63″.
Step #1. Lay out your biggest pieces first.
For us, this was our two island countertops for our kitchen's double islands, plus our sink area countertop (which extended underneath our hidden appliance cabinets).
You can use whatever program works best for you to do this (even if it's just a piece of paper plus a ruler!), but Matt chose to use Excel as the easiest way for him to. This was even faster than doing it in AutoCad because it was actually easiest to lay out each of the small cuts this way. Also, everyone has Excel, so it was easy to share with the fabricator.
The only big bummer for me was that quartz slabs didn't come in the 147″ length I needed for one solid piece of countertop around our sink and under our appliance cabinets. So instead of cutting our sink slab up into two even pieces, we chose to do the biggest piece possible (see below) so there wouldn't be any grout lines around the sink area, and add the smaller section to the right under our right appliance cabinet.
(Now, whether our fabricator chose to follow directions or not is another story! 😆)
Step #2. Add your counter edges + backsplashes next to the countertop pieces.
While you might think our #2 step would be to fit in the next-largest pieces of quartz, that's not entirely correct. We'd actually recommend that once you get your major countertop pieces laid out, you lay out the edges next to those pieces in your layout.
That's going to help maximize the rest of the portions of your slabs to be useful, because your countertop edges will usually be the same length as your countertop pieces (see below for "Island 1" plus "Island 1 Edge").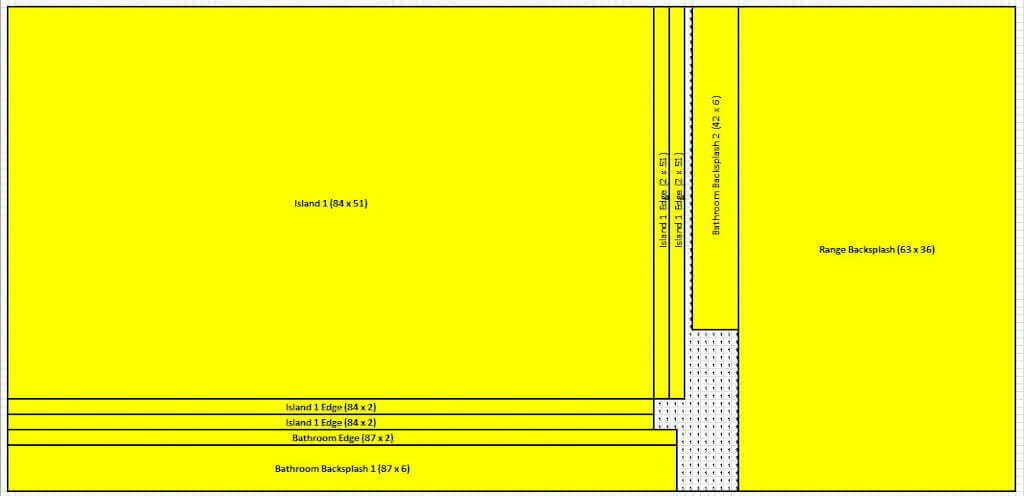 ---
➜ We created 3 kitchen guides to help you get the kitchen you've always wanted!
Get our Kitchen Design Bundle here!
Step #3. Fit in your medium, small, & other miscellaneous pieces.
Now, with the remaining room in your quartz slab layouts, you can fit in the rest of your medium and large pieces.
For example, you can see that we fit in pieces for the solid backsplash above our stove. Sidenote: I'd originally planned to have solid "sidesplashes" covering the walls on either side of the stove, for easy wipe-down, but once the installers got them up for me I decided it was just too much quartz on the walls for me! So I had them leave the backsplash only, and we used the cut side pieces 1) for another projects, and 2) gave to a sweet friend who needed a small bathroom countertop in her ADU build! Share the quartz love, people!😄
PS: We even used a leftover quartz piece for the shower threshold in our downstairs bathroom remodel!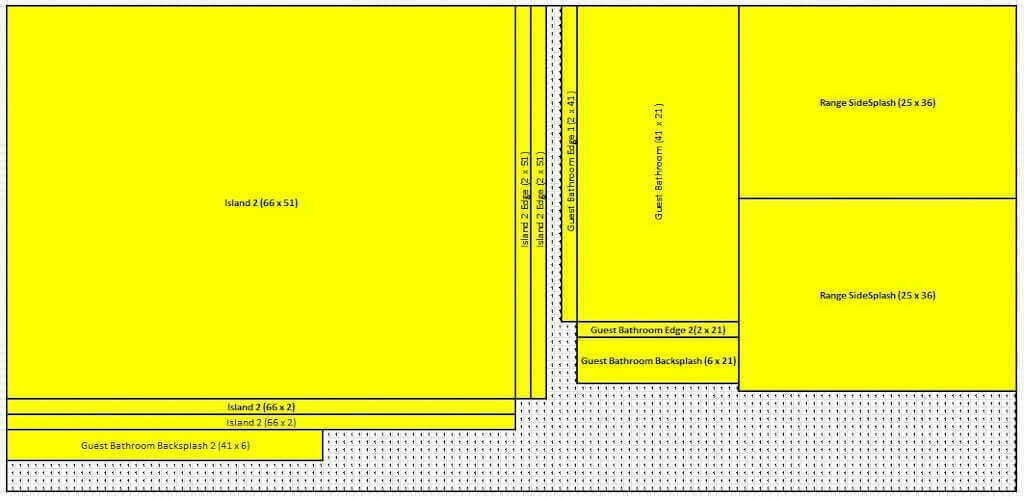 Basically it's an adult form of Tetris.
(Matt had no idea all his childhood years of playing Tetris were preparing him for JUST this moment…but I know!🤣 God knew my Designer brain would start to explode were I required to do this kind of finagling, and Matt enjoys doing it, so we're the ideal match for these projects!)
This, dear readers, is one way to save big-time on quartz countertops! Instead of having to buy pieces later on for our bathroom remodels, we thought ahead of what else we'd need in future and essentially got them for free!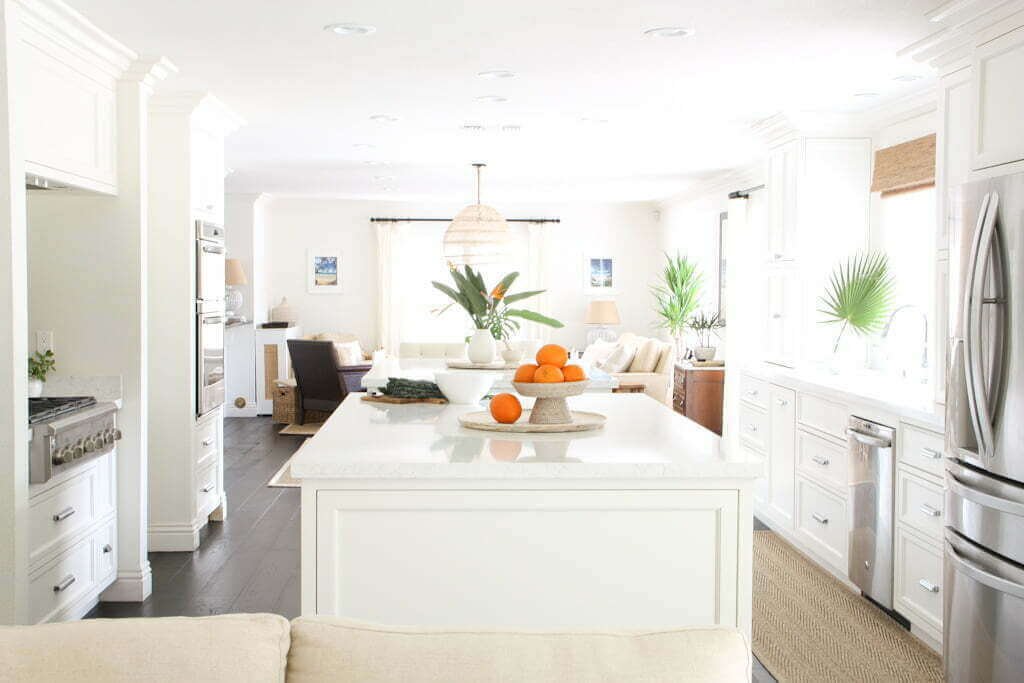 If you can do this too, you can save thousands of dollars! (If you need help with anything from space planning to saving money on your home projects, we offer 100% personalized Design Services and in some cases have saved our clients TENS OF THOUSANDS of dollars. No exaggeration. Book your free 15-minute consult with us here.)
QUARTZ COUNTERTOPS cost
"How much do quartz countertops cost?"
Quartz slab cost: $20.25 per square foot. So total cost for the slabs (131″x63″, or 57.3 sq ft per slab) was $3,483 for 3 slabs, or $1,161 per slab.
Fabrication & installation cost: $39.50 per square foot. So total labor was $5,490.50 for 139 sq. ft. of counter (including our custom drain grooves!).
TOTAL COST per square foot of our quartz countertops: $59.75
If you've researched quartz slab and installation costs, you'll recognize the smokin' deal we got on both our slabs and our installation! (The average can cost anywhere from $70-150 per square foot!)
QUARTZ COUNTERTOPS cost
"Which quartz countertops do you have?"
We chose the LG Viatera Cirrus and go into full detail on that HERE!
If you've missed seeing all our "beauty shots" of our kitchen remodel with our white quartz countertops, you can view those here!
QUARTZ COUNTERTOPS cost
More tips to save money on your quartz countertop costs!
In addition to the above, other tips are:
Shop around! And not only for your quartz countertops, but also for the fabricator/installer! Don't be tempted to skimp on a cheap installer—if they make a mistake, you want someone who will fix the problem.
Look for remnants if you only need a small amount.
Find out about warranties before you buy.
Need immediate kitchen help? Get our Kitchen Design Bundle!👈
HOW TO USE QUARTZ COUNTERTOPS
"What else should I keep in mind for my quartz countertops?"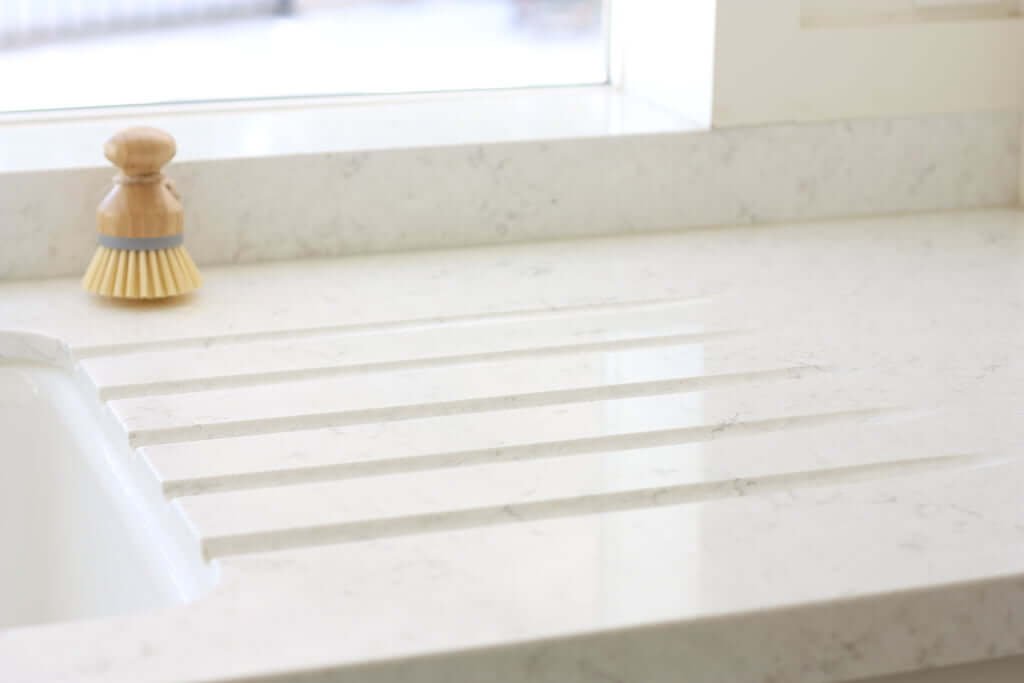 We even used a big chunk of our white quartz countertop material for our low-maintenance solid backsplash, but more on that in our "21 Genius Kitchen Organization Hacks!"
➜ Our complete list of every single home project is viewable HERE!