Honestly, when you're in the middle of preparing food or busily cooking a meal, nothing feels better than having your kitchen drawer dividers fit your drawer perfectly! Makes your tasks—and therefore your life!—so much easier!
Problem is, the pre-made ones usually don't actually fit your drawer, let alone your utensils!
We've used utensil drawer organizers in our kitchen both for our everyday cutlery as well as all our cooking utensils by the stove, and they've made a massive difference in how good our kitchen feels! (Not just on the outside, but when using it to cook as well!)
Rather than buy premade drawer organizers online, we've found it's far more efficient to make our own drawer organizers to fit our space and our items!
You can have this too! And not just for your silverware but all your kitchen utensils!
What are the 3 ways we utilized our DIY drawer organizers to make kitchen time more efficient and enjoyable?
#1: Silverware drawer organizer.
#2: Stove utensil drawer organizer.
#3: Kitchen tools drawer dividers.
We'll look at each of these below!
PS: We'll also be showing you how we utilized our DIY drawer dividers for each type! You can get these yourself as well!
SILVERWARE DRAWER INSERT
#1: Silverware drawer organizer.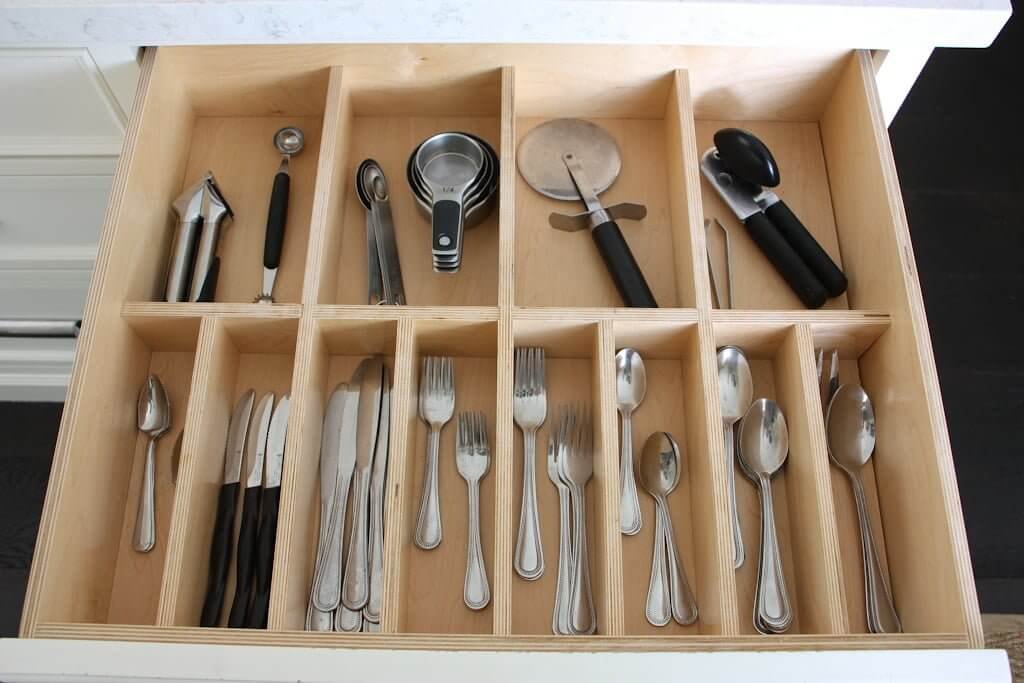 Make your own perfectly-fitted silverware drawer insert by using THIS!
I didn't want a plastic or cheap-feeling silverware drawer organizer!
Even the so-called "adjustable" bamboo ones didn't fit any of our drawers well. There was always one section we couldn't use, or they were unbalanced and only fit 2/3 of the drawer, etc.
(I write more about this issue in this post.)
Since none of the pre-made ones worked, we found a way to make our own
inexpensively, and
pretty easily!
We're sharing our plans (with 2D and 3D "How To" illustrations) here!
TALL DRAWER DIVIDERS
#2: Stove utensil drawer organizer.
Are you Team Stove-Utensils-On-Countertop or Team Hide-Them-Away?
I understand how annoying it can be to have stuff out on your countertop—especially when there isn't much countertop to begin with!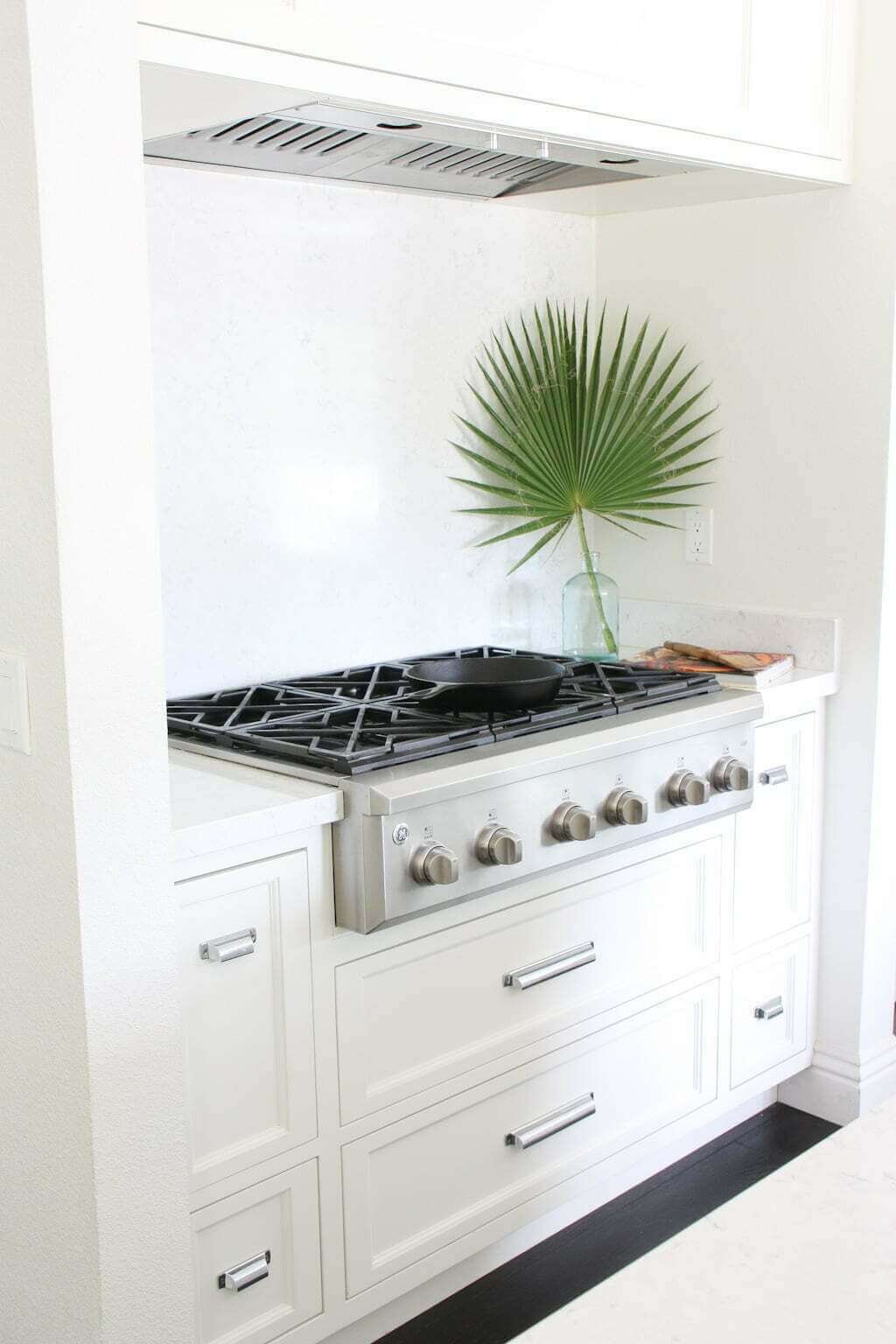 You can see that there's only 9" of countertop on each side of our stove. That's it.
It would have cost MUCHO DINERO, señor, to change this in our kitchen…so we analyzed and decided to absolutely, definitely leave it.
Functionally, you need your spoons and spatulas and all those cooking-on-the-stove utensils by your stove, so what do most people do? They do the canister-of-tools next to the stove and leave it.
I wasn't having that. I wanted my utensils to be unseen and yet easily accessible.
Therefore, this vertical drawer was in order!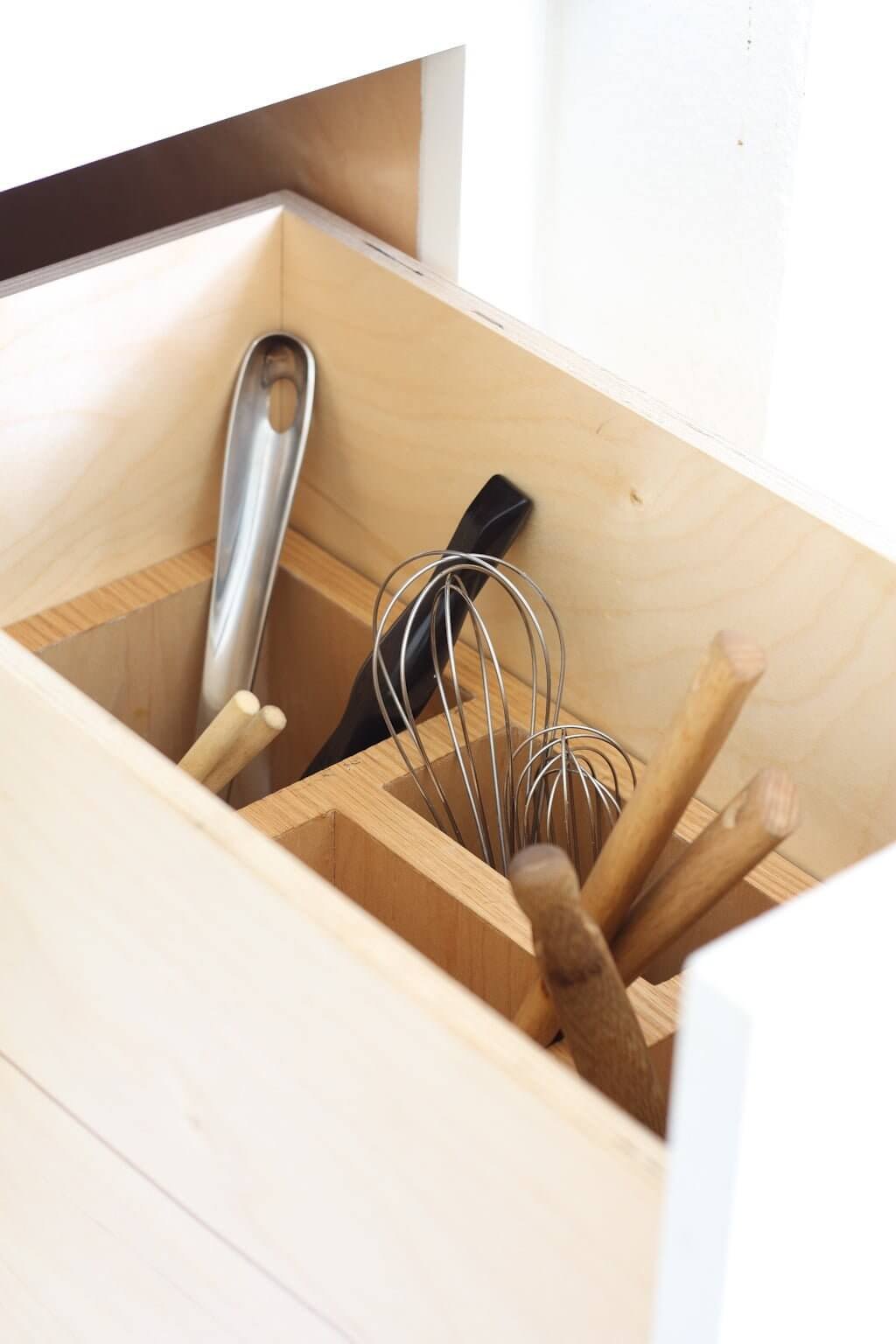 👇
We created 3 kitchen guides to help you get the kitchen you've always wanted!
Get our Kitchen Design Bundle here!
Get the plans for these exact drawer dividers HERE!
KITCHEN UTENSIL ORGANIZER
Deep Kitchen Drawer Organizer: Potential Problem?
What problem did this create?
Well, if you look at those stove and picture one vertical drawer on the right, yet three small drawers on the left, it's not going to look visually balanced, right?
So that's the whole reason we did the stacked spice drawer we did on the left! (I'll get random comments from people about our spice drawer, lecturing me on why it should have been three drawers that open to the front and I'm like, "I get what you're trying to say, but you're not thinking about the visual balance!" 😉 )
PS: Here's a quick video of our kitchen drawer dividers in action!
KITCHEN DRAWER DIVIDERS
#3: Kitchen tools drawer dividers.
Now that we've got our "everyday" silverware and stove utensils taken care of, what else do you need?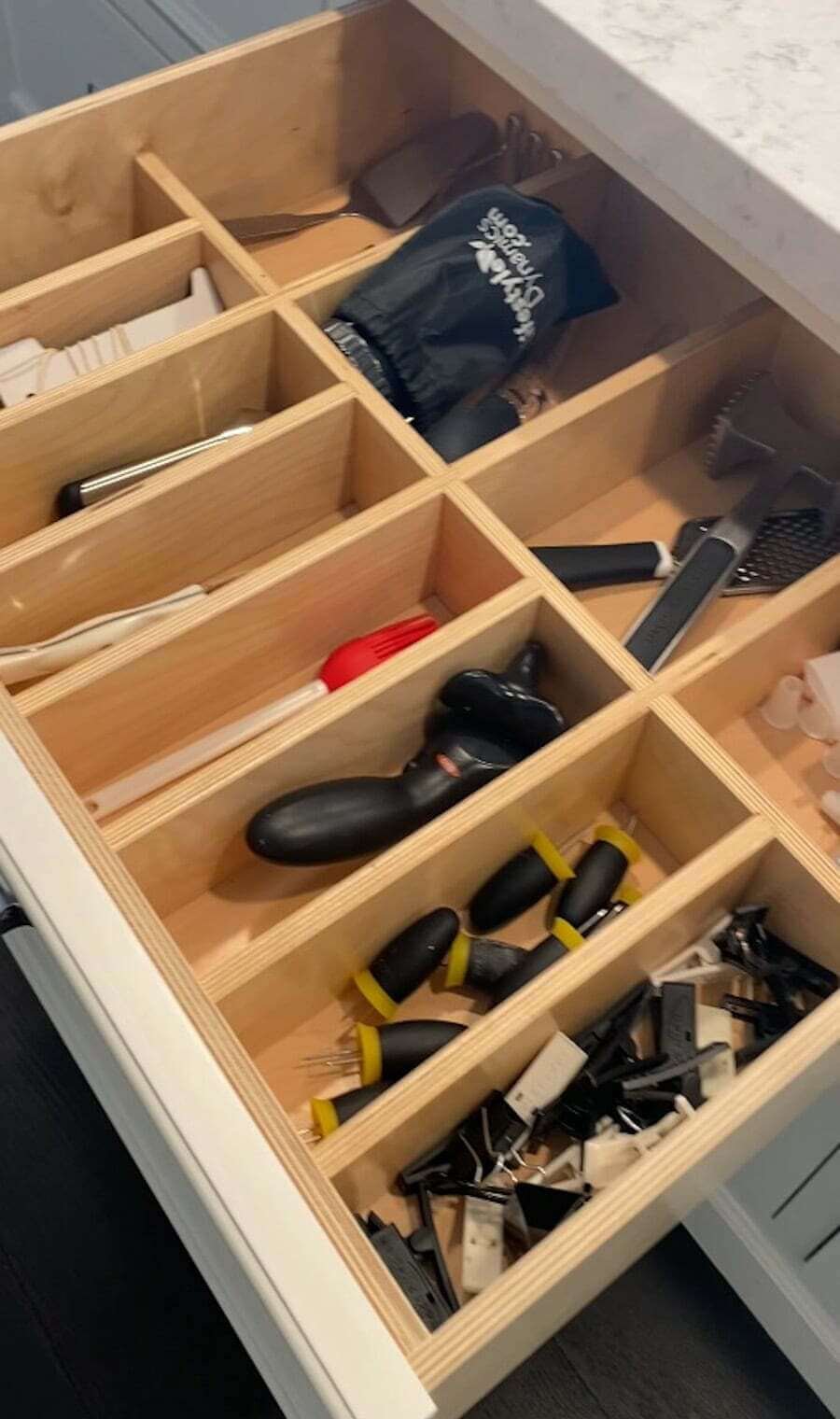 Make your own kitchen drawer dividers using THIS!
You need drawer dividers for all the random, miscellaneous kitchen tools you use!
This drawer is full of our "secondary use" items. So, if you compare it to the drawer on the right (that's the same drawer we talked about and pictured in the #1 section above), you'll see that above our silverware, we have our most-used kitchen tools. (Like our wine bottle opener, clearly! 🤣)
This drawer we're talking about now is for all our kitchen tools that we still use, but not as often, such as…
Clips for bags
Garlic press
Corn-on-the-cob handles
Twine
Baster
Need immediate kitchen help? Get our Kitchen Design Bundle!👈
Next, see The Complete List of Our Smart Kitchen Tips, Hacks & Design Ideas!
If you missed it, here are 4 bonus posts that can also help you!
➜ Our complete list of every single home project is viewable HERE!