When we first arrived in New Zealand, we had arranged to stay in a little rental for a week while we found a new apartment.
Matt's new job meant he'd be working at an office in the CBD (Central Business District, or "downtown") and we wanted him to be able to walk to work, which narrowed our search quite a bit.
Finally we found what appeared to be a great place with a garage and two small balconies and was right by a lovely lake.
Let's start the tour! (It'll be a quick one. It's a small space!)
---
THE LOUNGE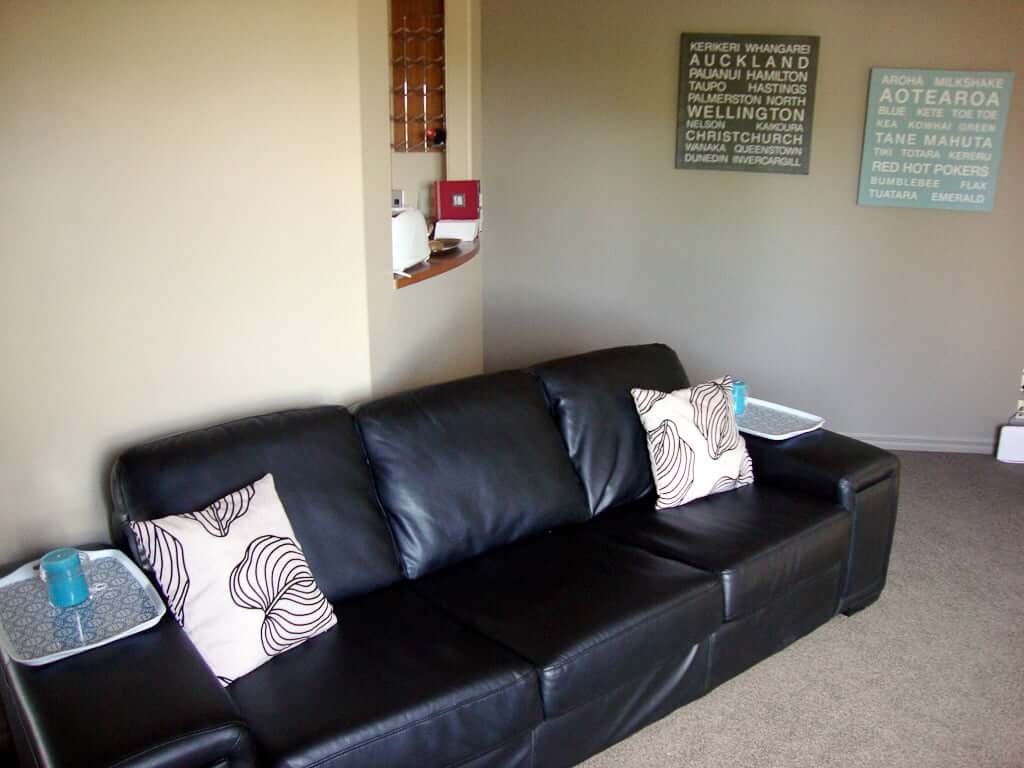 We bought a couch with extra wide armrests so that we wouldn't have to buy side tables or a coffee table to set drinks or other items on.
I found some trays we could use to stabilize drinks on.
Pillows for comfort. (You try to be minimal but you realize how nice it is to have a pillow or two…reminds me of Survivor when "comfort" in the form of blankets and pillows is one of the prizes!)
I couldn't resist the bits of Kiwiana on our walls. (We still have those wall canvases in our California house!)
---
THE KITCHEN
On the other side of that little window in the wall is our kitchen:
Complete with stainless counter tops and—this photo doesn't show them well but they're there—bright blue cabinets!
---
THE DINING SPOT
On a small wall near the lounge was where we fit our used dining table and chairs, all purchased used from TradeMe. (The best site we found for buying used furniture when there. It was awesome! Helped keep so many of our "starting over" expenses down, and we were able to resell them later for most or all of what we'd originally paid.)
Simple but cozy and could extend when we had friends over.
---
THE "OFFICE"
Later, around the time I realized I needed a good large desk that was NOT our dining table, we spotted some unused pallets behind a store. After calling and confirming we could take them, Matt build me a HUGE pallet desk with his bare hands:
You can tell I was working as a food magazine editor at the time. That screen makes me hungry.
Hard to beat a free desk!
---
THE BATHROOM
Next on our tour is the bathroom, which keeps up with the bright blue trend from the kitchen.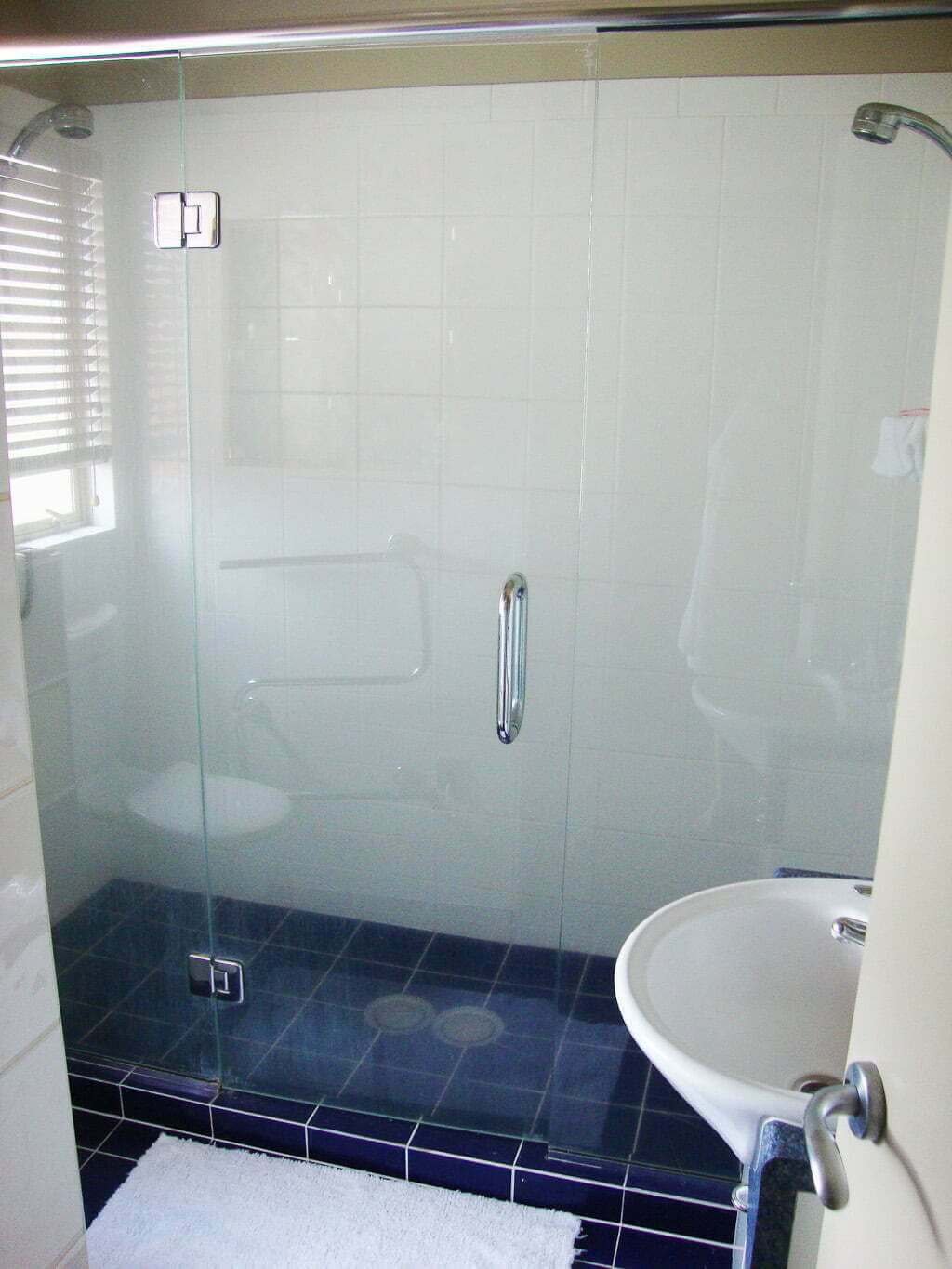 The fun thing about this was that—although we were living in a small space—the shower was huge! Matt especially appreciated that as he's a tall guy. It also had two showerheads, which made it feel even more "flash." (In NZ, that's their American equivalent of "flashy.")
---
THE BEDROOM
Next to the bathroom, at the end of the hallway, was our little bedroom.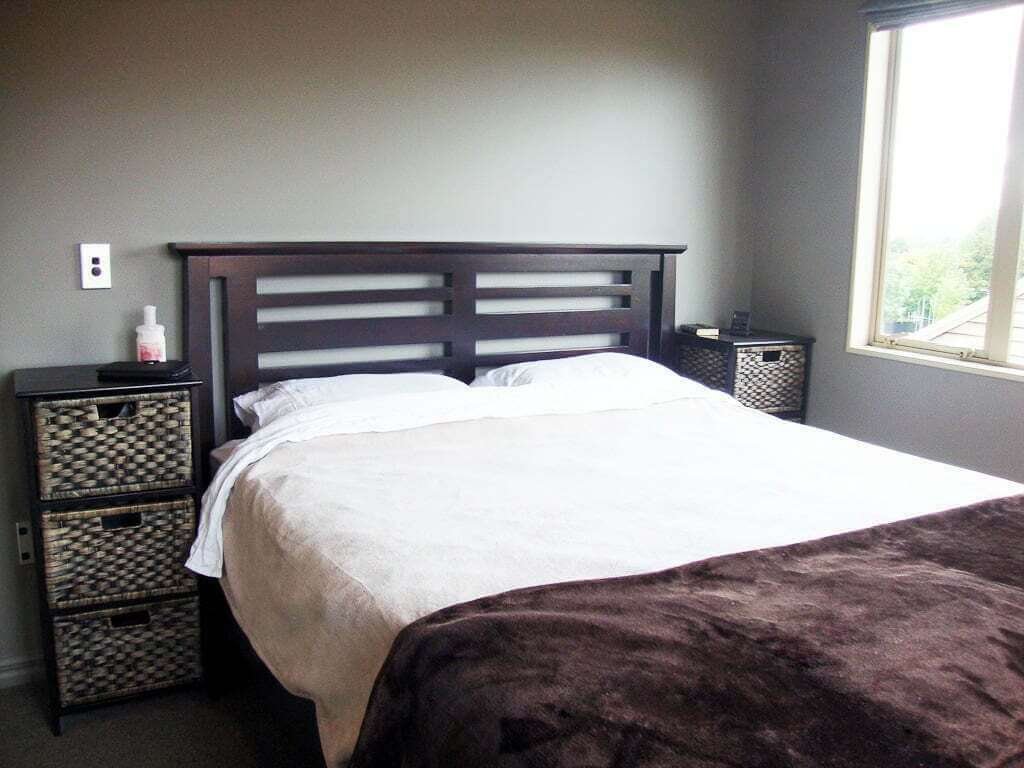 We tried to go super minimal and get away with going without side tables, but we found these ones with storage baskets and quickly realized we'd need every bit of extra storage we could, living in a small space.
---
Another part of the learning curve upon moving to New Zealand was that we didn't realize our flat had a washer—but no dryer. Whereas dryers are standard in the US, they are definitely not standard in NZ. Instead, every place we lived had an outdoor laundry line for hanging your wet clothes.
Or, as I discovered, a railing worked even better. Especially on rainy days.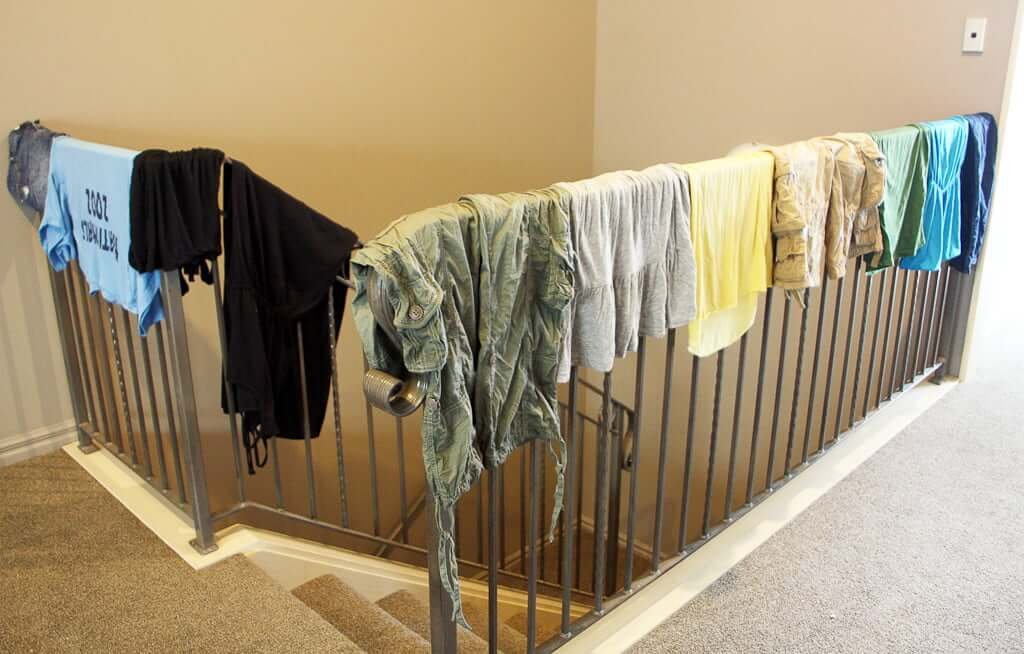 (True story: one of my Kiwi friends, who had three children, told me she planned her laundry around the weather because she could only arrange to dry it outside on sunny days. (!) In my fresh-off-the-boat shock at hearing this, I was all, "Uh, have you heard of dryers? THEY ARE AWESOME." She replied, "Oh no, those are so expensive to run. We don't use those!" I don't think I even knew what to reply at the time, but after a couple years living in New Zealand I found myself hanging my laundry out to dry too! You just get used to whatever you need to, wherever you live…)
Best of all, this apartment was within walking distance of Hamilton Lake, or Lake Rotoroa. (Not to be confused with the North Island tourist's favorite, Rotorua.) Matt would run around the lake almost every day; I walked it almost every day (did I mention I avoid running whenever possible?); and we walked around it together often, talking.
I still miss walking around that lake so easily from where we lived!
---
THE BALCONIES (how my previously-unknown secret comes to light)
Before I end the tour, let me show you the balconies. We had two: one small one off our bedroom, and a larger balcony off our lounge.
Less than a week had passed before I learned something new about myself:
I CANNOT LIVE IN A PLACE WITHOUT GROWING PLANTS.
I think I actually started having heart palpitations after two days, realizing I had no soil to dig around in, and that this was apparently a necessity for life.
Quickly, I located the nearest equivalent of a Home Depot, called Bunnings, and desperately ran through the aisles looking for what I needed. (Okay, it didn't look that dramatic on the outside—I sauntered around and breezily checked out what they had—but I felt that dramatic on the inside!!!)
Apparently the above was the lifesaving shot into my palpitating heart that I needed: a few pots, some soil, plants. Small balcony gardening at its finest.
I came home and planted. My breathing slowed. I could smell the soil. (Oh how I love that scent.)
I could breathe a little easier. For now.
Deep down, I knew that was just a Band Aid. More would inevitably come…
I had passed an independent little nursery off the side of a road on my way to Bunnings, to which I returned several times over the course of the ensuing two days. Mostly because our tiny rental car that first week couldn't hold all the plants I came home with.
One night, Matt came home to this on our previously-empty lounge balcony: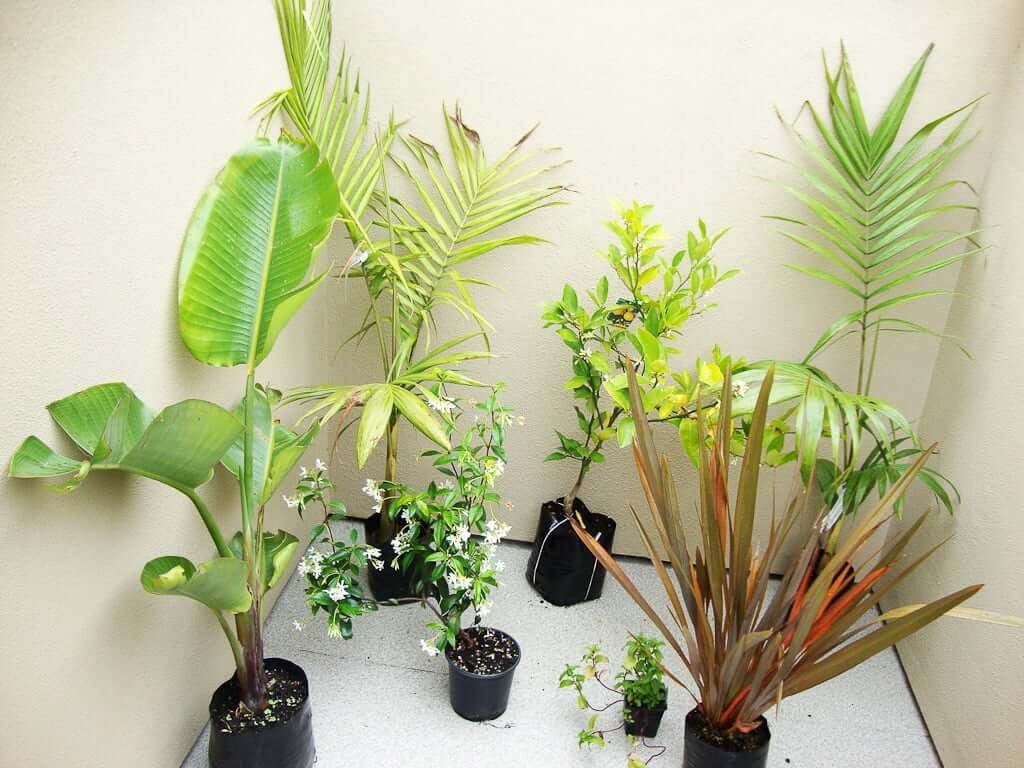 We had only lived in our flat for a couple days.
I told you, I have serious plant issues.
Some people are dangerous at a mall, with clothing or purses or shoes. I AM HIGHLY DANGEROUS IN A NURSERY.
I will buy plants I don't need. I will buy plants with nowhere to put them. I will buy plants that are rare and hard to find and if I see them in a nursery I WILL BUY THEM BECAUSE YOU NEVER KNOW WHEN THE OPPORTUNITY WILL COME AGAIN.
---
KEEPING OUR MARRIAGE ALIVE
Matt's question that night was one that has been echoed so many times in our marriage, post-nursery-trip-by-Jess.
"Where are you going to plant those?"
He asks suspiciously, AS IF HE DOESN'T ALREADY KNOW THE ANSWER.
I want to say, "Don't play coy with me, Matt. You know as well as I do what's happening here."
But I decide to play along.
I give him my biggest cheesy smile which, after a decade, he knows means, "I don't know, but you're going to build it for me! What can you do? What can ya provide? How can we make this happen?"
I don't have to say a word; he just knows it's brainstorming time. Yay! We are really good at this part!
Really, I'm just keeping our marriage alive with all this plant stuff. Really, he should be thanking me. You're welcome, Matt…you're welcome.
BUILDING WITH HIS BARE HANDS (almost)
We discussed a long planter that could span the blank wall we looked at out our lounge doors. Of course, it would have to be custom-made. And I know just the guy.
Now, this man is an amazing builder. He built our master bed in the Portland house. But all his power tools are not something we chose to pack into our moving bags.
So, we went to Bunnings (lucky for him, I just happened to know the fastest way to get there) and purchased the basics. Saw. Hammer. Nails. The old-fashioned way.
And he painstakingly sawed wood and handmade this planter box we could put out on our balcony…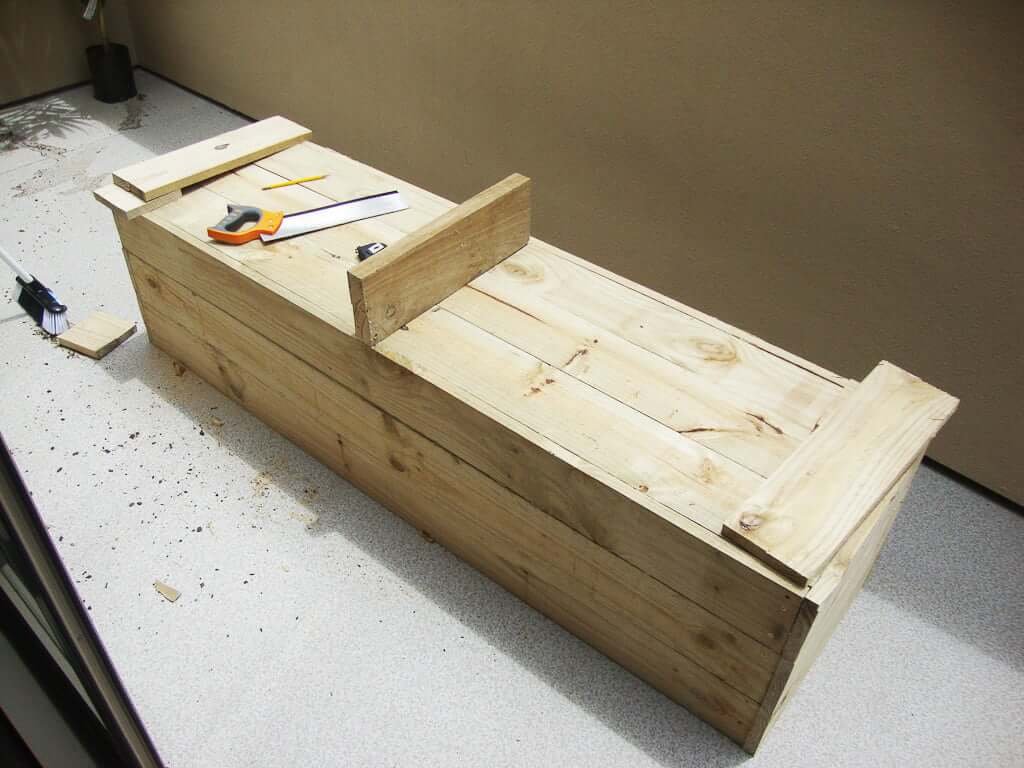 …and gaze at all our beautiful lush foliage instead of a balcony wall.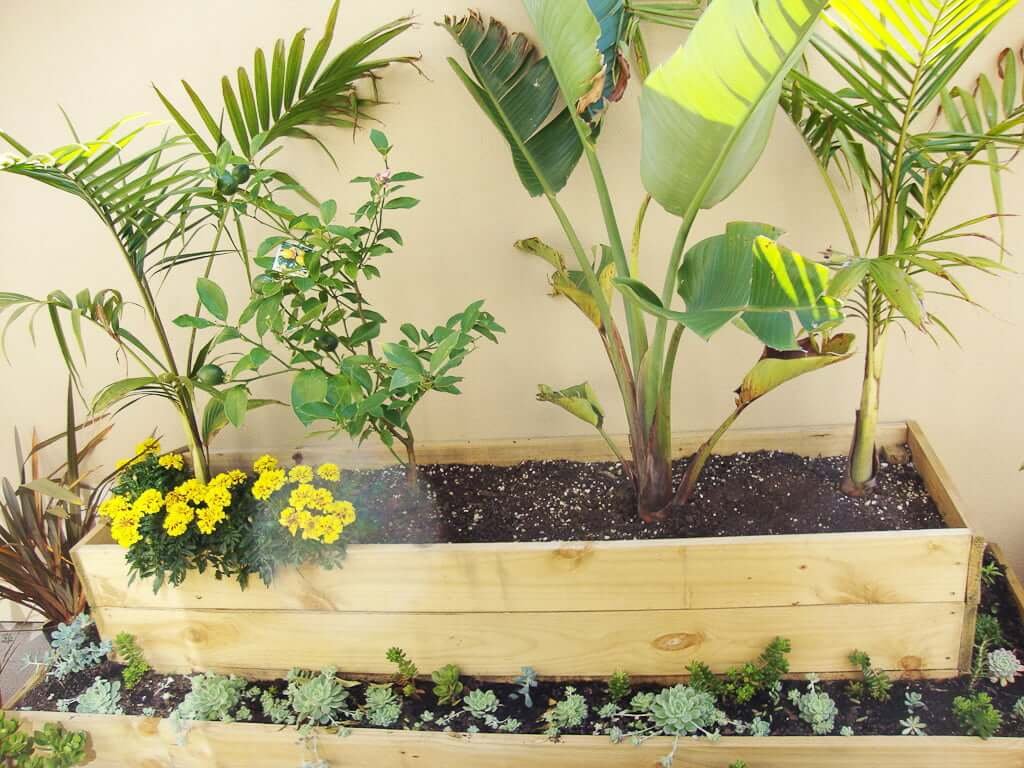 If you really think about it, it's only natural that this should happen. I mean, look at the backyard transformation we'd made in our home prior to this. I was totally fine moving into a space a fraction of the size of our 2,000 sq ft home, but I was NOT fine moving into a space where I couldn't have plants. I just didn't know it until it happened.
Plus, I was able to grow things in New Zealand that I couldn't in Portland. (Bangalow palms, giant bird of paradise, a lime tree. They're all there. And they move with us every time from now on during our time living in New Zealand.)
Even when we moved here next…the place with zero outdoor space and at least three big interior space problems…
Can YOU live somewhere without plants? Or do you also have heart palpitations without them? Do YOU agree that I'm just keeping the spice in our marriage with my plant-buying problem?