Today we're walking you through pictures of the exact quartz countertops colors we chose (namely, the LG Viatera Cirrus), as well as why! (And why we like this color even more after seven years of use!) We're also comparing it to the incredibly similar LG Viatera Minuet quartz countertop.
How does one even start to chose a quartz countertop color—let alone the design—within that color scheme? Look no further! You'll want to check out our other super-helpful post on "7 Strategies to Choosing Interior Colors!" It's the perfect start to narrowing down your search from the beginning, because once you know the color scheme you want, half of your quartz battle is already over! 💪
Avoiding Decision Fatigue is where it's at!
We're answering questions like:
"How do I choose my perfect quartz countertop color?"
"What were your top quartz 'finalists' and why?"
"Which cabinet paint color did you use with your white quartz countertops?"
"How does this quartz countertop look in real life? (Beauty shots vs phone photos?!)"
"What do you love or hate about the quartz pattern you chose?"
CHOOSING QUARTZ COUNTERTOPS COLORS
How We Started.
Let's just start by saying no one has paid us for this post in any way (but maybe we should look into that now!🤣). We chose our quartz countertop material long before we started this blog and our design business.
We chose our LG Viatera Cirrus quartz at a stoneyard in the San Fernando Valley one day in 2015, while tirelessly looking for the perfect kitchen countertops during our surprise kitchen remodel.
(We later revisited many of these exact same stoneyards when looking for our grout-free porcelain shower slabs, but you can read about that here.)
Step #1:
First, I chose to look for white quartz countertops based on my interior color strategy for our particular home.
Step #2:
Next, I started visiting local showrooms (within reasonable driving distance with an infant who hated carseats) to see white quartz countertop colors and designs in person. Originally, I thought I wanted something like this (with a lighter background and dramatic veining) for our kitchen countertops, much like I looked for with our solid slab shower walls.
Here was one design I considered (from showroom #1,784 that I visited):
However, I spotted the LG Viatera "Cirrus" design by accident and suddenly had a conundrum on my hands! Something about it I instinctively liked even more than the options available with the more dramatic veining…
…and the cost didn't hurt either! The "dramatic vein" style quartz was so much more expensive that it made consideration of the more subtle veins in the LG Viatera Minuet and Cirrus (two similar ones I started narrowing it down to) something I could NOT ignore. (Especially when we needed to buy three giant slabs! See our exact quartz countertop costs HERE.)
Step #3:
Once I had a really good handle on what I was looking for, we set aside an entire Saturday to drive out to some spots in "The Valley"—the best place to find deals near us, but far enough from where we lived not to be taken lightly when you have a small child in tow. (Did I mention that one hated being strapped into anything, including her carseat? Just to keep life exciting for her parents.)
We called stoneyards ahead of time to see who had actual, real-life quartz slabs of the colors we were considering, because while a showroom can show you one part of a slab,
they don't show you the whole slab design!
And you will want—nay, NEED—to look at your whole slab design! (Why? See this post with our #1 tip for saving on your quartz slabs.)
lg vIATERA MINUET VS CIRRUs quartz
"How much does Viatera quartz cost?"
We share the details about exactly how much we paid for our quartz slabs + installation in this post: "Hold Onto Your Shorts: How to Save Big on Quartz!"
LG VIATERA CIRRUS VS MINUET QUARTZ countertops
A Picture is Worth a Thousand…You Know.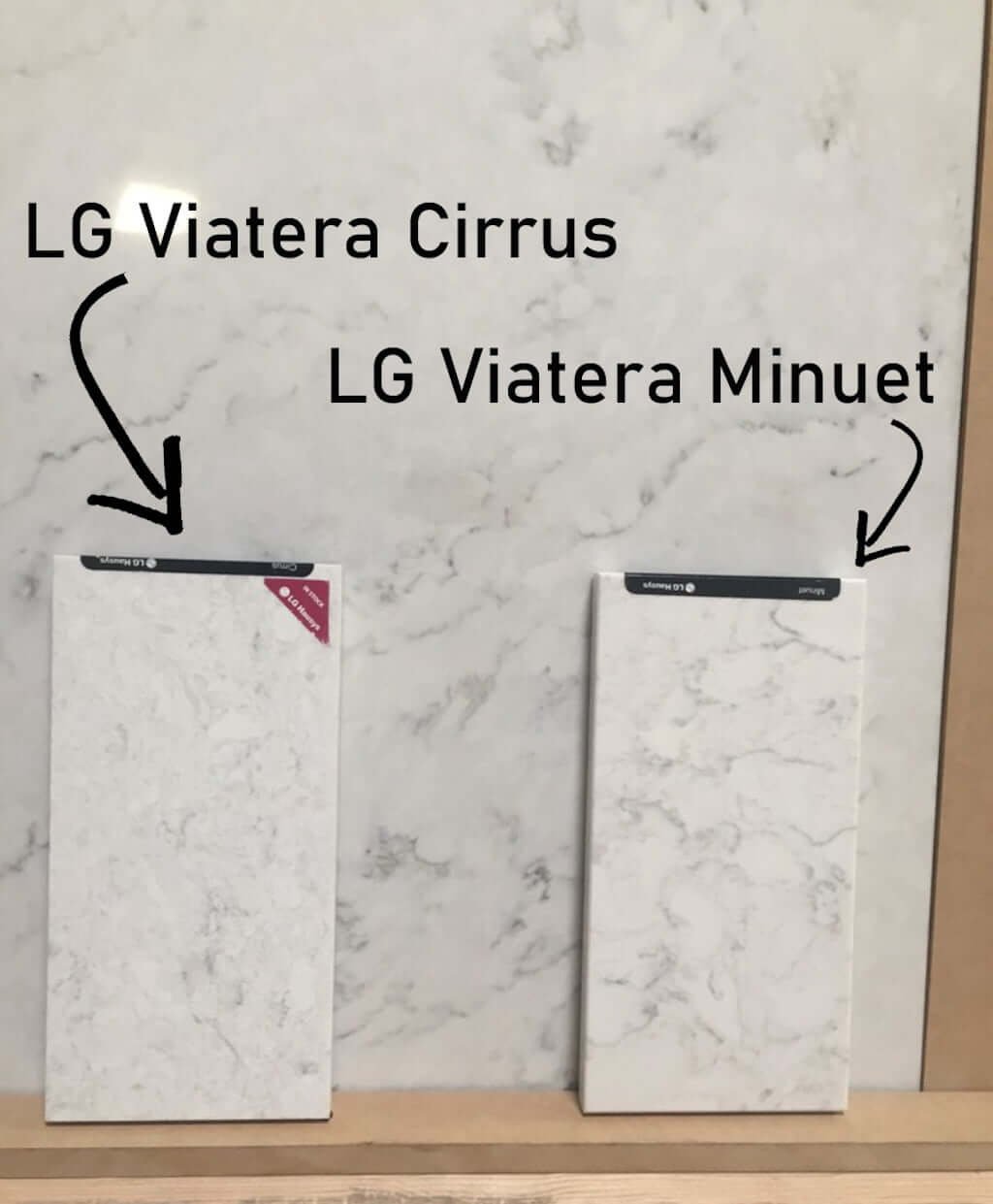 You can see the pattern in the Cirrus (our final choice) vs the pattern in the Minuet quartz countertop material.
And you know I love me some subtle. 😉
Buuuuut, not too subtle. Why is this important? Read on!
PS: More closeups of the LG Viatera Minute quartz vs the Viatera Cirrus can be found here and here.
---
➜ We created 3 kitchen guides to help you get the kitchen you've always wanted!
Get our Kitchen Design Bundle here!
---
VIATERA CIRRUS QUARTZ COUNTERTOP
Why I love it even more after 7 years of use.
To be honest, my initial reaction was buyer's remorse the first time the installers brought in our Cirrus countertops.
Why? Well, somehow between all my searching and install day, I had re-imagined how my countertops would look (my magical unicorn vision) and forgotten what I'd actually decided on. (And forgotten that Unicorn Quartz is not yet a thing. Clearly I should start my own line…)
Yet I swallowed hard, took a deep breath, and embraced my fate with the Cirrus. I'd made my bed, and you know what you gotta do then.
3 Reasons I realized it was perfect.
However, over time, I began to truly appreciate and dare I say love this Cirrus countertop color-design-pattern. Why?
The dramatic veined ones I'd originally looked at began to look a bit dated when I saw them year after year in other places. I felt glad I didn't go that route.
I forgot about the magical unicorn quartz I'd envisioned somewhere between purchase and installation. (Honestly. I can't even remember it so can't describe what it looked like. So much for my product line.)
IT HIDES MY DIRTY KITCHEN COUNTERS!
Can you tell #3 is wherein the greatest excitement lies?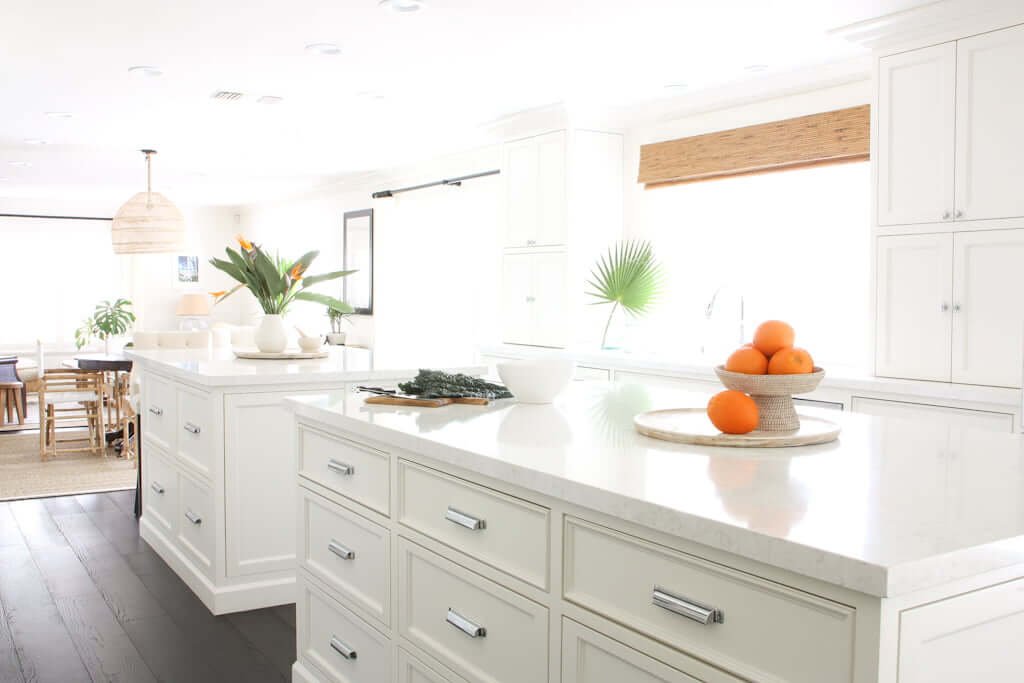 Why do I love these Cirrus quartz countertops? The pattern is perfect for hiding ANYTHING on our kitchen counters! (Yippee skippee, dance all night!)
While in a perfect world, my kitchen counters would be cleaned to perfection at the end of the day, that's not real life. Like, at all. (PS: My trip to The Valley resulted in a slight lingering accent.)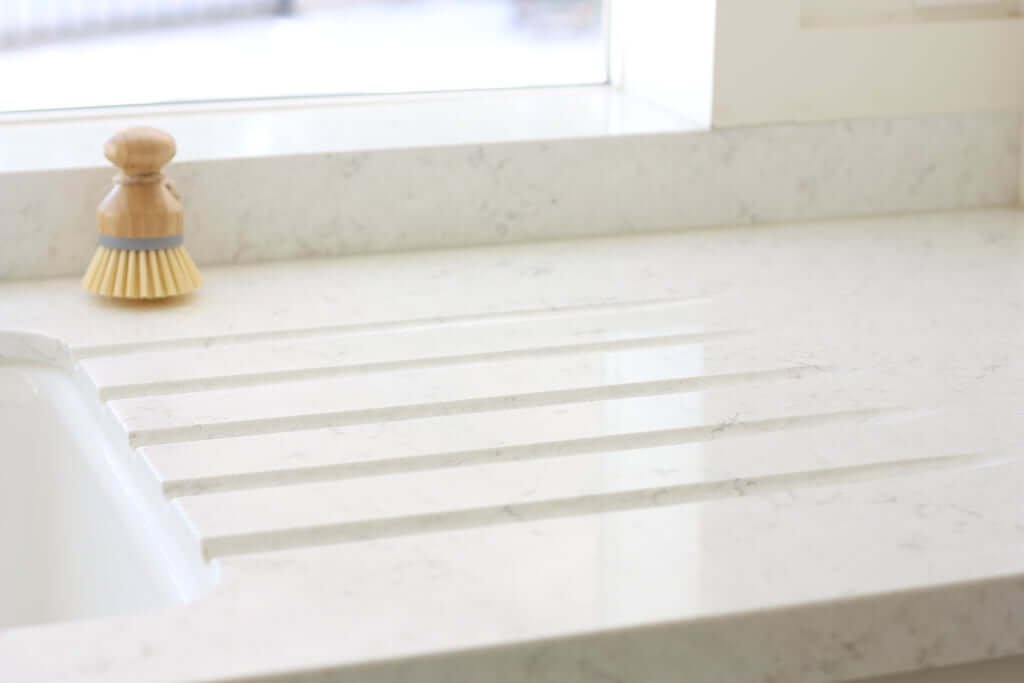 Sure, if there's a major mess we clean it up immediately, but otherwise we don't have to fuss about these Cirrus countertops! If a speck gets missed, you can barely see it and it's not bugging me. Take one speck times eighty and again, easy breezy! I let it go because I can't see the dang things.
And therein lies the magic of Cirrus that won my heart.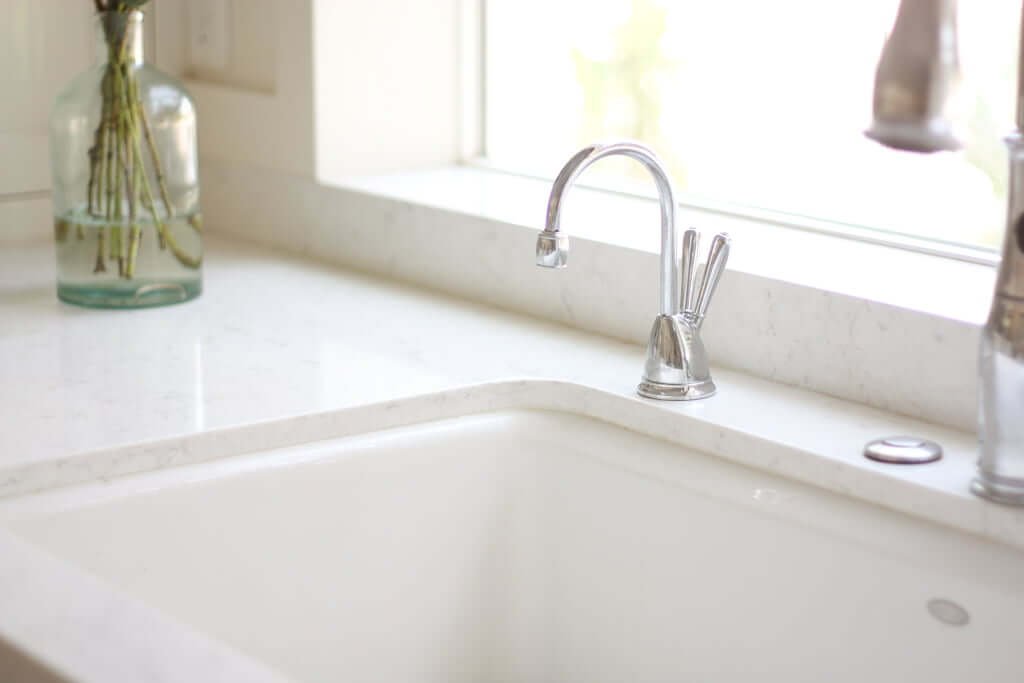 But enough of all these beauty shots…we all want to see what the Cirrus quartz looks like in a basic phone photo, right?!? To compare? Let's do it!
VIATERA CIRRUS COUNTERTOP
Because everyone wants to see what it looks like in REAL LIFE. (If phone photos are considered real life, which is another discussion.)
Here's how the Viatera Cirrus looks on one of our double islands in an iPhone photo: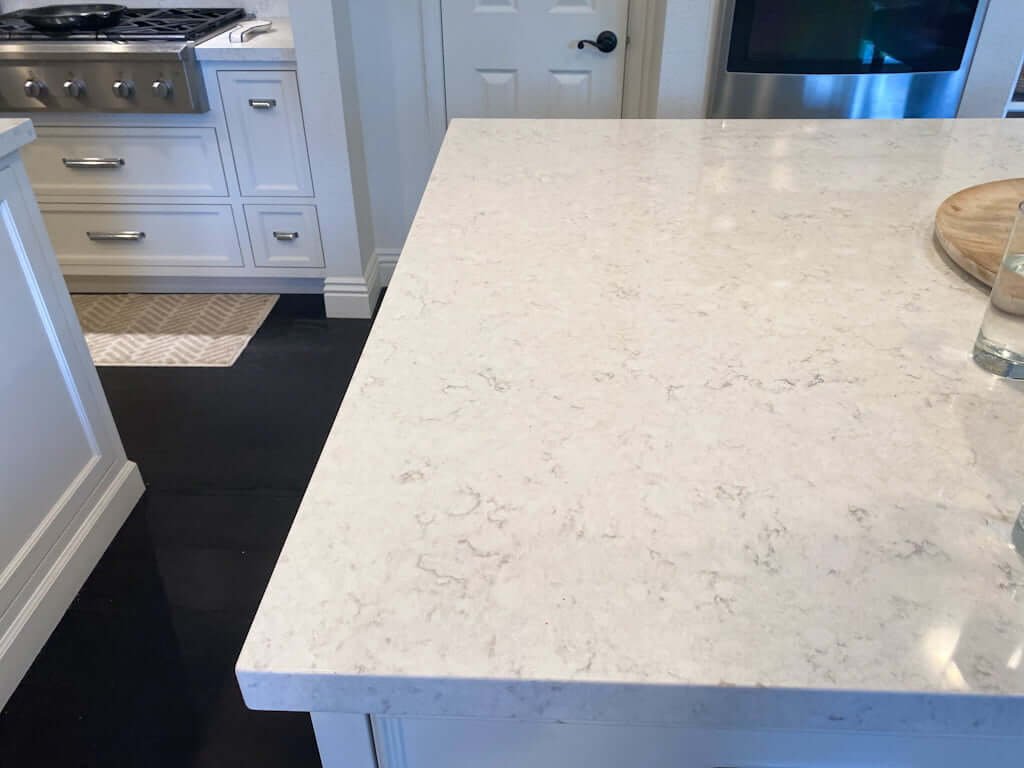 Now, check the difference with the below pic to the left of our sink!
Just because it's a phone photo doesn't mean it's a true color. The phone changes the whole color depending on the lighting situations. Above looks lighter and cooler; below looks busier and warmer.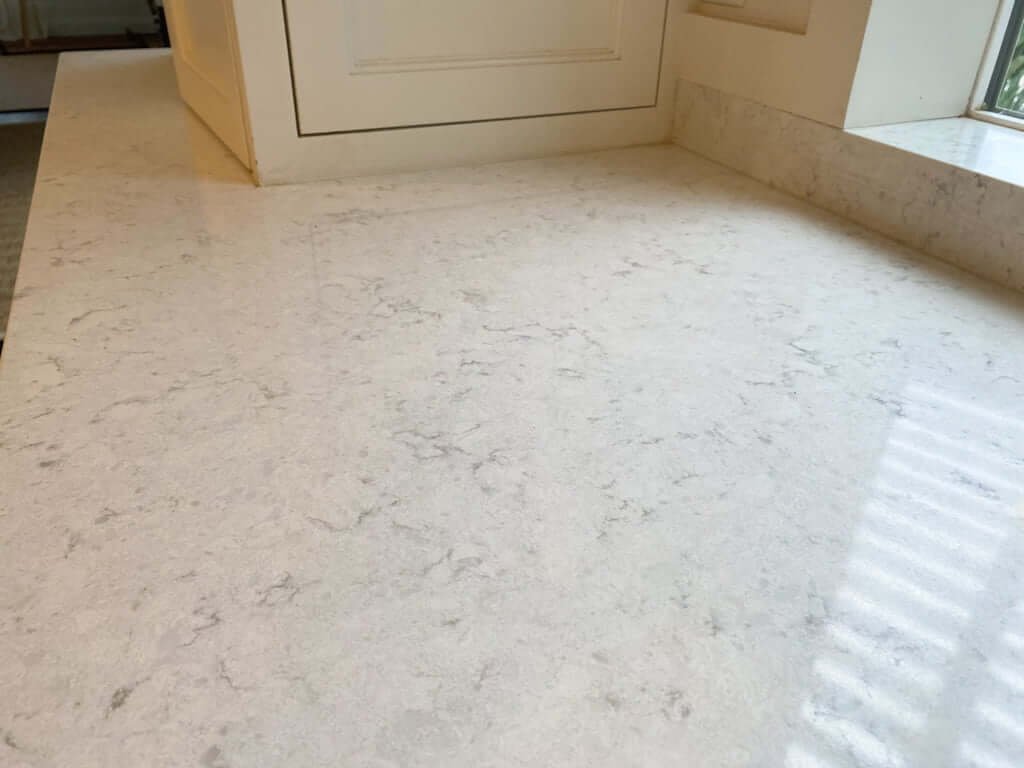 But the real focus is to show you that these are our quartz countertops
while dirty!
Sí, señores. I did not wipe down these counters for photos.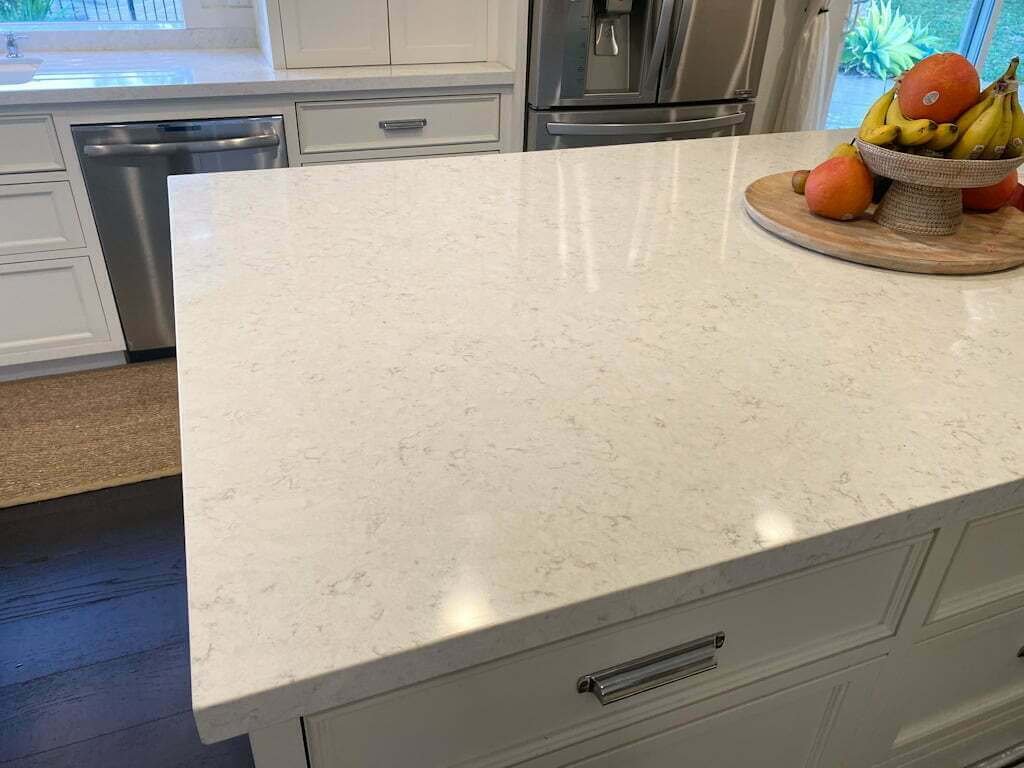 If you really want to zoom in, you'll see little flecks and bits of food from the 3+ meals per day our family eats in this kitchen.
But therein lies the beauty of this Cirrus pattern. It's beautiful when it's clean, and it's beautiful when it's dirty.
Even when iPhone photos don't do it justice.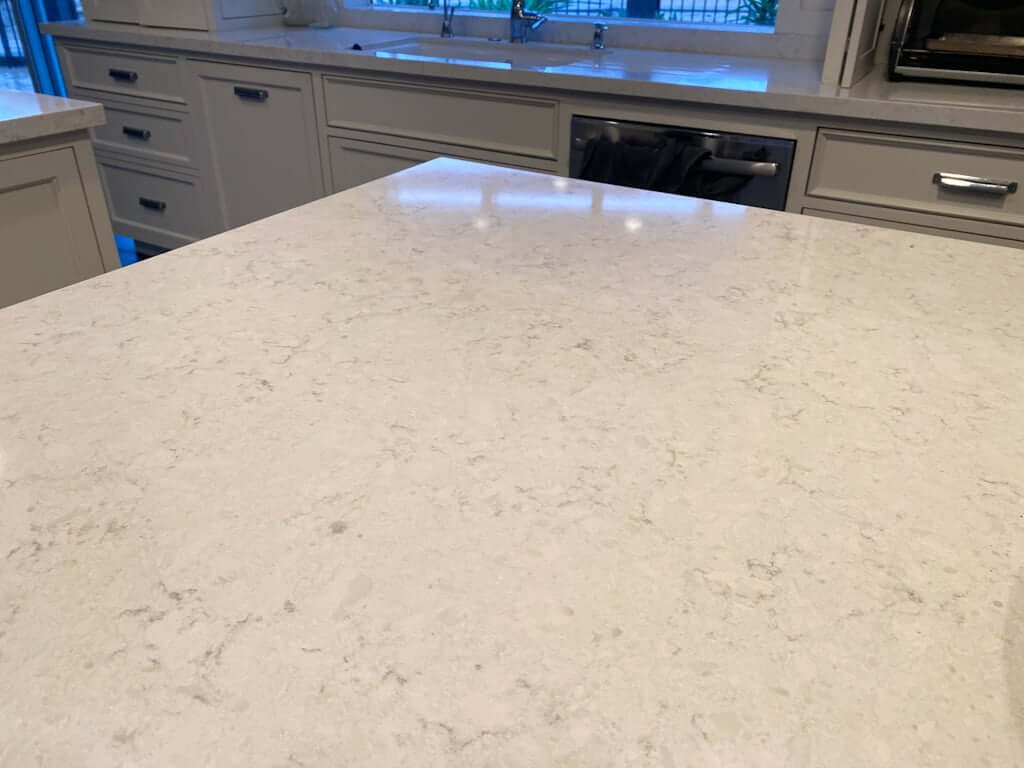 ➜ Need kitchen design help TODAY? Download our Kitchen Design Bundle!
VIATERA CIRRUS QUARTZ
Color differences in photos.
This is one reason we highly recommend taking the time to research your quartz countertops in person. You want to be careful about researching this solely on the internet.
Why? We give you Exhibit A, which is our quartz countertop runnels next to the sink.
Here's why you can't always trust photos.
Photo #1 was taken with my SLR:
Photo #2 is the exact same spot, but a photo taken with my iPhone. I can't say enough that it does not look like this in real life. It's like the phone takes every single little fleck and then amplifies the color to make it extra dark.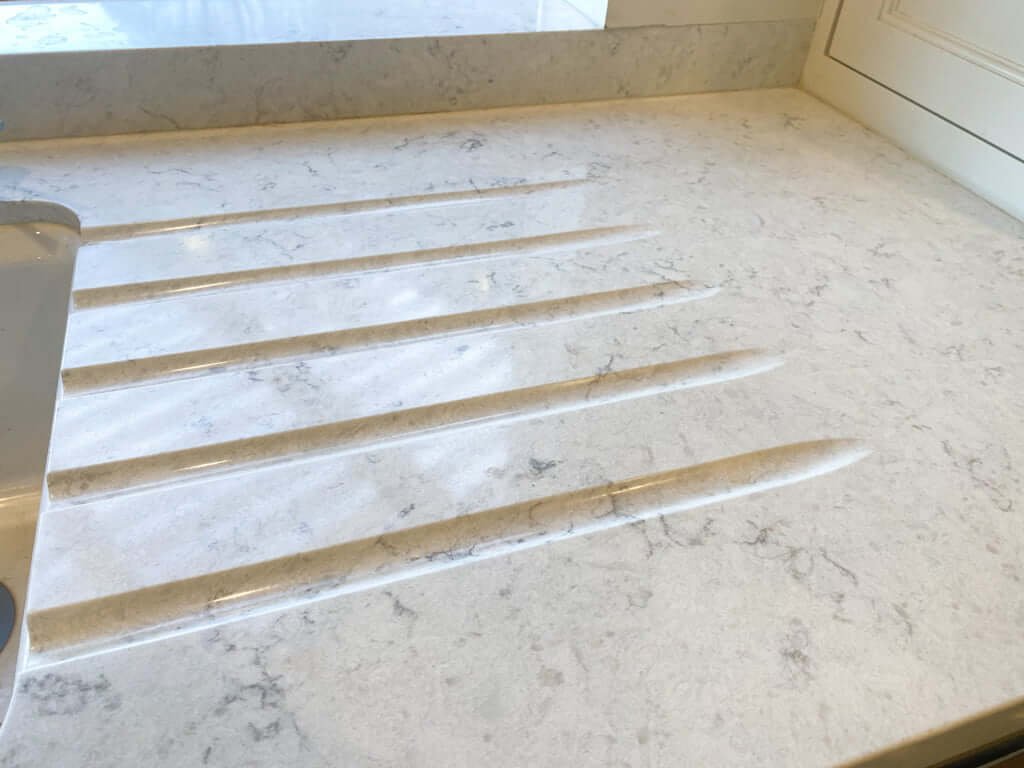 Wild, aye? They don't even look like the same quartz color, let alone design and pattern. Yet they are. Exactly the same.
Simply a change in the photo-taking equipment.
Word to the wise.
MOST Popular white quartz countertops
Examples of the most popular white quartz countertops:
Everest quartz countertop (great if you're looking for a greyer-white)
Iced white quartz countertop (probably my least favorite, personally, but people still choose it so I'm mentioning)
Calacatta quartz countertops (Calacatta marble usually has more gold tones, so this often gives a warmer look to your space—one sample is here but so many others to choose!)
Carrara quartz countertop (too many options to link to, but Carrara often mimics marble—you'll just need to find the veining that you like best, if that's the look you're going for!)
Three of the most popular options you can easily order samples to check out in-person are:
Caesarstone 10in x 5 in quartz countertop sample
Silestone 2 in x 4 in quartz countertop sample
Cambria 3 in x 3 in quartz countertop sample
However, please read our above tips and reasons you shouldn't depend on small samples to make your final quartz countertop choice! I know, I know…I want to be lazy too, but I'm telling you: go see the slab in person! You're going to have these countertops for years; it's worth a few hours to make sure they're right.
➜ Need kitchen design help TODAY? Download our Kitchen Design Bundle!
Examples of White Quartz Countertops with Gold Veins
Many people often search for white quartz countertops with gold veining, some of the best of which are Calacatta Gold Quartz Countertop and Calacatta Classique.
While our Cirrus has mostly greys, it has a creaminess and warmth to it that we love and would look great with gold or brass hardware if you wanted to bring in some more gold tones. It's not too grey of a quartz.
VIATERA CIRRUS QUARTZ COUNTERTOPS
"My kitchen counters always look pristine even when they're not!"
If you don't want any veining in your countertops, and you're looking for a solid color, that's difficult to find in natural stone. Quartz has dozens, if not hundreds, of different colors!
Because we went with a pattern with small flecks throughout it, we don't see a thing! So you might want to reconsider going with a completely solid quartz, if that's your bent. Others who have chosen solid colors in quartz have complained that those show every little mark or crumb left out on the counter. Who doesn't love low-maintenance? (Answer: Crazy people.)
WHITE QUARTZ COUNTERTOPS COLORS
"What paint color did you do for your cabinets to match the quartz?"
We used our favorite white paint: Benjamin Moore "Swiss Coffee." Easy breezy.
➜ Need immediate kitchen help? Consult with us or download our Kitchen Design Bundle!
You may also want to read the below quartz countertops posts since I couldn't fit all the info into just one post here! 😅
➜ Our complete list of every single home project is viewable HERE!