Love having a place by your sink for dishes to dry but don't love the plastic dishracks or metal drainboards available out there? Then you may want to consider a built in countertop drainboard next to your kitchen sink!
Admission: I've never owned a separate drainboard. For years, I dried dishes on a towel by the sink. (Which I could see wasn't of the utmost efficiency. The towel would eventually get full of water from all the items overtuned on it, and—after doing dishes at night before bed—I remember often waking up in the morning to a still-damp towel next to my sink.)
Sure, there are metal drainboards or plastic drying racks you could buy. And I understood that the "beauty" of them was supposed to be that you could put away the dish rack when you weren't using it and have a fully-functional extra bit of countertop space until the next time you had to dry dishes.
BUILT-IN COUNTERTOP DRAIN BOARD:
The problem with regular countertop drain boards.
Standard drain boards and drying racks are nice in theory, but I'll tell you what I never liked about them: While hypothetically one could put them away after each time the dishes were dry,
no one ever did.
In most homes I saw, the drainboards and dish racks were a PERMANENT fixture in the kitchen. (You know what I'm talking about.)
Because here's the thing:
there are always dishes to be done!
It's like laundry. Neverending.
And thus, the ugly countertop drainboards lived on. Dish racks had a permanent spot next to the sink, even though in theory they were totally put-away-able.
BUILT-IN COUNTERTOP DRAIN BOARD:
Sometimes the "smallest" things save the most time!
So when the time came to rip out our new-to-us kitchen and regroup, I naturally looked at everything I could do to make the kitchen as functional as possible. Because while where you dry your dishes might seem like a tiny thing to think about, really these "small" things are big things when you consider the amount of times and length of time they're used.
For example, let's say I use a drainboard for a conservative average of just 1 hour after every meal's dishes, pots, and/or pans are washed. That's approximately
3 hours per day.
90 hours per month.
1,100 hours per year.
A built-in drainboard doesn't seem like such a miniscule thing to spend time getting right now, ay?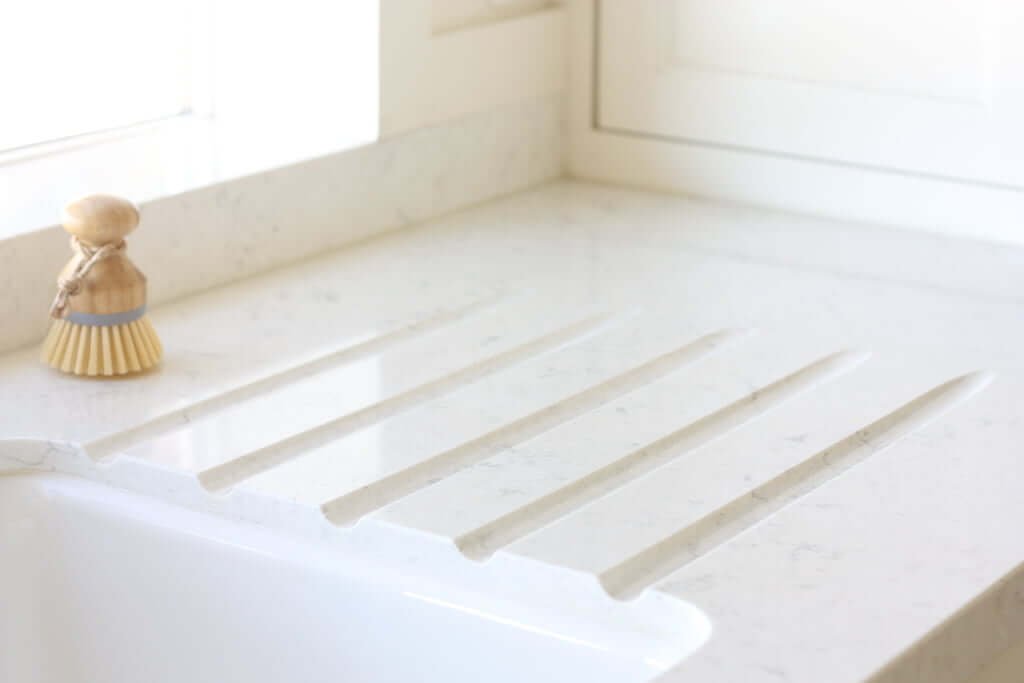 Since we finished this renovation six years ago, that means that our quartz countertop with drainboard decision alone has gotten approximately 6,570 hours of play. 6,570 hours of use.
6,570 hours (MINIMUM!)
that—so far!—we've been able to enjoy this built in countertop drain board!
BUILT IN COUNTERTOP DRAINBOARD
The 7 Perks of Our Built In Countertop Drainboard!
I say "minimum" because we also enjoy it for other reasons!
(BTW, technically what we have are called "countertop runnels", but using the term "drainboard" is much more commonly understood so that's what I'll be using most often in this post.)
Here are 7 reasons we love our countertop drain grooves:
BUILT IN COUNTERTOP DRAINBOARD
Perk #1: It dries our dishes.
I know, I know…this one may seem obvious, but stick with me.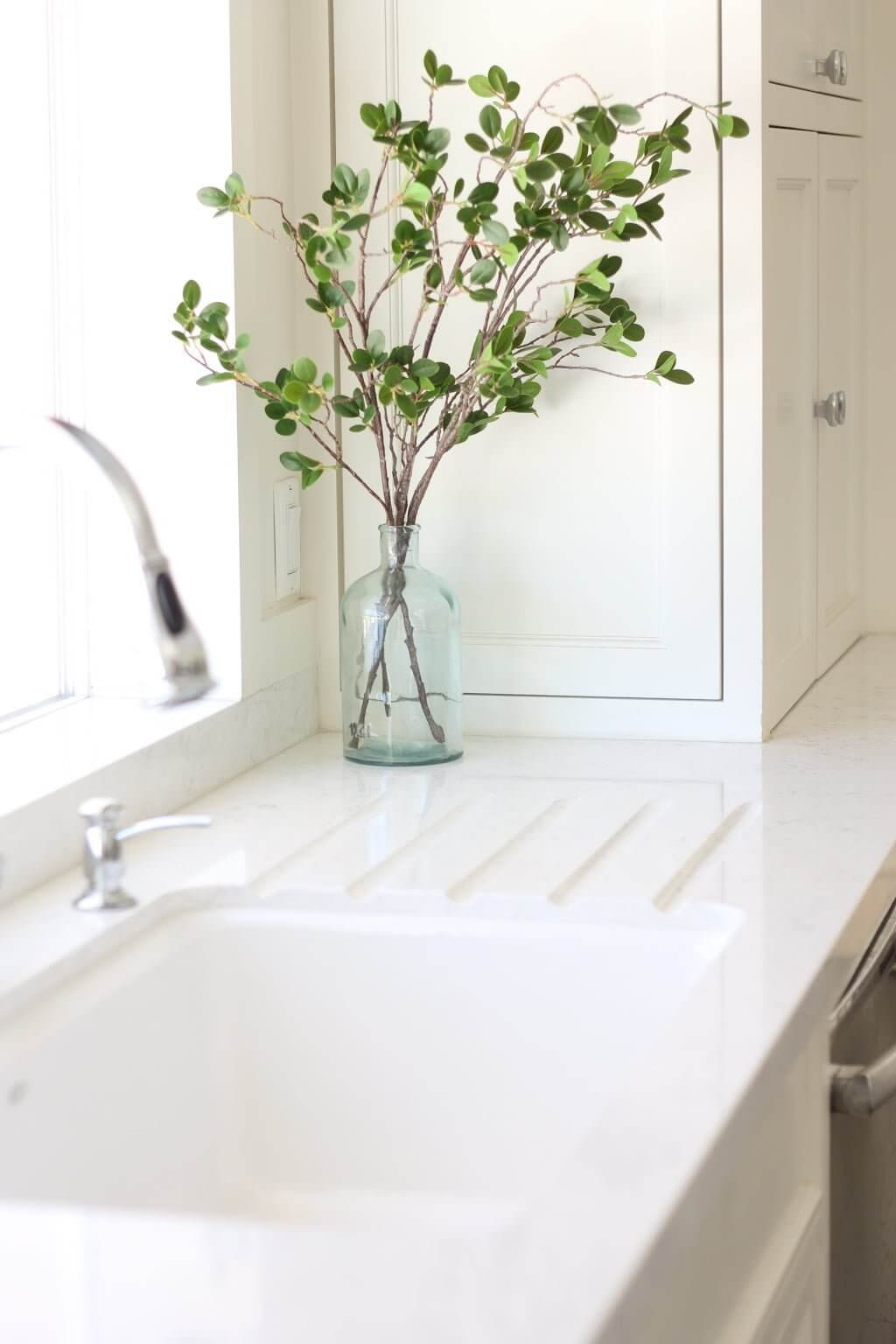 Since I already went into full details on this above (and the 6,570 hours it's been used at a minimum in our home), I don't need to say much more here other than to state our official position:
Having a quartz countertop with drainboard does the same job as a dish rack, and at the end of the day, we couldn't be happier with the quality of our dry pots and pans!
---
We've created 3 kitchen guides to help you get the kitchen you've always wanted!
Get our Kitchen Design Bundle here!
---
BUILT IN COUNTERTOP DRAINBOARD
Perk #2: It looks a bagillion times better.
We don't have an ugly plastic drainboard on full display in this beautiful sink area. Enough said, right?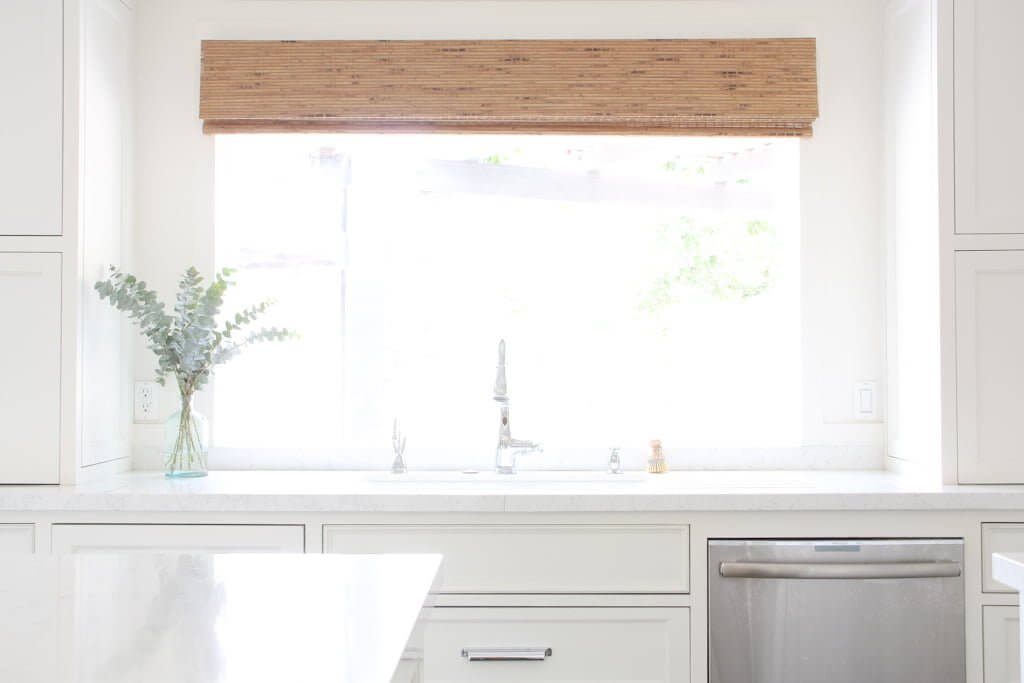 If anyone in the world tries to argue that a drainboard made of plastic, rubber, or any other material looks better than a built in drainboard—and wins the popular vote after the debate is over—I will eat my quartz countertop.
(Speaking of our quartz countertops, we've listed the 10 pros & cons of quartz countertops here! We've also shared about how to save money on counters and how to avoid color decision fatigue!)
BUILT IN COUNTERTOP DRAINBOARD
Perk #3: It's useful even when it's not being used.
It's rare in our busy, food-loving family for this built in drainboard area to be left free, but when it is, we can use it! It's still usable counter space, albeit with some grooves, but that hasn't kept us from using it as:
an extra space for a cutting board when we entertain or have lots of people in the kitchen wanting to help
a spot to set extra groceries when unloading
an area to set dishes on temporarily if needed while unloading the dishwasher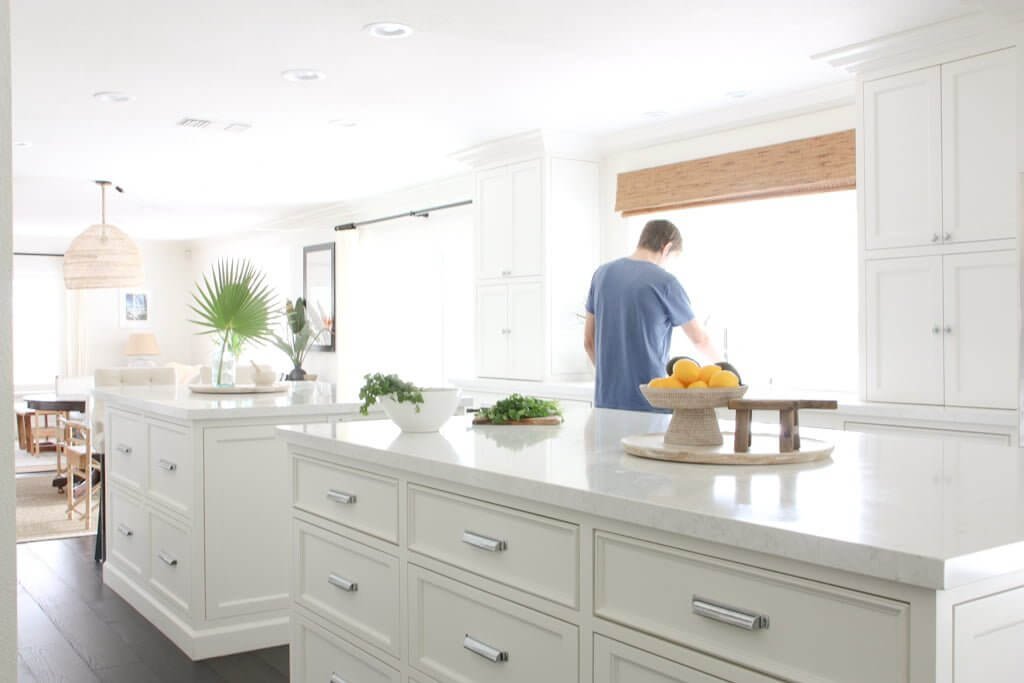 vase | fruit bowl | wood stand
The built in countertop drain grooves haven't prevented this area of the quartz countertop from being used nearly as much as I originally imagined it might! So it's still 100% usable space even when not in use.
BUILT IN COUNTERTOP DRAINBOARD
Perk #4: We don't have to move anything off the counter.
You know, as I write this I think I have a vague memory of having to use a plastic drainboard with one of my roommates back in my 20s. It was only for a short time, but I remember how little counter space we had in that apartment and so to use that precious 30″ or so, we had to first empty and remove the drainboard.
Which is another annoyance that brings us to the fifth perk of the built in drainboard…
BUILT IN COUNTERTOP DRAINBOARD
Perk #5. No extra storage space needed!
What do I mean by that? I mean that we don't need to store an extra drainboard somewhere when it's not in use.
I can't imagine having to leave storage space free for the possibility that I'll need to move a drainboard down into it 5% of the time. (Since we've already established that—in our home—we use it about 95% of the time.)
If you are a person who rarely eats at home and thus rarely has colanders or pots out drying, this may not be a problem for you! But for the rest of us who love to cook, a built-in countertop drainboard is a game-changer!
BUILT IN COUNTERTOP DRAINBOARD
Perk #6: It's 100% customizable.
I've seen premade sinks that have a "built in sink drainboard"—but the fact is that you're stuck with their dimensions!
When you have your own drain board built in to the actual counter material (such as we did with our quartz countertop drainboard), the sky's the limit! You could make your countertop drain grooves 10 feet long if you wanted to! (And if you have that much countertop space next to your sink, then wow—mazel tov!)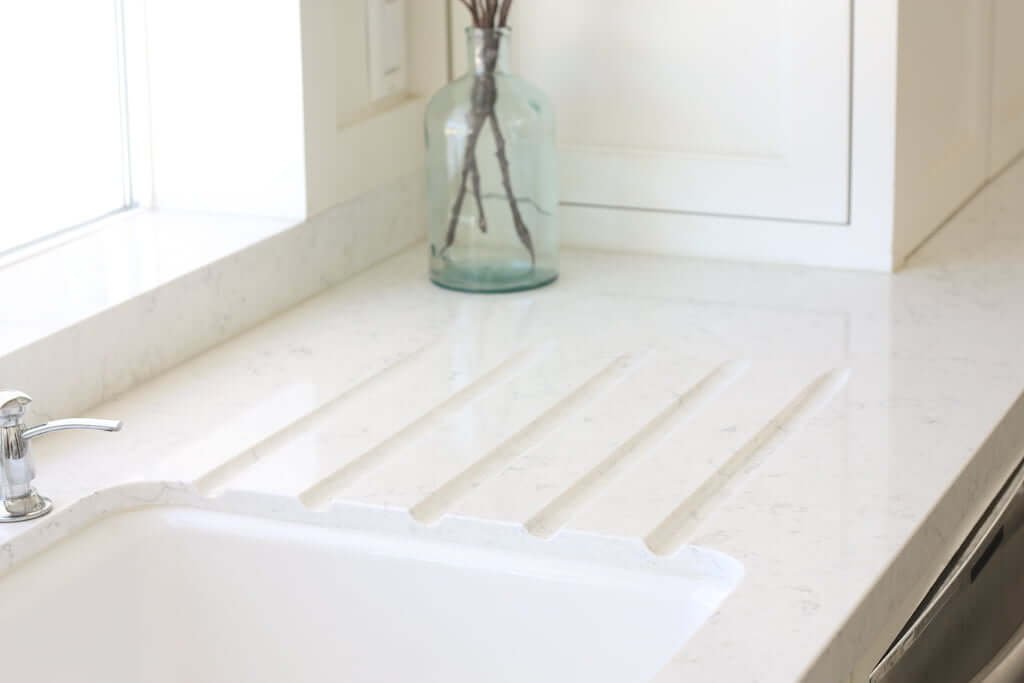 See our posts "Quartz Counters: 10 Ways You'll Spoil Yourself For Life!" and "Hold Onto Your Shorts: How to Save Big on Quartz!"
BUILT IN COUNTERTOP DRAINBOARD
Perk #7: It's easy to clean.
There are no weird nooks and crannies in our built in drainboard. You just wipe it down and voila!
I've seen some countertop runnels designed with narrower or deeper drainage channels, but those look like they'd be harder to clean. Our countertop drain grooves are nice and wide and smooth—our fabricator did a great job not adding to our cleaning time! (More thousands of hours saved for us! Hurrah!)
---
➥TIP: Keep your countertop runnels wide and smooth to ensure easy cleaning, if necessary! (In a perfect world, these would never get dirty because all dishes, pots, & pans would be perfectly clean before getting set on top of the grooves!)?
---
QUARTZ COUNTERTOP WITH DRAINBOARD
How Did We Explain It to Our Quartz Fabricator?
Hmmmmm, it's really complicated.
Ha! Of course not.
It was almost ridiculously simple.
I literally searched online until I found a picture of one I liked, then I gave the picture to our fabricator, pointed, and said,
"Here. Make me this."
Okay, so we did have to tell him how many of the countertop runnels we wanted and how far we wanted those to be, but that was about as much work as we had to do.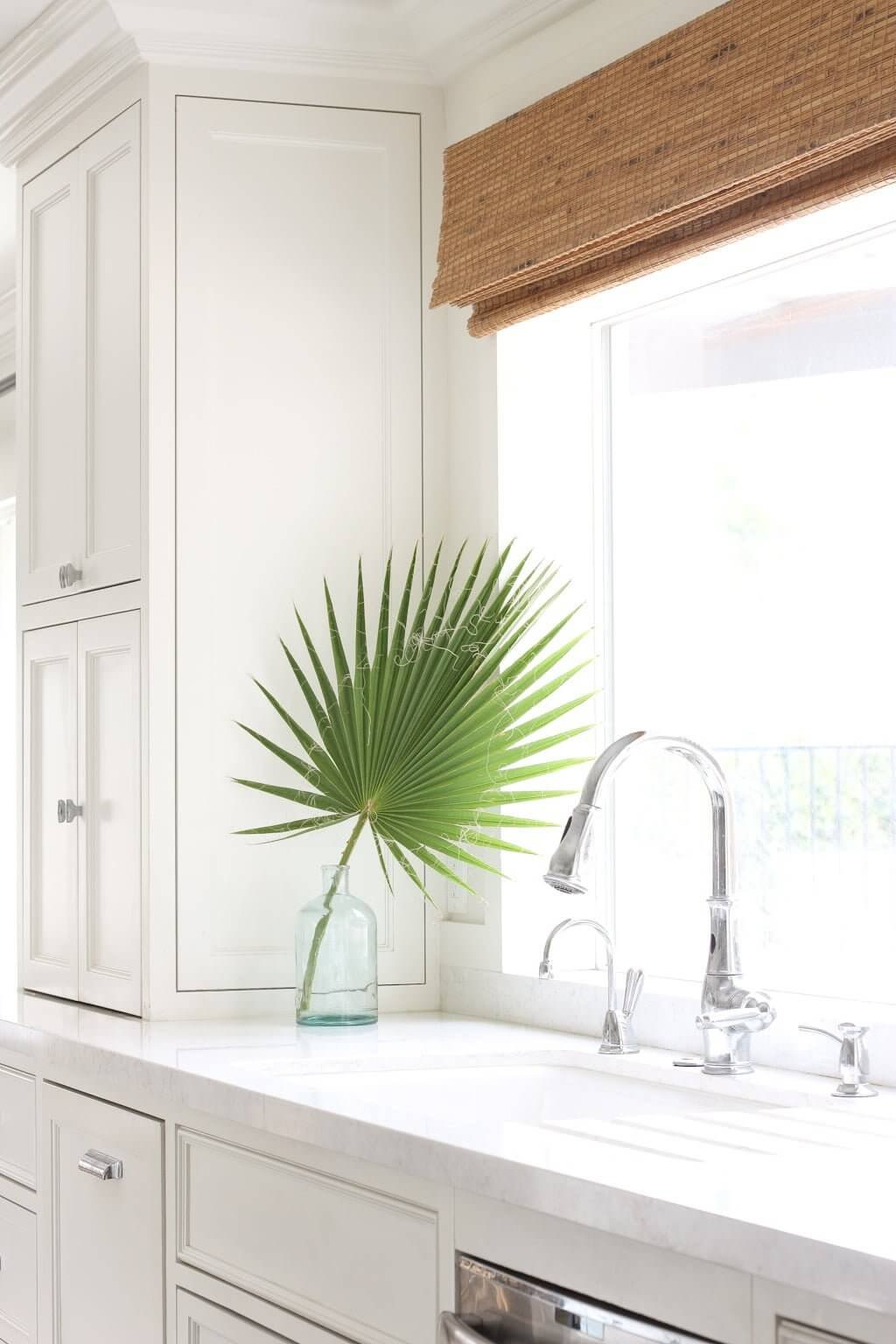 ---
➥TIP: Would I do anything differently now? Yes. A minor change, but still something I'd adjust if I could (and I can't now, so enjoy learning from me!). With 20/20 hindsight, I would tell them to take up even more of the counter space for the countertop drain grooves in the quartz.
I think at the time I wanted to make sure there was enough space between the countertop runnels and the edge of that hidden appliance cabinet near it—but after six years of use, I can now see it would have been just a little nicer to have the countertop drain grooves go a liiiiiiiiittle further.
It's really such a small amount—I'm being a perfectionist here but why not mention it for those of you who are my perfectionist readers??
---
As for the width of the countertop runnels themselves and the amount, what we chose has been perfect!
You can see them in action in our short video here!
COUNTERTOP WITH BUILT IN DRAINBOARD
Size of Our Countertop Drain Grooves (A.K.A. Runnels)
Alright, so here are the exact details of our glorious countertop drainboard grooves if you're wanting to replicate exactly what we have or at least use ours as an excellent, tried-and-true starting point!
We have 5 of the countertop runnels total.
The width of each of the countertop drain grooves is exactly 1″ wide.
As to depth, this ranges from 0 to 5/8″ (on the deepest end, where it drains into the sink).
Each of the countertop runnels is 2 1/4″ apart. (So there is exactly 2 1/4″ of flat countertop between each of the grooves.) Like I mentioned earlier, I've seen so many designs that have them closer together and I am SO glad we don't have that. This spacing has been perfect for us!
As mentioned earlier, if I could turn back time, I'd ask the fabricator to take the grooves about 4-6″ longer, just because we have the space…but that's just being nitpicky. (And I know some of you want to be nitpicky so that's A-ok! We're here for ya!?)
Find more quartz tips & tricks for yourself in these posts:
Quartz countertops: 10 pros & cons!
Hold onto your shorts: how to save big $$$ on quartz!
Avoid decision fatigue: choosing the perfect quartz color!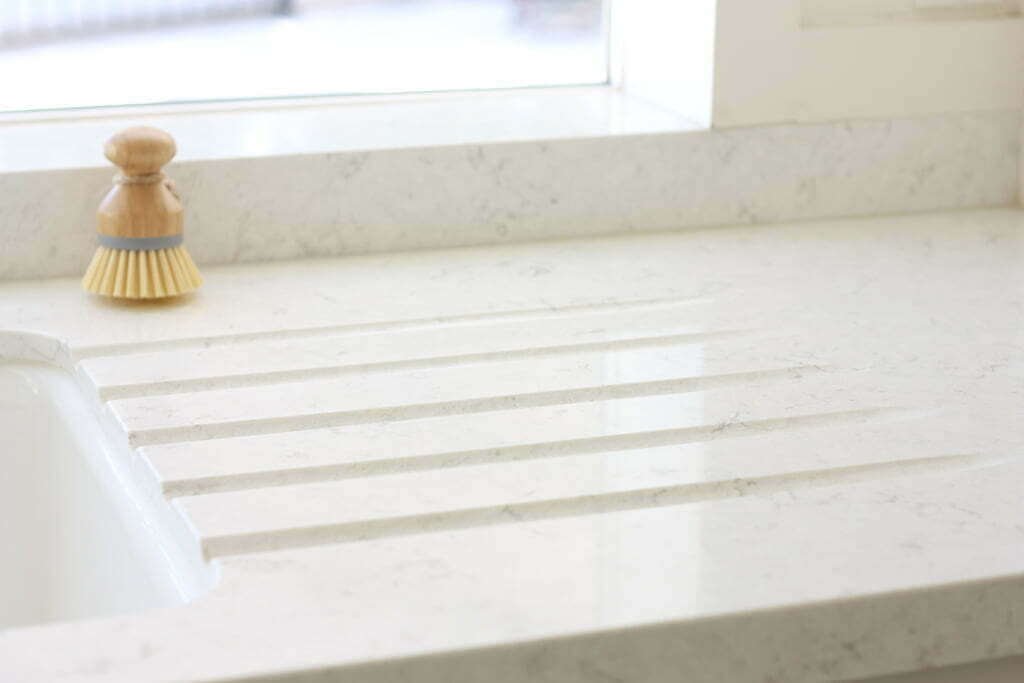 Need immediate kitchen help? Get our Kitchen Design Bundle!👈
Next…
…see all our kitchen shortcuts & time-savers here!
Or you might enjoy:
5 kitchen organization ideas that make life easier!
Why we did 100% drawers and zero lower cabinets in our kitchen!
3 benefits of "hidden" kitchen appliance storage!
➜ Our complete list of every single home project is viewable HERE.
* This post includes affiliate links to help support our site, which are provided at no extra cost to our readers.