Want the best-looking, lowest-maintenance backsplash behind stove? We walk you through why we did a solid quartz backsplash behind our stove, cost breakdowns, and whether it was a good idea!
Raise your hand if you enjoy scrubbing and cleaning your kitchen, especially after cooking!
Anyone? Anyone?
So now that we're all agreed (any of you that raised your hands, please seek professional help), let's continue!
As a couple who likes to cook, we still don't like cleaning up afterwards. Therefore, we're always looking for ways to make this kitchen cleaning thing as low-maintenance as possible. (A list of the 21 hacks we did in our own kitchen remodel is viewable here!)
One of the easiest things we did in our kitchen update was opt for a solid surface backsplash behind our stove!
SOLID SURFACE BACKSPLASH
"Can you put a backsplash just behind stove?" & more answers!
We'll answer some of the most popular questions about having a solid slab backsplash behind stoves, including
"Are slab backsplashes more expensive than tile?"
"How much did your solid quartz backsplash cost?"
"Should you put backsplash behind stove?"
"What is the cheapest way to do a backsplash?"
"Can quartz be used for backsplash?"
"How thick are slab backsplashes?"
"What backsplash goes well with quartz?"
"Can you use wall paneling for backsplash?"
"What do you use for backsplash behind the stove?"
"Can solid surface be used as backsplash?"
"Can you do backsplash just behind stove?"
"Is quartz backsplash a good idea? Why did you choose quartz for yours?"
BACKSPLASH BEHIND STOVE
Tile vs Solid Surface Backsplash
Here you can see how our tile stove backsplash looked before:
We didn't plan to immediately destroy this work of art behind our stove, as we wanted to live in the house for a few years before deciding on our final kitchen layout, but a surprise ripping out of our kitchen fast-forwarded the process.
Thus, we had to say goodbye to this tile backsplash a few years earlier than expected.
¡Adiós, baskets o' fruit!
BACKSPLASH BEHIND STOVE ONLY
Why did we do our solid backsplash this way?
When we chose to go with quartz for our kitchen countertops (read about the 10 things we learned about quartz here!), we planned to use some of the offcuts for our backsplash behind the stove.
Originally, I was like, "I am NOT going to wipe any splashes or oils off the walls! We're putting a solid surface backsplash not only along the back wall but both sides!"
Here you can see how our stove area looked prepped for painting and countertop installation:
When the installers came to do the countertops as well as our backsplash panels, I waited until they were finished to sneak a peek. I wanted to get the full initial effect since I wasn't quite sure what I'd think of it.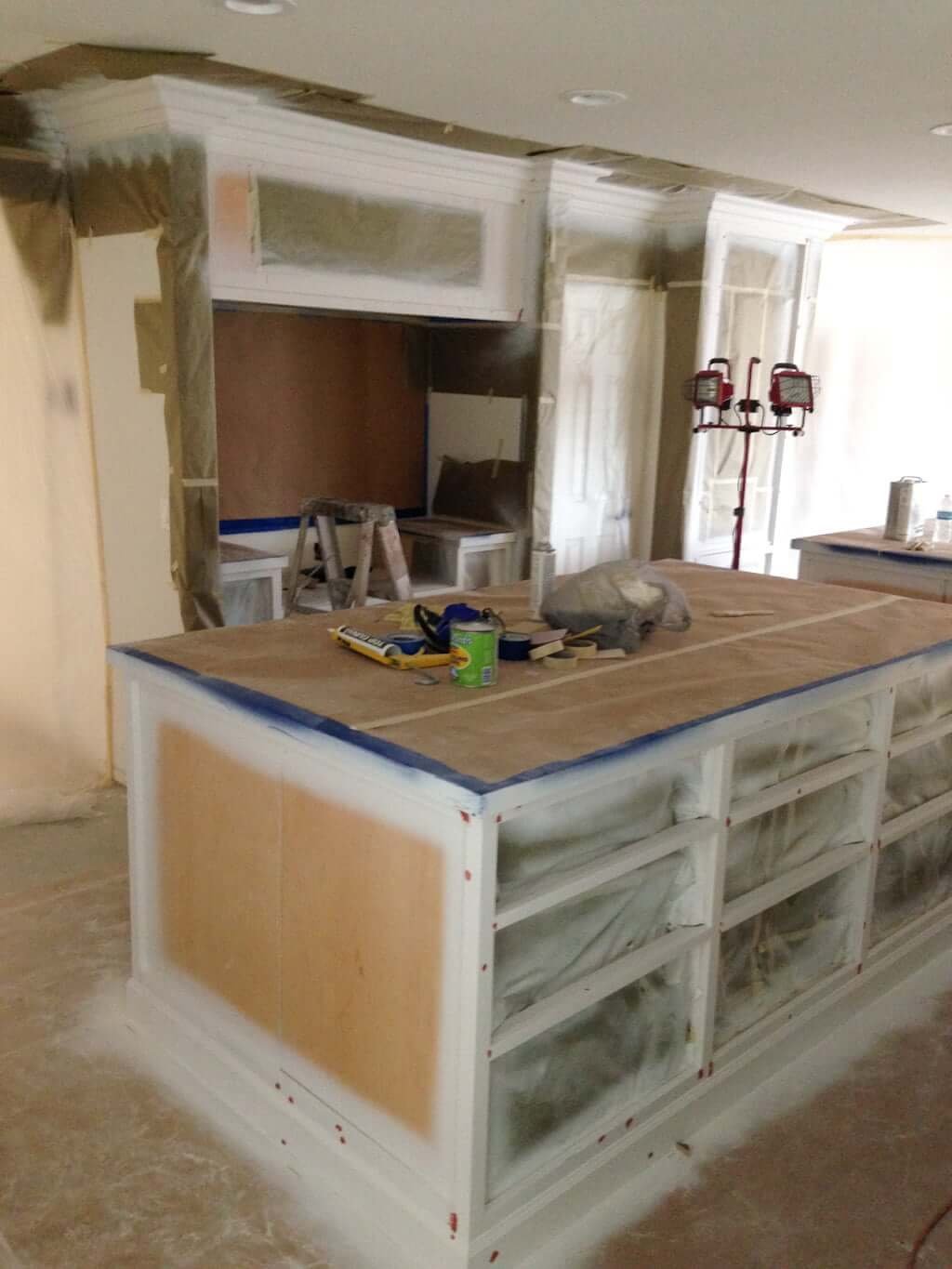 Long story short: I walked in and nixed the side backsplash panels immediately. It was too much. It felt too cold. And really, in retrospect, I can see that it was unnecessary—most of your splashed and oil will be on that back solid slab backsplash!
Here's a peek at our countertops and quartz backsplash right after installation. We saved the two side panels they'd cut, to use for other projects later.
PS: We created 9 kitchen guides to help you get the kitchen you've always wanted! Get it here!
SOLID SLAB BACKSPLASH
What's our favorite part about our solid quartz backsplash?
We can't narrow it down to just one, but we can narrow it down to our Top 3!
#3: It's SO easy to clean! One swipe and you're done! Even if you have to scrub something particularly sticky off it, there's no danger of damaging something because of the pros of quartz.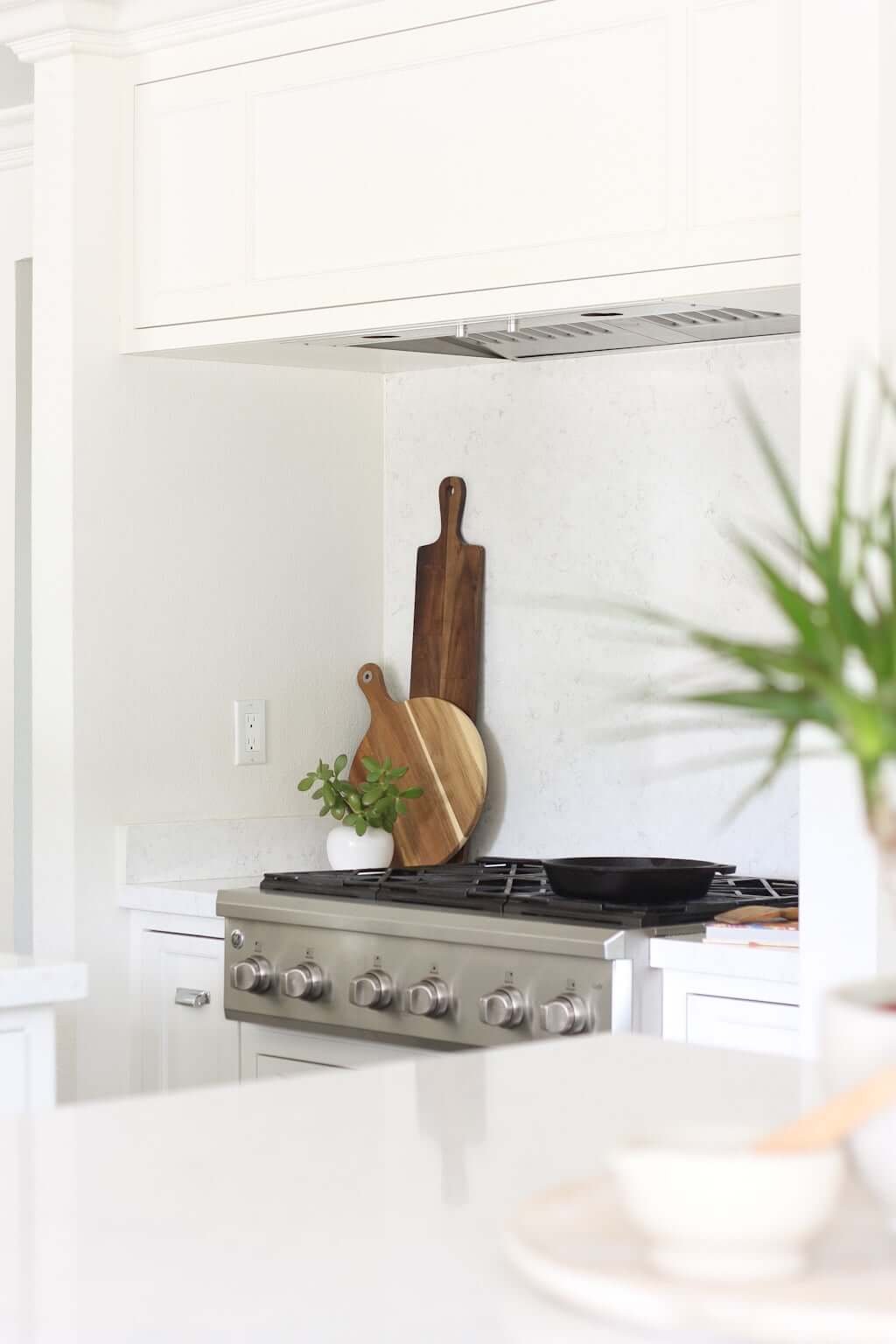 #2: No grout lines! Zero. We did the same thing in our solid surface shower, with no grout lines to scrub there, and we'll never go back!
Here's a quick video clip showing you exactly what I mean:
#1: It's a cleaner look visually. There's enough life and mess and detail happening in our home without having to add to it with some kind of decorative backsplash behind our stove. No fancy tile or mosaics for us. And definitely no baskets of fruit. In our world, less is more.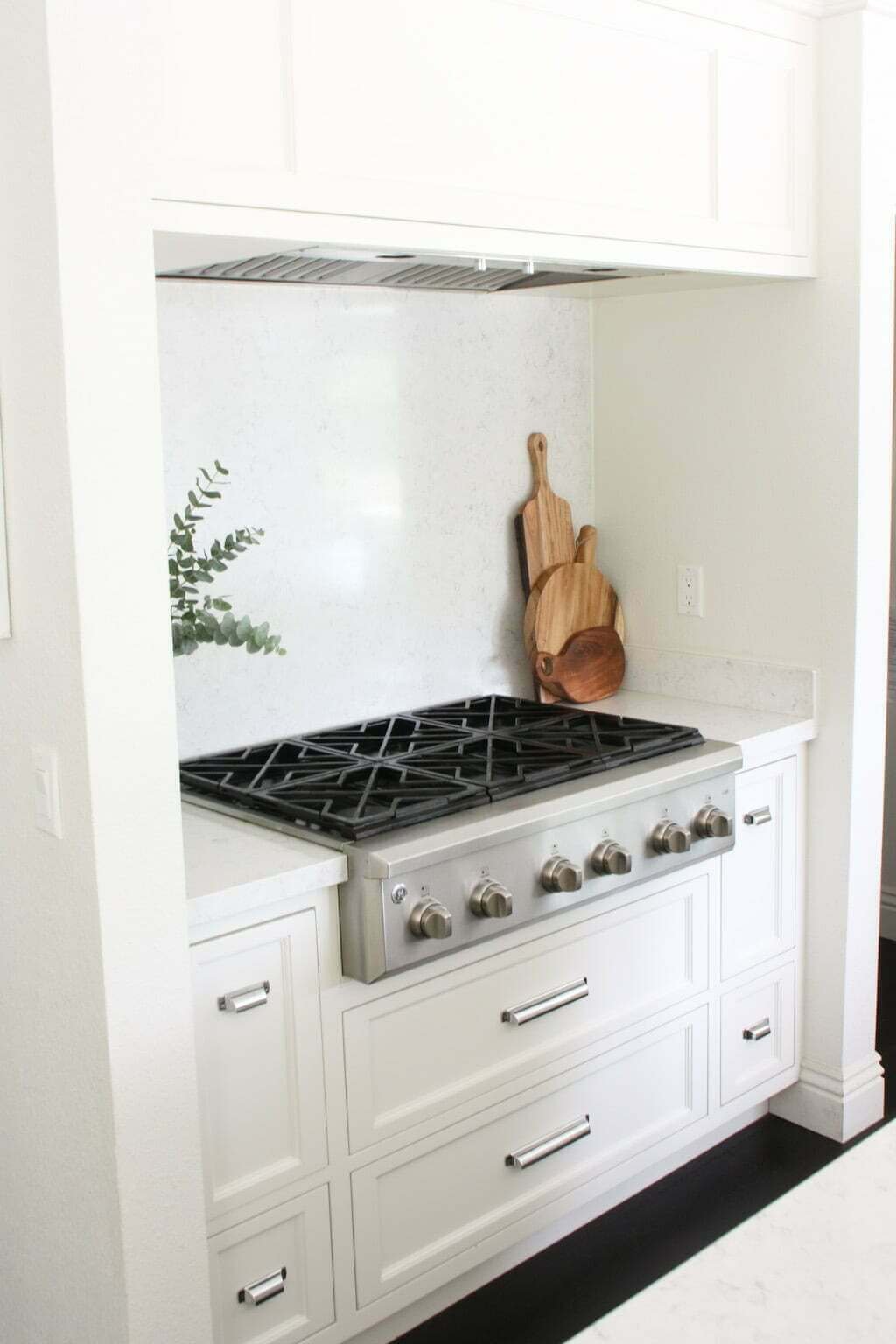 QUARTZ BACKSPLASH
Why did we go with quartz?
When we had to surprise rip out our new kitchen, we did our research and opted for quartz for our kitchen countertops. (See our honest review of the Pros & Cons of having quartz counters here! We also go over cost breakdowns.)
When we had extra quartz from our counter slabs, I realized I could make my dreams come true—a solid backsplash behind our stove! I'd wanted this for years, and I saw how I could make it happen for free!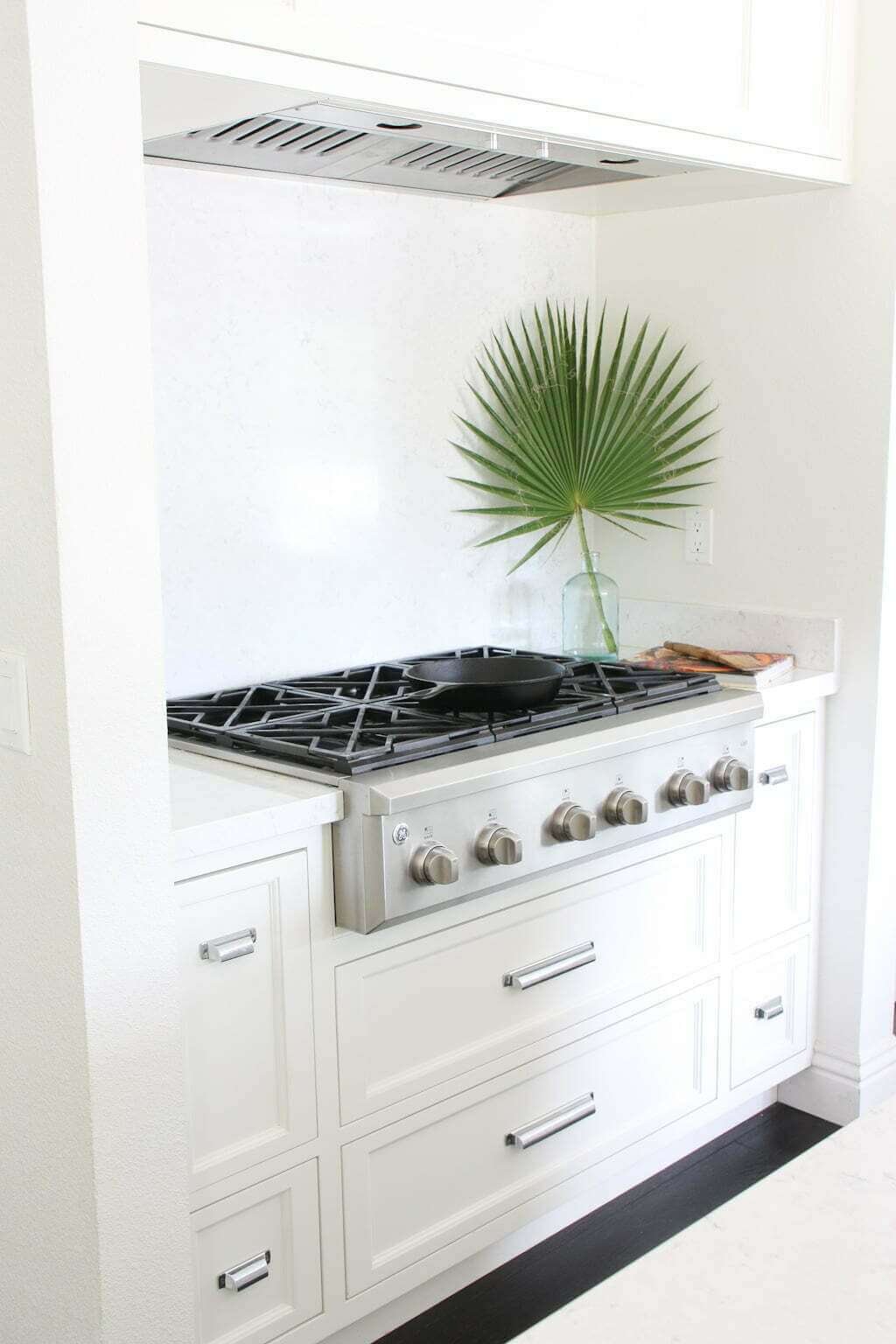 SOLID BACKSPLASH
Solid Quartz Backsplash Cost
Size of our solid surface backsplash is 63″x36″, which works out to just under 16 square feet.
Technically, our solid slab backsplash was free (see why here)…
…but let's say we were to do only the white quartz backsplash all by itself, with our material cost, fabrication and installation cost, our quartz slab backsplash would have cost us about $940. However, FREE is really closer to the truth because of how we did it.
The exact cost of our quartz, fabrication, and installation costs are in this post, including how to save money on quartz!
BACKSPLASH panels
"Invisible" costs you need to take into consideration!
When looking at your costs for any home project, try to incorporate an estimate of how much your
time
+
energy
is worth!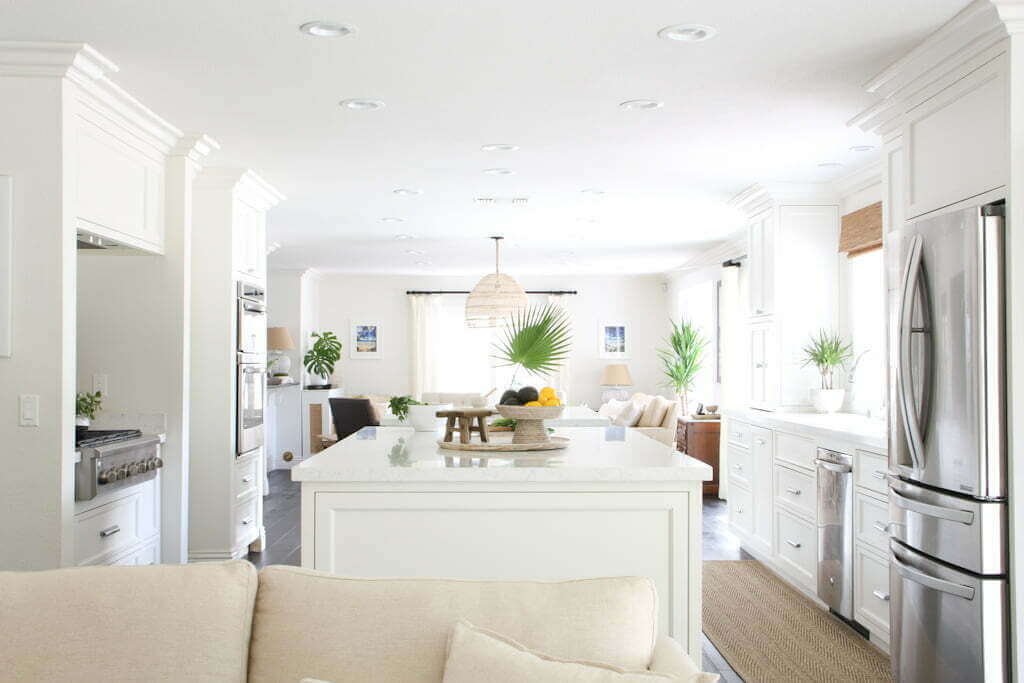 For example, if you spend 15 extra minutes every week scrubbing the grout of a beautiful tile behind your stove, and you estimate your time + energy worth as $50 per hour, you'll
save $650 per year
of having a solid surface backsplash instead of tile!
We discuss this same kind of savings in posts like this one and the rest of our kitchen hacks. (Not to mention all our other home projects!)
QUARTZ BACKSPLASH BEHIND STOVE
"What are some alternative materials for a solid surface backsplash?"
If you don't want quartz, any other stone slab will work too! You could do a solid granite backsplash, a marble slab backsplash, even a solid slab porcelain…it'll all help you avoid grout the same way our quartz backsplash does!
If you didn't want a solid quartz backsplash or another stone-style material, other materials you could use would be a sheet of stainless steel (very restaurant-esque), glass, or I've even seen a mirrored solid surface backsplash (for people who love to watch themselves cook, or maybe so you can pretend you're on your own cooking show! 🤣 ).
You can also use wall paneling for a backsplash behind your stove, but just keep cleaning in mind, especially if it has small grooves. (Also, if it's painted, it might be harder to clean because your cooking oils will stick to the paint more than to a stone or quartz.)
Stone or stone-type materials will also typically be more heat resistant! We love that our quartz has been near-indestructible and super simple to clean.
Other popular questions about solid quartz backsplashes are:
"Are quartz countertops heat resistant?"
"Is quartz backsplash expensive?"
"Can you put quartz behind a range?"
"Is quartz too thick for backsplash?"
"Is quartz backsplash more expensive than tile?"
"Can you use quartz as a backsplash behind stove?"
"How much does quartz backsplash cost?"
(Many of those questions are answered in this current post, but we also answer some of the others here and here.)
QUARTZ BACKSPLASH KITCHEN
"How thick are slab backsplashes? What's the typical quartz backsplash thickness?"
The size of our LG quartz was just over 1″ thick (1.181″ to be exact)—and that's a pretty standard size to expect for slab backsplashes.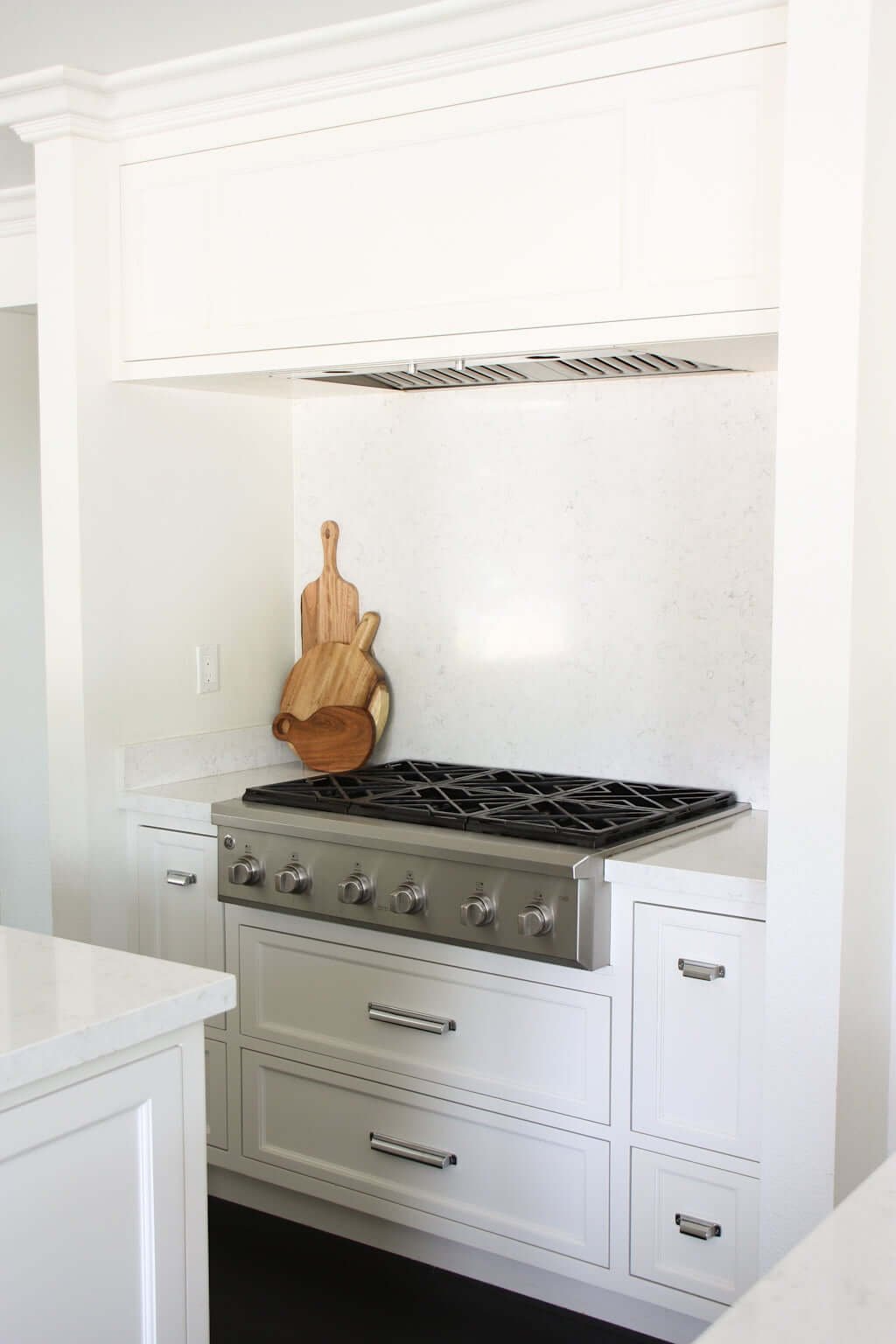 QUARTZ SLAB BACKSPLASH
"What's so great about quartz?"
Since we've lived with it for seven years, we share 10 features we've experienced of quartz here! (Along with more must-knows!)
We also share more about the costs of quartz in this post, including how to save money on quartz!
WHITE QUARTZ BACKSPLASH INSTALLATION
"Can you DIY your own solid quartz backsplash?"
It's possible…but we wouldn't recommend it. For the extensive time and effort you'd need to put in to DIY it, your time and money are probably better spent hiring a professional.
The fabricator is basically gluing your quartz to the wall. What you especially need them for is to
Cut your quartz slab correctly, and
Have an experienced team help lift and install (it's super heavy!) without doing any damage to your beautiful stone panel.
For such a focal point in the kitchen, we were happy to spend just a few extra hundred bucks to make sure it was done correctly—and with minimal time, energy, and effort needed on our part.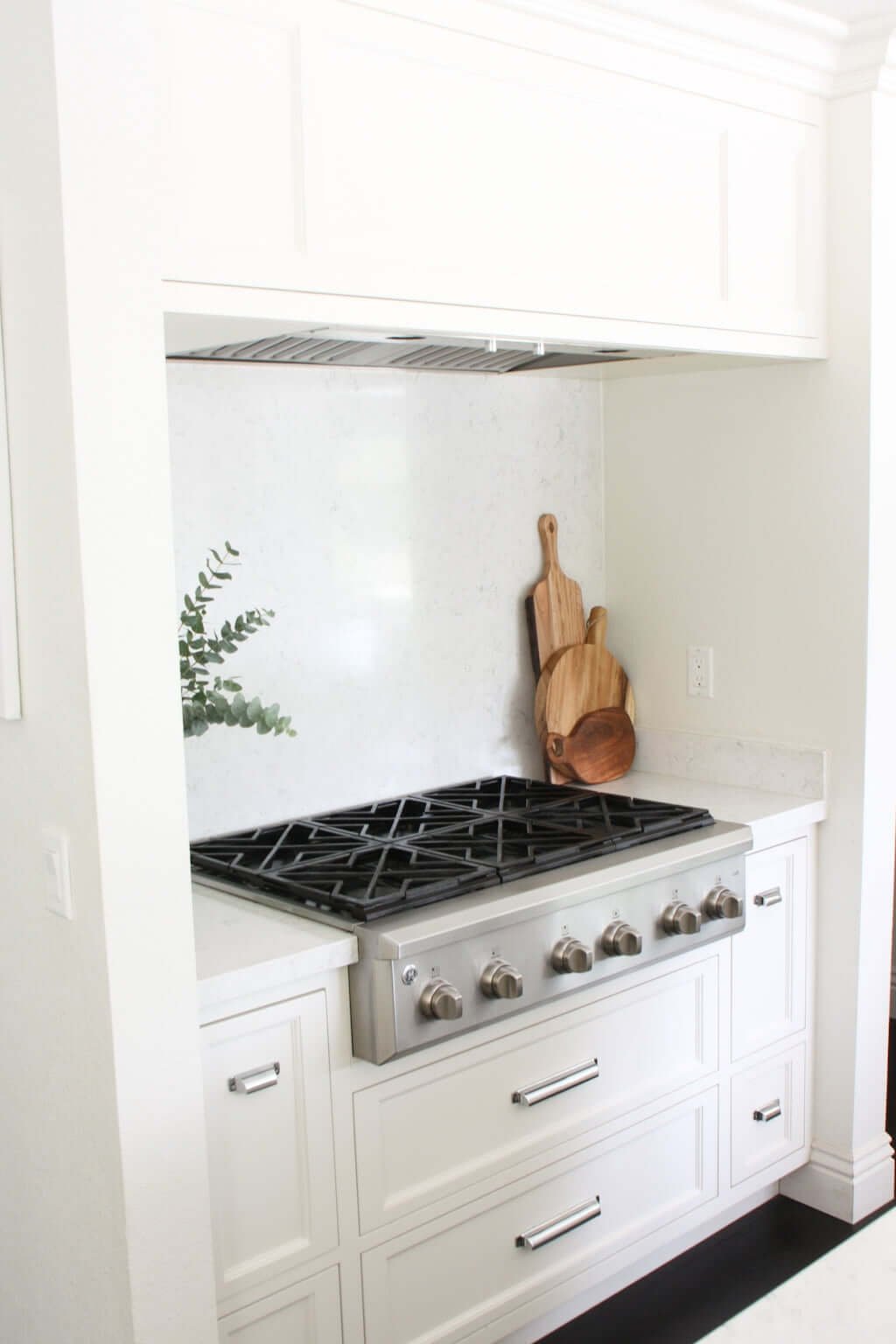 Remember…if you want to remodel or even just organize your kitchen, you (100%) need THIS!👈
Next…
See our 21 genius kitchen organization & storage hacks! or our list of "10 Things You Need to Know About Quartz!"
We're also giving you…
➜ For the complete list of posts about our kitchen remodel, click HERE!
PS: Our complete list of all home projects is here.