I always loved the marble shower look—but I didn't love the price tag. If that's you as well, read on! Matt and I figured out a solution (spoiler alert: it's porcelain slab shower walls!). This solved ALL the problems we came up against while creating the perfect "marble lookalike" shower during our bathroom remodel.
And I didn't just want a large format porcelain tile shower—I wanted ZERO grout lines. So what I wanted was large format porcelain panels!
During our original planning stages, when I found the shower inspiration pic below, I was sold. Glory, glory hallelujah! It was exactly what I was looking for! The photo showed slab shower walls with zero grout lines, just like I envisioned. It also had the dramatic marble veining I found so strikingly beautiful as a focal point.
Yes, I wanted the ultimate combination:
FUNCTION (slab shower walls, no grout lines)
+
BEAUTY (focal point in bathroom, dramatic marble veining)
But of course, there were some major drawbacks to getting the marble slab shower walls of my dreams.
THE 2 BIGGEST PROBLEMS WITH A MARBLE SHOWER:
Problem #1: Cost
Getting a marble shower isn't cheap. In fact, to get the large shower size we envisioned, we'd need three marble slabs for our shower walls! That cost was incredibly high and would take a major chunk out of our budget.
Problem #2: High-maintenance
Marble is natural stone, and it's pretty absorbent. This means that a marble shower can not only get discoloration from standing water or coloring in the shower products you might use, but it's also more likely to get etched by any acidic materials in your shower products!
I also didn't like that I'd have to buy special marble-safe cleaning products. I use natural cleaning materials, and my go-to combination of baking soda + vinegar would wreck havoc on our marble shower. (It also doesn't fit in with the strategy I created and share with you in "The Essential Home Design & Strategy" here!😊)
OUR PORCELAIN SLAB SHOWER WALL SOLUTION!
We share the story of our search for the perfect shower material in more detail here, and we'll share a brief version of it below as well:
While searching stoneyard after stoneyard for marble panels we could use for our slab shower walls (which also weren't horribly expensive and had the dramatic veining look I wanted), we came across these large format porcelain panels. They were thin porcelain panels that looked SO much like marble.
It was love at first sight! As soon as I saw these porcelain sheets and the masterpiece of veining work, I knew they were the perfect shower walls for us! (Romantic, no?)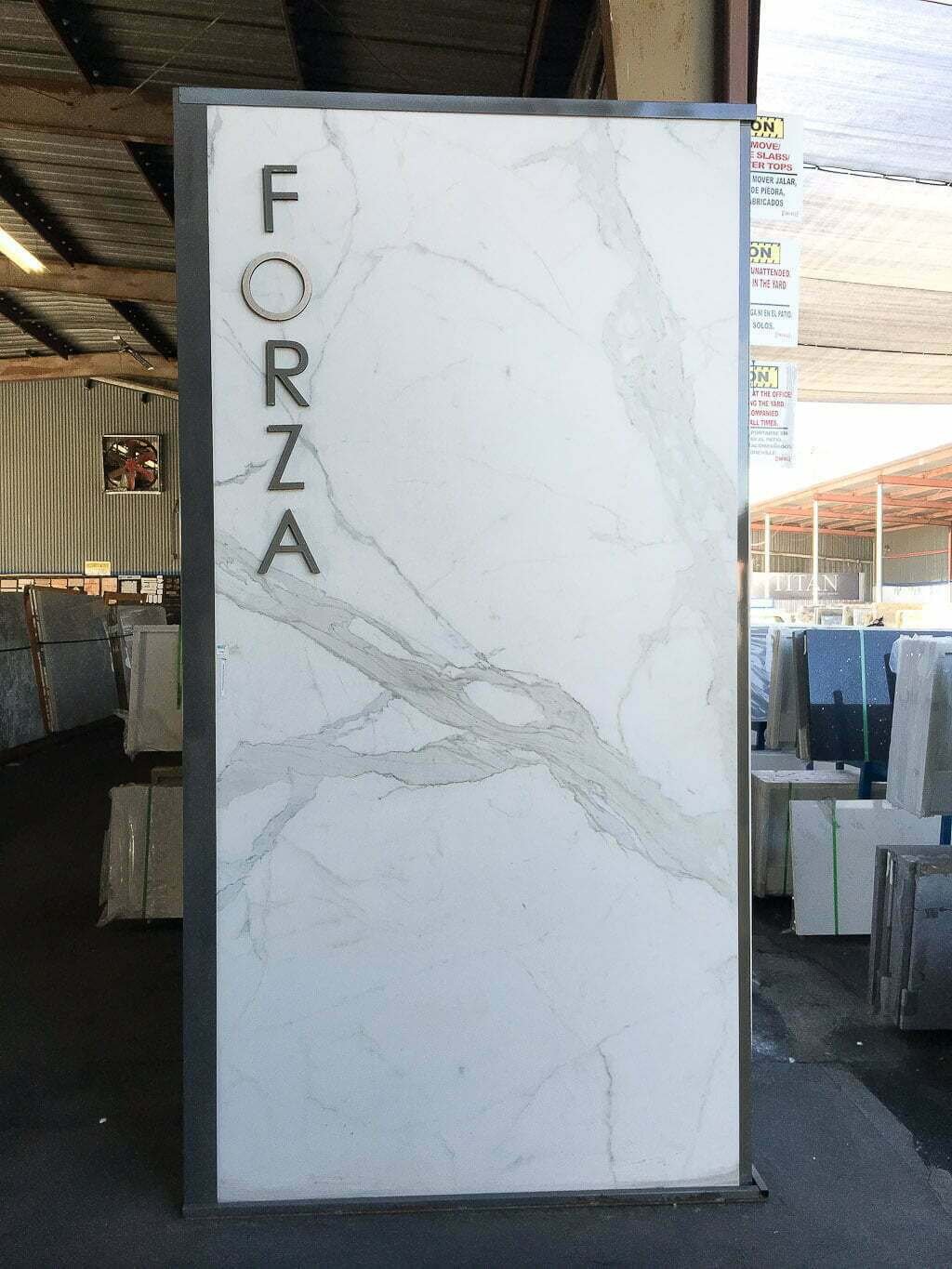 The news got even better once we learned that they were thin porcelain panels. Why? Read on!
BENEFITS OF PORCELAIN SLAB SHOWER WALLS OVER MARBLE
Benefit #1: Porcelain Slab Cost
The porcelain slab cost for three shower walls (to fit our exact shower dimension requirements) was just a fraction of the price of three marble slabs the same sizes!
PS: If you're looking for the answer to the question "How much do porcelain slabs cost?" we can't answer for every brand, but ours were just over $1,100 at the time we purchased them.
Benefit #2: Low-maintenance!
I'm not sure any labs have done an exact analysis to achieve a number on what I'm about to say, so I'm making up my own:
Porcelain slab shower walls are 87,000x times easier to care for than marble.
One of my favorite (verified) facts is this: porcelain slab shower walls don't need to be sealed. I don't need to be careful of any acidic ingredients in my cleaning or other showertime products. We're not worried about our shower walls getting stained or damaged. It saves me valuable time. They're perfect!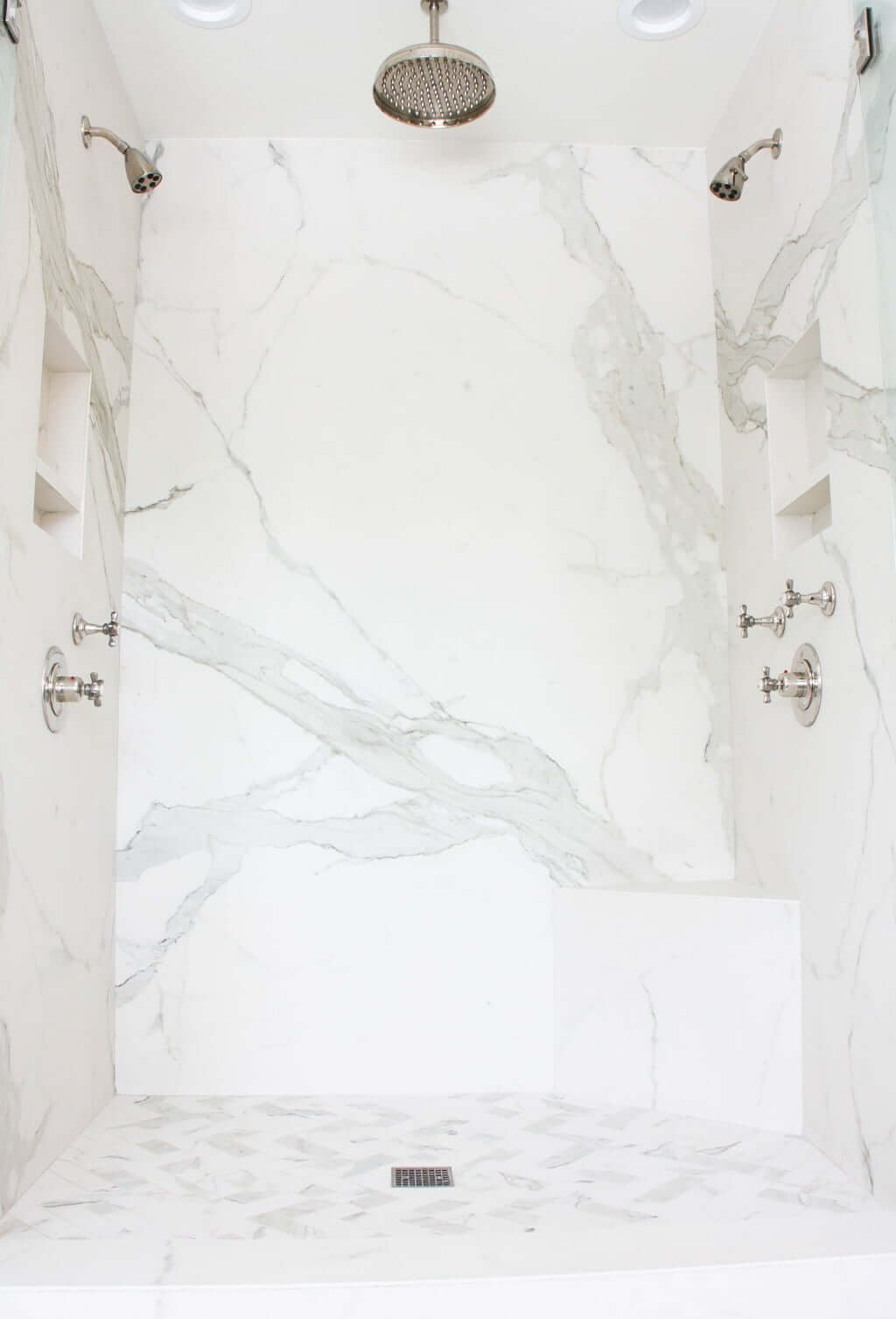 Here are more photos of our completed porcelain slab shower walls!
We also have a quick video so you can see our shower in action! 🙂
PORCELAIN SLAB SHOWER WALLS:
Final Tips!
The one temporary drawback we came across was in finding a fabricator who would work with the thin porcelain panels, because they were so delicate. However, we were able to find someone who did a great job, and it all turned out well in the end.
Click to see the final issue we came up against (and solved) with these porcelain slab shower walls—plus a clever solution we found to make large format porcelain panels look even more like real marble!
Because we went with these porcelain sheets, we got our perfect "marble lookalike" porcelain shower walls WITH a low-maintenance material and an intact budget. And we're so thrilled with our new slab shower walls that we feel like this is news the whole world should know!
PS: If you want to streamline your home (and your life!) like we have, we created THIS to help you do it!
Click to see..
➨ See all of our house renovation projects here!