We've not only done this air switch in our own kitchen updates, but we've also recommended it to clients trying not to busy up their backsplashes with extra switches for their garbage disposal!
"How does it work?"
You literally just push a button right there to turn your garbage disposal on/off, and you're done. No switches to lean over your counter for or reach for.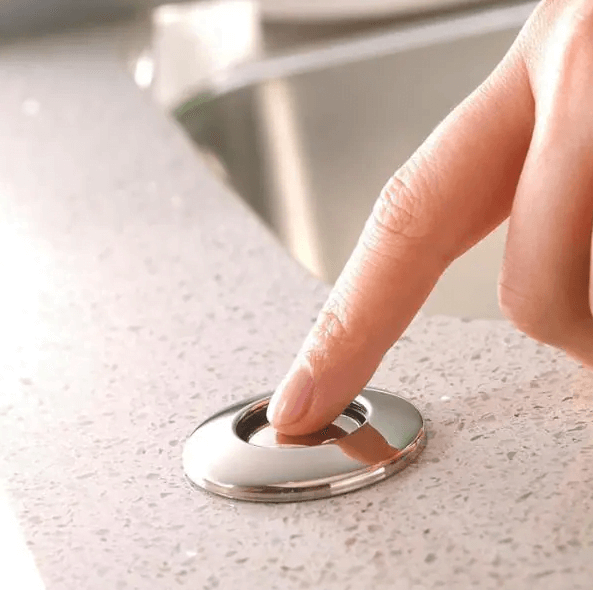 "Is it difficult to add?"
It's fairly easy to install yourself. Many old homes or sinks have an extra hole in the countertop you can use, or replace something you're not using. If you are doing all new countertops, all you have to do is tell your countertop fabricator where you want the air switch button and they'll drill the hole for you just like they do for your faucet!
"How much does it cost?"
Honestly, I was shocked when Matt told me how little we paid for ours! You can see current pricing here!
---
➜ We created 3 kitchen guides to help you get the kitchen you've always wanted!
Get our Kitchen Design Bundle here!
---
"What if I can't redo my countertops for this?"
Even if you're not at the point where you can put an extra hole in your countertop, we've seen people put them in the space below their sink, like this:
The moral of this story is: AVOID THE GARBAGE DISPOSAL SWITCH ON YOUR WALL! 😂
Why?
It's easy to do.
It's inexpensive.
The wall switch is often in an inconvenient spot.
The wall switch often breaks up your backsplash (or look of your wall) unnecessarily.
You can avoid leaning over your counter to reach a wall switch.
Get your own air switch HERE, or see all our kitchen updates & hacks!
Need immediate kitchen help? Get our Kitchen Design Bundle!👈
➜ Our complete list of every single home project is viewable here.