Looking for non-cheesy coffee bar ideas or how to make a coffee bar cabinet in your kitchen? Glean tips as I make the unexpected jump from "Kitchen Coffee Station Hater" to Gleeful Coffee Station Owner!
BTW, I almost entitled this: "12 Ways to More Efficiently Get Hopped Up On Caffeine While Looking at Something Pretty," but decided to be professional. (Well, semi-professional. Because that's how we roll around here.)
Today we're not only sharing the before & after of our quick & free coffee station cabinet "makeover," but we're also answering popular questions like,
"How can you make a home coffee station?"
"How do I set up a coffee bar in my kitchen?"
"Where on earth do you put a coffee bar cabinet?"
"What should be included in a coffee bar?"
"What are the best coffee station ideas?"
"How do you set up a coffee station in a kitchen?"
To be honest, I always pooh-pooh'd the coffee station ideas I saw in various magazines and online spots (I'm looking at you, Pinterest and Instagram).
I mean, this coffee bar idea is cute and all, but it's still not doing it for me:
coffee bar cabinet
My #1 Coffee Station Hangup.
Then I realized I might be pooh-pooh-ing these coffee bars (PS: your day gets approximately 37% better each time you type or say the phrase "pooh-pooh-ing." Try it!)…
…because (could it be?!) I secretly wanted my own kitchen coffee station?!? This is something we can all do = wave something away because we subconsciously want it ourselves!
On a design note, I always thought my reason for pooh-pooh-ing a home coffee bar was because most of the coffee station ideas I saw had a sign or saying, like "COFFEE", "SIP" or "RELAX." While I enjoy all three of those things, I'm not typically into signs or sayings on my wall (unless it's this). I could maaaaaaybe get on board if it said something that made me laugh out loud each time I saw it, like
"COFFEE: Drink it, woman."
or
"COFFEE: Because crack is bad for you."
But we'll never know because I don't have room for a sign in my coffee bar cabinet anyway, as you shall see…
COFFEE BAR IDEAS
Coffee Station Ideas: No Signage Needed.
My conversion to Kitchen Coffee Station Owner was sudden and surprising to myself more than anyone. It happened to correlate with something I was working on for our blog here, and I happened to see photos of less-farmhouse-ish, more-calm-and-minimal coffee bar ideas. Which is what I'd prefer to look at.
No "drink coffee" signs in any of these kitchen coffee bars! Now THIS was a train I could get on.
COFFEE BAR CABINET
My Coffee Station Cabinet "Before."
During our surprise kitchen remodel, we did have the forethought to include hidden appliance cabinets on each side of our sink. One of them was intended to house my espresso machine (I say "my" because Matt only drinks tea—I'm going to blame it on his British-majority-DNA—whereas one of my biggest "mother countries" ranks #2 worldwide for coffee loving).
Here's what they look like, both to the right and left of our kitchen sink: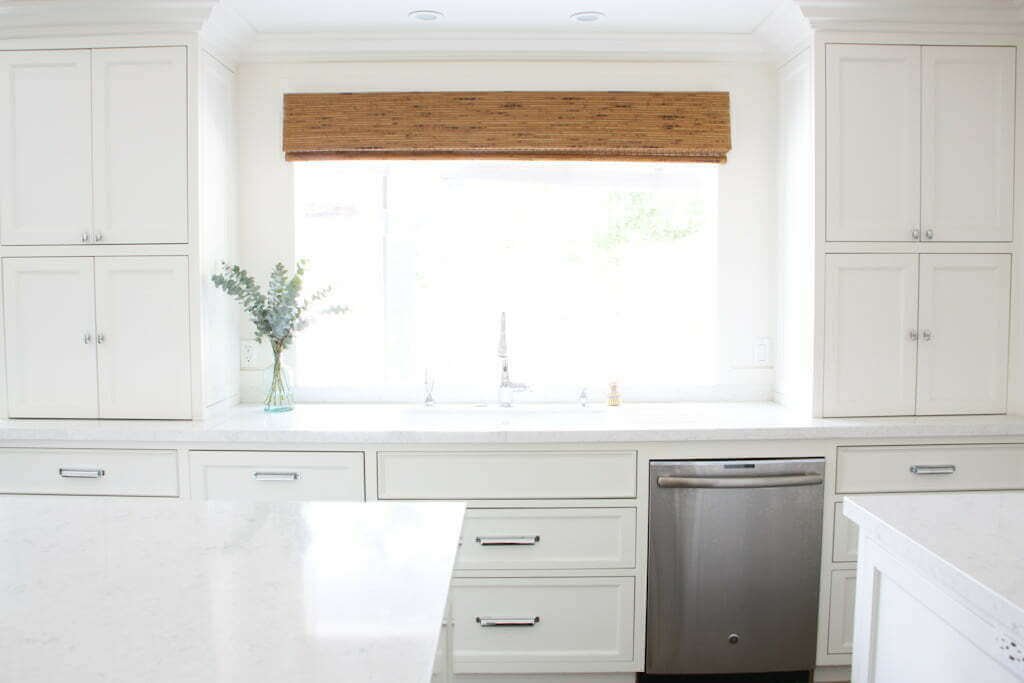 Looks nice closed, aye? You betcha! However, it's not so pretty on the inside.
REAL LIFE PHOTO TIME!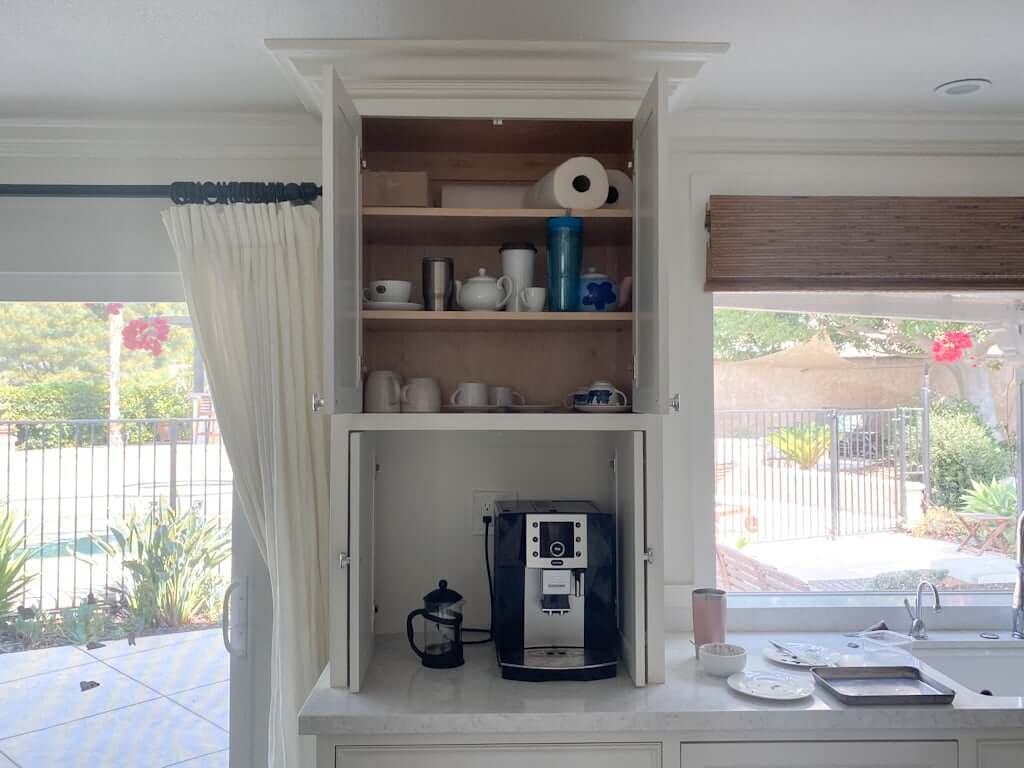 Yup, life happens! And yup, I like to hide things behind doors because then you don't need it to look perfect all the time, amiright?😆 Blogger fist bump to all of you who agree!👊 (Which I'm assuming is near 100%, because you people are smart and I like you.)
But now that I've shared this photo on the internet with you, I can't leave it like that! We gotta see this thing through! What will I do? Read on!
KITCHEN COFFEE STATION
"Where should a coffee station be placed in a kitchen?"
Before I show you what I did, let's talk about your coffee station interests and some questions you might be asking, such as the best placement.
My first thought for space planning coffee station placement is function.
Second would be availability.
For example, I determined where our espresso machine would be stored solely on its proximity to the trash bin. Why? Well, seven years ago when we were forced to remodel our new kitchen, I was using a manual espresso machine. Which meant I was dumping out old coffee grounds quite often, and those little buggers get everywhere! So having it close to the garbage can—the end view being to minimize my time spent cleaning—was paramount.
But not everyone has this as their functional focus, so spend some time thinking about what's most important to YOU!
Do you have a certain spot you like to sit and drink your coffee in? Maybe you'd prefer your coffee station to be closer to that spot.
Do you want your kitchen coffee station to be located closer to your dining area or living area? Then take that into consideration!

Or maybe (like me) you simply want it in the spot that minimizes cleaning time! That could be near your sink or garbage can.
I've lived in some tiny places in my day, and so I 100% understand that multiple options for a coffee station can be a luxury. Maybe you have one spot available for all your coffee bar ideas, and that's awesome! Makes it easy. That's your one! Some of us have lived in places where we barely have room for the coffee machine itself, so if you have room for anything more, you can count yourself lucky! 😄
COFFEE bar IDEAS
"What should be included in a coffee station?"
Here are some coffee bar ideas and suggestions (#1 is more like a requirement, unless you just adore instant coffee 😊):
Coffee machine

(so many options! another post!)

Coffee grinder
Storage canisters or boxes (for storing anything from coffee beans to your choice of sweetener)
Coffee cups for hot coffee
Glasses for iced coffee
Garbage bin for lukewarm coffee

(kidding—just seeing if you're paying attention/who had their coffee this morning!)

Spoons, stirrers, straws, and other accessories
Napkins and/or towel
Pitcher for cream
Coffee & espresso-making accessories like a milk frother, espresso tamper, knock box, frothing pitcher, etc.
Trays, canisters, serving stands, or glass domes for baked goods
Extra toppings (cinnamon, cocoa powder, etc) or flavorings (like vanilla and other flavored syrups, if that's your jam)
Aaaaand now my brain has been hijacked by the thought of jam. Jam on a scone with fresh coffee…mouth watering…no…must focus…must press on and finish this post for all my coffee-loving compadres…
COUNTERTOP COFFEE STATION
What did I include in my coffee station cabinet?
Boo yah! Looking better already, aye?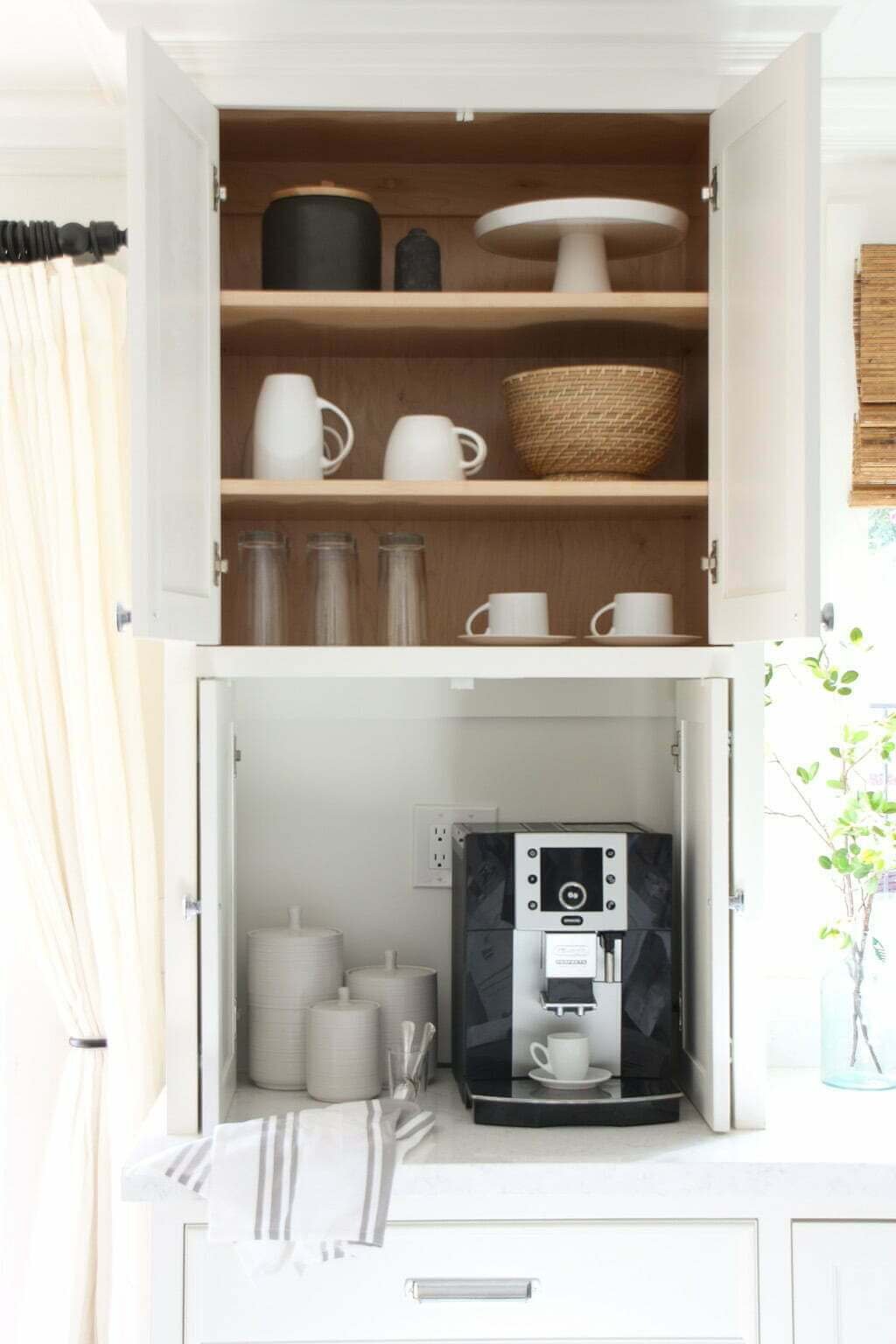 coffee storage canisters / food storage canister / updated version of our espresso machine / stoneware stand / Jess' favorite mugs / Matt's favorite mugs / espresso cups & saucers / faux branches / similar vase / similar basket
And here's a visual "cheat sheet":
coffee storage canisters / food storage canister / updated version of our espresso machine / stoneware stand / Jess' favorite mugs / Matt's favorite mugs / espresso cups & saucers / faux branches / similar vase / similar basket
PS: See inside our organized tea drawer!
➜ Need immediate kitchen help? Download our Kitchen Design Bundle!
If you don't have a cabinet you can use, no problem! See below for my favorite 7 additional coffee bar ideas and coffee stations, from cabinets to counters to tables!
Kitchen COFFEE STATION ideas
7 Bonus Coffee Bar Ideas!
#1: COFFEE BAR TABLE.
No cabinet or countertop space? No problem!
Use a cart or console table along a wall for a clever coffee station table!
#2: Stand-alone coffee bar cabinet.
See how you could use a bureau or drawers below open shelves to create something like this? (Bonus points for finding a way to include an arch like this!)
#3: small coffee station cabinet.
Only have one space to fit everything? This clever fold-down gives you a little extra space for a countertop coffee station!
#4: CLEAN & SIMPLE COUNTERTOP COFFEE STATION.
Love the simple, clean look of this modern coffee station idea!
#5: NARROW space?
Even if you only have a little sliver of space, you can still make the most of it! This narrow kitchen coffee station maxes out each inch.
#6: Coffee Station With Storage.
If you have extra drawers below your countertop coffee station area, you're in luck because look what you could do with all that storage!
#7: for beauty's sake.
I just had to include this last one because if someone held a gun to my head saying I had to paint my kitchen cabinets any color other than white, it might be this pale green color! (I'm a sucker for green!)
PS: If you missed it, check out our post on the strategy behind WHY we chose white for our kitchen, including 7 tips for choosing interior paint colors!
But I digress…let's get back to coffee!
COFFEE STATION CABINET
Coffee Station Before & Afters
Before: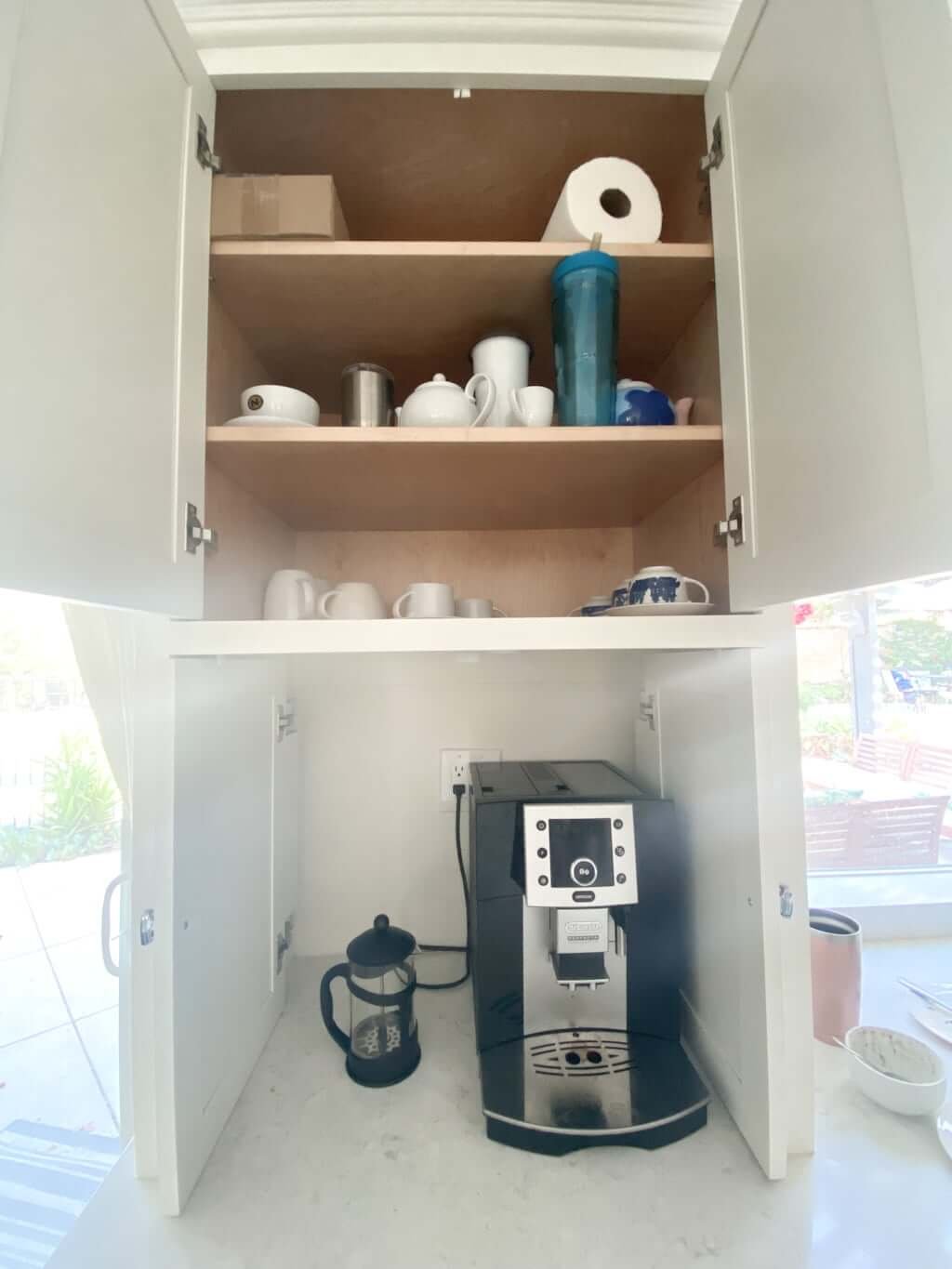 AFTER: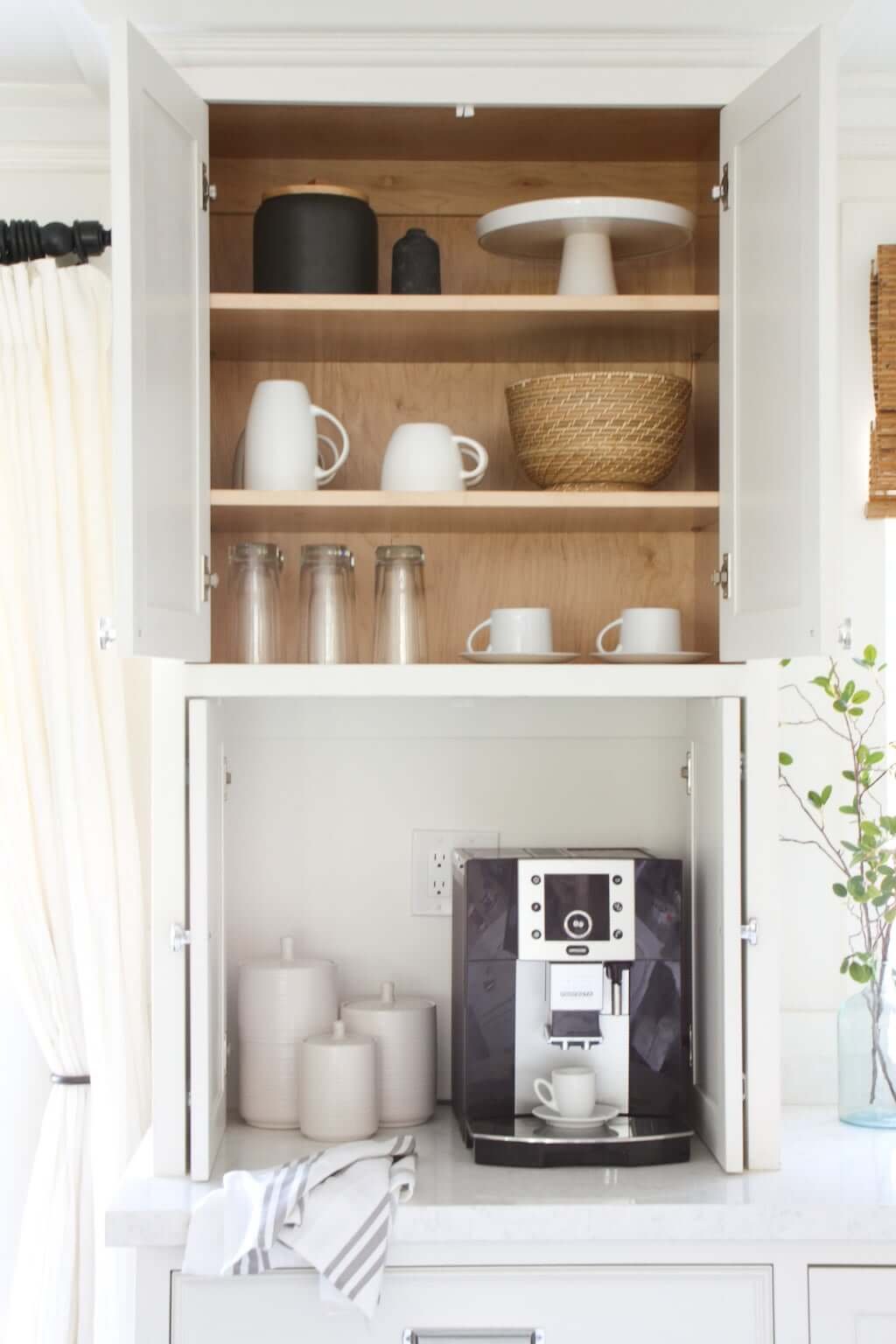 coffee storage canisters / food storage canister / updated version of our espresso machine / stoneware stand / Jess' favorite mugs / Matt's favorite mugs / espresso cups & saucers / faux branches / similar vase / similar basket
Next, see our #1 tea organization trick, the 3 "hidden" benefits of these appliance garages, or the 21 genius kitchen organization hacks & ideas we used in our real-life kitchen!
View The Complete List of all our kitchen remodel posts!
---
➜ We wrote 3 kitchen guides to help you with your own kitchen!
Get our Kitchen Design Bundle!
---
You can also check out
➜ A full list of every single one of our home projects can be viewed here.
*This post contains affiliate links, which are no extra cost to you but help us keep this site alive!