Looking for something better looking (and even more hidden to the eye) than the standard built in ironing board cabinet or folding ironing board on the wall that so many people do? We created a hidden space for our built-in, hide away ironing board drawer in our closet…within another cabinet! See exactly how below!
Once upon a time, there was a woman who hated to iron.
Her process looked something like this:
Pull out ironing board.
Locate iron, which was never located near the aforementioned ironing board. (Usually it was wherever I was last ironing the perler bead creations my girls had completed, or near where I'd done some sewing last, which is so infrequent I could never remember where that was.)
Plug in iron.
Discover that the plug is too far from ironing board, rendering the cord too taut to be used comfortably.
Go back and scoot ironing board and now-increasingly-hotter iron closer to outlet.

(Nothing like adding into your routine a little danger of your foot getting burned by a falling iron.)

Try to remember what part of the shirt I'm supposed to iron first.

(When you don't iron often, you forget.)

Iron the wrong part, and have to go back and redo it.
Think about asking your husband how badly he needs this shirt ironed, really.
20 minutes later, be done with the one item of clothing.
Vow to make husband do his own ironing from now on.
Yes, there were several holes in my ironing routine; therefore, I knew there must be a solution.
Enter our small, hidden folding ironing board that carried all my ironing woes away!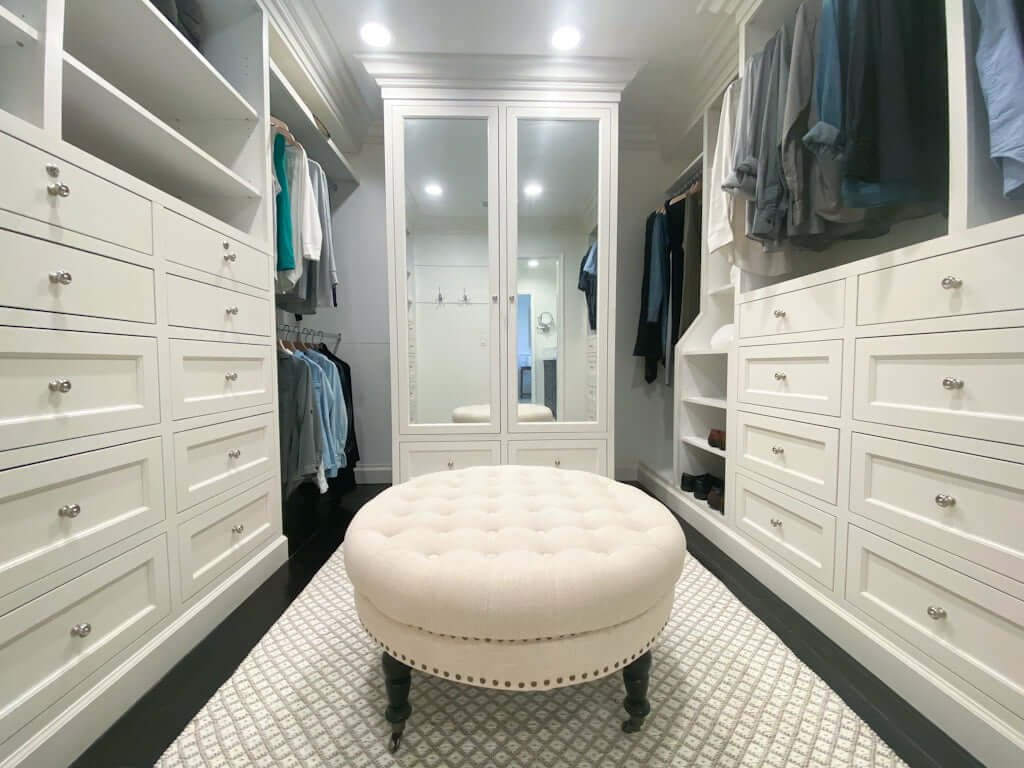 Making Life Easier.
Another pet peeve I had about the standard loose ironing board situation was that it always seemed to fall over in whatever closet or corner it was stored in! For years, I'd have to work around the darn ironing board falling whenever I went into that closet to get something else, and homey don't play dat!
We'll also be answering popular questions like
"How do you hide an ironing board?"
"How long is a fold down ironing board?"
"Which ironing board is best?"
"What are built in ironing boards?"
"How long is built in ironing board?" & "How wide is a built in ironing board?"
"Why should I do a folding ironing board drawer instead of a wall-mount?"
built in IRONING BOARD
3 Pieces of Logic.
My logic was this:
#1: "If the ironing board is such a pain to deal with (as is finding the iron), why not put them both somewhere permanent they'll never move from?"
Second bit of logic:
#2: "Having the ironing board fold up into a nice, neat space will remove all 'loose ironing board' annoyances."
Third and final:
#3: "I'll do more ironing if it's more convenient!"
IRONING BOARD CABINET
3 Reasons I Didn't Want a Standard Ironing Board Cabinet.
While I'd seen those fold out ironing board cabinets mounted on the wall, I knew I didn't want one. Why?
1) They weren't attractive. Let's be real: what's pretty about a random rectangular ironing board cabinet stuck in the middle of your wall? This has been around so long, we all know there's an ironing board in there. Why not just stick a built in ironing board directly on the wall and save ourselves the trouble of having to open a cabinet?
2) They take up too much room on the wall. Standard wall mount ironing board cabinets measure about 16x48x8″, and that's all space I couldn't use for more intelligent storage!
3) Forget blending in! Those wall mounted folding ironing board cabinets stuck out like a sore thumb on every wall! Ain't no one foolin' nobody with those!
And you all know how I love to hide things. 🤣 Here too. (I'll soon write a post compiling allllll the things we've hidden in this house!)
FOLDing IRONING BOARD
Why Fold-Up Is Better Than On a Wall!
I started envisioning an ironing board that wouldn't take up precious wall space. Whether I decided to put the hidden ironing board in my redesigned laundry room or our closet, wall space was precious!
Since we had started our closet project, I figured it was the perfect time to incorporate this folding ironing board idea. We found a folding ironing board drawer that would work perfectly, we just needed to find a spot to keep it.
We knew immediately we didn't want one of the main drawers in our closet to house this fold down ironing board because it wasn't something we were using daily. So we tucked it away where it could still be used as a drawer, but completely hidden until we needed it!
Built In IRONING BOARD
While I decided to put our folding ironing board into our master bedroom closet, many people choose to put theirs in their laundry room. The laundry room makes perfect sense if that's where you do your ironing. It's all about your process!
For us, we'd found over the years that we most often noticed "the need to be ironed" while in the closet. Matt would find out about a big work meeting or client presentation and discover that his best dress shirt was in need of a little touch-up. So, with occurrences like that, we found that a fold out ironing board in the closet would work smoothest for us.
Built In IRONING BOARd cabinet
Where Exactly Did We Hide Our Folding Ironing Board Drawer?
If you missed our closet makeover, you'll want to go back and check that out!
For those of you who are familiar with our new closet setup, you'll recognize the large built-in "armoire" piece we created. This served as (among other things!) the new home for our folding ironing board drawer.
While we could have created a drawer in the closet by itself, we didn't use the ironing board enough to want to take up that precious space with it, so we fit it into a drawer inside the built-in "wardrobe" furniture piece in our closet redo.
FOLDing IRONING BOARD DRAWER
How Exactly Does It Work?
It's pretty simple!
Step #1:
See that little white drawer inside the cabinet? Pull on the knob!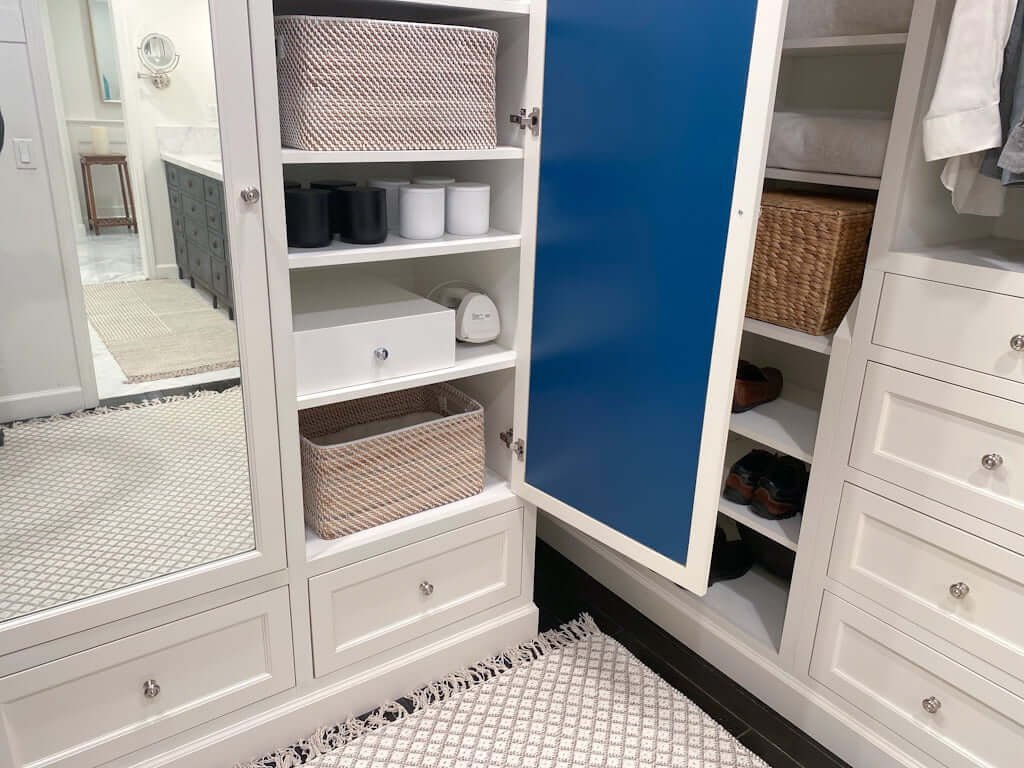 Built In IRONING BOARd drawer
Step #2:
The foldable ironing board drawer starts to pull out…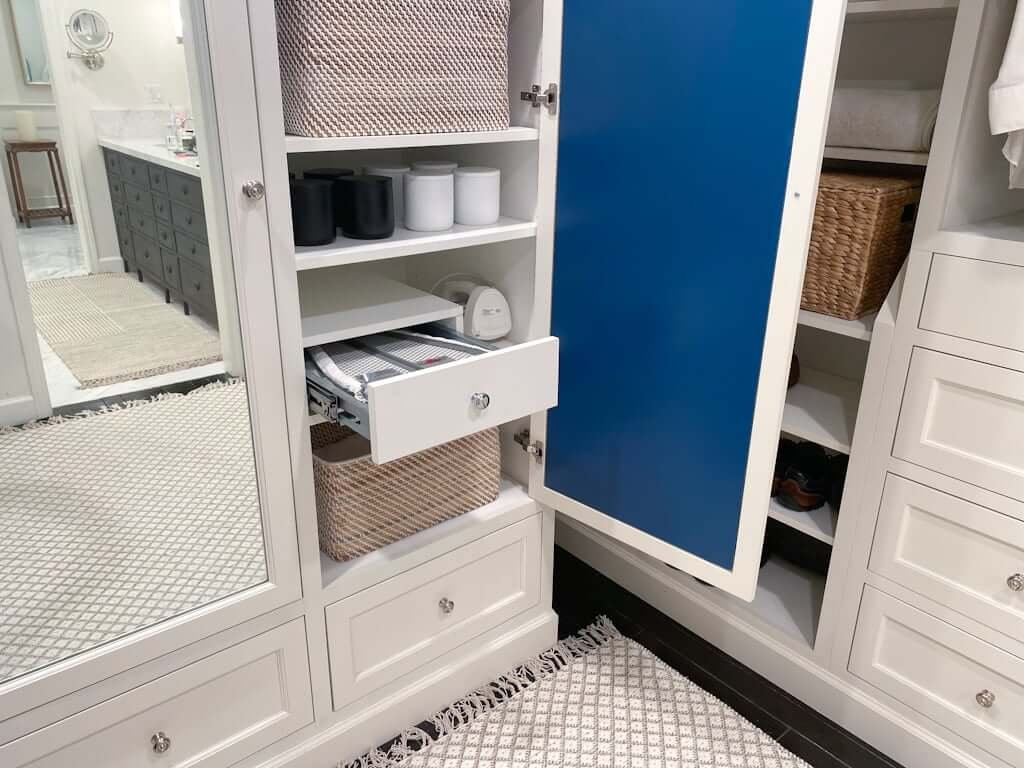 SMALL IRONING BOARd
Step #3:
Pull the drawer all the way out, like this.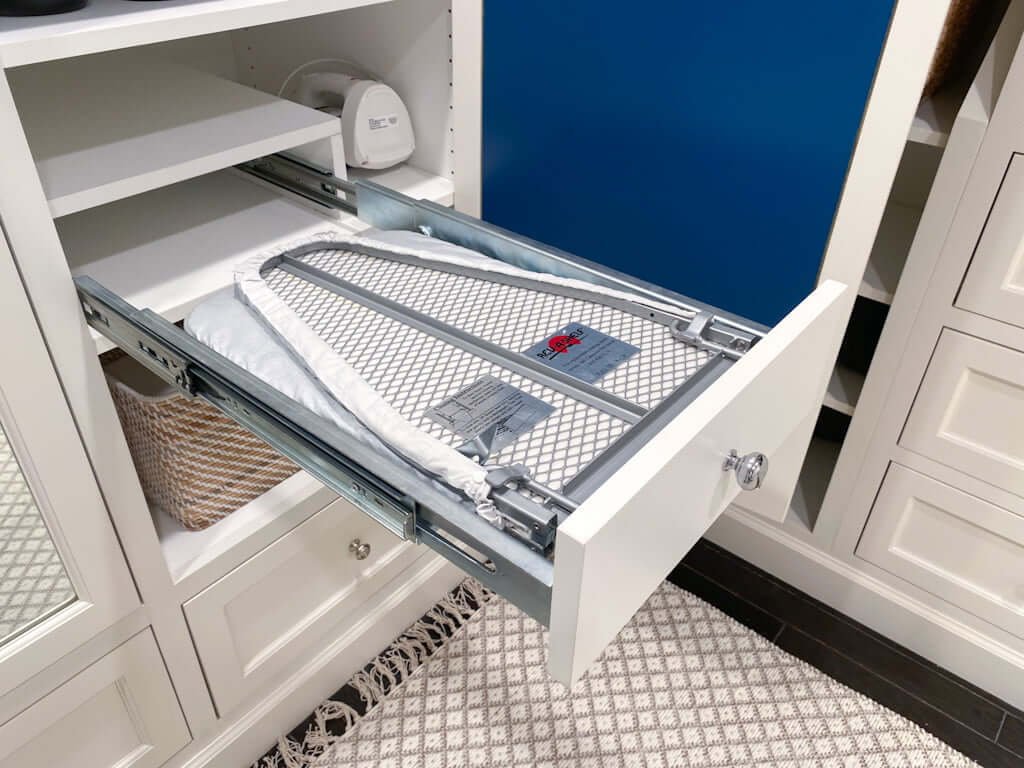 BUILT IN IRONING BOARD
Step #4:
Now, just pull out the top part of the folding ironing board and it folds out into a flat piece. Ours goes above the drawer front as you can see in the photo. (Some have a folding drawer front…why? Not necessary! Just makes it more complicated, especially if you're looking to DIY!)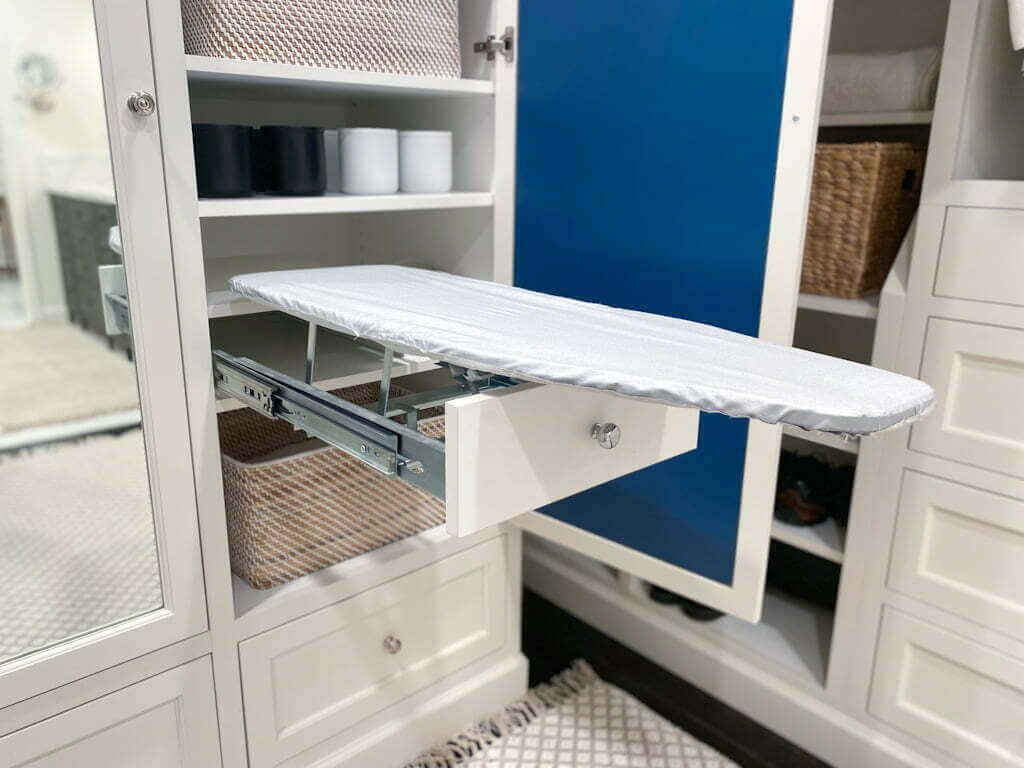 folding IRONING BOARd
Step #5:
Grab your nearby iron and begin your ironing extravaganza!
IRONING BOARd drawer
What About the Iron Itself?
How did I solve the problem of only being able to find my iron 37% of the time?
Answer: Add a built-in electrical outlet into the space next to your built in ironing board drawer, and leave your iron plugged in (but turned off).
You'll never hunt for it again! Problem solved! 😄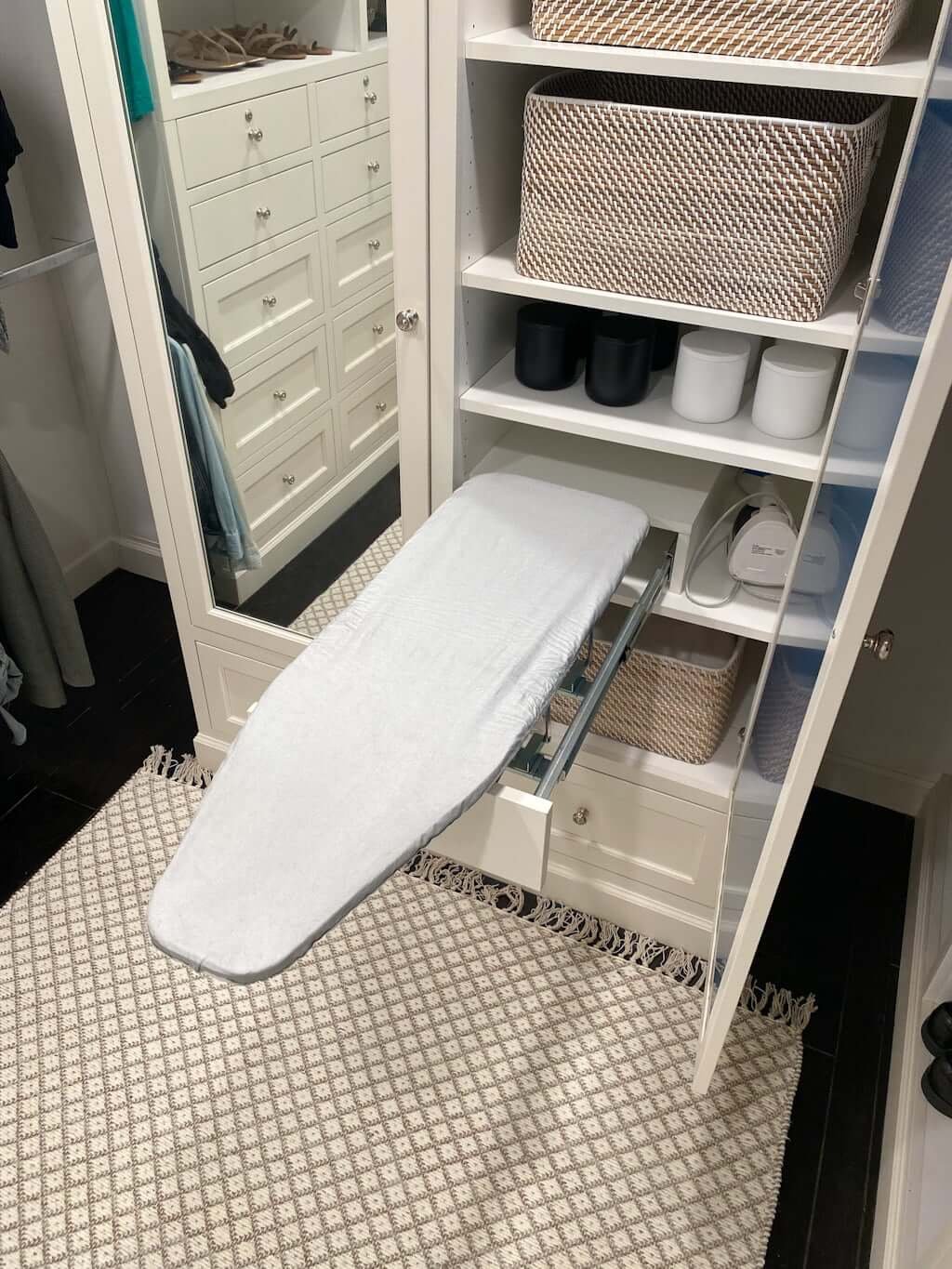 folding IRONING BOARd
Built In Ironing Board Drawer Measurements
The fold out ironing board, when fully extended, measures 11.8″w x 37.7″ long.
We used this one! (I found it amusing that it holds up to 150 lbs. 150 pounds?!? What are people ironing?!? Or maybe it's in case you occasionally need to use it as extra seating for parties? A stepstool? A practice diving board? What?!)
You can see our built in ironing board in action in our video here!
What else did we hide?
We also hid our hamper in our closet, as well as hundreds of little things you can't see.
Next, check out
Or if you missed our closet posts, you'll want to see
➜ Our complete list of every single home project is viewable HERE!