Today we're walking you through how to jump start the design of your small walk in closet layout with 3 steps to avoid common but easy-to-make mistakes!
We'll also be answering questions like:
"How do I plan my closet?"
"How do you layout a walk-in closet?"
"How do I build a small walk-in wardrobe"
"What is a good size for a walk-in closet?"
"How do you organize a small walk in closet?"
"Where should a walk-in closet be placed?"
PS: In our latest post about our master bedroom closet layout, I go into more details about why we did the below designs the way we did. If you haven't read that first, you'll want to check that out to get a fuller understanding of how to best design YOUR perfect walk-in closet layout! ("How to Nail Your Master Closet Layout The First Time!")
WALK IN CLOSET LAYOUT
Our Small Walk-in Closet Layout Before!
Have you read our first post about how we enlarged our walk-in closet space for free?
Here's how the closet looked before we officially bought this house. Small and narrow with a double dose of trip hazards! 😆 Oh joy!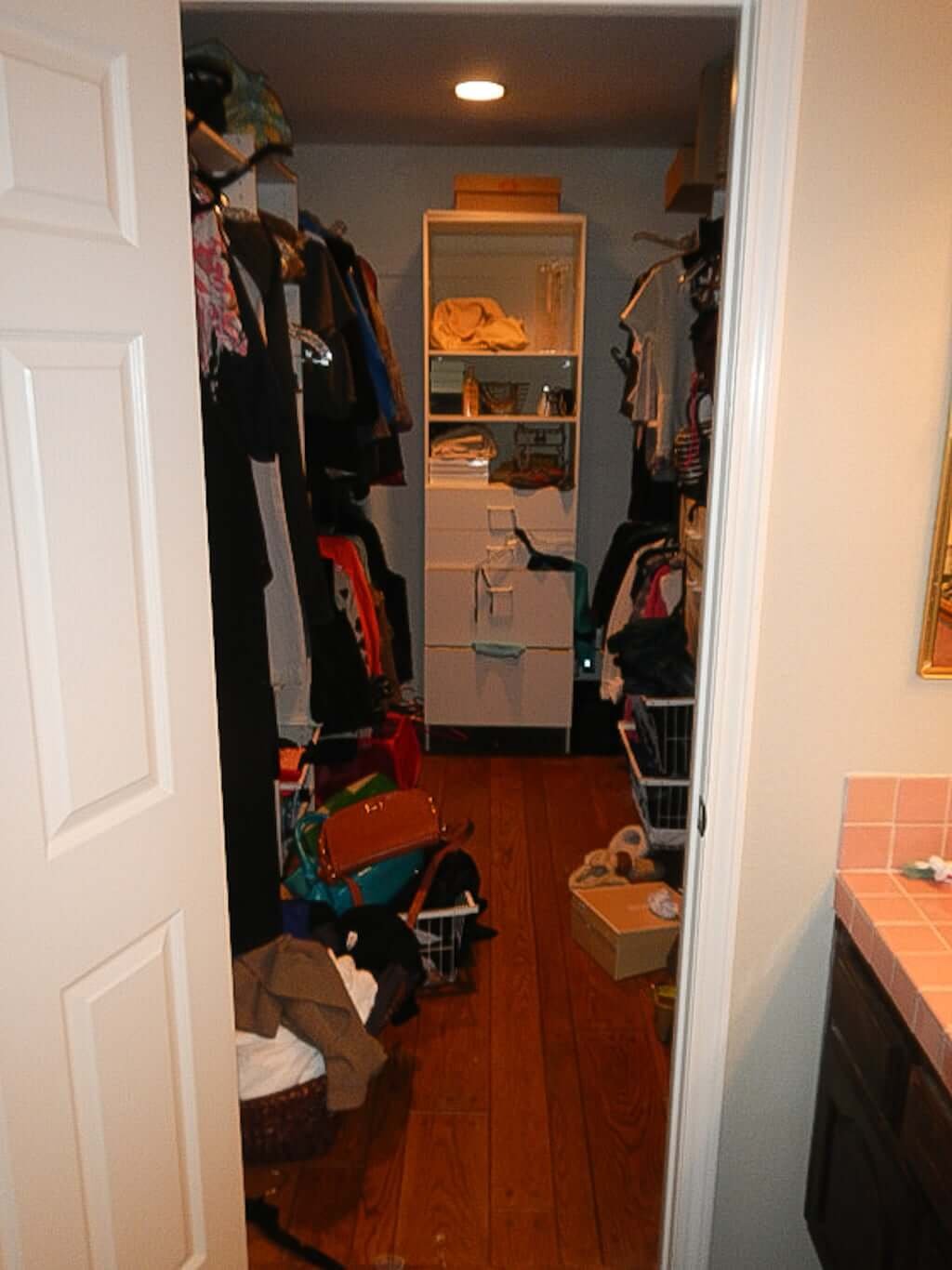 Here's the floor plan of our old walk in closet layout: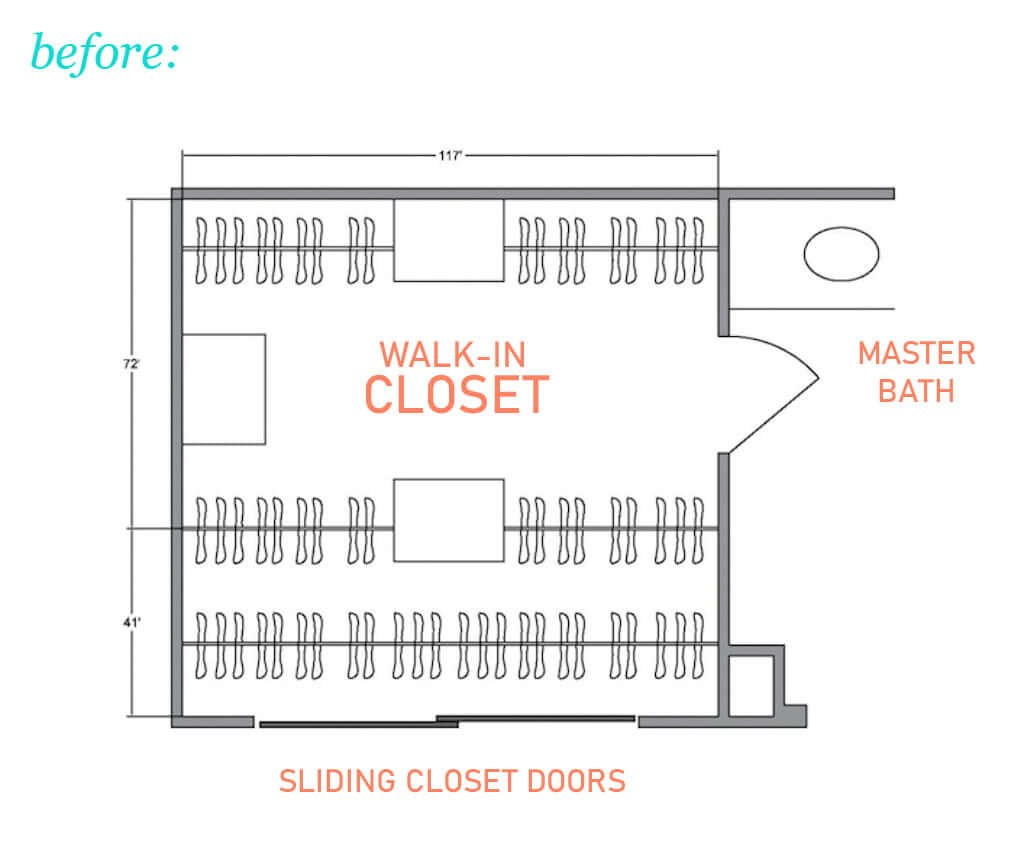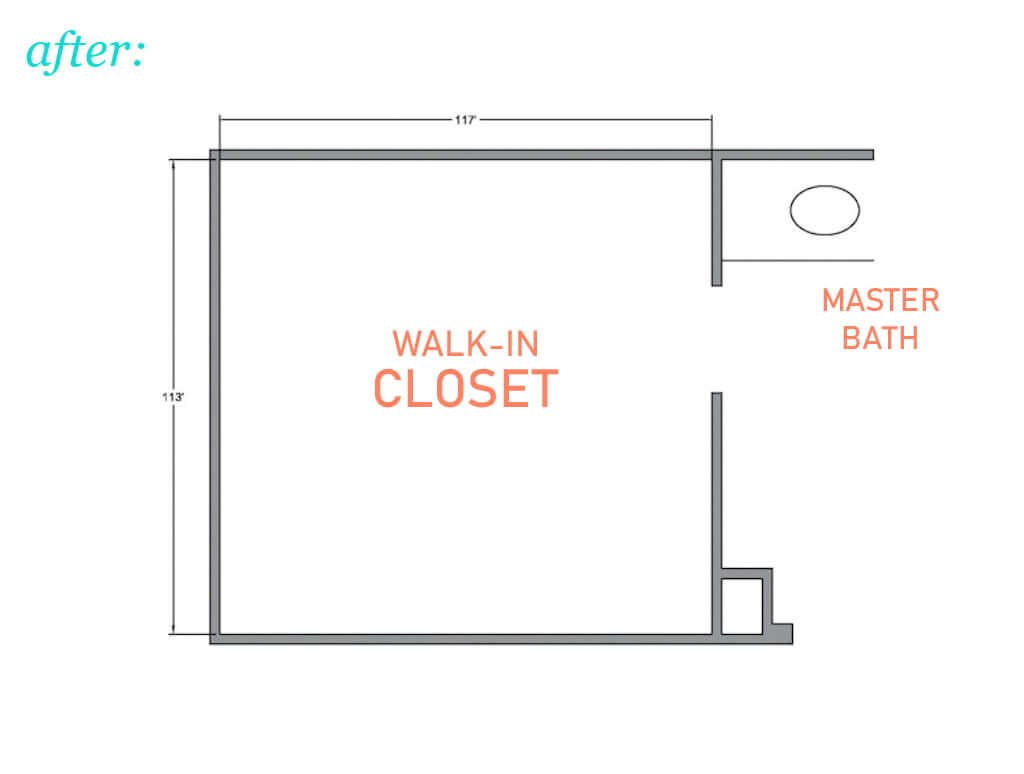 For full details on how to do this, see our first closet post: "Walk In Closet Layout Dimensions & Size."
SMALL WALK IN CLOSET LAYOUT
Closet Design: Background Story!
Now that we had more space to work with, we started our process of working with what we had! If you haven't read the backstory, THIS gives you the background story so you can fully take advantage of our experience!
You can also get more closet tips in our new post "3 Closet Strategies to Maximize What You Already Have!"
*UPDATE: We're sharing our final walk-in closet plans HERE!
WALK IN CLOSET LAYOUT
Step #1: Create the Floor Plan for Your Walk In Closet Layout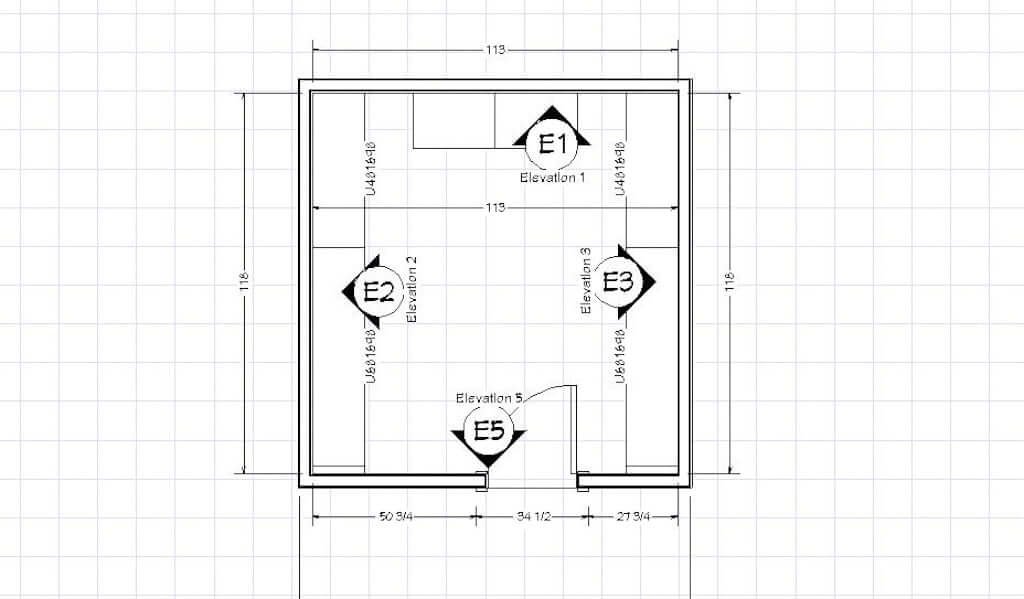 I truly believe every good layout and design starts with a good floor plan. You can "see" so much from up here!
Sketch out some ideas, move elements around to see how they "fit", and double check this list to make sure you don't miss anything (whether obvious or custom and special) that you personally really need in your walk-in closet!
We have more quick tips here: "3 Closet Strategies to Maximize What You Already Have!"
SMALL WALK IN CLOSET LAYOUT
Step #2: Draw Each Wall.
Make sure you only do this step after you've done Step #1.
Why?
This step can involve a lot more detailed drawing (a.k.a. a lot more of your time and effort!). Therefore, it's much more efficient to nail down your floor plan and flow first—then move onto the detailed wall-by-wall drawings.
You can do this as simply as sketching on a piece of paper, or getting your woodworker or cabinetmaker (if you're not DIYing this project) to do one for you! Either way, it's always advisable to make sure everyone's on the same page before beginning work.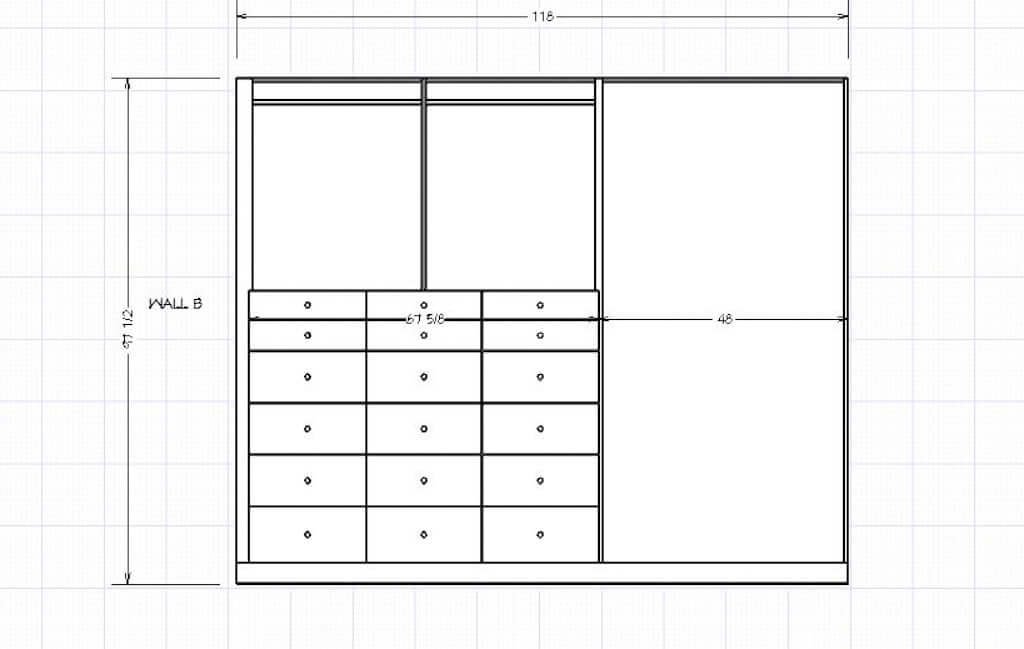 Firstly, above is our "Hers" wall, seen as you'd turn to the left after walking in the door. We included the drawers (some lockable!), shoe shelves, and hanging spaces all incredibly intentionally. See the full details in our post "11 Closet Must-haves!"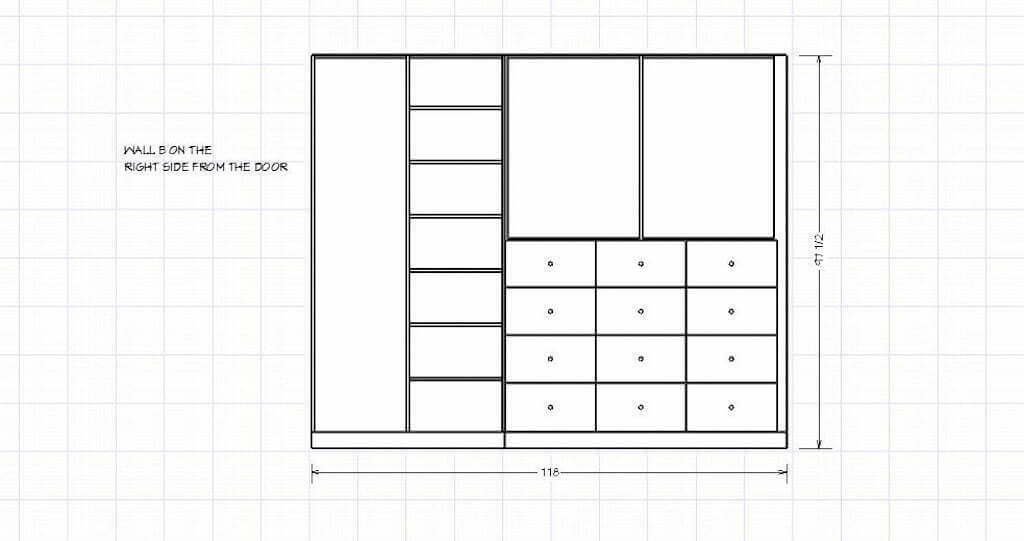 Secondly, to the right is the "His" closet wall, with drawers, hanging spaces, shoe shelves, and extra-long hanging space. (Get in-depth explanations in our post "11 Closet Must-haves!")
Here's a helpful graphic to get you started on figuring out your hanging heights. (But continue to my Tip #3 below about testing out the right height for you first!)
SMALL WALK IN CLOSET LAYOUT
Step #3: Absolutely, Absolutely Do a Testing Phase!
After going through our "Closet Testing Period" in real life (see exactly how we managed that process here and why we think it's an essential part of determining your walk in closet layout!), we were able to make some adjustments to our designs.
While there are good "rules of thumb" out there for heights, I beg you, dearest readers, to remember that we're all different! It's one of the best tips I can give you for designing for max comfort. And we're different not just our heights, but our arm reach! Not everything can be based on height alone. And we all have different ways of reaching…I could keep going on about the different factors but I'm sure you see my point. Which is
test it out yourself, in real life, first!
For example, I realized after doing some important measuring that I wanted my highest hanging rod to be a little shorter so I could more easily reach it (didn't have to be right up near the ceiling!). As a result, that change gave me some extra space above the hanging rod, so I decided to put a shelf above it. (To see what I used the shelf for, click here!)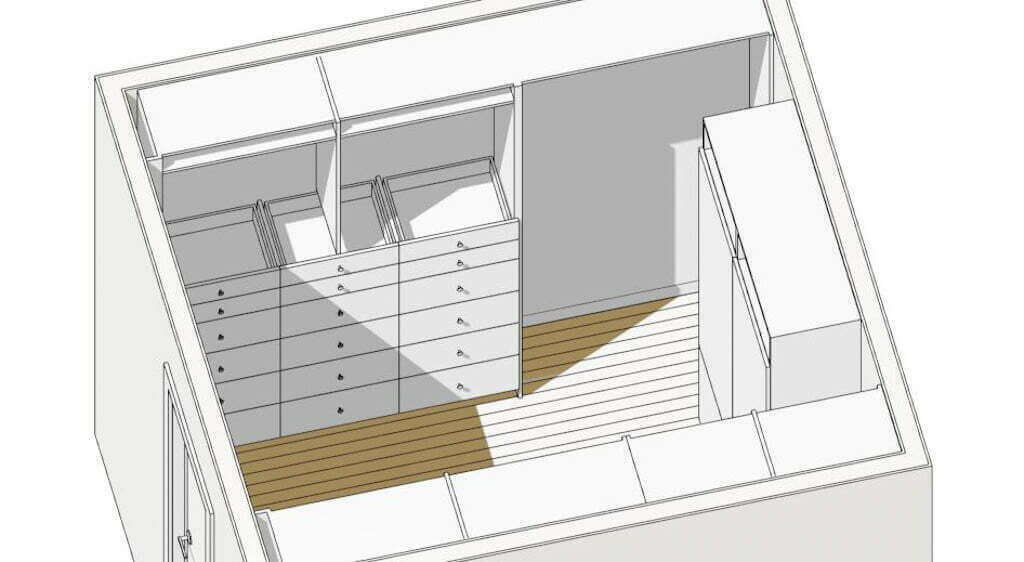 However, that's not reflected in the drawing above, as well as the fact that you can't see my "Hers" shoe shelves yet!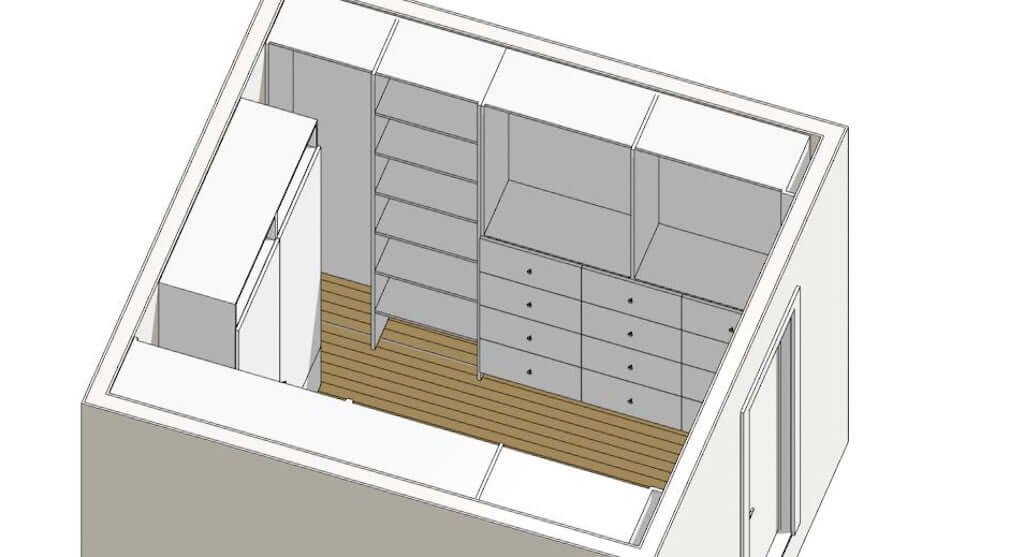 On the other hand, Matt The Tall liked the height of the hanging rods in this walk in closet layout. Consequently, the above plan stayed pretty much the same, other than some depth adjustments we made. (You'll see those—and why we made them—in our next post!)
WALK IN CLOSET LAYOUT
Don't Be Afraid to Change Your Plans!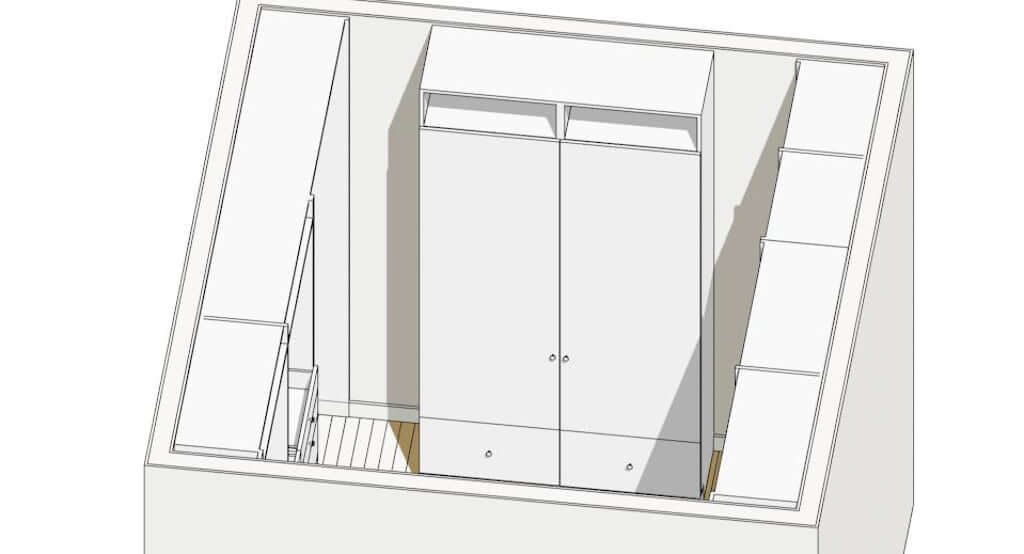 You can catch a sneak peek above of one of my favorite elements of our walk in closet layout. However, we did make some adjustments that you can see (and that you can't see because they're behind those cabinet doors!) in our next post about the final walk in closet layout and how everything came out in real life!
For example, I didn't want to see the shelves above the "armoire" cabinet doors (I have a love-hate relationship with shelves, which is approximately only 1% love.). What can I say—I love not seeing clutter on shelves and if you can hide it behind a door, I vote DO IT!
We have more tips on our post "3 Strategies to Work With What You Already Have In Your Closet!"
SMALL WALK IN CLOSET LAYOUT
Final Walk In Closet Layout Plans!
Here's a final look at our walk in closet layout before starting the construction process and making it all a reality!

Our walk-in closet had the option of entering from the master bedroom or the master bathroom (see how we had both at the same time). So we could have done either, but decided to try it straight off the bathroom.
While our first house had the master walk in closet off the bedroom, we now know we for sure prefer having our walk-in closet off our master bathroom! (You can see our little-but-luxe master bathroom remodel HERE!) It just makes good sense after showering, or getting ready in the morning—as well as not disturbing your spouse if they're still sleeping in the bedroom!
Functionality + good marriage maintenance = BEST CLOSET DESIGN EVER.

UPDATE: Click here to see how our walk in closet remodel turned out in real life!
Next…
Need the printable plans for this? They're HERE!
For more tips & tricks for designing your perfect walk in closet layout, see
*If you DON'T have a walk-in closet, check out what we converted in our other bedroom "basic" built in closets to make them extremely functional!
PS: You can see every single one of our house projects HERE.