What are the ideal walk in closet dimensions? And how do you determine what size will work best for YOU— while maximizing what you have?
Today we're walking you through our walk in closet dimensions and how we're using those dimensions to actually create a larger walk in closet floor plan!
We'll be adding walk in closet space in an unusual way. How?
Well, if you've taken our house's upstairs tour, you've seen our master bedroom space—including the closet. You may remember that it appeared we had two closets: one narrow walk-in closet plus another hanging space with sliding mirrored doors.
The original walk-in closet:
Same closet, different "entry" point via sliding closet doors:
It's actually just one closet. It's one big space—but with one entry from the bathroom into a small walk-in closet and the second from the bedroom space with the sliding doors.
Update: If you're curious, you can see what we've done to transform our master bedroom as well as our bedroom's fireplace sitting room!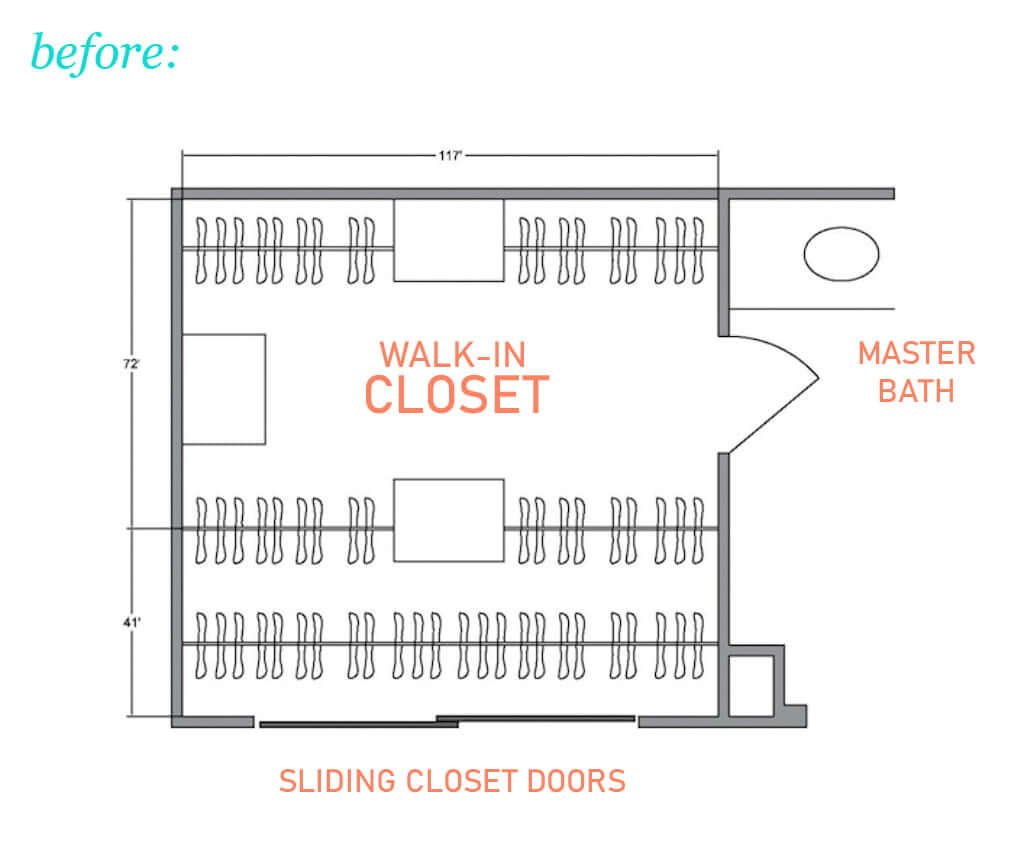 So you can get a sense of its location within the rest of the master, here's the view to the walk in closet door (during inspection, before we bought the house) from our bathtub and shower area.
On inspection day, here's what the narrow walk-in closet looked like:
These walk in closet dimensions (as pictured above) were 72″ x 117″ (6′ x 9.75′).
It's lovely to have a walk in closet, but it's still a bit crammed looking, isn't it? That comes not only from the way they chose to place their clothing and other items, but it also comes from the narrow walk in closet size itself.
(Next, see our post "How to Nail Your Closet Layout the First Time!")
Walk In Closet Dimensions:
The New Closet Vision.
We immediately saw how we could improve on this setup. If we walled up the sliding door portion of the closet, it would
not only give us better wall space to work with in the master bedroom, but would
allow us to increase the walk in closet dimensions.
Master Walk In Closet Dimensions:
"Why not keep both closets?"
Clearly, in the 1980s there were architects who thought people would want two options—both a walk-in closet accessible from the bathroom and a sliding door closet accessible from the main sleeping area. And I don't doubt that there were people who wanted this! Sometimes, residential architects are designing for what people at the time really want.
However, for us this layout felt awkward. Not only did it force us to have our bed on the far wall, facing the bedroom entry doors (because that's the ONLY other wall available for a bed!), but even the fact that the sliding doors were in a corner felt awkward. It might be convenient for the person sleeping on that side of the bed next to the closet, but we couldn't see the person who slept on the other side really needing to walk all the way around to the other corner to get dressed.
And why two closets? Would we need to keep certain clothes near the bed and certain clothes near the bathroom? In some scenarios, it may be handy to keep your pajamas next to the bed—and I don't know about you—but we don't have enough sets of pajamas to fill an entire 7′ wide, 8′ tall closet.
It made much more sense to keep all our clothing in one place. One closet. One place to go to get dressed or undressed. We like the simplicity of that. (See more in our post "How to Nail Your Closet Layout the First Time!")
WALK-IN CLOSET DIMENSIONS:
"Why not enter from the bedroom?"
Another option would be closing up the bathroom access to the closet and creating a door from the bedroom into our walk-in closet. That was certainly an option. But we decided against that because
There was already an existing door from our remodeled master bathroom.
It would look cleaner to wall up the sliding door wall, rather than walling up the doorway in the bathroom.
We wanted to gain the extra wall space in the bedroom area.
We knew that with our habits and daily exercise routines, we'd want to access our clothing from our bathroom area.
ORIGINAL SMALL WALK-IN CLOSET DIMENSIONS:
The original walk-in closet size (by itself) was 72″x117″ (or 6'x9.75′).
The original sliding door closet dimensions (by itself) were 41″x117″ (or 3.4'x9.75′).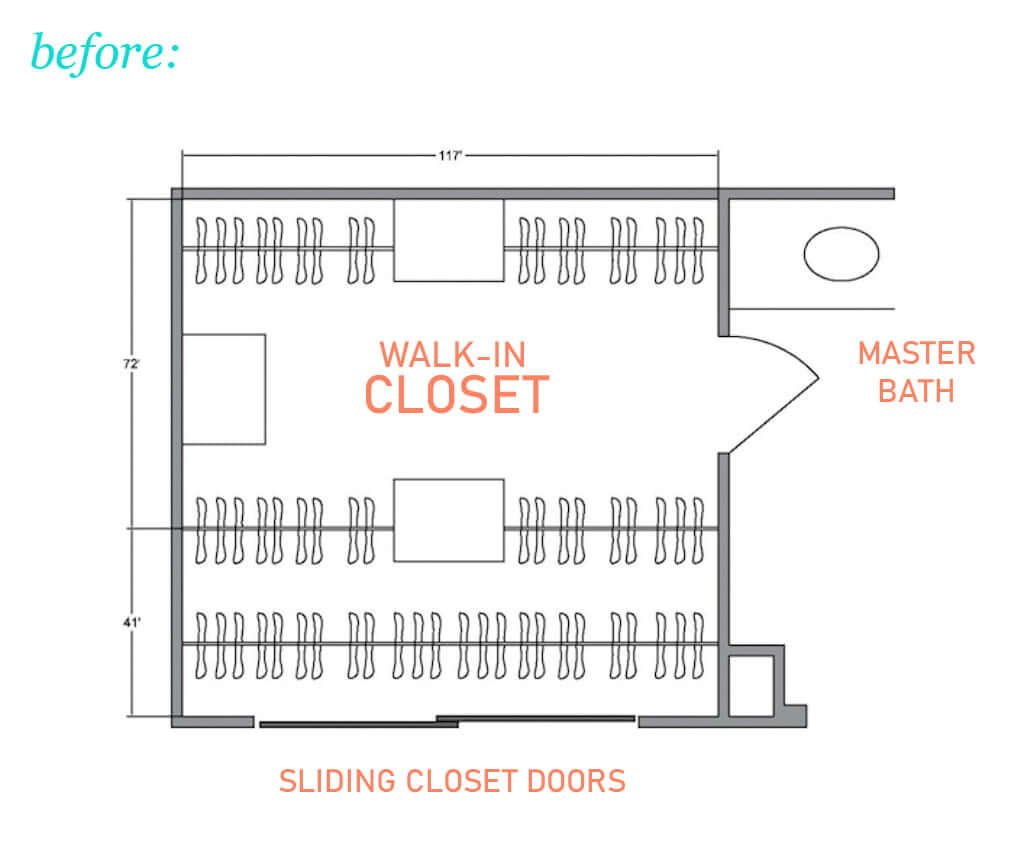 By "removing" the sliding door portion of the closet, we'd
create more space for a full walk in closet (over 33 square feet of walk in closet size gained!),
simplify the two-closets-which-one-do-I-keep-what-clothing-in conundrum,
get rid of the awkward corner closet access to the side of one bed, and
gain a wall for the master bedroom.
MaSTER CLOSET DIMENSIONS CHANGE
The master bed location.
The reason #4 ABOVE became important was because we plan to move our bed onto that wall (where you see the sliding doors below).
The old closet layout (with the sliding door closet taking up most of the wall) forced you to have to put your bed on the furthest wall, facing the entry doors to the bedroom. If we were able to wall up the sliding door closet and essentially "gain" a wall, we'd be able to put our bed there.
We did want to put our bed there. Why? It would then face the windows in our master sitting area (or should I call it our Master Sitting Oasis?) instead of facing the bedroom doors. They say your bed should face the focal point of the room, and we agree (whenever possible).
So to have our bed face our beautiful front windows would be an added bonus. But really, the driving force was to expand the walk in closet dimensions!
MASTER WALK IN CLOSET DIMENSIONS:
The new walk in closet size.
The new walk in closet size would be 113″x117″ (or 9.42'x 9.75′, almost a perfect square!). We'll be gaining 33 square feet (!!!) for the new walk in closet interior by walling up the second closet access point.
You'll want to check out our next post on "How to Nail Your Closet Layout the First Time!"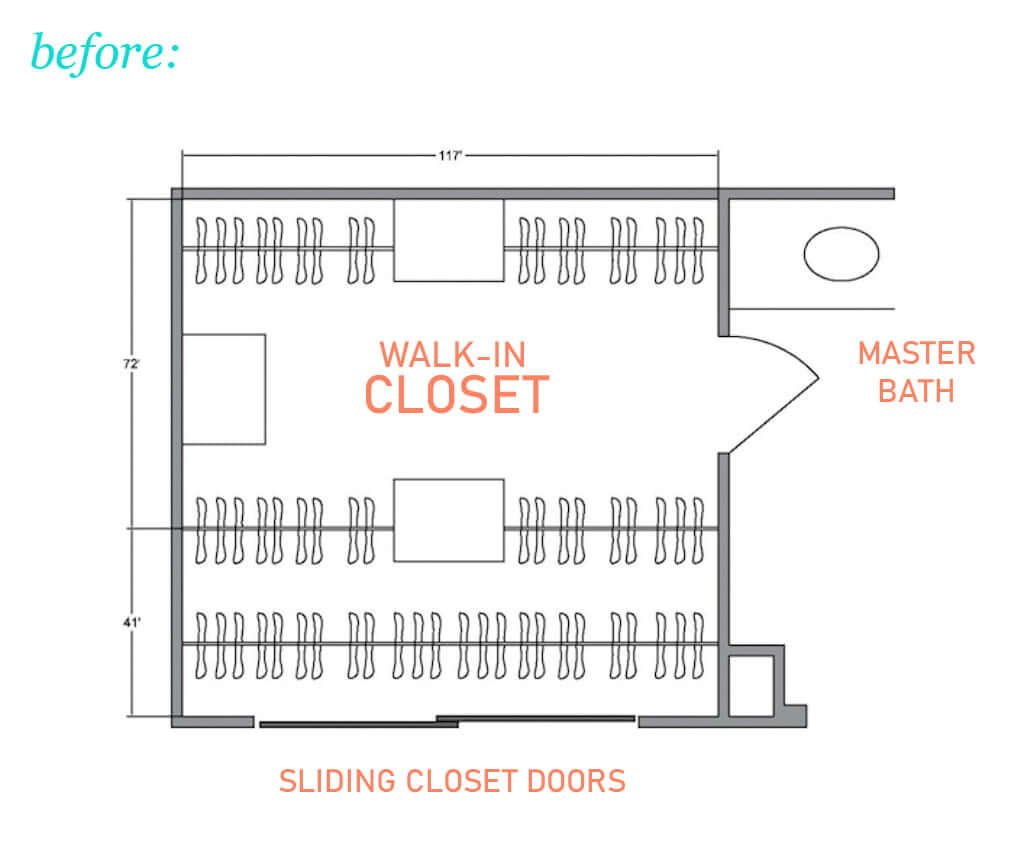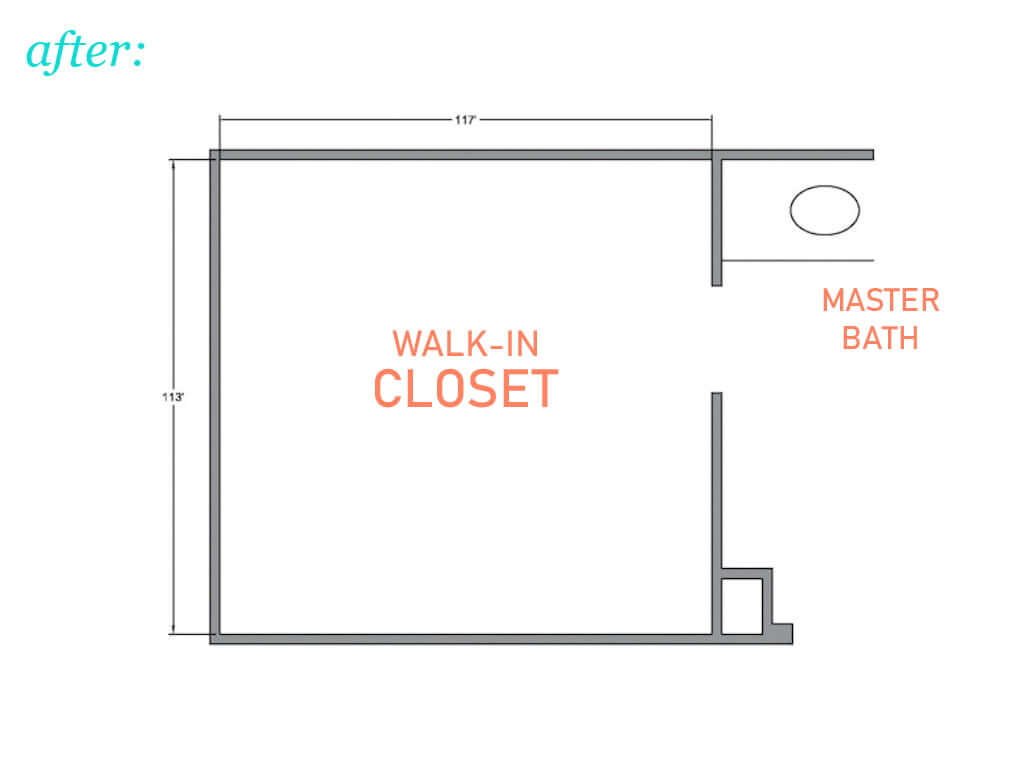 Next, see how to nail your closet layout and our plans to fill these widened walk in closet dimensions. (We'll walk you through how to create a whole new master closet floor plan!) Similarly, you can see how we gained space for our bathroom remodel off this closet with another creative floorplan switch-a-roo.
Click for our FREE closet resources:
PS: See every one of our house projects HERE!
Details
Details
Details