If you're just coming to us from our downstairs tour, you'll remember we're now standing in our entryway.
Not many people get to come upstairs in our house, but today is your lucky day. (Well, keep in mind that none of our stuff is actually showing in these pics yet…)
Wanna come upstairs? That black banister is beckoning you on…
If you'll all look up with me before we ascend the staircase, you'll notice two men and a baby discussing floors, while a set of shockingly painted linen cabinets looks on.
As you glance down, you can see the entryway from whence you came.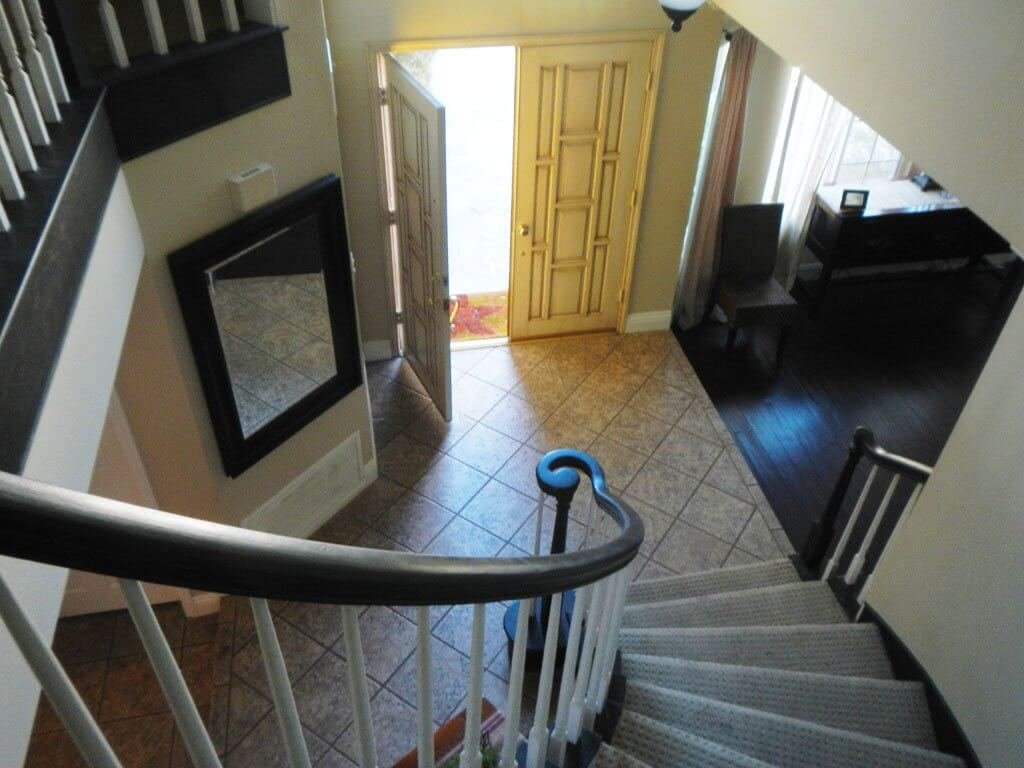 ---
THE MASTER BEDROOM
Turning to the left, you'll find the master bedroom.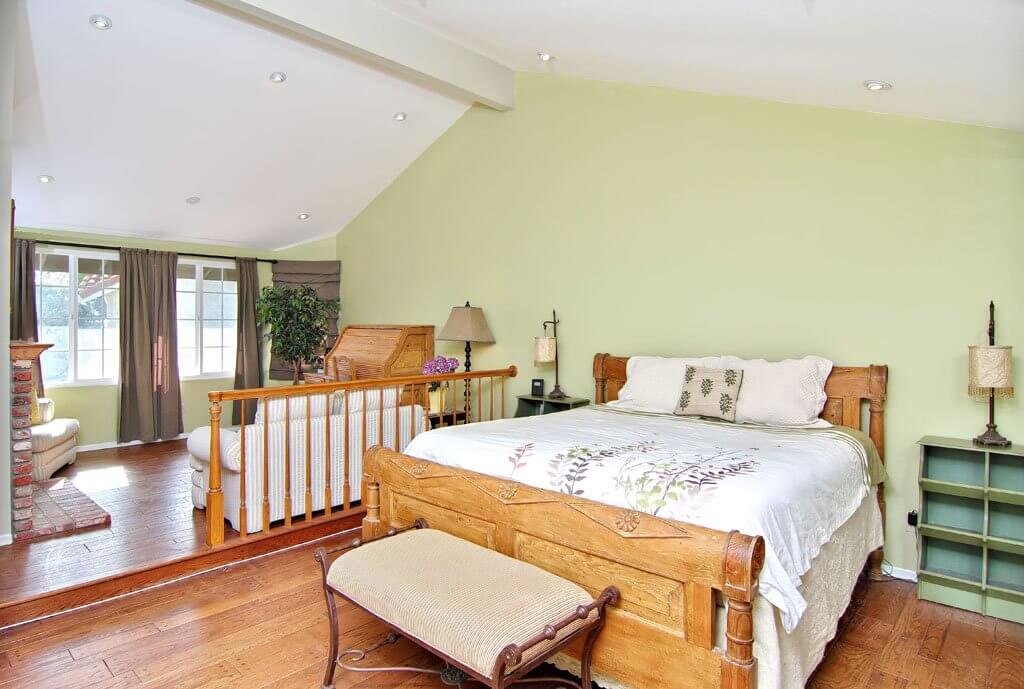 A master sitting area with fireplace wasn't on our list of things we wanted in a house, but we'll take it if they're throwing it in for free.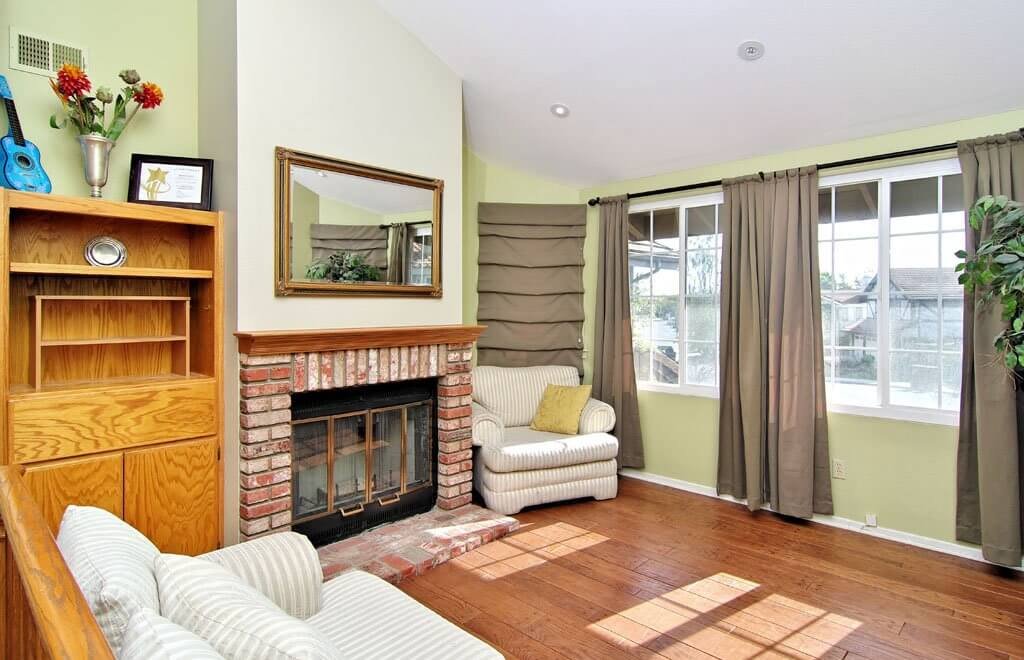 Notice the railing between the bedroom and the fireplace sitting area (which the prior owners are using as a clothing rack). I point that out only because we don't plan to leave that railing there for long, so say your goodbyes now.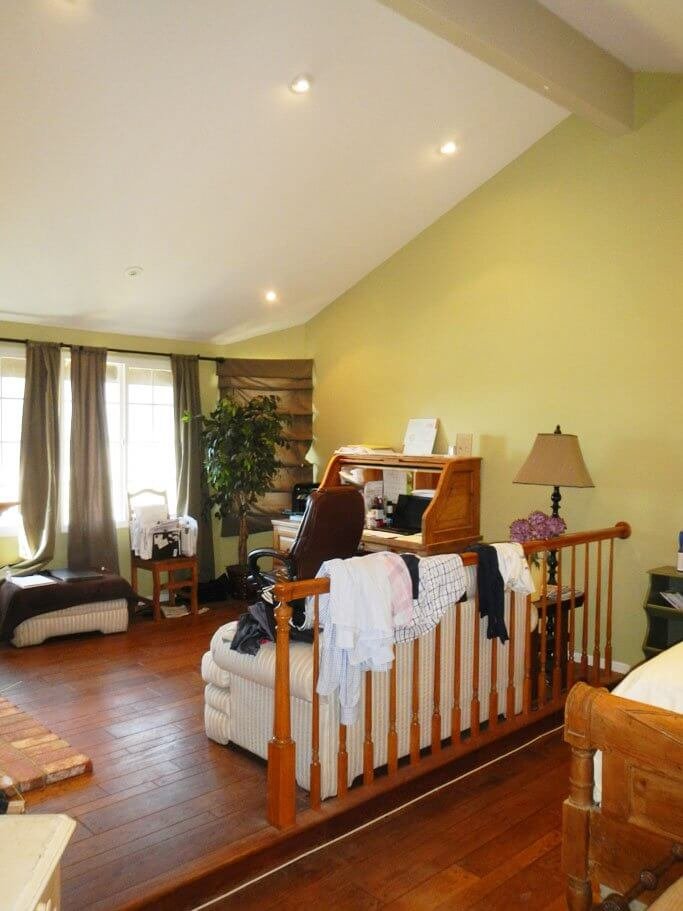 We don't plan to use this fireplace sitting area as a home office, that's for sure. We need to do some work on the fireplace, but a big cozy couch for in here might be in the works.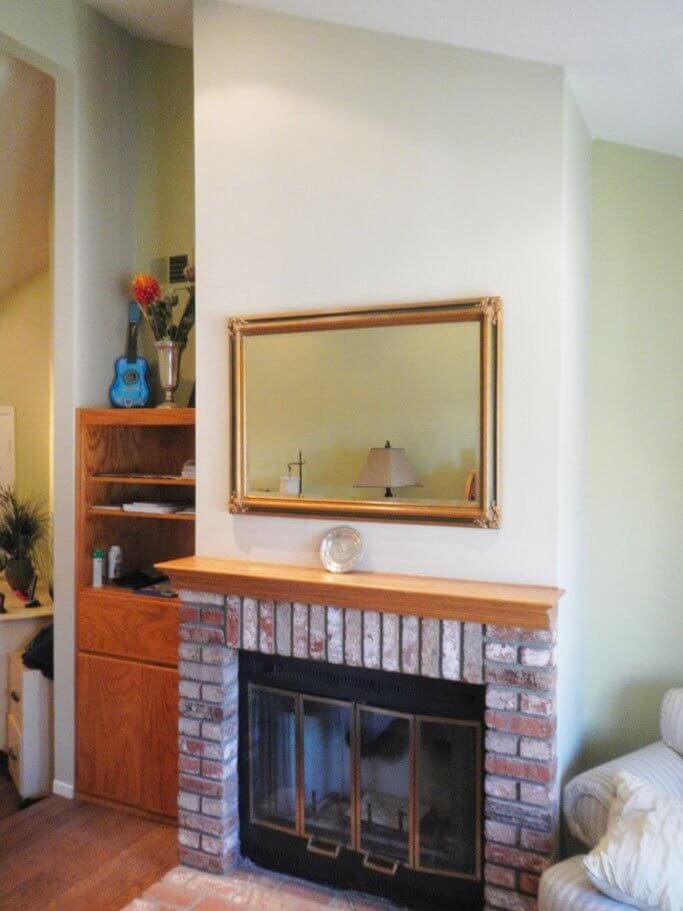 Turn yourself to the left, and you'll get a view back to the bedroom—and you may even spot Matt walking into the master bathroom with a Baby Bjorn strapped to him. (And a sleeping baby inside.)
I wanted to take you in there next anyway, so it's like he sensed that and is leading the way.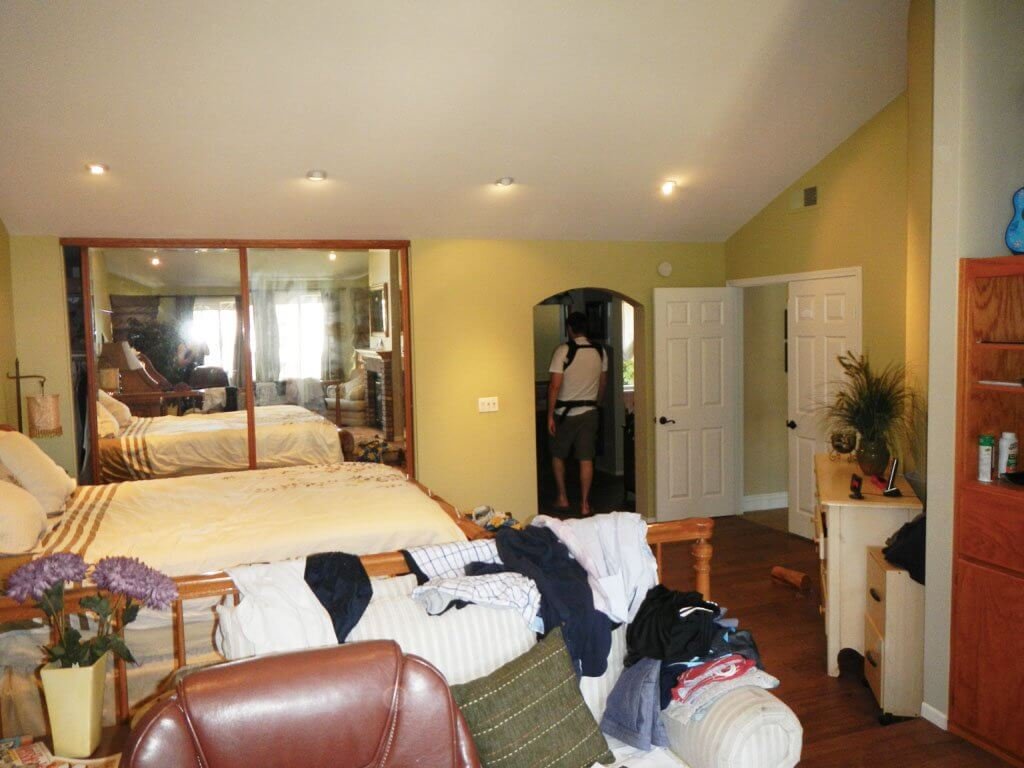 Please note: Those two mirrored sliding doors are to a closet, and there will be another closet in the bathroom. (You'll find that information useful at a later date, so just a heads up.)
---
THE MASTER BATHROOM
Walking through the poorly constructed curved archway into the bathroom, you'll spot the vanity—and possibly a sleep-deprived new mother snapping quick pics on her iPhone so that she can make a list of "Rip Out Priorities" when she gets back to her apartment.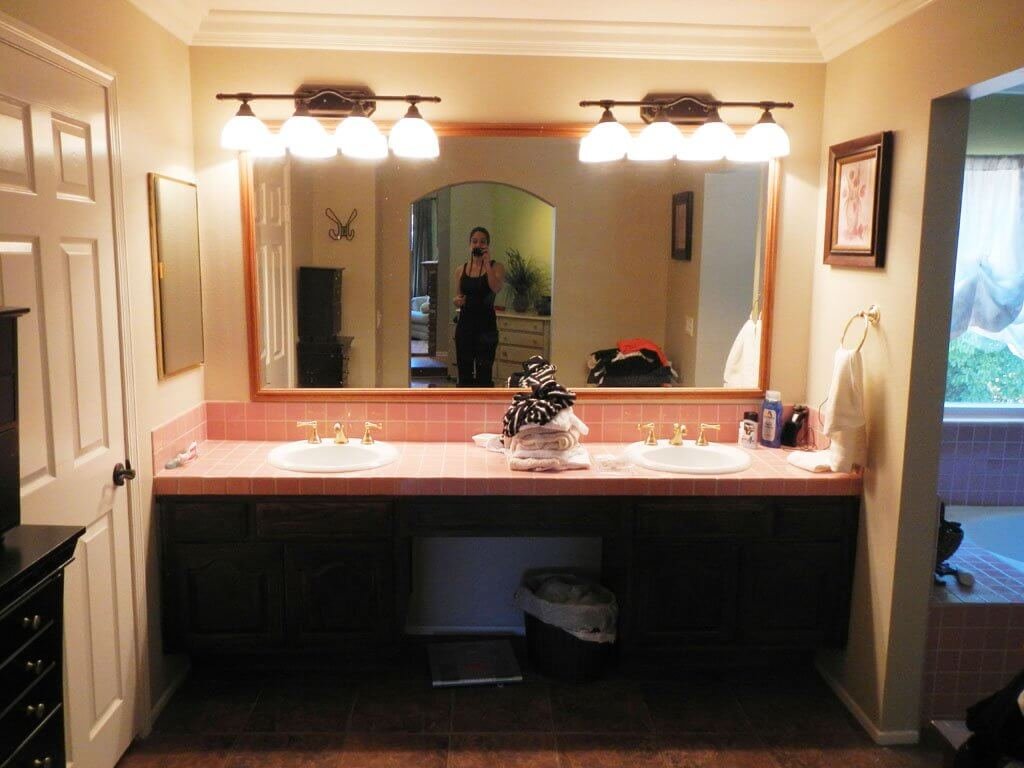 You know, this bathroom was the first major project we thought we'd tackle. We both agreed it would be a great idea to focus first on getting the master bedroom and master bathroom to be more "sanctuary-like" before any other projects. We figured, even if the rest of the house is a wreck, we can come in here, shut the doors, and have it be calm and beautiful.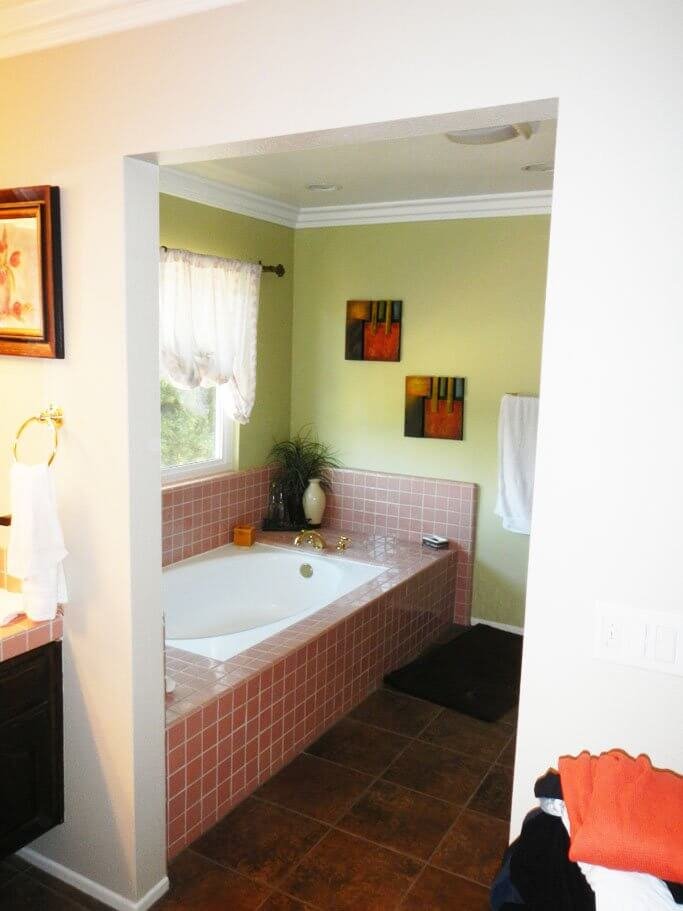 Because right now, in these photos, it is not beautiful.
Unless you are a fan of dirty pink tile and narrow showers.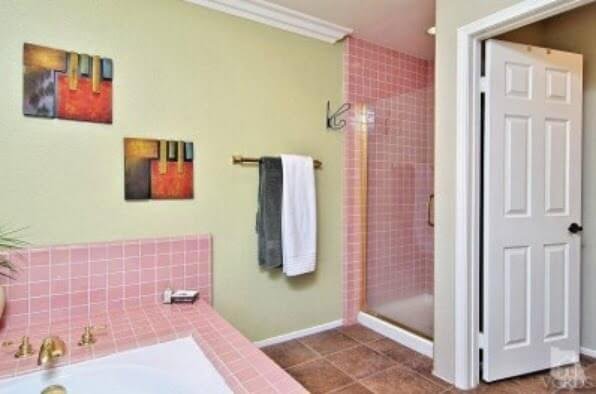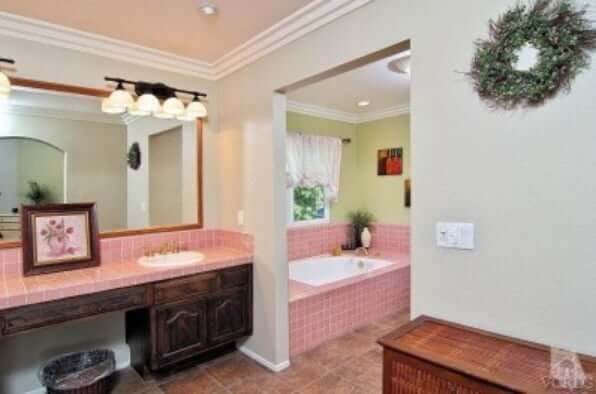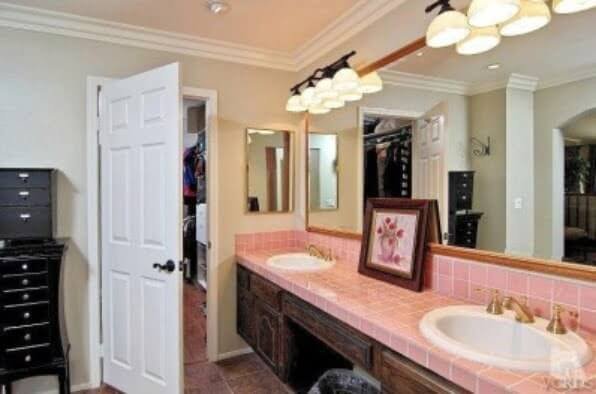 If you open the door above, to the left of the vanity, you'll find Closet #2 on our tour.
I can't even talk about the clutter here. My brain is too scrambled by it. Don't worry, brain. It won't be like this for long.
If you back out of this space quickly (I don't blame you because I'm right behind you) and back out to the landing, you'll find one of the other two bedrooms upstairs.
---
BEDROOM #2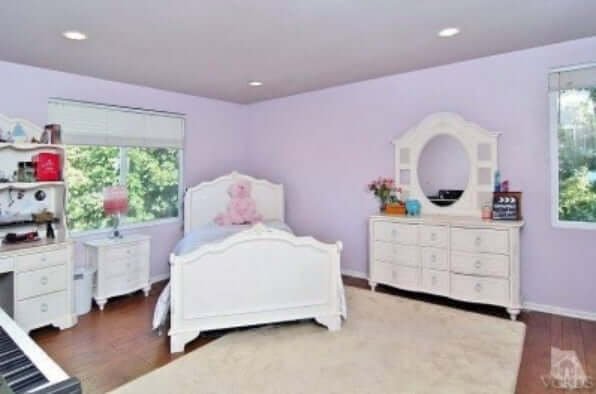 I hate to tell you this, but if you turn around, there's another messy closet and IT HAS NO DOORS.
Everyone pauses to let Jess scribble this down on her priority list of issues to address with Matt.
---
THE JACK & JILL BATH
The door to the left leads you to a Jack-and-Jill bath.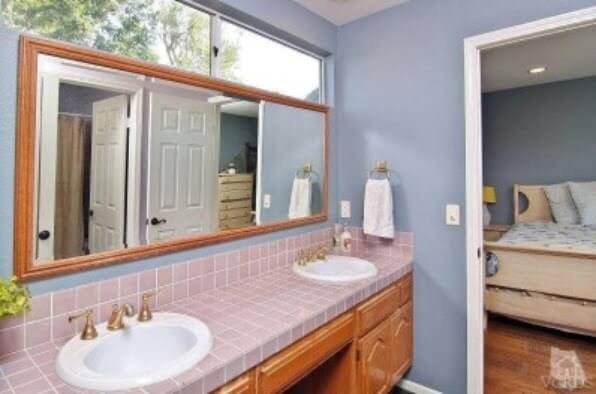 And behind you, you'll find a door to a separate room with a bath tub, shower, and toilet.
That tile starting to look familiar to you too? Yep. We're on the same page here, friend.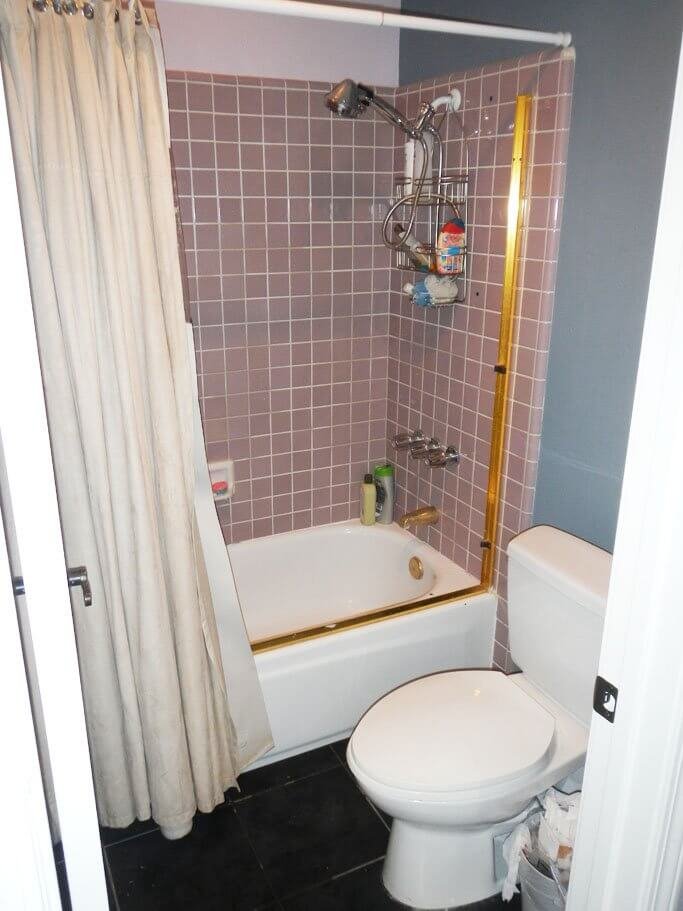 ---
THE THIRD BEDROOM
The other bedroom sharing the Jack-and-Jill bathroom is here…
Complete with exposed, no-door closets. (The curtains aren't fooling me. Are they fooling you? No, you can't be fooled either.)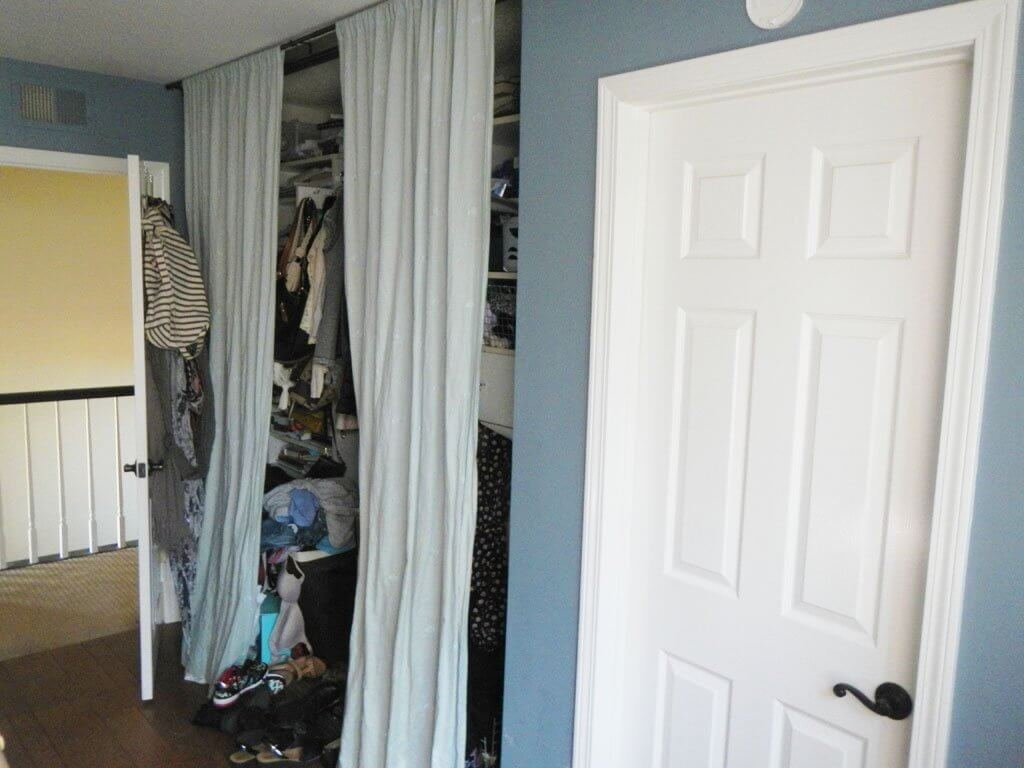 Let's move quickly before the whole thing collapses, and try to avert our eyes from that hanging chandelier in the entryway.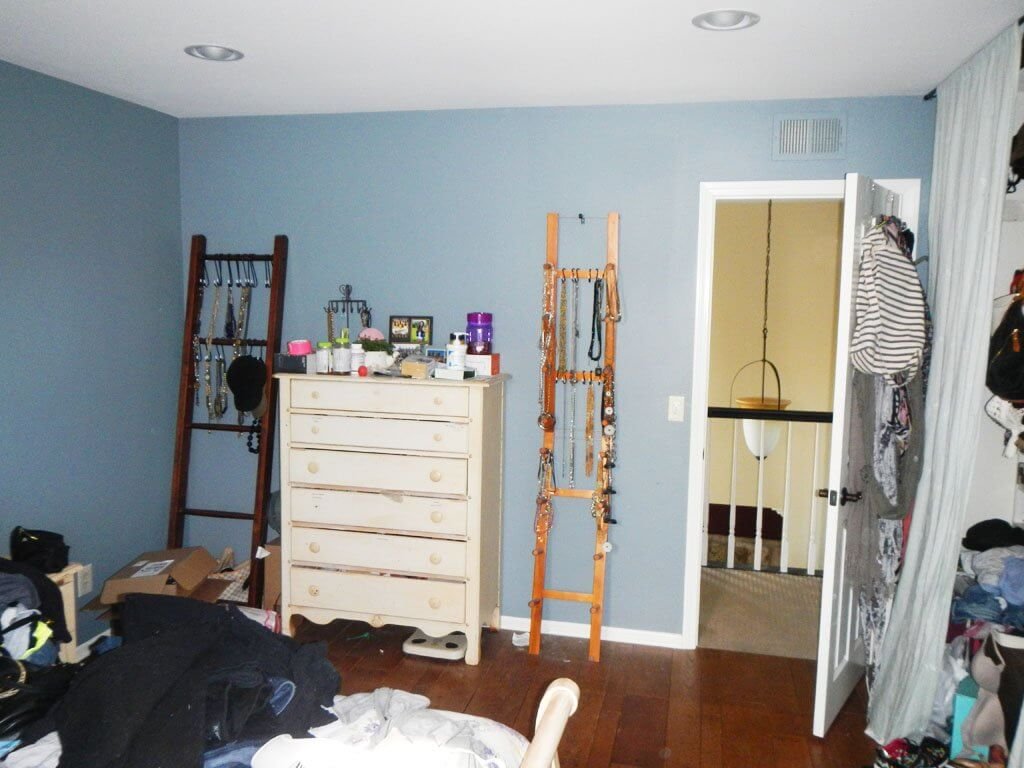 Yes, that's the entryway again. Let's move along to our final room.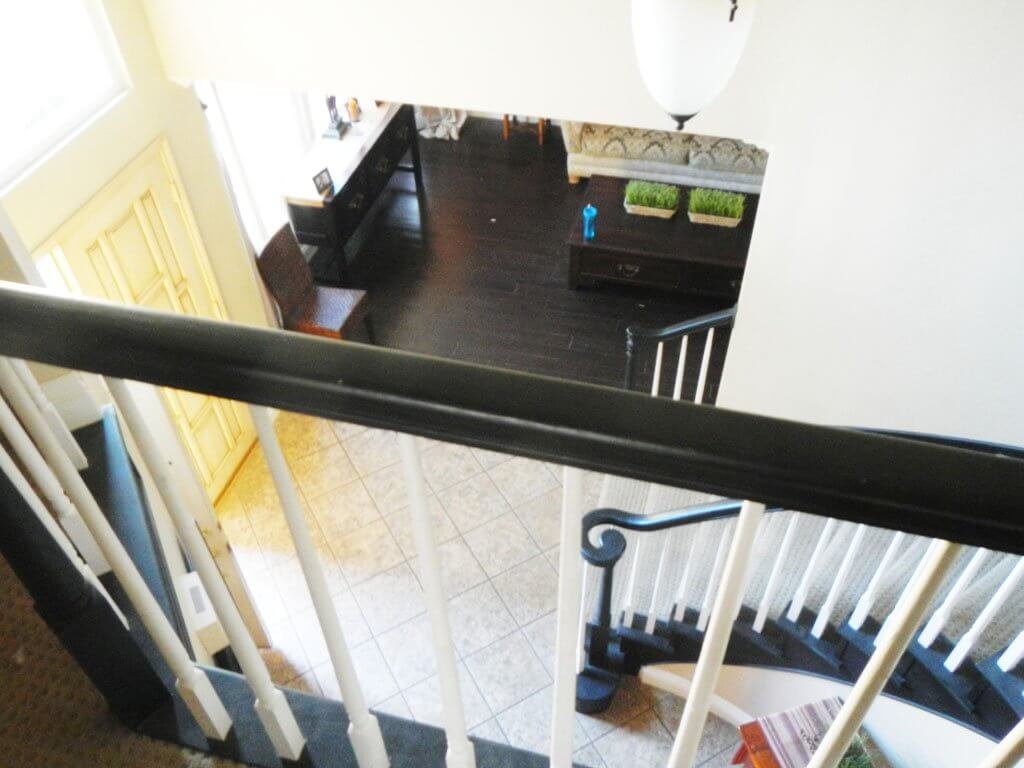 ---
THE BONUS ROOM
Turning left, at the end of the hallway is the bonus room, which here looks quite sunny and bright: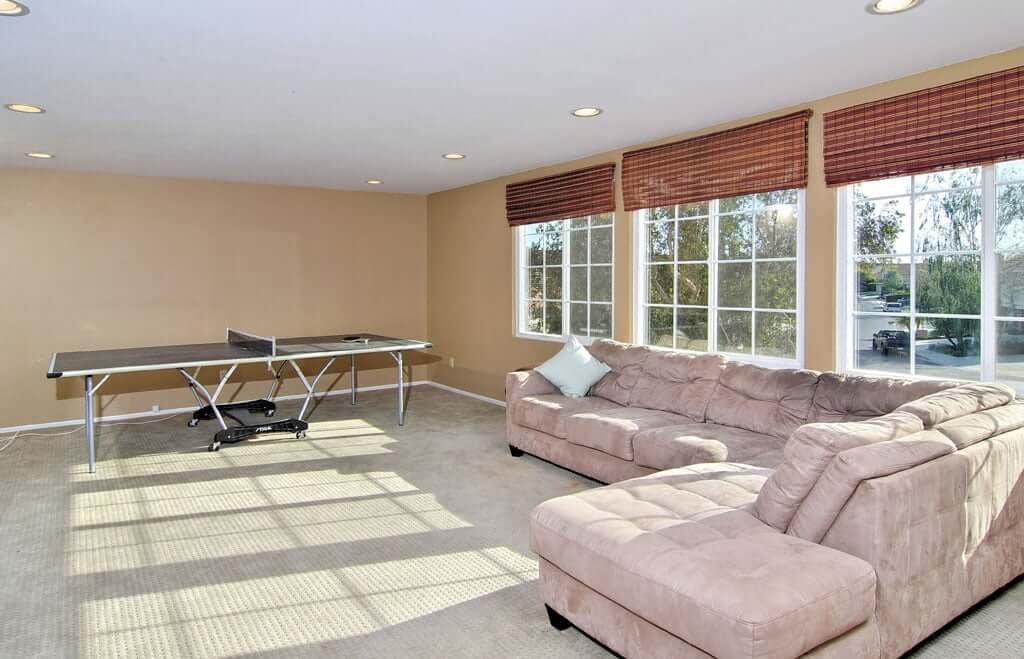 However, on Inspection Day we can see that the prior owners kept the blinds closed and it really makes it more like a cave. You can decide whether you like caves or not.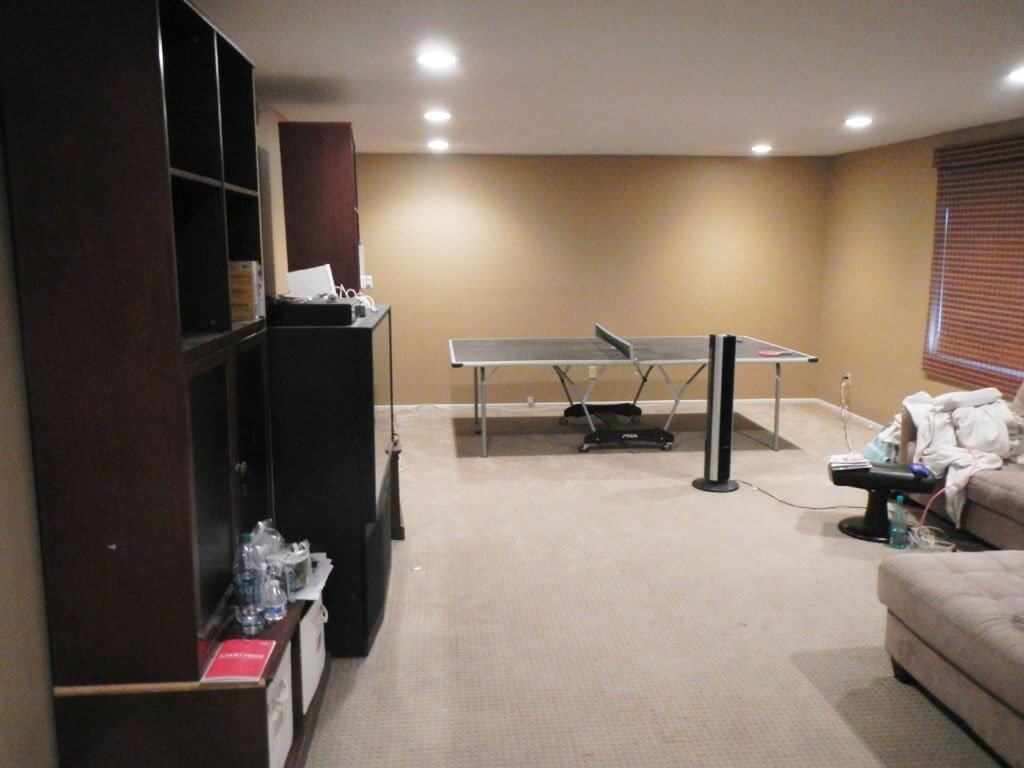 At this time, I had no idea what to do with this huge room. We were just two people who had just had a baby, and it seemed like so much space.
I did, however, start to envision it as a dropping ground on moving day. You know, the room you tell everyone to "just drop it in there" when you don't know where to put something?
And we had a LOT of furniture and boxes in storage from our first house, so I knew this room had the potential to fill quickly.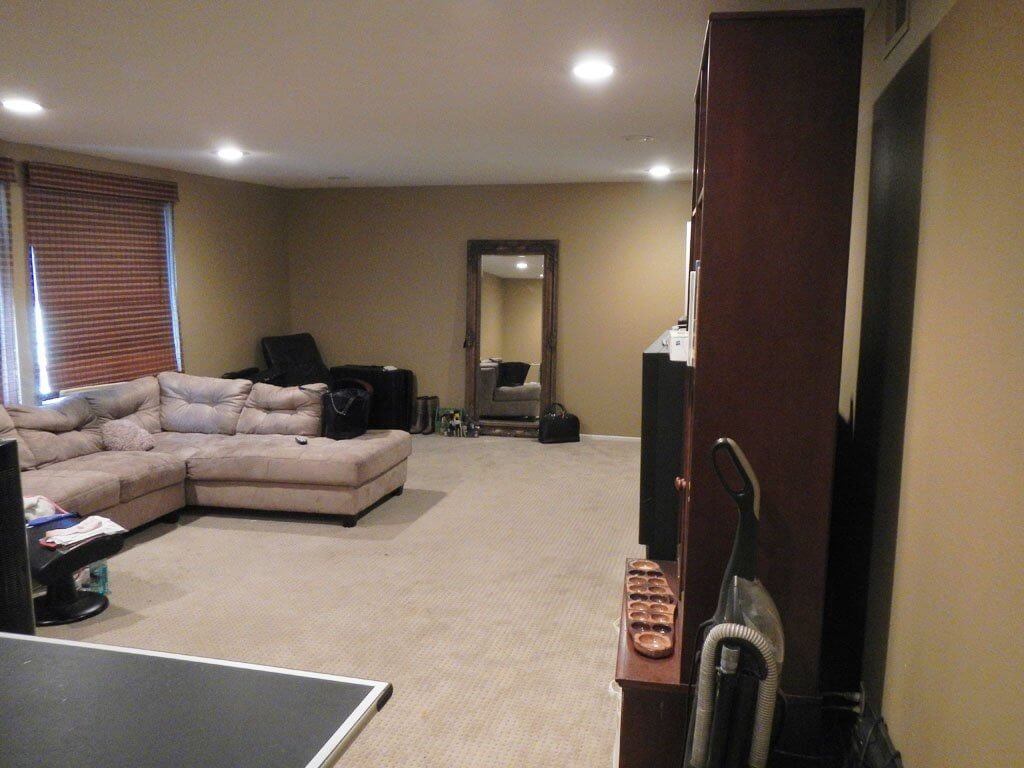 ➜ Want to tour the backyard? (That's what sold us on this house!)
➜ Tour the downstairs.
➜ All house updates we've made are on our current house page!