When it was time to choose outdoor countertops for our outdoor kitchen countertops as well as our outdoor bar countertops, we soon realized concrete was by far our best bet–and it probably will be yours too!
Why?
For the 7 reasons let's discuss below!
We'll also answer questions like:
What's the best material for outdoor countertops?
What countertop can be used outside?
What's a cheap outdoor countertop option?
Can I use butcher block outside?
Can you use laminate countertop outside?
How do I build an outdoor countertop?
What can I use for outdoor bar countertop?
Is an outdoor concrete countertops project an easy DIY?
But first, let's get into seven solid reasons that outdoor concrete countertops would be your best choice!
OUTDOOR COUNTERTOPS
Reason #1: Shape!
Since we've done outdoor countertops in both our outdoor kitchen as well as our poolside bar countertop, we know what it's like to need a variety of sizes and shapes for outdoor countertops.
One of the most awesome things about concrete is that you can not only form it into any shape you want, but also any custom thickness, depth, everything! If you wanted to, you could do a shorter depth on one side and a deeper depth on the other side. (Such as in our L-shaped bar.) You're not limited!
how to save serious money on your backyard
OUTDOOR COUNTERTOPS
Reason #2: No seams!
We've learned this the hard way with other materials. 😆 If you wanted to do, say, a quartz countertop, you can only have a seamless countertop as long as your depth never exceeds the size of the quartz slab!
And if you need an extra-long or unique shaped outdoor countertop (like our bar), any other material would have to have a seam. (Like where our L-shape connects.)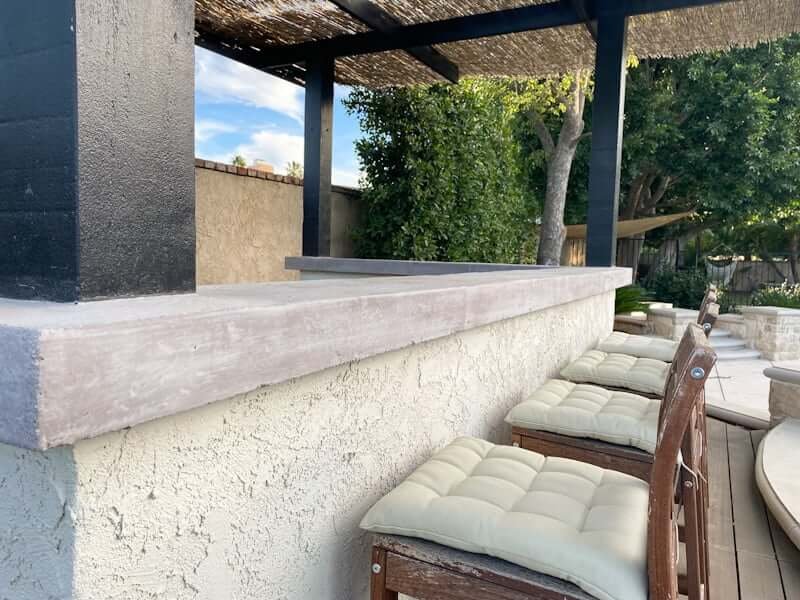 This is not a problem with concrete. Your outdoor countertop can be smooth and seamless as buttah!
What's not to love about that?
OUTDOOR COUNTERTOPS
Reason #3: Color choices!
It's still incredible to me the amount of color choices you can get with concrete. You can either pre-mix your color in, or paint/stain it later! (We've done both!)
On our outdoor bar countertops, Matt actually tried something new! Since concrete can leave some gaps/tiny openings, he waited until our new concrete countertops were dry and then he put a grout over them to fill everything. So if you look closely you can see the depth of color/texture as well, which I like! And I didn't plan it that way. Just one of those things in a project that turns out better than you planned. 🙂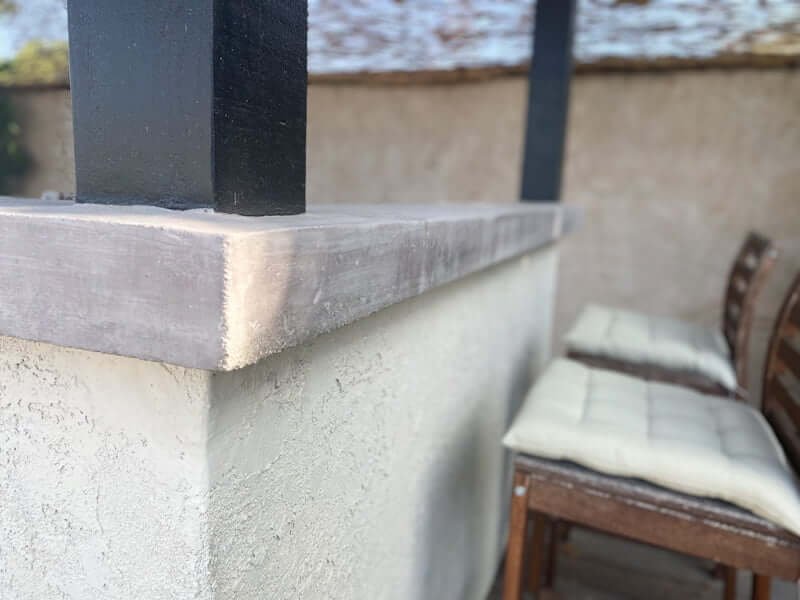 OUTDOOR COUNTERTOPS
Reason #4: Cost effective.
Our outdoor bar countertops cost $75. And that's if we're being generous! 😄 (Concrete, grout, + wood for the forms.)
(We also did concrete countertops in our outdoor kitchen if you want to check those out.)
I don't even think you can get thick wood or butcher block countertops that inexpensively anymore!
But if you're SERIOUS about saving money on your outdoor project, you need THIS!
Here are a couple posts with more good information if you're curious:
OUTDOOR COUNTERTOPS
Reason #5: Doesn't stain easily!
I'll leave it to your imagination to envision how red wine could have gotten splashed on our outdoor countertops (not to mention deep-staining blueberry and other berry smoothies the kids brought out here!), but there have been no stains left.
Honestly, I've never loved concrete in my life as much as I do today! (There's a sentence I never imagined myself writing.)
OUTDOOR COUNTERTOPS
Reason #6: Durable.
Concrete is weather-resistant. Heat-resistant. Termite-resistant. You name it.
It doesn't chip easily.
The durability is just another reason to love it.
OUTDOOR COUNTERTOPS
Reason #7: Easy to maintain.
Maybe someone somewhere does something to officially "maintain" their concrete countertops…
…but call us "unofficial." We have done NOTHING to them, and they've been great for years! Now we have our "Sunset Bar" to enjoy at night with the sun setting over the mountains in the distance!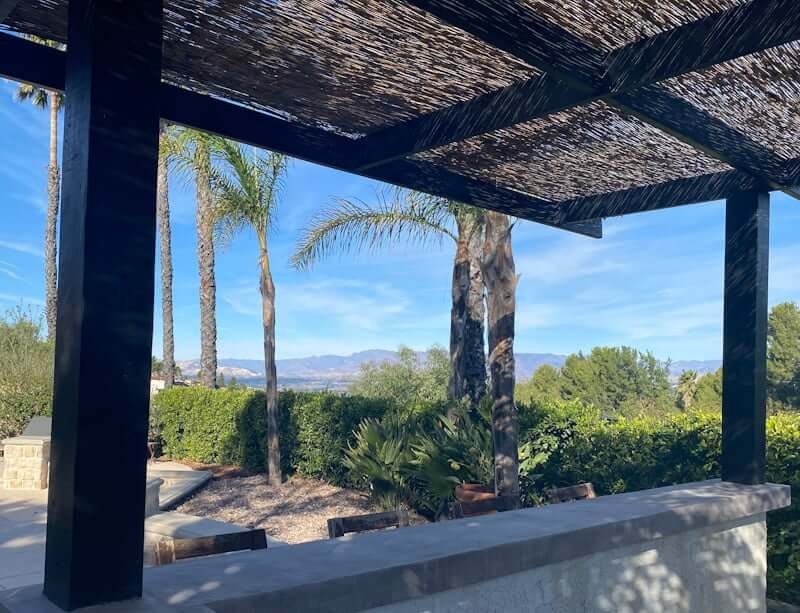 Next, if you're doing ANY kind of outdoor project, you'll want to see How to Save Serious Money On Your Backyard!👈
Check out the concrete countertops on our outdoor kitchen!
If you missed seeing why our backyard looked like Armageddon before we finished remodeling it, you'll enjoy seeing that! 🙂
See The Complete List of all our backyard remodel posts with money-saving tips & ideas.
PS: Our complete list of every single home project is viewable HERE!