The backyard space of this property—while poorly maintained—was one of the top reasons we put in an offer!
Want to see what we liked so much? Let's go!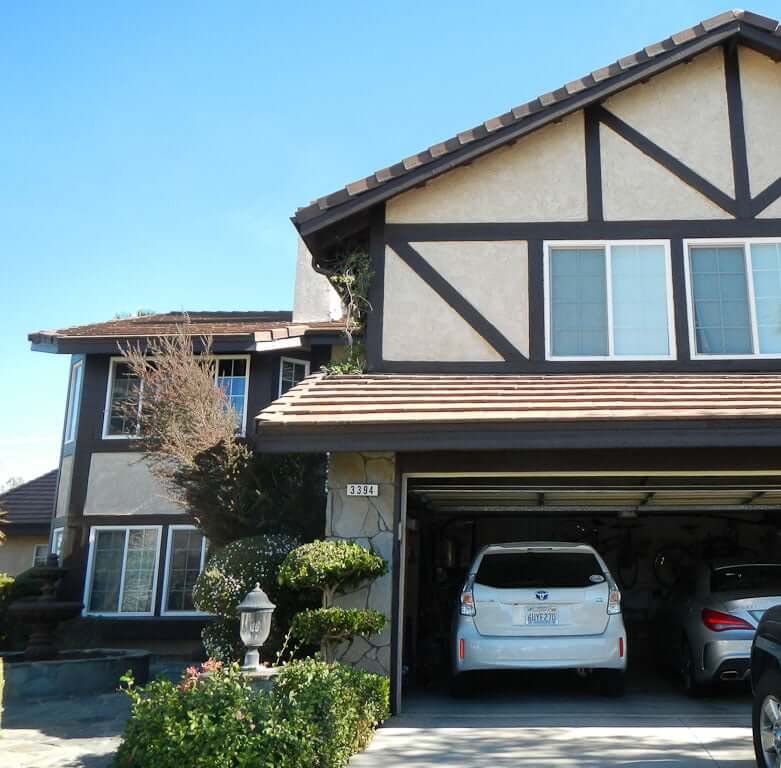 We'll start in the front yard before heading to the backyard…
…because the front is quick!
---
THE FRONT YARD
To the right of the yellow front door (which you'll have seen if you took our downstairs tour), are some interesting-looking bushes that have been shaped into swirls. Kinda reminds me of Disneyland.
But you'll soon see, Disneyland this house is not.
(For starters, I don't think Disneyland allows many dry-rotted wood shelves below their windows, which is what we're looking at here.)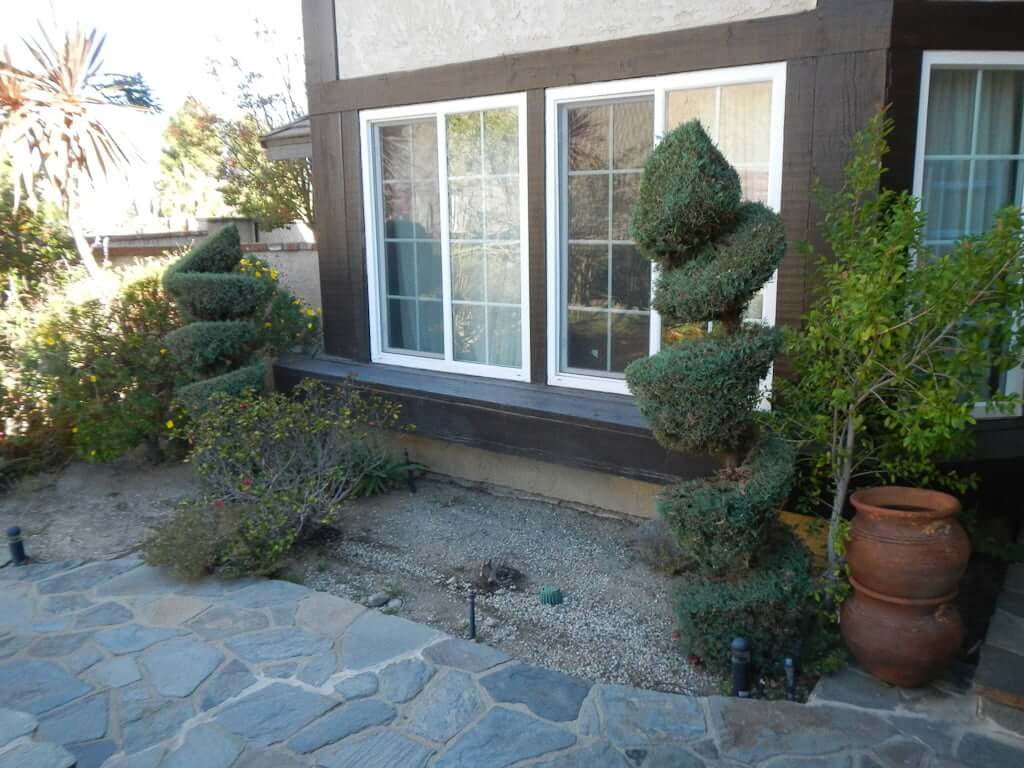 Keep rotating to your left, and you'll get this view: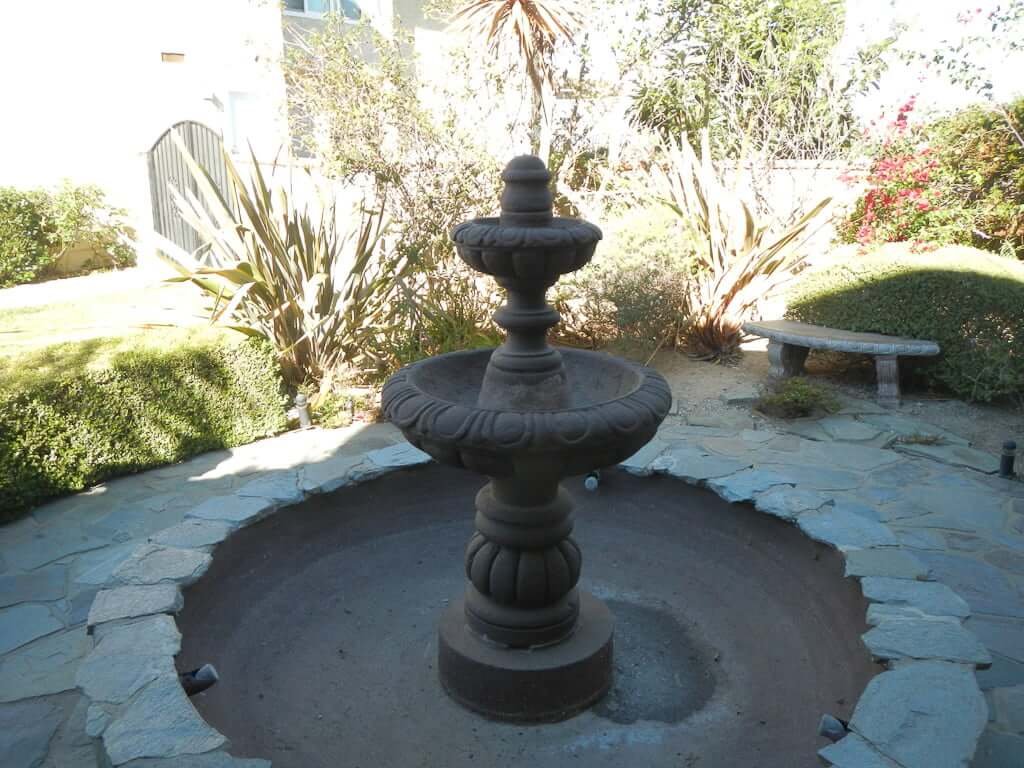 It looks promising, doesn't it? A nice fountain with some spotlights.
None of which work. Including the fountain.
That was the least of our worries.
It's okay. This was a short sale house. We knew we might be in for some surprises!
Turning back to the right, you'll see our house exterior with the yellow front door (and a glimpse up to our second floor:
Keep rotating right and you'll start to see this huge wall, which requires that you back up to fully take it in:
The overgrown-ness of the plants is hard for me to convey to you here in pictures.
We were told the owners had a gardener coming every week, but clearly no one was really taking care of this situation. No one was loving on these plants, or this house.
Have no fear, plants. Jess is here to help lovingly restore you to former glory.
Look at the desperation of this jasmine (the trunk of which is far down to the left, but over the years it's climbed ALL THE WAY UP THE GUTTER to try to get some sunlight and space!).
This entryway feels SO DARK.
If you step out and look again at the path to the front door, that huge plant leaning away from the wall doesn't really beckon you in, does it?
Kinda looks like a plant that might come alive and eat you as you try to pass by. (I knew I shouldn't have watched that Harry Potter movie.)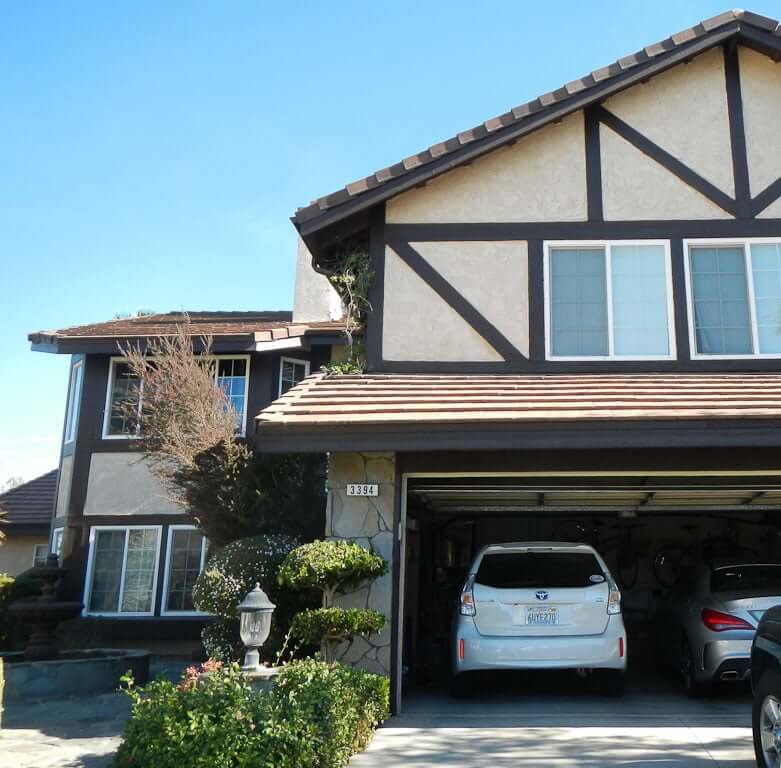 Let's move around to the backyard, shall we?
---
THE SIDE YARD
Mosy around to the right of the garage, and we'll be at the gate to our side yard.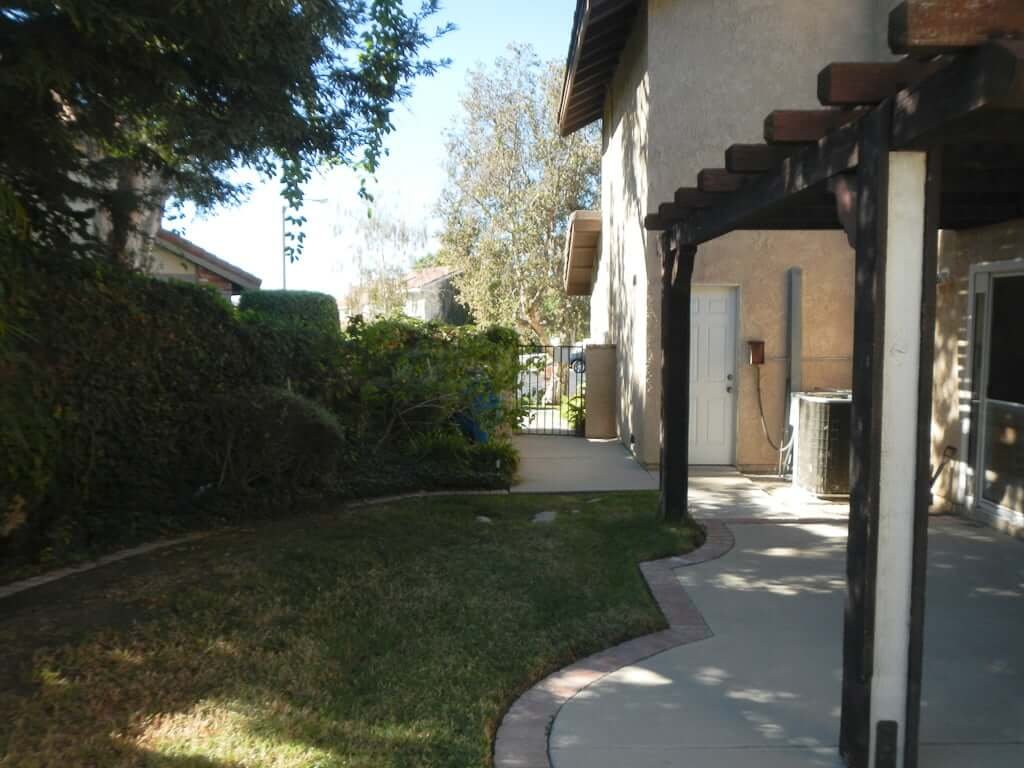 To the right you can see the sliders to the downstairs bedroom/guest room, with that first pergola mentioned on the downstairs tour.
Keep backing up and you'll be underneath one of the two MASSIVE ficus trees (related to the fig tree! same family! I think that's a fun fact, but we all know I AM A PLANT NERD) that we fell in love with in this backyard.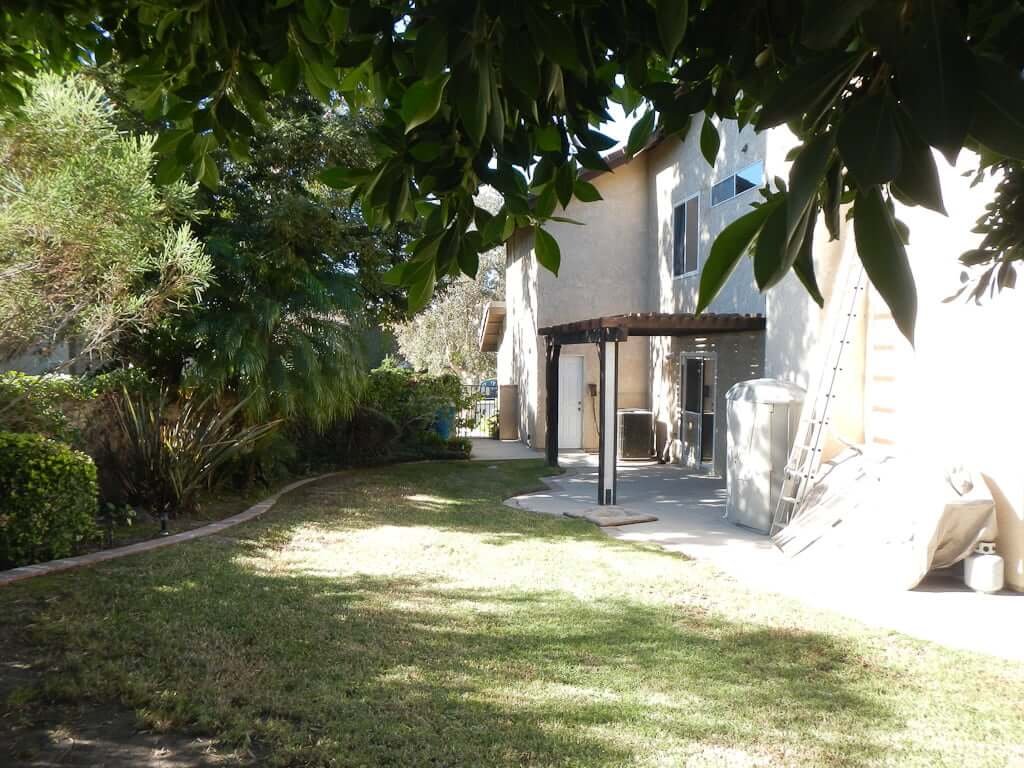 Turn slightly right and you'll see the sliders to "The Fireplace Room." (Named so because at this point we hadn't decided what room it would be—family room? dining room?—as mentioned during our downstairs tour.)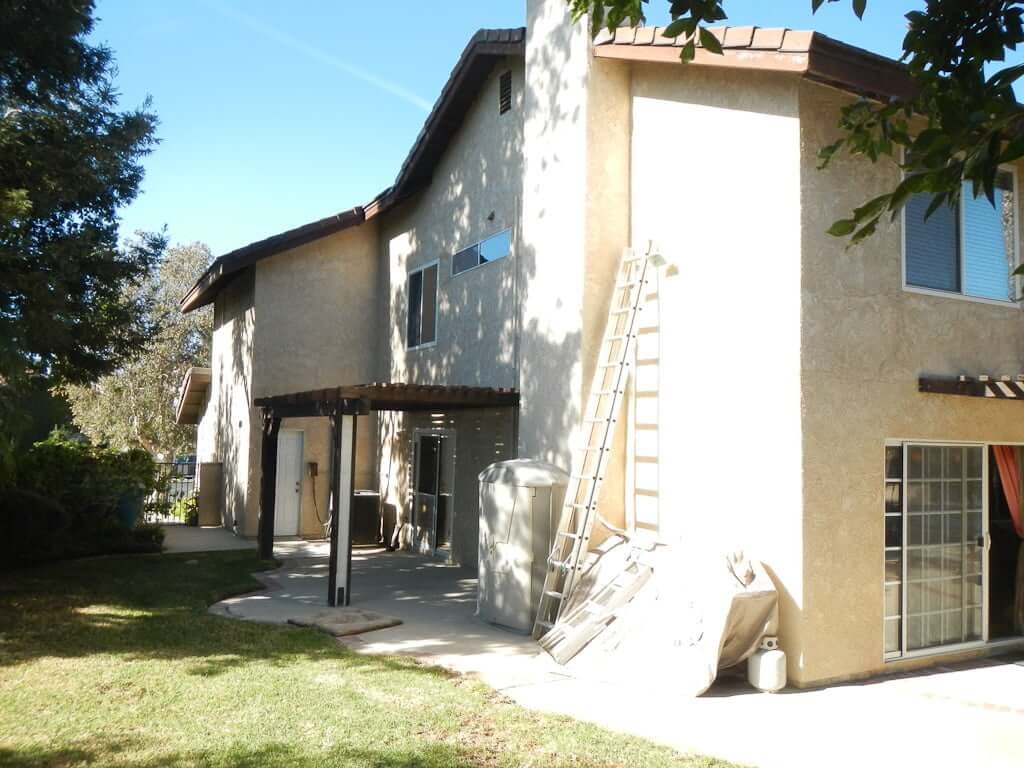 THE LAWN TO THE BACK PATIO
You are now standing on our lawn with the ficus trees on your right.
They provide so much shade here in California.
You can't BUY trees that mature in a new house! Those babies started really selling us on this place. (Or maybe I should say "those oldies." They're incredible.)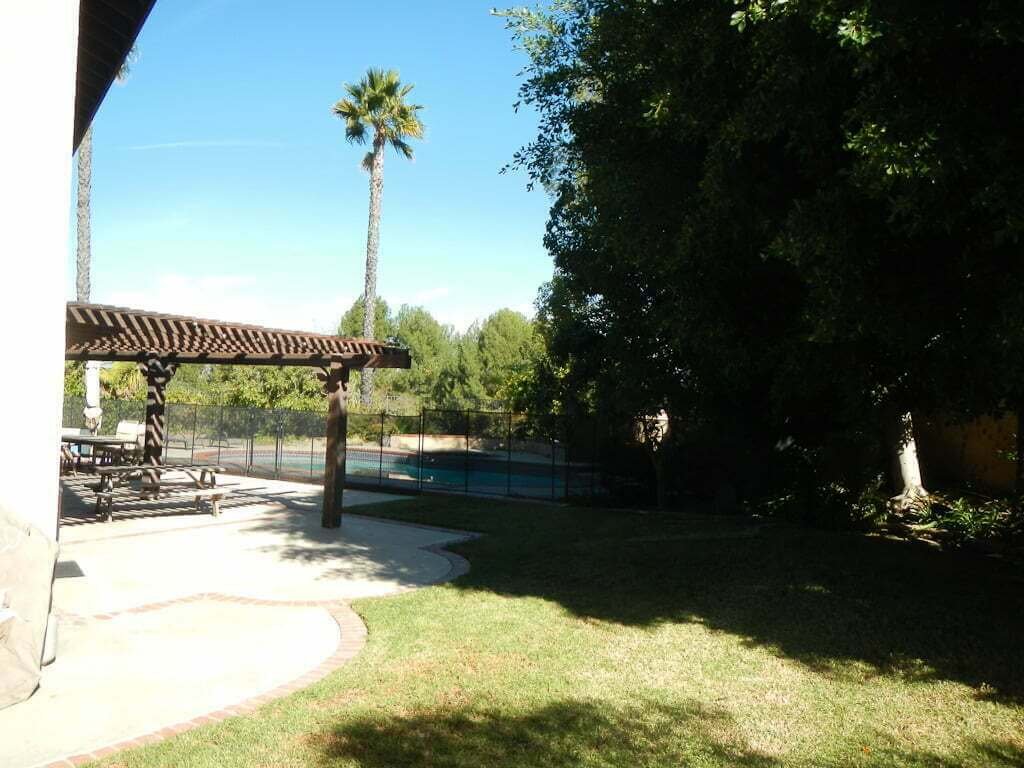 Walking closer, you can see there's a removable pool fence in place, and ginormous fan palms.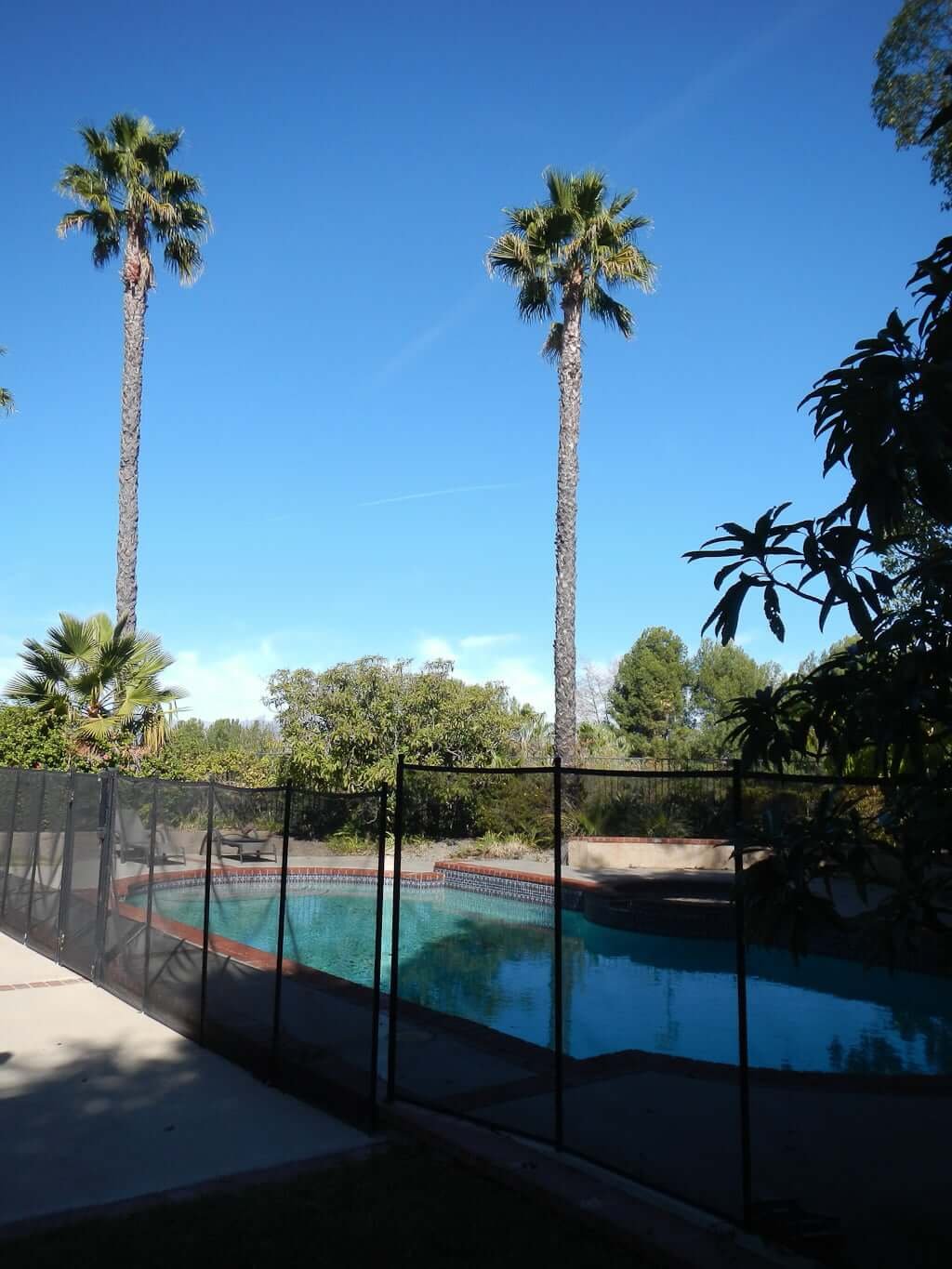 Now we'll step under the main backyard patio pergola for a bit of shade and to check out the view.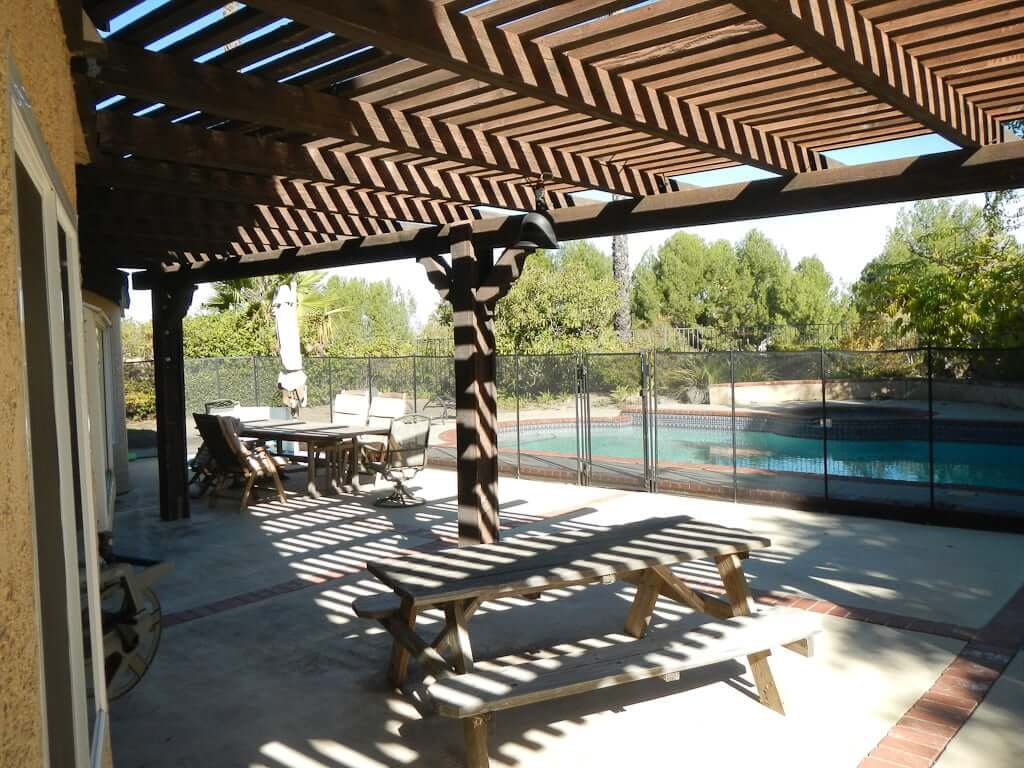 ---
THE BACKYARD POOL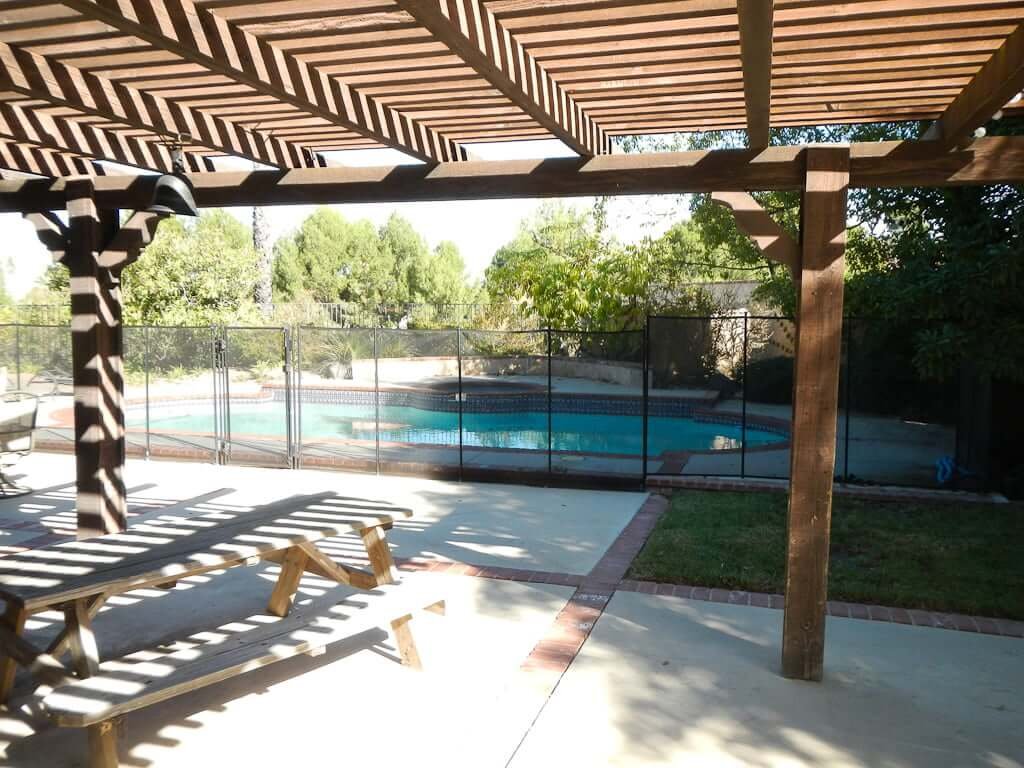 It's all still the original tile and brick from the 80s.
Our agent kept talking about how we could refinish the pool, but at this point it was just bringing back childhood memories of swimming in pools just like this in 1980s California, so I didn't dislike it.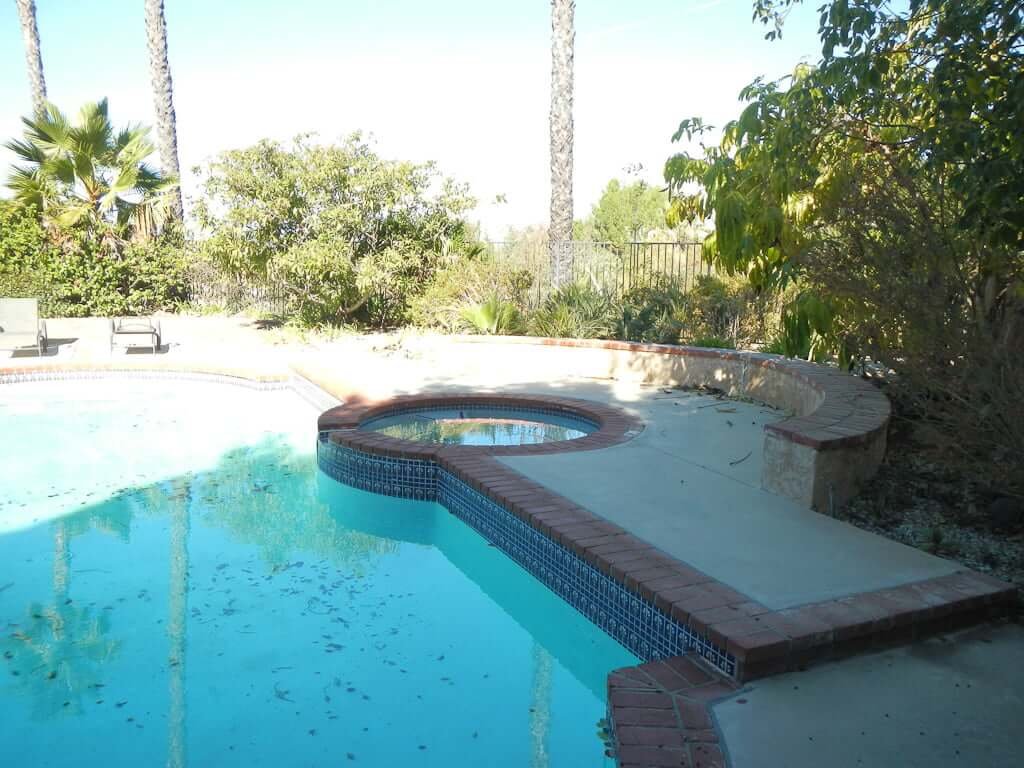 Even when he pointed out the completely missing tiles on the jacuzzi spillway, we waved it away as an easy fix later.
You can still get matching pool tile 30 years later, right?
Looking back towards the house from the southern end of the pool: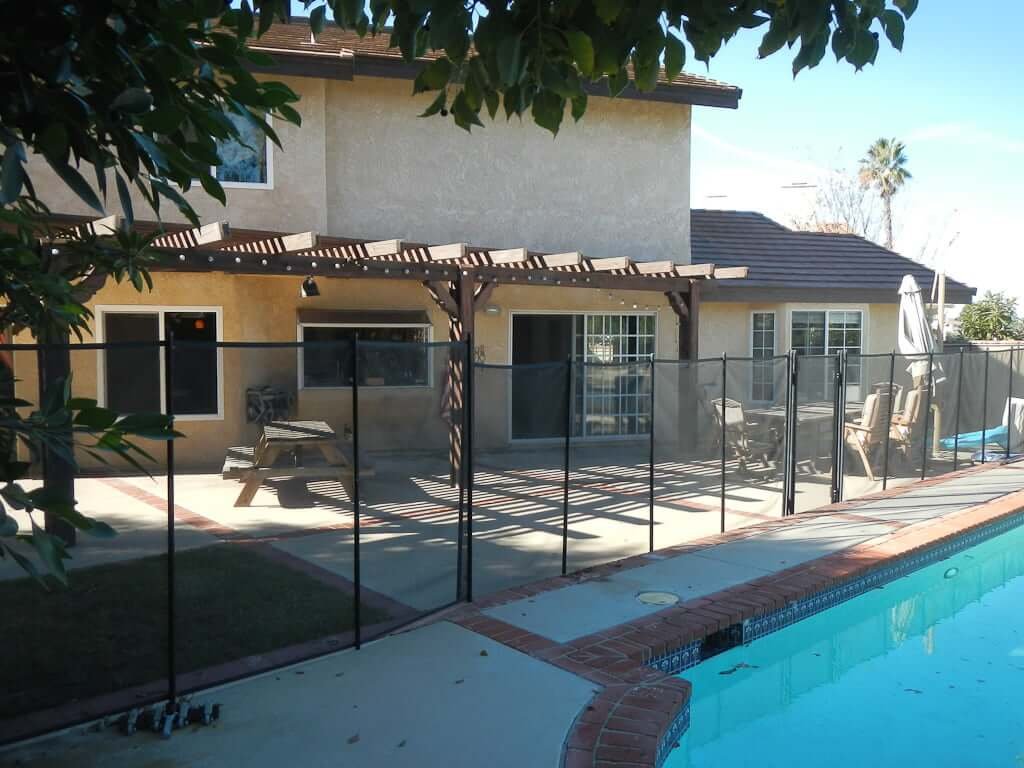 From that same spot, looking to the right behind the jacuzzi, you can see a stucco wall that hides the pool equipment.
Now, the view from the opposite end of the pool: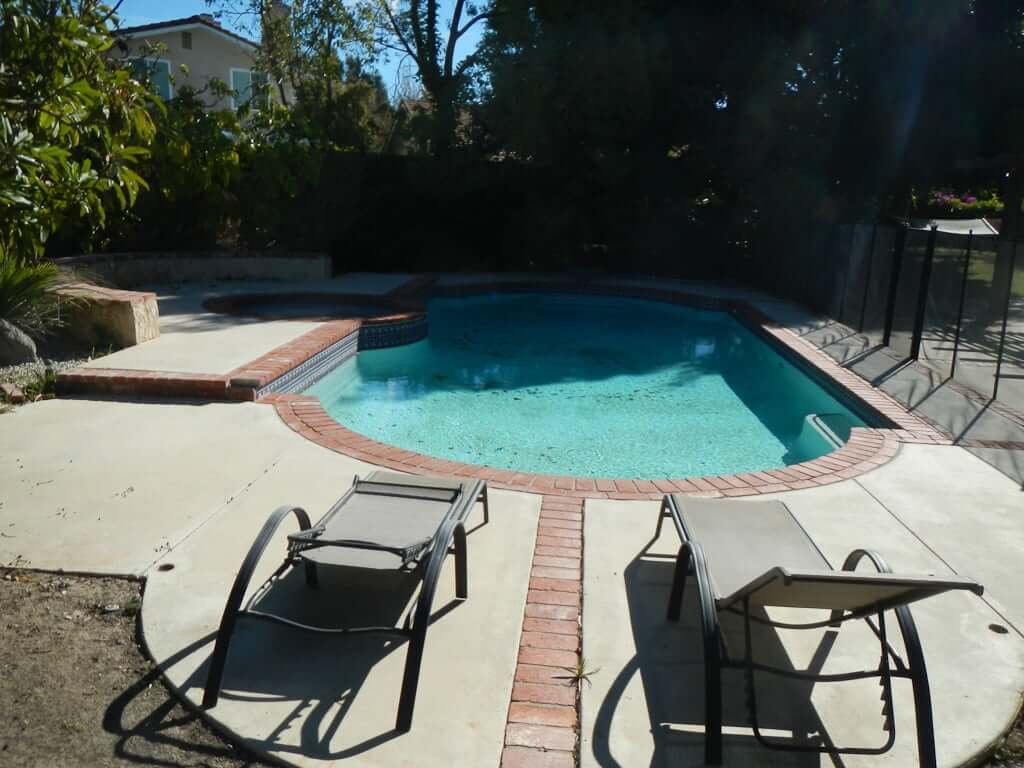 And looking back to the house from this same spot: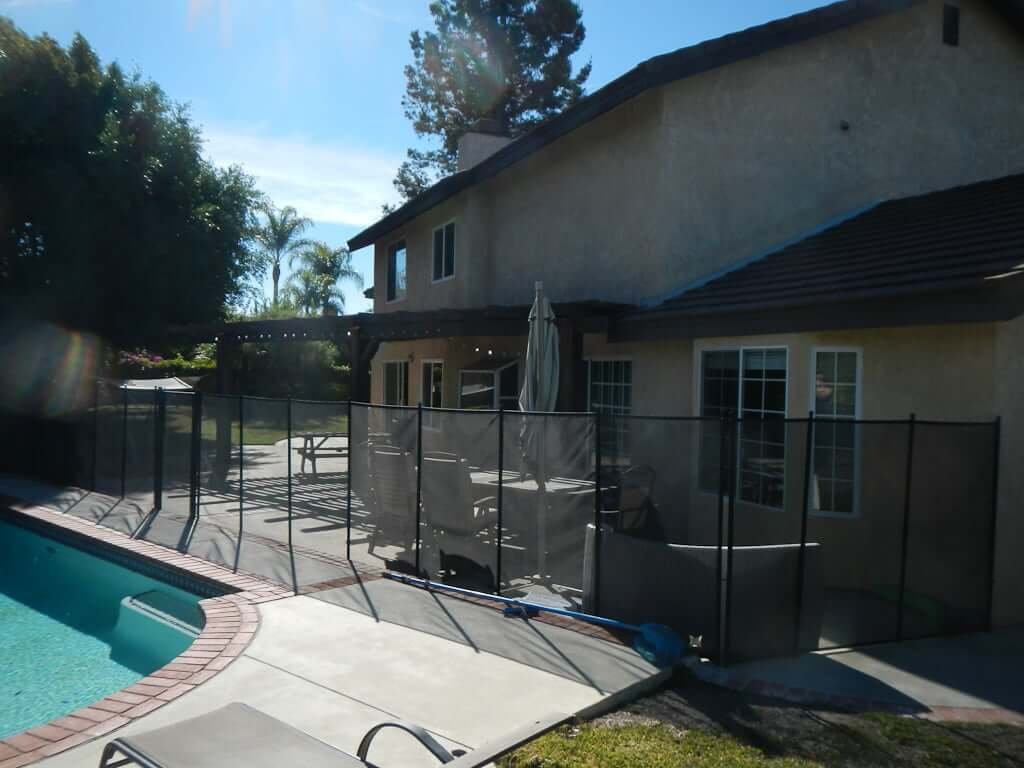 There's a pillar falling over in the back corner, but who's looking?
Us. We're looking.
I'm looking at all the cracks we see around the pool and wondering, "Was this from an earthquake? Is this going to continue? Will the earth suddenly open up and swallow our pool? What's going on?"
Settling, the agent told us. Just normal settling.
---
We noticed that this property had views of the mountain ranges in the distance, but they were partially hidden behind overgrown landscaping.
Since I am a sucker for mountains (see possible reason for moving to New Zealand), this great view was of note.
Hidden views in a fixer upper = jackpot!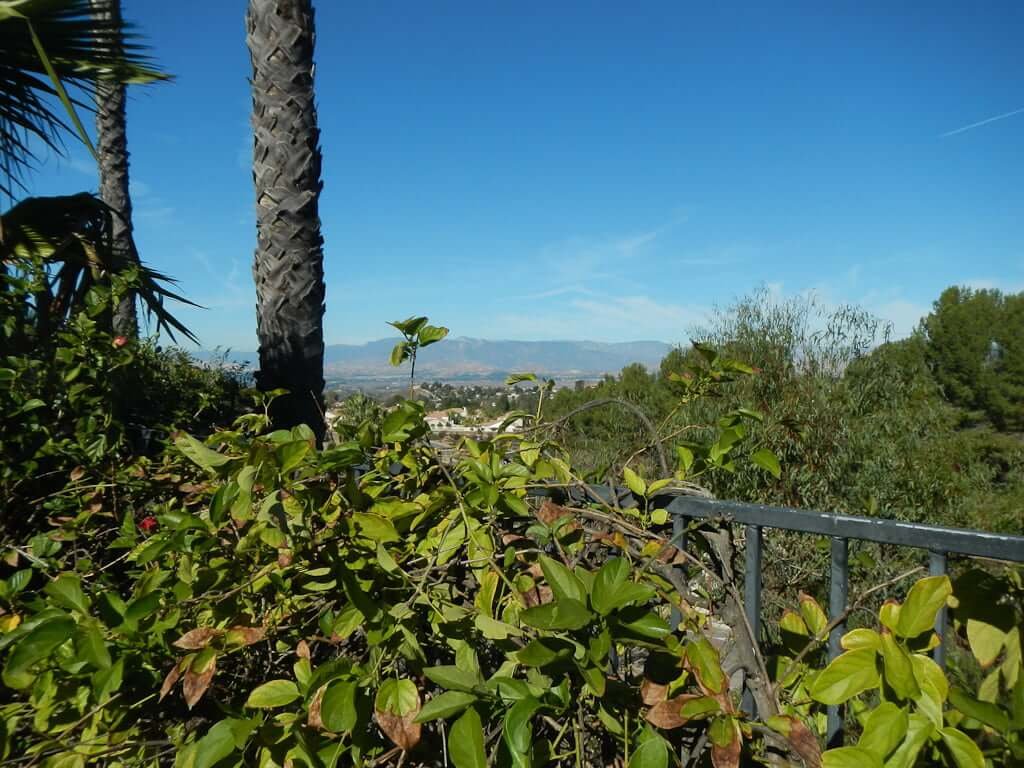 ---
SECOND SIDE YARD/DOG RUN
Pass the window into the living room addition (a.k.a. The Ballroom for those of you who danced with us on the downstairs tour)…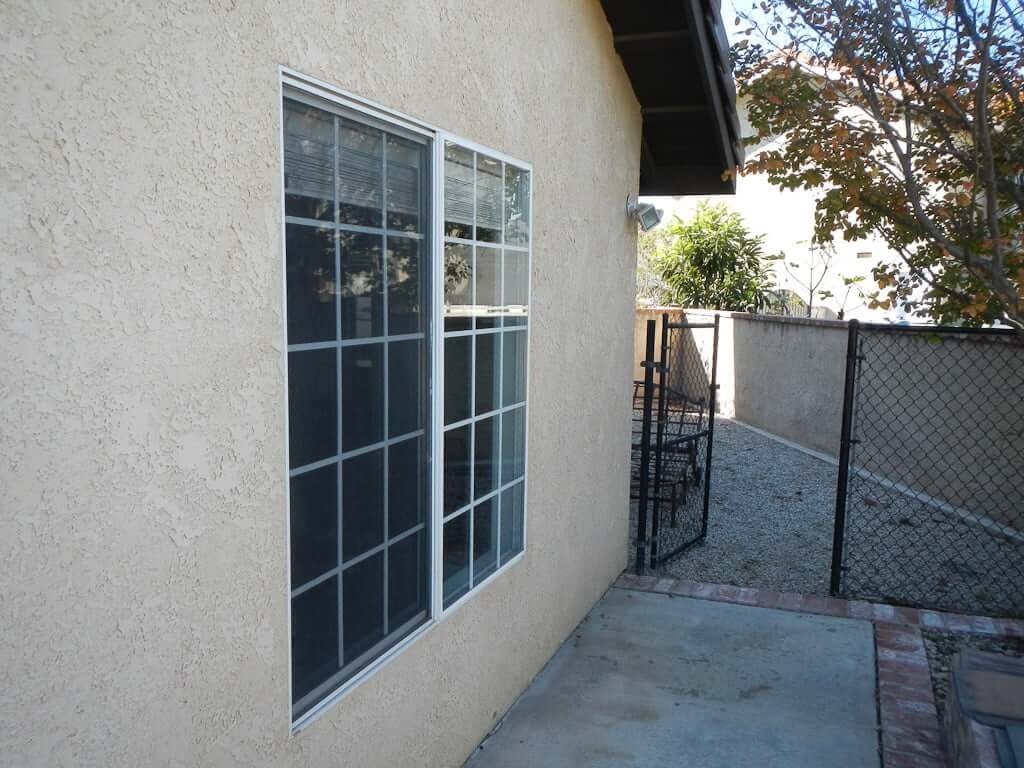 …and you'll find yourself at the gate to a graveled dog run.
Turn around and you'll see more plants begging us to help them…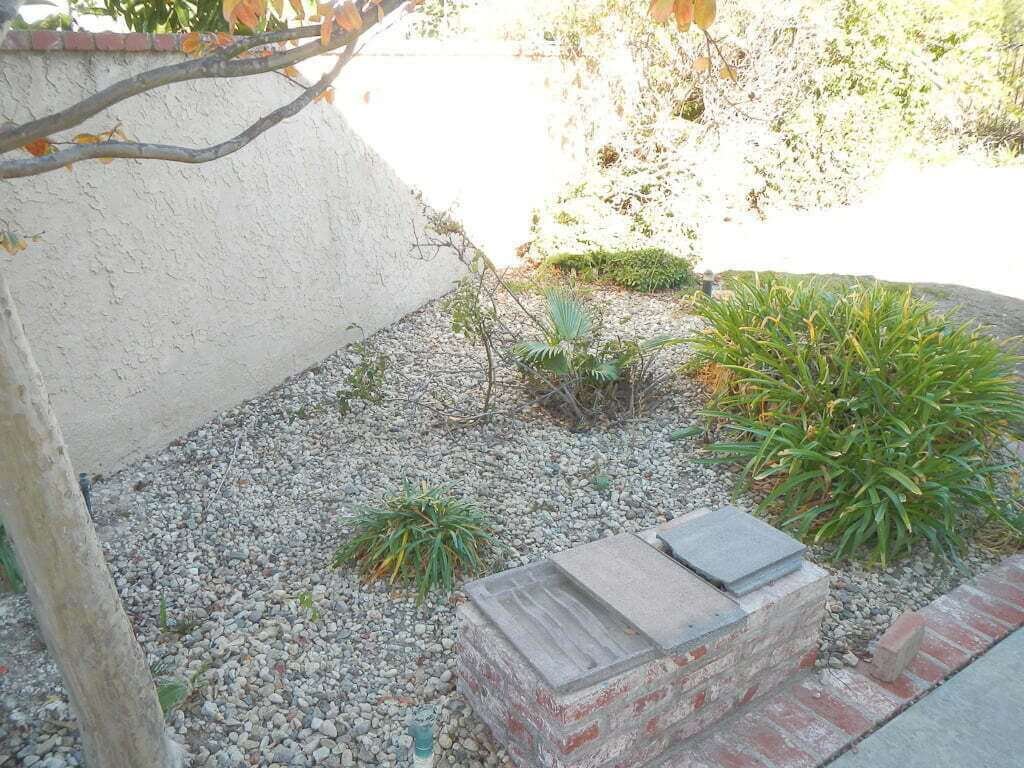 …plus a view of another "lawn" area.
Although the prior owners had stopped watering it long ago, so it was basically just dirt. Dirt by the pool.
Do you see as much potential as we do?!? First, Jess can't wait to get a pair of clippers and start taking down those overgrown bushes with the view of the mountains! (You know she's doing that Day 1…)
➜ If you missed our other tours, the downstairs tour + the upstairs tour are still available.
---
OUTDOOR UPDATES:
See how we've landscaped our no-grass front yard.
See what we did to the backyard soon after moving in.
See our completed renovation of this entire backyard and pool area here.
Find what you need in The Complete List of our backyard remodel!
Find our guide on How to Save Serious Money On Your Backyard Reno!
➜ Our complete list of every single home project is viewable HERE.