Today we're sharing our custom pull out spice rack design! Whether you're looking for a vertical pull out spice rack or pull out spice rack DIY, we've got expert tips to share on what to do—(and what to avoid!)—with the style of under cabinet pull out spice rack you're thinking about.
We'll also answer popular questions like,
"Are pull out spice racks worth it?"
"What kind of spice drawers should I avoid?"
"How do you organize a lot of spices?"
"Do you have a pull out spice rack DIY I can use?"
"How tall should a spice rack be?"
"Can you guide me in how to build a pull out spice rack?"
PULL OUT SPICE RACK
Why We DIYed Our Own Pull Out Spice Rack Design!
To be 100% honest, we'd never seen anyone else do this kind of spice drawer organization or design! We came up with it almost a decade ago when we had to suddenly rip out our new kitchen after moving into our current house.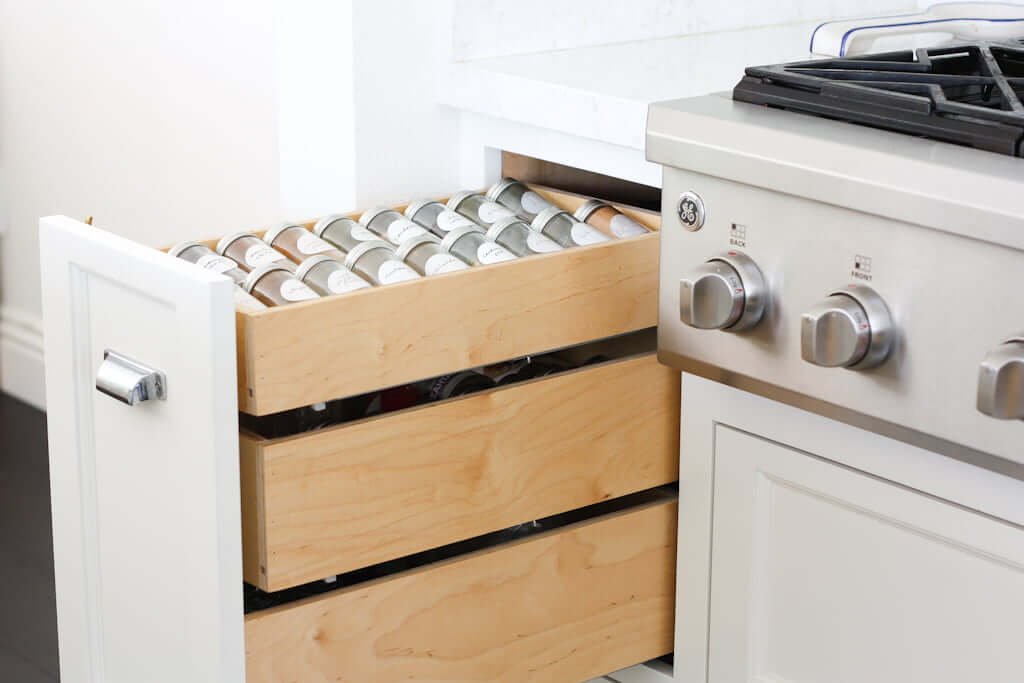 spice drawer | drawer slides | drawer clips | spice jars
Like you, I've seen many different ways people choose to approach their spice drawer organization. I've seen people do a spice drawer cabinet, vertical spice rack drawers, pull out spice racks on wheels…
…but everything else just still doesn't cut it, in my opinion. (Especially in the case of kitchens like ours.)
Why? I'll tell ya!
SPICE DRAWER CABINET
What's The Problem With an Under Cabinet Pull Out Spice Rack?
Here's the problem with pre-made vertical pull out spice racks, like those where each level of spices is stacked on top of each other:
How on earth am I supposed to see what's down on shelf #2, #3, and so on without having to crouch down or hunch over? Riddle me that!
(If you've read our blog for awhile, you may already know I avoid inconveniencing my back at all costs, like here and here.)
Do you see what I mean? WHAT A PAIN to try to finagle things out of those shelves! If they're small or short items, maybe not such a big deal, but even then you're not even maximizing your space on each shelf! I'm looking at this kitchen and almost crying, "WHY DIDN'T YOU DO DRAWERS HERE?!?"😭
(You can read about my everlasting love and its rationale in this post about how we did all drawers in our kitchen!)
So thanks but no—I will absolutely SKIP those kind of spice drawer organizers. Even just looking at that one above makes me feel like someone's running their fingernails over a chalkboard, so let's move on!
PULL OUT SPICE CABINET
Another Kind of Pull Out Spice Rack To Avoid!
Here's another example of a pull out spice rack I cringe at seeing.🙈 Can you tell why?
Let's look at that beautiful set of five drawers they installed to the right. Why they didn't simply extend those drawers to the left and use them for the spice drawer (or two) they wanted is beyond me!
Now these kitchen owners will have to deal with hunching over and digging out the item they need from this vertical sliding spice rack. In addition, the side runners on those look so short that I'll betcha they have to be very careful each time they open that vertical spice rack drawer because those tall jars are going to tip over if they're in a hurry/pull out that spice drawer cabinet quickly!
You see what I mean, don't you? And for those of us who might occasionally get in a hurry and (Lord forbid!) pull a drawer out quickly while we're cooking, this is a huge potential problem. How many times do you need to access a spice per week? Multiply that per month and per year, and I don't know about you but for us it would be at least
1,040 times per year
this drawer would be utilized. So it's important to get it right!
---
➜ Whether remodeling or working with what you have, we help you get the kitchen you've always wanted! Download our Kitchen Design Bundle here!
---
VERTICAL SPICE RACK
How We Came Up With the Pull Out Spice Rack Design We Did!
I looooooove drawers (as evidenced by the fact we did drawers instead of cabinets in our kitchen, as well as our vanity), so you might be asking, "What about horizontal spice drawer organizers?" And you know, I'm not against those if they're done right. But discussing horizontal spice drawers could easily be another post for me to write—today I'm focusing on vertical. (Many of us don't have the option to do horizontal spice drawers with the layout of our kitchens!)
In this kitchen organization post, I mentioned the reason we needed a vertical spice rack drawer was because
I wanted to keep the spices close to where we use them most (our stove), and
I had a vertical stove utensil drawer I was custom-designing on the right side of the stove, and I needed a vertical drawer on the left side to balance it visually.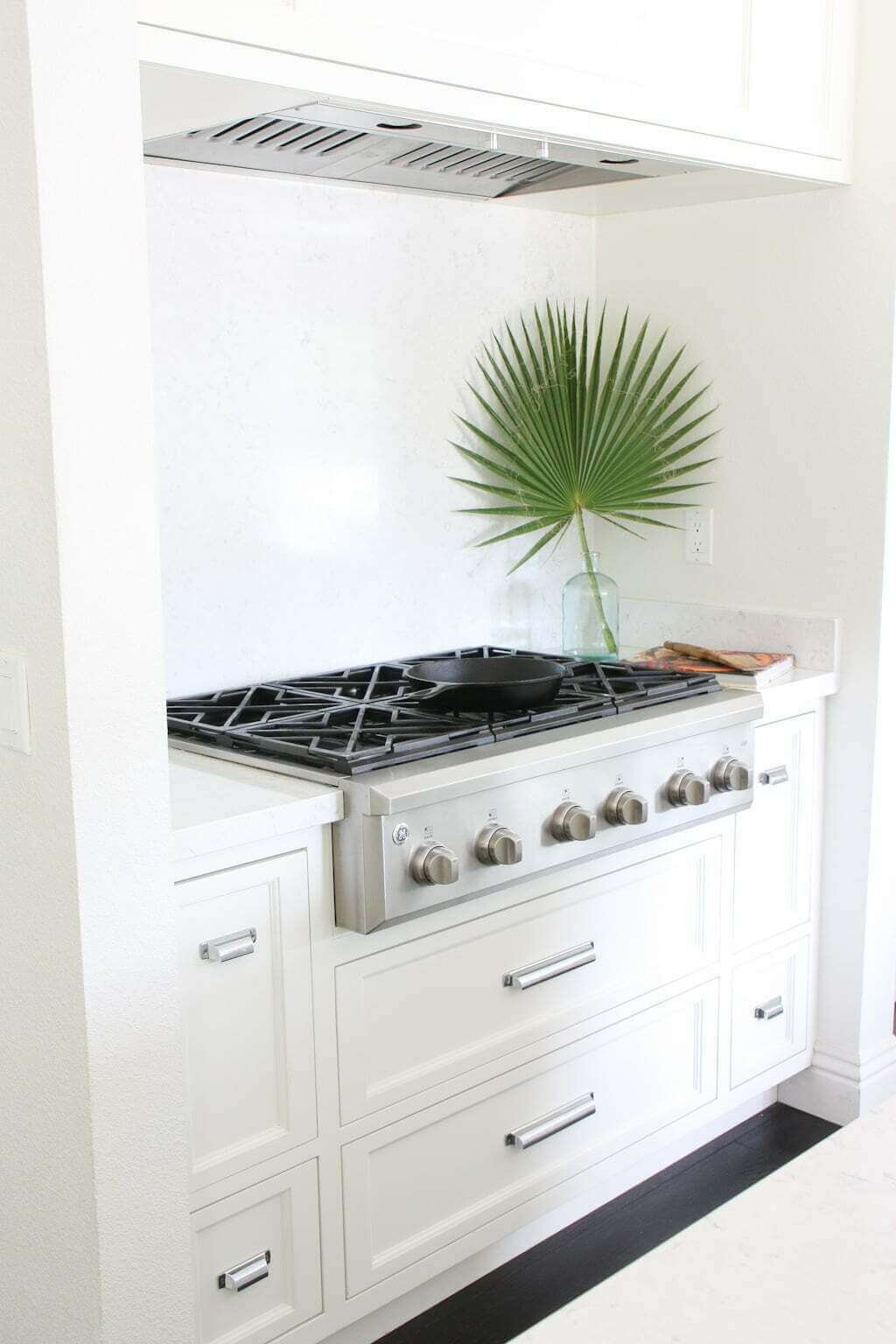 Thus, our vertical spice rack drawer!
PULL OUT SPICE RACK
Our Pull Out Spice Rack Drawer Design!
We actually have three spice drawers within the one drawer. So the symmetry is there with the vertical utensil drawer to the right of the stove—while we're simultaneously maxing out every cubic inch of available space in this other vertical drawer.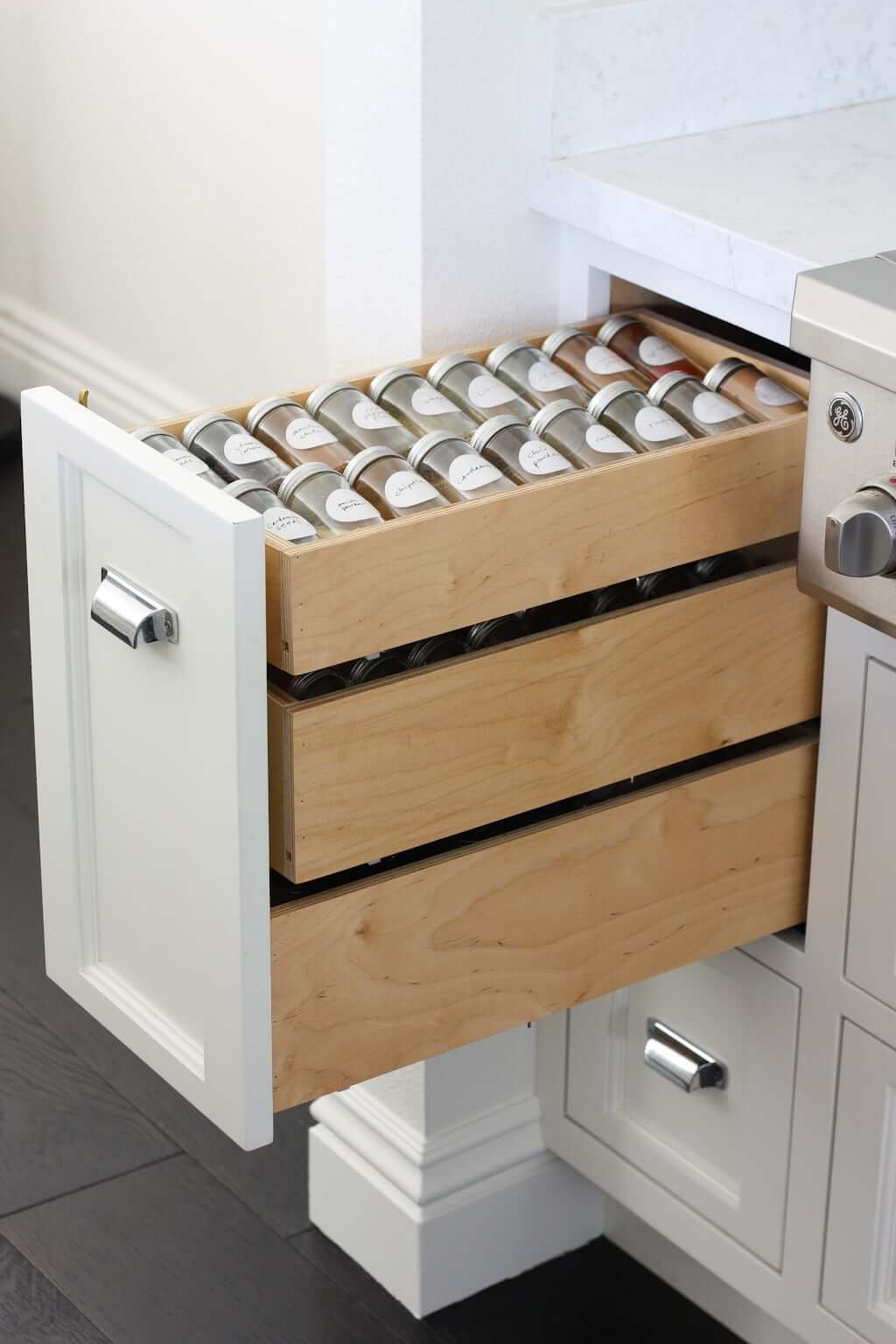 spice drawer plans | drawer slides | drawer clips | spice jars
Clearly, we had to get creative about how we'd be able to have three drawers within a larger one. How would we move one to access the one below it?
Enter drawer slides + these wonderful little brass drawer clips: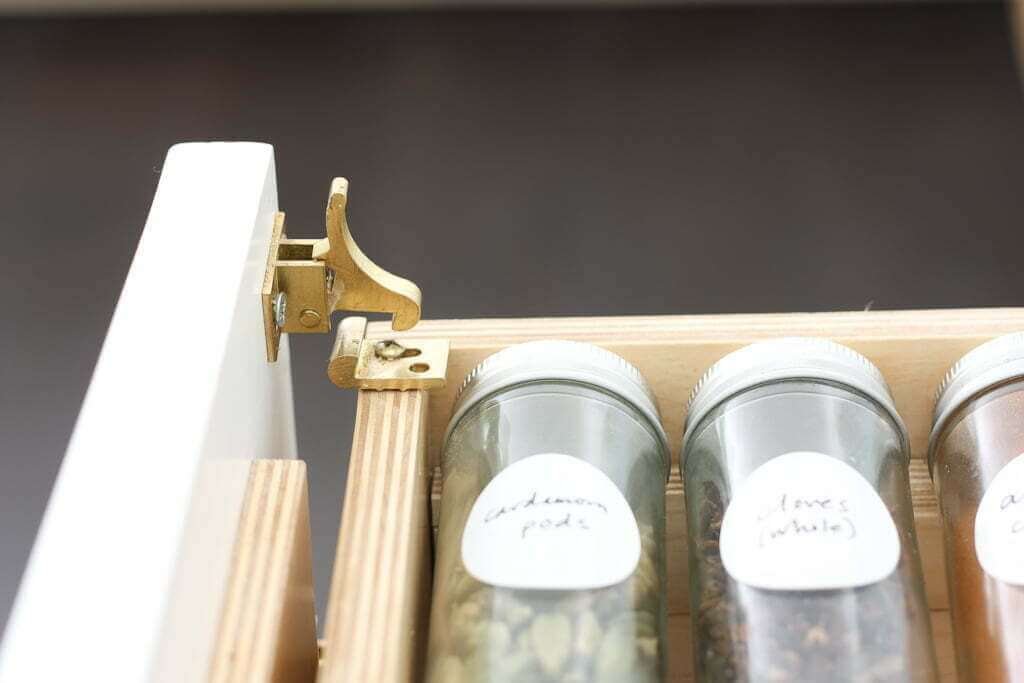 spice drawer | drawer slides | drawer clips | spice jars
PULL OUT SPICE ORGANIZER
How These Organized, Pull Out Spice Drawers Work!
Here's how we made them work for us:
1. Drawer A: When we pull open the main outer vertical drawer, the clip automatically pulls out our topmost spice drawer. This is where we store our most-used spices. (Matt makes several Indian dishes from scratch, hence the cardamom pods and whole cloves being front-and-center. We also keep our salt up here on this top shelf with all the other frequently-used spice jars.)
2. Drawer B: When we need something out of the drawer below, we just lightly pull on the little clip, et voilà! It slides back so we can access the second drawer.
spice drawer | drawer slides | drawer clips | spice jars
3. Drawer C: And then we did the same on Drawer B—the clip releases so it can slide away to access the bottom-most drawer.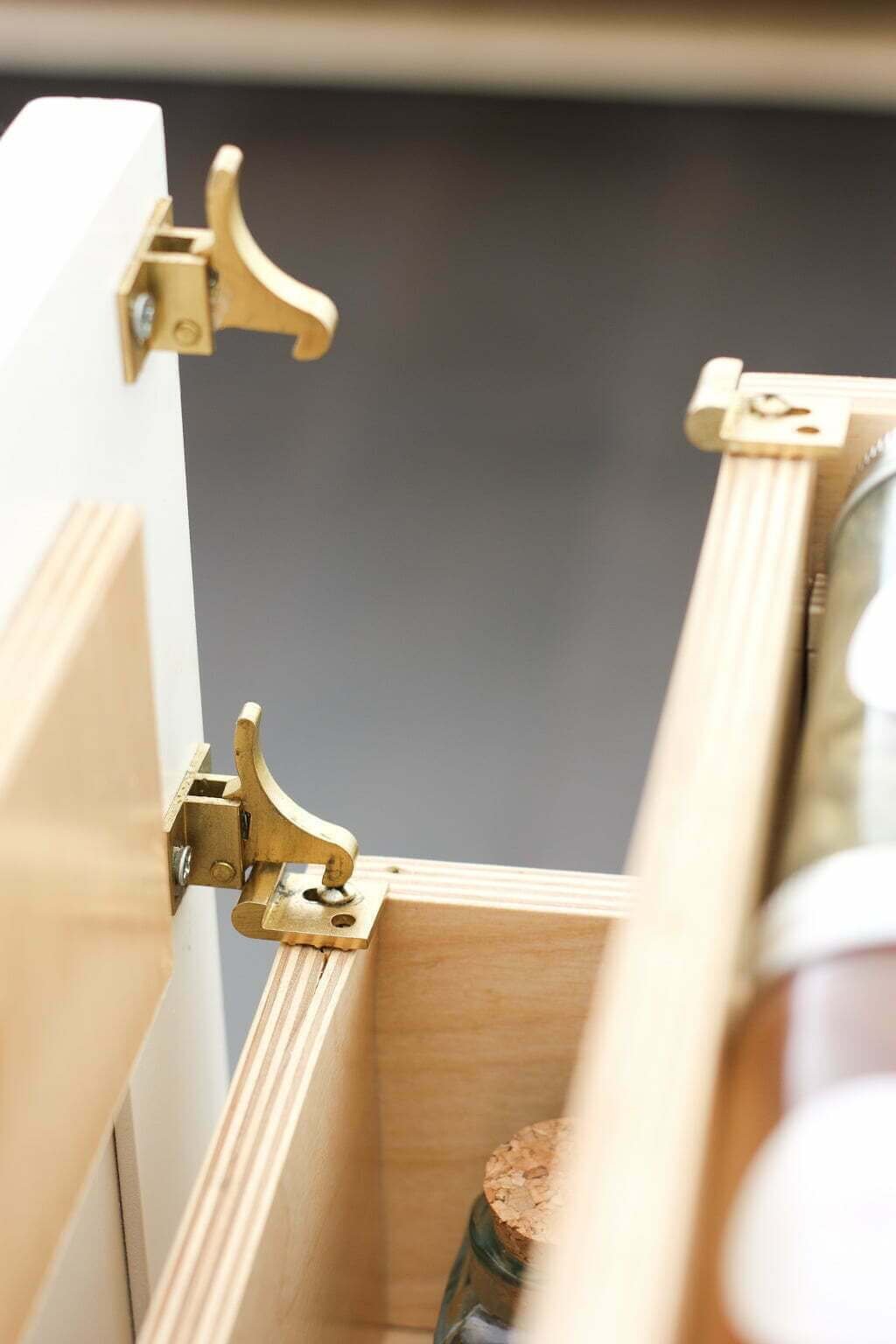 spice drawer DIY | drawer slides | drawer clips | spice jars
So here's what our vertical set of spice drawers looks like when we first pull it out:
Then sliding the top drawer back reveals Drawer B…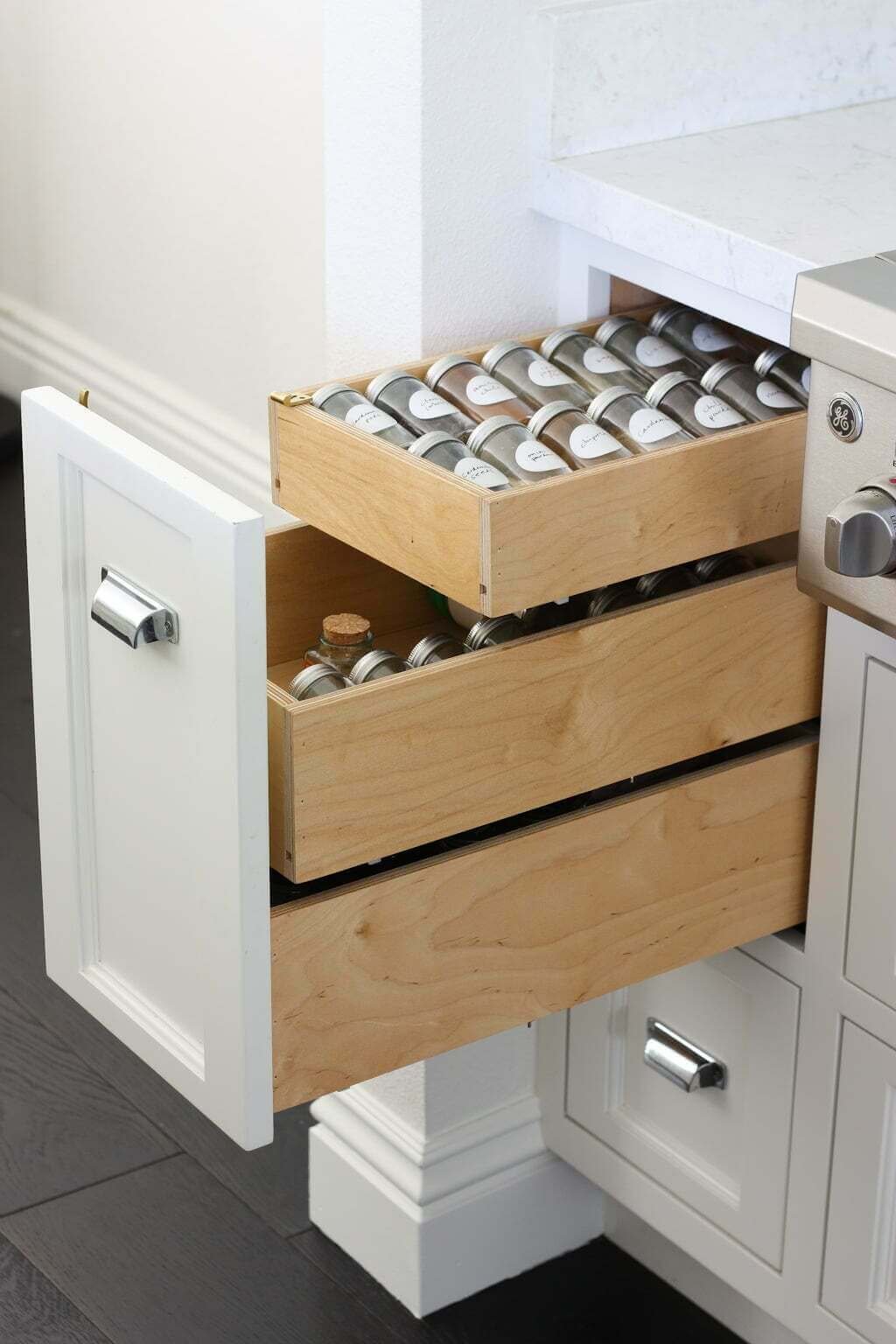 And Drawer B can release to access Drawer C. (All drawers slide fully back.)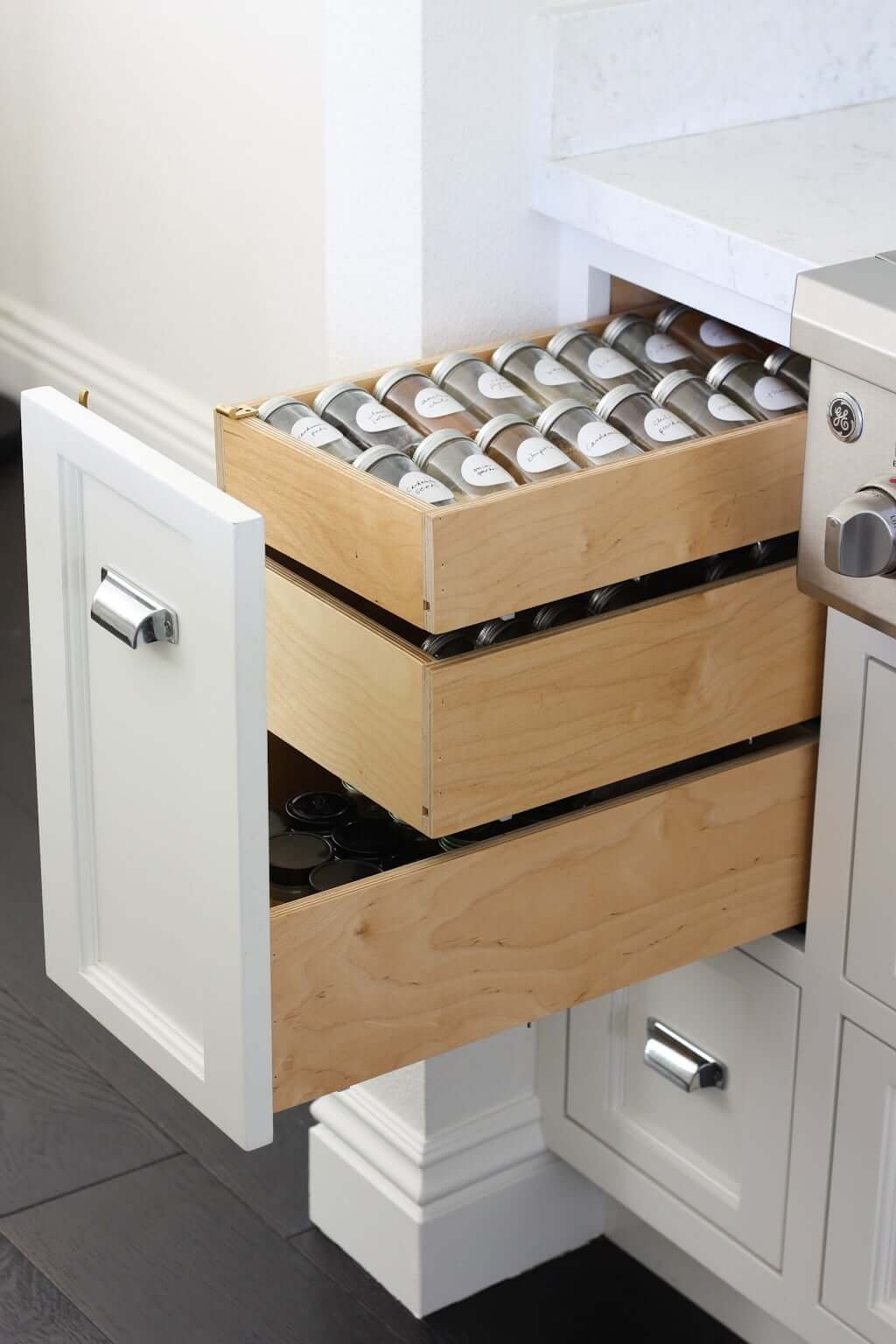 Do we use this every day? Yes.
Do we love it? Yes.
Do we wish we had done anything differently? Nope! We have no improvements to share with you after seven years of using them.
(And that's saying something, because I usually have something I'd improve on…😆)
spice drawer design plans | drawer slides | drawer clips | spice jars
Here are the three photos side-by-side to show you the progression again.
spice rack DRAWER
See How Our Design Works in Real Life!
Here's a quick video to show you this pull out spice rack in action!
SPICE DRAWER ORGANIZATION
Why This Vertical Spice Rack Design Works Best!
This design works best in our kitchen because
We can easily see the labels of everything because they're laid at a slight angle. (As opposed to the earlier vertical spice rack examples that have everything standing straight up.)
We don't need to bend down or hunch over to see the "lower levels" of our pull out spice cabinet contents. If we need something further down, we just slide back the spice drawer above.
We have visual balance with the vertical drawers on each side of our stove.
➥ UPDATE: In our Plans & Design Guides Shop, we now have our Spice Drawer Plans already created to save you hours of time!
Next, see how we organized our tea drawer, hid our cutting boards, and made our ergonomic kitchen countertops! Or, see the complete list of our kitchen tips & tricks!
➜ NEXT: Need immediate kitchen help? Download our Kitchen Design Bundle!
If you're new to our blog, you'll want to catch up via one of our most popular kitchen posts below:
Why we did 100% drawers and ZERO cabinets!
How we hid all our kitchen counter clutter.
➜ Our complete list of every single home project is viewable HERE!
*This post contains affiliate links, which are no extra cost to you but help us keep this site alive!