Don't let yourself get distracted by all the fancy ideas you can include in a backyard kitchen! Focus on these 5 basics first—and then you can add on with the bonus options if you can! Today we're sharing the 5 must-have elements for all outdoor kitchens, plus 5 bonus elements!
When we did a total overhaul of our backyard, adding a backyard kitchen was on The List!
But did we really need one? And we had other questions, like
How much does it cost to build an outdoor kitchen?
Is an outdoor kitchen a good investment?
Can you build your own outdoor kitchen?
We've also helped clients design their dream backyards and have talked more in-depth about how we saved money designing our own backyard in this post.
Backyard Kitchen
Outdoor Kitchen Must-have #5: The right location.
Listen to me carefully, dear readers:
The FIRST and MOST IMPORTANT part of your backyard kitchen is
where you place it.
The location of your outdoor kitchen area will affect your
Costs (think running out water, gas, and electrical lines to the far corner of your property vs a close spot). See our cost-cutting tips!
Materials (outdoor kitchen placement affects this—i.e. is your backyard kitchen in a covered or uncovered space?).
Usage (location is everything!).
Before: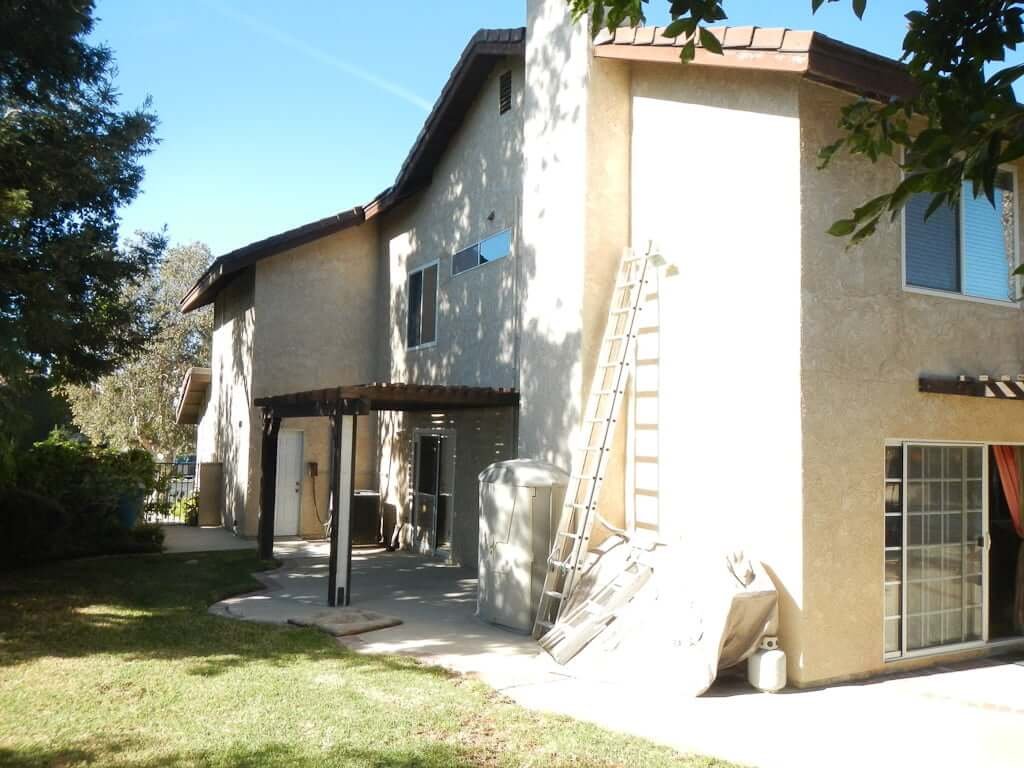 To take the full tour of our backyard, click HERE!
"After" with Outdoor Kitchen Added: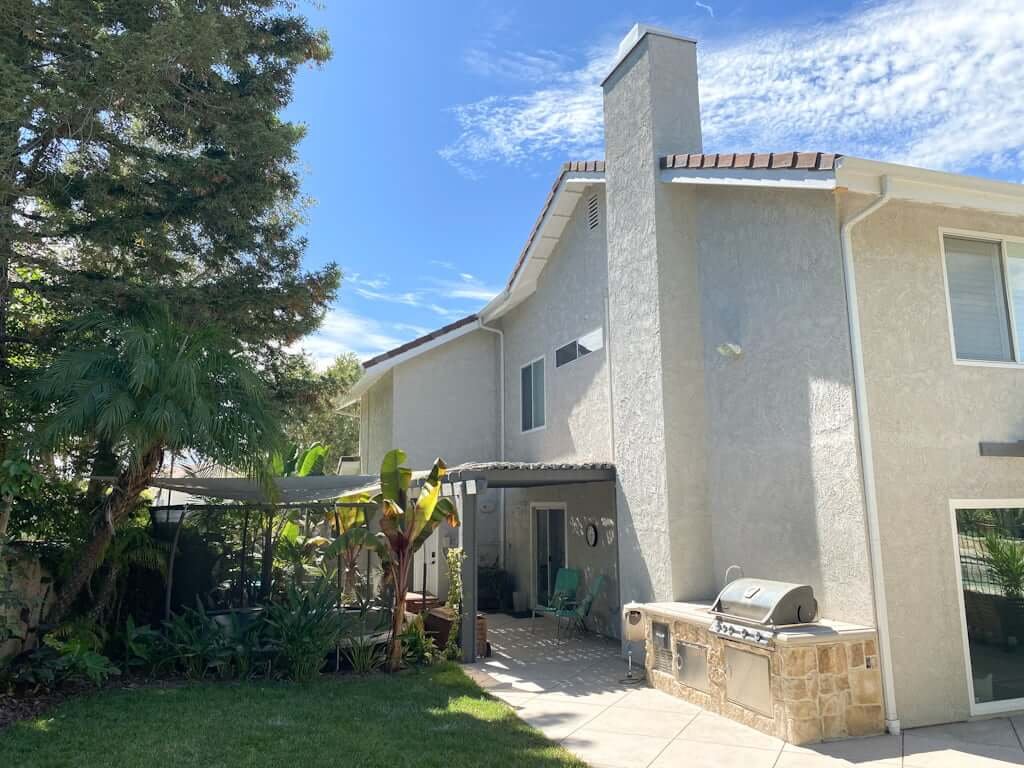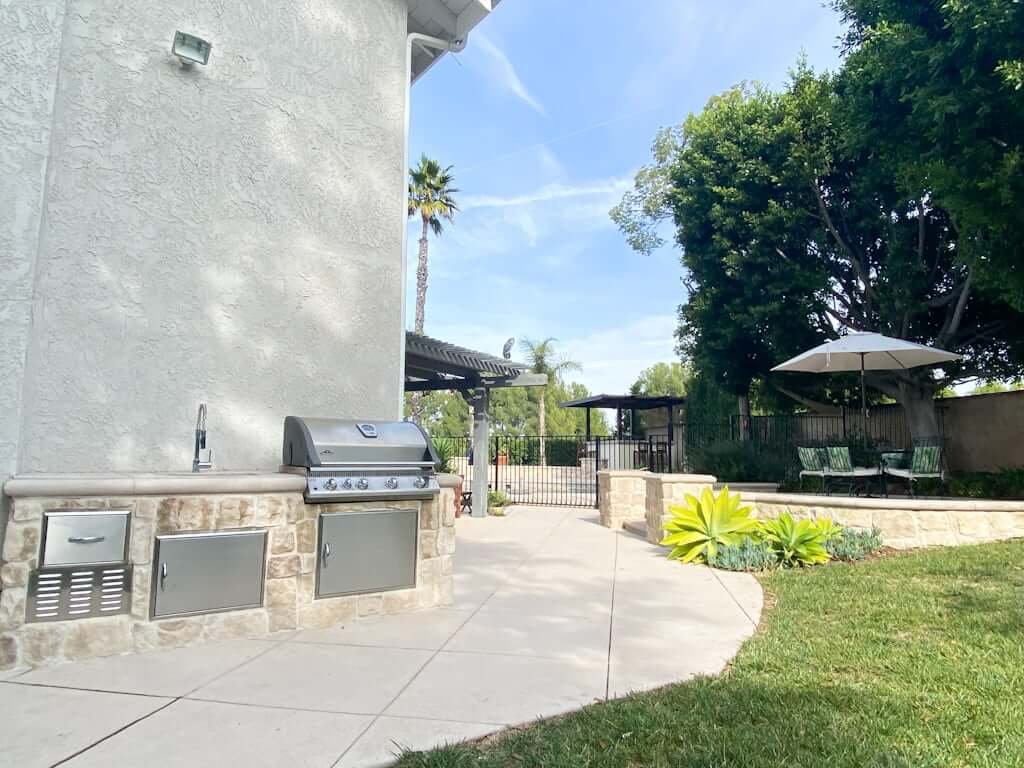 Take our Backyard Tour!
Why We Placed Our Backyard Kitchen Where We Did!
For us and our layout, we decided to do a smaller built-in outdoor kitchen off the side of the house. Why? Three reasons:
It was closest to our main exit from the interior kitchen area.
It was a smart decision for costs because it was already set up for gas, water, and electrical. (How to save serious money on your backyard HERE!)
It was a free and open spot! (No demolition necessary! We'd had enough of that in our apocalyptic-looking demo for the rest of the backyard.)
I love Reason #1 for the days we want to grill something but eat inside on a too cold/too windy/too hot day—that way you can just pop outside and use our outdoor built in grill, as opposed to if we'd done the outdoor kitchen all the way out by the pool area and had to walk all the way out to that back corner of our property just to get that real outdoor grill taste to our food!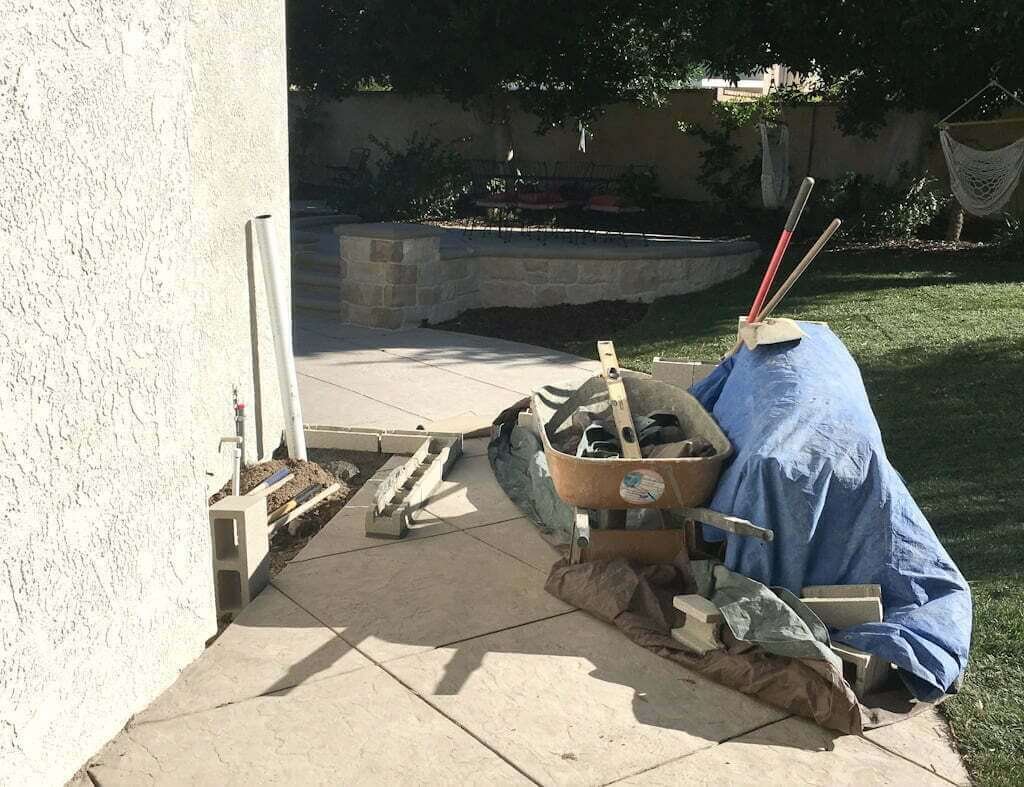 Backyard Kitchen
Outdoor Kitchen Must-have #4: The right materials.
While you can build an outdoor kitchen out of a number of different materials, we opted for concrete blocks (covered with a stone veneer). We didn't want to do wood because our outdoor kitchen wouldn't be in a covered area in our backyard, plus the stone veneer would tie into the rest of the backyard design—and just plain looks nicer! 😄
Alternatively, you could cover the concrete block with stucco, tile, concrete panels, or other stone veneer designs. (See our tips on saving money!)
We chose not to do a modular outdoor kitchen system or outdoor cabinets because we had such a specific space we wanted to fit our backyard kitchen into, and customizing it with a built-in design would maximize every inch we could.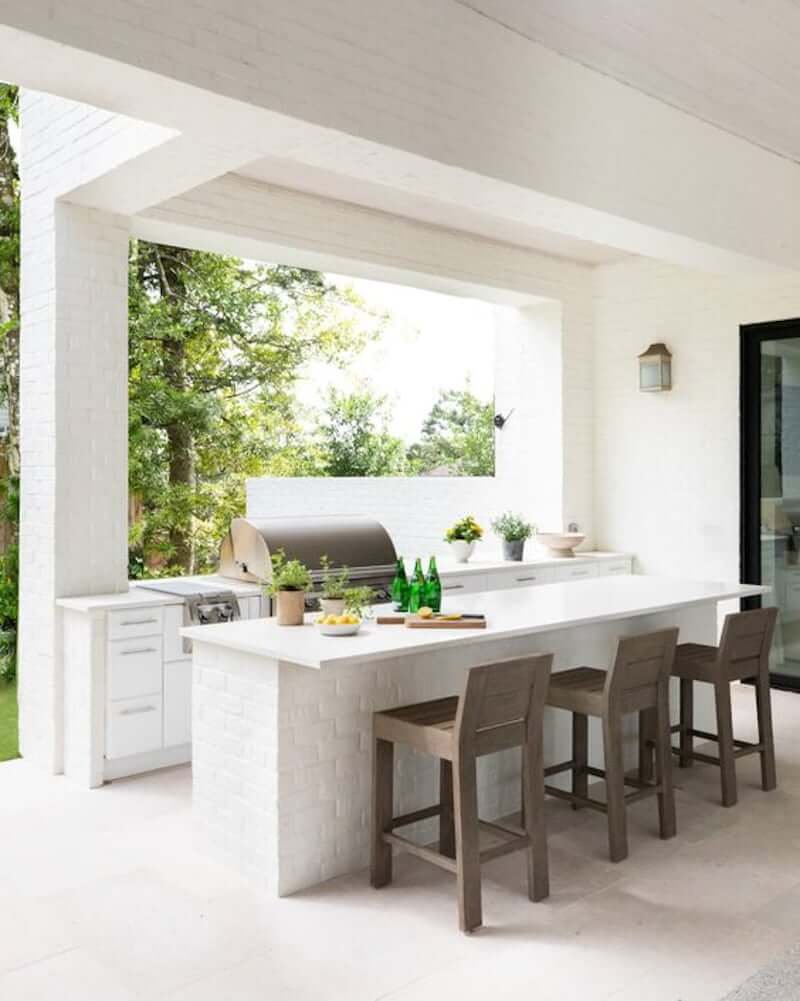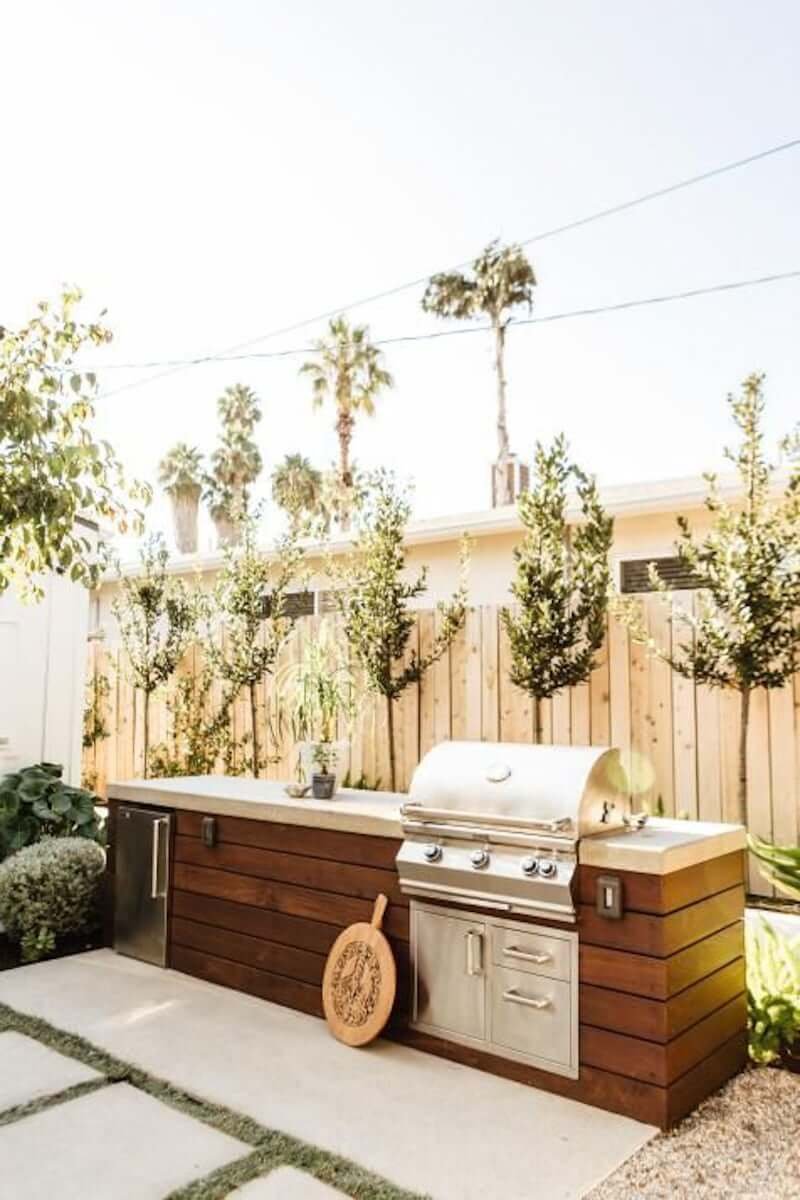 Backyard Kitchen
Outdoor Kitchen Must-have #3: Outdoor Built In Grill
It's not a kitchen if you don't have somewhere to cook, right? Matt chose this one.
You can see how good it looks even after 5+ years of being outdoors!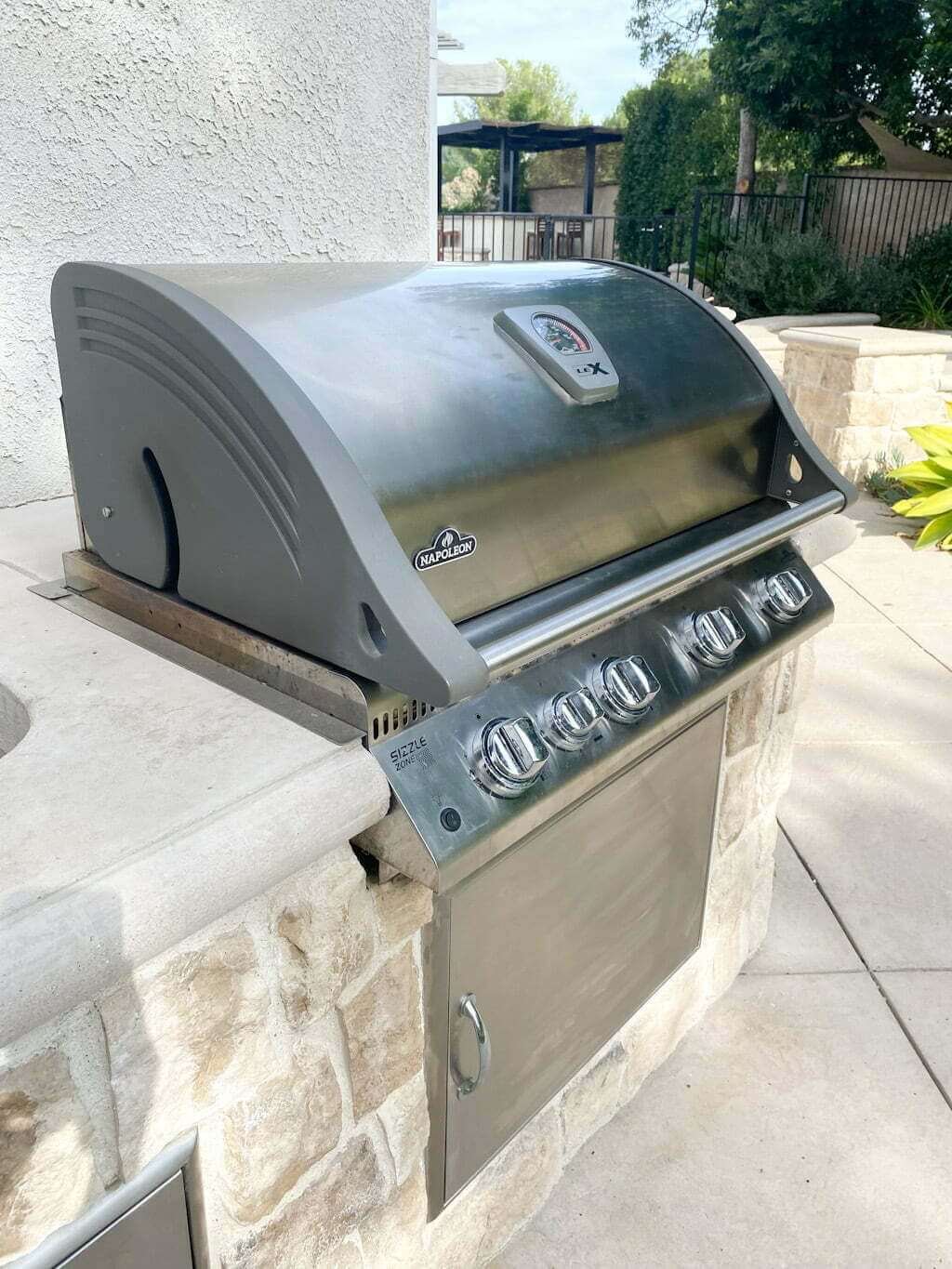 You can also see our backyard kitchen in action HERE!
SMALL Backyard Kitchen
Outdoor Kitchen Must-have #2: Sink
Our backyard kitchen sink warranted its own post, which you can read here!
SMALL OUTDOOR Kitchen
Outdoor Kitchen Must-have #1: Storage
You always need a place to keep your outdoor grill tools and other kitchen needs, so storage is a must-have! (Unless you want to keep them inside and bring out every time you use your outdoor kitchen space.)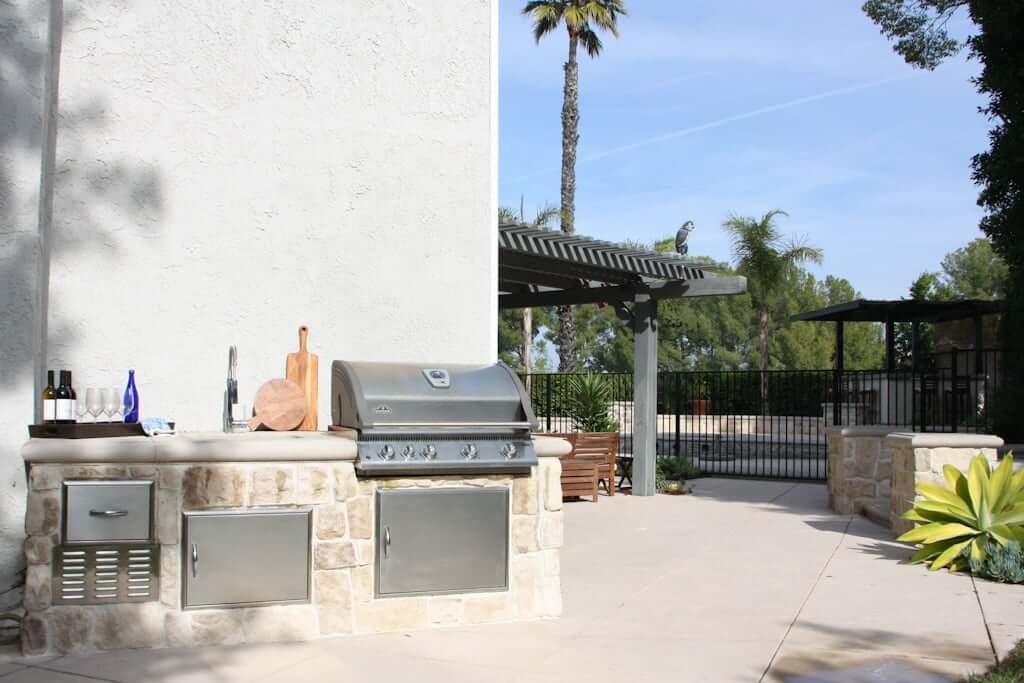 Stainless steel outdoor cabinets are a great option for outdoors. In our backyard kitchen, we went with one stainless steel drawer plus two storage areas—one below our sink and the other below the outdoor built in grill.
PS: A bonus of our placement for our outdoor kitchen is the highly valuable shade it gets in late afternoon on hot summer days! No one wants to be hanging out around an outdoor grill in the hot California sun—another reason we didn't want to put our outdoor kitchen out by our pool, which gets full, blazin' hot sun all afternoon in summer!
Elephant in the room: let's talk about that vent under the drawer to the left for those of you who are wondering, "What's that vent for?" We certainly didn't add that for aesthetics!
It's simply this: prior to adding this outdoor kitchen in our backyard, there was a vent for the fireplace in the wall there. So when we added the built-in backyard kitchen, that was the best spot to fit it in when all was said and done. (We needed the side section to add a hose, which that part of the house had never had before!)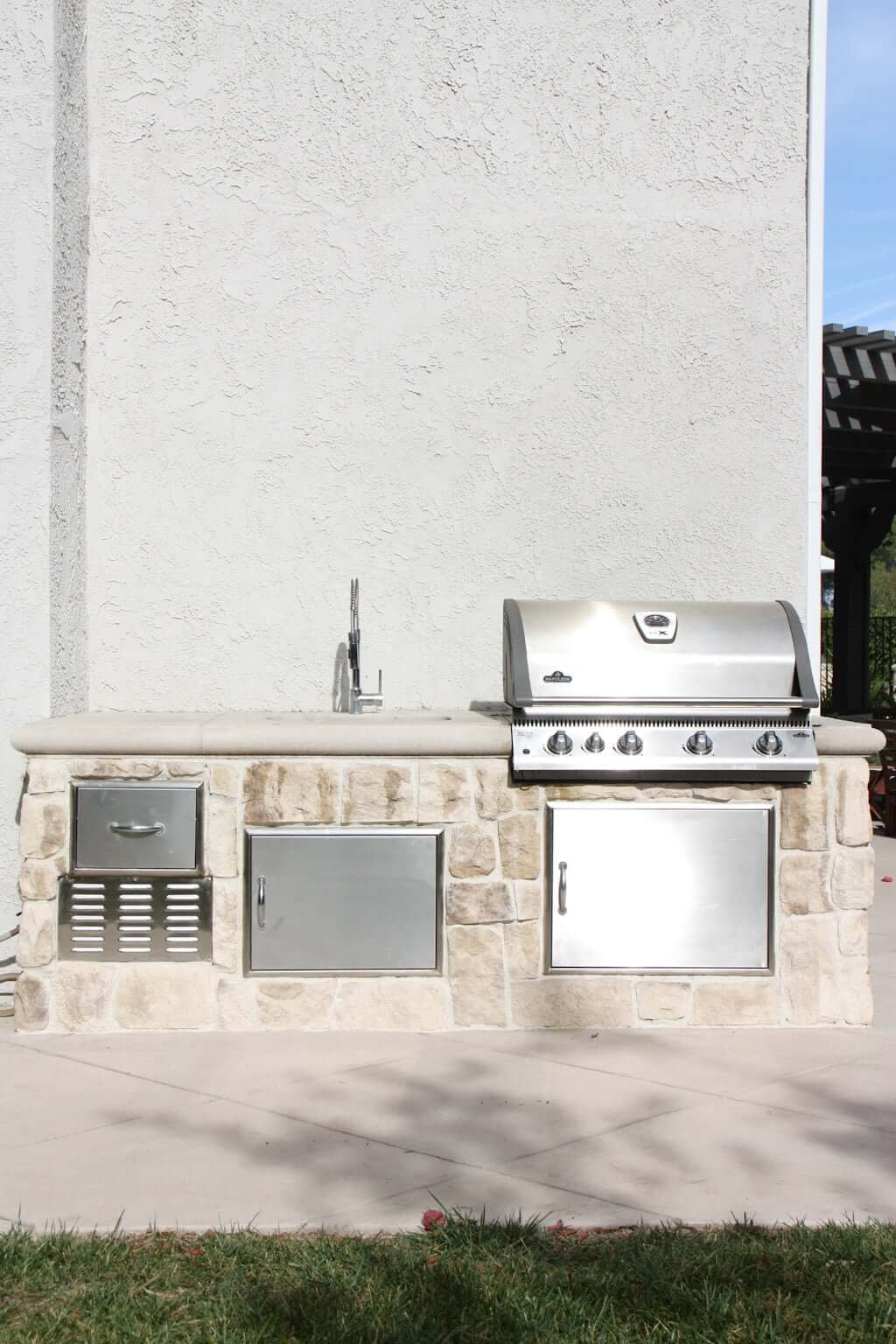 Next, let's discuss the "nice-to-haves" for your backyard kitchen, if you want or can swing them!
small outdoor kitchen ideas
Optional Element #1: Outdoor Refrigerator
Us? We didn't do a fridge for three reasons: cost, space, and (primarily!) the fact that our kitchen was just right through the doors around the corner!😉
And honestly, we never wished we'd added an outdoor fridge! (Saved us energy costs too!)
If someone needed ice or a drink, you walked just as far from the main entertaining, dining & lounge areas to our indoor kitchen as you would to the outdoor kitchen (minus a door, which was the only "inconvenience").
However, if I was going to do an outdoor kitchen refrigerator, I looooove these drawers! Of course. And actually, I think I'd like to just have my entire indoor refrigeration system in drawers…hmmmmm…
Or these outdoor beverage fridges:
PS: I also love that sink on the right for an alternative outdoor sink design!
OUTDOOR KITCHEN IDEAS
Optional Element #2: Pizza Oven
We didn't have room for a pizza oven in our small outdoor kitchen space, but we have friends who swear by theirs! So maybe in our next house. 😉 I'd love to try one of the DIY pizza ovens out there…just like in authentic old Italy, right?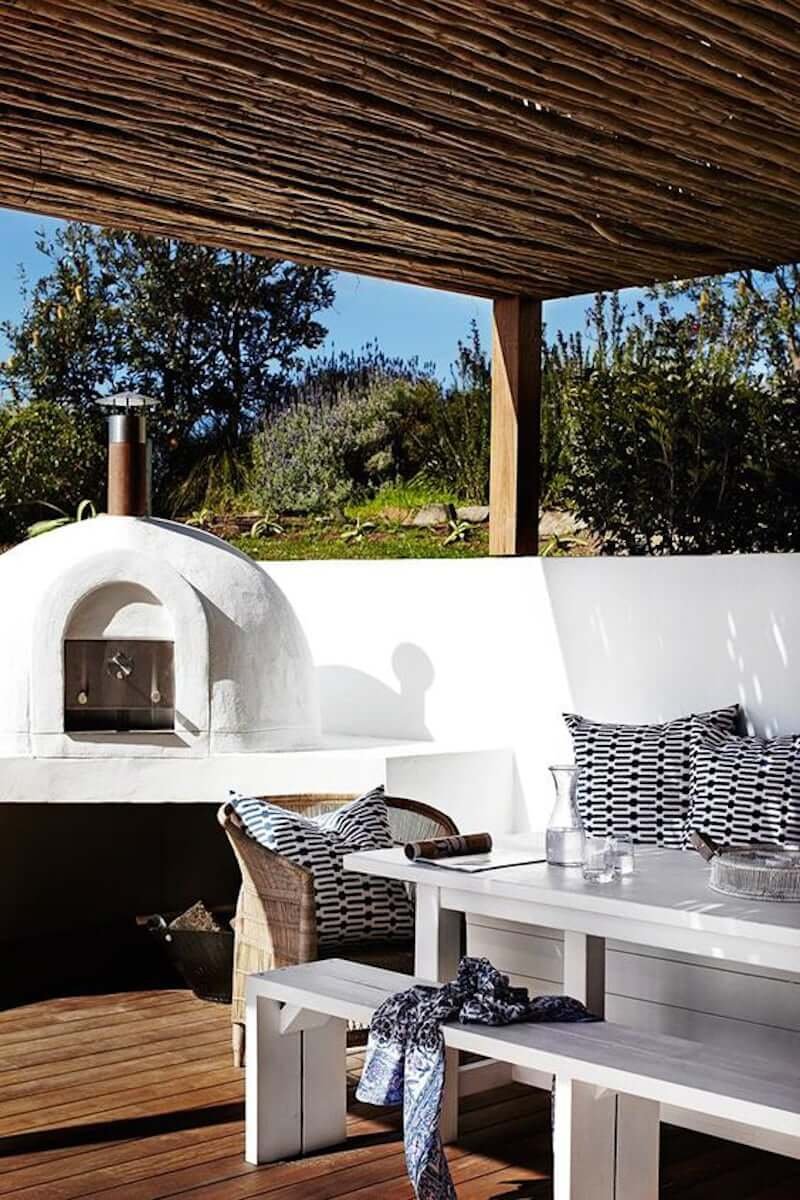 From Mediterranean to traditional to more modern, there are so many pizza oven designs to have fun with that I tried to narrow it down to just 3 examples but had to double it because I know we have so many different style leanings with our readers and so at least one of these will spark everyone's imagination for your own future pizza oven!
(Does anyone not like pizza?! Is that even possible?! This is a serious question, man. I never before considered there may be someone out there who doesn't, and my world may shatter if I hear it's true.)
simple outdoor kitchen ideas
Optional Element #3: Bar Seating
So much of this depends on your backyard kitchen location, layout, and flow. If you have the space and budget, adding extra bar seating can be a helpful addition to not just your backyard kitchen area but your backyard itself! Just be aware of whether you want to do actual bar height or counter height to match up with the counter the "chef" will be working on.
Bar seating is not necessary with some layouts, such as in ours or in this one where seating is right there.
But even if you have a small space along some windows, and it doesn't interfere with your cooking area, by all means squeeze one in!
SMALL outdoor kitchen ideas
Optional Element #4: Filtered Water
Whether we have a group of people over or just need a drink while we're back there gardening, we love having this sink connected to our whole house water filter! See how we coordinated this in our post about our outdoor kitchen sink.
SMALL outdoor kitchen ideas
Optional Element #5: Outlets
Too many people forget about making sure to add outlets around their outdoor kitchens. It's not one of our must-haves, but it comes in handy for a variety of tasks while you're outside—and not just while you're cooking!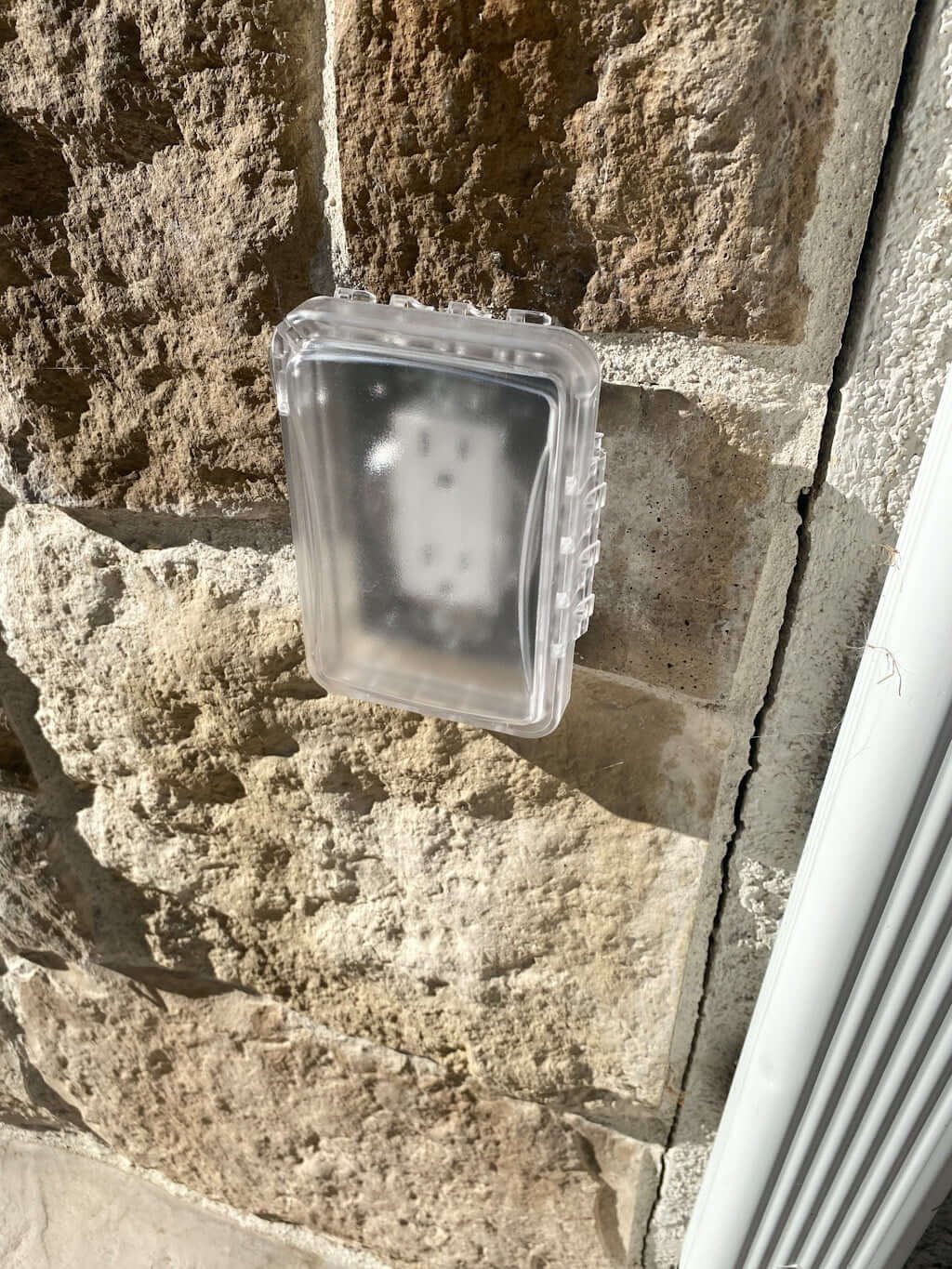 You can see where we put our outlet. It has an outlet cover as well, which is a great feature for outside.
OUTDOOR KITCHEN COST
Cost to Build Outdoor Kitchen
"So, how much does an outdoor kitchen cost?" What a question dependent on so many variables! Cost will depend on your location, materials, and the elements you choose.
What we can tell you is what ours cost!
Concrete blocks, mortar, sand, and rebar: $150
Stone veneer: $10/sq ft
Concrete form: about $6 per foot and can be reused!
Stainless cabinet door under grill, under sink door*, drawers*, outdoor built in grill, sink & faucet: $1,850
*Similar to ours
You can see the biggest expenditure will be your appliances and any doors & drawers you want. You can see why we opted to save money by not installing an outdoor fridge as well since we have a large fridge in our kitchen just around that corner! We also wanted to keep it small and functional. (I could write a whole other post on why we didn't make this a U or L-shaped kitchen…or put the kitchen somewhere else in our backyard!)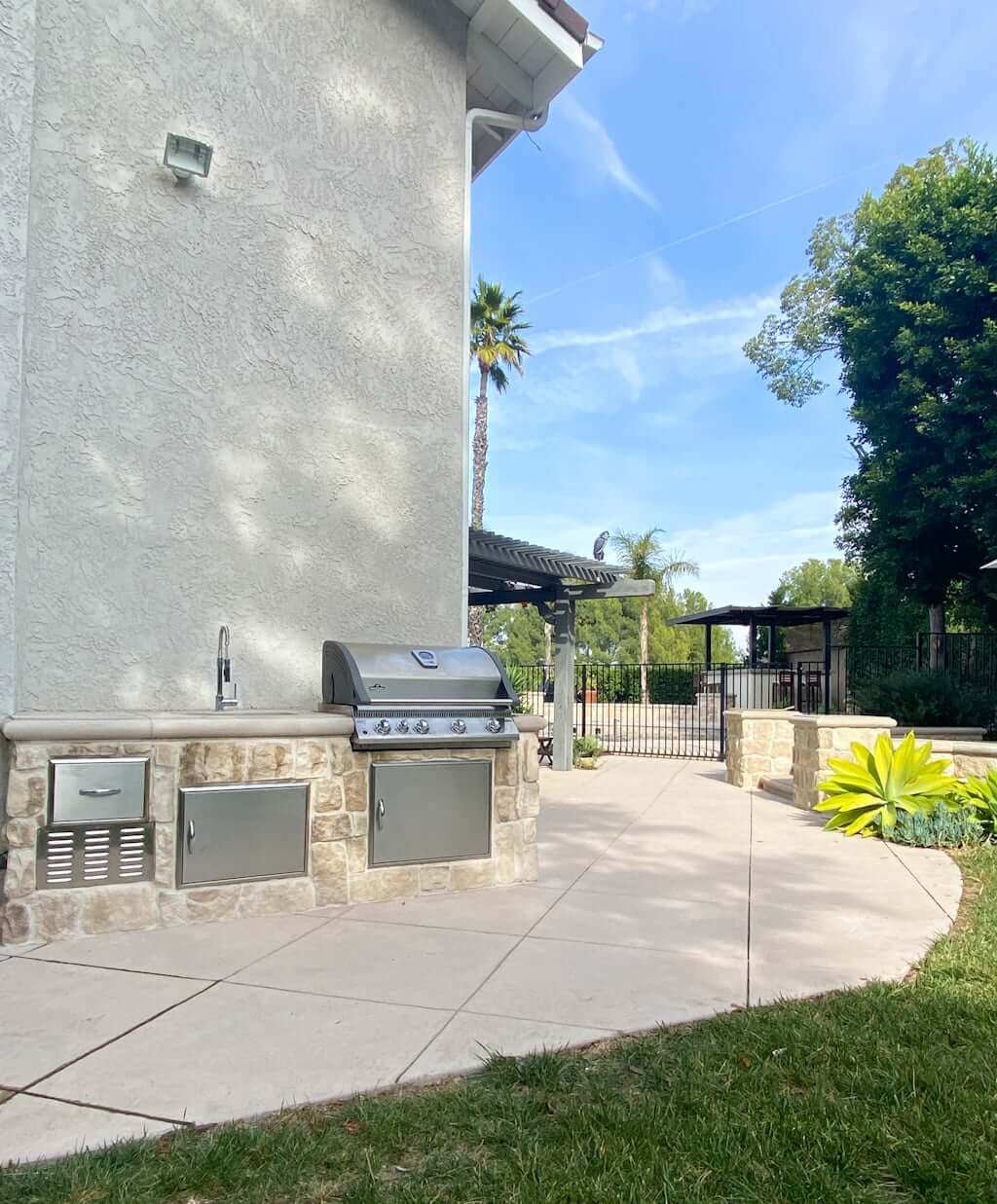 Other factors to keep in mind:
Do you want any lighting in this area?
Do you want a gas or other type of grill?
Do you want outlets in or near your backyard kitchen space?
Do you want your grill freestanding or an outdoor built in grill?
Do you want your sink to have filtered water? (See our post on our backyard kitchen sink.)
Next…
To save serious $$$$$ on your backyard remodel or update, you need THIS!👈
Take a full tour of our backyard! Or, to get more tips on an outdoor kitchen sink, as well as how to save big buckaroos by making your own outdoor countertops, see the Complete List of our backyard remodel posts!
➜ Our complete list of every single home project is viewable HERE.