I just shared about what to do with outdoor patio furniture—but it's often just as important to know what NOT to do!🤗
OUTDOOR PATIO MISTAKES
#15: Not Having a Focal Point!
Without a focal point, your outdoor space will always feel "off" to you.
You may not be able to immediately point out what's wrong, but chances are that you don't have a strong focal point.
Because there are 1,000,000+ different backyard configurations (probably more…trust us, we've worked on a lot and no two are ever, ever the same!)
OUTDOOR FURNITURE MISTAKES
#14: Stifling Your Inner Pyro!
Another mistake we can make is in not embracing our inner pyro.
OK, maybe I'm kidding on the pyro part :)haha, but I'm serious on this: skipping a fire element should only be done when absolutely necessary. (Such as a too-low ceiling above it, you live in a fire danger area and shouldn't have a certain type of firepit, etc.)
Even if you're just incorporating something small like an outdoor candle onto the one table you have, do it! The ambiance you'll create is worth thousands!
PS: If you're looking to save money on your backyard project, you'll need THIS!
OUTDOOR FURNITURE MISTAKES
#13: Annoying and/or Inconvenient Layout!
Yes, it will take some thought (and time) to get your layout right, but you'll reap the benefits a hundred fold in the weeks, months and years of enjoyment you'll derive from having gotten it right the first time!
You can use our Expert Room Design & Layout Guide for outdoor rooms too! (And yes, any defined space you have outside can and should be considered as a "room"!)
OUTDOOR FURNITURE MISTAKES
#12: Maintenance Sneak-a-roos
So often, we're looking at the aesthetics, the measurements, the feel of a piece…without also taking into consideration the daily/weekly/monthly maintenance of a piece.
I'm not even talking about having to restain your outdoor wood furniture (although that's obviously something we should all keep in mind), but I'm talking about the sneaky-sneaky maintenance you don't think about!
These slats below, for instance.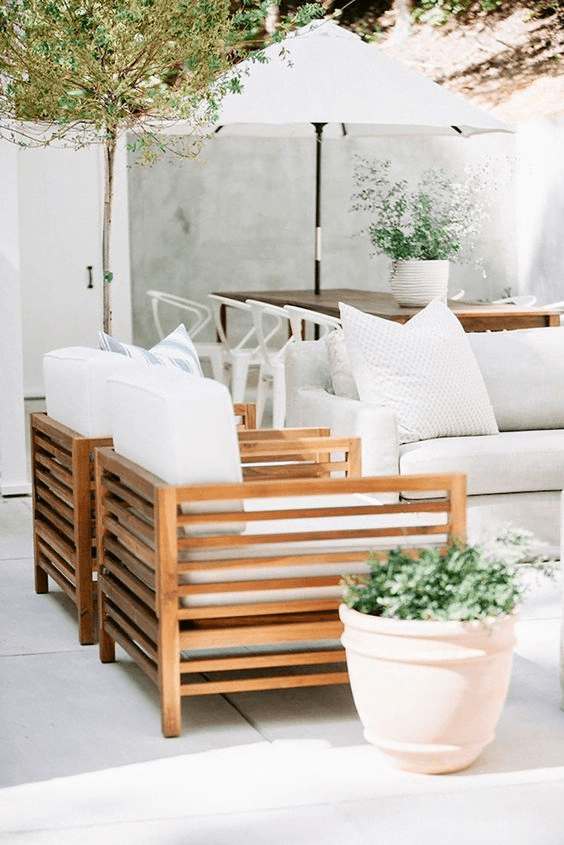 Truly, I adore the lovely look of this chair…but I would never, ever buy (or DIY) it with what I know now!
Can you see how high-maintenance it's going to be?
OUTDOOR FURNITURE MISTAKES
#11: Matching Sets
To be honest with you, I cringe inwardly when I see (most) matching outdoor sets.
But the reason we all tend to choose them is
It's less expensive that way.
Everything is pretty much guaranteed to look cohesive.
It takes less time to choose items.
If you're willing to put in the work, selecting items that compliment each other without being matchy-matchy will give your outdoor space so much depth and beauty that it's worth it!
OUTDOOR FURNITURE MISTAKES
#10: Buying Cheap Outdoor Furniture
This actually can cost you more in the long run.
Get a massive-but-cheap, full outdoor set for $xyz and maybe it will last for 2-3 years (5 if you're lucky)! Over the next 15 years, you could be spending 3-7x times that amount…
…when you could have spent less buying a quality set that would last you the full 15 years (and save countless hours of your time, which I often think is more valuable than cash 😉 ).
OUTDOOR FURNITURE MISTAKES
#9: Lightweight Furniture
Speaking of cheap furniture, sometimes you can get such a "deal" on your patio furniture that it's so lightweight that it slides around every time you try to sit down!
And if you get windy days where you are, forget about it.
There's a time and a place for lightweight furniture, but outdoors usually isn't it!
OUTDOOR FURNITURE MISTAKES
#8: Skipping Covers
When we were first married, we didn't cover any of our outdoor furniture. (After all, we'd either gotten it for free or from Target clearance, plus it would cost extra money which we did not do back then!😆)
Now that I have decades of experience behind me, I can tell you that I'll never skip outdoor covers again.
Covers will
Protect your furniture during the off-season!
Save your time having to maintain! (no more weekends spent staining, cleaning, etc)
Save your time having to move or store furniture indoors during bad weather (we used our covers a lot during windstorms so we could just leave all the cushions and pillows on everything from the chaise lounges to our sectional couches and dining chairs!)
Help keep off stains and other marks
Prevent pests like bugs and spiders from setting up camp
Most of them are so inexpensive (and when you can buy them with your furniture for a perfect fit, it's a double win!) that it should just be a no-brainer.
If you can afford buying patio furniture, you can afford covers for them. 😉 And before you even do that, do yourself a favor and grab THIS to help you with your backyard. It's a saver of your priceless time.
OUTDOOR FURNITURE MISTAKES
#7: Too-Skinny Legs
If you're putting your patio furniture on a deck, you'll need to make sure your furniture's legs aren't so skinny that they fall between the gaps! Don't make that rookie mistake!
We create this video demonstrating some of these outdoor furniture mistakes to avoid!
OUTDOOR FURNITURE MISTAKES
#6: The Wrong Material
Every climate has different pros and cons. Outdoor furniture comes in so many different options (do you need teak? stainless steel? wicker? aluminum? synthetic resin? so many more!) that you need to pay attention to what suits your climate.
Here's a helpful list of the 50+ pros and cons of each outdoor furniture material!
OUTDOOR FURNITURE MISTAKES
#5: Under-scaling Your Furniture
Some people say to be careful not to "over-scale" (that is, getting furniture that's too big for your space), but I see the opposite problem just as much, if not more often.
You'll want to make sure that you not only have enough room for walkways around and pathways through the flow of your outdoor rooms, but that you leave enough space for doubling up on traffic flows (such as if you entertain often), moving furniture around to accommodate different setups (again, this is part of your home strategy you should do before you buy a single thing for your outdoor spaces), and more.
If you're serious about wanting to get your outdoor spaces right, we've created our Layout & Design Guide to help you with that, walking you through it one step at a time!
OUTDOOR FURNITURE MISTAKES
#4: Not Measuring Correctly
Everyone knows how to work a measuring tape, but do they know what to measure properly?
Here are some examples:
Pathways behind workspaces: For example, someone might measure that they have appropriate clearance behind their BBQ so that someone can have their back to the outdoor seating area and still comfortably BBQ. However, they haven't left enough distance for someone to scoot out their chair behind said BBQer, or for someone to walk behind him, etc.
Doorways and Entryways: Neglecting to measure the width and height of doorways, arbors, or gates and other entry points can result in furniture that can't be brought into the outdoor space (or requires disassembly).
Umbrella placement: I could probably write a book about how people forget about accounting for their umbrellas or other shade-casting apparatuses. It's an easy miss…but now you know! 🙂
Clearance: Overlooking the necessary clearance around furniture can restrict movement and make the space feel cramped. It's important to measure and leave enough room for comfortable navigation, especially in multi-use spaces!
Dining Tables & Chairs: If you found an awesome dining table and separate awesome chairs, I love where you're going with this! (No matchy-matchy! 🙂 ) However, make sure you've measured that it will be comfortable to sit in those particular chairs with that particular table. And if your chairs have arms, make sure they can scoot in under your dining table. (It's fine if they don't, but then you'll need to take that measurement into consideration as well!)
It's a lot, I know! That's why 90% of people SKIP the measuring part! 🙂 (Kind of like some of us with instruction manuals, but we're not naming any names.)
We created THIS layout tool to help you create your space as intelligently, easily, and efficiently as possible! Please use it!
OUTDOOR FURNITURE MISTAKES
#3: Forgetting About "The Sit Test"
As a designer (or design lover who knows what he/she wants), it can be easy for some of us to get so fixated on "the look" that we forget about "the feel."
Sit on everything before you buy it. (And bring a friend to make sure you're sitting on it how you really sit. 🙂 Some of us slouch and lean back more in real life than we do in the store…so be real about it! It's a smart move!)
OUTDOOR FURNITURE MISTAKES
#2: Impulse Buying
This ties in with #1 below but I kept it separate because it's still it's own thing.
Trust me, I have fallen prey to the trap of walking through Home Depot or Target and seeing that glorious red "Clearance" sticker on it, which means I'm going to get a deal.
HOWEVER, I have spent more time later on returning said "deal" item (resulting in hundreds of dollars of my time wasted when you calculate it all up, so it actually cost me more in the end).
When you have your strategy & plan in place first, you'll know what you need so that when that "Sale" or "Clearance" item pops up, you can pounce on it like a velociraptor, with my blessing! 🙂
OUTDOOR FURNITURE MISTAKES
#1: Skipping Your Strategy!
GET A PLAN TOGETHER BEFORE YOU BUY A THING!
If you want to do your outdoor spaces right, you need to complete THIS foundational step.
You're welcome.
Next…