Looking for outdoor sink cover ideas? Today we're sharing how to not only protect your outdoor sink but why and how an outdoor kitchen sink cover can help you!
OUTDOOR SINK COVER
Why We Created the Sink Cover We Did.
While I'd love to be able to tell you we thought this through perfectly before pulling the trigger on our last-minute outdoor kitchen decision, the truth is we didn't do it perfectly.
Two things we forgot about before install were
Keeping outdoor junk from getting into the outdoor sink (leaves, spiders looking for a good spot to build a web, etc.).
The space immediately to the left of our grill being a Primo Spot for wanting extra counter space while grilling!
Really, #2 was the main reason Matt created our outdoor sink cover. As the Master Griller in our family, he quickly realized that he wanted that space to the side of the grill to not be a gaping hole! So he used some leftover wood from our pool bar deck project to put together something that could serve as a kind of platform he could use over the sink.
While it's not the most attractive sink cover in the world, it was free and it gets the job done!
Here's a pic of it recently, after 5+ years of uber-hard outdoor use! It also gets direct sunlight most of the day, especially with the intense California summer sun, so we find it incredible that it still even looks like this. (The dark marks are water drips from filling up my water bottle before taking this shot! 😆 )
And when I'm tempted to complain about how it looks, I then remember that premade covers with sinks could cost this much. I'm grateful 1) this was a free addition to our existing sink and that 2) Matt knew how to make one out of leftover wood.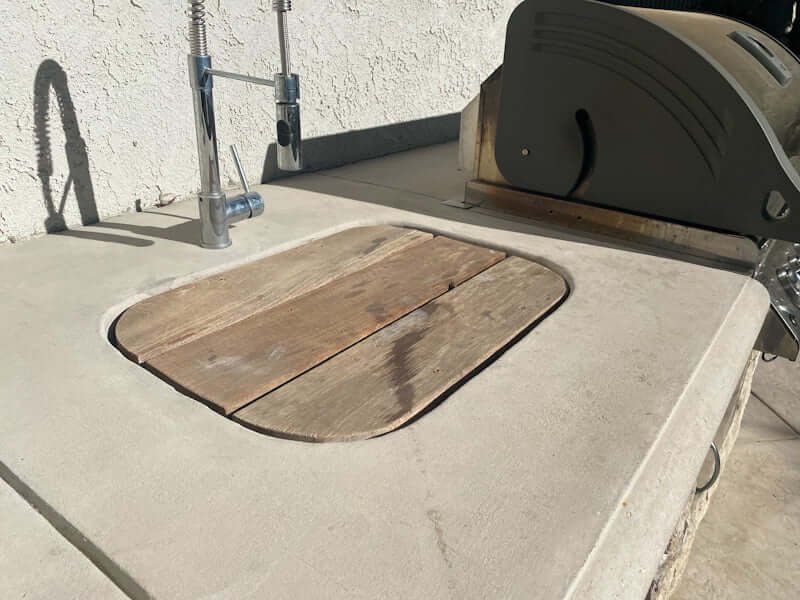 #1 (above) became a priority too as we learned that even if we didn't put the sink cover back on the sink (you know, during the times we weren't using the grill and I didn't want the sink cover showing), outdoor debris would blow into the basin. So we just started leaving the sink cover on all the time and taking it off whenever we wanted to use the lower sink portion for something.
With the cover on, we could still use the sink to fill water glasses if we needed to, and lots of other little outdoor sink tasks, so it actually gets left on quite a lot!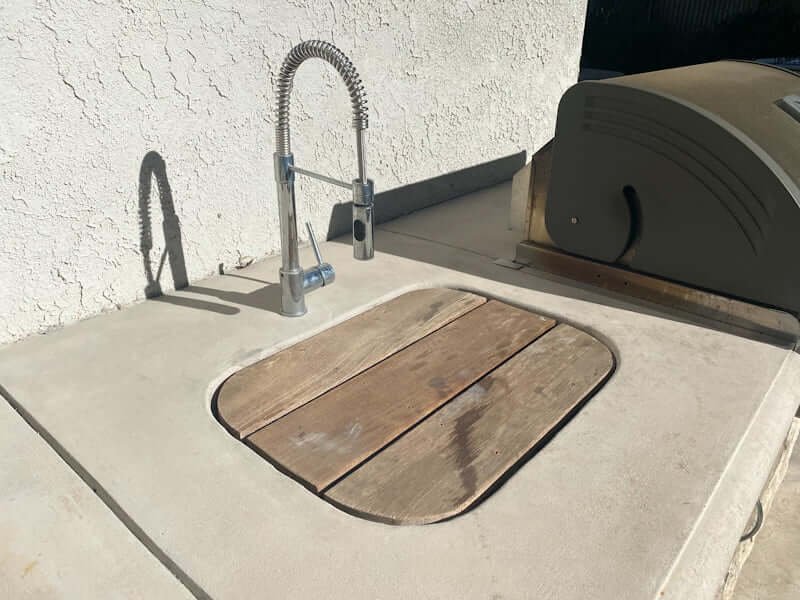 And while I'd love to design a better looking outdoor sink cover one day, it's just not at the top of the priority list right now…and we lose zero sleep over it! 😊
OUTDOOR SINK COVER IDEAS
"What sink cover options do you guys recommend?"
For those of you asking
How do I protect my outdoor sink?
How do I protect my outdoor kitchen from the weather?
How do I protect my outdoor stainless steel sink?
…there are definitely some options for you!
Buy an outdoor sink that comes with a hard cover included! (Here's an example. Although if you only have a small space like us, I'd recommend one without a handle so you can use it as counter space.)
Buy a soft cover for your existing sink and faucet. (Like this one. We didn't go that route because we wanted the cover to be hard and the space usable.)
Buy a solid cover pre-made for you, like this wood one.
Make your own custom DIY sink cover like we did, either as a cover and surface space only, or you could even make it solid if that was important to you! (Matt made ours with room for airflow and so moisture wouldn't get trapped below!)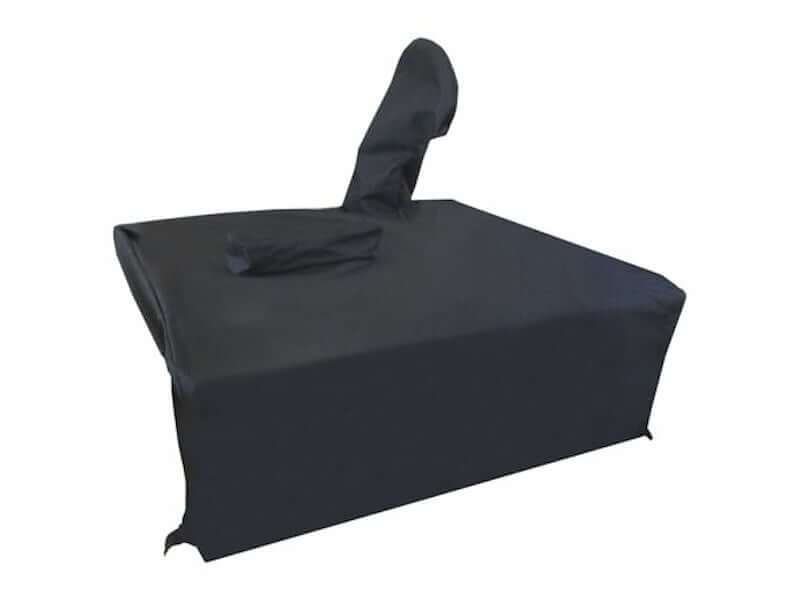 Living in California, we haven't needed to protect our stainless outdoor sink with a completely solid or soft cover and the sink basin has stayed in great condition for over 5 years!
Next, take the tour of our backyard or see our 3 tips for choosing the perfect outdoor sink for you. If you missed the post all about our outdoor kitchen, you'll want to check that out! Or, see The Complete List of our Backyard Posts with tips & tricks learned!
➜ Our complete list of every single home project is viewable HERE.